Instagram is a goldmine for feature-rich content. Brands unleash their creative might to make evergreen content to capture the attention of their followers and promisingly convey their brand message.
500 million Instagrammers visit the app daily to stay abreast of the latest trends and check updates about the products offered by various brands from among the 200 million business accounts on Instagram. In this ocean of millions and millions of content pieces, both followers and brands might want to save some content, be it images or videos, for their memories or business reference purposes.
Sadly, Instagram does not provide any feature to download videos directly. However, there are many third-party Instagram video downloader apps to help you with it. In this blog, we will give you a list of the top 5 Instagram video downloaders and how you can use them.
Top 5 Instagram Video Downloader Apps
Instagram video downloaders are tools that help you download videos from your Instagram account without any fee.
Here are the top five video downloader tools that you can use for downloading and saving your Instagram videos:
1. InstaDownloader.co

InstaDownloader.co is an easy-to-use web service that allows you to download photos and videos with a single click. There are no elaborate procedures or any need to log in to your account. You need not provide any personal details or passwords, so it is relatively safe too.
How to use it to download Instagram videos
Step 1:  Open the Instagram app on your iOS or Android device.
Step 2: Click the three dots in the top right corner of the Instagram post you want to download. You can download pictures as well.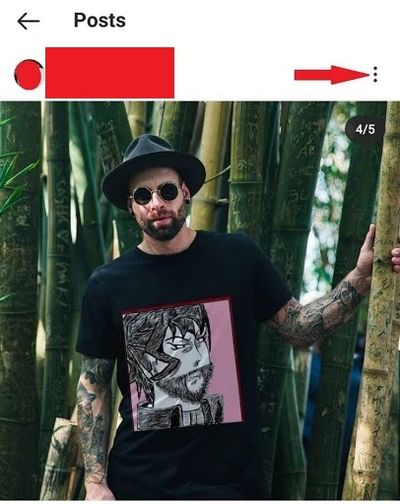 Step 3: Choose the option to copy the link from there.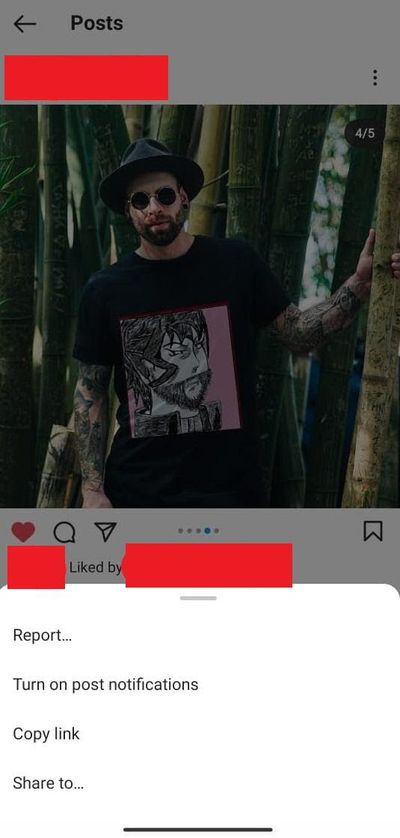 Step 4: If you are on a PC, right-clicking on the date of the post opens up a menu with an option that reads 'Copy Link Address'. Click on this option.
Step 5:The next step is to visit Instadownloader.co and paste the copied URL in the text box area.
Step 6: Finally,  press the download button to save the video on your device.
For this method to work, the video must be posted from a public account. If you are looking to download a post from a private account, Instadownloader.co provides a service for that as well.
You can use Instadownloader.co/private to download posts from a private account by following the below steps:
Step 1: Open Instagram in your browser from any device and log in to your account.
Step 2: Search the video you want to download.
Step 3: Copy its URL by clicking the three dots on the top right corner of the post.
Step 4: In the same browser, open the private Instadownloader.co option and paste the URL in the text box.
Step 5: Click the download button.
Features of Instadownloader.co
Simple and secure
It can download not only Instagram videos in posts but also pictures, reels, and IGTV videos
To download content from public accounts, there is no need to log in to your account
There is no reduction in the resolution or quality of the photos and videos downloaded using Instadownloader
It provides a way to download photos and videos from private accounts as well
It also has a service to allow downloading profile pictures of a user's account
You can preview the video before downloading to ensure that you have selected the correct video
Just like any other downloader, Instadownloader.co does not take responsibility for how you use the content you have downloaded using the tool. So, if you get into an IPR mess for commercial use of a video you do not own, then it's yours to clear.
2. InstaSave
InstaSave Downloader is a mobile application that allows you to download your favorite content right into your phone without much effort. It is available on the Google Play Store.
If you are looking for something simple to use, this is your go-to app. Download and login to the app once, and you are set for your journey. The best part of InsTake is its versatility, as it allows you to download not only videos, but also pictures, reels, IGTV, and Instagram stories using its services.
How to use it to download Instagram videos
Downloading a video is a simple task with InstaSave Downloader. There are two methods you can use to get your work done.
Using the 'Share Link' option
Navigate to the post on Instagram that you wish to download
Click on the three dots on the top right corner of the post
Select the option to share the link
Choose the InstaSave Downloader app in the prompt that appears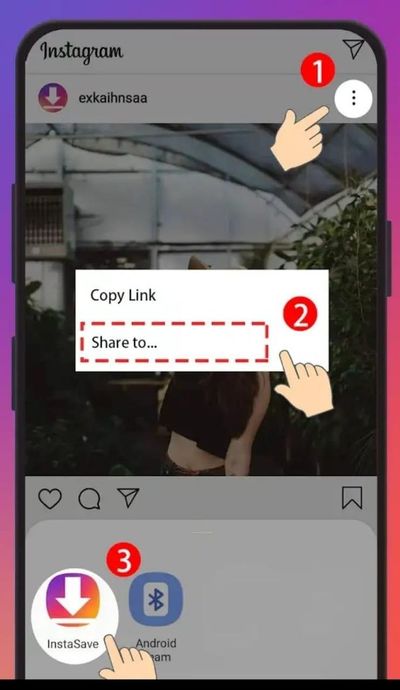 Using the 'Copy Link' option
Go to the photo/video that you want to download
Click on the three dots in the top right corner of the post
Select the option to copy the link
Open the InstaSave App and paste the URL into it
Tap on the download button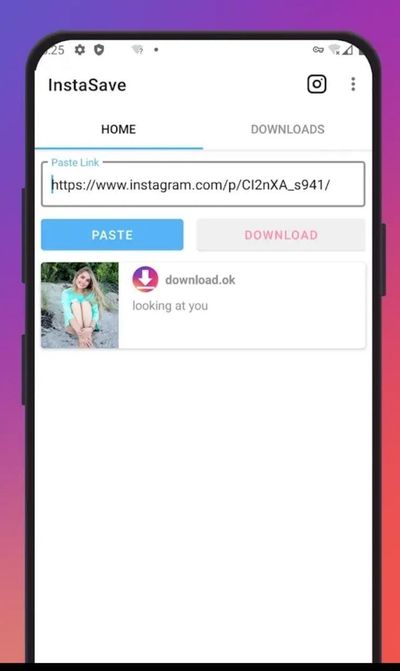 Features of InstaSave Downloader
It supports downloading all types of content on Instagram, including photos, videos, stories, IGTV, reels, and stories
It is free to download and easy to use
It comes with a high-performance interface that is responsive and user-friendly
It comes with a dark mode as well which enables convenient usage during nighttime
It has a built-in offline player that allows you to play the videos you have downloaded in the insTake downloader itself
All the HD content gets downloaded with its original resolution without any quality compromises
Downloaded over a million times with a rating of 4.6 on the Google Play store, InstaDownloader is one of the most reliable Instagram video downloaders.
Few drawbacks of the application can be its non-availability for iPhone users, irritating advertisements, and no option to pause the download even when downloading bigger files like high-resolution IGTV videos. However, allowing stories downloads is a big pro that not many Instagram video downloaders offer.
3. Downloader for Instagram: Photo and Video Saver
Downloader for Instagram is another popular Instagram video downloader that ships as a mobile application. It allows users to download Instagram photos, videos, and IGTV videos.
The best part of this downloader is its seamless user interface. It is a free product and thus shows ads, but it never overwhelms you. The ads take their own pretty little space without bothering you in any manner.
How to use it to download Instagram Videos
It is pretty simple to use; possibly the simplest tool that you might come across.
Here's what you need to do to download a video using Downloader for Instagram.
Step 1: Open the Instagram app and navigate to the video you wish to download.
Step 2: Click on the three dots in the top left corner.
Step 3: Select the copy link option.
Step 4: Now, open the Downloader for the Instagram app. The link gets pasted on automatically as you open the app.
Step 5: Tap Save video to download the video into your device. If you wish, you can change the download location to a folder of your choice.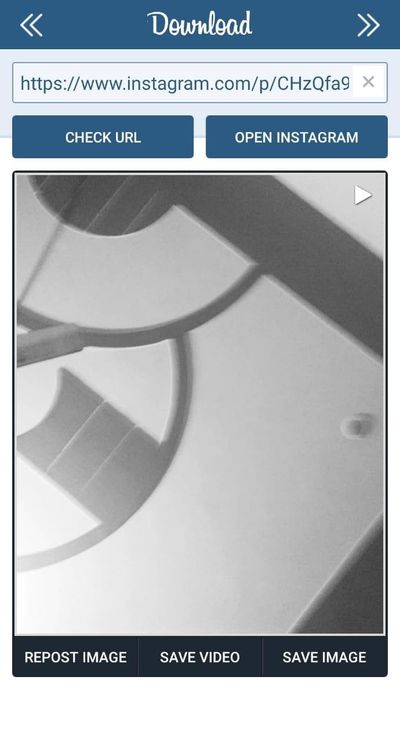 You can use the repost image button in case you want to repost the image that you have downloaded.
Features of Downloader for Instagram
It facilitates downloading of photos, videos, and IGTV
It makes reposting IGTV videos easier
It supports reels downloads as well
Allows one-tap sharing of downloaded content to other social media channels
It has an offline, built-in player to play the downloaded videos
Downloader for Instagram is for educational and research purposes only. It clearly declares that it is not associated with Instagram in any manner.
With so many pros, the only con that comes to mind is its non-availability on iOS devices. It is available on the Google Play store and has around 300K downloads with a rating of 4.7.
4. IGMonk or DownloadInstagramVideos
IGMonk is a web-based service that helps you download Instagram videos with an Instagram video downloader. It is popular among people largely because of its ease of use.
You do not have to download an app or log in to your account. Just visit the website, and you can download whatever video you want.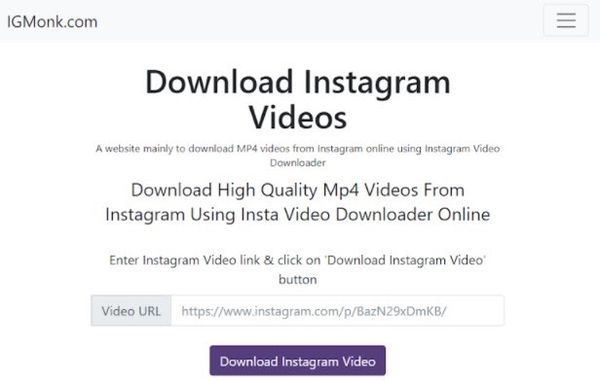 How to use it to download Instagram Videos
It's a simple task to download videos with the intuitive interface of this tool. Here are the steps:
Step 1:Visit the Instagram post you want to copy. It can be through a web browser on your phone or PC, or you could use the Instagram application.
Step 2: Once you have the link, open IGMonk.com in a web browser.
Step 3: Paste the URL link in the box and click 'Download Instagram Video'.
Step 4: You will be redirected to a page where the video from the link is going to be extracted.
Step 5: You can choose to preview the video here or click the 'Download Video' button to start downloading the video.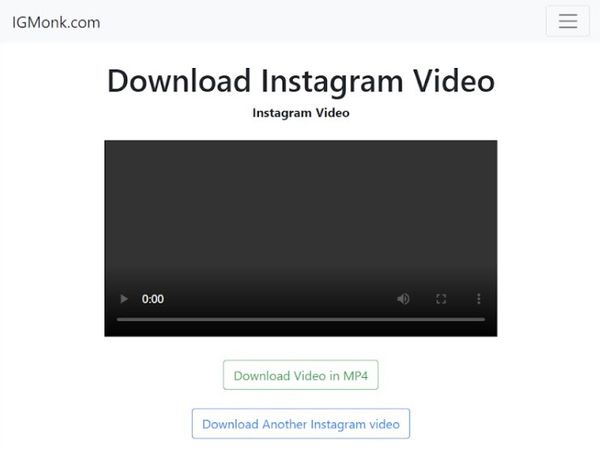 That's it. You just sit back and relax as your video gets downloaded. IGMonk uses DownloadInstagramVideos.net to download your videos.
Features of DownloadInstagramVideos 
Straightforward to use
It is very responsive, thus delivering a smooth user experience
Supports downloading ultra-high quality MP4 videos from Instagram
Free to use
Even though it is one of the best Instagram video downloaders out there, it lacks versatility. Its competitors provide the option to download pictures which it does not.
But they promised a video downloader, and they delivered that with perfection. So, no complaints there. And its support for ultra-high video quality is one of the best among all free tools in the market.
Another drawback that comes to mind is its inability to download from private accounts. But then, there are not many free Instagram video downloaders that provide the functionality.
5. Instaoffline
This is another web-based Instagram video downloading tool. And just like the previous one in our list, Instaoffline doesn't bother you with any software to download before you can get going.
Just visit their website and start rolling.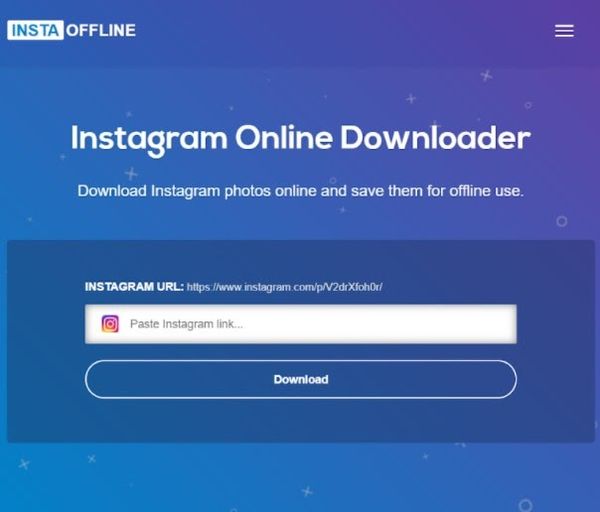 How to use it to download videos from Instagram
All reliable Instagram downloaders have a similar kind of functionality when it comes to downloading content. That's because all of them have the ultimate goal to deliver with utmost simplicity. Here are the steps to download Instagram videos using Instaoffline:
Step 1: Open the Instagram post you want to download.
Step 2: Copy the link and save it to the clipboard.
Step 3: Paste it in the input section that reads 'Paste Instagram link.'
Step 4: Click the download button to extract the content from the link.
Step 5: Click the green download button that appears afterward to start the download.
Features of Instaoffline 
You can download unlimited Instagram content using this downloader
It ships as an easy-to-use website that needs no user registration or installation procedures
The website is responsive and can be used with different screen sizes (smartphones, tablets & PCs)
They have an elaborate security net to prevent you from any malware, virus, or other cyber threat
They have encryptions in place to protect your privacy on their site
It's free to use
Instaoffline offers amazing versatility and can be used to download images, videos, carousel posts, and IGTVs directly from your web browser
Instaoffline is one of the few downloaders where they serve you with utmost diligence even while not charging a single penny. Unlike many of its competitors, Instaoffline offers a contact us button to get in touch if you have any requests or feedback.
Wrapping Up
Instagram is full of such great content that there's no doubt we need good Instagram video downloaders. Although, with Intellectual Property Rights in place, it's an edgy road to traverse.
It's cool to download a video you like for your personal use. No one's got an issue with that.
But if you want to make money off someone else's hard work without their permission, you might get in some legal trouble. To that end, every Instagram video downloader comes with a disclaimer making you solely responsible for anything you do beyond educational and research purposes.
As a brand, you would not want to get into such trouble. Downloading videos for future references or to take inspiration for work is completely understandable, but always ensure that you create authentic and original content for your video marketing strategies.
If you ever feel short on ideas for your content marketing strategies, you can lean on to the content curation platform provided by SocialPilot. With their platform, you can search for fresh content ideas to develop engaging content for your followers and grow your business.