Looking to elevate your Instagram presence and truly engage your audience? The key lies in mastering the art of the Instagram Grid Layout.
With over two billion monthly users on the platform, standing out from the crowd has become more challenging than ever. Millions share their stories daily, making a visually compelling and cohesive grid not just an option but a necessity.
So, what exactly is this Instagram Grid Layout we're talking about?
Imagine your Instagram profile as a mosaic; each post is a tiny piece of the bigger picture. That's your grid layout – a carefully curated and planned arrangement of photos and videos that, when viewed collectively, provides a harmonious and eye-pleasing experience. It's your brand's visual narrative, which makes your profile look not just organized, but downright professional.
Also, did you know…
A whopping 83% of Instagram users find new products and services on the platform. That's a massive pool of potential customers waiting to be tapped into!
Now, let's dive into the nitty-gritty of creating an Instagram grid layout that truly represents your brand. Before that, let`s first understand what exactly this term means.
What is an Instagram Grid Layout
What exactly is an Instagram grid layout, you ask?
Think of it as a visual storyboard on your profile, composed of nine square tiles in total, with each representing a unique post. Each post contributes to the overall narrative, and if done right, it can help you hook your audience.
Influencers often leverage the grid layout to enhance their personal brand, creating a visually attractive and cohesive profile. By strategically arranging your posts chronologically, you can engage your audience and make them return for more.
For businesses or brands, Instagram grid layout holds significant importance as it helps them build a strong and consistent brand image. Not just that, by crafting their content in a deliberate manner, brands can convey their message to their audience, grab attention, engage followers, and leave a lasting impression.
Check out ohhdeer's beautiful grid.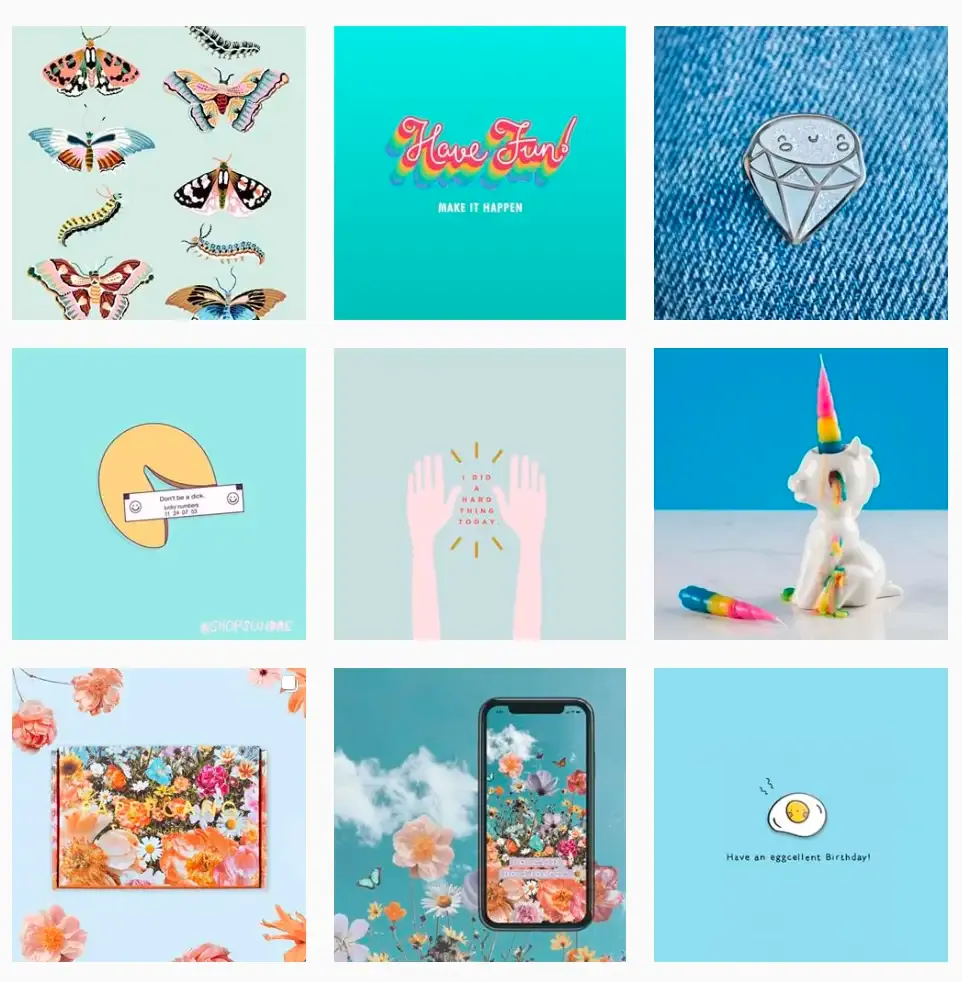 Now, you might be wondering, "How can I create a grid layout that will make my business shine on Instagram?"
Let's embark on a journey to create your perfect grid. Here's a step-by-step guide to help you along the way.
5 Quick Steps on How to Create an Instagram Grid
Ready to create an Instagram grid that's a visual treat?
Let's dive into the steps to make your grid a masterpiece. Remember, creating a perfect grid layout that yields fruitful results requires planning and effort. But don't worry. It's not as daunting as you think as long as you follow these steps.
1. Define Your Brand Personality
First things first, let's talk about your brand personality.
This refers to the unique set of human-like characteristics, values, and emotions that your brand conveys to its audience. It's what makes your brand relatable, distinct, and sets you apart from competitors.
Your Instagram grid is a visual representation of your brand's image. So, ask yourself what vibe and message you want to convey. If you are a business, ask yourself if you're fun and playful or want to tilt towards a more serious and polished image. Are you a minimalist, old school, or modern? Are you more into birds or animals? Do you like nature or skyscrapers?
Question yourself. Take time to brainstorm and establish your brand's personality so that it shines through in every image or video you post.
Take Clare Paint, for example. Their Instagram grid mirrors their brand personality: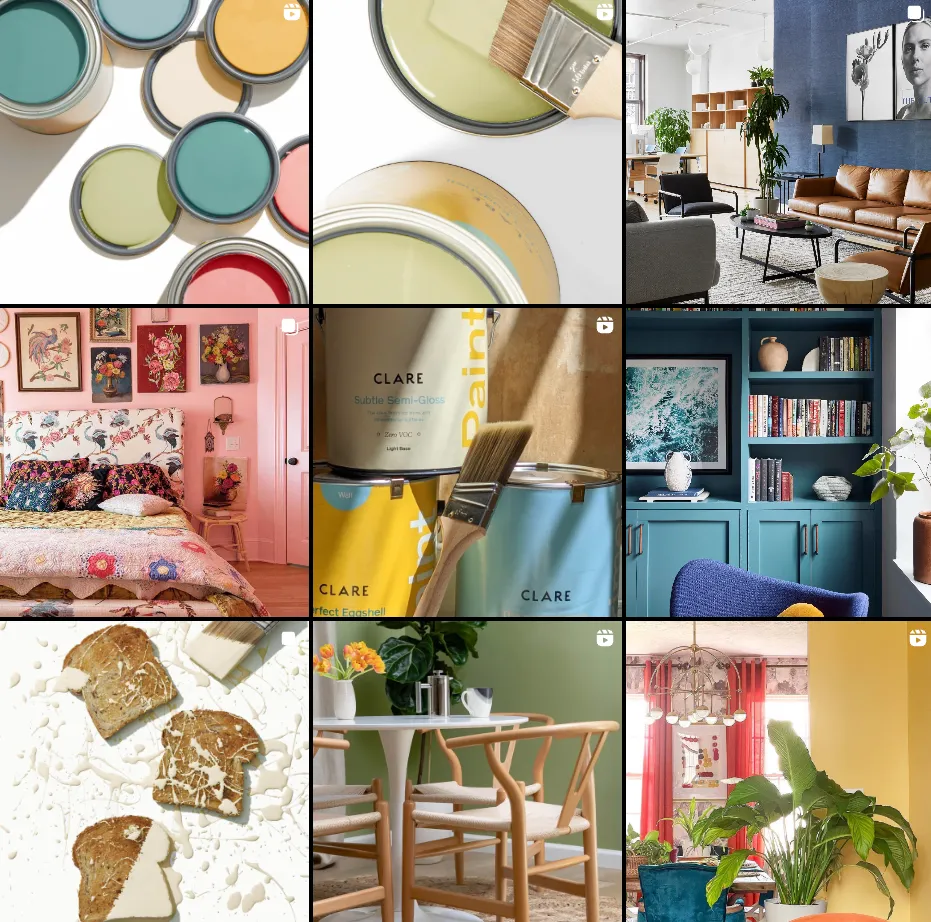 Tip: To maintain consistency, align your Instagram profile's impression with your business website. This way, your brand profile looks well-defined and uniform, which leaves a lasting impression and drives engagement.
2. Create a Cohesive Theme
Once you've nailed down your brand personality, it's time to work on the aesthetics. This includes colors and fonts, which play a crucial role in shaping a brand's identity and communication. They help you create a distinct and recognizable look for your brand and heavily influence how your audience perceives you.
To captivate your audience and turn your grid into a visual feast, create a cohesive theme. This can be achieved through color schemes, filters, or fonts. But keep in mind that consistency is key!
If you've already decided on the associated colors for your brand, it's great, but if not, pick no more than two to three shades that align with your brand. For the font, select the one which reflects the desired tone, whether it's classic, playful, modern, or professional. Also, keep readability, industry standards, or trends in mind.
3. Pick a Grid Layout Design
Here's where you get to decide how you arrange your posts and present them to your followers. To create a cohesive and visually appealing experience for your followers, you need an effective grid layout. This can only be achieved by strategically organizing your content to tell your story and maintain your brand image.
How do you do that? Here are some unique and helpful insights you can consider following:
Storytelling Flow: Plan the chronological order of your images and videos to create a visual narrative that engages your audience. This could be a chronological progression, thematic grouping, or a sequence that builds anticipation.
Visual Pattern: Play with different types of content, such as product images, quotes, or lifestyle pictures. Patterns help you break the monotony and maintain a cohesive yet dynamic grid.
Splitting Images: Split a single image into multiple grid posts to spark curiosity among your audience. This is ideal for showcasing larger pictures or panoramic images.
Embrace White Space: Adding white space in between your images can create a clean and minimalistic look. The benefit? It allows breathing space, boosts visual impact, and gives a sense of balance to the overall grid.
Interactive Grids: Explore interactive grids wherein your followers can engage with your content beyond a single post. This can include puzzle-like arrangements, panoramic shots that unfold when seen as a whole, or grids that unveil hidden messages.
There are multiple types of grid layouts, but we will get to them later.
4. Plan Your Content
There is a famous quote by Benjamin Franklin:
If You Fail to Plan, You Are Planning to Fail.
This couldn't be more true when it comes to your Instagram profile. For you to turn your Instagram profile into a great success, you need a plan in action first. Take your time to curate your plan and choose the content that aligns with your brand's voice and theme. Also, lay down an action plan to see when you should post on Instagram to ensure maximum engagement.
5. Preview Your Grid
Before you hit that "post" button, preview your Instagram grid layout. Numerous social media management tools can help you visualize how your grid will appear as a whole. This gives you a chance to rearrange images, experiment with different layouts or even spot a mistake or slip and can ensure your grid is aesthetically appealing just as you desire.
8 Types of Instagram Grid Layouts
Are you ready to explore the diverse world of Instagram grid layouts? Let's break down eight different designs that you can adapt to your brand:
1. The Classic Grid
This Classic grid layout is the most widely recognized format for organizing the Instagram feed. It's a simple 3×3 grid, meaning three rows and three columns, resulting in a total of nine posts, creating a balanced and symmetrical appearance for your profile. Each square occupies equal space creating a harmonious flow. Its popularity stems from its simplicity and clean look.
2. The Puzzle Grid
This is a unique layout drawing attention and interactivity to an Instagram feed. In this, you divide a single image into multiple posts, each acting as a part of the puzzle. When seen as a whole, these images come together to show the complete picture.
This layout tempts followers to engage and explore your feed, piece by piece, promoting curiosity and helping create a sense of anticipation.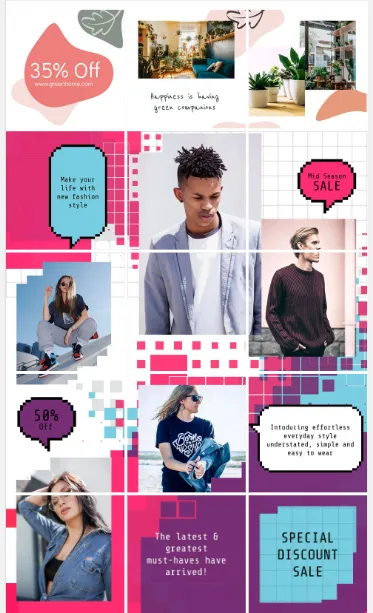 The aim is to split the images or videos in advance and connect all posts together. Post the pictures in the correct order to complete the puzzle.
Note: Gauge the reactions of your existing followers before making this a regular thing.
3. The Horizontal Grid
In this layout, the images are linearly placed side by side. All three images from left to right should be related to maintain consistency.
This layout is widely used by travel photographers, interior designers, landscaping and gardening professionals, fashion brands, architects, and even designers.
You don't need to keep the same subject in every post. Use the location and mood to deliver your message. The key is to publish all three posts at the same time to maintain the flow.
4. The Vertical Grid
Looking for something to showcase your vertical product shots, portraits, or just simple vertical storytelling? This one is perfect for you.
This grid layout vertically arranges images, making a visually striking and scrolling effect. Check out how mysimplegram has beautifully taken advantage of the vertical grid on their profile.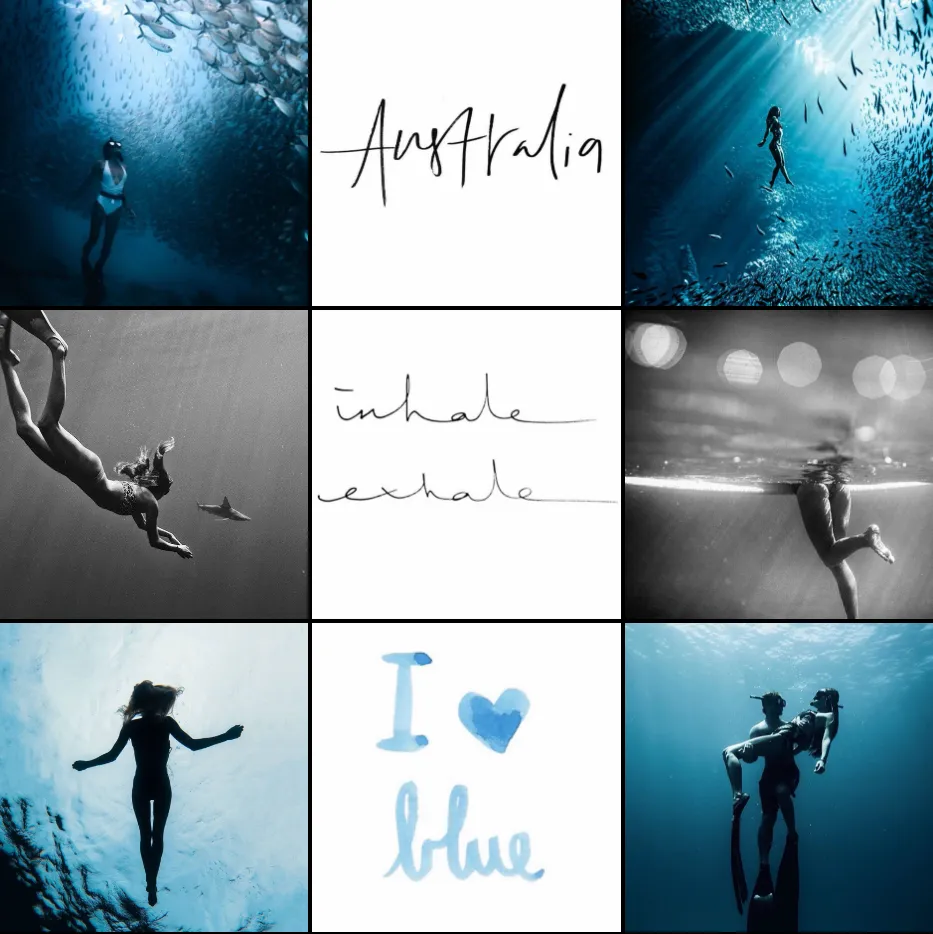 5. The Diagonal Grid
One of the easiest grid layouts, the diagonal layout is versatile and visually engaging and does not follow the traditional grid structure. To achieve this, you just need to pick one type of image, video, and color and then drag them to form a diagonal.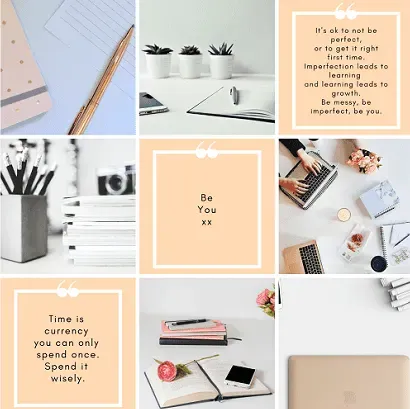 6. The Border Grid
Want to add a twist to your grid layout? Try using borders!
Use black, white, or any color that makes your pictures stand out. Borders are a smart way to draw attention to each picture without requiring a strong plan of how the entire layout will look. This saves time and effort and puts the focus on your pictures.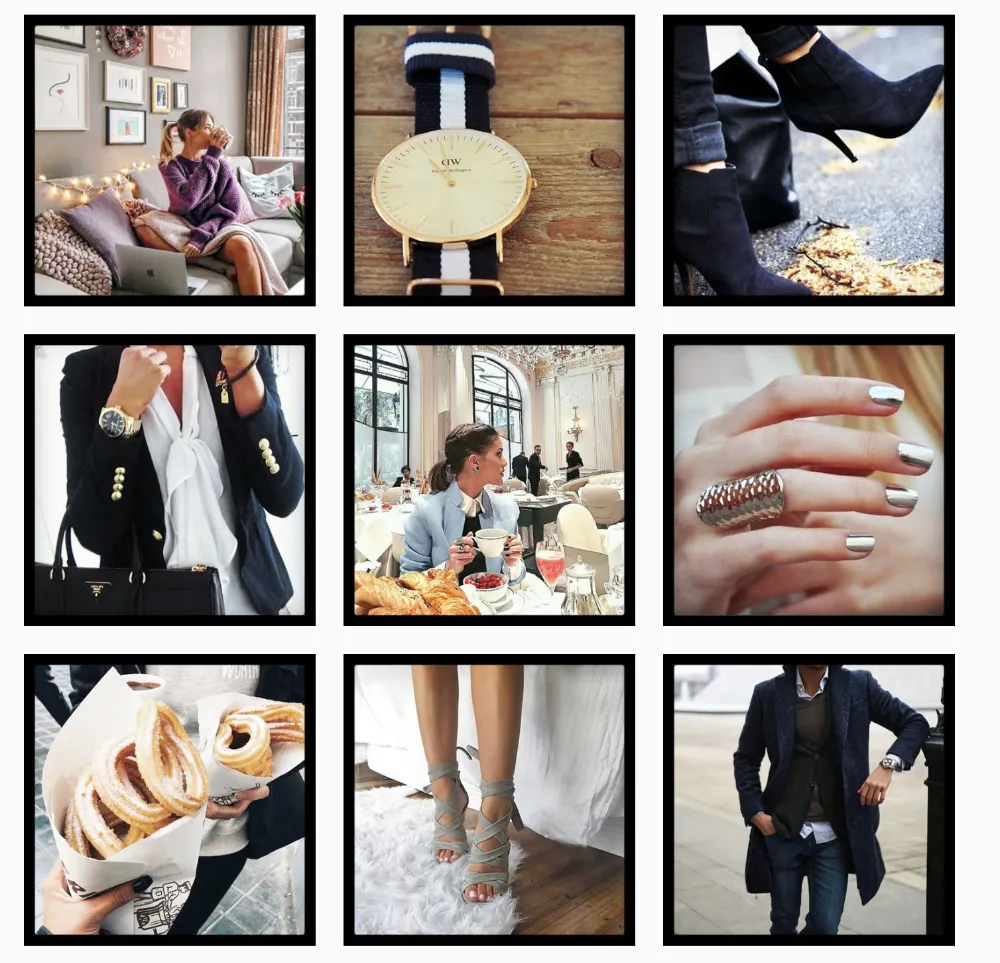 7. The Checkboard Grid
Just like a chessboard where the boxes are of alternate colors, this grid layout alternates between two types of content or themes, making a checkerboard pattern. Usually, brands stick to two colors to create a checkerboard-like design.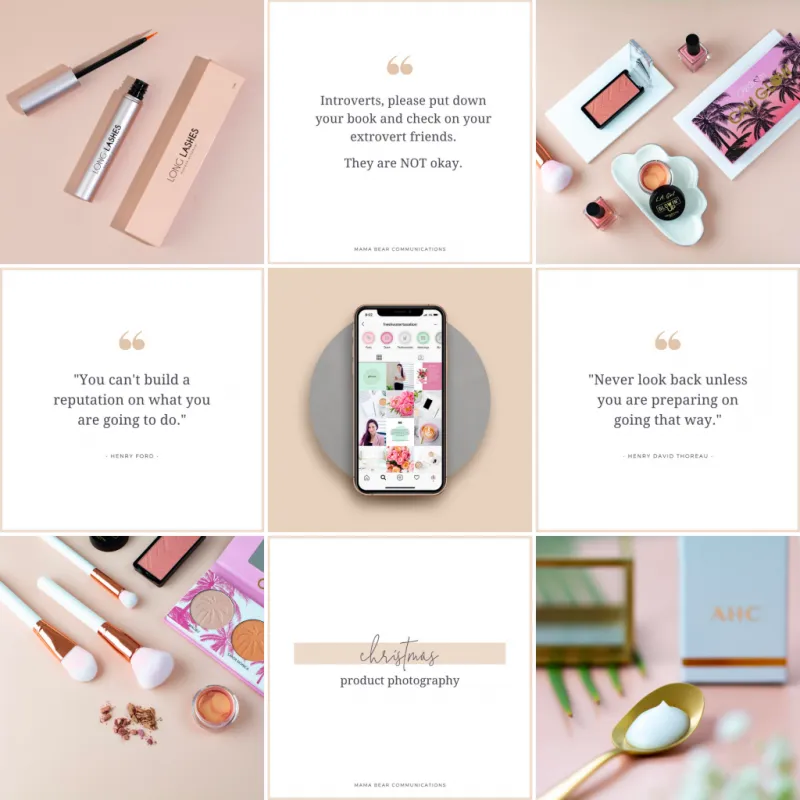 If your posts only contain words like quotes, you can utilize the checkers to vary your content. But if your posts are a blend of photos and text, you can let go of one of the solid colors and only use other ones for your quotes. Simply alternate them with your images.
8. The Rainbow Feed
A rainbow feed is when you scroll through the feed, and the color changes, leaving a rainbow-like effect. This is great if you're bored of using the monotonous color approach.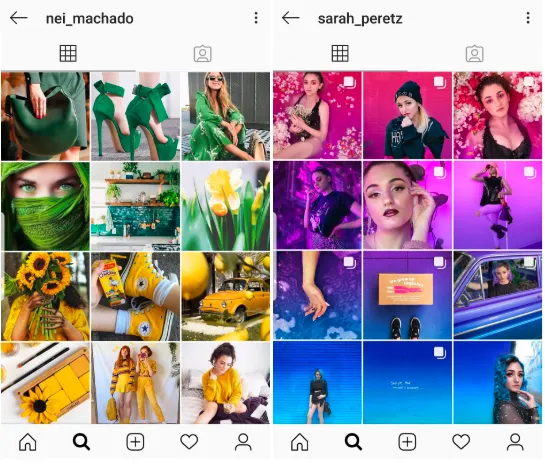 To craft a rainbow grid that perfectly portrays your brand image, you need a lot of planning and creativity to pull it off. Use different colors in your pictures after every three, six, or nine photos to get the best effect.
4 Ways to Design Your Instagram Grid Layout
After understanding how to create a grid layout and the types of grids, it's time to explore some practical tips. These tips will provide you with a clear perspective on how to achieve your desired layout.
1. Define Your Brand Colors
When we mention brand colors, what comes to your mind? A palette of five to 10 colors representing a specific brand, perhaps? Technically, that's right, but there's more to it than a few colors associated with a brand.
Color is a powerful tool, often overlooked and under-appreciated. It has the profound ability to influence human emotions, and there is a reason behind each color selection. It all boils down to color psychology, the study of how color influences human emotion and decision-making.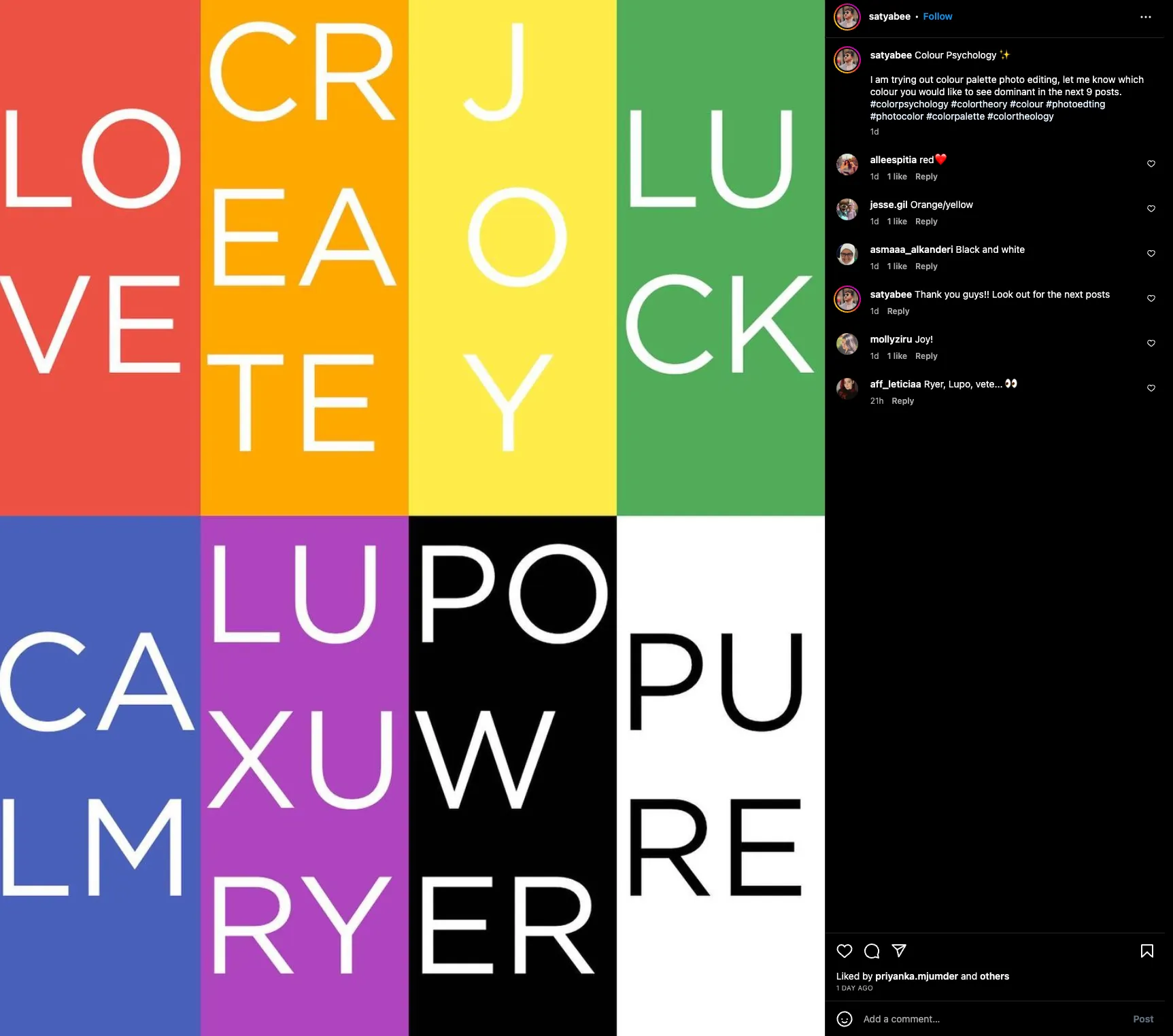 For instance, warm colors like red and orange can evoke excitement, while cool colors like blue and green create calmness and trust. Take Coca-Cola, for example. Its red color brand signature is linked to feelings of positivity, energy, and fun.
Tip: To pick your brand color, start by understanding your brand's personality, target audience, and values. Consider the feelings, emotions, and associations you want to evoke. This can help you in deciding your color choice.
2. Diversify Your Content
In this digital era where everyone is on social media, engagement rate is critical for a brand's growth and to outshine competitors. Incorporating various content types is the key to keeping your audience engaged.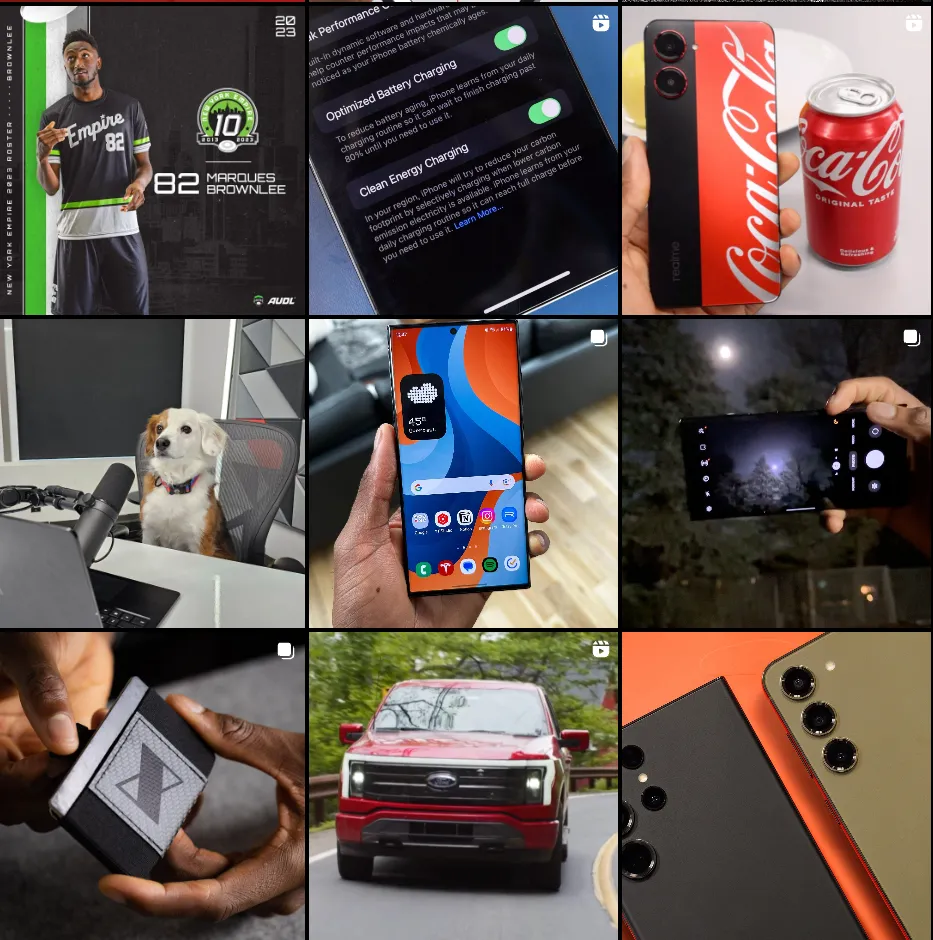 Instead of sticking to one post type, experiment with Reels, Carousels, and videos to give your community more ways to connect.
Explore a range of topics that are relevant to your brand and of interest to your audience. It could be education content, BTS (behind-the-scenes), UGC (user-generated content), industry news, inspiring quotes, or tips and tutorials.
3. Ensure Consistency
Consistency is the key to get success on Instagram. Maintain consistency in your visuals, like using similar filters, color palettes, compositions, and posting order. Ensure consistency in your messaging, tone of voice, and brand values across your captions. What's more, you must consistently post on Instagram to keep your audience engaged.
To help you plan and schedule your Instagram posts, consider using social media management tools like SocialPilot. With this, you can understand your audience and data and make informed decisions. We'll discuss more about this later in this blog.
4. Leverage Editing Tools
Instagram is a visual platform, and to maintain your visual consistency, you'll need the help of editing tools. Editing tools offer a lot of flexibility and features to enhance your images, including brightness adjustment, contrast, saturation, filters, and more.
One popular editing tool is Adobe Lightroom, which comes with a ton of editing capabilities and lets you create and save custom presets for consistent editing.
Tip: While using editing tools, aim for a cohesive look by keeping your style consistent. Create presets or use filters matching your brand's visual identity. To ensure uniformity, you can consider factors like lighting, color palette, and mood.
Remember, editing tools can only enhance your post, but to make it shine, you must put out your best work.
3 Inspiring Instagram Grid Examples
Ready for some inspiration? Let's explore three brands that have mastered the art of the Instagram grid layout.
1. Airbnb
Airbnb, the renowned infamous disruptor in the hotel industry, has utilized Instagram to promote its experience campaign and drive business. Embodying a brand personality of ruggedness, excitement, sincerity, sophistication, and competence, Airbnb's Instagram feed is a testament to these traits, according to ResearchGate.
Take a look at their grid. They're not just pictures; they're stories of adventure and discovery.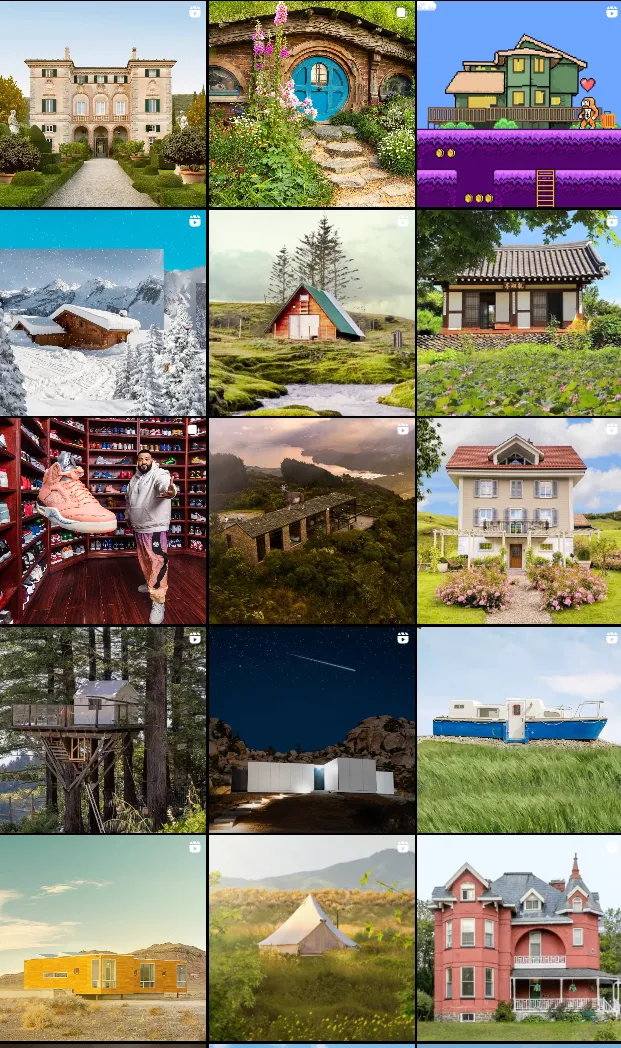 Airbnb shuns a stiff or refined Instagram feed, instead opting to leverage UGC from their own travelers or hosts. This UGC makes up almost 75% of its feed and drives 80% of its engagement on the platform. A glance at their grid feels like flipping through a traveler's diary, brimming with dream destinations and quotes from hosts and guests telling about their adventures.
2. Recess
Recess is not just a beverage brand; it's a mood enhancer. With a focus on creating content that engages, entertains, and provides a respite from everyday life, Recess has carved a unique niche for itself.
Although beverage companies are some of the highest spenders on advertisements, Recess is making waves on the organic side. The brand uses its organic Instagram traffic to drive its followers to subscribe to its content-driven weekly newsletter, with a whopping open rate of 25%. That`s really impressive compared to the industry standard of 14.5%.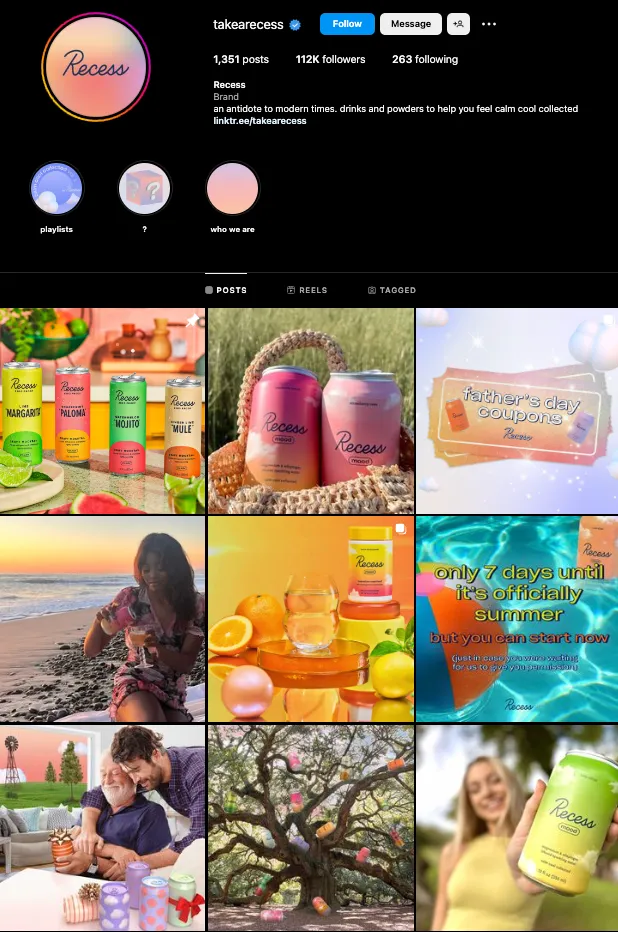 As Recess founder Benjamin Witte puts it, "I look at our Instagram strategy as a social commentary on the millennial existence… We're speaking to the issues that we're all going through that lead to stress and anxiety in a very unique, Recess way."
3. Birkenstock
Birkenstock, a footwear brand with an Instagram following of over a million, has crafted a visually organized and consistent grid layout.
A quick look at their Instagram feed reveals a balance between product shots and pictures of models wearing them. They also feature UGC from their community, showcasing how their shoes can perfectly fit into everyday life.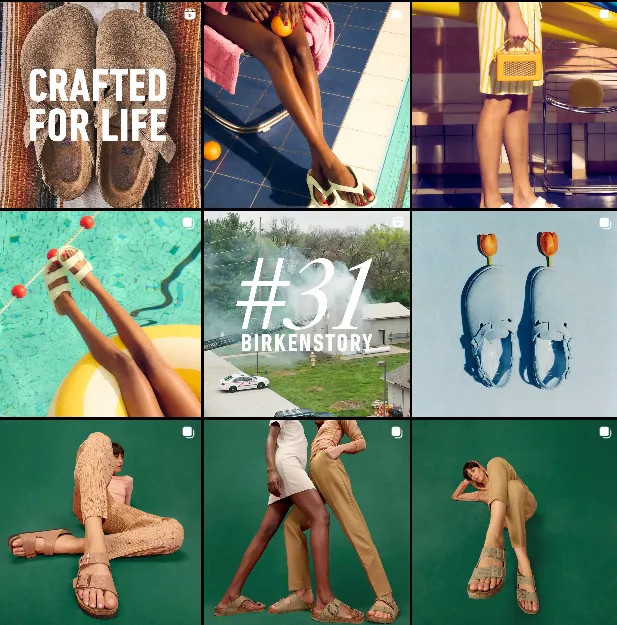 This strategy has helped Birkenstock to increase its brand awareness and reach a wider audience.
These brands have successfully utilized Instagram grid layouts to their advantage, creating engaging and visually pleasing profiles. Take inspiration from them and see how you can apply these strategies to your own brand.
Best Instagram Grid Layout Maker Apps
Ready to take your Instagram grid layout to the next level? Here are three top-notch apps that can streamline your workflow and help you create a stunning Instagram profile:
1. SocialPilot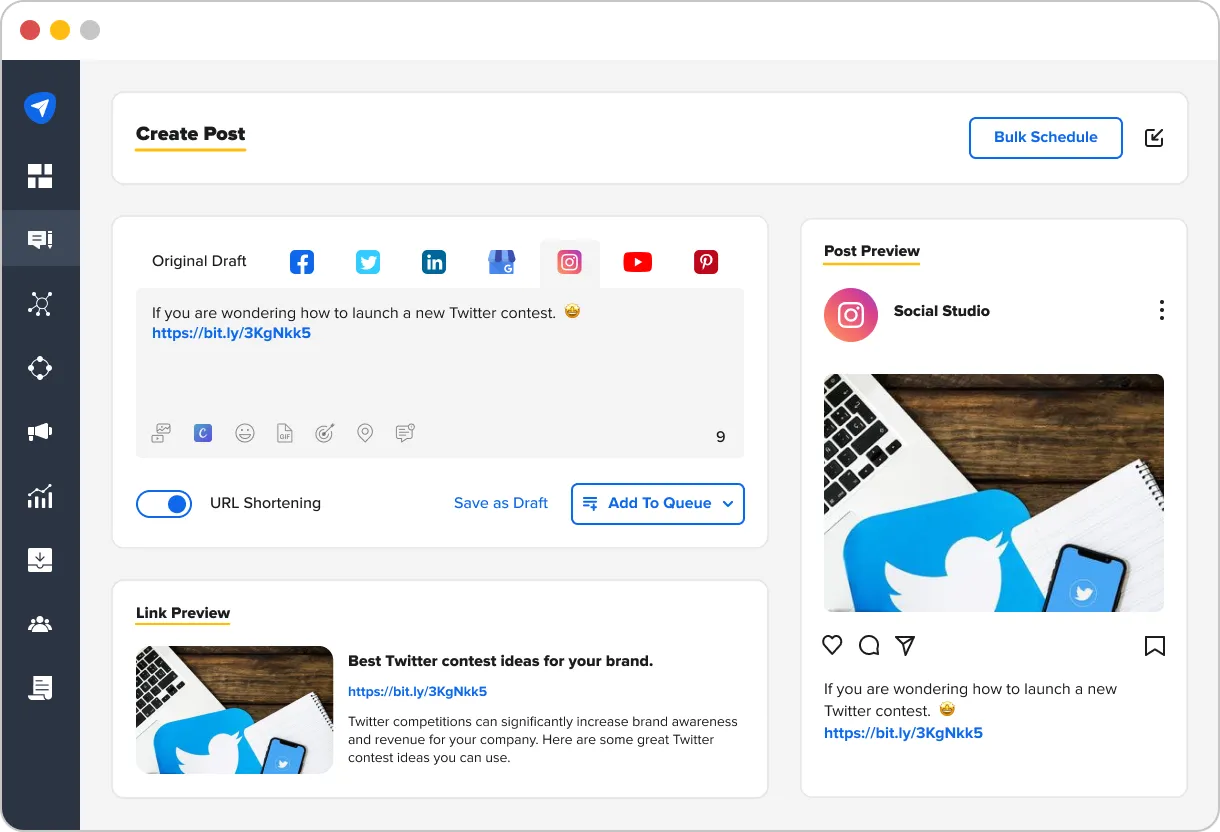 Imagine having a personal assistant to manage your Instagram grid layout. That's what SocialPilot feels like. This comprehensive social media management tool is packed with features:
Upload and Edit: Upload your files and edit them directly with the built-in image editor.
Hashtag and Post Scheduling: Add hashtags to your posts and schedule them for specific dates and times to maximize engagement.
Visual Hierarchy Tools: Crop your images, adjust brightness, apply filters, tweak contrast and saturation, and much more to maintain your visual hierarchy.
Post Preview: Use the preview mode to check the final version of your posts and make adjustments if needed.
Engagement Tracking: Track which post got the most engagement to refine your plans.
Collaboration and Multi-Account Management: Accessible from the web or app, SocialPilot lets you add collaborators and manage multiple Instagram accounts.
2. Unfold
Unfold, a toolkit for storytellers, allows you to create beautiful and engaging posts, Reels, and Stories for Instagram with minimal and easy-to-use templates.
Unfold provides a unique approach to Instagram content creation, focusing on the storytelling aspect of your posts. With this app, you can create a cohesive and visually pleasing Instagram grid that tells your brand's story in an engaging way. Take advantage of the variety of templates, fonts, and filters that can help you create a unique and consistent aesthetic for your Instagram grid.
3. Canva
Canva is like your personal design studio. This versatile and user-friendly platform lets you manage your posting calendar and create stunning visuals with a wide range of pre-designed templates, graphics, and customizable assets.
With Canva, you can design and customize individual posts to align with your brand identity. The tool also offers grid layout tools, enabling you to visualize and plan your grid in advance.
With Canva, you're not just creating posts; you're crafting a visual narrative that resonates with your audience.
Conclusion
And there you have it!
This guide has armed you with all you need to plan and create a fantastic Instagram grid layout in 2023. Remember, crafting an engaging and personalized Instagram grid layout is a blend of attention-grabbing visuals, a strong brand identity, and a dash of audience engagement.
But let's not forget; all these steps will only work if your content is in sync with your grid design. So, understand your audience's needs and preferences, and respect their time by delivering valuable, relevant, and engaging content they can genuinely connect with.
To save yourself the hassle of planning and scheduling your Instagram posts, you can use social media management tools like SocialPilot. Let this work tool do the heavy lifting while you focus on the fun part – growing your brand and unleashing your creativity.