Back in 2020, when the future of TikTok was pretty uncertain in several countries, Instagram released a new feature called Instagram Reels. Reels allow users to create and watch engaging short videos on the platform.
Despite being termed TikTok's copycat, it didn't take long for Instagram users to embrace Instagram Reels. It quickly became a favorite of brands and influencers. Going by Instagram Reels' popularity, it wouldn't be wrong to say that Instagram timed its takeover of TitTok's audience well.
Below are some Instagram Reels statistics that will convey the power of this new feature.
More than two-thirds of the NBA's franchises have posted their own reels since the feature launched
As compared to Instagram posts and stories, NBA franchises get a 22% higher engagement rate on Instagram Reels
Each Louis Vuitton reel receives an average of 7M views
Each Sephora France reel receives over 453,000 views
A Balmain reel gets over 1.2M views and 100K+ likes
In this blog, we'll discuss what Instagram reels are, their benefits, and how to use them. So, sit tight and read on!
What Are Instagram Reels?
Instagram Reels is a feature of Instagram that allows users to create short videos between 15 and 30 seconds in length. In addition to recording short clips, Instagram Reels also lets users edit, remix, and add effects and audio to their reels.
With Instagram Reels, you can now create and watch short, entertaining videos anytime. In addition to these features, Instagram also provides several options for making reels more exciting and engaging. Add an extra ounce of the dash to your reels through options such as multi-clip videos, easy-to-use text, AR filters, and audio.
Types of Instagram Reels
Currently, Instagram Reels can be categorized into three groups:
Informative Reels: This type of reel aims to spread awareness or provide information to your audience, either through what you say or through the text displayed on the screen. Possibly a reel to explain why we have to drink water or a reel about high-calorie foods are examples of informative reels.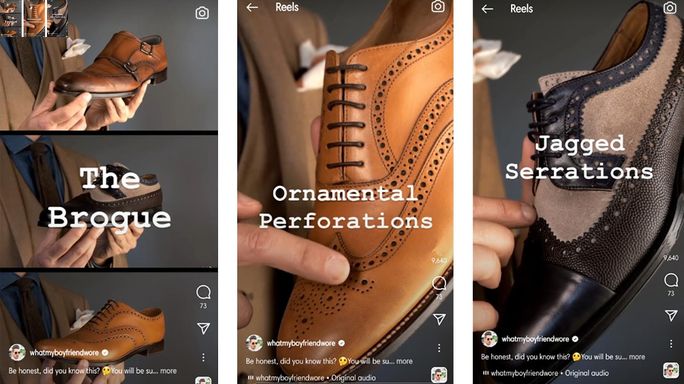 In this image, an influencer teaches the specifications that brogues have.
Entertainment Reels: As the name suggests, this type of reel aims to entertain the audience. It could be anything from a dance reel, to trending challenge reels, or a funny skit.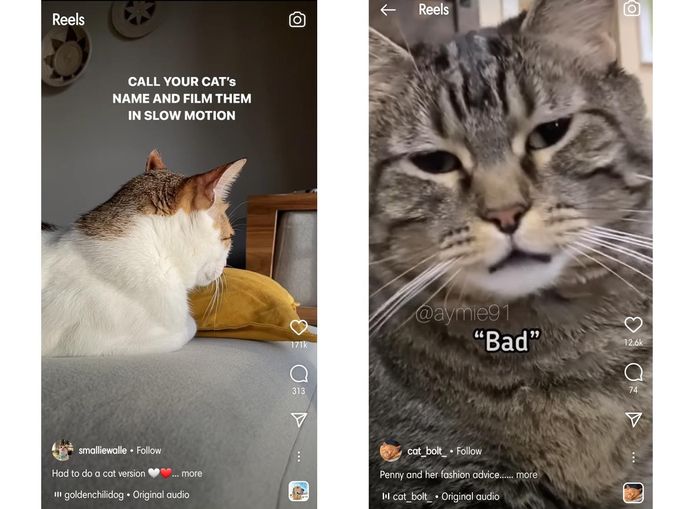 In the above image, we can see how two cats are being shot to create a funny reel.
Remix Reels: Remember TikTok's Duet? Well, remix reels are very similar to that. With remix reels, you can create your own reel and add someone else's reel to it side-by-side. Like the one shown below.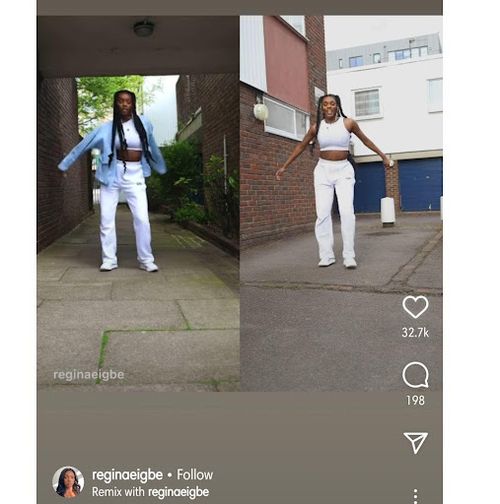 How to Create Instagram Reels?
At this point, it's safe to say that by now, you've developed enough curiosity to want to explore and use reels to promote your brand. On that note, let us take you through the step-by-step guide that will make the task of creating reels super easy for you.
Step 1:
Spot the '+' sign in the top left-hand side corner.
Or
Your Story with the '+' sign in the top left-hand side corner.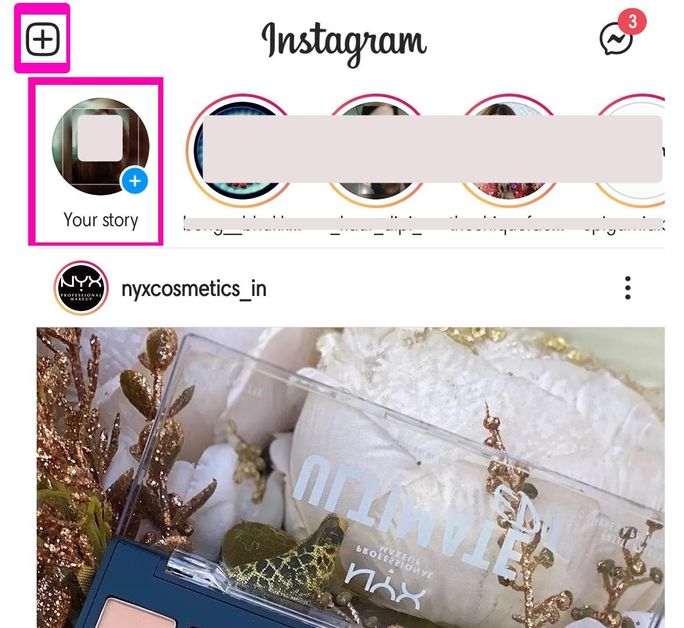 Step 2:
When you click on the '+' sign, it takes you to a page like this. Select REELS.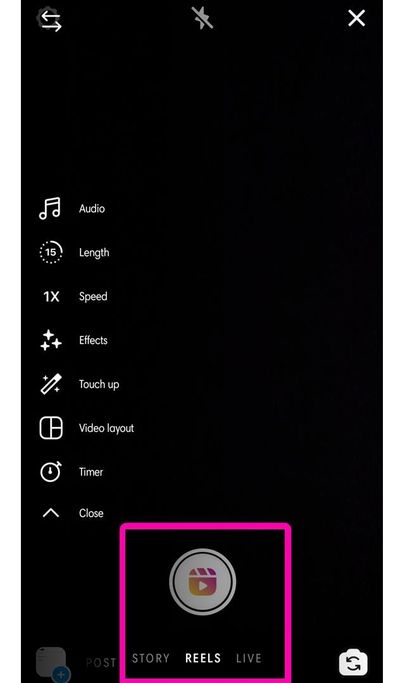 Step 3:
The reels screen appears, along with the additional features. Choose the effects and music you want to add to your reels. Likewise, you can decide whether you want to upload a 15, 30, or 90 seconds reel, the clip's speed, and more.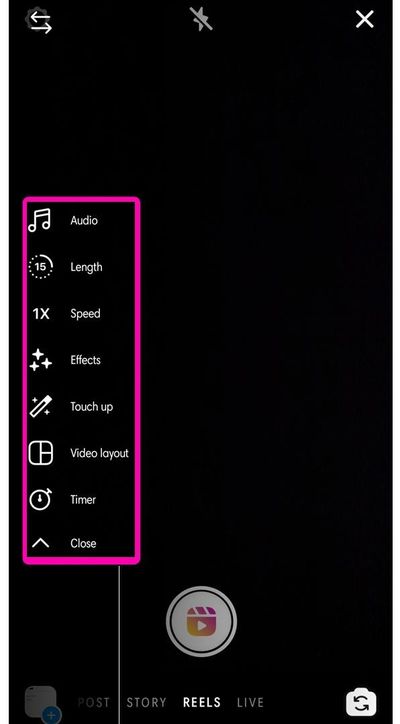 Step 4:
Tap on the reels icon to record the reel.
There are multiple ways to record the clip:
Tap and hold the record button while recording the reel
Tap on the record button once and record the clip. Then tap on the record option again to stop recording
Set a timer. On the left side, tap the Timer button. Utilizing the timer, you can set the duration for how long the video will last. Once you set the timer, you will get to see a countdown of 3 seconds or more before the recording begins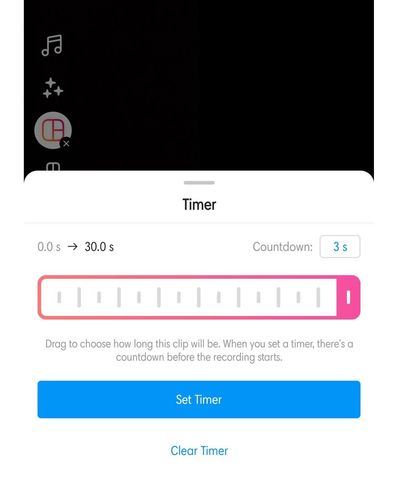 Step 5:
Once you have added the music and effects (in any), preview the reel before uploading.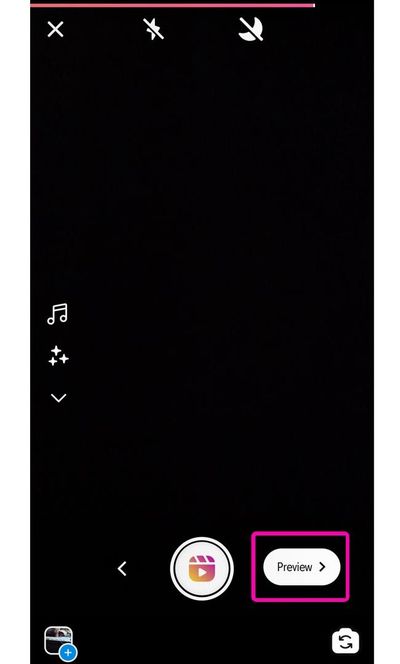 Step 6:
While previewing, you can add or draw texts, voiceovers, and stickers. You can also download the reel.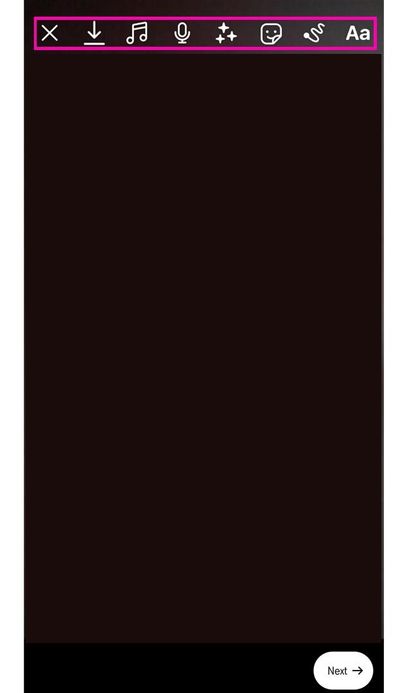 Step 7:
Write a caption, include relevant hashtags, set a cover image, and tag people, and you are good to go.
If you have a public account, you have the option of sharing your reel in a dedicated Reels section. When your reel is in the Reels section of the Gram, it has a greater chance of being seen and discovered by a wider community.
In addition, you can post your reel to your Instagram feed and share it with your followers as well. It will appear under the reels section of your profile.
Now let's look at the other side of the coin.
No doubt Instagram app is a great way to manage the posting of reels. However, posting Instagram reels from the native app can be tiresome for agency marketers. The task becomes more excruciating if multiple accounts are to be managed simultaneously.
In such a case, it's best to use an Instagram scheduling tool that has the capability of scheduling reels.
Looking for a tool to automate your Instagram Reels along with your usual Instagram posts and stories? Your search ends at SocialPilot!
SocialPilot enables you to schedule your Instagram Reels way ahead of time. This eliminates the manual task of posting reels for each of your client accounts and saves you enough time to focus on creating engaging Reels.
What is the best way to watch reels?
There are several ways to find and watch reels on Instagram. We have jotted down some ways that will aid you in finding reels and enjoying them.
From the Reels Tab: You will find the main hub of the Reels front and center in your Instagram app. Click on the Reels icon to enjoy the endless stream of Reels
From Your Feed: As you scroll through your regular feed, you might see reels of brands and business pages that you follow
From the Explore Tab: When you click on the search option, you are exposed to various content. After you start watching a reel, you can access more reels just by scrolling
Through Hashtags: Hashtags are another way to search for reels. Searching for reels is easy when you use hashtags in the search box
Through Suggestions: While scrolling through your feed, you might find 'suggested reels' that Instagram suggested based on your interest and likes
What are the benefits of reels and why should brands or businesses use them?
1. Viewers are captivated by short clips
It is easier to capture viewers' attention through short clips. People prefer watching informative or entertaining short clips instead of spending hours watching the same thing. Besides, why overdo it unnecessarily if crisper content serves the purpose?
2. A possibility of making it to 'Explore'
Instagram makes sure that with more interaction, your content gets featured in the Explore section. The more likes, shares, and comments a reel will have, the more the chances of it making it to the Explore tab. The significance of the Explore tab is that non-followers get to see your reels too. If they like your content, they can end up following your account.
3. It is cost-effective
The fact that you can record reels directly on the app saves on a lot of factors. Instagram lets users record reels directly through the app unless they are uploading a pre-recorded clip. Furthermore, you do not have to spend money on graphics and celebrities every time you upload a reel.
4. Re-sharing is an option
Reels are multi-purpose content that can be re-shared on other platforms as well. Your own reels can be repurposed and re-shared periodically on your feed, posts, and stories if they become relevant and relatable. You can also make use of your other social media platforms and share your Instagram reels on them to spread brand awareness.
5. Reels are an interesting way to spread brand awareness
Microsoft Corp. conducted a study that found the average attention span of people is about eight seconds. That's crazy, right? Now picture which features of the Gram is most likely to make it onto the viewer's watchlist: a 15-second reel, a 60-second post, or a long Video. There can be no doubt about the winner.
Adding additional features, such as audio, AR filters, or text, can make reels even more engaging. Everything is possible now with Instagram Reels, from product launches to motivational videos to scrumptious recipes.
6. You can connect with your audience through authentic content
Instagram Reels are designed to create quick, engaging content that audiences love to see. Use reels to engage the audiences with authentic and original content; they will be hooked onto your page for more.
7. Reels offer multiple creative possibilities
Brands and businesses can use this for creating a quick video about their products and services, showing BTS scenes, providing expert reviews, educational posts, and more. Brands can also use it to make exciting announcements about their new products and services, acquisitions, sales, upcoming events, and much more.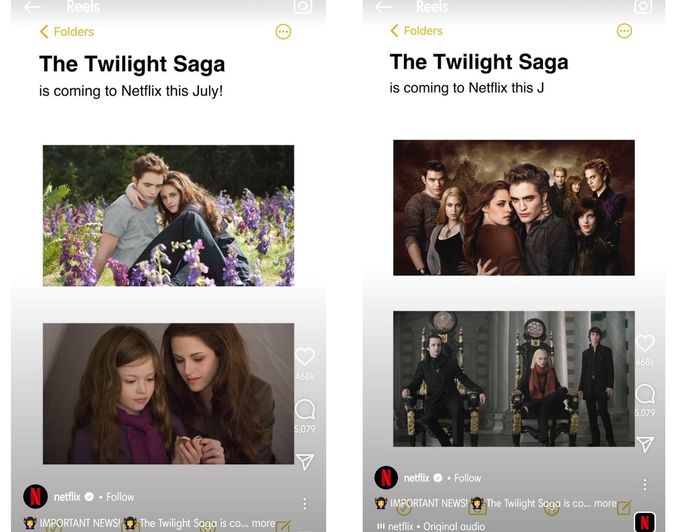 In the above image, we can see Netflix used Reels to show a BTS to promote the latest season of Stranger Things.
8. It saves time
Do you shoot videos for your brand? If so, how long does it take? Let us answer that for you. When you know how to use Instagram Reels, you can shoot video content for your brand in as little as 15 – 90 seconds. And everything you need to make a video is already provided to you by the Instagram app. With its special features, it also reduces the amount of time spent editing. Music, filters, speed, length, everything can be controlled as you see fit. What a time-saver, isn't it?
9. Improves collaborations opportunities
You might run out of ideas, but having multiple influencers working on paid collaborations will definitely provide you with plenty of content for reels. Look for influencers who have already made plenty of reels and know how to promote products through reels effectively. Your products and services will receive more exposure through collaborations with influencers. Make your purpose and intention from the collaborations.
Instagram Reels: Dos & Don'ts
Due to its daily active user base of over a billion, Instagram is a popular option for brands. The reel is a fairly new feature on Instagram, and it is being promoted very dynamically. Instagram reels are an excellent way for brands to promote their brand awareness.
In order to create high-quality reels, we have listed some Dos and Don'ts in regards to IG Reels:
The Don'ts
Avoid uploading blurry, low-resolution videos
Avoid uploading videos with watermarks. Especially, don't repost clips from TikTok on your Instagram reels because Instagram doesn't want to promote an app that might lure users away from its platform
Do not upload videos with borders around them
Don't upload videos with lots of text overlaid on them
Videos with out-of-date references should not be uploaded
Don't add music to videos that aren't already in Instagram's music library. This prevents copyright violations. However, it is possible to upload other music as long as you have the appropriate license
Don't violate the Instagram Community Guidelines
The Dos
The best reels are those that delight people and grab their attention
Consider uploading reels that will inspire people, for example, making reels that will introduce trends and challenges
Videos that are vertically oriented should be uploaded
Share authentic and original content created with reels camera
If you want your content to stand out, make sure it has a WOW or a LOL factor
Ensure that you have used relevant hashtags on the reels
Be sure to follow Instagram's community guidelines
Examples of How Brands Are Using Instagram Reels
To help you get started with IG Reels, we have gathered some examples of how brands are using Instagram Reels to ace their marketing strategy.
Brand:

IG Handle: Netflix
Netflix is the quintessential example of how IG Reels can be creatively utilized to grab the attention of its viewers.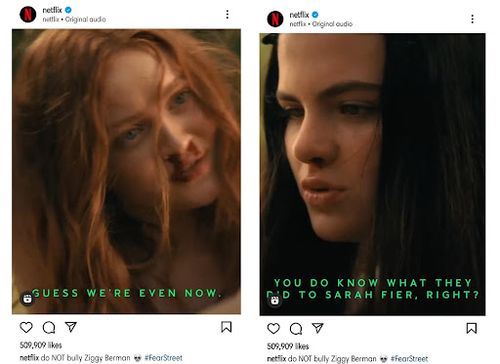 In this picture, Netflix uses reels to give the audience a sneak peek into one of the latest shows, Fear Street.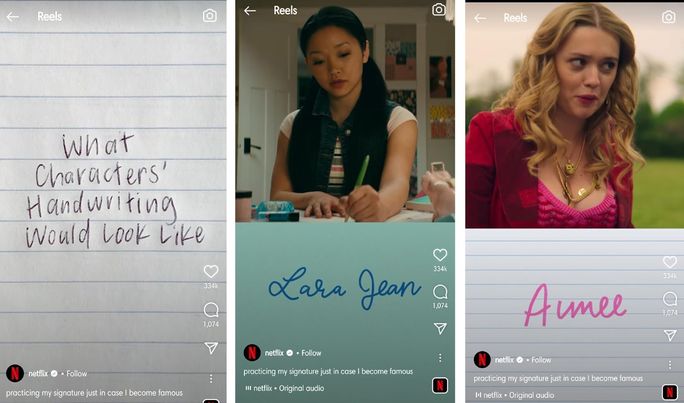 In this picture, we can see Netflix using Reels as an interesting tactic to highlight some of their favorite characters.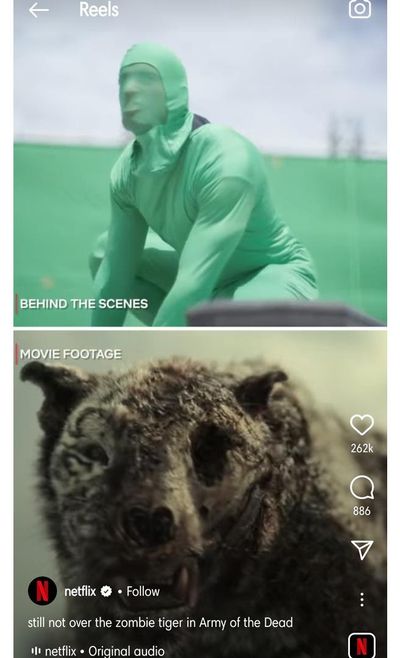 Netflix uses Reels to show the VFX breakdown of their film Army of the Dead.
Brand:

IG Handle: walmart
Walmart also uses IG Reels to make the most of this feature. Through Reels, they show interesting and easy-to-make recipes and the products that they offer. They also link the products used in recipe reels.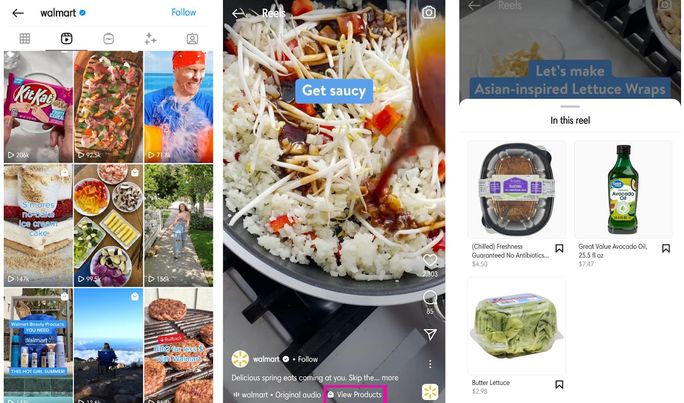 Brand:

IG Handle: sephora
Sephora utilizes reels to advertise many of its services and products.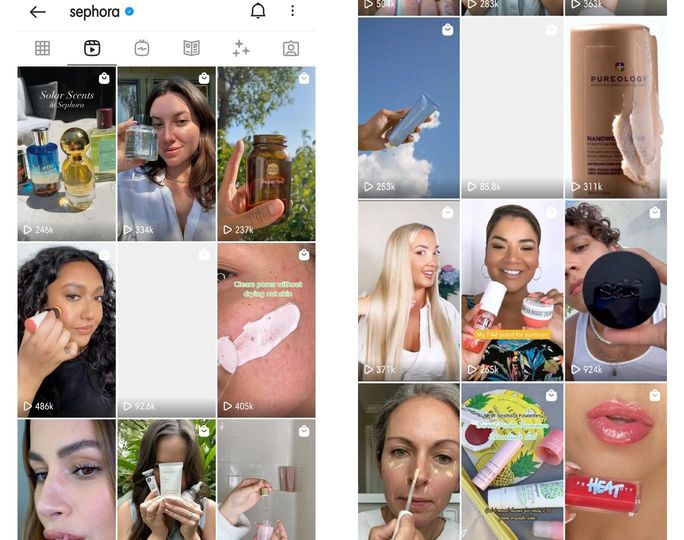 Brand: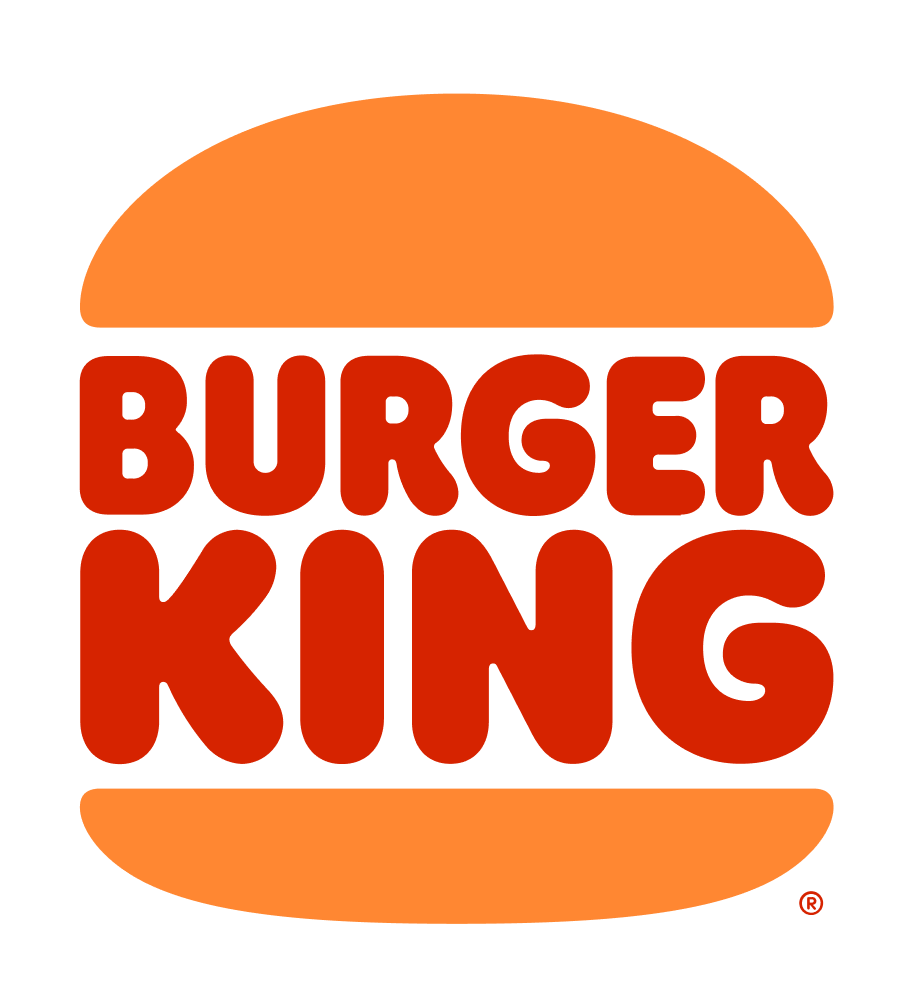 IG Handle: burgerking
Burger King uses funny content to make reels that link to its products.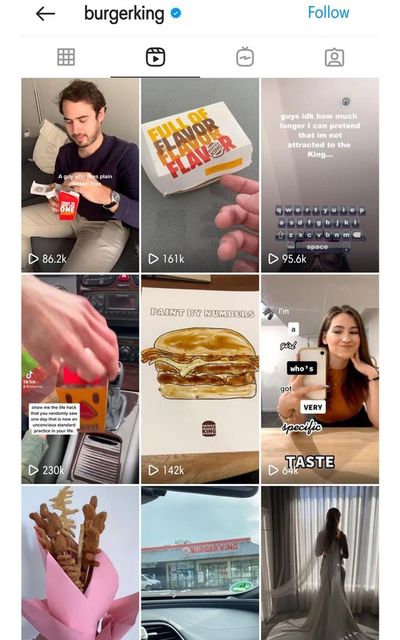 In 2021, Instagram announced the Reels Summer Bonus, which gives bloggers and influencers the chance to earn money by creating content on Reels. Business pages and brands can leverage this opportunity to promote their products and services through collaborations with influencers.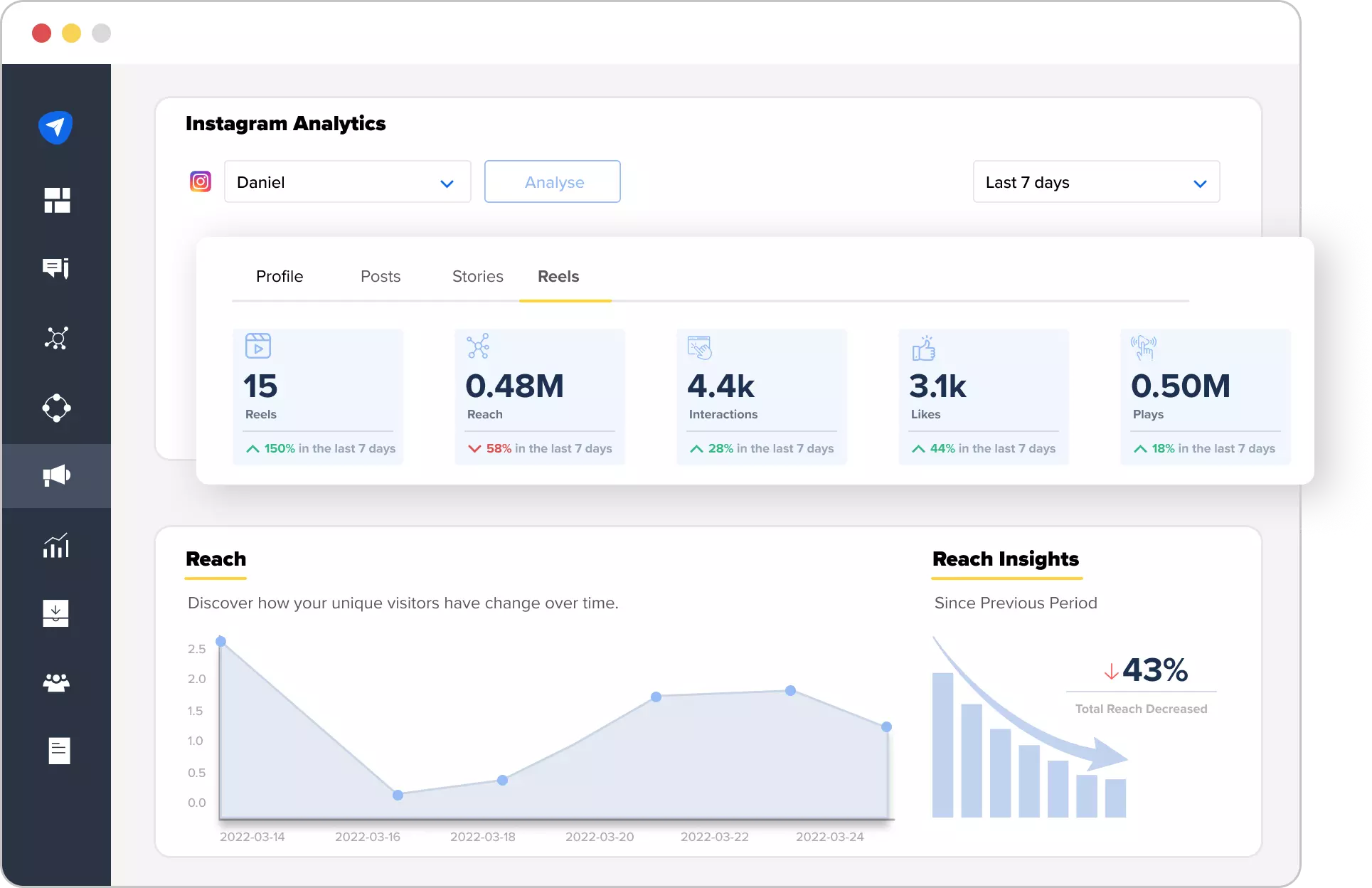 Finally, if you are serious about moving the needle on Instagram with Reels, start your journey with SocialPilot. Its unparalleled Instagram scheduling features that include reel posting and scheduling will quadruple your productivity. What's more, is that it also has in-depth insights such as Interactions, Reach, and Saves for your Reels. So go ahead and use this tool to your advantage and watch your Instagram grow in leaps and bounds.