Do you want to restart your YouTube journey?
Do you want to take a break from YouTube and focus on other platforms?
Do you want to delete or hide your YouTube channel permanently?
Whatever your reason be, YouTube provides its users with a simple and easy process to delete their YouTube account.
If you decide to delete your channel, all your content and engagement will be wiped off from the platform, and there will be no clue of your channel's existence for the real-time users.
If you want to hide it, you can reverse it and be back on the platform will all your existing content safe.
But how to delete a YouTube channel?
More importantly, what are the common mistakes people make while deleting their YouTube channels?
Don't worry; we have tailored the simplest path to either delete or hide your YouTube channel and researched some crucial tips for you during the deleting process.
But before we jump onto that, let's discuss all the reasons behind escaping from the second-most visited social media platform:
Why Delete or Hide a YouTube Channel?
Out of 37 million YouTube channels, many creators end up deleting or hiding their channels.
Why? Let's find out.
1. Need to Revamp the Strategy
When a business goes through a complete revamp, chances are they want to take a break from all social media handles, including YouTube, to rethink and rebuild their digital marketing strategy.
Some businesses might want to delete their existing channels to start a new one; some might hide the channel to take a break and work on a new content approach.
2. When Things Get Ugly on YouTube
Sometimes it might happen, your one move can hurt the sentiments of a specific community, and you might face a tremendous backlash.
It can fuel up the fire to delete or hide a YouTube channel to let the negativity around the brand slow down and let things get back on track.
You might also fall into a brawl with your other brands on a channel, which can turn ugly, and you might end up hiding or deleting your YouTube channel.
3. Not Getting the Ideal Results
If you try hard for years, and are still not unable to achieve desired results, the frustration can result in the hiding or deletion of a YouTube account.
But before you take a step further with your decision, always remember the consequences of your actions and look for other alternatives to make things better.
Don't jump onto sudden conclusions.
That being said, if you are fully sure to delete your channel, here are the simple steps you can follow to achieve the target.
How to Delete a YouTube Channel?
If you want to delete or hide your YouTube channel, you need to follow similar steps for both these cases, making the process even simpler.
Follow these below-listed steps carefully, and you'll be successful in hiding or deleting your YouTube channel.
Step 1: Go to youtube.com and log in to your channel account you want to delete. Click on your profile avatar and select the settings option.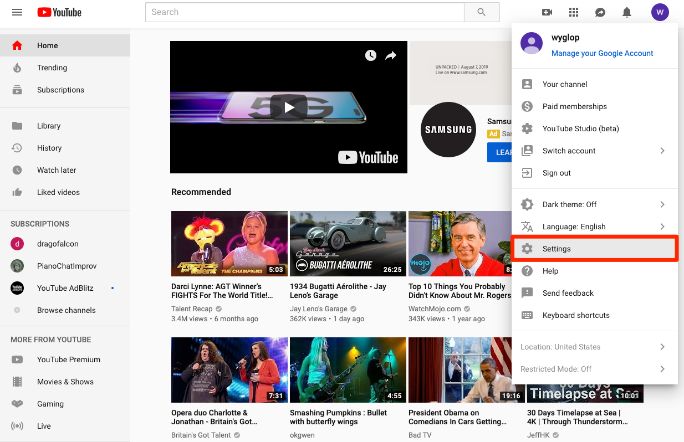 Step 2: In the settings page of your channel, select the advanced settings of your channel. Scroll down till the end until you find a link to delete your YouTube channel.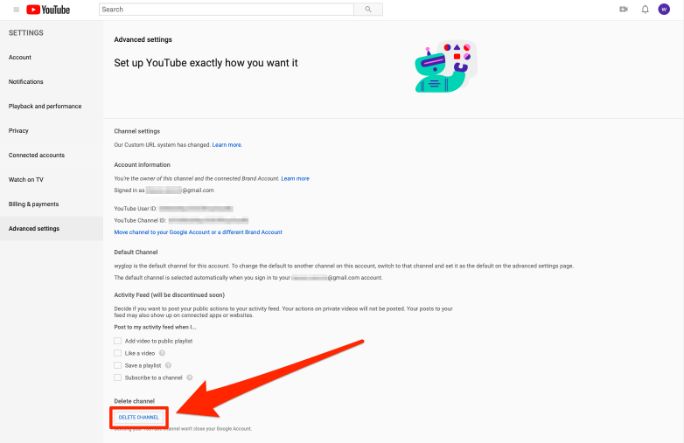 Step 3: Click on the Delete Channel option and verify your YouTube account using your password. If you don't remember your password, you need to reset your password using any prescribed methods listed by YouTube.
Step 4: Once you have verified your account, you need to select one option, either hiding your content or permanently deleting all your content.
If you want to hide your channel, select the I Want To Hide My Content option, and if you want to permanently delete your YouTube channel, select the, I Want To Permanently Delete My Content option.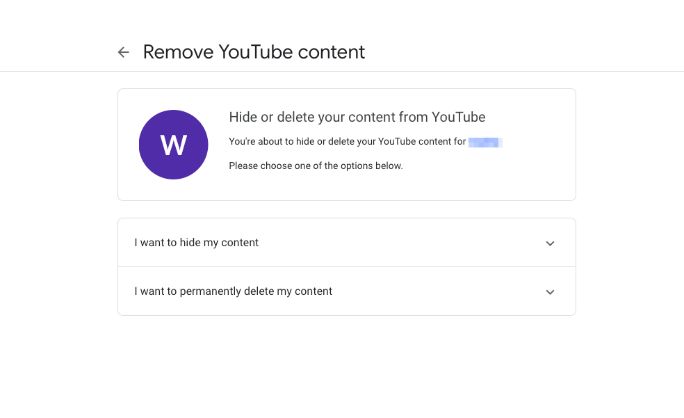 Step 5: Once you choose any of the options listed, you'll be reminded by YouTube what will result from your specific action. Read all the details and once you are ready, click on Hide My Content or Delete My Content according to your personal preference.
Remember: Hiding your content will result in deletion of your comments and replies and make your channel videos, name, likes, subscribers, subscriptions private. But you always have the option to log in again and retrieve all your content back.
On the contrary, if you choose to delete your channel, all your content, videos, comments, playlists, messages, and history will be deleted permanently. Your channel URL and channel name will no longer be searchable or visible on YouTube analytics. But all your data like watch time and other vital information will be a part of aggregate reports.
The steps sound simple, right?
But sometimes, in a hurry to achieve the desired result, people rush into things and make some horrible mistakes during the deletion process.
Let's discuss some of the common mistakes people make while deleting or hiding their YouTube channels.
3 Common Mistakes People Make While Deleting a YouTube Channel
1. Get Confused Between Hiding and Deleting
Sometimes, people are unaware of the difference between hiding and deleting a YouTube channel. Many creators end up deleting the channel but in reality, they just wanted to take some rest from the YouTube space.
You get clear-cut options during the end of the process to delete or to hide. If you go through the details of both options, you'll have more clarity of thoughts.
2. Complicate a Simple Process
If you want to delete or hide your YouTube channel, just follow the above-listed simple steps. People try to do something extra, research from untrusted platforms, and mess up the entire process.
Sometimes they don't even find the option to delete the channel in the advanced settings. If you are still unclear, read the steps as mentioned above again to gain full clarity.
Complicating the process will result in nothing but only increase the frustration and drain your time and energy.
3. Delete the Channel to Explore More
If you have decided to delete or hide your channel permanently, you should have a solid reason to take this step. You need to try every alternative first and then jump onto this last option.
If you are just trying out something for fun and end up deleting your channel, you'll lose your entire content and hard work within a few clicks. Nobody wants that, right?
Now that we know all the common mistakes, let's understand some effective tips that can help you to avoid all these basic mistakes.
Lastly…
YouTube channel takes a lot of hard work and dedication to walk on the path of success. If your channel is still new to the industry, then deletion can make sense, but you should rethink your steps if it is an established channel.
But whatever the case be, the process is simple, and now you know all the basics about deleting or hiding your YouTube channel.
Don't forget to keep in mind all the common mistakes people make and what you can do to avoid those mistakes to get the desired result.
If you somehow decide to bounce back with a great online marketing strategy, you can use SocialPilot to ace your social media management and optimization.