With its global reach and user-friendly features, YouTube allows you to garner and cater to a large audience.
There could be several reasons why you'd wish to move your YouTube account – be it transferring the ownership to another email or simply wanting a separate account for your business channel.
Surprisingly, the process of moving a YouTube channel may not be as easy as it sounds. It is known as channel transfer and involves two brand accounts in which one channel is being replaced and the one to which the channel is being transferred to.
YouTube constantly updates its website and introduces new features. You might have to check some prerequisites before transferring an account to avoid losing any channel content. There are also chances that you may accidentally delete the wrong channel.
But you don't have to worry!
This article will provide you with an in-depth guide to know how to transfer a YouTube account and the channel subscriptions without any hassle.
Before We Start, Here's What You Need to Know
It is necessary to identify the type of Google account you already have. This will determine the steps that you'd have to follow in order to move your account.
YouTube is a part of Google and hence, requires you to have an active Google account connected to the channel.
You won't be able to transfer accounts that are supervised (Kids YouTube accounts). Also, a G-Suite account that is set up for school or work, cannot be moved to another account.
A YouTube channel that can be transferred has to be associated with either of the two types of account.
Personal YouTube or Non-brand Account: As the name suggests, a personal YouTube account is created when you create a personal Google account.
For businesses, personal YouTube accounts may not be beneficial, especially if they have multiple people working on one YouTube channel.
By default, you would require a Google account to sign in to YouTube. This results in your YouTube channel name being set to your Google account name automatically.
For example: A Google account with the name John Doe will automatically get a YouTube channel with the same name.
Brand Account: This type of account is specially created for a brand, and it differs from a personal Google account. A Brand YouTube account can have multiple owners and managers and be associated with multiple Google accounts at the same time.

These features make it easy to collaborate within a team. It can also allow people to access your YouTube channel but keep your Google account information private.

You don't have to create separate usernames or passwords to manage YouTube channels through this. A Google brand account allows you to use a different name for your YouTube channel.
For example: A Google account with the name John Doe can use a YouTube channel name like – John's Vlogs or John Doe Business. Of course, the channel name has to be in accordance with YouTube's updated community guidelines.
You have the option to transfer content from a personal channel to a brand YouTube channel. Similarly, you can also move a brand account to a different Google account when needed.
How to Identify if You Already Have a Brand Account?
Statistics prove that approximately 18% of YouTube viewers extensively use the platform to follow brands. These numbers are one of the biggest reasons why many brands have started integrating YouTube into their marketing plans.
When your YouTube channel is linked to a brand account, several people can manage it using their Google accounts. You can follow these steps to check if your channel is already linked to a Brand account:
Step 1. Log in to your YouTube account.
Step 2. Click on your channel's profile icon at the top right corner of the screen.
Step 3. Choose the 'Settings' option.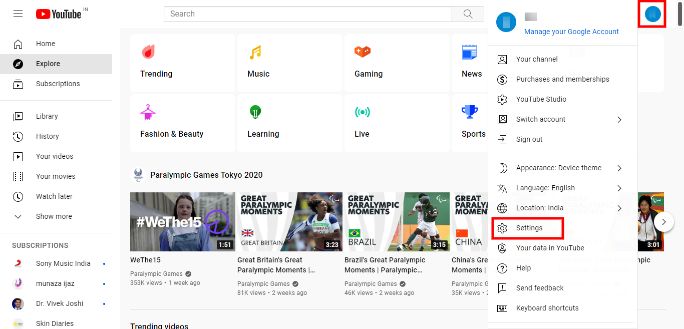 Step 4. Click on 'Advanced Settings'. This page will show you if you are already connected to a Brand account. If not, you will have an option to move your channel to a Brand account.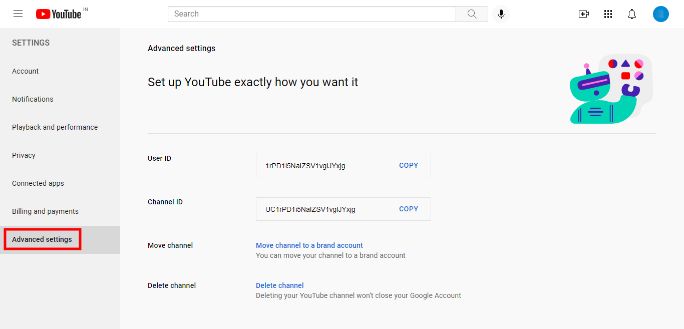 How to Transfer a YouTube Account to Another Email?
YouTube allows you to transfer an already established channel to a different email. Depending on the type of YouTube account you have, you can move your YouTube channel from one email to another.
Want to learn how to transfer a YouTube account to another email? Simply follow the steps outlined below.
How to Move a Non-brand or Personal Google Account
Step 1. After signing in to your YouTube account, click on your Profile image.
Step 2. Go to the 'Settings' and 'Advanced Settings' options. Here, you will have an option to move your personal channel to a Brand account.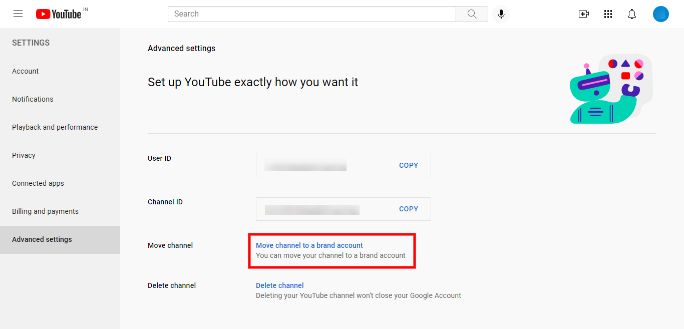 Note: For additional security, you might be asked to sign in to your account again.
Step 3. After you've signed in, select the account that you wish to move to from the options listed on the screen.
Step 4. Choose the channel and click on 'Move channel'. If no channel list appears, you might first have to create a Brand account, so it can be linked.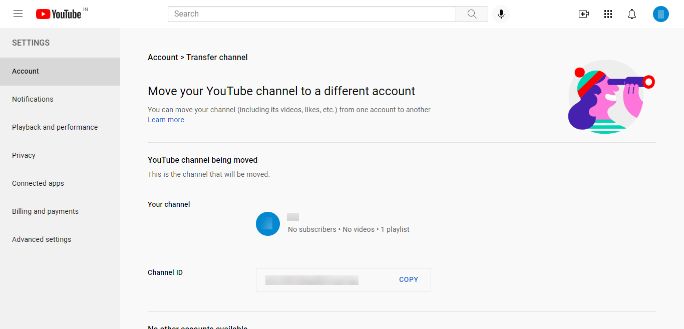 How to Create a Brand Account
Step 1. Log in to the Google account that you want to use for your Brand channel.
Step 2. Go To 'Settings' and click on the 'Account' tab.
Step 3. Choose the 'Create a new channel' option.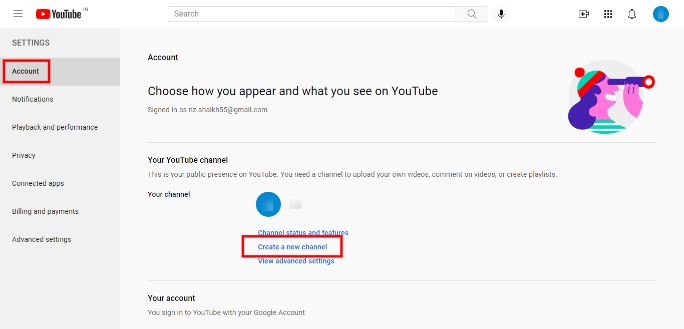 Step 4. Create an account name that is simple and reflects your business name.
Once you have created this new channel, you will find that it appears in the channel list when you choose the option to move.
Note: If you know that you have a Brand account linked, but the channel list still doesn't appear, there could be various reasons for that. It may be because your account isn't the primary owner. There is also a probability that your account may be included in YouTube Studio permissions.
How to Move a Brand Account to Another Email
In order to move a brand account to another Google email account, you have to be the primary owner of the brand account. Here is a step-by-step guide for moving a brand account.
Step 1. After signing into your account, go to the 'Settings' options by tapping on the Profile icon.
Step 2. Choose 'Add or remove managers' in the 'Account' section.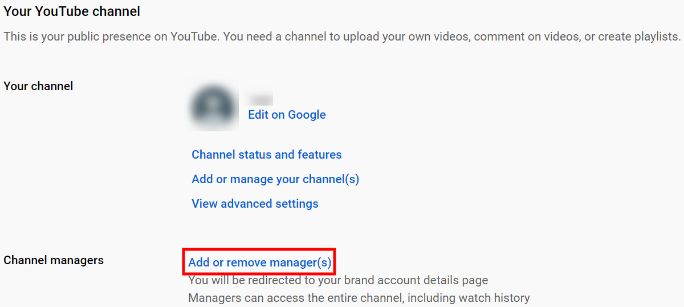 Step 3. Opt for the 'Manage Permissions' option.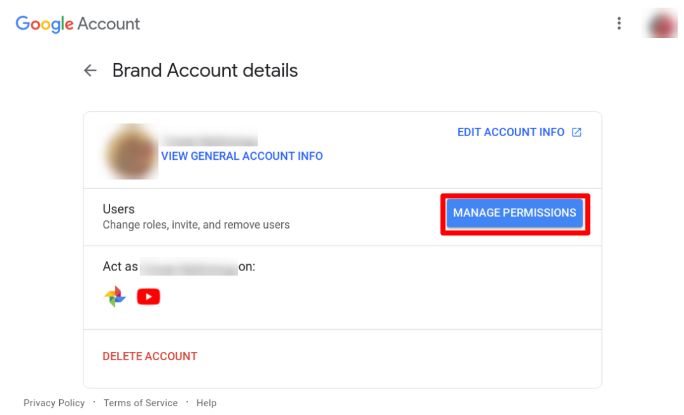 Note: You may be asked to re-authenticate your account by signing in again.
Step 4. Then, click on 'Invite new users'.
Step 5. Once you do that, you will be asked to enter the Google account that you'd like to move the YouTube channel to.
Step 6. Right below the name, you'd have the option to choose the designation or role.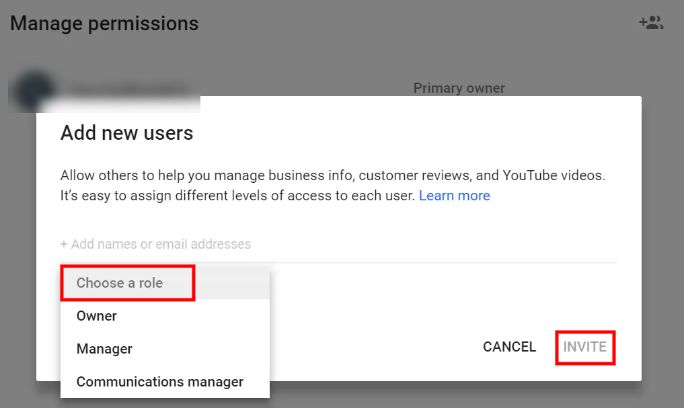 Step 7. Select the 'Invite' option and click 'Done'.
Step 8. Once the invite has been sent, it has to be accepted through the new Google/Gmail account.
Step 9. You would be able to make changes through the 'Manage Permissions' page after seven days from the invite being accepted.
Step 10. Then, you can assign the Primary owner role to the current Google account.
Step 11. Choose the 'Transfer' option to confirm the changes.
Remember that there has to be one primary owner active on the account. The steps to move the brand account may be a little lengthy, however, it allows for better security that would be hard to tamper with.
Learn More About Brand Account Roles
If you have a brand account, it is vital to understand what actions you can take on the channel. A brand account allows multiple people to operate one YouTube channel at a time. Each role can be assigned through the 'Manage Permissions' page.
These are the features YouTube currently gives access through each role –
Primary Owner: The primary owner has access and control over every brand account or channels associated with the primary brand account. If you create the branded account, you get the primary ownership by default. This status can be transferred to another email, but there can only be one primary owner on the account.
Owner: Similar to the primary owner, the owners on a branded account have permission to access everything on the channel. Owners also have the ability to delete the YouTube channel. A branded YouTube channel can have multiple owners.
Manager: Managers on a branded account can edit and upload videos, checking the analytics, replying to messages, and deleting comments. However, they don't have access to most admin features. They cannot invite other users or make any purchases using the channel.
Communications Manager: The communications manager has a very limited role. They don't have access to the YouTube channel at all.
How to Transfer Subscriptions to Another YouTube Account?
In the past, there were a few trusted tools and websites to help move the subscription list from one YouTube account to another. However, those options aren't available anymore.
If you're wondering how to transfer subscriptions to another YouTube account, you're in luck! With the addition of Branded accounts, YouTube has made it easier to move the subscriptions automatically.
When you don't have a brand account, things can get a little tricky. There are few export and import tools available that could migrate the subscriptions. However, most of them are not verified or don't originate from a trusted source.
Additionally, Google Takeout allows you to export selected dates from your account. You can extract the file and refer to know your subscription list. This option is only feasible when you have a small subscription list.
YouTube has a limit that allows you to only subscribe to 75 channels per day. If you don't have a huge list of subscriptions to transfer, you can also try manually subscribing to the channels from your new account.
Are You Ready to Make the Switch?
If you haven't already moved to a Brand account, it would be a great idea to do so now. As a business, Google's Brand account gives you access to many features that may not be available through a personal account. YouTube gives you the option to switch from one email to another with ease.
Keep in mind that not all of your channel data would be transferred with the move. You would lose out on the channel comments, history, certain community settings, as well as the messages that were sent and received on the channel.
You would also have to set up the Custom URL on the new channel after 72 hours. With a Brand account, the great thing is that most of your channel data and subscriptions will be retained through the move.
Make your Social Media Strategy even more collaborative by adding SocialPilot's collaboration and workflow tool. The tool gives you access to delegate roles and tasks based on your social media plan. What's more, is that each member can stay up-to-date about a project through the dynamic social media calendar.
Try today!