Most of the content creators on YouTube often ask you to "subscribe to their channel".
Yeah we know you heard that before.
But did you ever wonder what makes subscribers so important?
While some may feel that subscriber count is nothing but a metric and it is the views on videos that count towards monetization and really matter. It's not true.
The number of subscribers is crucial because these people are not just your viewers, but your followers. Ask top youtubers!
They tend to follow your content and spend more time watching videos from your channel as compared to general viewers.
Not to forget, if they have notifications turned on they can visit, and revisit your channel and videos since they are alerted if something new comes up.
So, in a way, the number of subscribers on your YouTube channel resound with how popular you are.
While being famous and getting more views are some of the benefits of more subscribers, other benefits include being able to sell products to the people.
This implies that those who have a bigger subscriber base, tend to sell more via YouTube as these subscribers are not just passers-by. They trust the channel, and therefore, they have no inhibitions in buying.
So, let's just agree that a sturdy and scaling subscriber base is indispensable for your success on YouTube. Hence, we urge you to know as much as you can about it.
Let's begin!
How to see your Subscribers on YouTube?
If you have a YouTube channel and wish to find out how many people have subscribed to your channel, you can do so using your PC and mobile phone. So, grab which of either is in front of you and use the below guide to see your subscribers:
On PC
To check your subscribers via your PC, firstly, log in to your YouTube account.
Click on the portion where you see your profile photo.
Click on the "Your channel" option.
Just below the name of your channel, you will see the count of subscribers.
At this point, you can also use "YouTube Studio (Beta)" to look into your subscriber information in more detail.
To use this, click on the blue button reading "YouTube Studio (Beta)" and then you can check out the username of your most recent subscribers. You can see up to 100 recent subscribers on this.
On Mobile Phones
To check your channel subscribers using your mobile phone, you will have to log in to YouTube using the web browser. You cannot check the subscribers on the YouTube phone app.
Before logging in, request the desktop version to proceed.
Once there, follow the exact same steps as mentioned for the PC.
Isn't it so simple?
Finding out how many subscribers you have is the first step in the long road of subscriber scaling.
Top 3 YouTubers based on Subscribers
If you follow YouTube enough, then you know that "YouTube celebrity" is a thing. With billions of active users comprising more than 2 billion views per day, YouTube is a mammoth platform to show the world your content.
Some have been successful enough to reach millions of subscribers. Let us try to understand what is so special about the topmost YouTubers based on the number of subscribers.
1. T-Series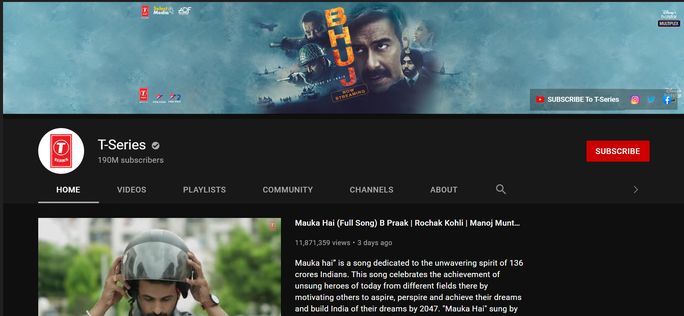 Taking the lead with 190 million subscribers is T-series, an Indian music label and film production company. Launched in 2006, T-series produced many blockbuster songs for the Indian entertainment industry. The channel hosts songs and trailers from movies.
As one of the pioneers of the Indian music industry, T-series surpassed PewDiePie on 27th March 2019 to be the most subscribed channel on YouTube.
2. Cocomelon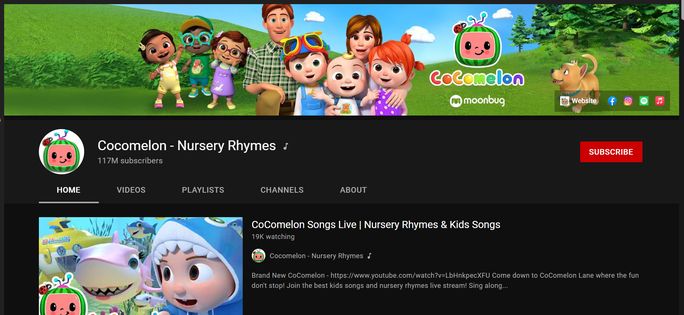 Right behind T-series is Cocomelon, a media streaming platform based in America. About 117 million people have subscribed to this channel. This channel mainly makes videos on children, adults, and animals interacting with each other.
With animated videos made specially to attract children through nursery rhymes and children's songs, Cocomelon is the most subscribed children's channel in the world.
In addition, they also deliver music through streaming services of Netflix, Roku, and Hulu. Along with standalone music videos, Cocomelon also releases videos on compilations and live streams.
3. PewDiePie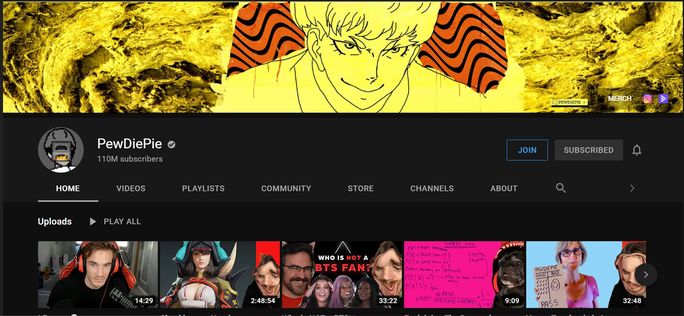 PewDiePie, is a Swedish YouTuber and his actual name is Felix Arvid Ulf Kjellberg, and till March of 2019, he used to be the most subscribed YouTuber in the world. As of now, Pewdiepie has about 110 million subscribers.
From 2014 to 2017, his channel remained the most-watched YouTube channel.
Pewdiepie supported his channel by selling hot dogs in his initial days and rose to heights solely by his "Let's Play" videos then. Later, he started making a wide range of videos including podcasts, reading comments from videos, playing different types of games, vlogging, and collaborating with different YouTubers.
How to Track your Subscribers?
The first step in becoming an established YouTuber is to create unique and engaging content. And, the second step is to know how many people like that content. Clearly, to find that out you must know how many people have subscribed to your channel.
Not just that, even knowing by what number these subscribers are increasing with time is also a good practice to stay updated about your success or lack thereof. You are already aware that one way to track your subscribers is through YouTube. There is one more way to do it. Let us see how:
Using YouTube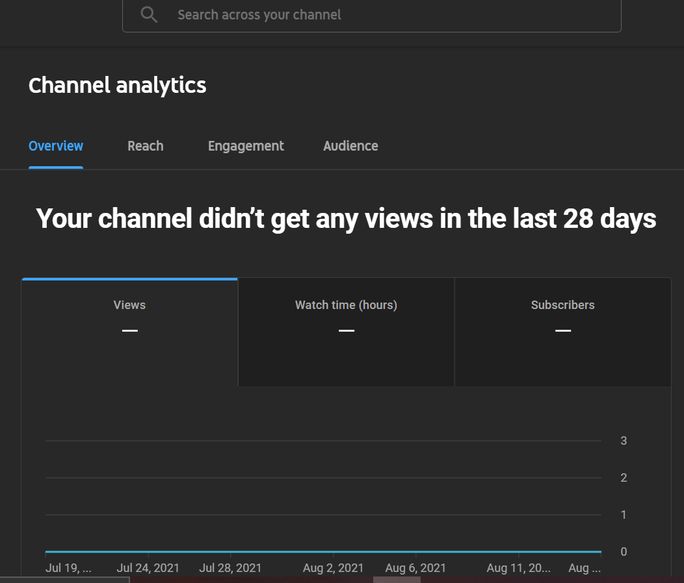 We have already given you an insight into tracking subscribers through YouTube both on PC and on mobile.
But in addition to what we taught you already, you can also do a few more things to refine your subscriber tracking.
Once you are on your subscriber card on YouTube, you can expand the card to take a comprehensive look at the subscribers. You can also select a timeframe from which you need to know the subscribers on your Channel.
The "Channel Analytics" tab will not only tell you about the number and growth of subscribers numerically but graphically too.
You can also click on "See Live Count" to check the live count on your channel. This option displays active subscribers in real-time. It is updated every second.
But with YouTube, there is an issue when it comes to subscriber counts. Sometimes, the subscriber count on the channel analytics differs from what you see on the public-facing end of the channel.
Which to rely on then is a tricky question. This is why you need an alternative.
Using Subscriber Tracker
If you feel that looking at subscriber insight that YouTube offers is not enough then you can go for a third-party YouTube subscriber tracker.
There are many of these out there, and they also help in keeping a tab on the real-time subscribers on YouTube.
But why would anybody go for these trackers? What additional things do they offer?
Even though the answer to these varies from one tracker to another, some general additional features of subscriber trackers are:
They enable subscriber comparison between different channels in real-time.
Subscriber trackers provide the number of videos a YouTube channel has along with details of monthly releases.
They are easy to use with a good user interface.
Such trackers also provide an insight into the total views on specific videos and an average of views as well.
Subscriber trackers may also help in telling about the number of comments and comparing them in real-time.
While some subscriber trackers may have all these features, most do not have each of them. Which features do you need, is for you to decide.
Best YouTube Subscriber Trackers you can use
To make the process of selecting the right YouTube subscriber tracker easy for you, we have come up with a list of top 5 subscriber trackers you should opt for.
Let's wait no more to look at it.
1. Social Blade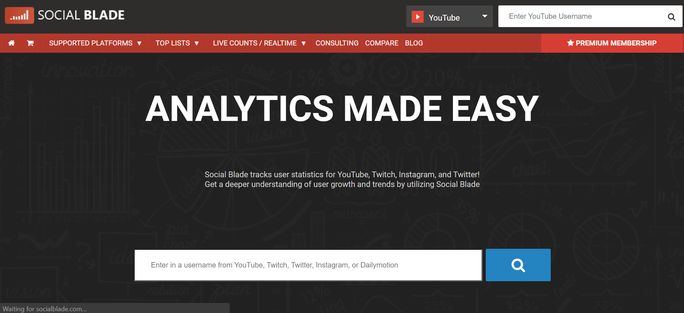 Identified as one of the finest subscriber trackers is Social Blade. Not only does this tracker provide you with a real-time count of subscribers, but it also gives all the information without demanding any login or registration. You can simply type the user ID of the channel you wish to search, and the results will show up.
Additionally, this tracker also allows you to look at the channel's earnings, statistical data like rankings, subscriber growth percentage, etc. – all in real-time. The best part is Social Blade is not limited to YouTube, it also works great for other social media platforms like Twitter and Instagram.
2. YouTube Subscriber Counter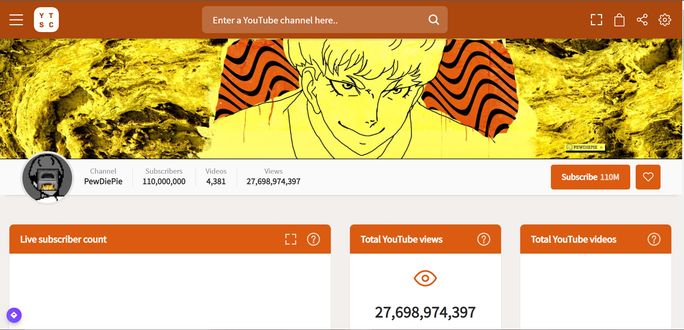 This subscriber counter is very similar in interface to Social Blade. The main difference is that, with this, a mobile application is also available.
Just like with Social Blade, you do not need to log in or register with this. Simply type in the channel name in the search bar, and the results will display. You can also click on the video thumbnails and access information about likes, comments, and views of a video directly.
3. YTcount.com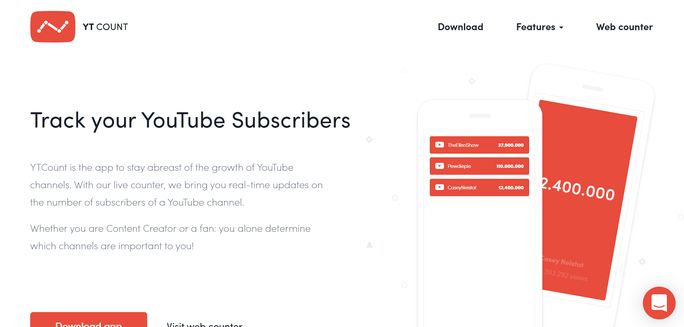 The reason we have placed this website on the list is because of how easy it is to use. If you just want to find out the number of subscribers in real-time then this is a good place to go.
You can head over to this website, search the channel and the subscribers, and the number of videos and number of views that will show up in one place.
But this website does not feature any advanced analytics of YouTube, therefore its usability is restricted.
4. Grin.co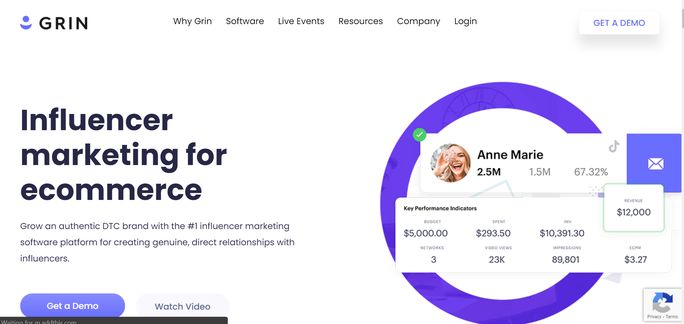 With Grin.co, you can check your subscriber count in real-time. You can also see the active viewers for your channel. Grin.co also helps you enable your subscribers to check out your video in their subscription feed as soon as it is released.
You can watch yourself gaining subscribers during promotions and live streams. You can see that during a live stream saying "subscribe to my channel" works well or not.
The best part is Grin.co is not just a subscriber tracker platform. Rather, it is an influencer marketing tool that helps in forging relationships with influencers.
So, if both of these goals are on your list, with the help of Grin you can tick them.
5.Akshatmittal.com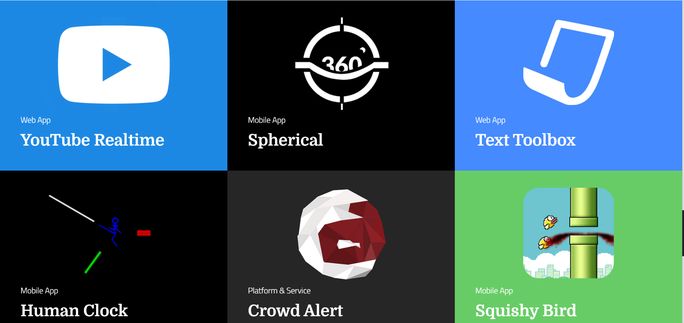 With the help of this website, you can also get a count on real-time subscribers. You can also get details on the date of channel creation by simply putting the channel name or URL in the search box.
The user interface is quite user-friendly. And this website also suggests similar YouTube channels and their analytics based on your search.
Finally, ask them to subscribe to your YouTube channel!
We know what your goal is behind tracking subscribers; you need to scale your subscriber base. While the ordeal of scaling depends wholly on your content, keeping track of whether this content is compelling enough for the masses or not is crucial.
To keep track of the content that you post, use a calendar offered by SocialPilot. Try it for free to make your life easy.