YouTube is the second most popular search engine in the world, right behind its parent company Google.
It hosts a vast selection of videos. To say that YouTube has a monopoly when it comes to online videos wouldn't be untrue.
But let's talk about the inevitable and probably the only part of YouTube that everyone loathes.
You guessed it right!
We are talking about YouTube Ads.
YouTube ad free content is something that everyone wants. And there are a couple of ways to remove or stop YouTube advertising.
Viewers and Creators have different methods of removing ads. In this blog, we will discuss both.
In the following segment, we'll talk about how users/viewers can get rid of those pesky ads.
How to Stop YouTube Advertising?
1. Try Ad Blocker Extensions (For Browser Only)
Advertisement blocker extensions such as AdBlock can be very effective when it comes to blocking online ads. You can use it very effortlessly without a hitch.
Step 1: Visit AdBlock's website.
Step 2: Depending on your system, choose the appropriate platform from the given options.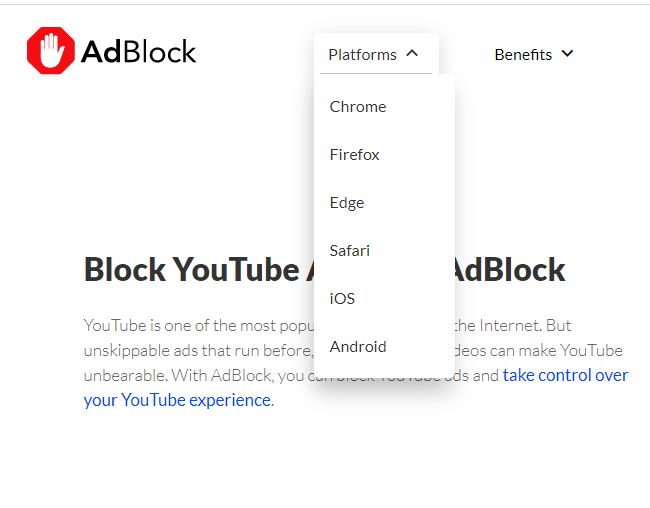 Step 3: After selecting the platform, you will find a screen that looks like this. Click on Get AdBlock for Chrome (as per your browser choice).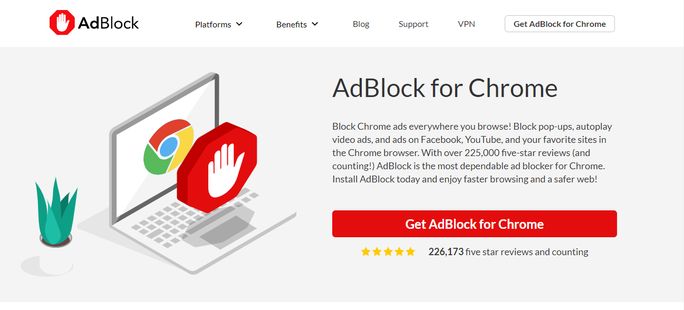 Step 4: Step 3 will redirect you to your browser's store, from where you can find the option to add the extension to your browser.
Voila! AdBlock is installed and is ready to block those annoying ads that you've wished to get rid of relentlessly.
Alternatively, you could just visit your respective browser's web store and search for the AdBlock for YouTube extension to install it.
For instance: If you are using Chrome, you can download the AdBlock for YouTube extension directly from the Chrome Store. All you have to do is follow these two elementary steps:
Step 1: Search for the extension.
Step 2: Click on Add to Chrome option.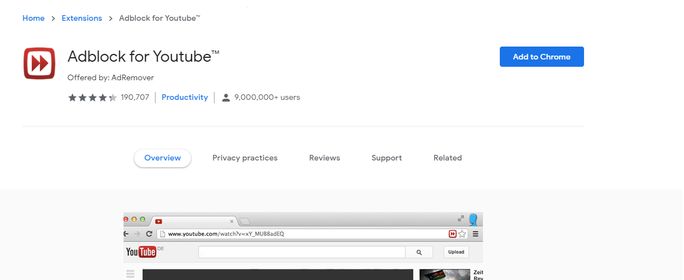 Note: The AdBlock extension only works for browsers; it does not block ads in the YouTube mobile application.
2. Try YouTube Premium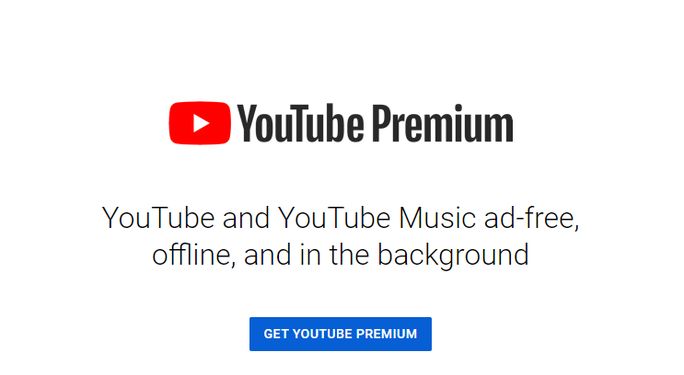 There is a lot implied in the name.
YouTube Premium members can watch zillions of videos without having to watch any ads. No pre, mid, or post rolls, overlay ads, or third-party banner ads, or search ads.
Members of YouTube Premium accounts have access to all its features from any device on which they are logged in.
In other words, if three of your devices have logged in using the same account with a Premium subscription, you can watch ad-free videos on all these three devices.
It includes smart devices and other gadgets like smart TV, gaming systems, YouTube Music, YouTube Kids, and YouTube itself.
3. Tweak Your Ad Settings
Viewers have the freedom to turn off advertisements for specific ads that they do not wish to see. Viewers can do so by playing around with Ad Settings.
Here are the steps you need to take:
Note: Using these steps to disable ads will not turn off all advertisements but only the specific ads for which you are following the steps.
Step 1: When an ad appears on the screen, locate the info or 'i' button.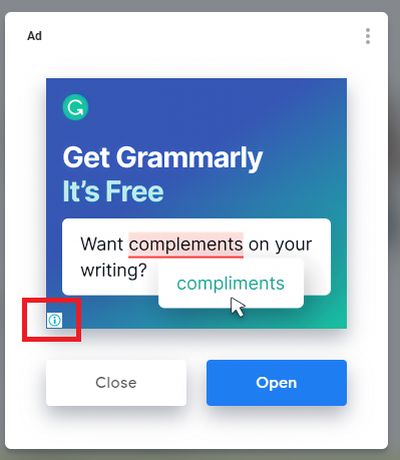 Step 2: Click on the 'i' button.
Step 3: This will take you to the Google About This Ad page. Under the section 'Why this ad?' you will post two options a) Stop seeing this ad b) Report this ad.
Click on option a) Stop seeing this ad.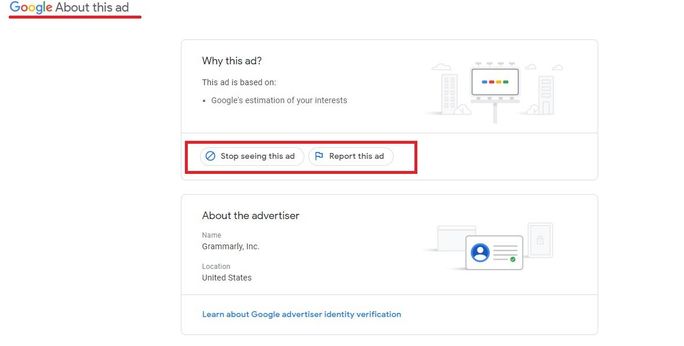 Step 4: You will be shown a pop-up stating that Google will not show you this ad again, but other advertisers might. For the ad to stop appearing, click on Continue.
Alternative step: You can also select Option B and report the ad, or you can fill up this form to report an ad. When you report an ad, you will be asked to select a reason for reporting it.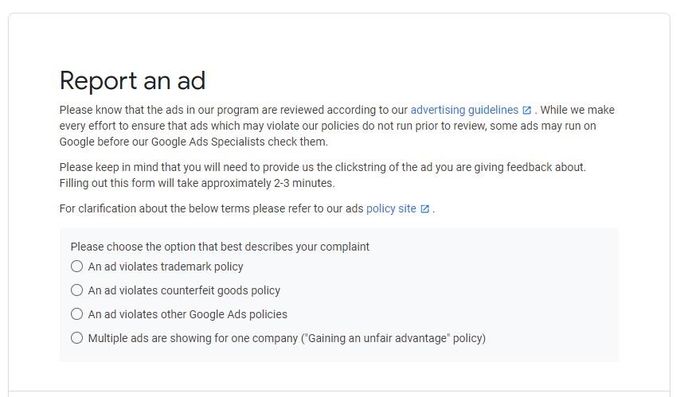 Note: These steps only apply to accounts that have personalization ads enabled in the Ad Settings of their Google Account.
The options mentioned above are some of the ways that you could adopt to disable ads permanently or temporarily.
Now Let's See How to Skip Youtube Ads
While some ads come with the option to skip it after 5 seconds, there are plenty of non-skippable ads as well. We are going to disclose a few hacks so that you can skip even the annoying non-skippable ads easily.
1. Install Extensions
Most of the browsers support some or the other extensions that can aid you in skipping undesirable ads. In order to use the extensions, visit the web store of the browser and search for the appropriate extension.
Once you find the right extension, install it. Your browser will be updated with the extension.
AdSkip for YouTube and AutoSkip Ads are just some examples of extensions available in the Chrome web store.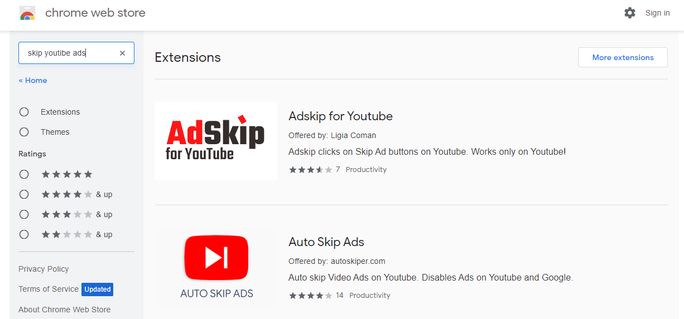 Similarly, other browsers such as Firefox, Safari, and other browsers also include add-ons to accomplish the same goal.
Now, let us discuss some hacks that could get the work done without installing any third-party extensions.
2. Skip Ads
YouTube offers viewers to skip ads after 5 seconds for many of the ads. Clicking on the Skip Ads option enables users to skip the ad after watching it for a bearable period of 5 seconds.
The internet is full of hacks, and there is a hack for every problem. So we thought of compiling some hacks as well to share with you so that you can enjoy YouTube ad-free.
Hack #1:The Slider Trick
While playing a video on YouTube, you can spot yellow dots on the video progress bar, which indicates the number of ads the video contains. To avoid watching the ads, drag the red slider to the very end. This might prompt YouTube to think that you have already watched the video. So when you hit the rewind button, you can watch the video without any ads.
Hack #2: The Period Trick
According to some popular belief, by including a period or a full stop after the URL of a video, all the advertising will automatically be removed, including pre-rolls and overlays ads.
Hack #3: The Download trick
Another hack is to first download the video instead of watching it. After the video is downloaded and saved in the Library, you can turn off the internet and watch the video. Turning off the internet will ensure that video ads are not displayed anymore.
To download a video, follow these steps:
Search for the video you want to download
Once the video appears on the screen, you can spot three dots on the right side. Click on the three dots.
After clicking on the dots, you will find the option to download the video, amongst other options. Click on the Download video option to start the download.
In that last section, we talked about how viewers can stop YouTube advertising and enjoy YouTube ad-free.
We'll now explore how YouTube creators can disable ads on their videos.
Creators live off YouTube Ads. It is unfair to expect content creators to turn off advertising for their videos because that would mean they are investing their time, effort, and money into making free content without gaining anything in return.
Nevertheless, there are certain circumstances that can lead to creators disabling ads on their channels. We have compiled a list of reasons that might prompt a creator to block ads on his/her channel:
The ads violate the YouTube Community Guidelines
The ads on the channel link to a particular advertiser
The ads running on the channel promote the creator's competitor(s)
Advertisements concerning sensitive topics such as religion or politics, sex, sexuality, or caste
The ads are inappropriate
And, last but not least, to provide viewers with an ad-free experience
If you are a creator and you wish to disable ads for any of their videos for any of the above reasons, we have got your back. We will look in detail at how to block ads from YouTube Studio and AdSense account.
Let's start with YouTube Studio. This guide will walk you through every step needed to block ads from YouTube Studio.
Step 1: Go to YouTube and sign in to your account.
Step 2: Access YouTube Creator Studio by clicking your profile picture.
Step 3: On the left-hand side of the menu, there is the option Content. Select that.
Step 4: After clicking on Content, you will see the videos already uploaded to your channel. Choose the video for which you want to disable ads.
Step 5: Click on the Monetization option on the left.
Step 6: Select the Off option in the "Monetization" box, and then click Apply.
Step 7: Save the changes to ensure that your desired setting is implemented.
Now let's move on to AdSense. Using this guide, you will learn how to block ads from your AdSense account.
Step 1: Log in to your AdSense account.
Step 2: Find the Allow and Block Ads tab.
Step 3: Click on the Blocking controls.
Step 4: Then select YouTube host.
This section allows you to block ads based on categories, subcategories, and advertiser URLs.
Block ads belonging to general or sensitive categories under this section. Categories will be displayed on the screen. You can control the categories on the page by using the controls.
Block specific advertiser URLs by selecting on the Advertiser URLs tab. Enter URLs in the box, then click on Block URLs.
Conclusion
There you are! The changes are saved, and you have spared your viewers the pain of watching irrelevant, unwanted ads.
YouTube is an exceptional platform to advertise and promote your brand, business, products, and services. And YouTube marketing if done right can do wonders for your band.
But then you need a lot to execute a marketing strategy, such as various tools. And one such tool is SocialPilot that lets you employ its remarkable marketing features to grow your brand's presence.
Try today!