The life cycle of a video on YouTube starts when you upload it and ends when the video is taken off from the platform.
But the quality of life every video leads is not the same. While some videos scale the ladder of views, the others remain barely discovered.
Why, though?
While the excellence of your content primarily drives the views, it is not the only factor that drives traffic onto your video.
One major factor that affects your views is the number of subscribers and the second major factor is search optimization.
Once on YouTube, you could easily realize the value of subscribers as you keep on hearing the phrase, "Subscribe to my channel."
But, why? Why are subscribers so important?
Subscribers are more or less your channel's loyal viewers. The chances of these subscribers contributing to your views across all your videos are higher than random people who stumble upon your videos.
This is where you must factor in YouTube subscriber analytics.
YouTube subscriber analytics can help you find out how to increase your subscribers by analyzing the trends.
To learn more, let us step into the world of YouTube subscriber analytics.
How to Check Your Subscriber Count?
The first step in the analysis of YouTube subscribers is to discover how many subscribers you have. From there, you should try to understand what the number indicates and how you can scale.
Finding the Subscriber Count
To find the subscriber count, you can either use YouTube or YouTube subscriber tracker tools. Both give you the option of getting a subscriber count in real-time. Let us first understand how you can use YouTube to find your subscriber count.
You can access the subscriber count for your channel using YouTube on your desktop and your mobile.
On Desktop
To check your subscribers on desktop, follow the below-given steps:
Head over to YouTube, and log in to your account.
Click on your profile photo and select the "Your channel" option from there.
You could then see the subscriber count right below the name of your channel.
Alternatively, head over to YouTube Studio to get more details about your subscribers.
Using YouTube Studio, you can also access YouTube analytics to get a deeper insight into your performance and access the YouTube subscriber count graph as well.
On Mobile
To check your subscribers on mobile phones open the desktop version of YouTube and follow the same steps as mentioned for desktop.
Understanding the Subscriber Count
Based on the number of subscribers your channel has, YouTube updates the count differently for your audience. This is to sustain a short version of the count.
How is the update done?
If you have less than 1,000 subscribers, your subscriber count is updated with every new subscriber.
If you have between 1,000 to 9,999 subscribers, your subscriber count is updated with 10 new subscribers.
If you have between 10,000 to 99,999 subscribers, your subscriber count is updated with 100 new subscribers.
If you have between 100,000 to 999,999 subscribers, your subscriber count is updated with 1,000 new subscribers.
And so on.
If your subscribers are above a thousand, YouTube uses the following format:
For instance, if a channel has 1,234 subscribers, then that will display as 1.23K. Similarly, for 123,456,789 subscribers, the display will be 123M subscribers.
For monetization on YouTube, the minimum number of subscribers is 1,000 and 4,000 watch hours in one year. After hitting this number, you can apply for monetization. Alternatively, you can also explore revenue-earning via ads and paid sponsorships.
But even these are largely based on the number of subscribers you have.
How to Check Your Recent Subscribers?
You can easily check your recent YouTube subscribers via the channel dashboard. The other way of checking recent subscribers is through YouTube Studio. You can also go for subscriber trackers for a deeper insight.
To view your recent subscriber, follow the below-given steps:
Open YouTube Studio on either your mobile or PC.
Sign in to your YouTube Studio account.
Head over to the Dashboard.
There you will find a card named "Recent subscribers"
Click on the "See all" option to explore the contents of the card.
You can also filter the results based on timeframe.
How to Know Which Subscribers are Included?
YouTube has set rules when it comes to showing who counts as your subscriber and who does not. The specifications are:
An individual will count as your subscriber, only if they have chosen to make their subscription public. Typically, subscribers have the option to set their subscription as private or public. If they choose to set it private, no other users can see the channels they have subscribed to. You, as a channel, can also not see that they have subscribed. Albeit, you can see their subscription if you participate in a live chat.

To make your subscriptions visible to others, any account must set it to the public.
A subscriber will pop in your recent subscriber list only if they have subscribed to your channel in the past 28 days. All the individuals who subscribed to your channel before that time period will not show up under the recent subscriber list.
And, Which subscribers are Excluded?
An account identified as spam will not be included in your recent subscriber list. YouTube rules out an account as spam based on the types of comments and behavior exhibited by an account.

This may include posting spam comments over different videos. Any account reported as spam is also reviewed by YouTube and suspended if found in violation of YouTube Community Guidelines.
Terminated accounts also do not count towards subscribers. Their termination may have been due to spam, abuse, and/or copyright infringement.

Additionally, closed accounts also do not count towards subscribers. Closed accounts are those that do not exist as their Google account does not exist.
How to Remove Closed Accounts and Spammy Subscribers?
YouTube does not entertain closed accounts and spam subscribers. Such subscribers are removed from a channel's subscriber list as soon as they are discovered.
We already understand that closed accounts are either the accounts terminated due to YouTube Community Guidelines violation or accounts that are closed by the account holder.
YouTube defined spam subscribers as subscribers attained via fake means like third-party purchases.
To verify the legitimacy of subscribers, YouTube has a team of reviewers. This team is working all year round to keep YouTube clean and up to date. By looking at the account activity, or the lack thereof, this team verifies accounts.
YouTube also fixes the site metrics to rule out any consistency issues. Once the site metrics are optimized, YouTube gets rid of spam, abuse, and closed accounts.
This effort is to promote the organic building of subscribers. While such accounts are terminated and do not show in your subscriber list, they also have no effect on your video views and watch time.
5 Best YouTube Subscriber Trackers
As an alternative to YouTube analytics, you can also use a third-party YouTube subscriber tracker to get more details about your channel subscribers.
We have selected the top 5 subscriber trackers for you.
1. Social Blade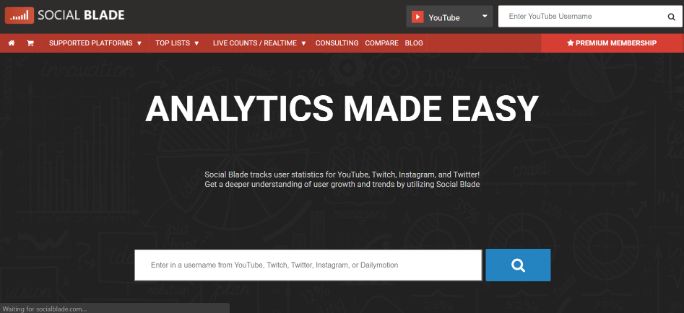 We have ranked Social Blade at number one because this subscriber tracker helps you track your subscribers in real-time. You may think that YouTube also offers that, but there is a discrepancy. Sometimes, the YouTube subscriber count is off.
This is why opting for a track such as Social Blade is preferred. A great feature of this tracker is that it does not require you to log in or register. You can get information on a channel based on the user ID.
You can access the YouTube subscriber count graph and chart to understand the data better. One thing that really stands out about Social Blade is that it compiles data from not just YouTube but other platforms as well. Some of them are Twitter, Twitch, Daily Motion, Mixer, and Instagram.
2. YouTube Subscriber Counter
Another impeccable subscriber tracker is YouTube Subscriber Counter. It also has the feature of looking up the details without having to log in or register. Needless to say, the subscriber count on this tracker is also in real-time. The count is also very accurate.
This tracker also has its mobile application. You can access a wide array of information about the video and its performance metrics.
3. GRIN
GRIN is one of the renowned subscriber counter tools. But, it is not just a subscriber counter. With GRIN, you can also compare the analytics over distinct platforms and find influencers. They also claim to be the number one influencer marketing software for e-commerce brands.
The software counts your subscribers in real-time and helps in outreach. So, in case you wish to collaborate with other YouTubers, you can do so easily with GRIN.
4. Akshat Mittal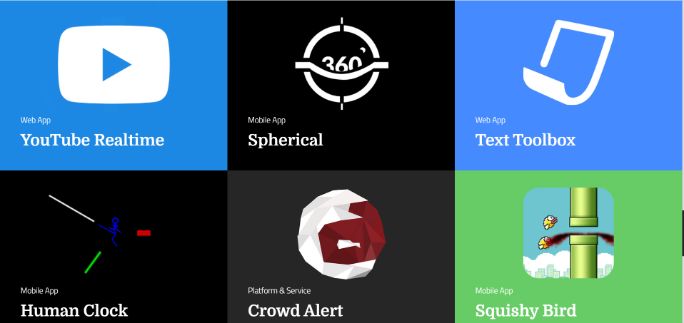 Through Akshat Mittal, you can easily get a count on your subscribers in real-time using the URL of your channel. Similarly, you can search for other channels too by putting in their URL.
The website comes with a user-friendly interface and offers additional insight into the distinct analytics of YouTube.
5. Realtime Subscriber Count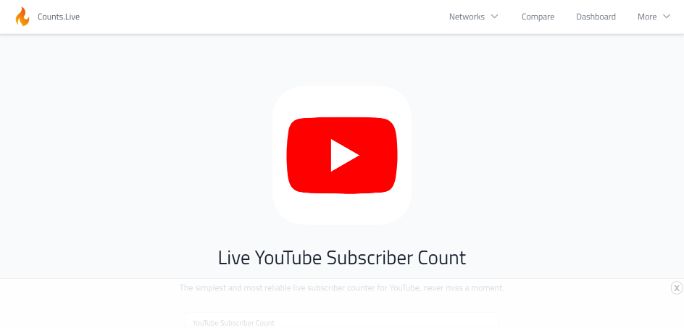 This online subscriber tracker can help you get data for live YouTube subscriber count. You can also compare the metrics over different YouTube channels. So, if you want a comparative analysis with your competitors, then this tracker is the best way to do it.
You can also look at the deeper details and data along with the YouTube subscriber count graph to better understand the metrics.
Isn't it so Easy?
If you get frightened at the word analytics and sweat at the thought of going through data, then wipe the worry off your face.
You have now seen how easy it is to get insights into YouTube subscriber analytics and build your channel with the data as the foundation.
Once you understand the nitty-gritty of subscriber analytics, you can figure out what to optimize and work upon for the future growth of your channel.
And, in case you're wondering where to get help with your social media marketing then look no further. You're at the right place. Try out our free trial to know what all can SocialPilot do for you.