Do you want to use clips of YouTube videos for making GIFs?
Do you want to convert your video into GIFs to increase your engagement?
Whatever the reason might be, the important question is how to make GIFs from YouTube videos?
Well, it's not rocket science. With the help of powerful tools available on the internet and following simple steps, you can create your desirable GIFs from any YouTube video.
But before we jump onto that, let's understand the basics of why you need GIFs from YouTube videos?
Why is it important for businesses to create GIFs?
Why do you need GIFs?
GIFs or Graphic Interchange Format has taken the internet by storm. It was originally created for animation at the time of Windows 2.0. But now, it is one of the most engaging, quick, and shareable content formats across social media platforms.
Let's understand why you need to create GIFs:
It helps create curiosity
If you want to launch a new product or service in the market, you want to create hype and make your audience excited for your product or service.
You can create a GIF from your trailer video on YouTube and share it across your other social media channels to make your viewers excited.
Easily shareable and more engaging
Within its short duration and enticing elements, a GIF can help to increase your engagement and reach. It is easier and more trendy to share a GIF than other content formats in today's digital world.
High retention rate
GIFs have a higher retention rate which makes them a key factor for your social media growth. People will become aware of your brand swiftly, and you'll easily fulfill your marketing goals.
Suitable for any social media platform
You can use GIFs in any of the top social media channels to solidify your presence among your audience. It will help you showcase some of the enticing clippings of your YouTube videos to your audience on other platforms.
These are some key factors responsible for you adding GIFs to your digital marketing arsenal.
Now it's time we discuss how you can convert YouTube video to GIF using some of the top tools and in the simplest way possible.
Tighten your seat belts because it will be a knowledgeable ride.
Let's go!
Ways to convert YouTube to GIF
We have selected a few of the top tools to demonstrate how to convert a YouTube video into a GIF format. Almost every other tool on the internet follows a similar procedure of conversion.
Use GIFs.com for Desktop
Step 1
Select one of the YouTube videos that you want to convert into GIFs and copy its URL.
Go to GIFs.com and paste the selected URL into the white dialogue box or directly select video content from your local drive or by just using the drag and drop feature.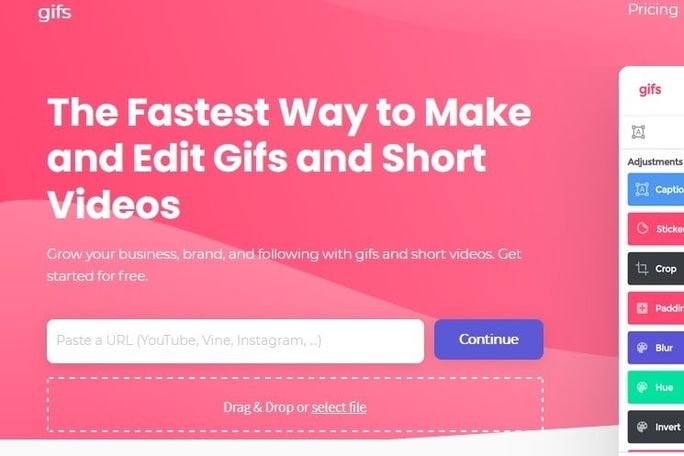 Step 2
If your video has an ad, select X to ensure it disappears; otherwise, it will appear in the GIF. After that, select the end and start times of your GIF.
You can select the duration of your GIF according to your requirement, but remember, the longer the GIF, the larger the GIF file size.
Step 3
The next step is to add a caption or any other effect to your GIF. You can also crop the GIF and adjust it with multiple editing options to make sure it comes to be engaging and shareable.
Once you are satisfied with your editing, click on 'Create GIF,' and processing your GIF might take some time.
Step 4
You need to select the page title, tags, and other options like sounds, watermark, NSFW.
You can also choose to keep your GIF private or public according to your preference.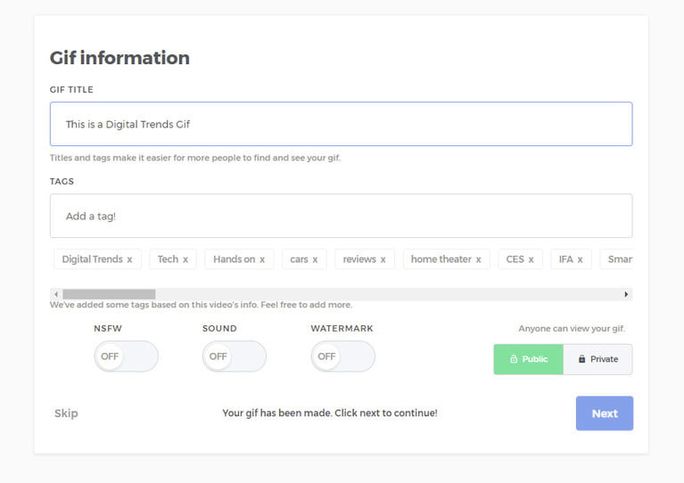 Step 5
The last step is about downloading, sharing, and embedding your newly created GIF. You can also see the first preview of all your edits to be completely satisfied with the procedure. You need to sign up for the premium feature of the tool to remove the watermark.
If you feel that the process is complete, hit the download button and select the size of your GIF to save it offline on your device.
Use Giphy for Mobile
The next top tool is Giphy. It supports all the top video content formats, including YouTube. It offers multiple customization options and provides numerous features to create amazing GIFs. You can easily use a mobile device or a desktop to use this powerful platform.
Step 1
Copy the URL of the video you want to convert and open Giphy.com. Paste the URL and create a login account of the platform to proceed with your conversion further.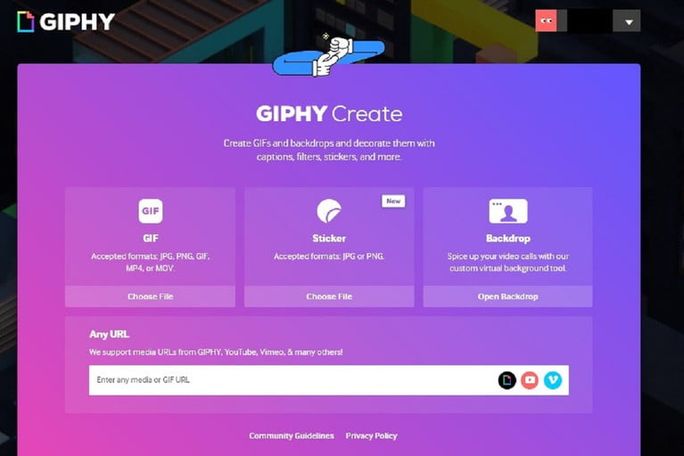 Step 2
Choose the start time and end time of the GIF and click the 'Decorate' button to start editing your converted GIF to add enticing elements to it.
Add a caption to your GIF, any sticker, or overlays. You can also add some filters to make it look unique and shareable.
Once you are satisfied with your editing, you can hit the 'Upload' button.
Step 3
You can also add tags to your GIF and select the privacy setting. You can also add some additional preference settings to ensure that you are ready to complete the conversion.
Hit the 'Create and Publish' button to complete the process. The tool will take some time to create your GIF, and within a few minutes, you'll be ready with your GIF.
Step 4
You can choose to download your GIF on your device, embed in your website, copy its link, or add it directly to your social media handles.
Isn't the conversion process simple?
It's almost similar to most of the top tools available on the internet. You can choose these two tools or any other leading tool for your YouTube video to GIF conversion.
5 best YouTube to GIF creators
Apart from all the above-listed tools, you can use multiple other tools and create interesting GIFs for your marketing purpose.
1. Imgur Video To GIF
One of the top tools for converting a YouTube video comes with an intuitive design and simple to use workflow. It doesn't matter what the format of the video is; you can easily download or copy the URL of the video from YouTube and convert it into GIF using this powerful tool.
It involves only two simple steps to convert your video into GIF. First, you can upload it by pasting the URL and selecting the part you want to convert.
Then just click on the 'Convert' button. That's it. Your video has been converted into a GIF and has multiple sharable options so that you don't face any troubles while sharing.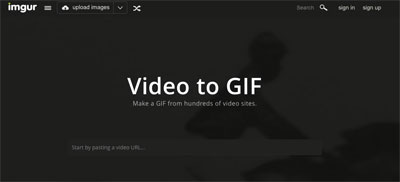 Pros
It has an easy and clean interface
It is agile and has all the basic functionalities
Cons
You don't get direct social media links for sharing
The performance degrades in case of a large video file
---
2. Gifff.fr
An amazing and compact online YouTube video to GIF converter helps you convert videos directly from the YouTube link. You also have the option to change the resolution and speed of the GIF images.
You have to restrict the GIF speed to 15 seconds; you can't exceed more than that while using Gifff.
You also have the freedom to add multiple customizations to the GIF so that you can upgrade the enticing portion of the GIF images.
Pros
You can easily navigate through to multiple options on the menu
The UI/UX is smooth and highly responsive
Cons
You might encounter bugs sometimes
The output file size is on the higher side
---
3. Make A GIF
One of the most popular tools on our list, Make A GIF provides some amazing features and options for creating highly engaging GIFs. You can directly link the YouTube video or upload any video from your local drive to kickstart the conversion process.
It doesn't involve technical knowledge to convert the file; any beginner with basic computer learning can achieve the desired results.
You get many customization options with your GIF, and if you want your GIF without a watermark, you need to go for their paid version.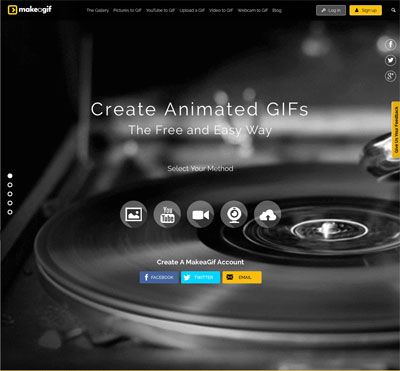 Pros
It is easy and simple to use and operate
You get all the functionality in front of you
Cons
It can be slow if you choose to import videos directly from YouTube
It will leave a watermark with the free version of the tool
---
4. Gyfcat
Gyfcat is a free online YouTube video to GIF converter tool. It can also convert videos, images, and even GIFs into 'gyf' format, a short, soundless, looped video format, and an advanced version of GIFs.
All your GIFs will load faster, and it will be easier to compress them when they are in 'gyf' format. It has amazing design and editing options. Once the conversion is complete, you can share the file with other channels easily.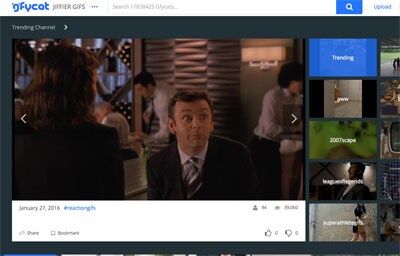 Pros
It is a completely free tool, and you can access all the features easily
You can also automate the conversion process
Cons
Its web application can only convert a video file to 'gyf' for up to 15 seconds
The quality of the result can be a question mark
---
5. Gifbook
It is a great tool to convert your YouTube videos into GIFs and even store them into an album in a mannered fashion. You just need to select the video URL and paste it into the tool to convert your video into your desired GIF format.
It has a decent user interface and quick response time. You will not waste a lot of time and effort converting video clips into GIFs.
Pros
It has a good customer suppor
It is a quick way of converting and storing GIFs
---
Start creating GIFs already!
Using GIFs across your social media channels will boost your reach and increase your influence in the industry.
Also, the steps to use these tools are simple and convenient for any user, not having any technical experience, to convert video clips into enticing GIFs. We hope that you understood all the steps with clarity.
So what are you waiting for? Start converting your favorite YouTube clips into unique GIFs and boost up your reach.
If you want some further assistance with managing and optimizing your social media seamlessly, use SocialPilot to make a significant impact to scale up your marketing efforts.