With YouTube being one of the most-watched video platforms with a growth rate of approximately 4.9%, no one was surprised to hear when Google announced its exclusive TV streaming subscription – YouTube TV.
YouTube TV, aka YTTV, allows you to access live TV services over your internet connection.
Currently, YouTube TV does not have an ad-free version available. Much like traditional TV, most ads on YouTube TV are non-skippable.
In this article, we will provide you with a comprehensive guide on advertising through YouTube TV, including some tips to enhance your YouTube Ad strategy.
What is YouTube TV?
Before we dive into the relevant strategies to grow your business through YouTube TV advertising, let's have a look at what YouTube TV is all about.
Launched in 2017, YouTube TV is a cable-free option to watch live TV using wi-fi or data.
Unlike its global streaming service, YouTube TV is only available in America for now. Through YouTube TV, you will be able to stream various television channels, live broadcasts, on-demand video shows, as well as YouTube Originals.
A stand-out feature of YouTube TV is its Cloud DVR that allows you to record and rewatch content. However, YouTube TV only runs on a stable internet connection, meaning it does not offer offline viewing.
There is a limited free trial available in addition to the monthly subscription plan. The viewers also have the option to opt out of a plan whenever needed.
Why Should You Advertise on YouTube TV?
These days, advertising through videos is considered as one of the best digital strategies. If you have already incorporated YouTube advertisements in your social media campaign, why not go a step ahead and further advertise on YouTube TV too?
To back our claim on why you should consider advertising on YouTube TV, let's bring in some statistics. Back in 2020, Google reported that YouTube TV had more than 3 million users with paid subscriptions.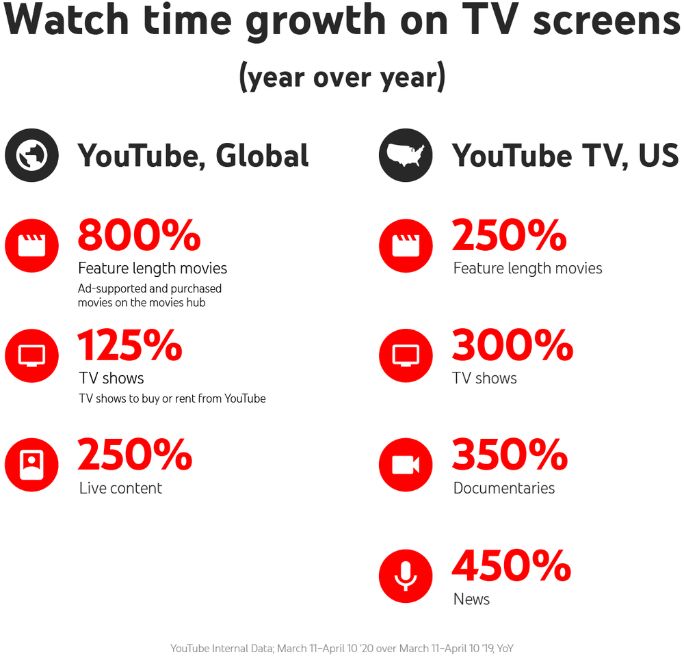 Benefits of Advertising on YouTube TV
Specific Audience Targeting: For online marketers, YouTube TV allows you to reach a targeted audience. This OTT streaming option gives you the opportunity to personalize your demographic targeting.
With YouTube TV, an advertiser can gain access to a television viewer's profile and place ads accordingly. You can also place your ads on certain videos based on a viewer's watch history.
Advertisement Cost: Ads on YouTube TV are purchased through Google Ads. Compared to the hefty cost of a traditional TV advertisement, YouTube TV comes with a lesser price tag.
Advertising on the cable may not always be feasible for small businesses. Currently, the cost-per-view of YouTube ads on an average is $0.010 – $0.030.
When you make use of YouTube's audience targeting, you can make better use of your campaign budget. We will discuss more on YouTube advertising costs further in this article.
Tracking and Analytics: One of the biggest advantages of YouTube TV advertising is that it allows you to measure the metrics in real-time. You can easily check what component of your campaign is working well and what needs work.
The cost and budget can be seen through your Google Ads account. Additionally, YouTube has collaborated with Nielsen to research the performance of YouTube TV content.
More About TV Measurement on YouTube TV
Ads can be tracked on the basis of their Reach, Impressions, Search and Brand Lift. YouTube already has multiple tools in place that can help you keep track of your campaign performance.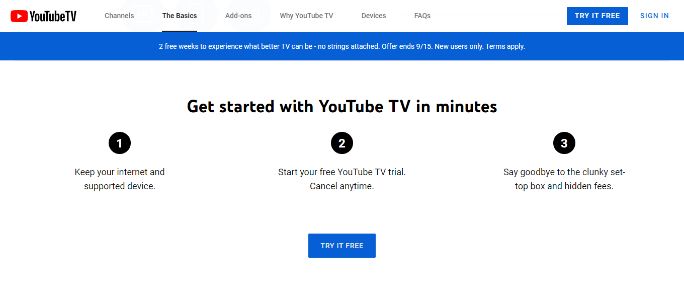 For YouTube TV in particular, Nielsen aims to track the Digital and Total Ad ratings. This information will show marketers how well their ads are performing on TV screens.
Currently. YouTube also allows you to opt out of ad personalization. Nielsen's TV Measurement report will not include your viewer data, in case you've opted out. YouTube TV can give you access to track reports as per shows, devices and networks.
Types of YouTube TV Advertisement Formats
Marketers have various YouTube advertising options to choose from, based on their social media strategies or business requirements. Choosing the accurate ad format will help you strategize your campaign.
Take a look at each format to decide which format suits your strategy better.
In-stream Advertisements (Non-skippable): These types of ads have to be seen completely before the video starts. There is no option to skip to the video. These ads can be placed before a video starts, in-between a video or after the main video has ended.
These ads have to be 15 seconds or less in duration. Additionally, there are specific image requirements that must be followed as per Google's Ad policies.
Non-skippable ads can be great if you're trying to increase brand awareness. The 15-second duration gives enough time to show what your brand is about and make a quick statement. The fact that it is non-skippable can help with content retention as well.
Bumper Advertisements: These ads are short pre-rolls that are placed before the main video starts, during the main video, or even after the video ends. In addition to the usual Ad policy terms, these ads can only be a maximum of 6 seconds long.
Bumper ads can work wonders to reach more viewers with a crisp message. In order to use this format to its best, you have to make sure that you are communicating clearly in the 6-second slot.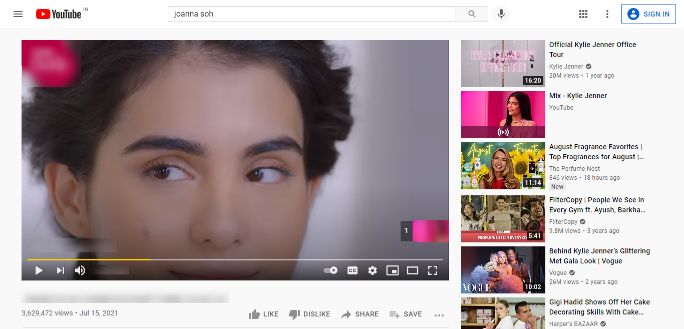 Currently, Bumper and Non-skippable advertisements are the only formats available for YouTube TV. There are various other formats like Skippable ads, In-feed ads, Outstream ads and Masthead ads that are visible on the regular YouTube platform.
How to Get Ads on YouTube TV?
At the moment, YouTube TV ads can be purchased through Google. Google's terms state that some Google Ads bought through an auction may be eligible to run on YouTube TV. However, this isn't guaranteed.
In order to make sure that your ads show up on YouTube TV, you would have to reserve TV-specific ad placements. It is important for advertisers to plan ahead and look for the best time to apply for the reservations.
For marketers looking to purchase or reserve YouTube TV ads, keep in mind that –
There is no option to target a specific YouTube channel
You will not be able to completely opt out once you start posting ads on YouTube TV
In a campaign created through Google Ads auction, you cannot exclude YouTube TV programs
If you run a campaign through Google Ads auction, you only have the option to exclude a maximum of ten YouTube TV channels
A YouTube ad cost can range from $0.010 to $0.030 on a per view basis. The Ad campaigns will be created through Google Ads. The cost of the overall campaign can be affected through factors like advertisement format, targeting methods and bidding systems.
How to Exclude YouTube TV Channels from Your Ad Campaign?
If you don't want your ads to appear on a particular YouTube TV channel, you can remove them through your Google Ads account. Follow these steps to exclude a channel –
Step 1. Open your browser to sign in to the Google Ads account.
Step 2. Tap on the 'Placements' option on the menu.
Step 3. Click on 'Exclusions' under the Placements option.
Step 4. Tap on the 'Pencil' icon and opt for 'Exclude Placements'.
Step 5. Click on 'Account' through the menu drop-down.
Step 6. Here, you can enter the channel IDs that you wish to exclude and click 'Save'.
Note: It takes approximately 12 hours for the exclusions to take effect.
6 Best Practices to Master YouTube Advertising
YouTube is known to deliver higher returns when compared to a television commercial. Now that you know what YouTube Advertising means, let's explore some tips to make the most of your advertising campaign.
1. Lay Down the Campaign Goals
Before you even integrate a social channel, it is vital to identify what your advertising campaign would achieve. Once you have defined the purpose of the campaign, you can decide which video formats you wish to incorporate.
You can also get clear on the demography you wish to target. Planning ahead would make it easier for you to implement the strategies.
2. Be Flexible
Even when you have all your advertising strategies laid out, be open to revising things when needed. Make use of YouTube's tracking tools to actively check on how well your ads are performing.
Review your plans in a timely manner so that you don't miss out on any significant information.
3. Deliver Your Message Within Seconds
Most video viewers won't wait around to watch a 60-second commercial. You have to make use of the short time span and get the viewers interested in your brand.
Think about what you can do to stand out within seconds. How well the ad performs would also depend on its quality.
4. Connect with Your Audience
It's best to think about this from a viewer standpoint. Why should a viewer invest in your content? The audience is primarily watching YouTube for the main content.
If the ads aren't interesting or relative, it may bother the viewers. With YouTube, marketers can track the preferences of the viewers and tailor their content accordingly.
Try a good storytelling approach to keep your audience engaged.
5. Be Consistent
OTT platforms give you the ability to reach a broader audience quickly. However, most viewers watch ads mindlessly. In addition to the quality of content, it is important to be active on the video platform.
Figure out how your audience interacts and respond to them. This way, you can gain their active feedback while also building customer loyalty.
6. Include a Clear CTA
At the end of the day, your goal is to make the audience respond to your ads. Guide your viewers to what they should do after they watch your ads. Do you want the viewers to buy your products?
Do you want them to sign-up for a new service? Keep the CTA simple and straightforward so that the audience doesn't get confused.
Are You Ready to Start Advertising on YouTube TV?
The number of viewers on YouTube TV is constantly on the rise. With more and more people predicted to subscribe to this service, it is best to integrate this channel into your marketing strategy as soon as you can.
We have already witnessed the rapid growth of YouTube advertisements in general. And now that television ads have become cost-effective with services like YouTube TV, brands can make use of the platform while it's still growing.
Integrate ads on YouTube TV to optimize your social media strategy. Not only will it help you widen your audience, but you will also be able to track your strategy with real-time metrics.
In fact, SocialPilot's Social Media Analytics & Reporting Tool is a great option to consider. This tool gives you access to audience insights and shareable PDF Analytics reports.