Brands are increasingly discovering the power of video production marketing.
According to recent research, video directly increased sales for 87% of marketers, and brand video convinced 89% of consumers to buy a product or service, which are stunningly high success rates.
The most effective marketing videos deliver entertainment and information, helping businesses educate and build engagement through storytelling.
The ongoing rise of video marketing translates into much more video production business for marketing agencies.
According to a recent study, 62% of marketing agencies forecast that video production output will rise "significantly," with another 34% expecting similar trends for online video creation services.
While this is good for business revenue, increased video marketing orders bring challenges for marketing agencies. Worse, video marketing production at scale gets tougher as it demands specific resources and skills, including videography, staging, and editing. So, if you aren't sure where and how to begin scaling video production marketing, this blog post if for you.
5 Ways Marketing Agencies Scale Video Production for Clients
1. Develop a Clear Process and Workflow
Streamlining the video production process involves more than just assigning roles and breaking down the process into specific steps. It requires a holistic approach that takes into account the unique needs and requirements of each project, as well as the strengths and weaknesses of the team.
One effective strategy is to create a project brief that outlines the objectives, target audience, messaging, tone, and other important details for each video. This brief serves as a reference point throughout the production process and ensures that everyone is working towards the same goal.
Another key aspect of streamlining the process is to invest in the right tools and technology. This includes everything from project management software to video editing software to hardware such as cameras, microphones, and lighting equipment. By using the right tools, you can improve efficiency, reduce errors, and ensure that the final product meets your standards.
In addition to creating a timeline for each stage of the process, it's important to build in checkpoints and reviews to ensure that the project stays on track and meets the client's expectations. This also provides an opportunity for feedback and course correction if necessary.
Finally, cultivate a culture of continuous improvement. This means regularly evaluating the process, identifying areas for improvement, and implementing changes as needed. By constantly striving to improve, you can stay ahead of the competition and deliver better results for your clients.
2. Leverage Technology and Tools
Apps and SaaS platforms can help you achieve your goals and manage your deliverables more efficiently. Project management software is a need for video production marketing as well as other business tasks, as it makes it easier to track progress, assign tasks, and ensure that the project is on schedule. The platforms also allow easy sharing of ideas and resources, centralizing video project materials.
Brands can use platforms like WeTransfer. It's cloud video-sharing capabilities remove friction from collaboration and update everyone about the latest changes.
Advances in AI also allow for video production automation, freeing up employees for complex tasks and enabling the creation of more videos in the same timeframe, addressing labor shortages. Additionally, video editing software empowers agencies to make last-minute changes to videos or tweak existing video content to keep it relevant when circumstances change.
3. Partnerships with External Video Production Companies and Freelancers
Sometimes, tools alone aren't enough to meet video production marketing goals due to limited resources or insufficient talent. Outsourcing to independent contractors or video production companies can be a smart solution, providing access to experts who can produce the same content faster and allowing scaling up or down based on demand.
However, working with external partners can bring its own stresses, requiring a vetting process to find the right freelancers and clear communication to ensure the content aligns with the client's goals.
Establishing partnerships with external video production companies and freelancers can improve a marketing agency's efficiency and capabilities, while ensuring high-quality content. Ensure you are maintaining open communication, establishing clear expectations, and monitoring progress to for a successful collaboration.
By doing so, marketing agencies can deliver excellent video content to their clients, even in the face of talent shortages or time constraints.
Marketing agency Intersport turned to the Popular Pays platform to help discover and manage a team of content creators for a campaign on behalf of UnitedHealthcare.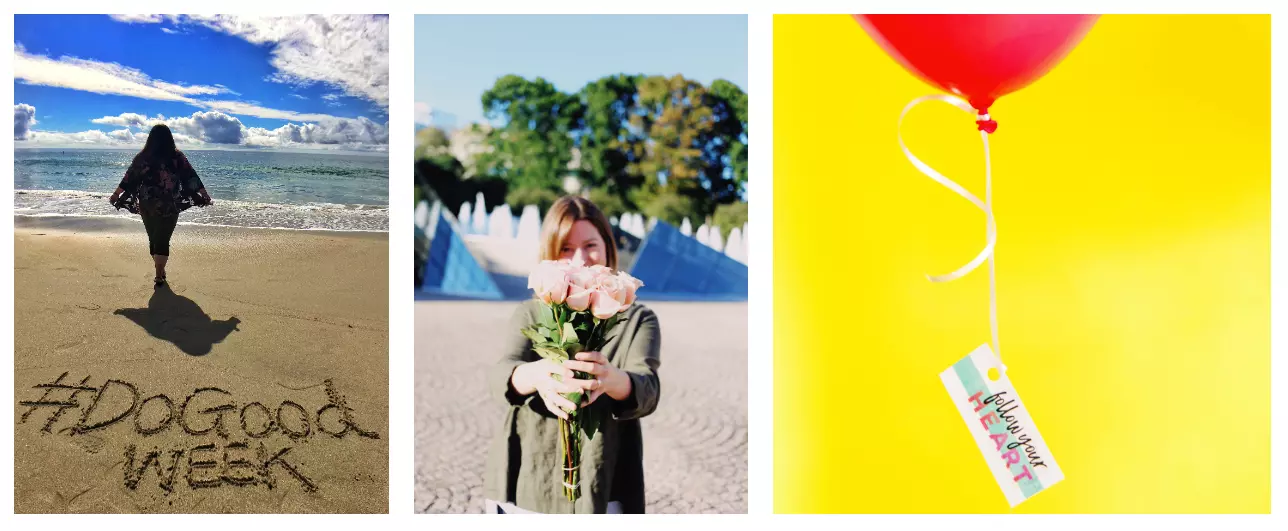 Popular Pays made it easy for Intersport to keep track of all its partners and ensure consistent and clear communication. The team enabled Intersport to cut the time spent on edits, approvals, contracts, payments, and other communication by 50% and double the number of creator partnerships the agency could effectively deal with.
4. Offer Video Production as a Service
Turning your agency into a specialized powerhouse for video production marketing goes hand in hand with the previous recommendation to outsource this capability. By offering video production as a standalone service, you set yourself up as an expert in the field to whom other agencies turn for assistance.
Video has become increasingly important for all types and sizes of businesses. By specializing in it, you can develop a competitive advantage that helps you win more business and grow your market share. Also, you have the chance to diversify your offerings to attract new clients and expand revenue streams.
Focusing on video production as a core service allows you to specialize and become experts in the field. This specialization can motivate you to optimize production processes and find ways to increase efficiency. By breaking down the work involved into specific services such as scriptwriting, filming, editing, and post-production work, you can develop a menu of offerings tailored to your clients' needs and preferences.
Setting your agency up to deliver end-to-end video production as a service can require you to overhaul your pricing model. Remember that different agency billing models are most effective in different situations.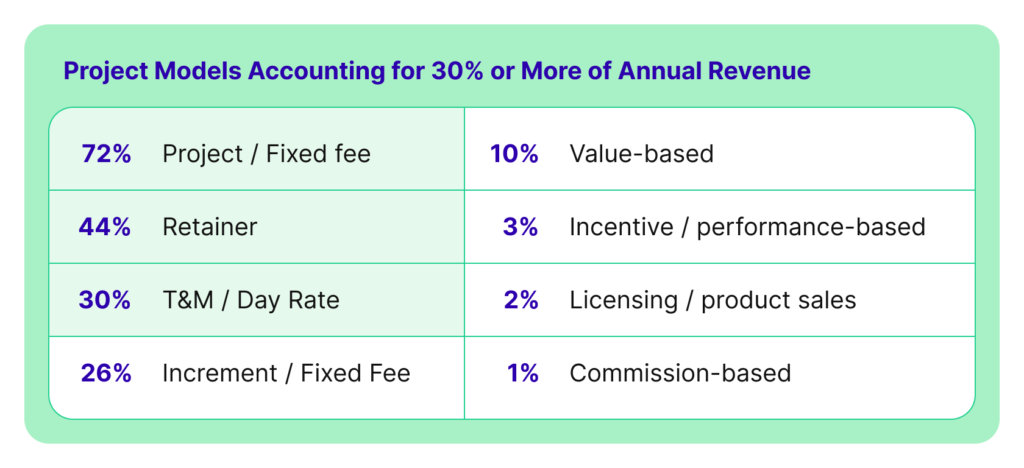 It's important to have a pricing model that accurately reflects the scale and complexity of video production projects, and allows for flexibility in adjusting costs according to the scope of each project.
5. Use Data and Analytics to Inform Video Production Decisions
The endless cycle of observing, analyzing, and improving is part of the bedrock of every marketing campaign, and that firmly includes video production marketing projects.
By using data-driven insights, you can make informed decisions about your video marketing strategy, including the length of your brand videos and which channels to use for promotion.
Video analytics provide a wealth of information on broader video marketing trends as well as specific audience preferences. With social media videos, you can gain deeper insights into your target audience's content preferences, enabling you to tailor your video marketing strategy to their needs. This approach can help you optimize your content and increase engagement, ultimately leading to greater success for your clients.
When it comes to video marketing, data analysis is essential. By tracking metrics such as view count, play rates, watch time, engagement, shares, clicks, and conversion rates, you can gather valuable insights about the performance of each video.
Analytics tools like SocialPilot are vital for this task. This powerful analytics tool helps track and analyze key metrics such as view count, play rates, engagement, shares, clicks, and conversion rates. It provides valuable insights into audience preferences, enabling marketers to optimize their video content and campaigns for maximum impact.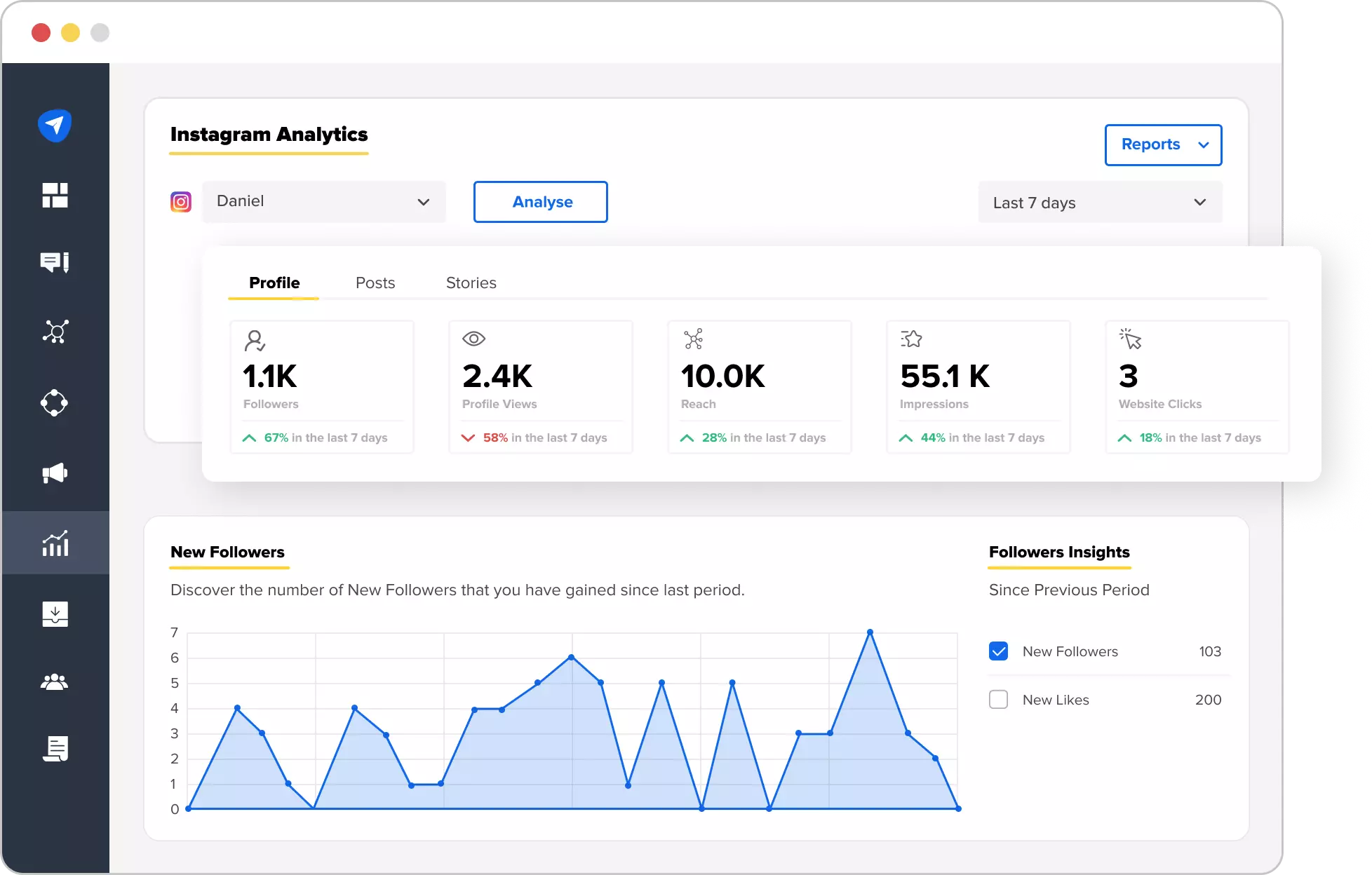 You should strive to continually iterate and refine your video production process using the data and feedback you gather from social media analytics platforms.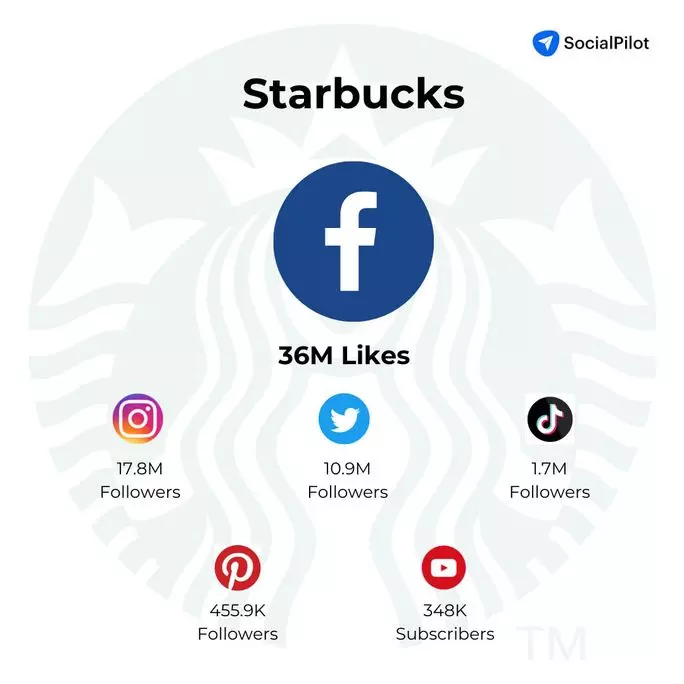 That's exactly what Starbucks did. By monitoring response and engagement metrics, the company effectively kept posts down to just five or six per week on Instagram and three or four on Facebook, so it didn't spam its fans while maximizing impact.
What Advantages Can Video Production Bring to Marketing Agencies and Their Clients?
The number of marketing agencies and brands leveraging video content keeps on rising each year, highlighting the massive marketing impact that video can enable. Video is a powerful tool for storytelling, offering a golden opportunity for clients to engage with their customer base.
Through video, brands can speak directly to the customers, building trust and establishing a connection that is deeper than one based on the written word or still images.
Video has become a powerful differentiator; for example, marketing agency The Bald Guy's video of Wednesday Addams releasing Thing in New York City drove remarkable engagement for Netflix's new series.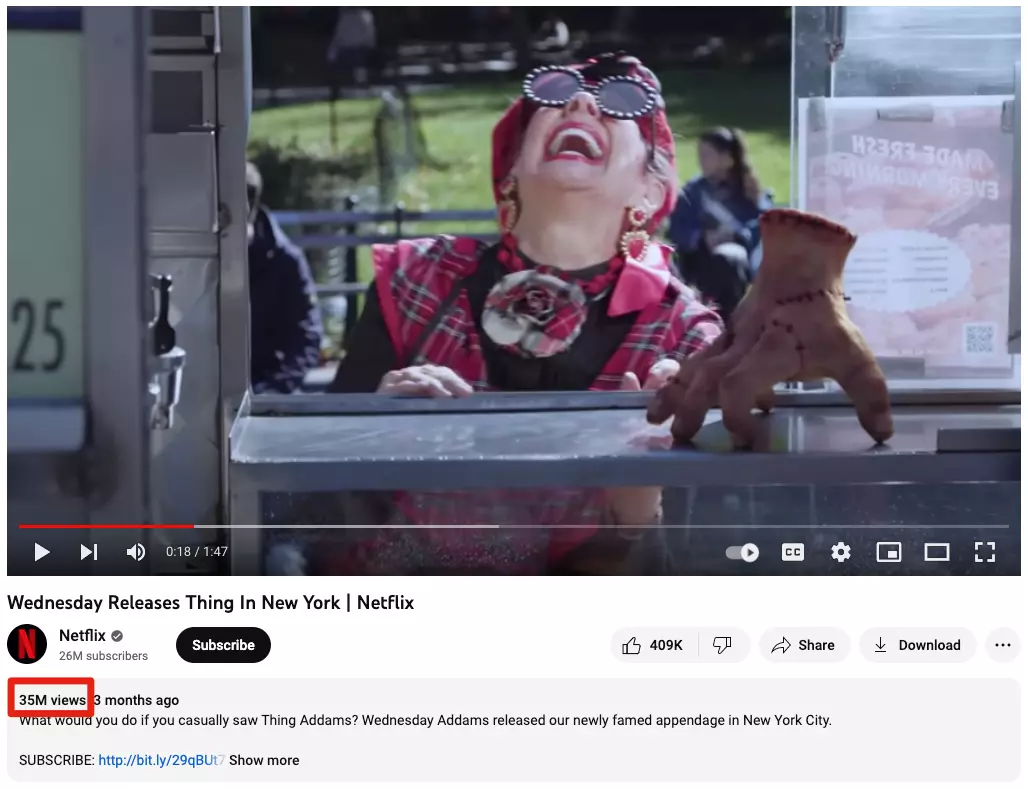 Videos can go viral quickly on social media, thanks to their high "shareability." This matters a great deal at a time when social media is the first stop for consumers seeking recommendations and information about brands.
While only 13% said they would share a blog post and 28% said the same about other social media posts, 51% of consumers said they'd share a brand video, making it easily the most share-friendly content type.
What's more, many companies have found that explainers and FAQ videos help reduce the number of calls to customer support since customers can find the answers to their questions independently. As well as lowering the burden on customer support agents, this helps remove friction from customer relationships and boosts the brand's reputation as customer-friendly.
Because videos are engaging, they tend to keep visitors on site for longer than other types of content, which helps boost SEO and drive conversions. Landing page videos can effectively convince viewers to subscribe to email newsletters, like this one from River Pools, which the company humorously embedded on lead capture pages.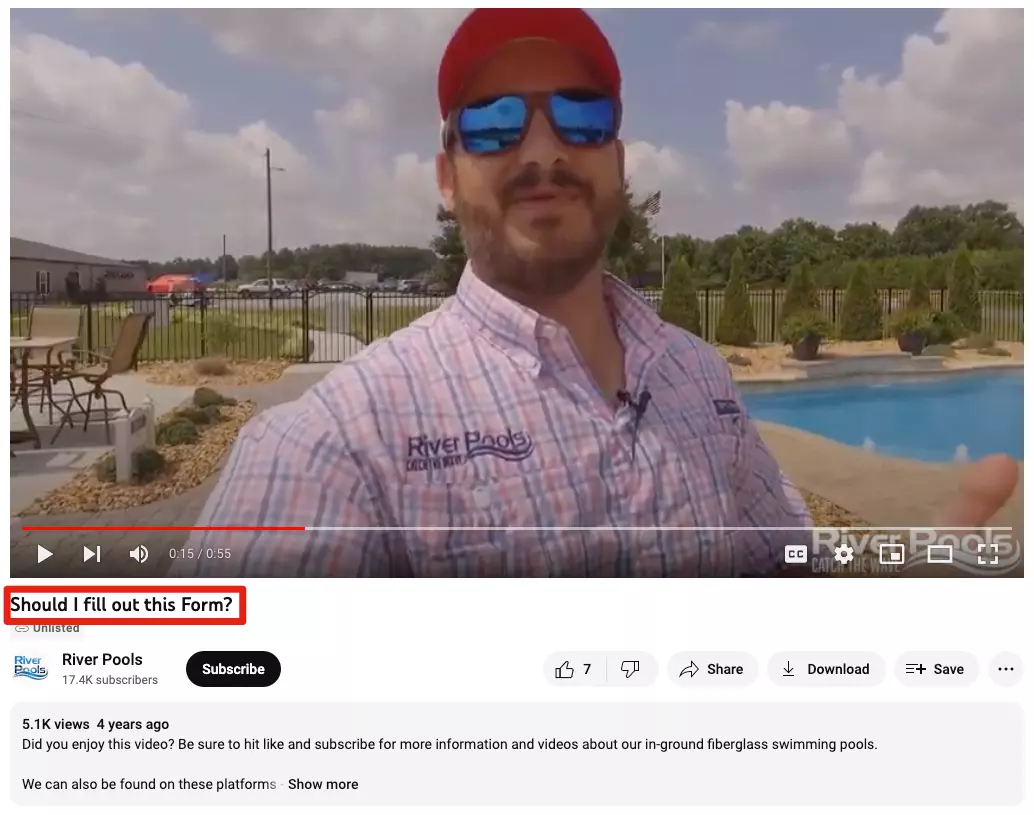 Finally, one of the bonuses of video content is its versatility.
You can easily cut down long webinars into short "teaser" videos and share videos across all your social media channels. Adding captions and subtitles helps make them even more accessible to people with hearing issues or just trying to view a video on a noisy train. Repurposing videos help maximize your reach and boost ROI.
Video Marketing Production: A Key Capability for Marketing Agencies
Video production marketing has become a must for every marketing agency due to the immense reach and impact of brand videos on engagement and brand awareness.
Although delivering high-quality video content consistently and efficiently can be challenging, the right tactics can make it possible.
Data analytics, automation, cloud storage, and other video production tools can strengthen agencies' video production capabilities. Some can even specialize in video production as a service for other marketers.
For those that struggle, reviewing workflows to remove friction from the process can make a difference. In contrast, others find that outsourcing some video marketing tasks to contractors and specialists can allow them to meet client expectations without overstretching themselves.
Whether you keep video marketing in-house, make it your focal specialty, or bring in external partners, scaling up video marketing production will be a primary focus for marketing agencies for the long term.