If competition within the digital marketing industry seems fiercer than ever, you're not imagining it.
According to IBISWorld, the number of digital agencies operating in the US grew by 21.8% between 2022 and 2023.
However, economic headwinds over the same period pushed large businesses to grow more cautious about where they spend their marketing dollars. More agencies are leaning heavily on marketing agency technology to improve their efficiency and compete effectively to survive.
They're doing so because efficiency is fast becoming the key differentiator in the industry. It allows agencies to do more with less, delivering high-end results to clients without a high-end price tag to match.
Here's a guide to the most important marketing agency technologies available today and how they contribute to agency efficiency and bottom-line performance.
Defining Marketing Agency Technology
In essence, marketing agency technology encompasses various digital tools and platforms designed to empower marketers to execute their tasks more efficiently and effectively.
This includes versatile communication and collaboration tools such as Asana, powerful automation tools like SocialPilot, and comprehensive project management tools like Monday.com, among others.
These innovative tools provide valuable support to marketing professionals, enabling them to manage various aspects of their work. They also ensure seamless communication with both clients and team members.
By automating repetitive tasks and optimizing scheduling, marketing agency technology significantly reduces the workload of marketers, allowing them to focus on more strategic and creative aspects of their roles.
Adopting the right blend of marketing agency technology is crucial as the marketing landscape continues to evolve. This streamlines processes and significantly boosts productivity, ultimately leading to better results for clients and businesses.
Benefits of Marketing Agency Technology
Although the main overarching goal of using marketing agency technology is to improve overall efficiency, that's not its only benefit. Using the right technology can help a digital agency to improve its operations in countless other ways. Such as:
1. Improved Internal and External Communications
Marketing is an inherently collaborative process. That makes clear and effective communication among stakeholders critical. Marketing agency technology helps internal teams maintain operational transparency and lowers barriers to effective communication. It also helps agencies maintain a high-touch communication standard with their clients.
2. Elimination of Duplicative Tasks
Since digital marketing plans have countless moving parts, it's not always easy for agencies to avoid task overlap within teams. Marketing agency technology helps teams to delineate tasks and avoid those overlaps. In addition to speeding up workflows, this eliminates duplicative tasks and resource waste.
3. Enhanced Time Tracking
Every minute spent on non-billable work for digital marketing agencies is a net loss to the bottom line. Additionally, a functional understanding of how teams spend their time on projects makes future client proposals more realistic and accurate. Using the right marketing agency technology enhances time tracking, billing accuracy, and proposal generation.
4. Provides Real-Time Decision-Making Metrics
Marketing agency technology also helps agencies maintain a real-time 10,000-foot view of their operations. It allows them to see how projects proceed, providing more accurate availability forecasting. That allows them to accept projects before actual team availability, which eliminates costly downtime.
Key Components of Marketing Agency Technology
Marketing agency technology software and platforms offer a wide array of useful functionality to deliver all of the benefits detailed above. Here are a few of their key components.
1. Streamlining Project Management and Collaboration
Keeping team communications clear and concise and maintaining transparency and control over project progress are critical goals for digital marketing agencies. Unsurprisingly, tools revolving around those aims are often key components of today's marketing agency technology offerings.
Platforms such as Productive.io and Hive offer agency-centric project management functionality that categorizes each project or client as its own profit center. They also offer built-in communication and collaboration functionality, enabling team members to chat, leave notes, and request off-platform communications without leaving the platform. This makes finishing projects faster, more efficient, and less error-prone.
2. Automating Routine Marketing Tasks and Processes
Marketing agency technology can also be a critical force multiplier by providing an array of routine task and process automation options. By turning over routine or repetitive tasks to a computer, agencies can free up their staff to work on more productive—and profitable—work.
Best of all, there are a variety of marketing tasks that lend themselves well to automation, including: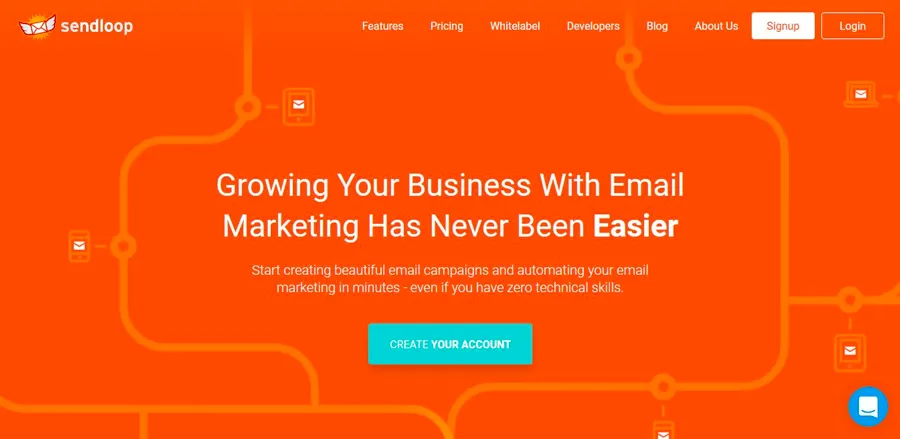 Invoicing and billing: With precise task tracking and pre-assigned cost centers, sending accurate and timely invoices to clients requires no human intervention. Automating the process speeds up payment, which keeps the agency cash flow positive.
Email marketing campaigns: Even in the social media age, email marketing still offers an unbeatable ROI that averages as high as 36:1. However, managing email lists and producing personalized content is time-consuming. With automation, digital marketing agencies can streamline email marketing processes and maximize their already-high ROI.
Client communications: Constant and positive communication lines with clients are key to keeping project pipelines full and moving. However, not every client interaction requires the human touch. By automating communications like answering information requests, notifying clients of project progress, and sending re-engagement messages, digital agencies can deliver a high-touch customer experience without wasting valuable human resources.
Social media publishing: Since modern social media campaigns are almost always multi-channel, staying on top of publishing schedules and post cadence isn't easy. Automation and social media scheduling tools can help agencies build social engagement through reliable posting schedules and pre-planned cross-posting of content.
The benefits that agencies can realize through automation aren't just theoretical. Agencies worldwide are already putting automation tools to work to great effect. Take the case of Universal Creative Solutions, for example.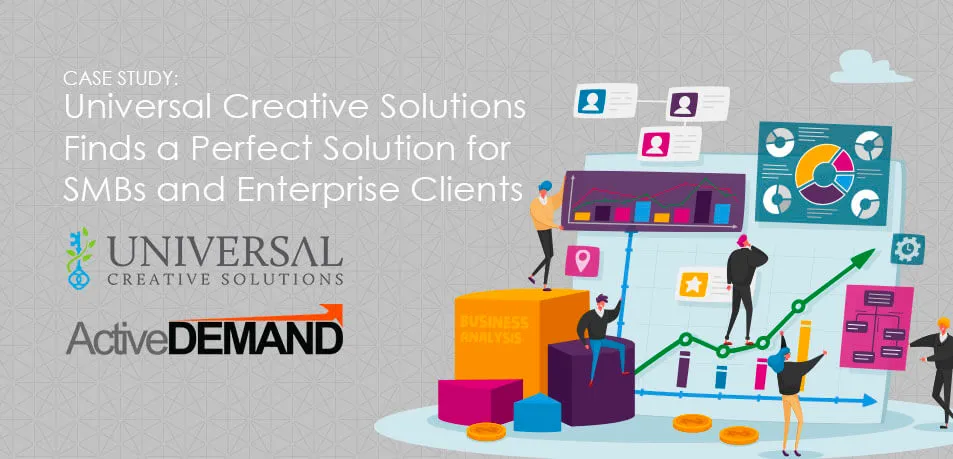 Universal Creative Solutions turned to marketing agency CRM and automation provider ActiveDemand to streamline and automate its marketing consultancy services aimed at SMBs and enterprise clients.
They put the ActiveDemand platform to work by automating workflows to support client websites, popups, and landing pages, centralizing their data collection into their CRM system. Then they used the collected data to support multitouch analyses for their clients. In doing so, they help clients to perfect the customer journey and increase conversions throughout their sales pipeline.
3. Centralizing Data and Analytics for Marketing Agencies
Another critical component of marketing agency technology is the ability to centralize data and analytics. This is because data is at the very heart of what makes high-performance marketing strategies tick.
However, multi-channel and multifaceted campaigns can generate a firehose of data from various sources that are difficult to manage and exploit. Centralizing your data and analytics into a single place with marketing agency technology allows your agency to leverage data fully and gain actionable insights promptly.
Common data points that yield useful insights include:
Performance metrics and KPIs: Tracking and analyzing how posts and content perform across various channels. This enables an evolutionary content creation process and makes it easier to determine which content types connect best with the intended audience on which channel.
Client insights and preferences: Collecting client feedback about the types of content you're deploying and its tone enables your agency to create content that's pleasing to the client and impactful within the target audience.
Growth insights and opportunities for improvement: Most importantly, analytics data helps your agency identify which parts of its campaigns and operations deliver value for customers and which don't. In both cases, it provides insights that help you improve your workflows and grow your business.
A centralized data and analytics function also allows presenting collected and analyzed data to clients in a single, easy-to-understand interface.
Platforms like SocialPilot allow agencies to white-label their platform to allow them to provide clients with a branded analytics portal.
With it, agencies can share insights that explain post-scheduling decisions and the data behind engagement strategies. They can even pre-schedule detailed analytics reports to clients that get delivered via email in a convenient PDF format.
Limelight Marketing Systems is one agency that used SocialPilot's data and analytics features to great effect.
They leveraged SocialPilot to give their staff a single platform to create, manage, and track content performance.
Doing so helped the team to work faster and smarter, delivering better campaign performance for clients. It also created a branded portal for clients using the SocialPilot platform that allowed clients to monitor their real-time campaign performance.
The unified interface helped Limelight Marketing Solutions lower costs by replacing multiple marketing agency technology tools with one. Plus, it allowed them to generate new revenue by offering value-added services to clients through their branded dashboard.
4. Enhancing Client Communication and Satisfaction
Marketing agency technology allows your agency to communicate with clients more effectively. Keeping clients informed and looped in on project or campaign progress helps them feel valued and keeps your agency's work in the spotlight.
Most platforms and tools aimed at helping digital agencies with client communications revolve around customer relationship management (CRM) systems. However, they're not the only thing that helps to increase client satisfaction.
As in the earlier Limelight Marketing Systems case study, providing a branded client portal also goes a long way toward that goal. It offers clients a polished presentation of precisely what your agency is doing for them and can include relevant data and multiple ways for the client to connect with the team handling their account.
It can also offer a secure file exchange, so you can send confidential campaign materials and works-in-progress to clients for review and approval. They can submit comments and feedback in a forum that's safe from competitors. There are countless ways to improve client satisfaction using marketing technology.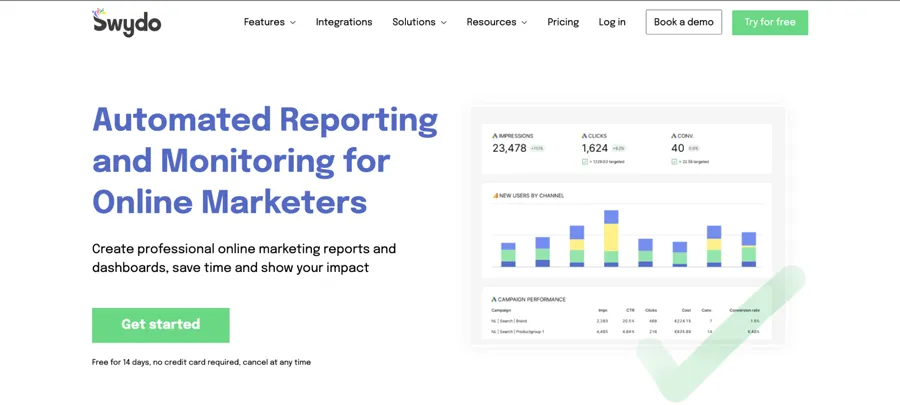 Swydo also provides the ability to monitor customer interests and generate customized reports effortlessly. These insights can be leveraged to create and fine-tune paid ad campaigns, guaranteeing a superior ROI.
Marketing Agency Technology and Scalability
If the numerous benefits and powerful functionalities provided by marketing agency technology tools and platforms haven't convinced you of their importance, there's one more compelling reason to prioritize incorporating them into your agency: they are the most reliable pathway to generating sustainable revenue and fostering growth.
By integrating the right tools and platforms into your agency's technology stack, you can handle more projects simultaneously without compromising the quality of your work. This increased capacity empowers your agency not only to take on more clients but also to expand into new markets and industries, diversifying your revenue streams and strengthening your business.
Investing in marketing agency technology and scalability isn't just about staying ahead of the competition; it's about building a solid foundation for your agency's future.
By embracing the latest tools and platforms, you'll be better positioned to adapt to ever-changing industry trends, meet the evolving needs of your clients, and create a thriving business that can weather any storm. In the long run, prioritizing technology and scalability will be instrumental in ensuring your marketing agency's sustainable growth and success.
Conclusion
The bottom line is that adopting the right marketing agency technology can help your agency do higher-quality work with its existing resources. The key to making that happen, however, depends on you approaching the task of technology adoption in the right way.
This means developing a clear picture of what functionality matters most to your agency and selecting technology that meets its needs today while offering a path to expansion tomorrow. Plus, you must also review your existing workflows to identify places where automation might make a meaningful difference. The more homework you do, the better your results will be in the long run.