If content is king, then conversion is queen -John Munsell
Think about it.
The fundamental aim of any activity performed by a social media marketer on social networks is to gain followers. But is that enough?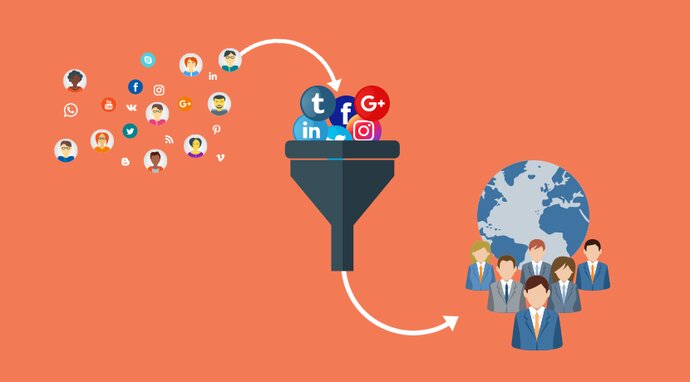 Not quite.
In fact, it is the first step of any social media marketing campaign. What follows is a powerful strategy involving gentle coaxing and convincing to monetize your social connections. Your business could have a huge fan following. But if your followers fail to convert, the entire marketing strategy becomes pointless.
For every $92 that brands spent on acquiring leads, only $1 were incurred on converting them -(Econsultancy, 2016).
What is it that stops these living advocates of your brand from converting? There are obviously some shortcomings in your social media strategy that prevent you from getting customers.
But don't worry.
We are here with 7 super tips that will help you increase your social media conversions.
1. Increase your productivity
Your social networking moves have to be systematic to increase productivity. As a marketer, you post content daily or sometimes weekly. Your tweets are random and your Instagram posts are inconsistent.
The result?
No leads; no conversions.
If your aim is to convert followers into customers, focus on increasing your productivity. Dedicate few minutes daily for social media marketing. To get your brand noticed, you have to expose people to your updates on a regular basis. Make your followers get used to seeing you on social networks. If posting too many updates on multiple social media networks seems an ordeal, use an automated social marketing and scheduling tool like Socialpilot.
Points to remember
Streamline your social media marketing activities.
Make your content more productive by posting on correct times.
Post fresh content on a regular basis to avoid stagnation
2. Analyze your content
You think you are posting great content, inspite of which you fail to attract customers. Here are a few questions for you to answer.
Which of your social networks sends the highest leads?
Which are your best posts?
What are the best times for posting updates?
What are your follower demographics (age and location)?
If you don't have an answer to the above queries, you have to probe deeply into them. To find out why your posts fail to deliver, track them, and analyze the results. These analytics do not just represent numbers; they are high-powered guides that help you strengthen your social media plan of action. The results of the analytics could be surprising as well as interesting. Use the performance metrics to channelize your marketing efforts correctly and attract (target) customers to your websites for conversions.
Tip – Post at times when your fans are the most active.
3. Track your competitors
While you have earned huge respect from your army of followers, all the customers seem to be going to your competitors.
Oh no!
Here again, social media analytics could be vital. Measure the performance of your competitors' posts and find out where they score brownie points over you. By monitoring your competitors' post performance, you will get an idea about the 'audience' that actually converts.
You could make use of the Facebook lookalike feature which enables you to create an audience similar to yours. Let me elaborate this a bit.
This feature offers a source audience and identifies common qualities like demographic information, other interests, etc. Finally we find people similar to them and create the 'Lookalike' audience. It greatly increases the chances of conversion.
4. Tempt your followers – create stories, give offers and provide experience
The first rule of influencing someone is 'not to try too hard'.
Did you hear it right? Yes.
You have to persuade your audience to turn into loyal customers; although by not directly asking them to do so. Create stories on social media and make them buy an experience to remember and cherish – like the way Illegal Pete do.
Illegal Pete's is a restaurant that has a small fan base yet a strong conversion rate. They engage their fans by running contests and creating interesting conversations on their timeline. They give away small prizes but do so by making their followers participate wholeheartedly.
See how they are distributing prizes in the post given below: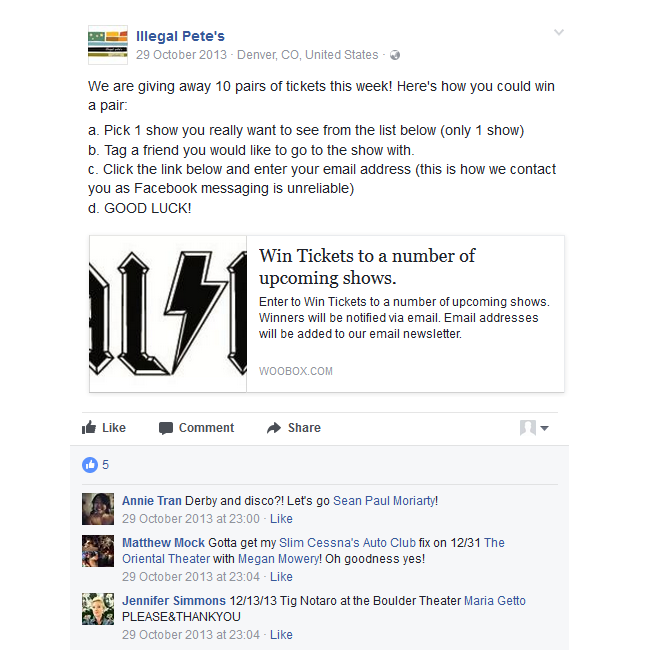 In return, they are getting email ids of their customers which they use later for promotion purpose.
It's not just the offers that lead to conversions, it's the experience their fans and followers gain that makes them come back again and again.
You have to be 'very innovative' and provide your followers with a great experience while connecting with your products/services. And once they feel connected, you will be on the winning side of the conversion battle.
Points to remember
Keep your offers fresh and interesting
Create a story which every fan embraces like it is his own slice of life
Respond to fan queries, comments, and feedback
Mention and acknowledge your loyal customers whenever you get a chance to
5. Set your goals and plan your campaigns well
Brands can explore new functionalities and come up with brand campaigns that are goal-driven. There can be two approaches. Your ultimate aim is sales, but you could experiment with focusing more on brand awareness and give sales a second lead. Or else you could take the conventional approach of concentrating on growing your sales. Both the approaches are fine. You should then measure the outcome of both strategies, like how much traffic does the marketing campaign drive back to your website.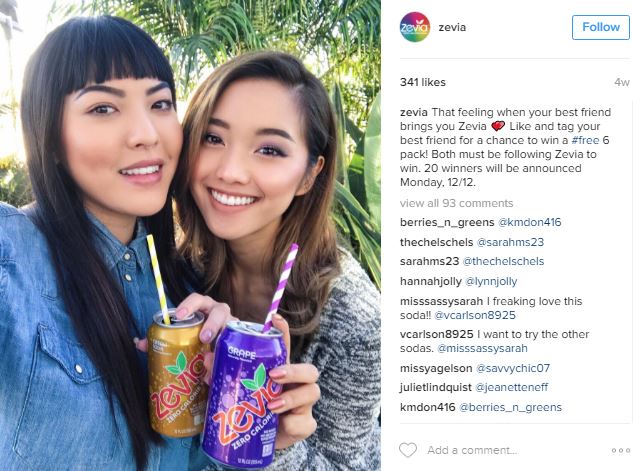 Zevia produces zero – calorie software drinks. Its Instagram marketing strategy combines give away offers with its promotional posts. They know exactly what their followers want and design the perfect marketing plan.
Where Zevia scored bonus points:
Wonderful use of images and colors
Includes real customers instead of celebs in photos( for a personal touch)
Encourages building of user-generated content
Set your goals, design your social media marketing strategy, choose your key social networks and start working on them.
6. Make your fans and followers feel special
After all, it's all about them. They have been your huge advocates, grown your sales, so it's now payback time.
Here's how you can do it.
On Twitter, select a day and promote a follower – utilize #FollowFriday. On Facebook, you can add 'fan of the week' app to your fan page. Go a step further by mentioning in the comment why they are the fans of the week.
Tip – Mention just that 'one' follower. Acknowledging too many fans at once takes away the charm of making that one person feel special.
Another way of making followers feel valued is by fulfilling their requests. Create a poll or ask fans to comment on your posts. Let's see how effortlessly Kohl engages with its followers.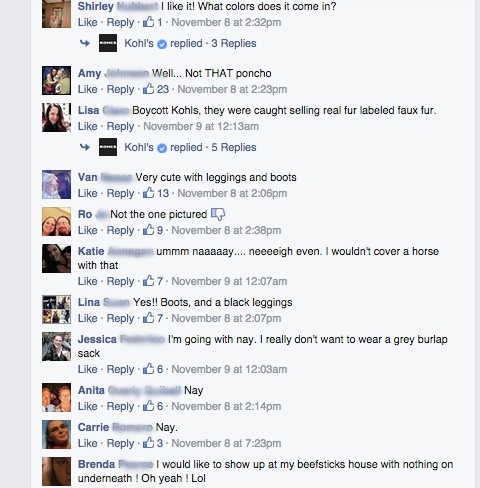 Kohl's wanted its fans to respond by a 'yea or a nay' for a poncho. The poll got tremendous response along with mixed reactions. The fans participated with great fervorand enthusiasm.
Here's another example of great brand ethics: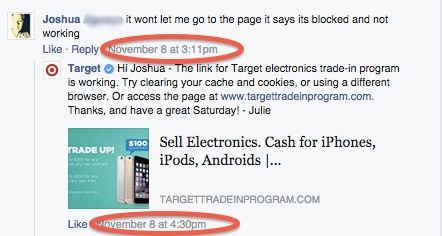 Target responds almost immediately to users' requests and queries. This gesture speaks volumes about how much the company values its customers. If you give due importance to your fans and followers, they will connect with you personally.
Tip – Display the customer feedback and queries publicly. It says a lot about the brand's confidence and how much they value their customer's opinion.
7. Are you loyal to your fans?
We expect loyal fans and followers to convert to loyal customers. But that does not always happen.
Have you ever pondered why?
That's because, as a brand, we too have some loyalties to display towards customers. Always fulfill your promises, whether it is introducing a new product on a certain date, offers, coupons and other benefits. Your consistency and concern will make them believe in you. In case you are unable to post for a few days, write a message like – 'Going on a vacation, won't be posting for a few days, will miss you loads'. This is another way of showing that you value their precious time.
And the best thing that you can do for your fans and followers is to post excellent content. Quality content is the biggest driving force behind a brand's success on social media. As discussed before, design a strategy that includes what to post and when to post. Make your followers believe that you post exclusively for them.
Wrap-up
The fact is that brands have to gear up and concentrate more on conversions more, as it is the 'actual' goal of their social media marketing campaigns. Plan your marketing strategies, provide irresistible offers and calls-to-action, share stories with your fans and encourage them to participate in conversations. Once they feel connected with your brand, they will readily turn into customers, as well as refer you to their family and friends.
And if you think that I missed something, you are most welcome to share the same in the below given comment box.