With 4.5 billion people using social media around the world, your content has a very diverse range of nerves to touch. So how do you create content that your target audience around the world can enjoy? Translation comes into mind but to make translated content even more effective, content localization is what'll take it a step further.
Instead of a one-size-fits-all content marketing approach, you should narrow your scope through content localization.
Through this article, you'll learn how content localization is useful to businesses and their social media marketing strategies, along with simple yet highly effective content localization practices you can easily employ!
What is Content Localization?
Localization comes in many forms such as marketing localization, website localization, and even software and app localization. But here, we'll be talking about content localization.
Content localization is simply the process of molding and optimizing content for an intended audience or market. This involves paying attention to their linguistic nuances, cultural and social factors, aesthetic choices, and even political and religious norms.
For global industries and even small to medium-sized businesses that plan to expand their operations and reach abroad, localization is part of any international business strategy. Through localization, they can strive to resonate meaningfully with their target market or audience through their products and marketing content. By doing so, they can command more brand authority and establish a strong foothold in foreign markets.
Isn't Content Translation Enough?
Translation, no matter how accurate it is, is only the first step in localization. In reality, localization is actually a transcended form of translation. Translation, despite its complexities, is just one of the first steps in effective cross-cultural communication. Translation and localization actually go hand in hand.
Many global industries know that for their products and marketing content to resonate successfully with foreign audiences, they can't choose between marketing translation and marketing localization over the other. Indeed, translation is necessary to get past language barriers but how about cultural and social barriers? This is where localization comes in. Even with accurate translations, it's not a guarantee that your content and it's marketing message is structured appropriately for its audience.
Is Content Localization Even Necessary At All For Social Media Marketing?
Content localization applies to a multitude of marketing strategies including social media marketing. Of course, your decision to choose content localization might depend on your marketing goals and what kind of audience you're reaching out to. If the focus of your social media marketing campaign is confined at a local level, then you won't probably need to translate and localize your content. Or do you?
This depends on your target market and audience. But if you're living in a multicultural city with multilingual residents, then you might have little choice but to translate and localize your content. Content localization is mainly employed for global social media marketing campaigns but in no way is it limited to the global stage.
Additionally, the majority of the world's content and internet users are non-English speakers. Translating your content will obviously get over that barrier but what does localization bring to the table and is it worth the hassle? These two points might answer your question.
1. Localization Shows Cultural Sensitivity
By taking into account what your target responds positively to and avoiding what they respond negatively to, not only will you boost your content's impact but it's also a way of showing your brand's consideration and sensitivity towards different cultures.
2. Localization Means Careful Initial Planning
One of the hallmarks of any poor marketing campaign at any level is poor planning. But since localization forces you to conduct extensive local market research it'll naturally lead you to better initial planning.
3. Content Translation AND Localization Makes For Good SEO Results
The formula for this is pretty straightforward; Localized Content = Better Traffic Attraction and Retention = Better SEO. Of course, SEO isn't as straightforward as that as there are a whole lot of things that go in for an effective SEO strategy. But localized content is one of the many ways you can do to attract and retain organic international traffic. This is true for both website content and social media content.
Simply put, when people flock over to your social media pages, then high chances that they will then hop over to your website. But when taking multilingual users into account, you can capitalize on the traffic with website translation and website localization, but that's a topic for another time.
If done right, content localization is one of the best strategies you can adopt with high ROI. But those returns won't magically fall on your lap. You need to commit the time and resources, along with sourcing professional help from the proper service providers.
Getting the Help You Need With Content Localization Services From A Localization/Translation Company
To get the translation and localization assistance you need, you can get in touch with a translation company and a localization company. In reality, they're really just the same.
But you're probably wondering if it is worth the hassle and expenses to request professional translation and professional localization services. And if Google Translate and doing your market research is enough for your translation and localization needs.
Actually, relying on free online translation software, Google Translate being the most popular, for contextually sensitive translation work won't get you the results you're looking for. When the success of any marketing message depends on the quality of the translation, Google Translate won't cut it.
Your localization expert has credible insider knowledge of your target market and its audience. In fact, they're probably living in your target market as we speak. There's no better resource than someone who is not only a localization expert but also lives among the locals and knows the ins and outs of the country to help you with your content localization strategy.
Content Localization Practices For Your Social Media Marketing Strategy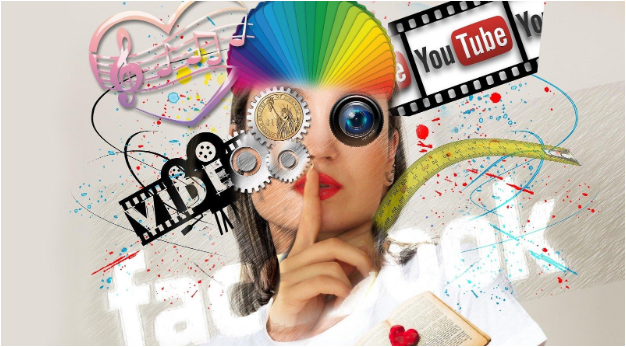 Here's the part all you've been waiting for! Get to know common but nonetheless, highly effective content localization practices to significantly level up your global social media marketing strategies. You don't need to follow all of these as it all depends on your marketing goals and budget. But you'll find some practices here that you'll greatly benefit from. Nevertheless, they all tie in with the goal of providing a bespoke experience for each of your target audiences.
1. Creating Multilingual Social Media Pages
Social media is all about customization. Users are equipped with all of the features to personalize their social media feed according to their interests. That being said, the best way to share your localized content is to create multiple localized social media pages for them.
For example, if your master social media page is in English but you also want to attract a Spanish-speaking audience, create a Spanish version of your page and share your English to Spanish translations there. This way, you can create localized experiences for each of your multilingual social media pages.
Managing multiple social media channels is tough enough, but add content translation into the mix and it becomes a true test. Are you grappling with the same issue?
Leverage the power of SocialPilot's AI Assistant tool to effortlessly convert your English captions into various languages with just one click. Beyond translation, swiftly create social media captions, hashtags, and content suggestions. Schedule and share multilingual versions of your post to target diverse audiences with SocialPIlot.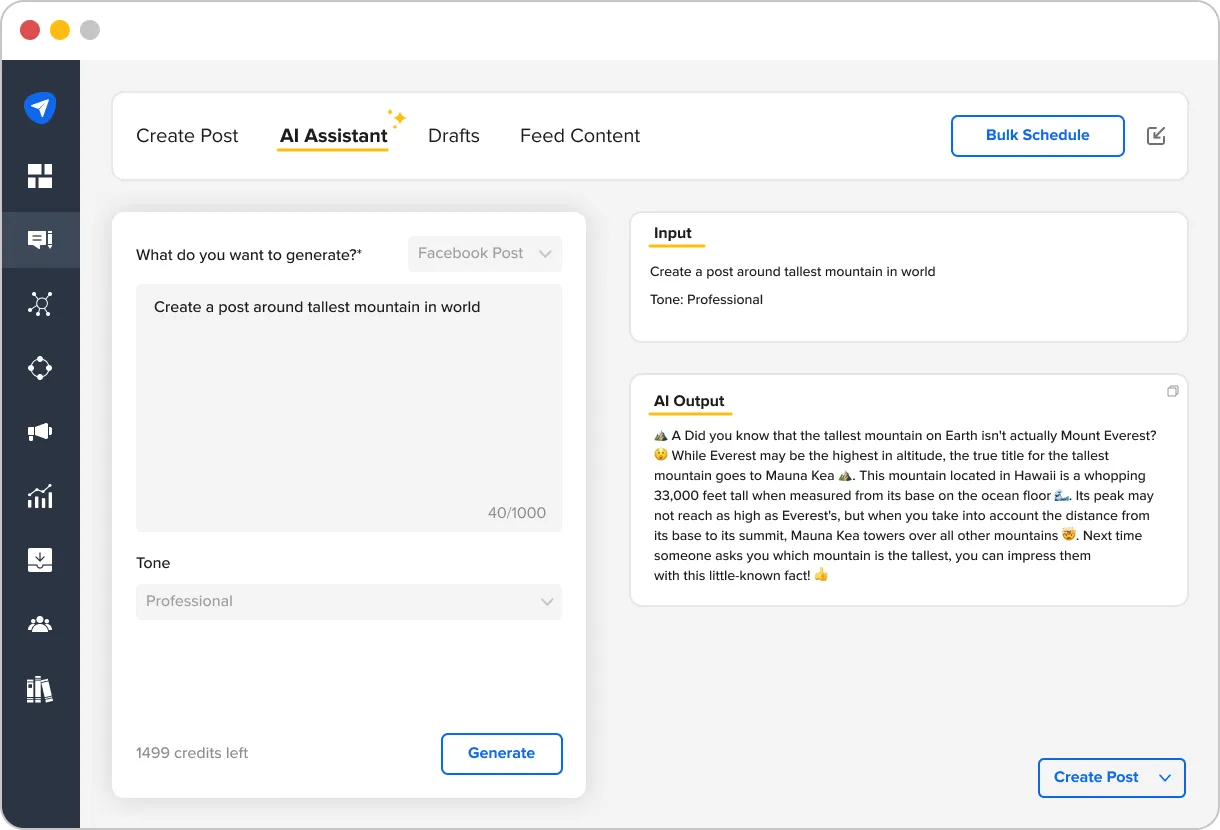 2. Use Localized Content To Spark Vibrant Localized Discussions
One of the great things about social media is its community engagement features; likes, comments, sharing, and other reaction buttons. This is what makes social media marketing really enjoyable. Now, in your localized multilingual pages, you also want to encourage meaningful connections and vibrant discussions.
Now you see why localized content is so useful, especially one that's done by a professional native speaker. Their knowledge of local slang, local humor, local references, and trends is what you need to spark vibrant localized discussions. Take it a step further and create localized hashtags! How low-cal can you go? *wink*
3. Optimizing Your Social Media Content's Aesthetics
Social media content is also about eye-popping visuals. From posters, info-graphics, banners, logos; everything that's meant to be appreciated visually, see to it that you provided localized versions for each of your localized social media pages.
But there are a couple of things you have to remember when localizing your visuals. Naturally, if your visuals have embedded text, you have to translate them for each of your pages. But localizing visuals also involves choosing your color schemes wisely. The colors we see are universal. It's not like everyone sees green differently in different shades. But we do comprehend colors differently.
What I mean is different cultures place different meanings for the same colors. For example, green means wealth and prosperity in some cultures but others see it as the color of greed and immorality. With that in mind, see that the colors you choose not only stays true to your brand but also resonates positively with your target audience.
4. Collaborating With Local Personalities
For those who really want to take their content localization strategy to the next level, you can showcase collaborations with local personalities such as influencers, celebrities, and other local figures. Agreed, it's not a viable option for everyone, but for those who have the resources, it's worth a try.
It can't get any more straightforward than showing familiar faces to your native audience. This is an effective way of establishing local relevance with your native audience. They'll essentially become your local spokesperson and you can integrate them in various forms of content; advertisements, posters, videos, and all of your desktop publishing (DTP) materials.
5. Creating Localized Video Content Simply With Video Translation
As far as quality content goes, videos are the king of quality content. People just can't get enough of videos. As part of a social media marketing strategy, video content is actually an indicator of brand authority. It shows people that you're 'packing the goods'.
But since we're talking about content localization here, you also have to provide localized video content through video translation. It's that simple but a lot of people seem to think that Youtube's automated translation feature will do the trick. It really doesn't as it notoriously spews out highly inaccurate and even questionable translations.
With this in mind, your translation company will do the job for you through video translation services. Quality videos don't only mean video production value but also the quality of its subtitles and closed captions.
Optimize Your Content Localization Strategy With Social Media Analytics Tools
To make sure that your content localization practices are giving you the results you're expecting and more, regularly check your social media analytics tools. That way, you can judge which content is giving you more engagement and contributing to your audience results.
You don't want to waste precious time and resources on content marketing practices that yield low results. Keep track of essential social media data in optimizing your content marketing practices.
Do What You Can, With What You Have: Final Takeaway
Content localization has its challenges, but it's worth the time, resources, and commitment to do it right. That being said, do it at your own pace and try not to overextend your reach. What I mean is that don't go for multiple markets and languages all at once.
You know the cliché saying: "with great power comes great responsibility". Since you're providing quality localized content, you're also expected to communicate with them regularly on social media.
That being said, you should start off by dealing with one language at a time and work your way from there. With so much going on with content localization alone and considering how many operations in your business you also have to prioritize on, it's worth taking it slow in the beginning and building up as your business and the scope of your marketing goals grow.