A lot has been said about how Facebook's algorithm hinders brands' organic reach on the platform, but what can be done about it?
Well, the algorithm only affects the ranking of organic posts, meaning that paid ads remain a great opportunity for you to reach your audience. Therefore, the solution lies in the Facebook sponsored posts, which is a combination of both organic and paid. Boosting a post can help you grow your audience, increases engagement and build brand awareness.
In this guide, we will show you how to get the most out of a boost post on Facebook. We will also suggest the best tool out of some facebook tools that will help make the process a cakewalk for you!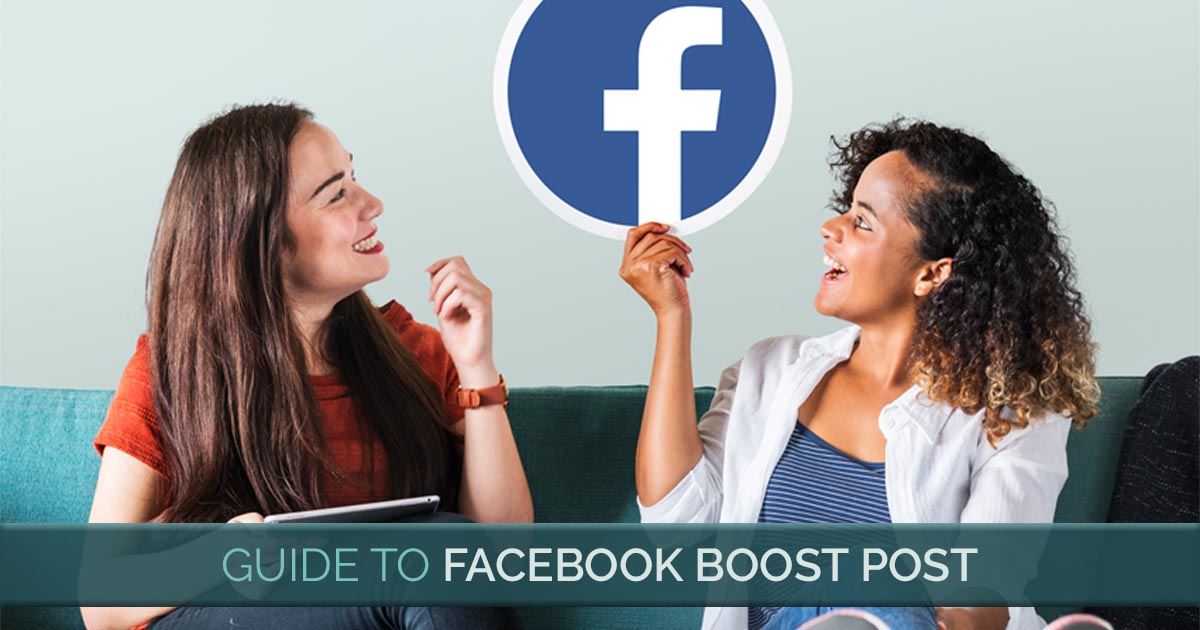 How to Boost a Facebook Post?
Follow these steps to boost your Facebook post:
Step 1: Select a Post
Facebook sponsored posts are created directly from a business page, which makes it easy to create and manage. The first step is to choose the post you want to boost. You can either create a new post or choose an existing post. The key is to boost the post that has already been performing really well, that way you can get more traction.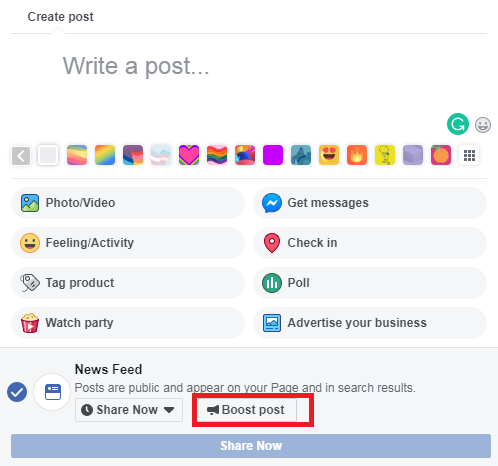 If you're creating a new post, click the "Boost Post" button on the lower side of the post box.

If you're boosting an existing post, go to the post and click the blue "Boost Post" button.

Alternatively, you can navigate to the Insights tab where you'll see a list of all your posts. Each post has a "Boost Post" button next to it.
Step 2: Decide the Objective
We all hate whys, but damn, those are important. It's important to think about why you're boosting a post and what you're aiming to achieve. Do you want to increase website traffic or get more engagements on Facebook? By having a clear objective before going live, you'll have something to measure your success against. And more importantly, you'll have better chances of reaching your target audience.
Once you click "Boost Post," you will be taken to a small pop-up menu where you can specify your objective. The two options are:
Get more people to react, comment and share your post
Connect and Chat with potential customer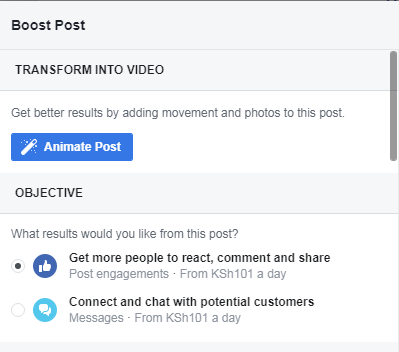 Facebook will then display your post to the audience who are most likely to take the action you have chosen, based on their Facebook use history.
Step 3: Select your Target Audience
Once you have specified your objective, scroll down the menu to the audience section, where you can select the desired audience for the post. It is easy to boost a Facebook post, but it's hard to do it effectively and see results – the secret lies in your targeting. Therefore, this step is extremely crucial for you to maximize the impact of Facebook sponsored posts.
Facebook sponsored posts enable you to target anyone based on your goal. By default, you can choose only your page followers or your page followers and their friends.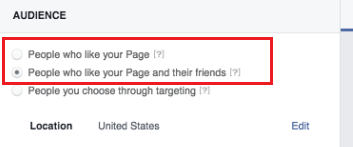 However, the Facebook boost post feature also allows you to target audience based on specific demographics such as, age, gender, interests, and location. You can create a custom audience by clicking the "Create New Audience" option.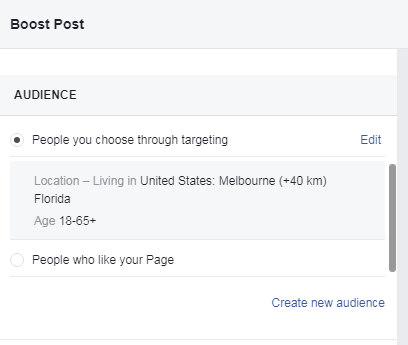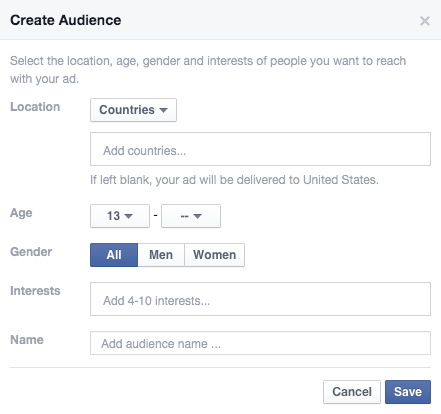 If the goal of the post is to pass information to current fans, you should target only those people who follow your brand. However, if the goal is to increase brand awareness and interact with potential customers, it's important to create a custom audience. Be specific with demographics to avoid wasting resources on uninterested people. You can start by taking a look at your current website demographics and Facebook demographics to have a good idea of your target audience.
Luckily, the Facebook boost feature allows you to change your audience. Therefore, if you notice that the post is not bringing the desired results, you can go back and adjust your audience. Try different demographics and note what works best.
Step 4: Decide on a Budget
Once you've chosen your target audience, you'll need to set your budget, specifying the maximum amount you want to spend on the post. Since you've already set your audience, you will have an estimate of how far your post can reach under each budget tier.
Facebook sponsored posts allow you to set your own budget rather than paying per click or per ad placement. The minimum is $1 per day, but you can choose to spend more depending on the reach you want. Basically, the more you pay for the post, the more reach you'll get. Your budget will be the total budget spread across the number of days you want to run the post.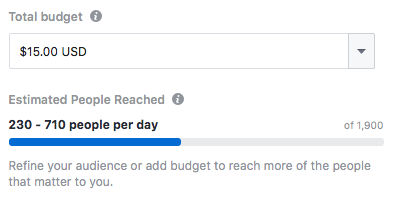 Step 5: Select a Duration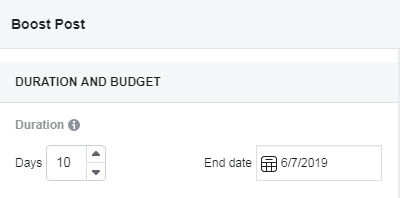 Once you've decided on the budget, the next thing is to decide how long you want the post to run. You can choose a specific number of days or the end date, and your ad will run-up to that date.
Step 6: Check the Post Preview
It's important to review your post before posting it because this is your last chance to make any changes before the post goes live. Therefore, take time to review your post in the right-hand preview bar to ensure that there are no errors, all the visual elements look good, and all links work.
Step 7: Decide the Ads Platform
Before you finish the process, you need to decide where your post is shown. You can choose your posts to appear on Facebook's desktop News Feed, mobile News Feed, and desktop right column. You can also set it to appear in stories, in-stream videos, and Messenger.
Step 8: Choose a Payment Option
The last step is to select a payment option that works best for you. If you already have a payment option, you can skip this step. If you don't have any, Facebook accepts all payments – all you need to do is fill out your details.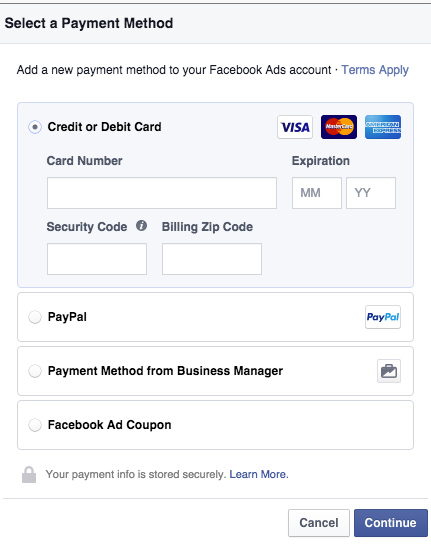 Once you've chosen your payment method, your post will be ready for boosting. Facebook will review the post then publish it. It will then be boosted to your target audience for the duration set, and you'll soon start to see the results. You can then check analytics to get insights on the performance of the boosted post and compare the results to your objective to determine the success of your post.
How SocialPilot Helps Boost Your Facebook Posts?
SocialPilot helps you to boost your top-performing Facebook posts automatically from within the dashboard. You can customize various aspects such as who should see the posts, the duration, as well as the budget. And in this era of declining organic reach, the platform also enables you to discover a new audience and increase your reach.
Why should you boost your posts with SocialPilot?
1. Easily Manage Boost Ads for Multiple Pages
SocialPilot enables you to easily manage Facebook sponsored posts for multiple pages. Therefore, you can boost top-performing posts for different clients right from your dashboard.
2. Easily Get Ads Account Access from Client
Some clients are usually hesitant to exchange account credentials. Luckily, SocialPilot Client Management feature allows you to invite your clients, and once the accounts are connected, you can easily access the posts from your SocialPilot panel.
3. Simplicity in Accounting and Billing
SocialPilot allows you to access your Facebook posts from your dashboard, where you can easily manage the accounting and billing for all your accounts. This means you can fill out payment details for all your accounts right from your SocialPilot panel. You will also be able to set budgets for posts and process the payments.
4. Easily Access the Boost ads performance
Once you've published a boosted post, the next thing is to compare the results to your objective. With SocialPilot, you can easily access the posts' performance even if the post was not posted from SocialPilot. With this information, you'll know how to target your next posts to maximize results.
5. Less distraction
SocialPilot enables you to boost top-performing posts automatically. Boosting all your posts manually would take a lot of time, and therefore, SocialPilot allows you to work on other things with less distraction.

Pro-tips for Boosting your Posts
1. Ascertain your goal for boosting posts
One of the most crucial things when boosting posts is to understand what needs to come out of the promotion. Are you boosting it to increase your reach, engagement, or traffic? These goals play a significant role in helping Facebook determine which audience is the most likely to perform that action. Having a specific goal also helps you to spend money effectively and measure the effectiveness of your sponsored post.
2. Narrow your audience down to small groups
The key to a successful campaign lies in who you are targeting. When boosting a post, you can target anyone based on your goal. However, the more specific you are with demographics, the more chances your post has of performing well. If a post offers information that's only relevant to current fans, then target only those people. But if the goal is to interact with potential new customers or build awareness, feel free to target a broader audience.
3. Avoid boosting your post for more than 1 day a week
Regardless of how much you spend per day, you shouldn't boost the same post for over a week. Boosting a post for more than a week won't help your post perform better – instead, it'll just add to your budget. In fact, many experts recommend boosting a post once a week. When you over-boost, your followers may lose interest in your posts or worse unfollow you.
4. Experiment by boosting different kinds of posts (after boosting)
It's vital to experiment with different kinds of posts directed at precise targets. This will help you determine the type of content that works best for a particular segment of your audience. It will also help you to know which audience is performing best for your business. The more posts you have, the better the insights. This information will help you to refine your future campaigns and create more effective posts.
5. Select the budget wisely
How much should you spend boosting your posts?
Facebook sets a minimum budget – go through its guidelines to understand how you can make your post perform better at a low cost. For each budget tier, Facebook boost post feature provides an estimate of the expected reach and helps you to set a budget that will enable you to achieve your goal. This will help you to get value for money and be able to boost more posts.
6. Boost posts for the best time slots
Time of day is also a vital factor to keep in mind when boosting a Facebook post. To maximize your reach, it's crucial that you boost it at a time when your audience is most active. If you've been running a Facebook account, you already know the days and times when your audience is online. However, if you still haven't made that determination, test by posting at various times of the week to see when users are most active. Once you've figured out, focus on boosting your posts at these times. You can use a Facebook ads reporting tool to find this out.
Conclusion
With the decline in organic reach, Facebook sponsored posts offer an excellent way to improve visibility and reach your target audience. Boosting your Facebook posts adds more power to them and helps your posts appear in more users' feeds. However, what matters more is that you have an effective plan when boosting and managing the posts. SocialPilot can help you automatically boost your best posts to reach a larger audience and get the most value for your money.