LinkedIn is the best social media platform for building your professional network. Your profile and daily activities on LinkedIn can lead to getting new connections, engagement and visitors to your blog. Therefore, whether you are a business owner, entrepreneur or a blogger, LinkedIn is a fantastic place to get more exposure.
However, in order to increase your following into your circle, you are going to have to get them to visit your blog directly. If you are only marketing yourself or your products and services on any social network or LinkedIn, it is simply not effective. Therefore, you need to engage with your followers, active in your network for getting the better result on LinkedIn. At last, here you will find useful tips on how to use LinkedIn to get more traffic to your blog.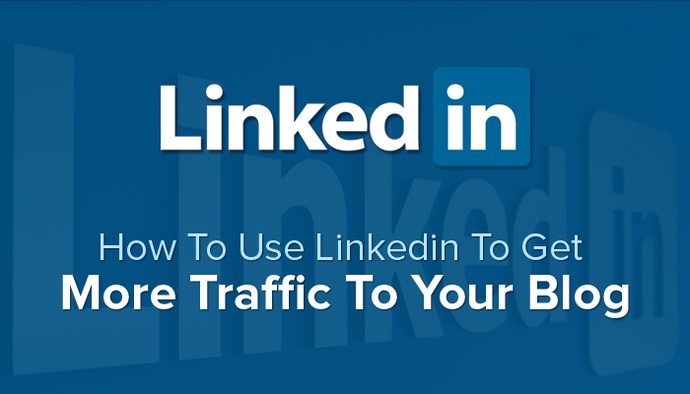 1. Optimize Your LinkedIn Profile
Your LinkedIn profile is your first impression on the site, so try to make it the good one. First, make a branded company profile. Whether you are creating the company page or personal profile you need to create it outstanding. You can do this thing by creating the banner image, keep it branded but personalized as well. Also, add your logo for your brand recognition on the site and to further develop trust with your market. Next, you can also add brief about your company's history in your about section.
Complete your personal profile: Whether you are a content marketer, blogger, sales manager, CEO or a small business owner, you are the one who's likely going to use LinkedIn. Finally, complete your profile with a personalized yet professional summary. You need to upload a professional yet friendly headshot.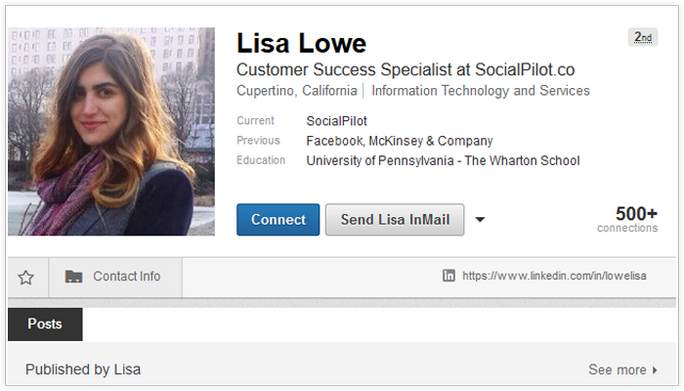 Useful tips for completing your profile:
Make a trust-building business profile that briefly describes who you are.
Create a completed personal profile with a friendly and personal headshot.
Include a link to your blog and website in your both personal and company profile.
2. Expand Your LinkedIn Network
Find people you know on LinkedIn. This is the great way to stay connected with all of your contacts and build your network. If you limit your connections, you limit the opportunity to expand your visibility. If you want to grow your visibility on LinkedIn, connect with everyone who presents a good reason. As you grow your connections, your updates may be visible to more people.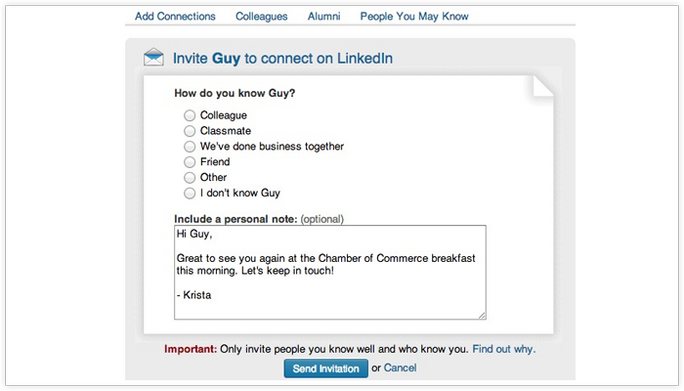 Useful tips for your LinkedIn connections:
Find and connect with co-workers, email contacts, customers, business partners and social media followers on LinkedIn.
When you network with someone in person, connect with him or her on LinkedIn.
The more connections you have the more people will see your LinkedIn status updates.
3. Engage Actively on LinkedIn
In order to get extra traffic to your blog from LinkedIn, you need to be active and post frequently on the site. You also need to post status updates a few times a week, update your profile, participate in a group discussion and comment on someone else's updates. To become better at publishing your content on LinkedIn to gain more visibility, LinkedIn automation tools can help with that. Using your favorite tool, you can schedule your posts to be published at the right time and day.
In this way you will get visibility and more profile views in your network as well. The more you're seen by your connections, the more trust you build and the more likely they will click through to your blog. In addition, post article links to your blog and use LinkedIn to make relationship further by inviting your contacts to connect with your business blog as well. Commenting is the great way to get more exposure and connection while engaging in the conversation.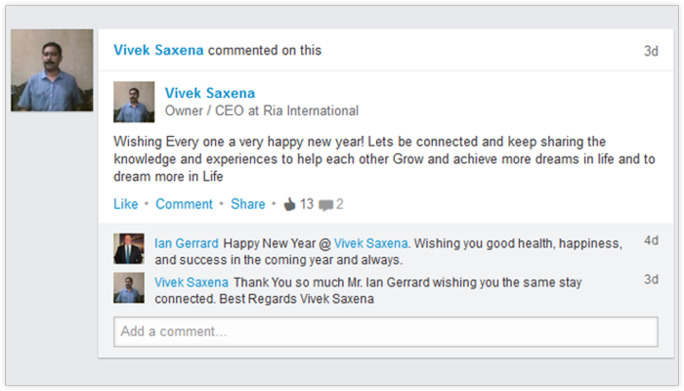 Useful tips for being active:
Update your status frequently to build trust and increase your click through rate.
Create calendar reminder and stick that schedule.
Like, comment or share someone else's updates.
4. Join Relevant LinkedIn Groups
One of the key features on LinkedIn is groups. Consequently, there are more than 1.5 million groups on LinkedIn and 81% of LinkedIn users belong to at least one of them. If you wish to find groups on LinkedIn you will want to click on your "Interest" tab. Next, select "Groups" in the drop down menu. Finally, find relevant topics to your brand. LinkedIn will suggest you groups based on your activities and profiles.
Next, when you find groups you're interested in, you will have some decisions to make. Check them to see whether they will be suitable for your business. Scope out the guidelines, count the number of members and analyze the activity within the groups. If it is an open group, you can check out the types of posts they have. Make sure it it fits with your target market.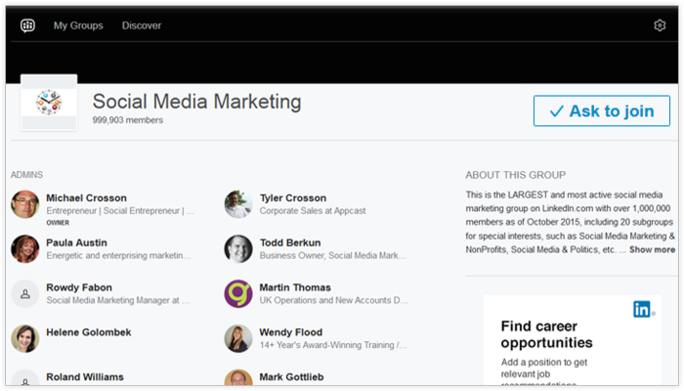 Useful tips for joining the targeted groups on LinkedIn:
Join the group that has genuine engagement and reach your niche.
Find the groups and assess which would be of the value for your business.
There are over 1.5 million LinkedIn groups, many of which offer incredible networking opportunities.
5. Establish Your Own LinkedIn Group
There are many types of groups available on LinkedIn. Suppose you can't find the group that suitable to your business. Consequently, if you want specific group for your customers or business, you can create your own groups on LinkedIn.
If you want to create the group, you'll have to spread the word about your group. Maybe you want to reduce spam in your group. Perhaps you want to make it a strong place for networking and discussion. If so, you will need to create and define strong guidelines for your groups to adhere to. It is important for you to create strict guidelines for what is acceptable to post and what is not. Furthermore, you have an obligation to moderate your groups. Creating your own groups can potentially help in your business. With it, you can build trust and develop a great reputation as an industry leader. As a result, providing such a space where like-minded people can share ideas and tips will take you far in your business.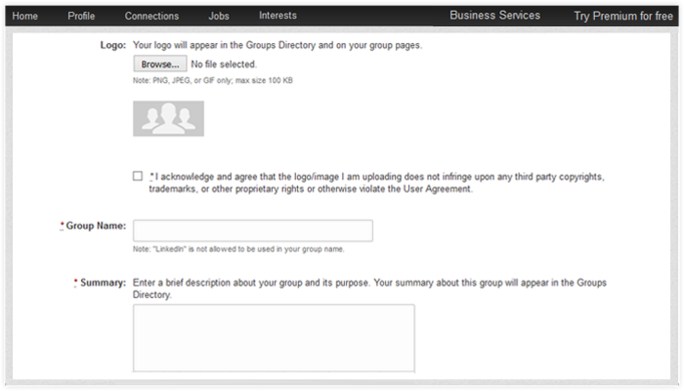 Useful tips for creating your own LinkedIn group:
If you want specific group according to your requirement then create your own.
Create a theme for your group, invite participants and create guidelines.
By creating your own group, you can see an industry leader in your network.
6. Create and Share Compelling Content on Group
First and foremost, LinkedIn is the best networking platform to drive traffic to your blog. Therefore, you need to create articles that appeal to your LinkedIn market. Create exciting and engaging content on your blog. Post content related to your business theme that supports your business goals and relates to your target market.
You can play with post types like text-only, image posts, video posts, and even document posts. Document posts can help drive traffic to your blogs. Create visually appealing documents that provide a summary or teaser of your blog post, and then include a link to the full post on your website.
Reach the masses by effortlessly scheduling and publishing your content on multiple social media profiles using SocialPilot. Bulk schedule your posts months ahead and when the time comes, all of them will be automatically published, thus reducing the hassle of manual labor.
Use its latest feature, 'LinkedIn Document Post' to publish carousel documents and share them with your LinkedIn network to drive engagement and generate leads.
After publishing engaging posts, it is vital to constantly monitor the performance using LinkedIn analytics tools.
If you are running a B2B company, you can host contests and promote your business by providing one of your services for free. Post it to LinkedIn. Also, many LinkedIn groups offer a promotion section where you can easily share deals and discounts for your business.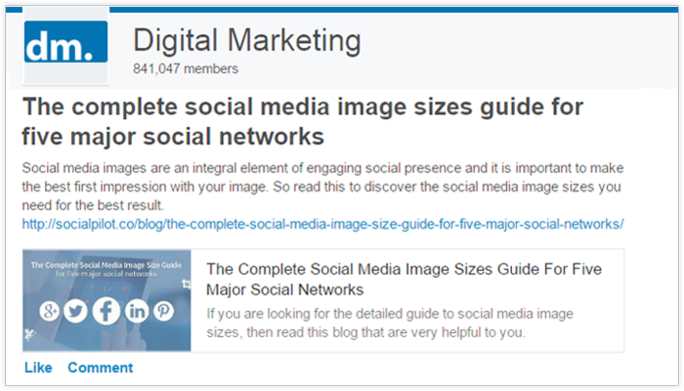 Useful tips for writing engaging content:
Keep your readership interested by consistently writing within your business theme.
Host interactive content like contests and sweepstakes on your blog.
Create attractive headlines and image that draws attention to your target market to read more.
7. Foster Engagement within Your LinkedIn Network
Just like any other social network the more engaging you are, the more of a relationship, you can build your connections. When you post article links, you need to add a question, statistic or a personal view. Give people a reason to comment, like or share your article. When someone comments on your updates, make sure you show that are appreciate it. Additionally, you should reply immediately or comment back to keep the conversation going and build networking relationship.
Engage with people in your group because the more engagement you have in a group, the more likely you'll become a top influencer. If you have more group influencers, more people will read and engage with your posts. When you post any blog on LinkedIn, ask questions about it. Respond in kind to any comment from your network.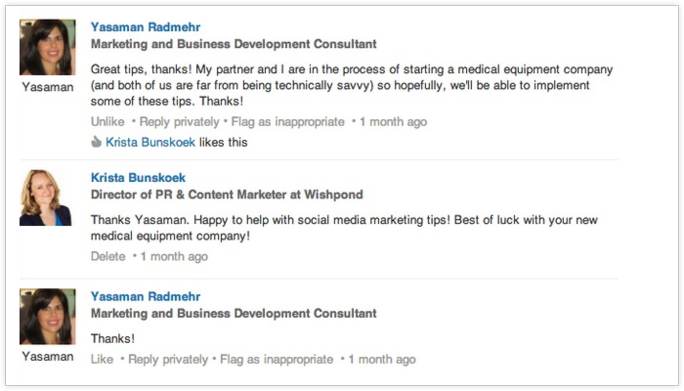 Useful tips on engaging with your networks:
Engage with people in your group to become a top influencer.
Create engaging conversation by asking questions and responding comments.
8. Share Your Blog with Connections
First, whenever you are sharing the blog post on LinkedIn, you can send LinkedIn emails directly to your connections. You can also send a relevant blog to individuals you are connected to. Much like an email marketing campaign, you can send a personal message also. Another best practice is to mention the recipient's name and give the reason why you like their blog. Also, if you have a list of clients and partners, segment your email and send to your specific email to target each group.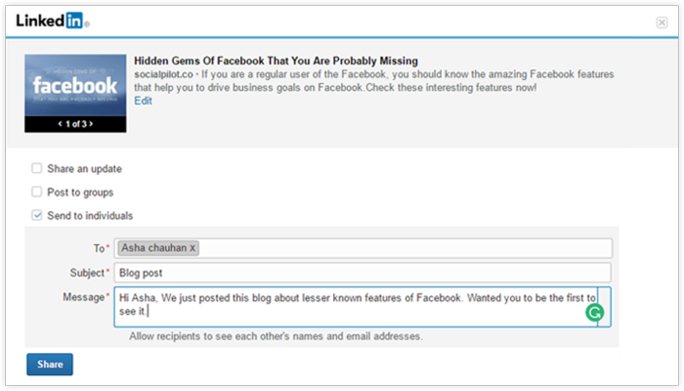 Useful tips for sharing blog post with individuals:
Share your post through LinkedIn emails with personal and segmented messages.
You can directly communicate your connection if you have relevant posts to share.
Don't try to spam by overusing LinkedIn email because you'll lose your reputation.
9. Utilize the LinkedIn Share Button
LinkedIn share buttons make it almost too easy for your reader to share your blog post. Also, those who are interested to share articles, they have the LinkedIn network who will be interested in your articles as well. In addition, LinkedIn's share button makes it easy for you to share your article to groups. However, you must head this caution if you are sharing your blog on LinkedIn. Hence, you should check LinkedIn throughout the day to reply to comments and questions about your post. Like most blogs here at SocialPilot, we have LinkedIn share buttons. It makes it easy for our readers to share articles with their LinkedIn network.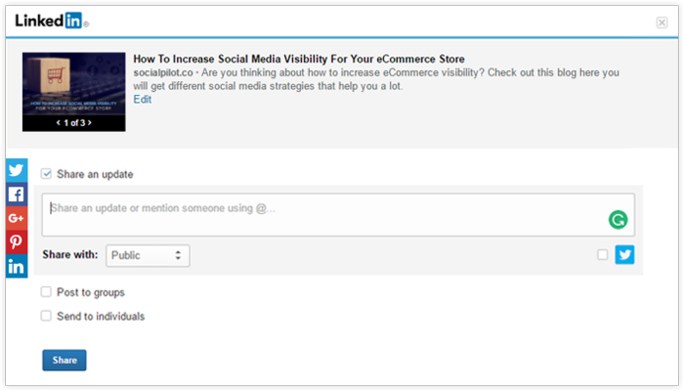 Useful tips for a LinkedIn share button:
Make sure that you have a LinkedIn share button on all of your blogs.
Use this button to share your links with your groups, but ensure you check your updates directly on LinkedIn as well.
Use sidebar buttons on your blog posts for getting more shares.
To conclude, what tactics are you using to get more traffic to your blog from LinkedIn? Do you think you can benefit from these suggestions?