Ready to tap into a professional networking powerhouse?
With a staggering user base of over 930 million users spread over 200 countries around the globe, LinkedIn stands apart from other social media platforms. Unlike other social media giants, LinkedIn is not just a social network; it's a launchpad for both B2B and B2C businesses to skyrocket their marketing initiatives.
This unique social networking platform focuses on everything from brand building to talent recruiting. The platform allows businesses to expand their reach and engage in industry discussions and conversations.
But here's the deal:
To unlock its full potential, you need a well-planned LinkedIn marketing strategy. This blog post aims to be your roadmap, helping you understand how LinkedIn marketing works and what tips and strategies you can use to derive the best results.
So, shall we begin?
What is LinkedIn Marketing?
Can you imagine a platform bustling with professionals and brimming with 63 million listed companies?
That's LinkedIn for you!
The platform is a unique stage where you can grow your professional network and showcase your business prowess.
LinkedIn marketing is about leveraging the network's potential to promote businesses, products, services, and personal brands. By using LinkedIn's robust features, businesses can engage with their target audience, establish thought leadership, generate leads, and drive conversions.
Marketing on LinkedIn is all about forming connections, improving brand awareness, generating leads, and forming partnerships for your business. It forms an integral part of most B2B marketing strategies due to its efficiency in professional networking.
So, we understand what LinkedIn marketing is.
But…
Why is Marketing on LinkedIn Important?
LinkedIn is not just a platform; it's a gateway to many professional networking and marketing opportunities. Here's why marketing on LinkedIn is a game-changer: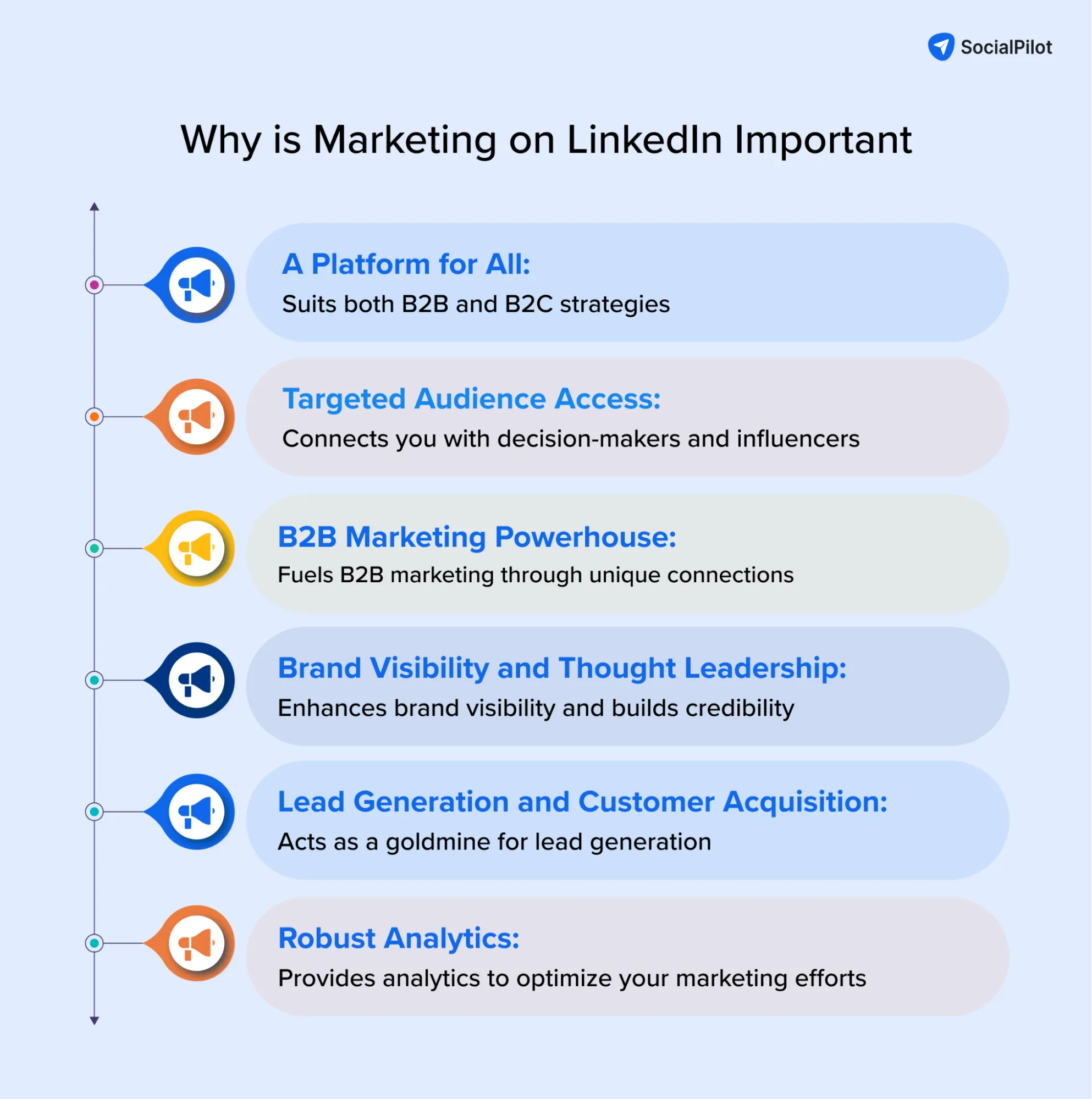 A Platform for All: Whether you're a B2B or B2C business, LinkedIn can help you achieve your desired results. It's a versatile platform that caters to a wide range of business strategies.
Access to a Targeted Audience: LinkedIn is a melting pot of professionals from various industries, sectors, and job roles, giving you direct access to decision-makers, influencers, and potential customers. If your target market includes professionals, entrepreneurs, or companies, LinkedIn is your go-to platform.
A B2B Marketing Powerhouse: Renowned for its unique environment, LinkedIn allows businesses to connect with other businesses, establish partnerships, and generate leads. It's a powerhouse that fuels B2B marketing.
Brand Visibility and Thought Leadership: Consistently sharing valuable content, insights, and industry knowledge on LinkedIn can position you or your business as a thought leader in your field. This enhances your brand visibility and builds trust, credibility, and recognition.
Lead Generation and Customer Acquisition: LinkedIn is a goldmine for lead generation and customer acquisition. With tools and features like targeted advertising, sponsored content, and InMail campaigns, you can reach your ideal audience and capture their attention.
Robust Analytics: LinkedIn's robust analytics allows you to track and measure the success of your campaigns. This means you can optimize your marketing efforts for maximum results, ensuring your every move is data-driven.
7 Tips and Best Practices for LinkedIn Marketing
LinkedIn is more than just a social media platform; it's a professional arena where you can share your ideas and network with influential professionals.
Want to harness the power of LinkedIn marketing? Here are seven crucial tips and practices to guide you:
1. Keep Your LinkedIn Profile and Page Updated
An optimized LinkedIn profile or company page opens doors to a whole new world of possibilities. The key is to work strategically on all sections of your LinkedIn profile and company page to showcase your strengths and capabilities.
Let's look at how you can optimize your LinkedIn page to establish your brand as a leading competitor in the industry.
First, you need to ensure that you have focused on all relevant sections of your LinkedIn page. As per LinkedIn, a fully optimized LinkedIn page tends to receive 30% higher weekly views than unoptimized ones.
You can check out Boeing's LinkedIn page, which has mentioned all the tiny details about the company and how they work by leveraging all the page tabs.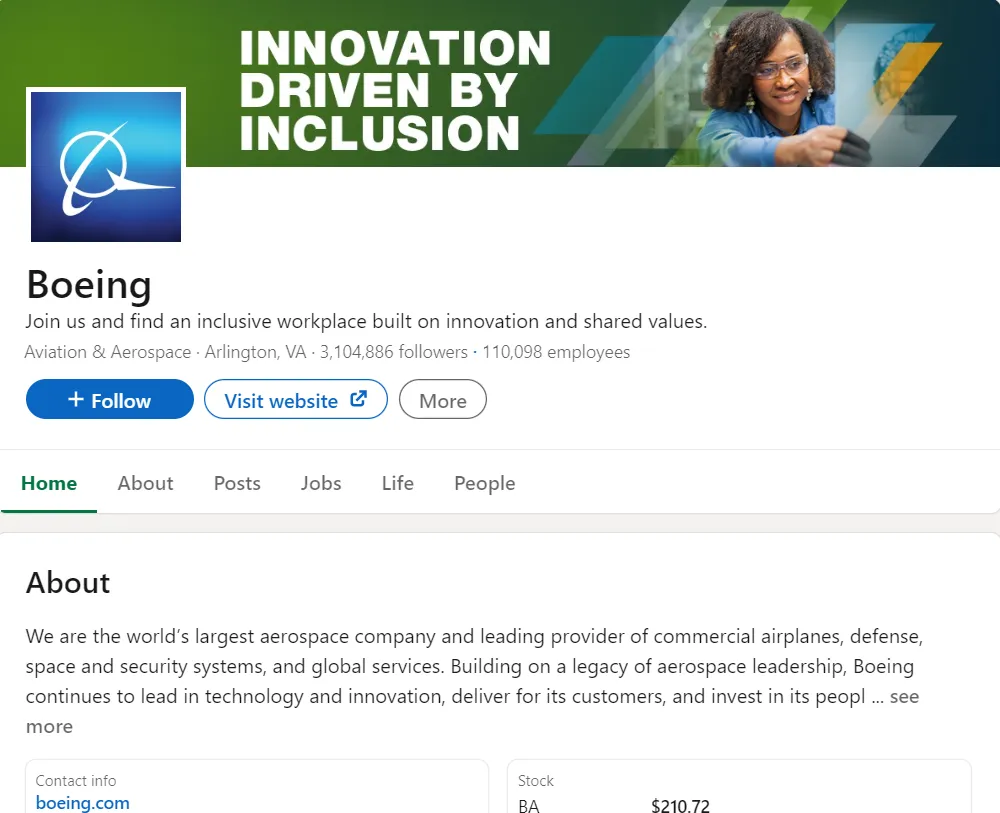 Source: Boeing on LinkedIn
No matter whether you are a big or small organization, a LinkedIn page can help present your company in the most organized way while focusing on your targeted audience.
2. Set Clear Marketing Goals
With your LinkedIn page in place, developing a marketing plan focused on a SMART marketing goal is next. Start by determining what you want to achieve with your LinkedIn marketing initiatives.
Here are a few examples of important marketing goals you can set for LinkedIn:
Increase Brand Awareness: Enhance brand visibility and recognition among your target audience on LinkedIn. Measure this by tracking your LinkedIn followers' growth, your content's reach, and the engagement metrics (likes, comments, shares) on your posts.
Generate Leads: Drive lead generation through LinkedIn by capturing the contact information of potential customers interested in your products or services. Measure the number of leads generated through LinkedIn forms, landing pages, or lead generation campaigns.
Drive Website Traffic: Increase the number of visitors to your website from LinkedIn. Monitor the website traffic specifically generated through LinkedIn by using UTM parameters or LinkedIn's own analytics tools.
Establish Thought Leadership: Position yourself or your business as a thought leader in your industry by sharing valuable insights and expertise on LinkedIn. Measure the engagement metrics of your thought leadership content, such as the number of likes, comments, and shares, as well as the growth of your LinkedIn connections and followers.
Expand Network and Connections: Build a strong professional network on LinkedIn by increasing the number of connections. Set a target number of connections to reach within a specific time frame and track your progress toward that goal.
Engage with Target Audience: Foster engagement and conversations with your target audience on LinkedIn. Measure the engagement metrics on your posts, such as comments and replies, and actively participate in relevant industry discussions and groups.
Recruit Top Talent: Leverage LinkedIn for talent acquisition and recruitment. Set goals for the number of qualified candidates sourced through LinkedIn, the number of job applications received, or the quality of hires made through the platform.
Your LinkedIn marketing goal can focus on any one or more of the above goals. However, it's important to understand which marketing goals LinkedIn is most suitable for.
For Instance, if you are a B2B company, LinkedIn can be your platform for lead generation, networking, and hiring. Conversely, if you are a B2C company, LinkedIn will primarily work for you as a recruiting platform.
3. Understand Audience Demographics
Once you've set your LinkedIn marketing goal, the next step is to get to know your audience. Remember, LinkedIn's audience majorly differs from other social media platforms.
Here's the deal…
LinkedIn is a professional platform, and 60% of its users fall into the 25 to 34 age group. It's a melting pot of fresh graduates seeking their first role and seasoned professionals in senior positions looking to recruit talent.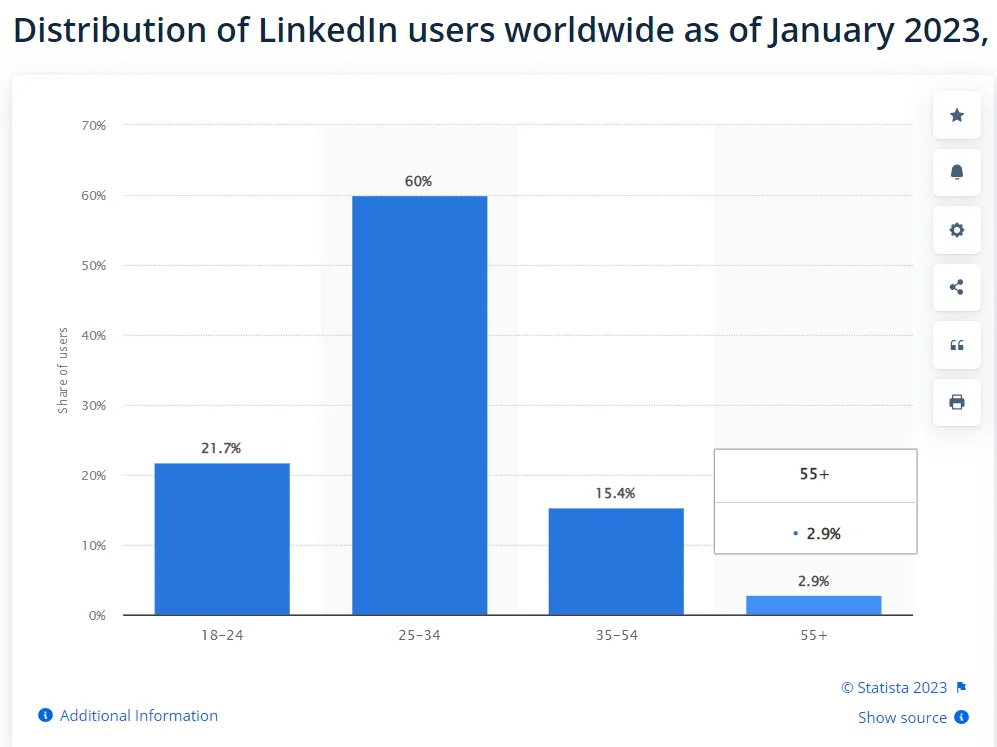 So, who's your target audience? Are you delivering the information they're seeking on the platform?
To better identify your audience demographics, tools like SocialPilot's LinkedIn Analytics can be a great resource. With this feature, you can gain detailed insight into your audience and their preferences to plan your marketing strategies better.
4. Develop an Employer Brand Identity
Creating an employer brand identity on LinkedIn is a strategic process. It's about showcasing your company's values, culture, and opportunities to attract and engage top talent. And it all starts by defining your employer value proposition (EVP). Identify the unique benefits and experiences your organization offers.
Here's how you can do it:
Craft a compelling company page with a visually appealing logo, banner, and informative content highlighting your mission, vision, and employee-centric initiatives.
Share authentic stories, employee testimonials, and engaging updates to showcase your company culture and values. Actively engage with your audience by participating in industry discussions, responding to comments, and providing valuable insights.
Encourage employee advocacy by encouraging staff to share their positive experiences and contribute to discussions. Also, leverage a trending employee content gallery that showcases photos posted by employees of an organization.
Regularly post job openings, highlighting potential candidates' benefits and growth opportunities.
Finally, utilize LinkedIn's robust analytics to track and measure the effectiveness of your employer branding efforts, adjusting your strategy accordingly to attract and retain top talent.
5. Experiment With Various Content Formats
To gain your desired traction from LinkedIn for achieving your marketing goal, you need to understand which content formats will work best for you.
Take a look at some of the top ones below: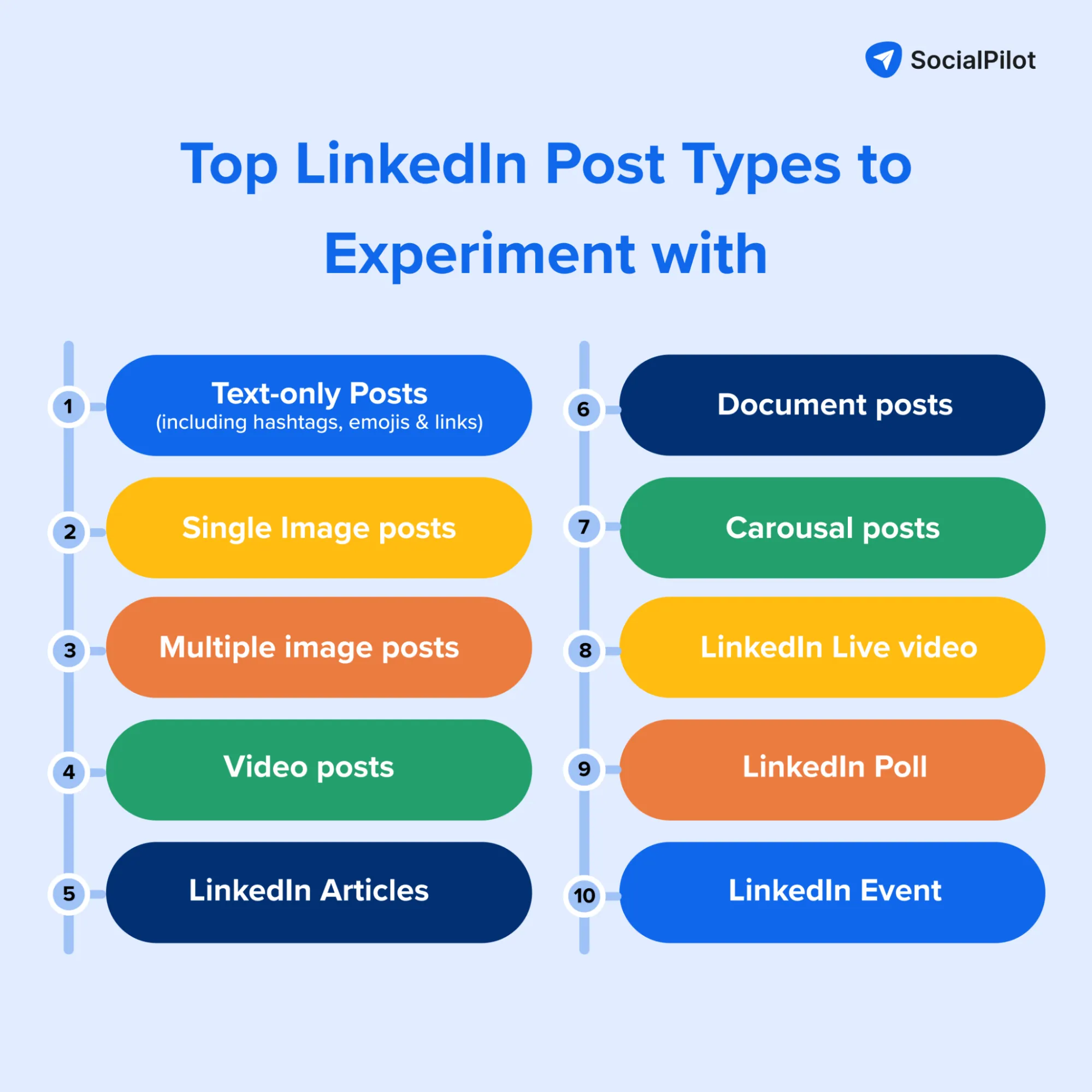 All the above post types can be used for different purposes. For example, you can use a text-only post to express gratitude or share a tip. On the other hand, you can use the document post to share a case study or a client success story.
If you consider content formats in terms of engagement, then image and video posts tend to work better than simple text posts. Here again, it is important that you experiment with different formats and post types to find out what resonates best with your audience.
6. Create a Posting Schedule
Want to reap the benefits of your LinkedIn marketing strategies? It's time to create a posting schedule and stick to it.
While LinkedIn suggests posting at least once or twice a day, it's up to you to decide your posting frequency. Even posting once or twice a week can work wonders as long as you're consistent.
Once you've decided on your posting frequency, the next step is to develop a posting schedule that ensures your content goes live at the right time for maximum engagement.
But how do you know when the right time is?
That's where SocialPilot's analytics tool comes in! This tool provides an in-depth performance matrix for each post, helping you determine which posting time works best for you. For a comprehensive understanding of finding the best time to post, you can refer to our guide on the best time to post on LinkedIn.
Once you find the best time to post, it's time to create a posting schedule. This saves you from the hassle of manually posting your content and from missing out on your posting schedule.
Use SocialPilot's Content Planner and Scheduler to plan your content and schedule it for posting at your desired time.
This way, you can create a consistent posting schedule without the stress of manual posting.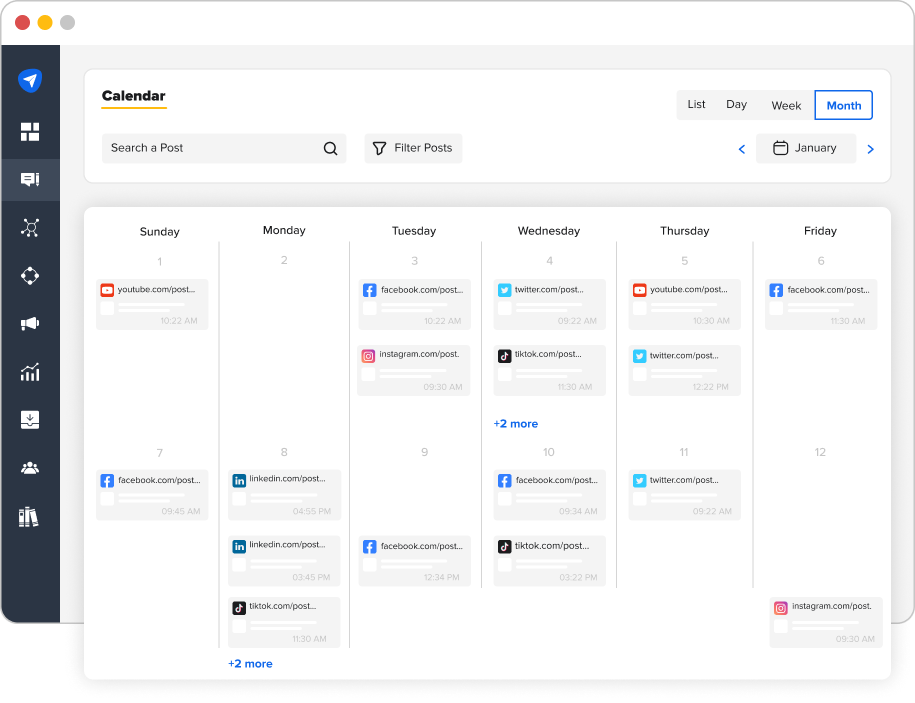 7. Leverage LinkedIn DMs
Did you know: LinkedIn direct messages could be your golden ticket to success on the platform?
LinkedIn DMs offer a casual way to spark engaging conversations with your prospects.
But here's the catch: LinkedIn DMs aren't about bulk messaging. You can't send the same message to everyone. Instead, you need to craft personalized messages to your prospects.
How do you do that? Start by carefully analyzing their LinkedIn profile to understand their interests, skills, and abilities. Then, craft a personalized message focusing on why you contacted them and why they should be interested in your conversation.
Remember, keep your message short and to the point to convey the potential opportunity you are proposing. According to LinkedIn, shorter messages tend to perform better and offer a higher response rate.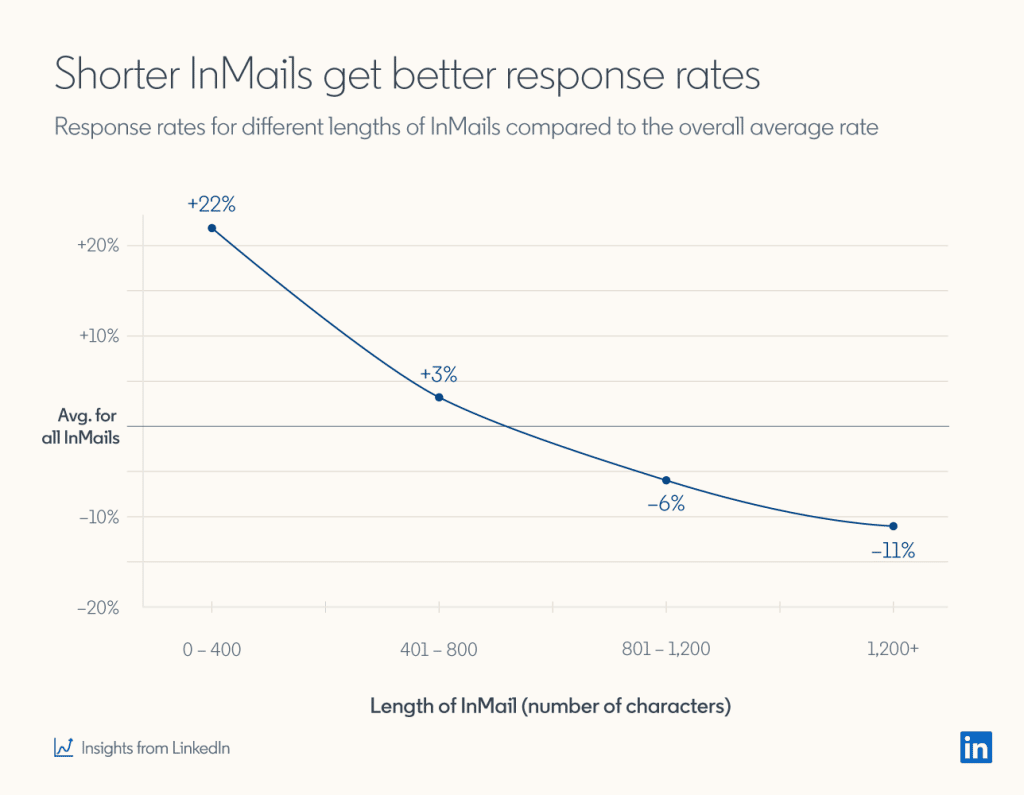 Source: LinkedIn
The data above shows that messages with up to 400 characters have the highest response rate, while DMs exceeding 1200 characters have the least response rate.
Another crucial factor for your success with LinkedIn DMs is timing.
Picture this: Someone bugging you on LinkedIn with a business proposition during a family lunch on the weekend.
Would you respond? Probably not!
LinkedIn data reveals that DMs sent on Friday or Saturday have a significantly lower response rate than messages sent on Sundays and other weekdays.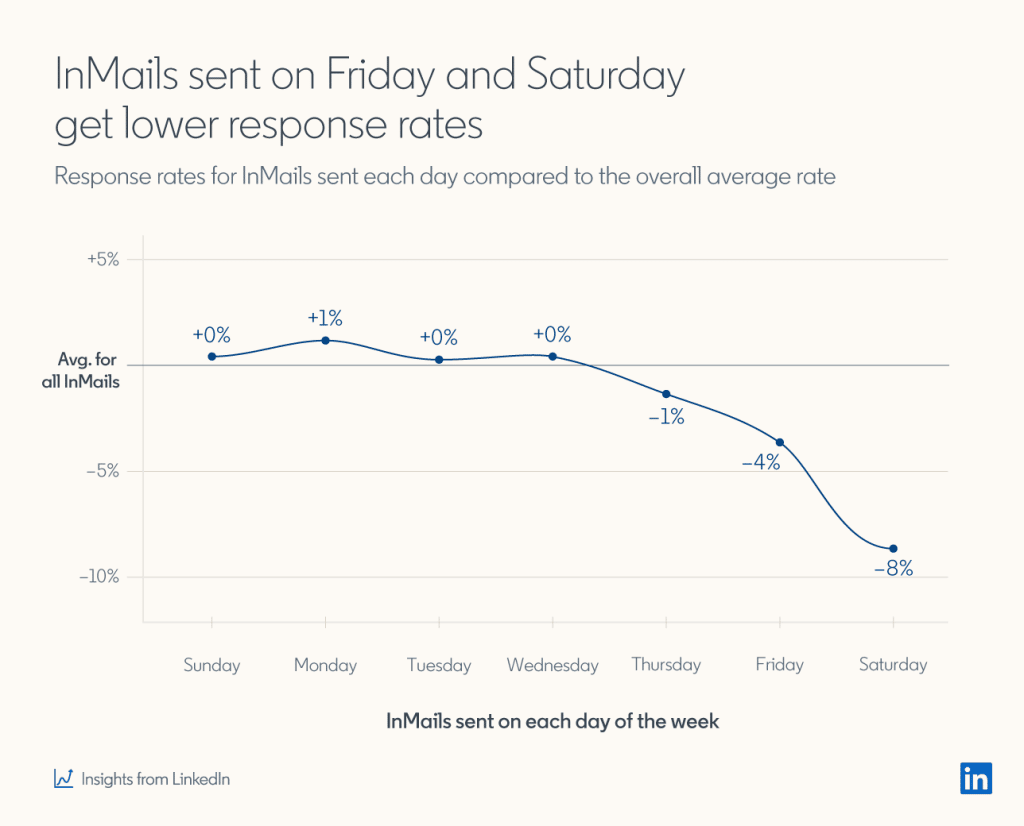 Source: LinkedIn
So, consider avoiding sending DMs on Fridays and Saturdays to maximize your chances of gaining a response.
How to Set Up a LinkedIn Marketing Strategy
LinkedIn, like all other social media platforms, has also evolved over the years to cater to its users' needs. To derive the best results from your marketing efforts, you must create a LinkedIn strategy that aligns with the LinkedIn algorithm.
Here's how to do it:
1. Leverage LinkedIn Newsletter
LinkedIn newsletter allows you to share valuable content directly with your followers. It's an excellent tool for establishing thought leadership, sharing industry insights, and providing helpful resources.
By consistently delivering high-quality content through your newsletter, you can position yourself as a trusted authority in your field.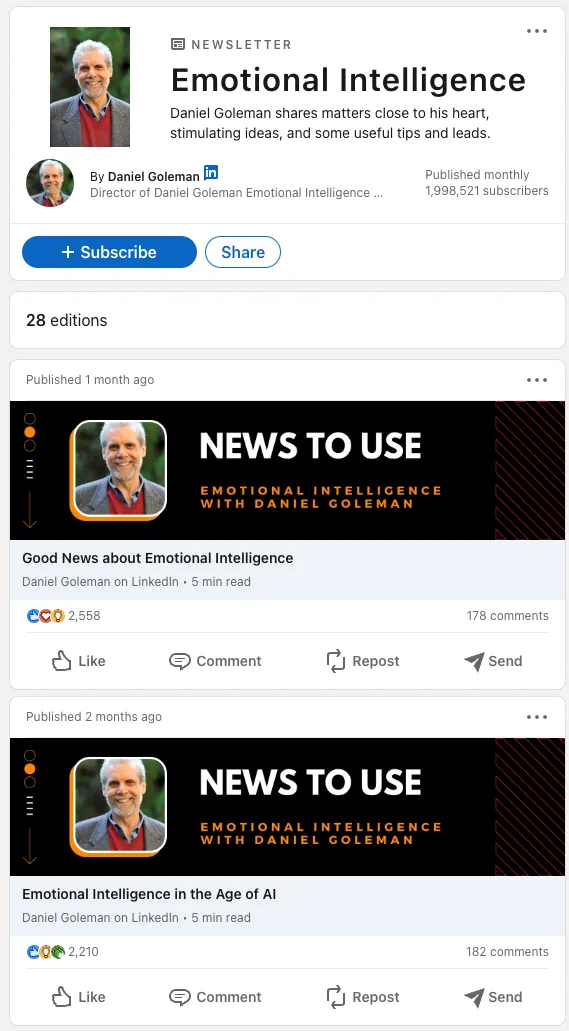 Daniel Goleman's LinkedIn newsletter 'Emotional Intelligence' has almost two million subscribers. | Source
Consider a weekly or monthly newsletter where you share industry trends, expert opinions, and relevant articles. Add your unique insights to each curated piece, and encourage your subscribers to engage by asking questions or sharing their thoughts. This will help you build a loyal and engaged community around your expertise.
2. Add LinkedIn Groups to Your Page
LinkedIn Groups provide a platform for professionals with similar interests to connect and engage in meaningful discussions. By creating or joining relevant LinkedIn Groups, you can tap into a targeted community of individuals genuinely interested in your industry or niche.
If you're a marketing agency specializing in digital marketing, create a LinkedIn Group focused on sharing best practices, industry news, and success stories. Actively participate in conversations, answer questions, and offer valuable insights to establish yourself as a go-to resource. This can lead to valuable connections, partnerships, and even new clients.
3. Make Your Employees a Part of Your Strategy
Your employees can be your best advocates on LinkedIn. Encourage them to optimize their profiles, share company updates, and engage with your content. When employees actively participate in your LinkedIn marketing efforts, it expands your reach and adds authenticity and credibility to your brand.
You can conduct internal training sessions to educate employees on leveraging LinkedIn effectively. Encourage them to share their professional achievements, industry insights, and company-related updates. This will help amplify your brand's reach and establish a strong presence within their respective networks.
4. Work Around Relevant LinkedIn Hashtags
LinkedIn hashtags allow you to categorize and discover content related to specific topics. By incorporating relevant hashtags in your posts, you can increase visibility and reach a wider audience. Research popular industry-specific hashtags and use them strategically to expand your reach and engage with professionals interested in those topics.
For instance, If you're a software development company, use hashtags like #TechTrends, #SoftwareDevelopment, or #DigitalInnovation in your posts. Look at the example below.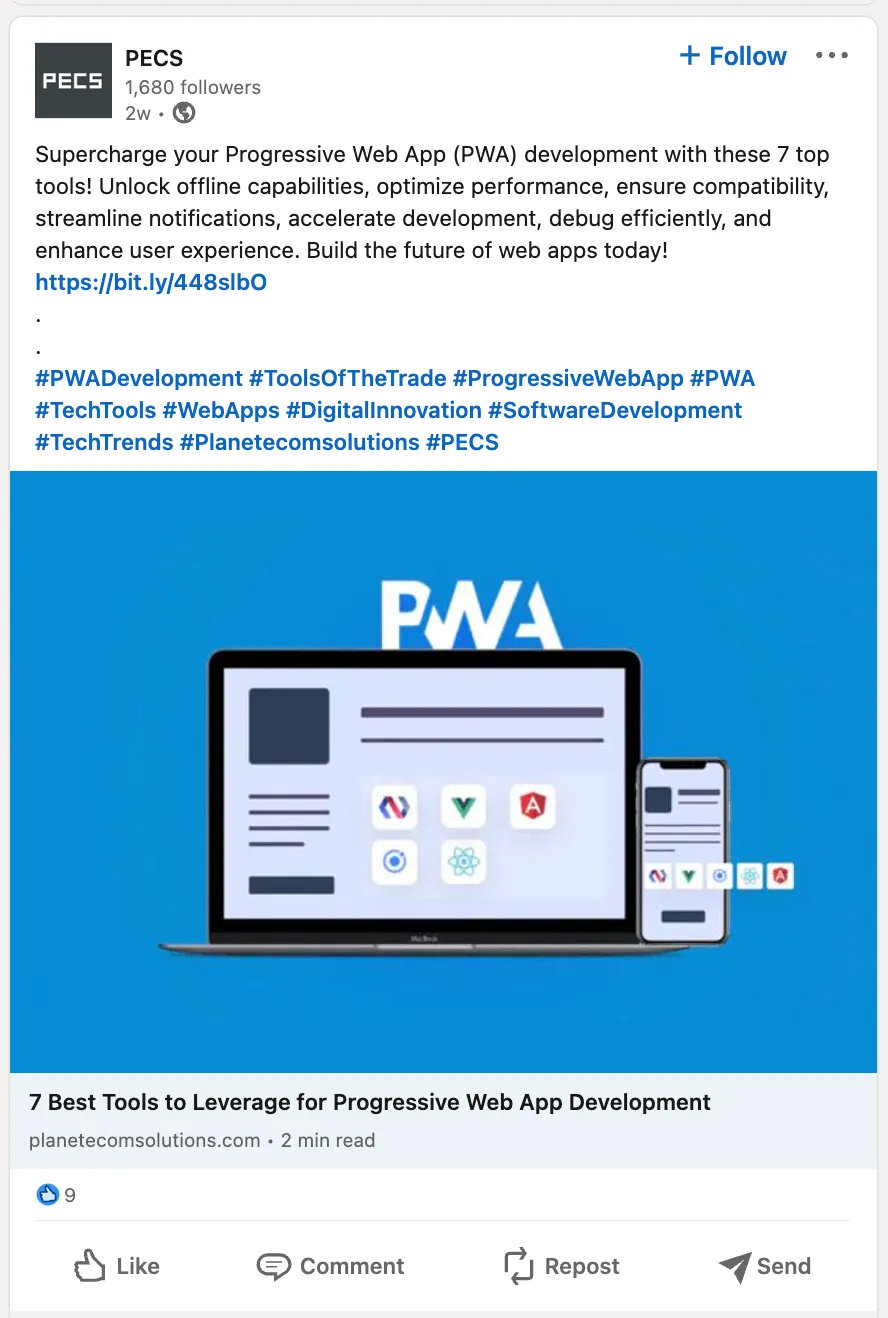 This way, professionals interested in these areas can easily find and engage with your content. Remember to use hashtags sparingly and only include the most relevant ones to maintain the clarity and effectiveness of your message.
5. Track Performance for Improvement
Measuring the performance of your LinkedIn marketing efforts is crucial for continuous improvement. Utilize LinkedIn's analytics tools to track key metrics such as engagement, reach, and follower growth. Analyze the data to understand what content resonates with your audience and adjust your strategy accordingly.
Keep an eye on the engagement rates of your posts. If you notice certain types of content performing exceptionally well, like industry insights or success stories, prioritize creating more of that content. Similarly, if a particular format, such as videos or infographics, receives higher engagement, allocate more resources to produce similar content.
6. Engage With the Community
LinkedIn is a social platform, and engagement is key to building meaningful relationships. Respond to comments, acknowledge mentions, and actively participate in discussions. Engaging with your audience shows that you value their input and fosters a sense of community around your brand.
Make it a habit to reply promptly and thoughtfully when someone comments on your post. Express gratitude for their input, answer their questions, and encourage further conversation. Actively seek out and engage with other professionals' content as well, providing valuable insights and building connections within your industry.
Conclusion
LinkedIn, as a marketing tool, can unlock a wealth of opportunities for businesses and professionals alike. By implementing the right strategies and following effective tips, you can tap into the power of this platform to enhance your brand visibility, engage with a targeted audience, generate leads, and establish thought leadership in your industry.
Remember, success on LinkedIn requires consistency, authenticity, and a deep understanding of your target audience. You must adapt these tips and strategies to suit your unique goals and industry. Stay informed about the latest LinkedIn features and best practices, and always be open to experimentation and learning from the data and insights LinkedIn provides.
So, whether you are a business owner, marketer, or professional looking to maximize your LinkedIn presence, start building your LinkedIn marketing strategy today and see how it can transform your online presence and drive meaningful results for your business or career.