Social media is an absolute gift for marketers. It's given us a treasure trove of data, a vast captive audience, and all the tools to track the impact of our outreach efforts.
Facebook, Twitter, and even Instagram have plenty to offer, but in the world of B2B marketing, LinkedIn lead generation is hard to beat when it comes to bringing in new prospects. Whether you want to find out what makes your prospects tick, perform some inbound magic, or build stronger and more meaningful business relationships with potential buyers, all your social selling needs are met on LinkedIn.
It's not for us to decide whether the erosion of face-to-face business practices is a positive or negative thing, but, as marketers, we have to inhabit the space where our audience is.
And right now, that's LinkedIn.
With this in mind, we've compiled our top six LinkedIn lead gen strategies for marketers. Read on to boost your social game.
Enhance Your Profile
You wouldn't have last season's clothes in your fashion store window, so don't let your LinkedIn profile sit untouched, gathering dust either.
Think of your LinkedIn profile as your opportunity to sell yourself and your company to qualified prospects and convince them that you're the right person to help them. Generally, you want it to be clear, comprehensive, and professional.
Here is an example from the linkedIn profile of an industry leading marketer Neil Patel.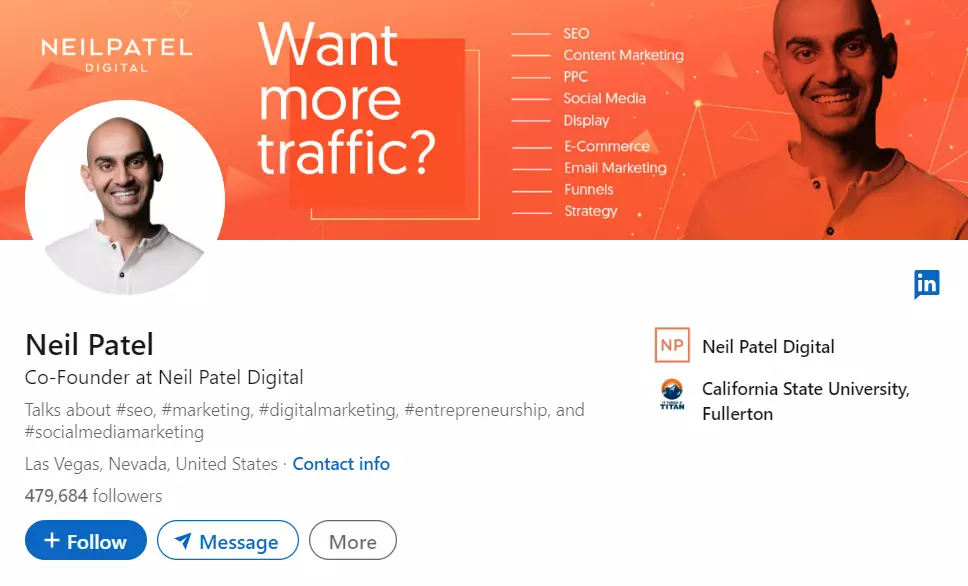 While it can be daunting to sit down to a blank page, some best practice guidelines will help ensure your profile is optimised for lead gen as possible.
First, the photo. LinkedIn research indicates that profiles with a picture are 21 times more likely to be viewed. While it's a good idea to show a bit of personality on your profile, the photo is not necessarily the time to show off your glittering social life or snowboarding achievements.
For best results, ensure that the photo is clear – a blurry, pixelated photo is a sure way to lose your audience's trust before you've even begun. Make sure you're the only person in the photo and wear professional clothing that you would typically wear in the office.
Use graphical tools such as Canva to create an eye-catching banner image. David Campbell, Marketing Strategist at Right Inbox recommends – "having a little more fun with this – it's a great place to show off your work or achievements.
While we'd like to imagine that every visitor to our profile will painstakingly read every word, this simply isn't the case. This is why it's so important to ensure that your LinkedIn headline and summary are compelling, and perfectly summarize who you are and how you can help prospects.
Also, don't pass up on the opportunity to use LinkedIn's new audio feature. This feature was designed to boost workplace inclusivity by enabling people with regularly mispronounced names to attach an audio note to their profile, demonstrating how to pronounce their names.
There are creative ways to use this feature too: use it to convey your elevator pitch, or include a fun fact about yourself.
Here are three examples of outstanding LinkedIn profiles to inspire you.
Find Potential Prospects
When you're browsing for prospects, LinkedIn truly is your best friend.
The platform has several tools and features that can help you in your search for people who would be interested in what you have to offer.
Here's how to find prospects on LinkedIn: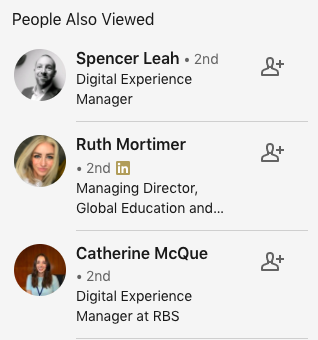 Look at the "People Also Viewed" sidebar. : If you visit the LinkedIn profile of one of your best customers, you should see the "People Also Viewed" sidebar down the right-hand side of their profile. This is essentially a list of people who are similar to your contact. Given that your contact has been so good for business, this is great news. It's time to connect with them!
Investigate competitors' networks: Check out the LinkedIn networks of your biggest rivals. Sales reps know that it's much easier to sell to people who already understand the market and know they require the product or service you sell. Your biggest competitors' salespeople will have their prospects, leads, and clients on LinkedIn. And the good news is that their networks are searchable. However, some connections on LinkedIn choose not to make their connections visible.
Browse users who have interacted with your posts: The people who are interacting with your posts expect – and maybe even want – your attention. Take some time to investigate who is interacting with your posts and what they're about. Simply click "posts & activity" on your dropdown profile menu to browse reactions and comments to your activity. You can also separate recent followers by navigating to the "your followers" tab on the left sidebar.
Check out commentators on your prospects' posts: The qualified prospects you have identified are a gateway to their networks, which are likely brimming with more qualified prospects just waiting to be found. Browse the profiles of people who have commented on your prospects' posts to see whether your products or services will be a good fit for them.
Personalize LinkedIn Connection Requests
That's a little more disengaging than receiving LinkedIn's standard connection request: "I'd like to add you to my professional network".
This doesn't tell the user anything about who you are or why you're interested in connecting with them. As such, your connection request may sit unanswered in their inbox. Even if they do accept your request, they may not be that excited about engaging with you going forward. Either way, it's not the best way to go about lead gen.
Instead, show your prospects that you're genuinely interested in them by customizing your connection requests.
It only takes two minutes to find out an interesting detail about the person you want to connect with.
This could be:
A mutual friend or LinkedIn connection
If you know someone at the company they work for
If the company they work for recently made the news
Some industry news you think they'll be interested in
Use the person's name in the connection request, and include a personalized message, as well as a little bit about you and why you'd like to connect with them.Here are a few examples to get you started: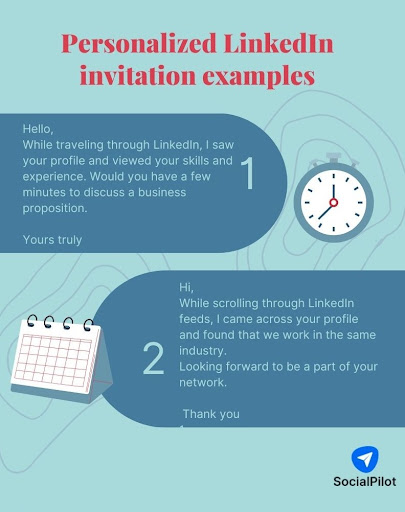 By sending such personalized invitations, you're laying the foundations to build a solid and mutually beneficial relationship going forward.
Promote Relevant Content
As B2B social media platforms become more similar to the likes of Facebook, people are sharing and discussing more content on their newsfeeds.
Turn yourself into a conversation starter and industry authority by sharing content that is helpful, relevant, and authentic.
By doing so, you're building your brand – you're showing prospects that you know what you're doing, you're at the cutting edge of the industry, and you're genuinely interested and passionate about what it is you do. Ideally, your shares will also start discussions, increasing your reach.
The key to getting content sharing right is to ensure that it's relevant.
We've all scrolled past articles on LinkedIn that seem to have been shared for the sake of sharing. Don't add to the noise. Disrupt. Here are some ways to write stellar LinkedIn posts.
The most effective way to do this is by spending time considering the burning questions and problems your prospects are facing.
Then seek out – or even create – content that provides answers and discusses these common questions and problems. Dedicate a few articles to those topics, or if you have a solid video marketing strategy in place, make a few videos discussing them! Here is how Jay Baer does it.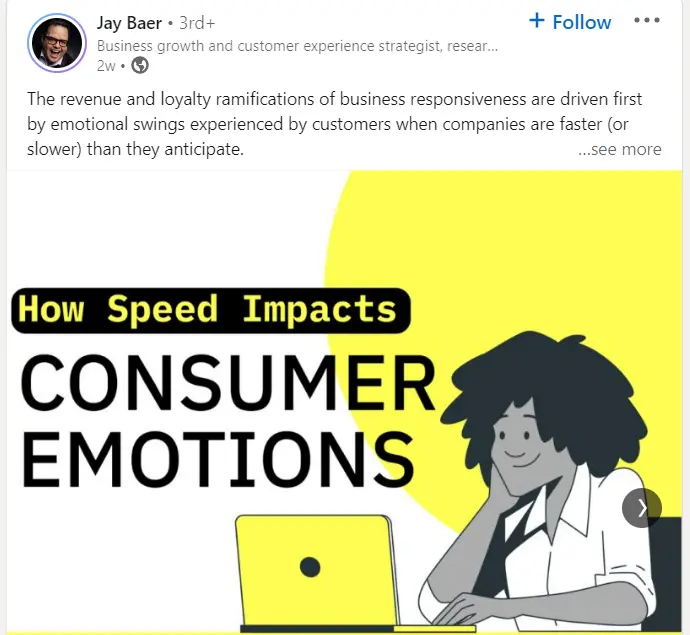 One more addition would be to try out sharing pdf documents on LinkedIn. Document posts are a great way to offer value to your readers in a visually appealing manner and simultaneously generate leads.
Professionals usually share blog posts, research studies, eBooks, or even downloadable assets through document posts as they drive engagement and act as lead magnets.
Remember: the better you understand your prospects, the more you'll be able to convince them. And of course, to help them!
When it comes to building your personal brand through posting and sharing content, the key is to be consistent. It's not enough to post every couple of days for one month, and then disappear for the next month. Your followers need to feel like they can rely on you.
Of course, consistency isn't as easy as it sounds. In this industry, we're all busy, all the time. But there are LinkedIn marketing tools out there that can help you be consistent, while also optimizing your posts and giving you improved insights into their analytics.
For instance, you can use SocialPilot to bulk schedule and publish posts like text only, image posts, and videos, thus reducing the time consumed and boosting your efficiency. Also, with its new 'LinkedIn Document Post' feature, you can publish carousel documents that readers can swipe can dive into.
You can also use this tool to target specific audience demographics, reaching the right people faster and with less effort. The tool's social analytics dashboard makes it easier to improve your performance in a targeted way.
Interact with Influencer and Audience Posts
The golden rule to successfully building your brand on LinkedIn is to be consistently active. This doesn't just mean posting on your profile.
Every day, there's some new hot topic being discussed by your industry's thought leaders on the social platform. Find that conversation and dive in. Not only do these discussions allow you to network with important professionals in your field from the comfort of your desk, but they also build on that brand authority.
When you put forth strong, intelligent points in these public discussions, your audience's trust in you will see a boost. If you know what you're talking about, show off a little. LinkedIn is the place for it.
Follow your industry's influencers on LinkedIn, and follow back key members of your target audience. Then engage with their posts. It's that simple.
If you find yourself amid a conversation receiving a huge amount of engagement, why not create a quick blog explaining your opinion, and then drop the link in the comments? This is one of the simple and efficient way to increase your reach and show up on the LinkedIn feeds of potential clients who don't yet follow you.
That said, sounding too self-promotional is a surefire way to disengage prospects. This is why your LinkedIn strategy needs to focus on establishing yourself as a brand that provides value.
Utilize Available Tools
Fortunately, there's a whole host of tools ready and waiting to help you make the most of LinkedIn's lead gen opportunities.
Here are some of the best:
Sales Navigator: LinkedIn's Sales Navigator helps grow pipelines and increase close rates by helping users better understand and target their audience on the platform. According to the social media giant, it's indispensable for lead gen, with users seeing 45% more opportunities created.Features include an advanced lead and company search, lead recommendations, CRM integration, real-time sales updates, and a list of who has viewed your profile.
LinMailPro: Developed by a LinkedIn marketer, LinMailPro takes a lot of the admin out of LinkedIn lead gen by automating many of the basic tasks. One of its most useful features allows you to personalize and automate private messages to your LinkedIn connections. Using this extension you can also tag groups of connections with just one click, and automatically view prospects' profiles.
LinkedIn Pulse: Using LinkedIn Pulse, you can create and share content on LinkedIn without any need for a separate blog or website. This helps you to build credibility as a brand on the platform. LinkedIn Pulse will notify your connections every time you publish a piece of content, ensuring it doesn't get lost in the noise, and boost your reach outside your networks.
Direct Followers to Your Landing Pages
LinkedIn can also be used to take your followers to the sales funnel. If you share relevant content with your audience and propose to offer more value, you can take your followers to your landing pages.
Here is an example of how Jeff Bullas does it in a smart way.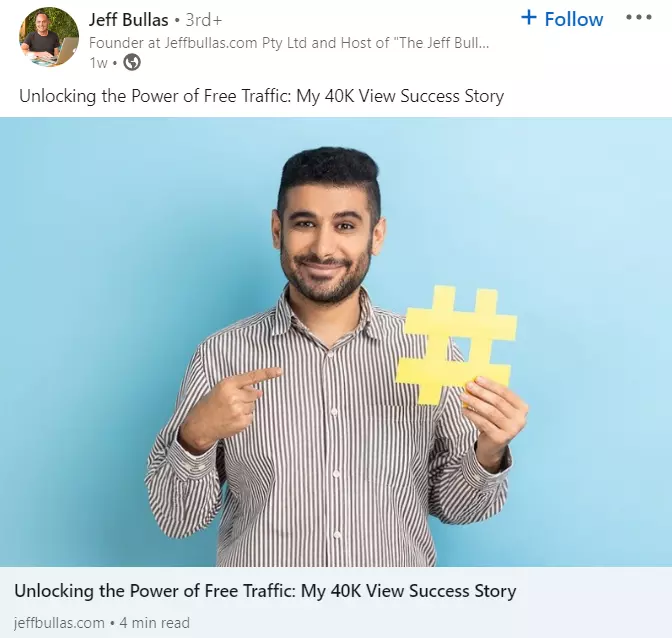 Jeff is a podcaster and digital marketer who never shares direct links to landing pages on LinkedIn. Instead, he shares links to informational blog posts from his blog that his followers would want to read.
The magic happens when the followers click the link and get redirected to the blog they want to read. On this blog page, they find a CTA that gives them the option to visit Jeff's landing page and scores him extra points in eyes of his audience for offering a resource.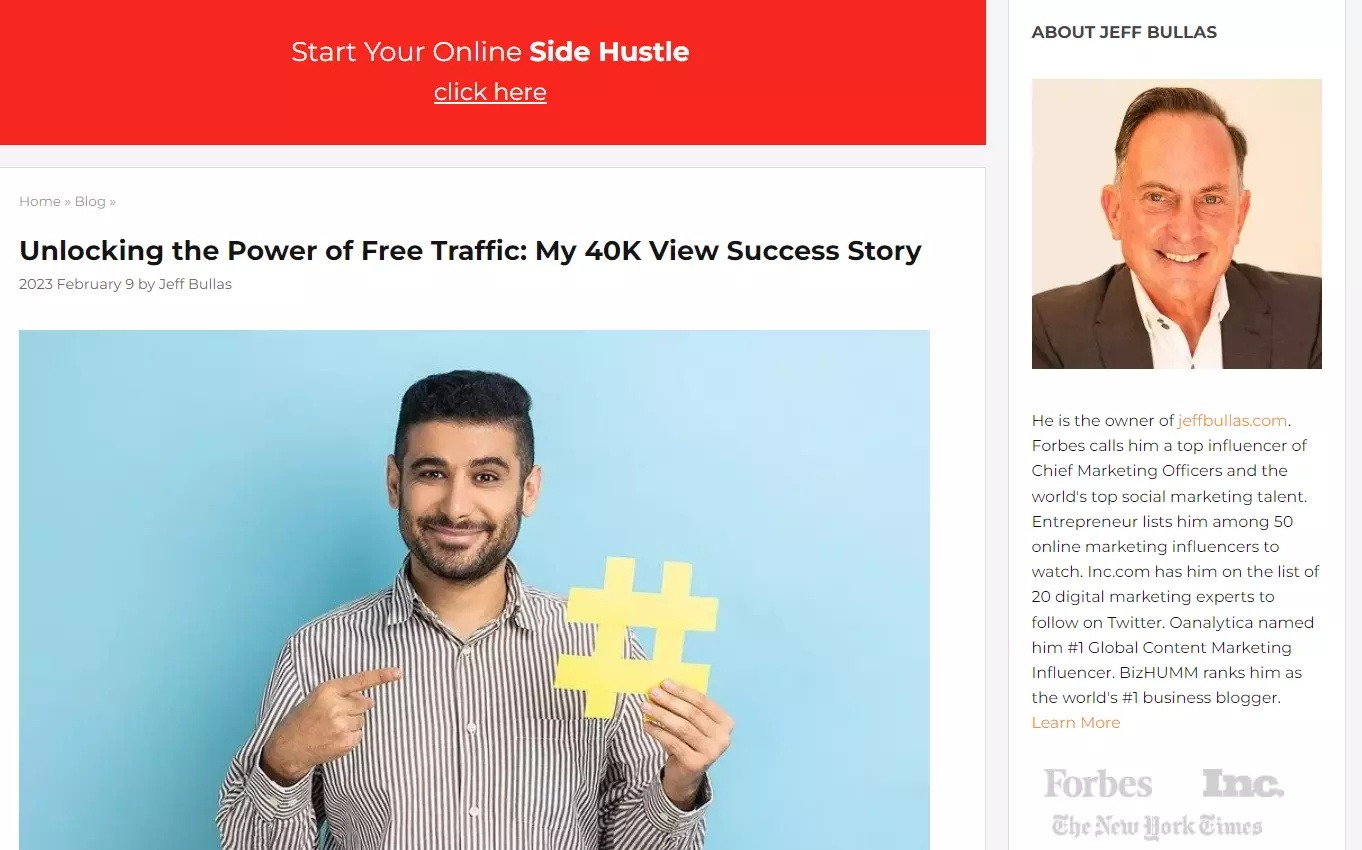 Now, that is a simple and clever strategy for lead generation. Isnt it?
But that's not all as there are three more ways to direct your followers to your landing pages:
1. Share content with links to landing pages
To make your followers enter the sales funnel, you can share content in the form of videos, articles, or even images with links to your landing pages. If your audience like your content, they are more likely to interact with it and click the link to explore your offering.
2. Run targeted LinkedIn ads
Another straightforward way of driving your followers to your landing pages is to run targeted LinkedIn ads. LinkedIn ads should be a part of your LinkedIn lead generation strategies. You can target your ads based on factors like job title, company size, and location to drive traffic to your desired landing page.
3. Come up with exclusive discounts and offers
To experiment with what works better for your followers, you can also come up with exclusive discounts, offers, and incentives to encourage your followers to visit your landing page.
Make Use of LinkedIn Analytics
LinkedIn provides analytics to help you understand the performance of your content on the platform. You can make use of LinkedIn Analytics to know which type of content performs well and create more of that.
To identify such content, you can simply access your LinkedIn Analytics. Under the Post & Activity section, click Analytics. Under this section, you can review metrics such as impressions, engagement, and engagement rate for all your posts on LinkedIn as shown below.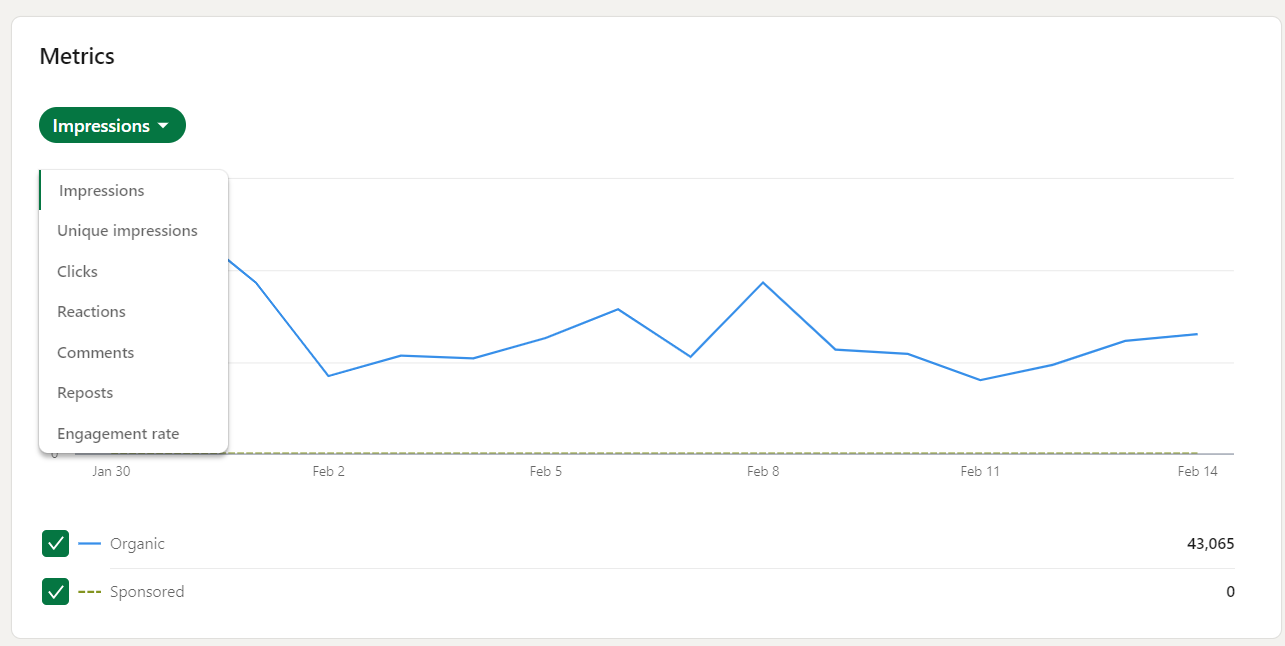 You can simply analyze these posts, find your top-performing posts and brainstorm why a given post performed well. Was it the type of content, the heading, the tone, or the visuals that brought you higher engagement?
Once you gain these insights, create your content strategy for LinkedIn to come up with more effective posts that positively impact your leads.
The struggle of analyzing data from LinkedIn analytics is real. So why not switch to a dedicated LinkedIn analytics tool?
With SocialPilot, you get introduced to a clean analytics dashboard to view all LinkedIn analytics data in a centralized place. You can use it to view robust metrics about any content you post on LinkedIn and frame your marketing strategy accordingly.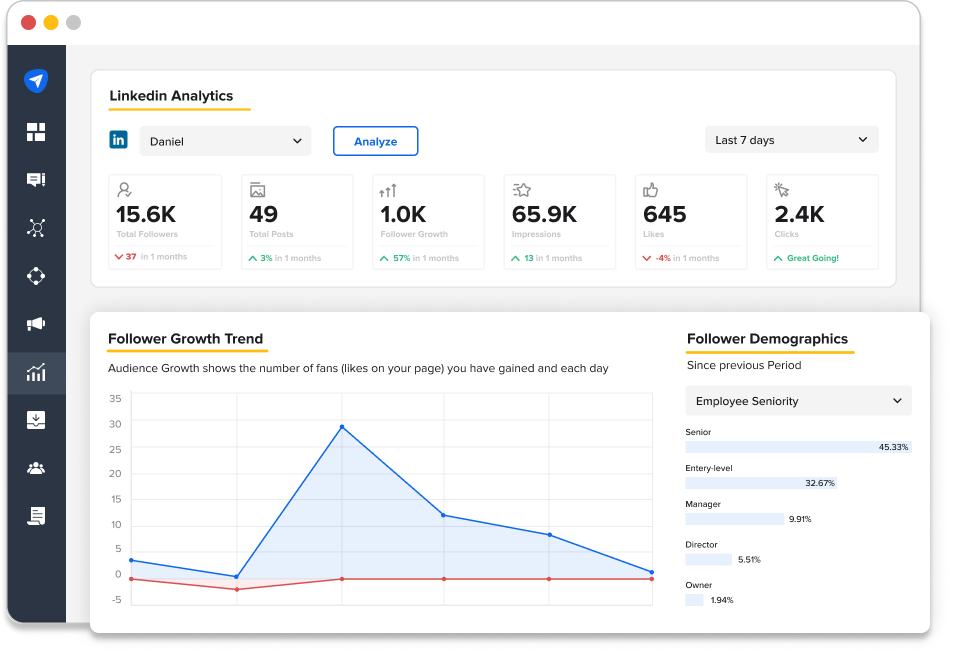 Join Groups Your Customers and Clients Follow
LinkedIn is a sophisticated social platform for professionals. LinkedIn groups are a great platform to network with your customers and clients.
By joining the groups that your potential clients and customers are a part of, you can connect with them and expand your professional network. You can also follow topics and discussions of a group to gain better insight into your targeted audience.
It is also advised to be an active participant in the group and offer value to the group by sharing your expertise, insights, and industry-related news. This way, you can build relationships with group members and easily connect with them. You can also, indirectly promote your business by sharing your website link in your posts and comments.
Try all these efforts and measure your results to adjust your strategy accordingly. Use analytics tools to track engagement and conversions, and continuously improve your approach.
By following these steps, you can position yourself as a thought leader and build trust with your target audience, which can help you attract new clients and customers.
Linkedin Lead Generation Strategies: Dos and Don'ts
LinkedIn has handed marketers a huge opportunity for lead generation, with over 575 million users at your fingertips. But it takes a little work on our part, too. Here is a recap of some Linkedin lead generation strategies do's and don'ts:
Do's:
Regularly update your profile
Keep your profile professional
Put the most important stuff in your summary
Show a little personality
Use LinkedIn to actively browse for prospects
Contact prospects over LinkedIn
Check out your competitors' networks
Personalize your connection requests and messages
Regularly post content that adds value to your audience
Be a conversation starter
Make the most of social scheduling tools
Consistently engage with influencers and your audience's posts
Respond quickly to hot topics with your posts
Don'ts:
Let your profile become out of date
Share unprofessional details, content, or opinions
Leave unexplained gaps in your experience
Write a boring profile – just because it's professional doesn't mean it has to be dry
Be overly promotional – remember, this is all about adding value to your audience
Act like a robot and add as many connections as possible – personalization is key
Try to sell on LinkedIn from the moment you make a connection
Be argumentative or aggressive in your posts or comments
Post old or out of date content