B2B lead generation is easy, said no one ever.
No, not even social media marketers with an elite sense of sarcasm.
If you have ever tried generating B2B sales on social media, you know it's tough. You have to navigate a minefield of smart buyers. And hoards of competitors. Not only are you bombarded with case studies that worked for ABC company, but you are also overwhelmed with the best practices by so-called experts.
The truth is: "You will have to take an approach according to your industry, services/products and buyers."
In this article, I've shared 6 powerful and effective lead generation strategies that B2B businesses can use to increase their sales. These social media marketing strategies are powered by different content formats.
Why use social media marketing to generate leads?
Let's jump in to know the five key benefits of using a social media marketing strategy to generate leads.
1. Gather intelligence
They say the journey of a thousand miles begins with a single step. In a marketing funnel for B2B businesses, lead generation on social media is the first step. It involves listening to and interacting with the audience to know their needs and pain points. Data gathered by these interactions is a great asset to target and track highly qualified leads.
The end goal of a B2B lead generation strategy on social media is to build and nurture a pipeline of high-intent prospects and convert them into customers.
2. Building trust
You see, social media is a two-way communication channel to build an ongoing relationship with your audience.
It is more authentic than other forms of marketing and more personal and immediate than your website. An essential part of lead generation is to nurture and engage your prospective customers to a point where they want to buy from you. Building trust lets you do this successfully.
3. Accurate targeting
Social media is a great way to advertise your brand to potential users.
What's more, you can create and give them content for every stage of the buyer journey.
For example, someone who visited your website could then be retargeted on social media with a paid ad.
In fact, 84% of C-level executives incorporate social media as a critical part of their decision-making process. Surely, social media is a gold mine for generating leads, even for B2B brands. Facebook, LinkedIn, Instagram, and Twitter are the best-performing social media platforms for lead generation.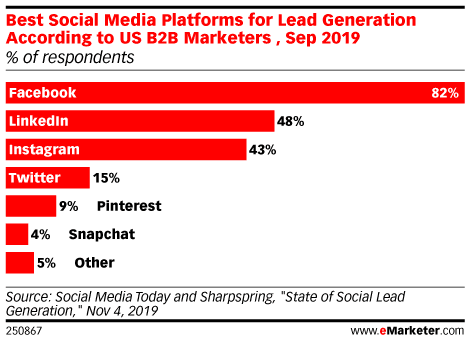 You might be wondering how different content formats can help you generate more leads?
For B2B businesses, how can you integrate content marketing with your social media strategy?
Here's how to get more leads from your social media marketing strategy using the following 6 types of best performing content.
6 types of social media content that generates B2B leads
1. B2B referral contests
Running a social media contest is an excellent way to promote a product or service and amplify brand awareness. More importantly, referral contests generate leads for the business.
The majority of consumers trust recommendations via word-of-mouth. B2B referrals particularly have a 70% conversion rate. No wonder they help you generate new business efficiently.
By running a referral contest on, say, Twitter, your customers can facilitate an introduction between your products or services and their network of trusted friends, family, and peers.
A good example is Adobe Photoshop's contest on Twitter. They collaborated with Lady Gaga, asking their audience to create a design using Adobe apps.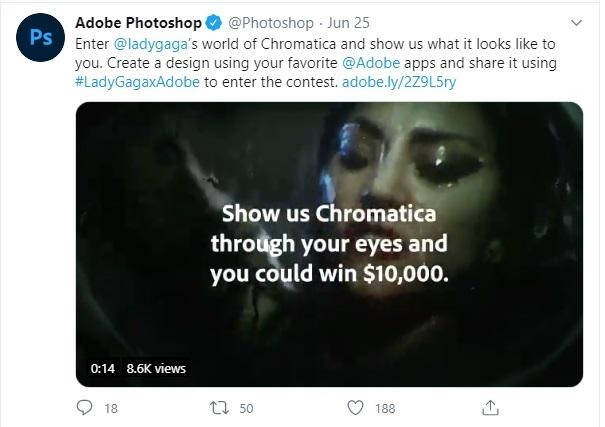 Think of an attractive offer (e.g., lifetime access to a premium gated content) that compels your customers to refer you to their network. For example, award additional entries to a customer who shares the giveaway campaign with their friends on social media, to increase their chances of winning 20% off on your product or service.
Tips worth considering, when you host a B2B referral contest:
Do a cost analysis to ensure you don't lose out money by giving discounts or freebies. Your referral program has to be worth value at the end of the day.
Promote the referral contest using an exit intent pop-up on the website. Advertise it on a sticky banner at the top of your website, within your blog and on your brand's social media.
To drive your lead generation campaign ahead on social media, have a marketing plan in place that gives visibility of what everyone is doing. A well-designed marketing roadmap is a visual representation of the marketing activities your brand needs to undertake.
Remember – If you are hosting a contest, create a hashtag that the participants can use to enter the contest. Don't forget to add the last date of entry and the prize for the winners.
2. B2B live videos
The popularity of videos surpasses that of other forms of content.
And it doesn't stop there, 73% of B2B marketers find that video positively impacts their ROI. This is not surprising given that 80% of consumers prefer watching a video than reading a blog post.
Facebook Live and Instagram Stories offer an excellent platform for businesses to make a company announcement, explain a new product/service feature, or answer user questions quickly, without spending a penny.
How is it possible to generate leads from live videos that are not gated?
Think about it, direct the viewers to webinar landing pages, specific services, or a free trial sign up form to turn them into leads.
You can see how online marketing expert Amy Portfield has fine-tuned this art. Here's one of her live-stream videos on Facebook.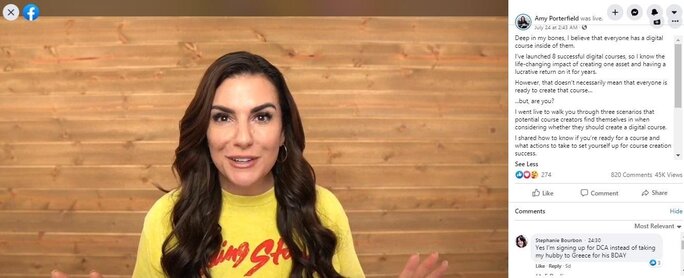 The title of the video is "Everyone has a digital course inside them" where she talks about creating a digital course. In the video, she doesn't share the steps to create a profitable course. At the end of the video, she adds the link to the landing page to guide aspiring content creators.

When a user signs up, they get a free guide aimed to promote paid courses and premium content.
You could also explore Instagram live videos. Ever heard Instagram influencers say, "SWIPE UP?" Suppose you have a substantial following on the platform. In that case, you can link the video to the chosen webpage, or simply drop the link on the comments section, depending on which platform you are on.
Within the video, offer a limited-period coupon code and other valuable information that would only be available to those who watch your videos. This way, you will get more people to share their contact information with you.
Remember – If you are doing a live video on Facebook (or any social media platform), share it multiple times from your page. Your banners and posts should mention the time and date for the live video. Let the readers know what you will be covering. Direct them to a landing page where you ask them for their contact details.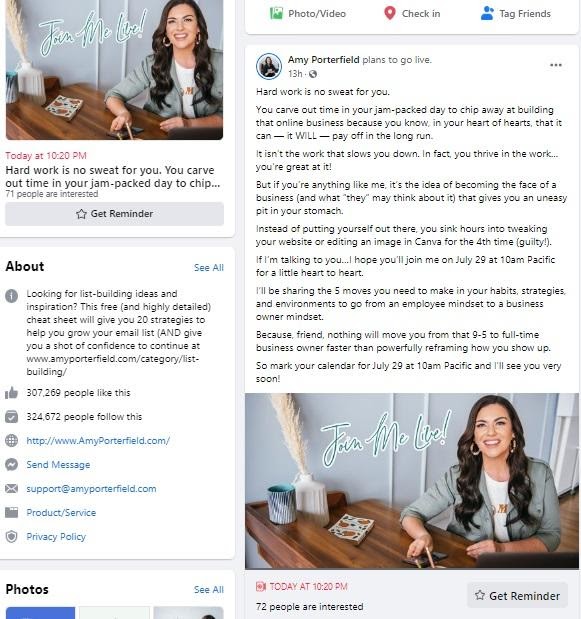 3. B2B discount posts
Promoting flash sales is common among eCommerce brands.
Want to know the best part? Short-term advertisements on products can generate an average 35% lift in transaction rates.
Therefore, promote an attractive sale on social media, along with a link to the product page.
The software deal website Appsumo does an excellent job of sharing discount posts with flash sales on their Twitter.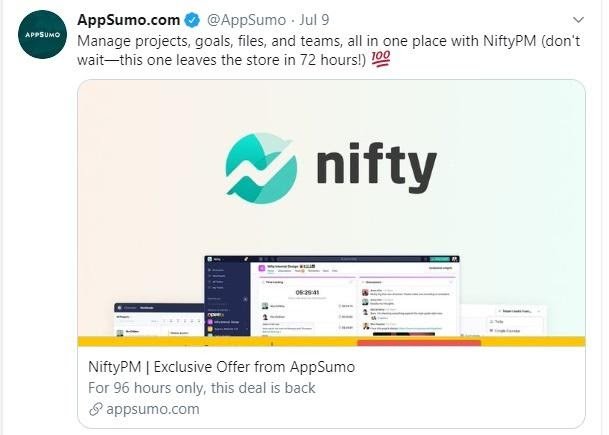 When a user clicks on this post, AppSumo takes them to a landing page. The email signup captures the leads. This page lists the features in the form of text along with a video. Users also share their reviews in the comments section.
Remember – If you are a B2B company, offer prospects a discount code in exchange for newsletter signup, which you can promote on social media. This will encourage them to return to your website and purchase.
4. Facebook Messenger for customer support
Have you ever wondered, what if your Facebook Messenger could engage your prospects without being intrusive? Sometimes, they may want access to information about your company on the Facebook page itself.
Instead of making them work to find your website URL on the platform, connect with them via a chatbot that pops up when a visitor lands on your Facebook page.
54% of consumers prefer communicating with a chatbot than an actual person. Since chatbots can answer 80% of standard questions, why not utilize them for lead generation on social media?
Chatbots are primarily used for sales, product marketing and customer service. Define the motive behind deploying a Facebook Messenger bot. This will help you outline multiple sequences of conversational messages based on user intention and choices.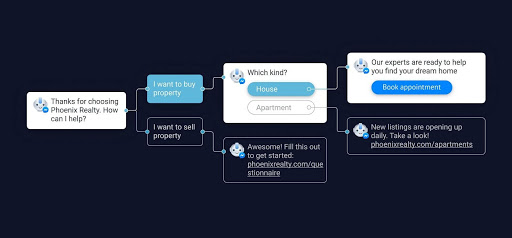 For instance, if your company offers products based on the prospects' business size, the first question your FB bot asks should determine the size of a business. Based on the response, show them a suitable offering and filter out other options.
The AppSumo users are primarily interested in getting deals from the platform. Their Messenger chatbot asks the user if they would want a weekly or a monthly deal. Next message is to enter the email address where they can send the deal. By deploying facebook messenger chatbots , you can automate the lead generation from Facebook.
You can also design a chatbot to follow up by sending reminders in case users leave in the middle of answering questions on Facebook. From there, you can retarget those leads on LinkedIn using SocialPilot, a LinkedIn automation tool.
Remember – Opt for a Messenger chatbot that integrates with your CRM. All information about your prospect gets stored in the Customer Relationship (CRM) Software.
5. Highly-targeted B2B social media ads
Targeted social media ads can complement your organic social media efforts.
Do you know why?
The targeting capabilities of paid social ads make them an important lead generation strategy.
For your B2B brand, paid ads on social media advertising platforms of Facebook, Twitter and LinkedIn will enable you to reach out to your potential customers. Selecting a channel is a crucial part when running paid ads on social media. Each platform caters to different users and has different targeting features.
You should choose a social media marketing channel that represents your best chance of reaching out to qualified leads.
Twitter ads – Target people based on their interests or people they follow.
Facebook ads – Target audience based on their interest. For example, people who follow aviation, junk food or watch documentaries.
LinkedIn ads – Target leads based on their job title or industry experience.
Two things that determine the success or failure of your paid social media ads are a strong landing page and a powerful call to action. Optimize your landing page such that it drives the visitor to take the desired action. This could be either downloading an e-book or sign up for a free trial.
The content of your ads will directly impact the response and conversions. Each channel requires different visuals, sizes and creative approaches. Even the offers would be different. It ranges from signing up for a newsletter to joining a webinar to watching a video.
Also, if you are generating leads for multiple clients at once, use Facebook ad tools to manage all the accounts and creates ads for them from a single dashboard.
No wonder, B2B companies prefer reaching out to a specific audience using targeting features of social media platforms. It ensures that those who engage with their ad are qualified leads for their business.
Remember – Depending on the social media channel you choose, run separate campaigns for different audiences. Tweak ad copy accordingly for optimal engagement (and results).
6. Case studies
Case studies make for a useful B2B social media marketing asset as it allows businesses to show how their customers have benefitted with their help. No wonder, 60% of marketers rank them as the most trusted content type by target audiences.
Case studies also make for perfect B2B LinkedIn marketing strategy. You can post a link to the case study and tag the client within the caption. Rather than inserting a dull CTA like "NEW CASE STUDY → [link]" in the caption, communicate the challenge that was overcome or a goal achieved with your product or service.
Don't forget to include statistics such as 2X lead growth or a 120% increase in website traffic to compel users to visit the case study landing page and download the material. Numbers speak volumes, so be sure to leverage that.
Cisco, the multinational IT and technology conglomerate recently shared a case study on LinkedIn.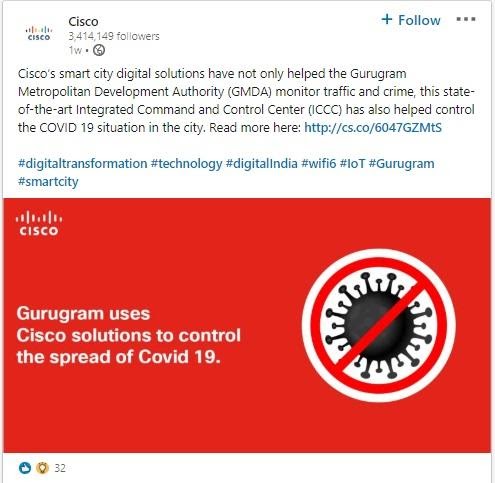 Here, they have used a strong visual and copy to support how they help the Gurugram Metropolitan Development Authority monitor the traffic using the Cisco smart city digital solution.
They have added the link to the case study right above the image.
Dive into LinkedIn paid advertising to showcase your case studies in front of a larger target audience. Consider promoting the case study via sponsored InMail, which has a 52% open rate on average.
Remember – Use lead generation forms that automatically populate the form with the user's contact info, thereby decreasing the time spent by that person on downloading the free material. For B2B brands, LinkedIn lead generation brings 2X the number of leads as compared to other social channels.
How to create a winning B2B social media marketing strategy using content formats that generate leads?
Don't stop at one lead generation method; keep experimenting. Use different content formats to generate leads as a part of your B2B social media marketing strategy. They include:
Referral contests
Live videos
Discounts
Facebook Messenger
Social media ads
Case studies
Along with collecting leads from social media platforms, study analytics insights. Set up goals in Google Analytics to track social leads on your website.
If you notice, LinkedIn fetches you more leads than Twitter, redouble your efforts on that former. Which social media content format generates the maximum leads for your B2B brand?