With 675 million current users, out of which 303 million are active each month. Have you missed out on LinkedIn as a viable platform?
30 million companies have already listed their company pages on LinkedIn. Not sure, if your page might get lost in oblivion? Well, first things first. LinkedIn is an amazing social media platform to engage with your current consumers and generate potential leads.
Still unsure whether you should put efforts behind being active on LinkedIn?
With over 600 million members, 50% of whom are active monthly users visiting LinkedIn daily, big chances are your potential clients are already there. So why not consider this platform a new way to communicate your marketing message and engage the community for turning them into valuable leads?
Look at it this way:
LinkedIn drives more than 50% of all social traffic to B2B websites & blogs.
61 million LinkedIn users are

influencers

and 40 million are decision-makers.
There are 9 billion content impressions in the LinkedIn feed every week.
You can't miss an opportunity to introduce and promote your business there, right? Psst… I've also shared a killer way to ace your LinkedIn marketing efforts with a click of a button!
To make them all see your content, click, share, and comment on it, you need to take the peculiarities of the LinkedIn audience into consideration and write your LinkedIn posts accordingly.
Let's explore.
1) Post Different Content Types
Long story short:
Online content is about emotions and personal stories, not advertising. Users don't read but scan it, looking for something that would reflect their inner world at that very moment – when they scroll a newsfeed. LinkedIn is about business, so brand storytelling is what you need to master here.
Tell the story of your company chapter by chapter for readers to dive into the highest possible reality.
Stories trigger emotions and therefore sell. Consider these rules:
Every story has a hero.
Every story has a plot.
Applying to core principles of human perception and thinking in stories, you'll hook readers and get a positive emotional response from them.
Reflect human values in stories, and make sure your brand's global goal resonates with them.
Stories need to be unexpected but yet relevant to your brand.
In the case of LinkedIn, tell your brand story through the following content types:
1) Blog posts: Introduce them with a personal comment to engage readers and make them want to crave more.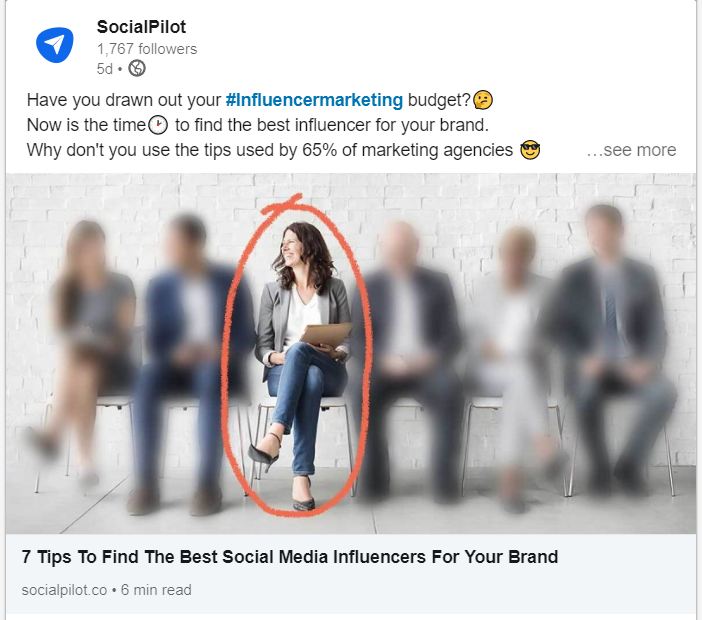 2) Case studies, research, your industry news: They build awareness and trust, turning your company page into a reliable information source.
3) How-to and list-style tips: They perform best on LinkedIn and get more likes and comments than other post types here.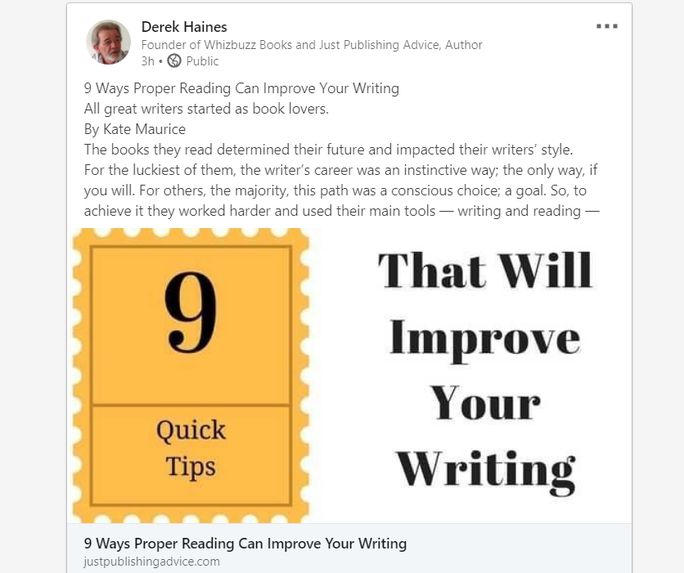 4) Company updates: Let people know what's in there for them and how your new features will help them succeed.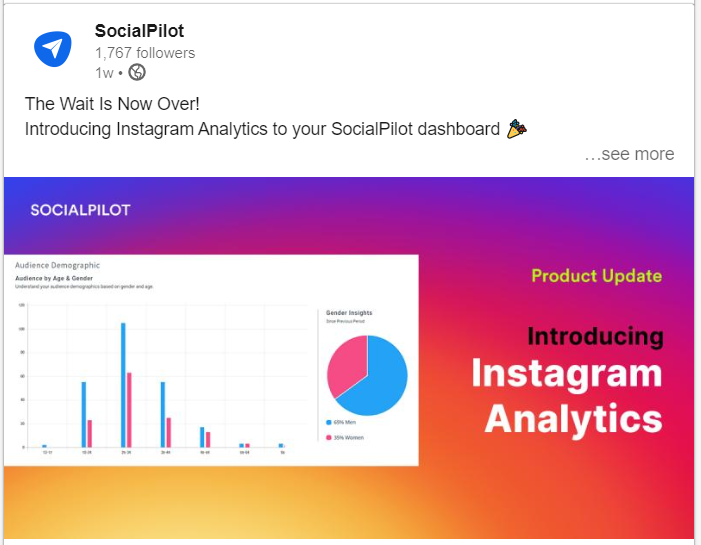 For LinkedIn members to click on your content, make it educational, informative, and relevant to their interests.
Remember: people come to this platform to grow professionally, not kill their time.
2) Structure Your Posts Like a Boss
Given that reading online is 25% slower than in print and attention span becomes shorter and shorter every day, be careful when structuring your LinkedIn posts.
First of all, focus at the very beginning and narrow your thought to the maximum. The golden rule here is "one post = one thesis." Also, make the first sentence of your post eyebrow-raising: write something that would create a wow-effect and encourage readers to click on "See more" for further details.
Case in point:
Write a weird word, a little-known fact, a behind-the-scenes experiment, a catchy quote, or an extraordinary insight. Use a conversational tone, avoid professional jargon to engage a broader audience, write short sentences, and always end it on a positive note.
In a nutshell, follow the rules of writing for the web.
Pro-tip: Your LinkedIn posts need to be readable for an 11-year-old.
As you remember, every online post is a story. So why not try starting it with a dialogue to hook your readers?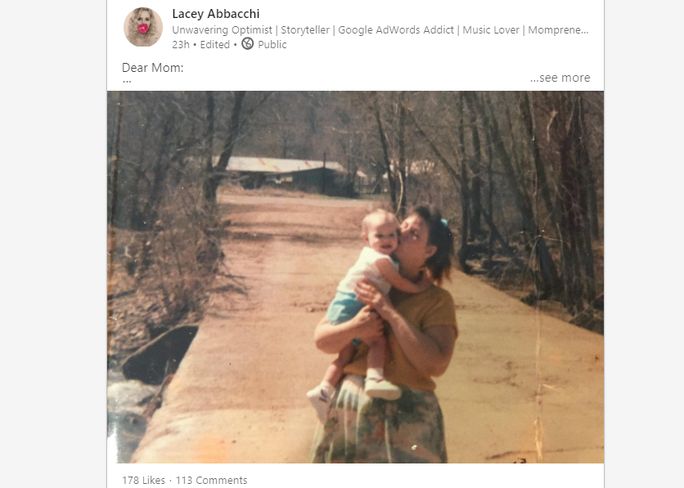 Also, use the 50% rule suggested by LinkedIn's international editor Isabelle Roughol. Once you decide on the topic for your post, spend 50% of the time on writing a perfect headline for it, while the other 50% will go to writing the post itself.
The more efforts you put into LinkedIn headlines, the better.
Tips to consider here:
The most views go to headlines of 40-49 characters length.
How-to and list-style headlines work best.
Avoid posing questions in your LinkedIn post headlines: users of this social platform don't like it.
On LinkedIn, it's okay to post longer status updates (up to 15 lines), but only the first three are visible. Together with a headline, they should sound like a teaser for readers to click on "See more."
Pro-tip: Write LinkedIn posts in the first person. "I" and "we" do wonders, making you sound like a real person talking to real people. It builds a personal connection with the audience and makes your posts compelling and inviting.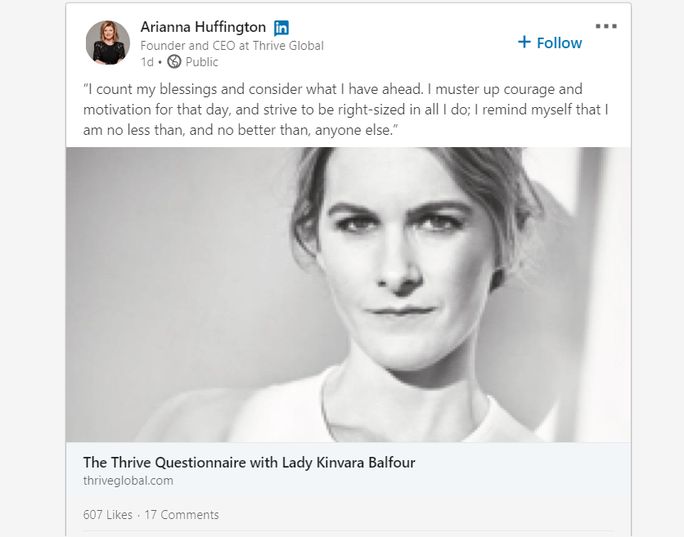 By the way:
The above is a primary example of what visuals to use in LinkedIn posts, applying to human psychology and therefore encouraging viewers to click.
Keep on reading to learn more.
3) Add Some 'Visual' Factor To Your Posts
I bet you know that most people are visual beings, so they engage more when a social media post includes an image.
It works with all platforms but LinkedIn.
Text-only posts perform best here.
Yes, LinkedIn users are more readers than viewers, but it doesn't mean you can't grab their attention with visuals. A different pair of shoes is that those visuals need to be valuable and used for certain posts, not at every turn.
Say no to memes and hyper-creativity. Instead, illustrate your LinkedIn posts with:
Charts and diagrams
They are perfect visuals to add when talking about case studies, trends, numbers, and updates:
Factoids and quick tips
Given that LinkedIn users crave for educational and informational content here, you can pack it briefly to engage them and encourage the feedback.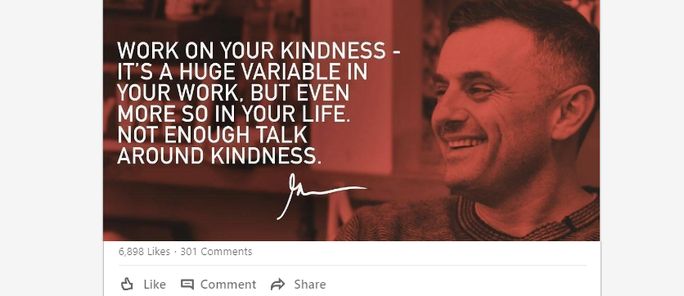 Faces
It's nothing but human psychology: we are instinctively drawn to look at faces, and that is why images of people work so well. Sure enough, it's about posting experts in your niche or real people, relevant to the context of your LinkedIn posts.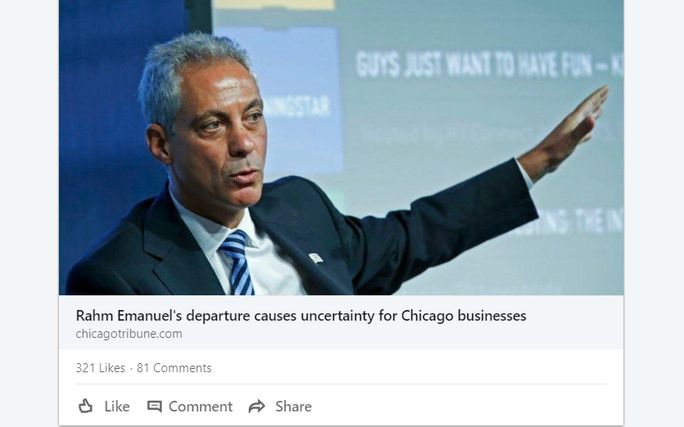 4) Experiment With Videos
One of the top marketers, Neil Patel has recently nailed it – on LinkedIn, video content is even more popular than on Facebook or YouTube.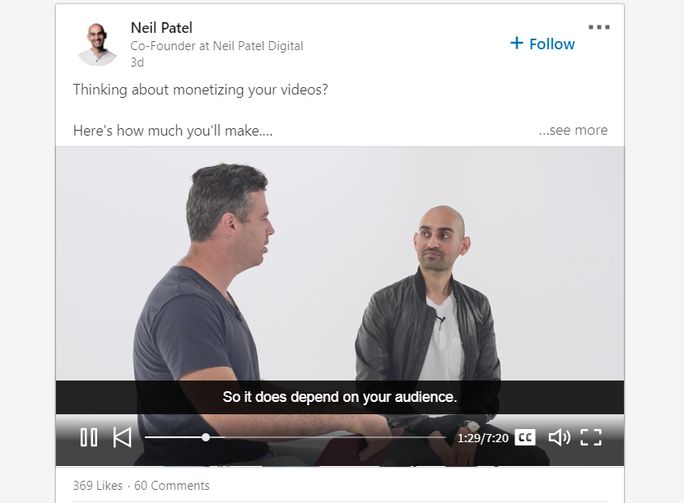 Do you believe that?
I didn't before I saw the numbers shared by HubSpot: among 38% of marketers using video content on LinkedIn, three-quarters of them reported it to be a successful tactic.
Why do LinkedIn users love watching videos on the platform?
It helps them understand a brand product or service better.
Videos are more convincing as they embody the "Show, don't tell" principle.
They know that videos on LinkedIn are relevant and they will get the information they need, by all means.
Try these video types to meet users' expectations:
LinkedIn is a platform for establishing relationships. So, a video story about your business and how you started it, would come in handy.
Also, you can post how-to's about your product or service, demonstrating its features and teaching the audience to use it. Like Uber did in their promo video, explaining a new chat feature for clients to use: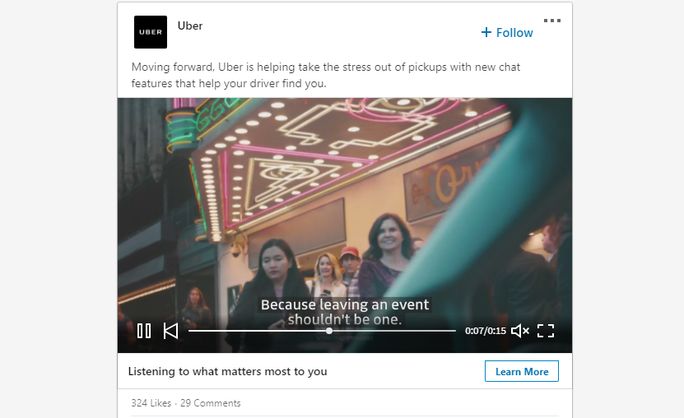 Share previews of upcoming releases and events about your organization or your target audience's interests.
Interview niche experts and passionate people. Like Allen Gannett interviewed CMI vice president Cathy McPhillips: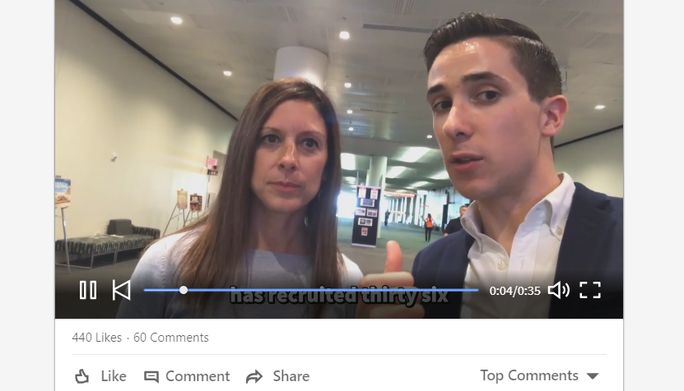 LinkedIn is about learning and mentoring, so feel free to share some lectures or business talks of opinion leaders whose message can resonate with your target audience. Head of Social Impact on LinkedIn, Meg Garlinghouse often posts such video content to engage followers: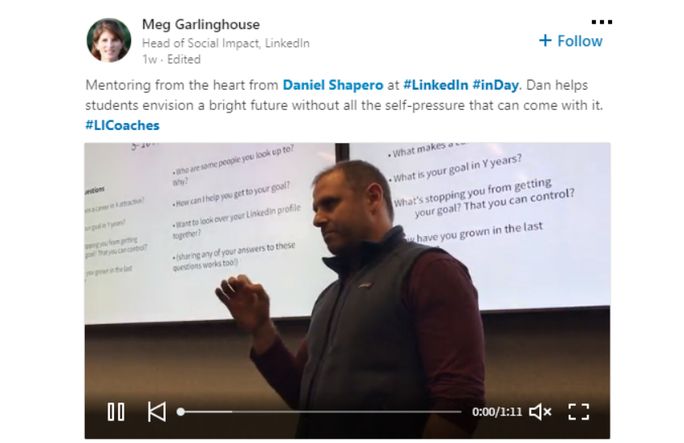 To boost views and shares – keep the videos short, make them look professional, and don't forget to optimize them for mobile.
On top of that, video ads have come to LinkedIn too. Why not use them to drive even deeper engagement and more sales? The data shows that videos are 20 times more shareable than other content formats here.
Remember I had said, I have a killer way for you to publish your LinkedIn content with minimal efforts? The answer is – SocialPilot.
How To Publish Native Videos On LinkedIn Via SocialPilot?
SocialPilot, a Linkedin management tool, helps you publish and schedule native videos through this quick 3-easy steps.
Step 1:
Login to your SocialPilot dashboard.
Step 2:
Click on 'Add Post' in the top right-hand corner.

Step 3:Create your LinkedIn headline and post content. Upload your video either through drive, box, Dropbox, or your local computer.

And voila! Your LinkedIn native video is ready to be shared now or scheduled for later.
So, Before You Hit "Publish"
LinkedIn is about nets what determines your marketing success there. To engage followers and therefore expand your network, stay consistent. Publish regularly to prove your knowledge and experience: it helps to build trust and gain more followers. You can also save time by scheduling your LinkedIn posts using the best LinkedIn automation tools. This will help you to speed up your LinkedIn marketing activities.
Consider this checklist every time you plan publishing a status update on LinkedIn:
Content to share: an informative or educational blog post, a how-to guide, data-driven research on the latest trends in your niche, a case study, your company news or updates.
You have crafted a perfect headline for your post, relevant to its context.
You've proofread and edited your LinkedIn post for it to meet the rules of web-writing.
When providing an image for your post, you've cared for it to be informative and valuable to a reader.
Your LinkedIn video is short, to the point, and of high quality. Viewers will learn from it, and it will help them understand your brand better.
Your company page on LinkedIn is for networking and PR, not direct sales.
You are on LinkedIn to grow professionally and help followers grow with you.
What after Publishing your LinkedIn Posts?
Throughout the blog, you have learned multiple ways to create stellar LinkedIn posts. What if even after investing in all the available resources and doing everything right, you don't see the expected rise in engagement on your posts.
Low engagement can happen due to the following factors:
Your audience is not able to connect with your creative idea. They find it hard to understand.
You have not scheduled your posts to be published at the right time.
You are not using the right hashtags to increase the reach of the post.
You have not properly mentioned the person/brand in your posts. Use @<name of the person/brand> to tag them.
Even after overcoming all the above-mentioned pitfalls, there may be instances when there is a huge spike in engagement on certain posts whereas very little or negligible on a few.

In order to be sure about what is working and what is not, use LinkedIn analytics tools

Anything else?
You don't have to be a top influencer on LinkedIn to boost engagement. Be honest, share valuable information, comment on others' content, be consistent with updates, and speak on topics that you know and are passionate about. Focus on the quality and reliability of the information you share – and the positive feedback from your network won't take long in coming.
What is your strategy to get marketing results on LinkedIn? Do you focus on content types or any writing tricks to engage your LinkedIn audience?