Used by millions of professionals and organizations, LinkedIn allows us to connect to the trends in the business world. According to the latest social media statistics, LinkedIn is a well-built social networking platform with more than 772 million users in 200 countries worldwide. You can strongly develop your business by publishing press releases, engaging stories, thought leadership articles, and other news items on your company website. But this can be pretty tricky, and that's where LinkedIn analytics tools come in handy.
A LinkedIn analytics tool helps you evaluate how your campaigns and daily efforts impact your LinkedIn profiles by giving you valuable insights. Therefore it is crucial to monitor your LinkedIn analytics to achieve your goals faster. Here we have mentioned a handful of LinkedIn tools that will help you to track and control your social media strategy on this specific platform. Use these tools and increase your conversion rates and maximize your ROI without burning a hole.
Top LinkedIn Analytics Tool For Every Budget
There is not one but many reasons why SocialPilot is first on the list. SocialPilot is a perfect tool to evaluate in-depth marketing activities for LinkedIn. This LinkedIn analytics tool provides a variety of features to improve your LinkedIn presence. You can see your page in detail and examine your development over the weeks. You can also easily review your population numbers, track post notifications, and calculate your company's dedication to this particular social media.
All information is accessible in an uncompromising dashboard for reporting and can easily be personalized and shared with other team members. You can study your LinkedIn followers using the SocialPilot tool demographics, which lets you display the seniority of your followers, the size of their business, their country, and their category of profession. The Post-Performance Analyzer function allows you to track, evaluate, and even reshare your most engaging content from the same page, all your LinkedIn posts in one section.
Attributes of SocialPilot:
It is consistent with your LinkedIn social performance analysis, tracking, and reporting.
It measures your social media ROI with in-depth social media analytics.
Managing team members with collaborative features to manage multiple accounts together.
Managing multiple social accounts is effortless.
It helps in uploading 500 posts in one go with bulk scheduling.
It never runs out of new content ideas with the content curation feature.
It helps at visualizing your content strategy with the social media content calendar and then analyzes it.
It also focuses on scheduling & publishing customized posts for your LinkedIn accounts.
Advantages of Using SocialPilot as your LinkedIn Analytics Tool:
The analytical function in SocialPilot is powerful since the content analyzed by this tool is not only posts from the network but also other reliable sources, accounts, and pages.
SocialPilot lets you identify engagement and public trends. Check the posts that have been popular and discover the best time to post on LinkedIn. Plus share more information in downloadable white label PDF reports with your team and clients.
It helps you boost the experience of your brand on LinkedIn by posting native product videos, carousel posts and multiple photos, GIFs, infographics, and more. The publishing feature of SocialPilot's allows you to upload photos from Dropbox, Google drive, and Canva too.
What our end users think about SocialPilot :
Sharon Hall
SocialPilot is an excellent social media management tool for teams and agencies. It's easy to set up, quick to schedule content and has multiple options for keeping your social media streams populated. It is an affordable alternative to some of the pricey team plans offered by other social media tools.
Cindy C.
SocialPilot is amazing! What is brilliant about this software is that it can generate fresh content for me to post to my social media pages, as if I was the one that came up with it!
Christopher C.
The best tool in our social media arsenal hands down. The benefits are ongoing, the best part was the ease of onboarding team members and the high level of support we continue to receive from SocialPilot's team.

---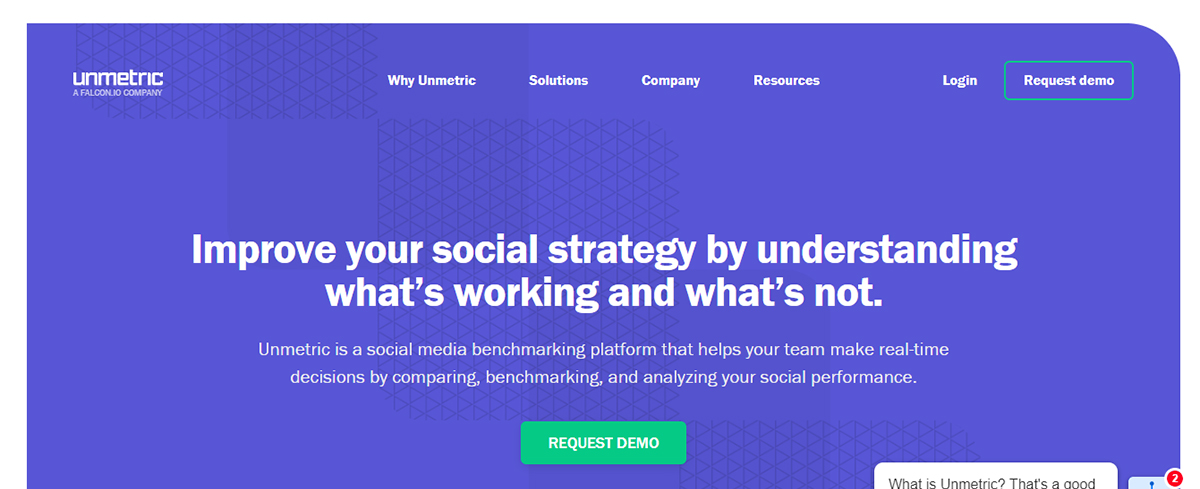 Unmetric is an information technology, brand-based social media intelligence tool that allows businesses to gather accurate social media information to enhance their social efficiency. You can evaluate the social media success of your company on LinkedIn with a variety of features and make better marketing choices with the help of this LinkedIn analytics tool.
Advantages of Unmetric:
It helps you download analytics reports on your LinkedIn performance with insightful charts and graphs.
It sets a benchmark against your industry competitors to see where you stand in competition with your rivals using Unmetric's Share of Voice.
It focuses on monitoring your brand's showcase pages.
Matt S.
Unmetric provides a simple solution to get a snapshot of how our competition is performing in just minutes. The ease and speed at which our strategists and analysts can pull data are beyond any other social analytics tool we've used.
Disadvantages of Unmetric:
There is a lack of a wide database which can be a huge drawback for LinkedIn.
Sometimes this tool stops working in the middle, and everything has to be done again.
Chrissy S.
Sometimes metrics that I need are a bit "evasive." Unmetric provides that the client's Facebook page grew at a faster rate than most other Facebook pages. However, the client is international so when they inquired about their growth rate internationally, I was unable to provide that information or search for it within Unmetric.
---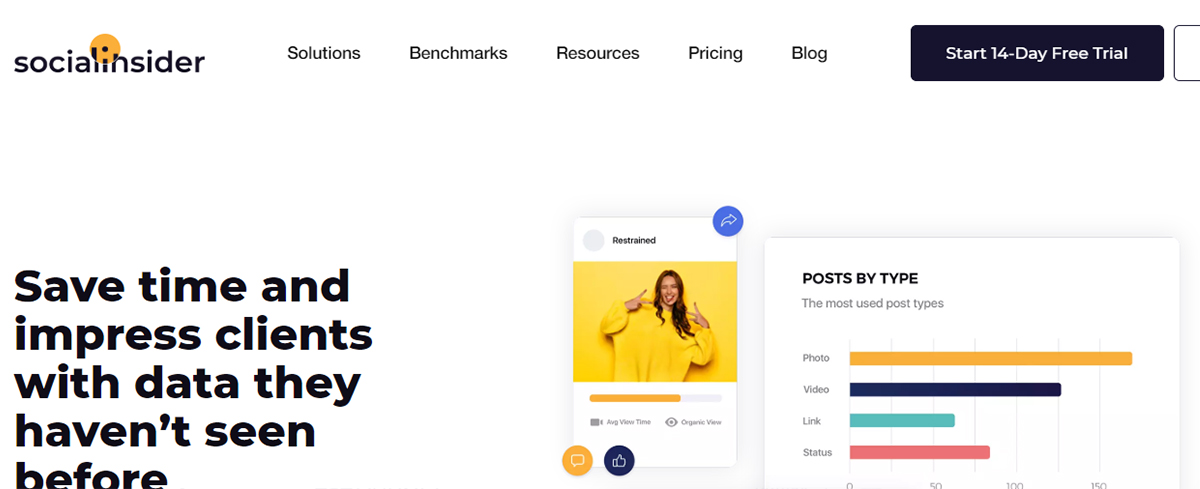 Socialinsider helps your LinkedIn by testing its efficiency and monitoring all KPIs. You can easily update your company page with this LinkedIn analytics tool.
One of the main features of LinkedIn's social insider research tool is that it provides you with every tool available to evaluate and develop your content strategy. Clicks, observations, shares, and feedback of each post can be looked at more closely. Socialinsider is a tool for evaluating LinkedIn targeted at digital marketing firms, advertisers, and teams, allowing their users to capture their competitive social media and gain insights into their social media strategies.
Advantages of Socialinsider:
This LinkedIn Analytics tool will help in multiple-profile comparison.
It allows you to download posts as CSV.
Ritsuko T.
I was looking for social media analytic software and then found Social Insider. I picked the "Agency" plan as it says "Full Posts History". So I asked one of the co-owners Rezvan how far back and how. He told me 1 year is automatic when I signed up and after that, they do manually.
Disadvantages of Socialinsider:
Customer support isn't that great.
Patrick H
Don't expect them to get back to you with support. It can take weeks. Don't expect them to adhere to any type of arrangement you make with them. They change the terms to suit their needs regardless of what agreements are in place.
---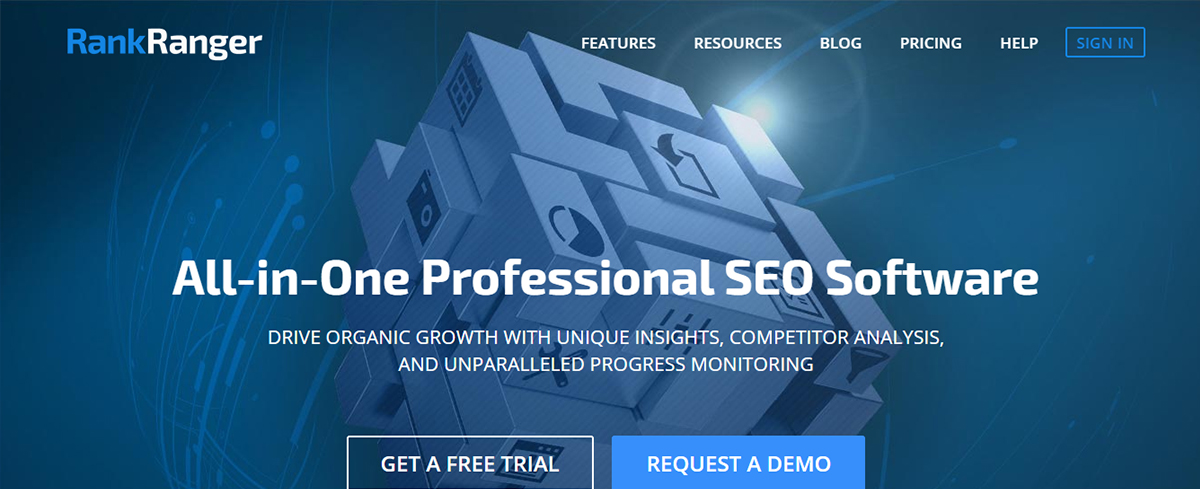 Rank Ranger is a LinkedIn analytics tool that provides key performance indicator reports with top-line company metrics, including demographics, growth, reach, and commitments to the audience. With the demographics gathered by the tool for gaining insights into your current business market segment, you can expand your market scope. Rank Ranger compiles demographic follower data that will help you gain insight into your LinkedIn property's existing customer segments. Succeeding marketers use business intelligence to extend their customer reach through the population, age, industry, and position.
Advantages of Rank Rager:
It focuses on monitoring your posts and your performance.
It helps you amplify your market reach with detailed audience demographics reporting.
Sanjit M.
Easiest-to-Use, Most beautiful, Best Value Ranking Software.The integration with Google Analytics and Webmaster Tools is also very easy and helpful so you do not need to log into Google to see that data. It is a one-stop-software platform.
Disadvantages of Rank Rager:
Their backlink analysis is poor.
They lack customized reporting.
Giovanna O.
It's not super easy to use the interface. I feel a bit overwhelmed sometimes with all of the features, and I know there are how-to's and FAQs, but when you're trying to get a task done, your first thought is not to go and instead explore the tool.
---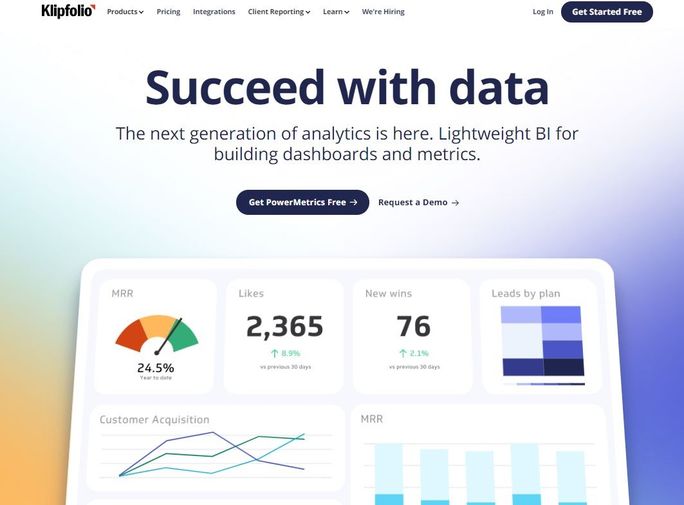 Klipfolio is an online dashboard tool used to develop powerful business dashboards by major companies such as IKEA and the American Red Cross. You can show the number of shares and interactions obtained by your LinkedIn page at the monthly end, compare it with the previous month. Their LinkedIn dashboard comes with pre-creased 'Klips' LinkedIn. You can distinguish the population of your audience through seniority, industry, occupation, region, and mobile footprint using Klipfolio.
Advantages of Klipfolio:
One of the key features to differentiate them in the crowd is that all the dashboards are black and look incredibly professional.
It helps in visualizing valuable data with insightful diagrams, charts, and graphs.
It lets you access detailed audience demographics.
Tanmoy B.
The UI/UX is just world-class! The components are well laid out. The ability to design dashboards with multiple layout options available is a boon.
The Power Metrics are awesome!!!
Disadvantages of Klipfolio:
It can be a little complicated to create a new customer for a dashboard.
There is a lack of color themes as they just have only light/dark.
Jordan Daley
So much less than I expected. No database to pipe in data from multiple sources. There are API connectors, but there are VERY limited. For example, Google DoubleClick's API won't let you pull 50% of the dimensions and metrics available in the reporting UI.
---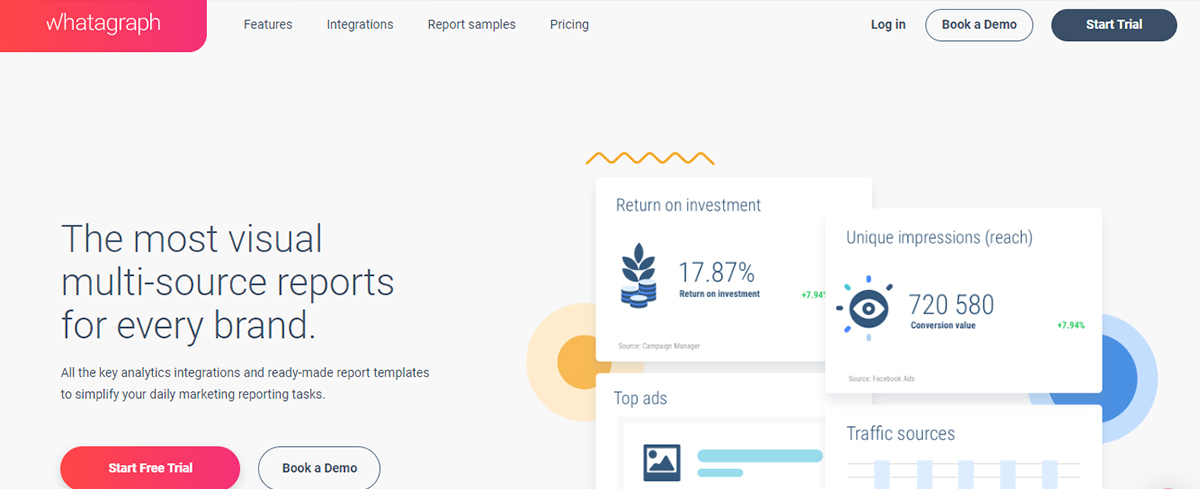 Whatagraph is a LinkedIn analytics tool that includes a range of resources that promote coverage. The tool automates data collection so that visual models can be customized and digestible reports created. The report offers a comprehensive overview of top-class metrics and website results combined with stunning graphics on your company page. This tool has pre-defined templates that indicate specific data and highlight growth during a particular time.
Advantages of Whatagraph:
It allows you to download PDF analytics reports that indeed help you save your data.
This LinkedIn Analytics tool has customizable visual templates.
Julieanne G.
Top-notch customer service and functionality. Increase transparency with clients. Automatic reports are emailed to me first. It is faster to navigate than some of the native platforms' analytics (i.e. Google Analytics, GMB)
Disadvantages of Whatagraph:
There are just a few existing data sources. There is currently no Zapier integration.
There are instances where the data isn't pulled correctly.
Alexandre W.
It is beautiful but not optimal. I only keep Whatagraph for an accessory use for now (small reports on a given campaign).
---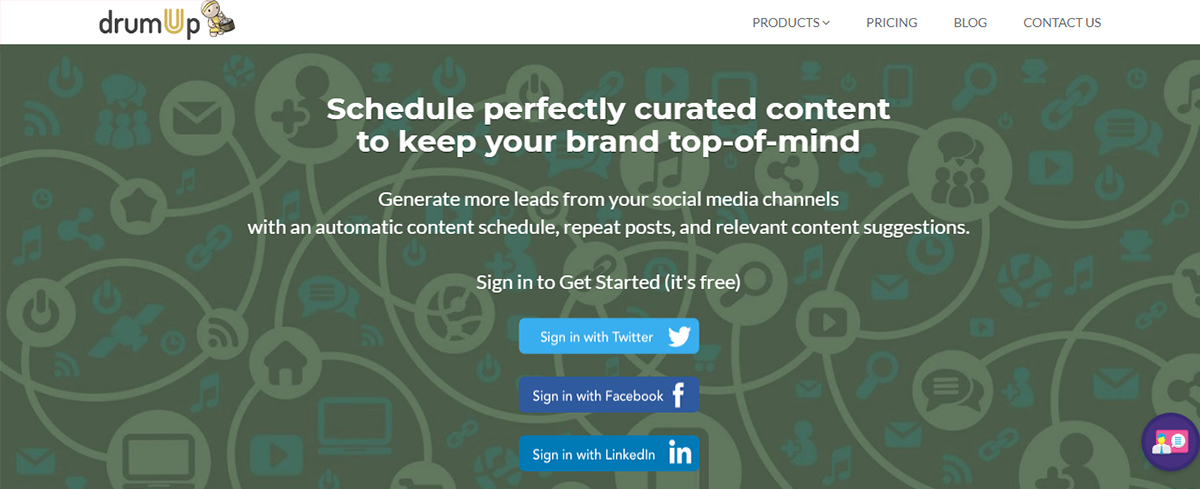 DrumUp is a tool for social media, content management, and workers advocacy. It integrates with Facebook, Twitter, and LinkedIn, growing the time and energy to handle social media presence significantly. It lets you find and share material on your accounts on social media. DrumUp mines loads of web content in real-time to suggest the newest stories that are most applicable to your audience with sophisticated algorithms.
Advantages of DrumUp:
DrumUp as a LinkedIn analytics tool makes it easy for you to skim your LinkedIn followers, build and publish messages.
Complete, follow, and curate your favorite feed updates with DrumUp.
Sarah G.
Ease of quick-sharing quality information, instant access to a broad spectrum of relevant industry topics, options for both shallow and deep dives into news related to my profession, and riveting headlines.
Disadvantages of DrumUp:
Prices are fairly expensive, whereas basic characteristics are minimal.
Enid B.
The content seems redundant like it all comes from a small handful of websites. Since everything is a direct repost, if you are not supplementing with quality tweets, it's not at all original.
---
Brand24 is a LinkedIn analytics tool that can be used to improve social media presence. The competitive analysis is unmatchable. Keeping a close watch on marketing campaigns is easier. You get access to your social media performance in meaningful metrics that will allow you to take decisive action. The best part is it can segregate your brand mentions into positive and negative sentiments so you can gauge your online reputation. Summarized reports can be downloaded in PDF and excel files.
Advantages of Brand24:
A reliable tool that lets you monitor what others are saying about your business.
The learning curve isn't steep.
Customer support is proactive in tackling issues.
Roberto S
The platform has a very good and widely renowned capability to optimize a marketing strategy building process, it can be integrated solidly and very quickly. The program has definitely coordinated a follow-up process to market needs.
Disadvantages of Brand24:
The tool is a bit on the expensive side for the results it provides.
Results can be flaky, irrelevant, and spammy at times.
Brea W
The UI is pretty rough – the site feels crowded and sometimes it's difficult to navigate. It's rather expensive for what's being offered and you don't get to create many projects for the lower price tiers.
---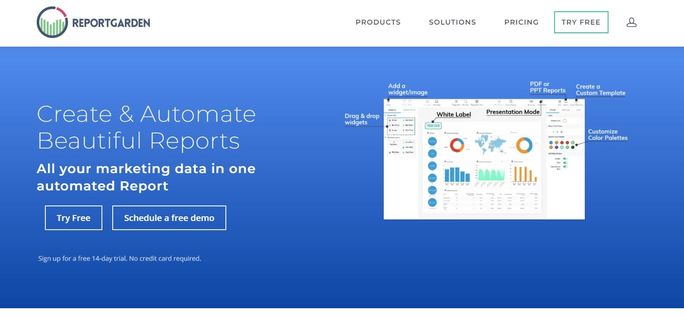 ReportGarden is a digital marketing tool that has some excellent LinkedIn analytics solutions included. It is specifically designed for agencies that rely on automated reports for their marketing data. It has popular platform integrations that can come quite handy at times. The dashboards are easy to access and have general and ad-related analytics listed. Client management capabilities and SEO keyword tracking are worth mentioning too. Along with usual budgeting, there are proposal templates available for better lead generation.
Advantages of ReportGarden:
Downloadable reports with graphs.
It pulls in data from multiple reliable sources.
The tool is relatively easy to use.
Robert K.
Overall, I've been very happy with and have recommended Report Garden. The ability to bring multiple reports together in a single interface has increase productivity and provided a more open communication flow with customers. Very nice product.
Disadvantages of ReportGarden:
The loading time is slow for larger datasets.
The customization feature is quite limited.
Samuel F
The level of full customization is a bit limited. And the ability to use this software with a large volume of clients is where the experience becomes a bit more strained. Setting up reports for hundreds of clients takes a lot of time, and building a customized report out from scratch is incredibly time-consuming.
LinkedIn is a fantastic social networking platform designed to develop new connections and establish online relationships for professionals and brands. It is one of the most used sites by B2B customers, and your presence here can significantly impact your business.
You can evaluate the success of LinkedIn and boost its marketing efforts by analyzing every bit of your account using the above-mentioned LinkedIn analytics tools. With this list, you can see what each of the tools does, have a full-fledged comparison, and select the ones that seem to suit your needs. The use of LinkedIn analysis tools is essential for your success, especially if your competition is overtaken, and to keep track of your efforts. So go ahead and try them out for better results.