Social media has evolved into a formidable marketing powerhouse, particularly for businesses in the construction industry.
In a survey conducted by Construction Marketing Association, an astonishing 100% of respondents agreed on already using social media for contractors.
Yes, you read that right – every single one of them!
So, what's the reasoning behind this mass migration of construction companies and architectural, engineering, and construction (AEC) professionals to social media platforms?
Well, it's simple.
Social media provides an unparalleled platform to connect and communicate with both existing and potential customers. In today's competitive world, establishing a strong connection with your target audience isn't just beneficial – it's essential for survival.
That's where social media comes in, offering you an opportunity to showcase your expertise to engage with customers and generate leads.
However, navigating the ever-evolving labyrinth of social media isn't a walk in the park.
But don't worry; we've got you covered.
In this social media for contractors guide, we'll explore best practices, proven techniques, and insider tips that will transform your social media presence from ordinary to extraordinary.
Let's get started.
How Can Social Media for Contractors Drive Results?
Still wondering if social media is the right arena for contractors?
If so, you will be surprised to know that social media has emerged as a powerful tool for contractors to drive tangible results and achieve business success.
How?
Citing the same survey from CMA: 45% have achieved greater brand awareness, 36% have experienced increased website traffic, and 18% of respondents said social media helped them generate leads.
Let's explore the key ways in which social media can make a real impact on contractors.
1. Expand Your Professional Network
Networking holds immense value, especially in the contractor industry. And if you don't know, one of the core benefits of social media platforms is networking. It's as if social media for contractors is a match made in heaven!
Social media presents a remarkable advantage for contractors by facilitating networking opportunities within the industry.
Platforms like LinkedIn and industry-specific groups are perfect for connecting with fellow professionals, exchanging insights, forming valuable partnerships, and even securing job opportunities.
By actively participating in industry discussions, engaging in groups, and attending virtual events, contractors can expand their professional network, fostering connections that can unlock new and exciting opportunities.
2. Company Exposure – Establish Yourself as a Brand
Social media platforms do more than just introduce your construction business to a wider audience; they uniquely position it as a brand.
Indeed, it's true!
Social media offers a vast platform for contractors to showcase their work, projects, and expertise, ultimately establishing their brand identity.

You have to be consistent, though.
The more consistently and authentically contractors engage with their audience, the more likely they will gain visibility and recognition as a trusted brand.
By regularly sharing high-quality content and showing the quality of your work, you can increase your brand exposure and build credibility in the industry.
Beyond exposure, social media marketing is a cost-effective way for contractors to generate leads and expand their customer base.
Let's get a bit deeper on that.
3. Cost-Effective Marketing
Compared to traditional advertising, social media is pretty cost-effective.
But it's not just about being affordable; the well-targeted nature of social media provides a way to reach audiences actively seeking construction services.
As a contractor, you can leverage the power of social media, paid or organic, by identifying your ideal audience and refining the targeting parameters. Such targeted promotions ensure your message reaches the right people at the right time.
What happens after reaching them?
Consistently engage with your audience and cultivate trust and credibility to increase the likelihood of converting your social media interactions into actual leads.
4. Improve Search Rankings and Website Traffic
Social media presence doesn't have any direct connection with search engine rankings. However, it's been observed that search engines consider social media engagement as a signal of credibility and relevance, which can improve your search result visibility.
One thing is certain, though.
Social media plays a significant role in driving referral traffic to your website or blog. That's why it's always recommended to post your blog link on social media to attract more website visitors and increase the chances of converting them into leads.
Now that we've explored how social media can drive results, let's dive into practical tips and strategies for effective social media implementation.
Selecting the Right Social Media Network for Contractors
When it comes to promoting your construction business on social media, remember that quality trumps quantity.
We know the options are endless, but don't make the mistake of spreading your presence too thin. Instead, start with one or two platforms that align with your specific audience and business objectives.
Let's dive into some of the best social media platforms for contractors.
1. Facebook for Contractors – Engaging Your Local Community
Facebook continues to dominate the social media scene, providing contractors with an excellent platform to connect with their local community.
A survey conducted by Buildops revealed that one-third of construction companies actively use Facebook.
Now that's a good number to get you pumped.
With a business page, contractors can display their work, share project updates, and engage with clients and prospects. With its comprehensive targeting options, Facebook ads can also be a valuable tool for reaching a specific local audience. Don't miss out on the opportunities Facebook presents to establish your brand locally and foster meaningful connections.
Now, let's explore the video-centric platform that holds immense potential for contractors.
2. YouTube for Contractors – Showcasing Your Expertise
YouTube's popularity as a video-sharing platform gives contractors an excellent opportunity to showcase their expertise and provide valuable content to their audience.

What do you need to do? Leverage YouTube to demonstrate your skills and establish trust among viewers visually.
By creating engaging and informative videos about construction techniques, project spotlights, or DIY tips, contractors can position themselves as industry leaders and capture the attention of potential clients.
Let's now turn our attention to a professional networking platform tailored for contractors.
3. LinkedIn for Contractors – Forge Professional Connections
LinkedIn provides contractors with a dedicated platform to connect with other professionals in the construction industry, architects, and potential clients.
By showcasing your expertise through thought-provoking articles, sharing industry insights, and participating in relevant groups and discussions, you can build valuable professional connections.
Think of LinkedIn as a virtual networking event, enabling you to establish yourself as a reliable contractor and paving the way for collaborations and referrals.
Now, let's explore a platform known for its visual appeal and inspiration.
4. Pinterest for Contractors – Ignite Design and Creativity
Pinterest for contractors – sounds unconventional, right?
But you will be surprised to know that an average of 4.9% of contractors use Pinterest to promote their construction business.
We all agree on one thing.
Pinterest is a treasure trove of design inspiration and creative ideas. This makes it an ideal platform for contractors to showcase their portfolios and attract clients seeking innovative designs.
By creating captivating boards featuring your past projects, architectural styles, and home improvement ideas, you can engage potential clients and establish your expertise in visual representation.
Lastly, let's explore a platform that thrives on visual storytelling.
5. Instagram for Contractors – Visual Storytelling and Project Highlights
There is hardly any brand that is not using Instagram. Instagram's engaging Reels and feed features make it easy for any business to present themselves in a fun way.
The same applies to the construction business.
Instagram's visually-oriented nature makes it an excellent platform for contractors to showcase their work and tell captivating stories.
With high-quality images and engaging captions, you can bring your projects to life, sharing before-and-after transformations, behind-the-scenes glimpses, and client testimonials. Instagram's extensive reach and visual impact can help you connect with potential clients who appreciate the aesthetic aspect of your work.
Now that we've explored some of the best social media platforms for contractors let's discuss a simple way to manage content on all of them effectively.
Creating a Content Calendar
Before diving into the best content ideas for contractors, it's crucial to understand the importance of having a well-planned social media content calendar.
Social media success relies on pre-planning and being organized with your content strategy. Without a clear roadmap, it can be challenging to post engaging content and maintain a cohesive brand presence consistently. A social media content calendar is your guiding tool, helping you envision and execute your content plan effectively.
With a social media calendar in place, you can effectively plan the outline of what you'll post in the coming weeks or months right from the start. Such preparedness enables you to manage your resources, time, and efforts efficiently.
Forget the hassle of managing your multi-platform posting schedule on spreadsheets. Simplify the process with SocialPilot!
Utilize SocialPilot's Calendar feature to effortlessly map out weeks or months of posting plans across all your social networks in one centralized hub. What's more, its user-friendly drag-and-drop feature makes adjusting the time and date for any post a breeze. Stay organized and save time with SocialPilot's intuitive platform.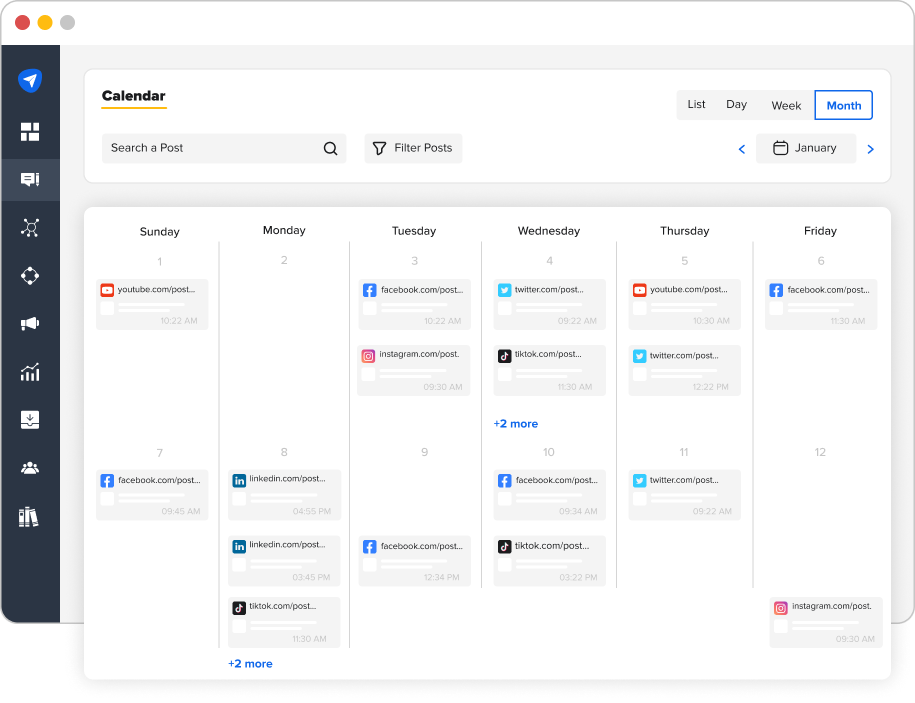 Now that you have a social media calendar ready let's move to discuss different engaging content ideas that will breathe life into your calendar.
14 Creative Social Media Ideas for Contractors and Construction Companies
"What to post?"
Well, that's one age-old question social media marketers of any niche face daily.
We have curated 14 valuable content ideas for contractors and construction companies that will surely captivate your audience, boost engagement, and showcase your expertise.
1. Showcase the Before and After Transformation
There's something incredibly satisfying about witnessing a transformation. Share this sense of achievement with your social media followers by posting captivating before-and-after images or videos of your construction projects.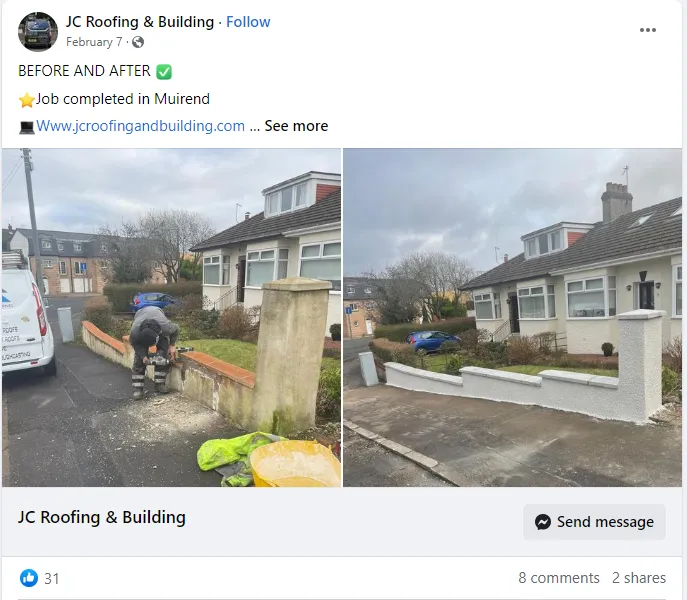 Highlight your remarkable changes and improvements, demonstrating your skills and expertise. This visual storytelling technique will grab your audience's attention and showcase your work's impact.
2. Provide Regular Updates On Projects
Of course, construction projects take time, so what do you post in the meantime?
Well, that's when you keep your audience engaged and excited by providing regular updates on your ongoing projects.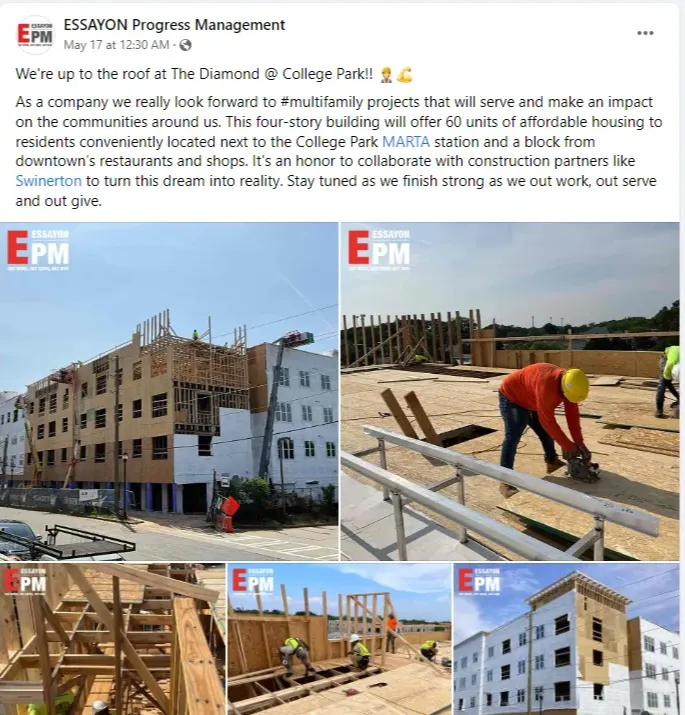 Share behind-the-scenes photos or videos, project milestones, and progress updates. This not only demonstrates your active involvement but also keeps your audience informed and invested in your work.
3. Tease Upcoming Projects
Another way to keep your audience hooked is by offering sneak peeks of your upcoming projects.
These sneak peeks act as a teaser, fueling curiosity among your audience. As they catch a glimpse of the innovative designs or the meticulous attention to detail, their anticipation builds, leaving them eager to witness the final results firsthand.
You can share images, videos, or 3D renderings that highlight unique features, impressive craftsmanship, or the overall vision of your upcoming projects.
4. Take'em Behind-the-Scenes
People are always curious to know about what happens in the life of a contractor. This is your cue to take your audience behind the scenes.
Give them a virtual tour of your construction projects. Showcase the different stages of construction, from laying foundations to final touches. Give insights into the techniques, tools, and processes involved.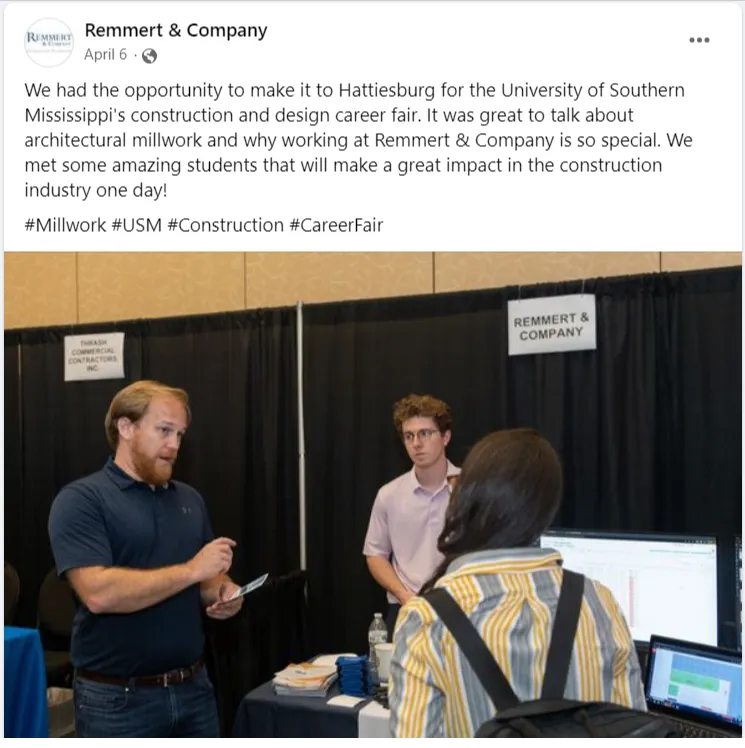 This behind-the-scenes content adds transparency, builds trust, and showcases your dedication to quality craftsmanship.
5. Share Client Testimonials
Nothing speaks louder than satisfied clients. Share testimonials or reviews from your happy customers. Highlight their positive experiences, showcase the successful outcomes of your projects, and let their words build credibility and trust in your services.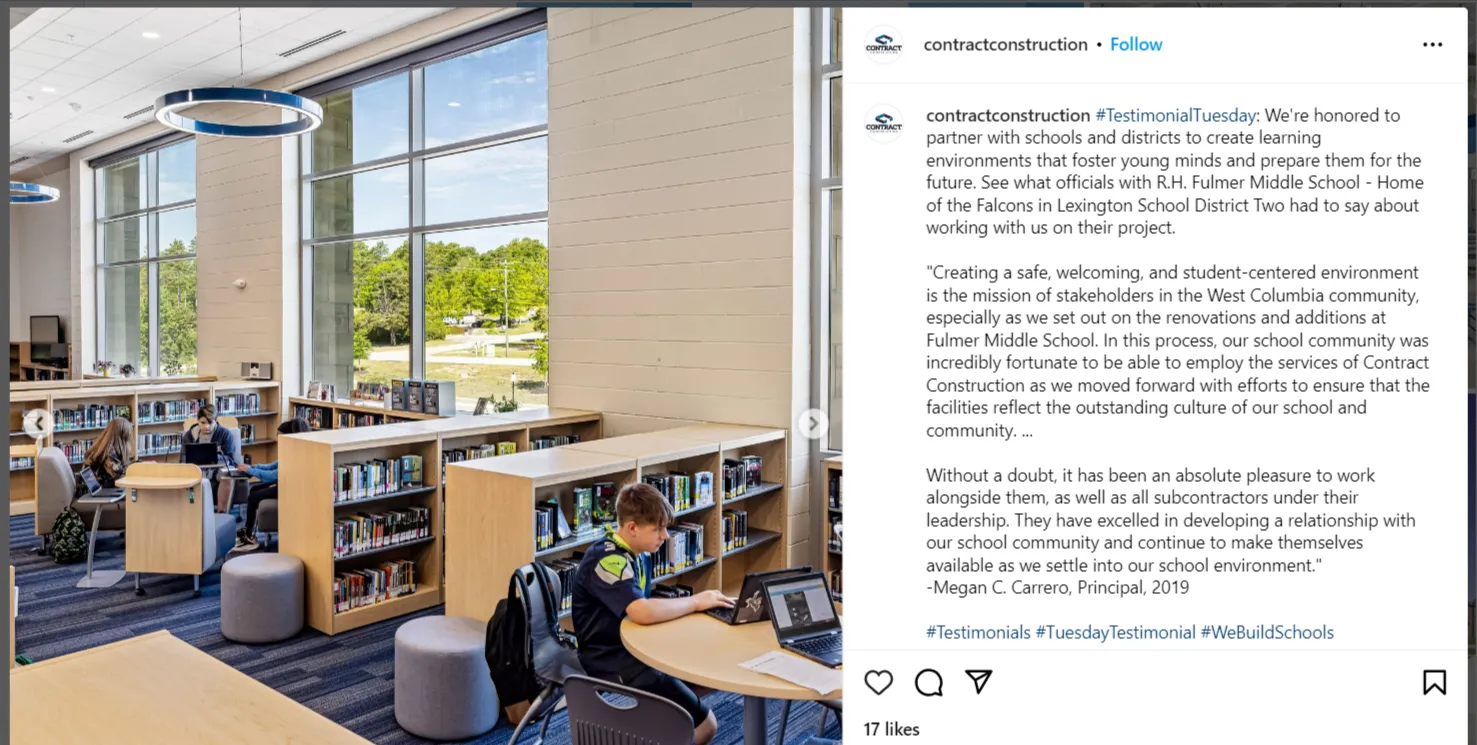 Testimonials humanize your brand and provide social proof of your expertise.
Now that we've covered engaging content ideas highlighting your projects and expertise, let's focus on industry insights and trends.
6. Discuss Construction Techniques
Apart from sharing testimonials, discussing construction techniques with your audience can be a great way to showcase your construction expertise.
Consider sharing tips and tricks to help homeowners navigate common construction challenges or make informed decisions when planning renovations or improvements. From explaining the benefits of certain building materials to providing guidance on selecting the right construction techniques for specific projects, your expertise serves as a guiding light for your audience.
Demonstrating your knowledge and expertise not only positions you as a reputable authority but also establishes trust with your audience.
7. Share Industry News and Trends
Stay up-to-date with the latest industry news and trends and share them with your audience. Discuss new technologies, innovative building materials, sustainable practices, or emerging design trends.
By sharing relevant industry insights, you position yourself as a forward-thinking contractor and keep your audience informed about the latest developments.
8. Showcase Community Involvement
Does your construction company take part in any community projects? If yes, highlight your involvement in the local community.
Share photos or stories of charity events, community projects, or sponsorships your company is a part of. This demonstrates your commitment to giving back and shows that you are invested in the well-being of the community you serve. Plus, it demonstrates your company's values and helps you resonate with your audience more deeply.
9. Employee Spotlights
You are as good as your team. So ensure your team members keep shining on your social media profile.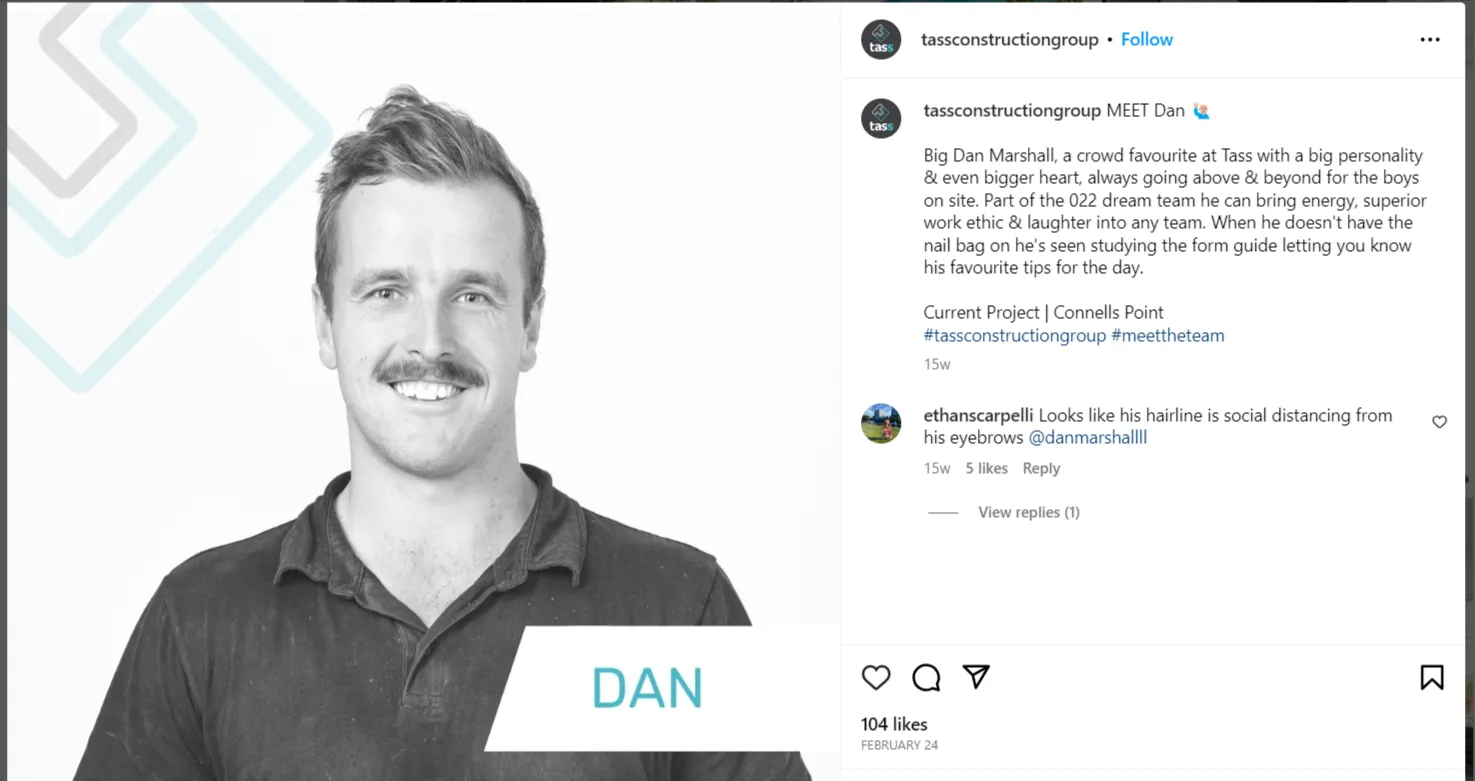 Put a spotlight on your team members by introducing them through posts or short videos highlighting their skills, experiences, and contributions to your projects. This not only adds a personal touch but also showcases the talent and expertise within your organization.
10. Conduct Q&A Sessions
Social media is about communication. That's why just posting is not going to make the cut. You need to be out there talking to your followers and the community beyond.
How to start?
Engage with your audience by hosting Q&A sessions. Encourage followers to submit their questions about construction, home improvement, or related topics. Answer their queries in video or text format, providing valuable insights and building a rapport with your audience.
Most importantly, don't avoid replying back to comments or questions in your inbox. Actively replying back to their questions shows your audience that you value their input.
Keeping track of your followers' messages and comments on multiple social media platforms is a herculean task. But there is a solution to simplify things.
Get your hands on SocialPIlot's Universal Inbox to bring the comment section and inbox of multiple social media channels under one roof. Easily streamline all your interactions from reviews, ratings, visitor posts on your pages, comments, messages, and more.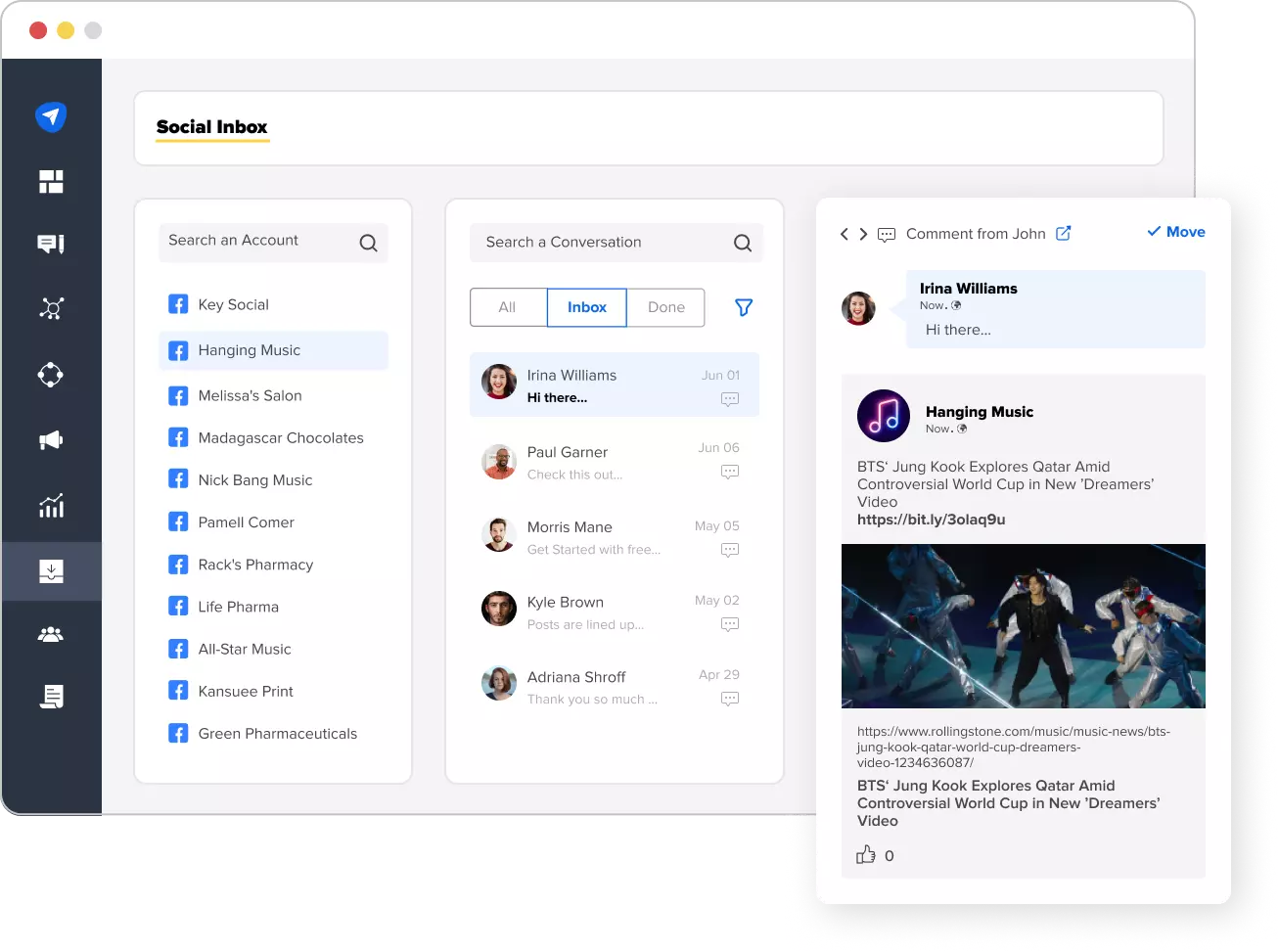 11. Make Timelapse Videos
Timelapse videos are a great way to get the attention of your audience in the least time possible.
Showcase the entire construction process in a visually stunning and accelerated format. By compressing time, you unveil the magic of construction in motion, providing a visually appealing and awe-inspiring experience for your followers.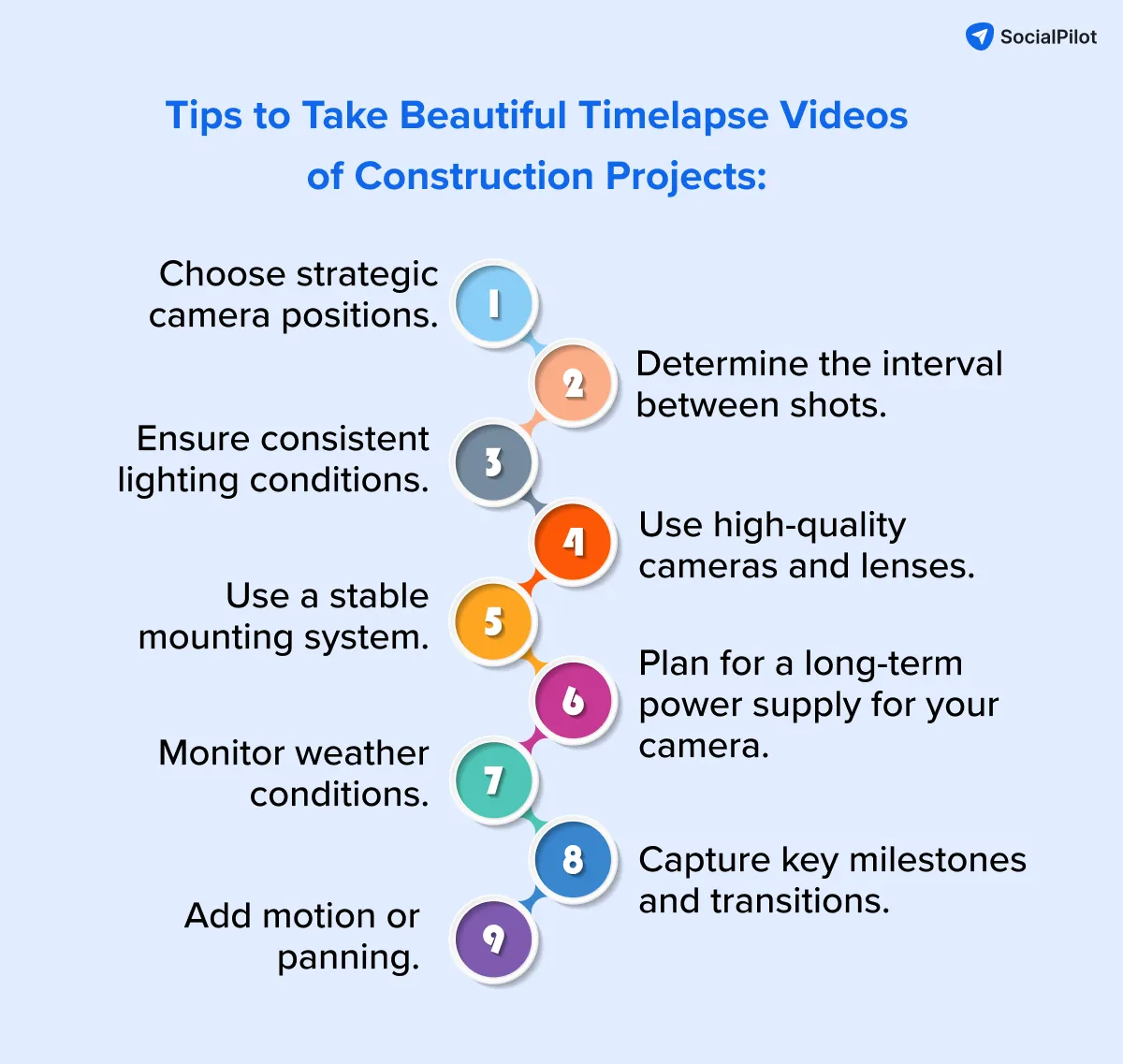 12. Share Design Inspiration
The visual-centric nature of social media platforms makes it easier to showcase your design inspiration.
Curate a design inspiration collection, including architectural styles, interior design trends, or landscaping ideas. Share mood boards on Pinterest or create collages that resonate with your target audience. This inspires them and positions you as a reliable source of design inspiration.
13. Promote Your Blog Posts
Don't forget about your blog while focusing on your social media presence.
Leverage the power of social media to promote your blog posts and reach a wider audience. By sharing snippets or key takeaways from your blog posts, you pique curiosity and entice your followers to read more.
Social media is a great way to drive referral traffic to your website. Craft compelling social media posts highlighting your blog content's main points or intriguing aspects, and you will surely get clicks.
What else can you do?
Provide a glimpse of the valuable information you offer and showcase your expertise on specific topics. Most importantly, along with the snippets, include a direct link to the full blog post to drive traffic back to your website.
14. Share Event Photos
Industry events, conferences, and trade shows provide valuable opportunities for networking, learning, and showcasing your company's active participation.
Take advantage of these experiences by sharing event photos with your audience, capturing the energy, excitement, and key networking moments that transpire. These photos not only capture the essence of the event but also foster connections with peers, potential clients, and industry influencers.
When sharing event photos, aim to showcase your company's involvement in industry events. You can highlight your participation as a speaker, exhibitor, or attendee and provide insights from the event.
Choosing a Social Media Management Tool Like SocialPilot
Even with thousands of content ideas, executing everything every day won't be feasible for a contractor after long work shifts. With your audience spread around multiple across various platforms, from Facebook to Instagram and Twitter, it can feel like a never-ending juggling act. But fear not, there is a game-changing solution for you – SocialPilot!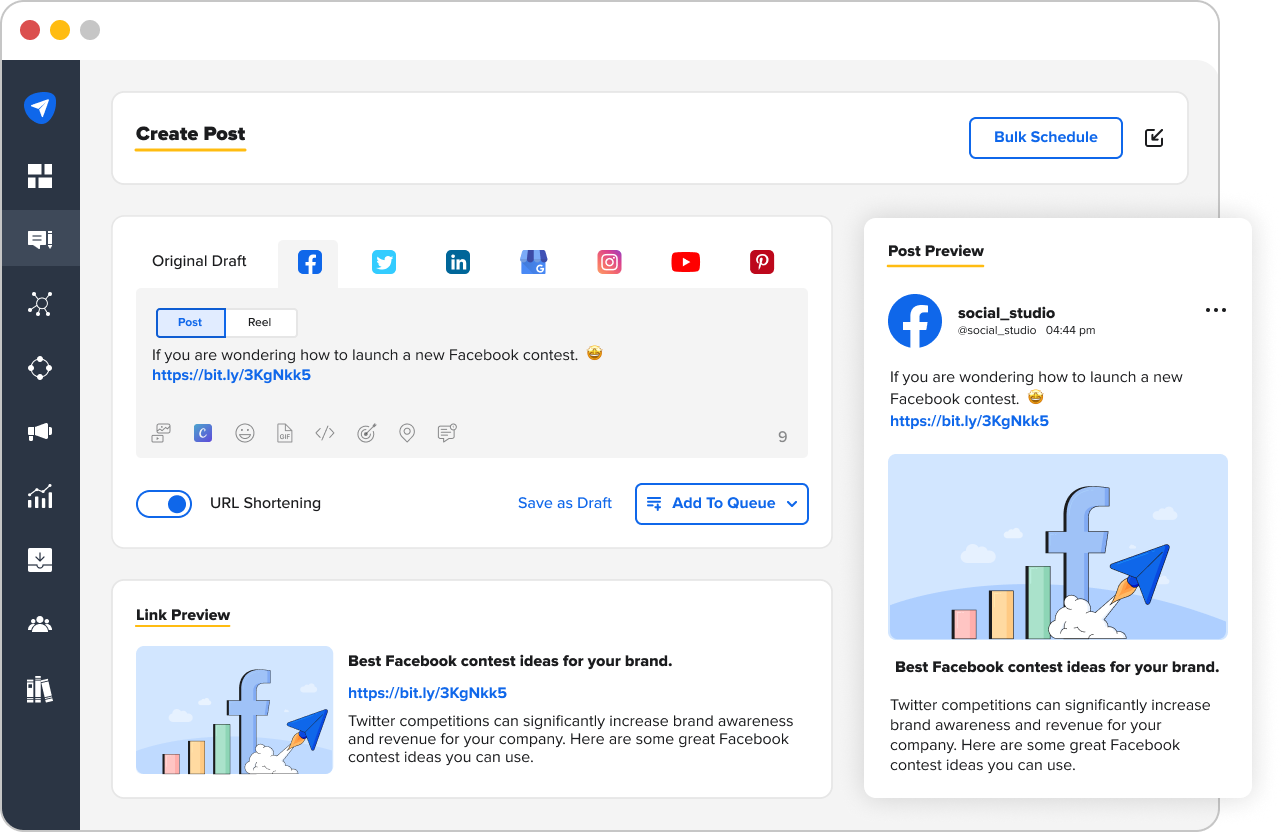 SocialPilot is like having a trusty sidekick who can streamline all your social media management tasks. With SocialPilot, you'll have a centralized dashboard equipped with features that make managing your social media presence a breeze:
Multi-Platform Support: Efficiently connect and manage all your construction company's social media accounts on a single dashboard. Say goodbye to the hassle of switching between platforms and streamline your social media management process.
Social Media Scheduling: Save time and maintain a consistent online presence across multiple platforms. With SocialPilot, you can schedule posts in advance for various social networks of your construction company simultaneously. Customize your content to suit the unique demands of each platform and stay engaged with your audience.
Analytics: Gain valuable insights into the performance of your social media efforts. SocialPilot brings the analytics section of multiple social channels under one dashboard, allowing you to analyze data quickly and make informed decisions to refine your strategies and maximize results.
Collaboration: Foster seamless collaboration within your marketing team. Invite team members to collaborate on individual social media posts, ensuring a smoother approval and feedback flow. Assign different roles to team members, enhancing coordination and efficiency in your social media marketing efforts.
Conclusion
There you have it!
We have delved into the world of social media for contractors, uncovering valuable strategies to elevate your online presence. Remember to start small, focusing on one or two platforms, and implement the powerful tips we've discussed.
But we understand that managing multiple social media platforms can be overwhelming and time-consuming. That's where SocialPilot comes to the rescue. With its advanced features and user-friendly interface, SocialPilot becomes your ultimate companion in streamlining social media marketing efforts.
Just like a reliable tool in a contractor's toolbox, SocialPilot makes the process smooth and straightforward, allowing you to focus on what you do best – building and growing your contractor business.
Try SocialPilot today and witness the difference it can make in scaling your business through social media.