A Twitter survey found that, on average, the maximum number of accounts a social media manager handles is 40.
What about you? How many accounts do you handle?
More importantly, are you facing difficulties while managing multiple social media accounts?
Whether you're a professional social media manager or a small business owner, juggling multiple accounts can be troublesome if you don't know how to do it with finesse.
So, how to manage multiple social media accounts effectively?
This article will provide detailed information on executing multiple social media account management effortlessly.
So, without further ado, let's dive into the nitty-gritty aspects.
Pros and Cons of Managing Multiple Social Media Accounts
Before you understand the rules of effective social media management, you must go through both sides of creating multiple accounts for a single brand.
Benefits of Managing Multiple Social Media Accounts
Different social media accounts can be used for different purposes. Read the research from Pew Research Center on how social media demographics are different for American users: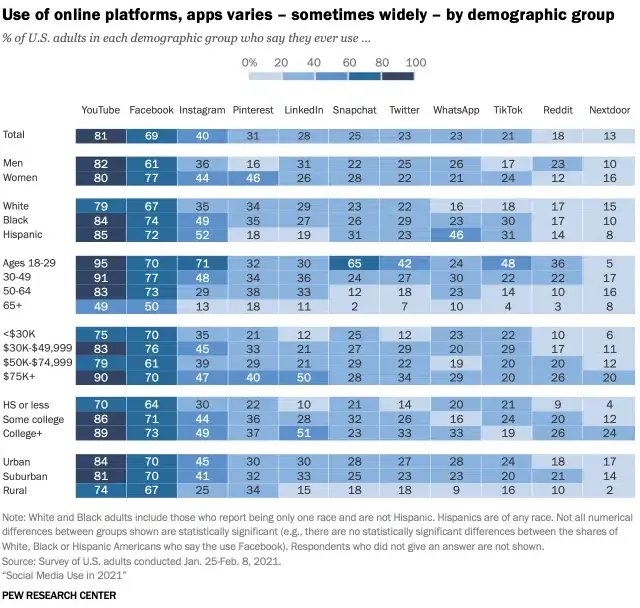 Managing multiple accounts also means sharing different content and interacting with varying audience bases to achieve better results.
Using this varied audience analytics, you can segment your customers and tailor each account to focus on specific topics instead of trying to engage your target audience simultaneously.
Here are a few more advantages:
Different social media platforms have distinct features and formats, allowing you to create and share a wider variety of content.
Multiple accounts can allow you to create distinct branding strategies for each platform and tailor your content to a specific audience.
By diversifying your social media presence, you can engage with followers differently and build stronger relationships with your audience.
Although managing social media accounts can drive multiple benefits, it can also have a negative impact.
Let's talk about that.
Drawbacks of Managing Multiple Social Media Accounts
On the flip side, having multiple social accounts can confuse your audience. It can be hard for them to understand the value or purpose of each account.
They might fall into the dilemma of whether they should follow all the accounts or limit themselves to the ones that provide the necessary information.
Let's explore other drawbacks:
Managing multiple social media accounts can be time-consuming and requires significant time and resources.
Multiple accounts can also mean your audience is fragmented across different platforms, making building a cohesive brand identity harder.
With more accounts to manage, there is a higher risk of mistakes, such as going ahead with the wrong post on multiple social media or responding to the wrong followers.
Managing multiple social media accounts can be overwhelming and may lead to burnout or reduced effectiveness.
Depending on the scale of your social media strategy, managing multiple accounts may require additional costs, such as hiring a social media manager or investing in paid advertising.
So can you minimize the negative impact of handling multiple social media accounts?
Well, professional and cost-effective social media management tools can help you strengthen your brand's presence across all major social media platforms.
But before we get to the best social media management tool, you must notice different signs that make it necessary for your business to have multiple social media accounts.
When Should Your Business Consider Multiple Social Media Accounts?
Now that you've understood the pros and cons, are you sure it's the best use of your resources and time?
Here are signs that your business may need multiple social media accounts:
1. Customer Complaints Dominate Your Social Feed
Customers spend 20 to 40% more with companies that respond to customer service requests on social media platforms. Once you start providing quality digital customer support, the requests will rise.
So if you find it difficult to manage online customer reviews and complaints, starting a separate account for all your support problems is highly beneficial.
It can enable your target audience to address their complaints and highlights your seriousness about solving their issues.
Also, including efficient systems, like support tickets, can make your separate accounts for complaints function differently and deliver great results.
Here's an example of Spectrum with a separate customer support account @Ask_Spectrum, on Twitter.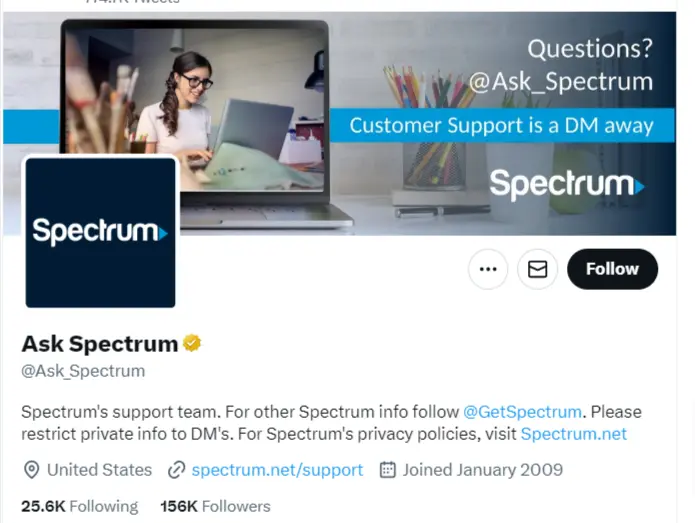 Spectrum, a telecommunications company offering cable TV, internet, and phone services, has a dedicated support account to help customers easily report issues and receive quick responses from their customer service team.
By separating the support account from the primary account, the company ensures that customers' complaints and concerns are addressed promptly without overwhelming their main feed with support requests.
2. You're Experimenting with Diverse Social Media Strategies
Creating multiple social media accounts allows you to experiment with different strategies and tactics on each platform without risking your entire social media presence.
For example, a brand may have:
One account focused on building relationships with influencers, featuring their content, and highlighting partnerships with them. This account may share behind-the-scenes content, collaborate on campaigns, and engage with influencers and their followers.
A separate account focused on paid social media advertising. This account may be used to run sponsored posts, targeted ads, and other paid social media campaigns.
Separating these two functions can help a brand better track and measure the success of its influencer partnerships and paid social media advertising campaigns.
It can also help them maintain a consistent brand voice and messaging across their social media channels while allowing different strategies and tactics for different objectives.
3. Your Business Has Multiple Departments or Locations
If your business has several departments with multiple target audiences, create separate social media accounts for each location to better connect with local customers and share location-specific content. This can also help you tailor your marketing efforts to each market's unique needs and preferences.
Also, if your business has multiple bureaus or franchises, separate accounts enable customers to find information faster. You can also share identical content on different accounts, but ensure you address the unique needs of customers in your area.
For example, Burger King is a global fast-food chain with separate social media accounts for each location worldwide.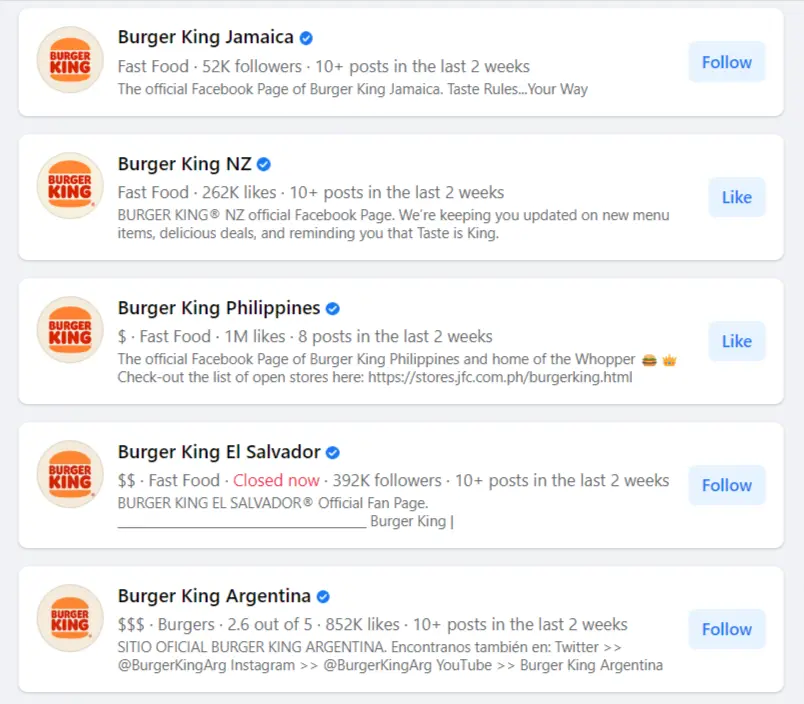 Each account shares location-specific content, such as promotional offers, menu items, and local events. The content is tailored to the local market's needs and preferences, increasing their engagement digitally.
4. You Offer a Wide Range of Products or Services
Multiple companies focus on different products and services, so you have to address different problems relevant to your wide range of offerings. Maintaining social media accounts for multiple products and services can remove the customer's confusion and streamline the buying cycle.
For example, if you run a clothing brand that caters to both men and women, have separate accounts for each gender to showcase the most relevant products and promotions to each group.
Like Nike, which sells a range of products, including footwear, apparel, and accessories, it has multiple social media accounts to showcase its product lines.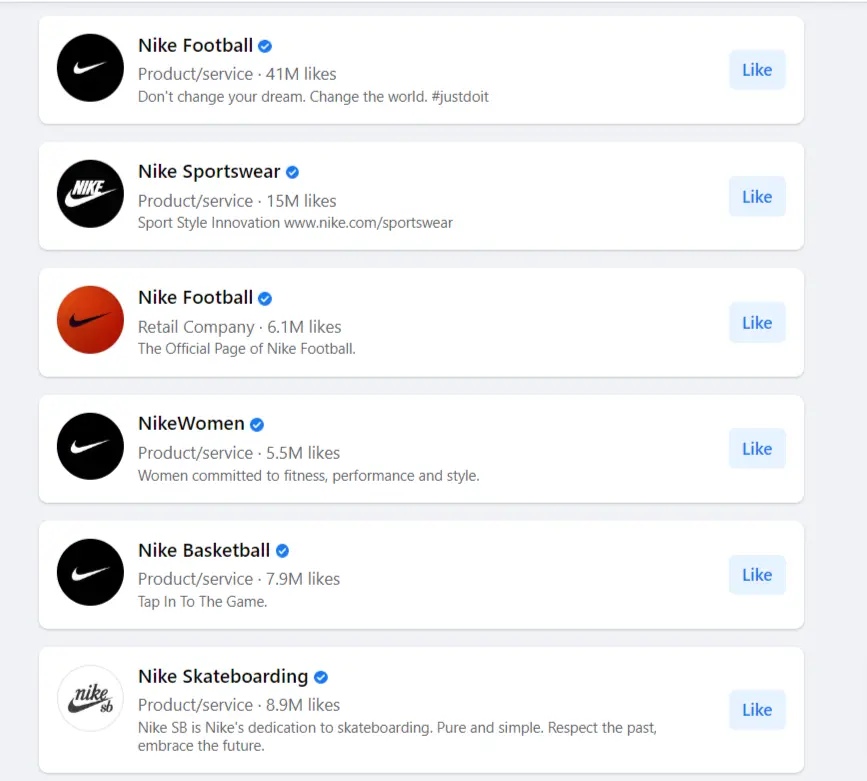 The company also has separate accounts for its Nike Running, Nike Basketball, and Nike Football divisions and individual product lines such as Nike Air Max and Nike Flyknit.
Multiple social media accounts should be based on your business goals, audience, and resources. If you find that your current social media presence is not effectively reaching your target audience or showcasing all aspects of your business, it may be worth considering creating additional accounts to better tailor your messaging and content to your unique business needs.
But how to manage the ever-increasing social media accounts with finesse?
Proven Methods to Effectively Manage Multiple Social Media Accounts
Managing multiple social media accounts can be challenging, but there are distinct strategies you can use to streamline the process. Here are some steps to consider when managing multiple social media accounts:
1. Build an Effective Social Media Strategy
Before you manage multiple social media accounts, it's important to have a clear social media strategy.
Start by identifying your social media goals.
Do you want to increase brand awareness, drive website traffic, generate leads, or do something else? Your goals will inform the rest of your social media strategy.
Then, identify which social media platforms are most relevant to your business and target audience. Depending on your business objectives and audience, you may want to focus on platforms like Twitter, LinkedIn, Instagram, Facebook, and TikTok.
Also, develop a content strategy that aligns with your goals and target audience. This includes deciding what type of content to create (e.g., images, videos, blog posts, etc.), how often to post, and what topics to cover.
That's not it.
You must take smart content planning and creation seriously.
2. Develop a Comprehensive Content Creation Plan
Creating a content creation plan can help you streamline creating content for multiple social media accounts. Determine the content you want to create, the frequency of posts, and the platforms you will use to distribute the content.
Your social media marketing plan can include a balanced combination of creating new content and curating valuable and useful content.
Creating Fresh Content
It's not simple to create new content for different social media accounts.
You must audit previous social media content to understand the existing approaches and tone of voice. Also, you must brainstorm new ideas with your creative professionals to generate quality ideas.
Analyze and learn from the competitors and see what's working for them. Run in-depth competitor research to generate quality ideas.
Are you running out of creative ideas that can captivate your audiences? Are you stuck in the content loop with tight deadlines?
With SocialPilot's AI Assistant, you can generate fresh content for different social media platforms from instantly. Apart from open ended prompting, you can use platform specific prompt templates and tonality options to generate valuable content ideas, social media captions and hashtags for multiple social media platforms and schedule them right away.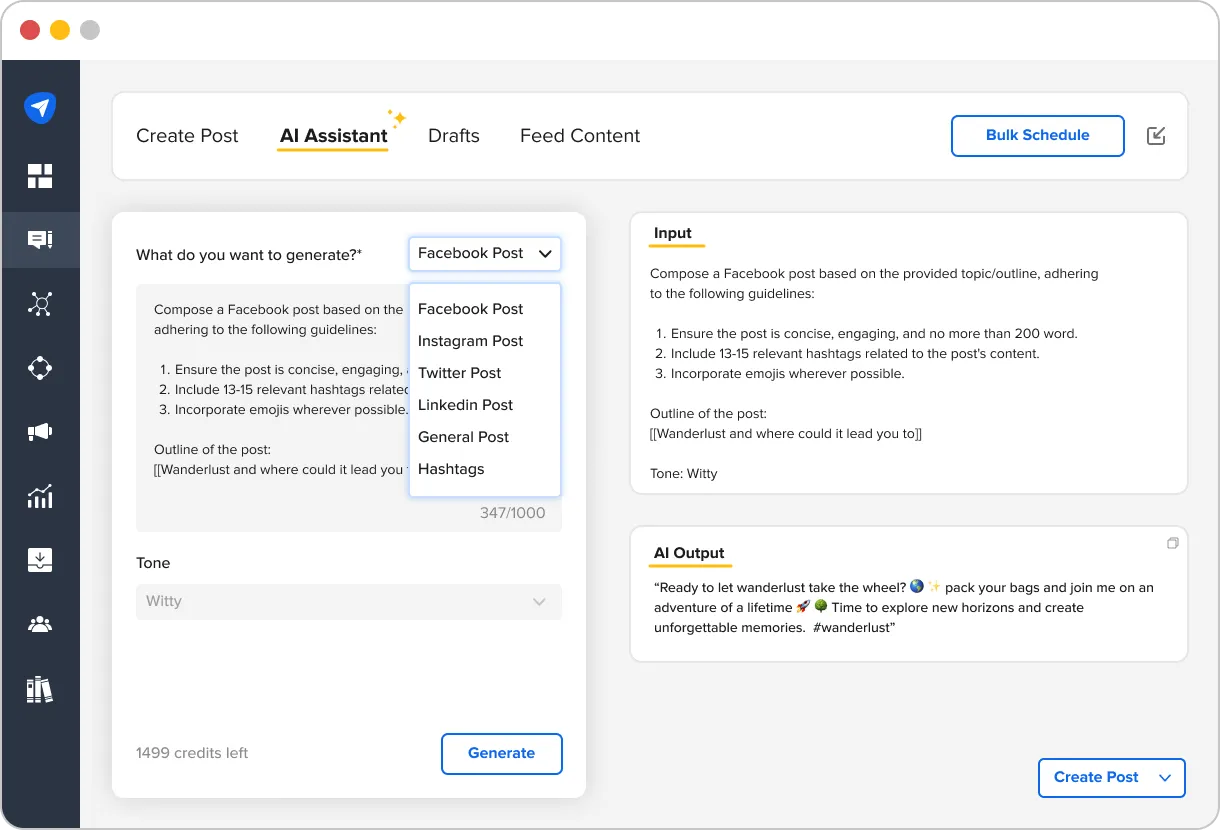 Curating Engaging Content
Creating reliable sources can be an effective strategy to maintain consistency with your social media plan while managing multiple accounts.
Here's an example of how Mejuri curated content on Instagram using a different brand.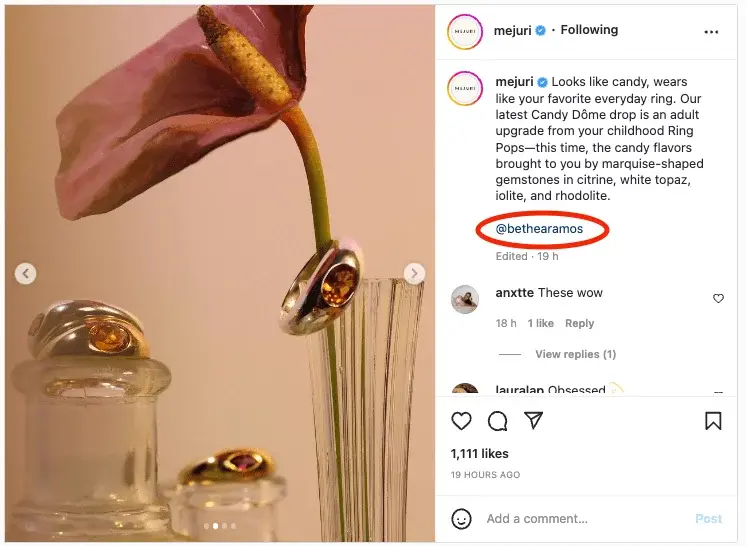 You should identify the best content sources relatable to your social media accounts or focus on publishing user-generated content.
For example, GoPro, a popular action camera brand, often features user-generated content on its social media channels. The company encourages its customers to share their photos and videos using the hashtag #GoPro, then curates and shares some of the best content on its social media accounts.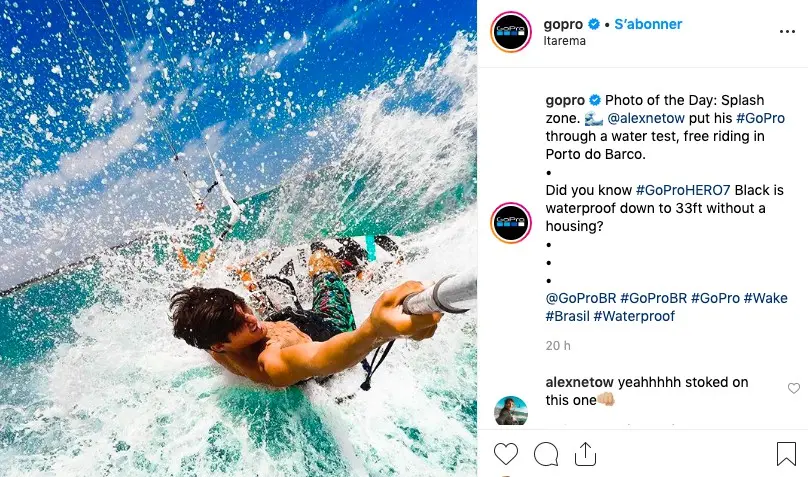 By featuring user-generated content, GoPro can showcase its cameras' versatility and capabilities while highlighting its community of passionate and creative customers. This strategy helps build brand loyalty and encourages other customers to share their content, creating a cycle of engagement and interaction.
3. Automate Social Media Posting
The act of posting content on multiple social channels can be disruptive if you do it multiple times a day.
Additionally, managing multiple accounts can be overwhelming, and it's easy to forget to post on certain platforms or miss important comments from your followers.
Consider automating tasks such as posting to save time and streamline your social media management process. It can help you stay on top of your social media presence and improve engagement with your audience.
Create content in batches and schedule your post using automation at a specific time. You can use SocialPilot's scheduler to publish content across all major social networks to expand your brand's reach.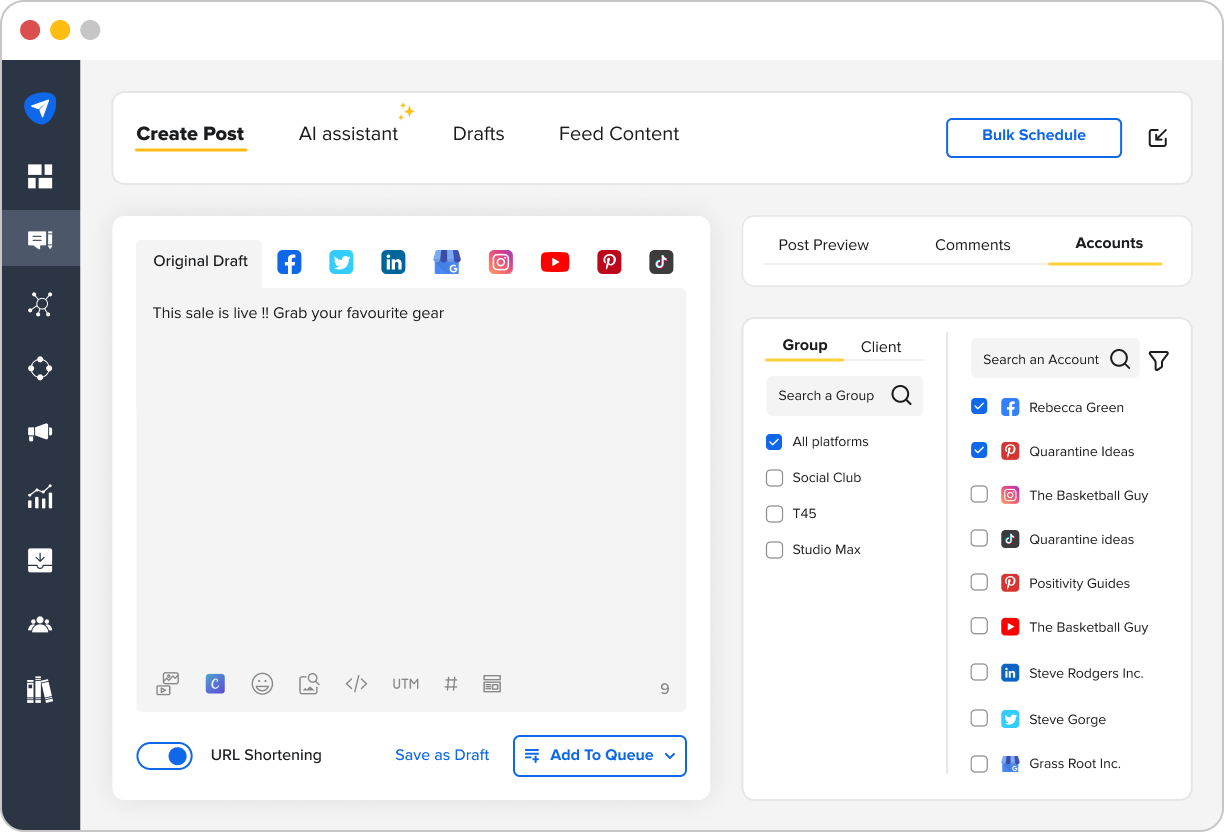 SocialPilot can seamlessly manage, schedule, and schedule content on LinkedIn, TikTok, Facebook, Pinterest, Twitter, Instagram, Google Business Profile, and Tumblr.
What's more? There is a lot more, such as the bulk scheduling feature that helps you bypass the troubles of scheduling 500 posts beforehand.
Whether you want to post daily, weekly, or on a different schedule, SocialPilot makes it easy to plan and manage your social media presence.
4. Monitor Social Media Activity and Engage
Once you automate your posting schedule, don't just post and forget!
Engaging with your audience on social media is crucial for building strong relationships and brand loyalty.
Also, regularly monitor your social media accounts for comments, mentions, and engagement. Respond promptly to inquiries or complaints, and engage with your followers to build strong relationships.
When someone mentions your brand or asks a question, respond promptly. Social media is a two-way conversation; engaging with your audience to build relationships and show that you care about their feedback is important.
Here's an excellent example of Xbox resolving its customers' queries on Twitter using its customer support Twitter handle.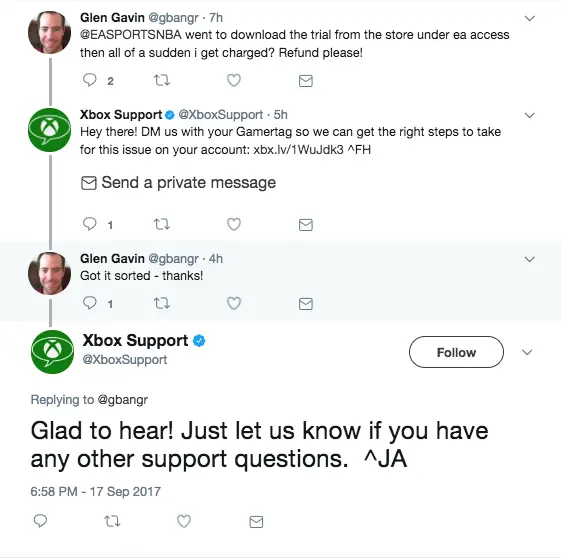 By doing so, they are building a loyal following of engaged customers who feel connected to the brand.
Pro-Tip:
Are you finding it hard to consistently stay updated with customer comments and messages across multiple social channels?
That's where you use the social media inbox feature from SocialPilot, which enables you to access the reviews, comments, and messages of multiple social channels from one dashboard.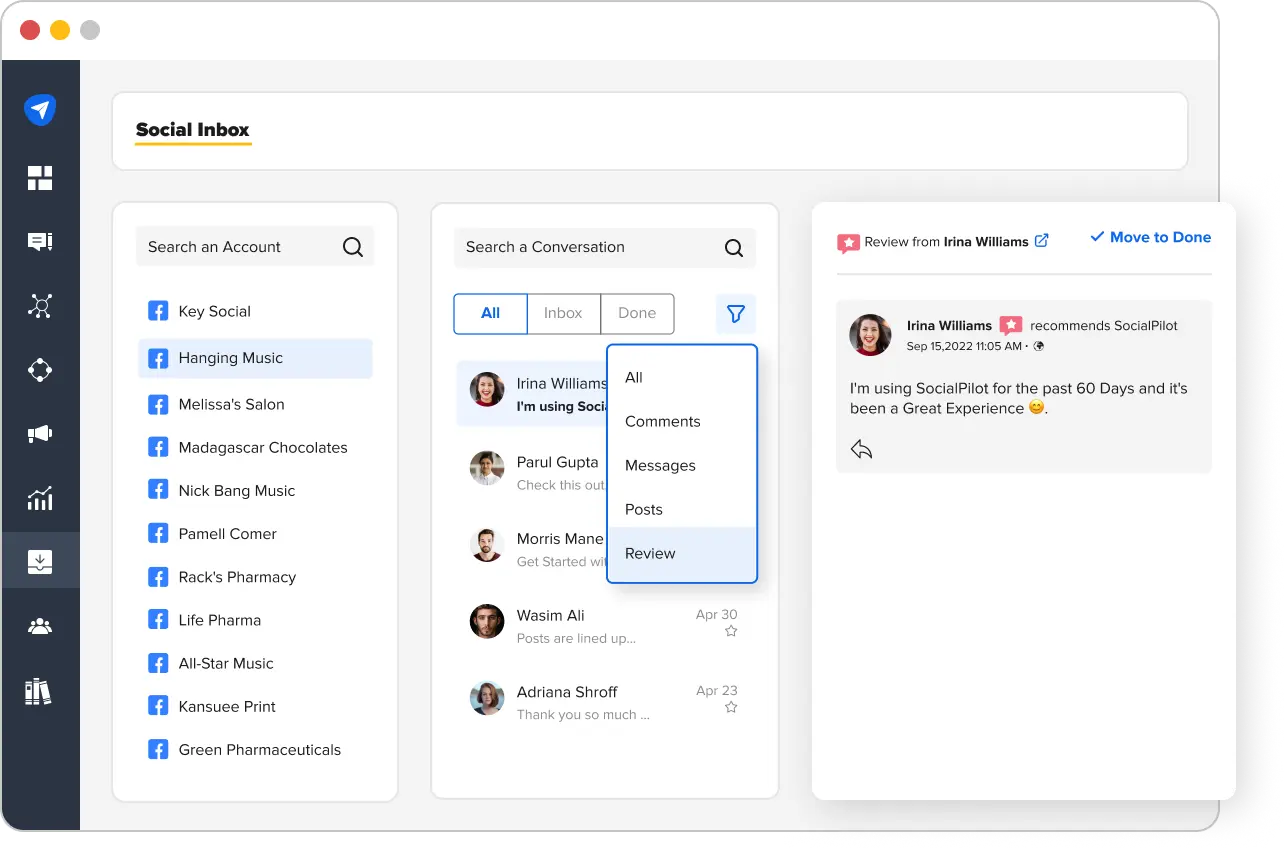 5. Analyze Results and Improve
Understanding the effectiveness of your social media strategy is essential to ensure you're using your resources efficiently.
So, that's where consistent analysis of your social media metrics can help you track your progress and refine your strategy.
It can also help you identify areas of strength and weakness in your social media strategy, which can optimize your content and target the right audience.
What's next?
Once you are done with the analysis using social media analytics tools, share your social media wins with your team and stakeholders. Use data and metrics to show your social media strategy's impact and demonstrate your efforts' value.
Don't try to gloss over underperforming campaigns or posts. Include them to highlight the lesson learned and how you can tackle a similar situation in the future.
Regularly reviewing performance and goals reinforces transparency and solidifies your relationship with all your clients.
By following these steps, you can effectively manage multiple social media accounts and create a cohesive and impactful social media strategy for your business.
But let's face it, analyzing social media metrics of multiple accounts can be daunting.
So, you can rely on the social media analytics and reporting features of SocialPilot, which can help you gain a deeper knowledge of your brand's performance. With easy-to-read PDF reports, you can get valuable insights and leverage them to optimize your social strategies. All this under one dashboard!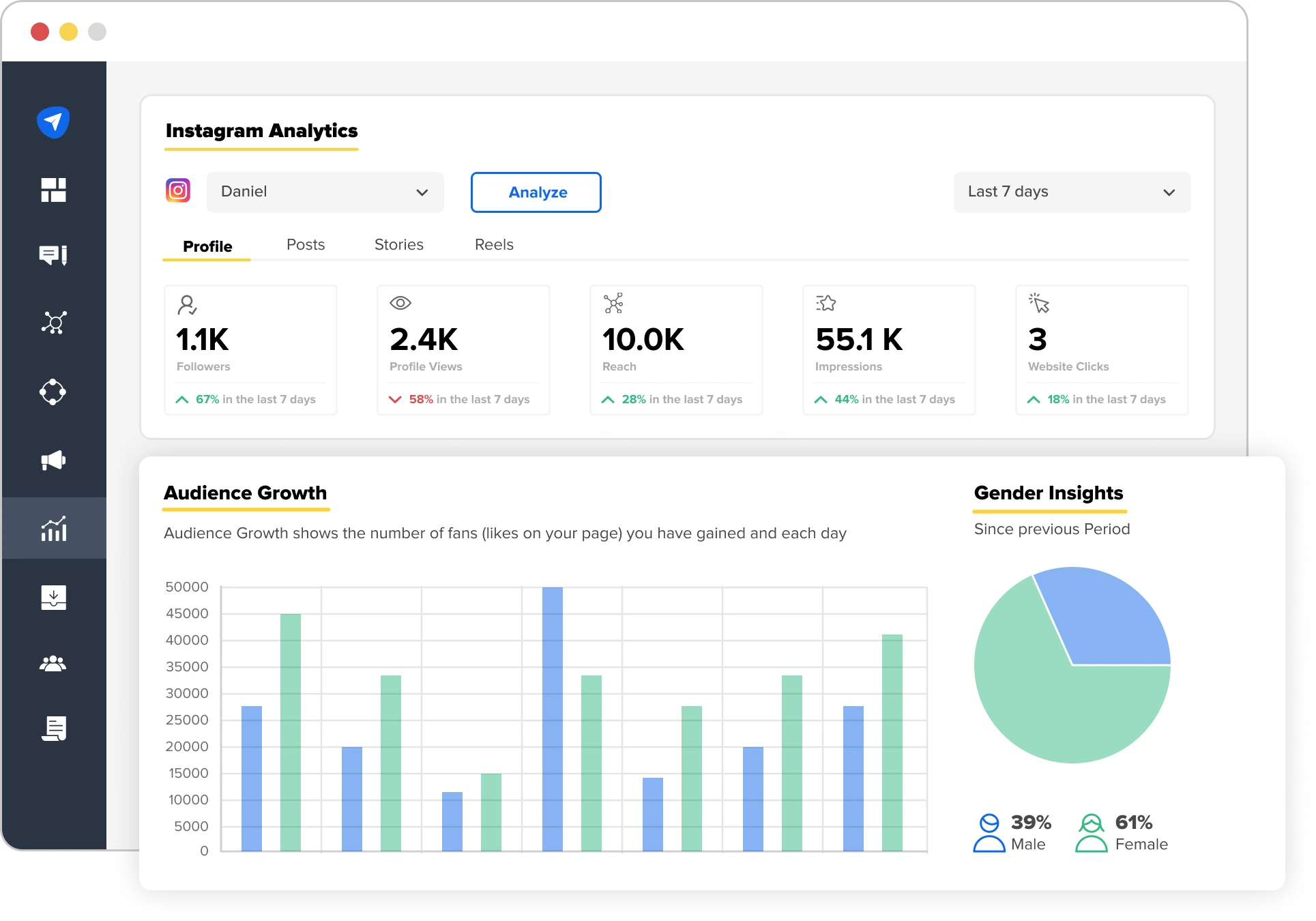 Summing Up
Managing multiple social media accounts can be a complex task, but with the right strategy and tools, it can be done effectively.
It's important to remember that each platform has its strengths and weaknesses and that your strategy may need to be adjusted for each platform.
Now that you know the nitty-gritty aspects of managing multiple social media accounts, it's time to strengthen your arsenal with effective tools like SocialPilot.
It provides seamless collaboration, powerful publishing, insightful analytics, and more to make your multiple account management seamless. Try it for free.