Did you know that 66% of Facebook users visit a local business page at least once a week?
In today's digital age, people heavily rely on social media to look for reliable local businesses that can cater to their daily needs, including household essentials like plumbing.
So, if you're a plumber or the owner of a plumbing business, it's imperative to establish a strong presence on relevant social media platforms to drive business growth.
Here's the thing:
Building your brand on social media and engaging with your audience isn't just important—it's essential to attract more customers.
But with so many social media platforms, knowing which ones to choose and how to develop a strong presence on them can seem daunting.
Fret not!
This guide will break down everything you need to know about marketing your plumbing business on social media.
Ready to dive in?
Why Social Media Marketing for Plumbers Matters?
Before we move on to discuss how plumbing businesses can optimize their efforts on social media, let's explore why they should leverage social media in the first place:
Establish yourself as a trusted industry expert: By regularly sharing valuable content, such as tutorials, tips, and industry insights on social media, you can position yourself as an authoritative voice in your field. This not only establishes you as an industry expert but also builds trust with your audience.
Expanding your online visibility and reach: Clocking billions of active users globally, social media platforms offer massive reach to businesses. Facebook alone has 2.96 billion monthly active users. So, you can use social media to reach a larger audience you would otherwise not have had the chance to reach.
Attracting high-quality leads: Social media enables plumbers to generate high-quality leads. They can use lead generation forms, call-to-action buttons, or direct messaging to capture potential customers' contact information and initiate conversations with them. This is one of the most effective ways to engage with potential customers who are genuinely interested in your services.
Cultivating strong relationships: Social media networks provide a platform for plumbers to engage and build relationships with both existing and potential customers. By promptly and courteously responding to comments, messages, and inquiries across all social channels, a plumbing business can foster a sense of trust and reliability among their target customers.
Highlighting your work and success stories: Social media offers plumbers a visual platform to display their skills and share success stories. By posting before-and-after images/videos and testimonials from happy customers, you effectively highlight the caliber of your services. This allows potential clients to visualize the results they can expect from your services, ultimately helping you attract more business.
Engaging with your customer base: Social media platforms offer plumbing businesses an opportunity to cultivate a dialogue with their existing and potential customers. You can conduct polls, respond to comments and reviews, and ask for feedback to interact and engage with them. In essence, social platforms facilitate two-way communication between you and your customers, allowing you to understand their needs better.
Now that we have discussed the importance of social media for plumbing businesses, it's time to discuss the top platforms for social media marketing for plumbers and why they should use them.
Let's explore:
7 Recommended Social Media Platforms for Plumbers
Here are the best platforms where you can maintain a strong presence for your plumbing business:
1. Facebook for Plumbers
Observing the current scenario, most active Facebook users are from an older generation.
What does this mean for your business? They are more likely to own homes and require plumbing services!
Here's a detailed look at why you should use Facebook for your plumbing business:
Large user base: Facebook boasts 2.96 billion monthly active users, and 71% of U.S. adults use Facebook. This vast user base provides you with a significant opportunity to promote your plumbing services to a wider audience.
Targeted advertising: Facebook's advertising platform allows you to create targeted ad campaigns based on demographics, location, interest, and other relevant factors. This means you can specifically target individuals more likely to require plumbing services in your area.
Local community engagement: Facebook offers an opportunity to engage with the local community. You can join neighborhood groups, participate in discussions, and provide valuable advice or insights related to plumbing. This builds trust and credibility in your audience, which can lead to word-of-mouth recommendations and referrals.
Showcase your expertise: On Facebook, you can share content such as guides, tips, and other educational posts related to plumbing. When you consistently provide value to your audience, you become an authoritative voice in your field, and potential customers start to approach you for your services.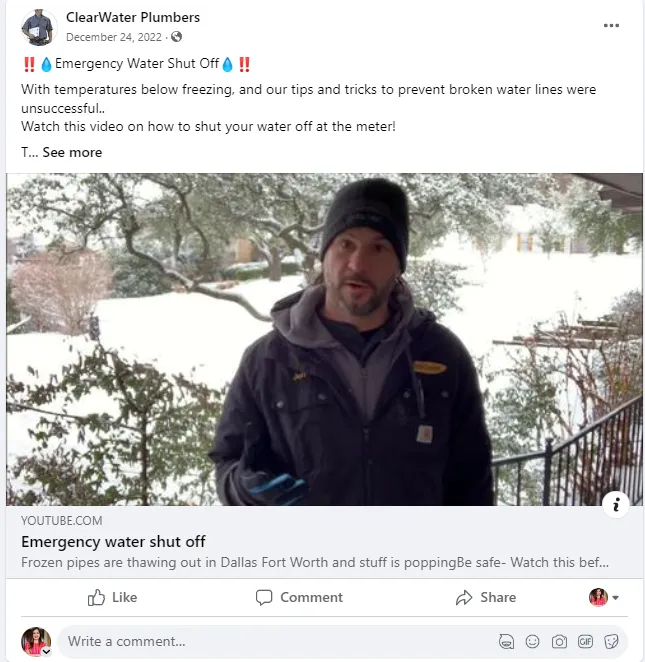 This plumbing business shared an informative video with its Facebook audience on how to shut the water off at the meter | Source
2. YouTube for Plumbers
While you can post short video clips on Facebook or Instagram, YouTube allows you to post longer, more in-depth videos (e.g., DIYs and how-tos). Here's more on why you should use YouTube for your plumbing business:
Visual demonstration: Plumbing often involves practical tasks that can be better understood through visual demonstration. You can share detailed videos on YouTube showcasing your plumbing techniques, skills, and solutions. This builds trust and credibility with potential customers.
Educational content: YouTube allows you to create educational content related to plumbing. For instance, you can share DIY tutorials, tips, troubleshooting guides, and other informative videos to help people with plumbing issues. This is another way to attract a loyal audience and gain new customers.
Search engine visibility: YouTube videos often appear in search engine results pages (SERPs). By optimizing your YouTube videos with relevant keywords and tags, you can increase the visibility of your plumbing business in search results. This drives organic traffic to your videos and, subsequently, to your website.
Cross-platform promotion: You can share and embed YouTube videos on other platforms, including your website, blog, social media profiles, and even email newsletters. When you cross-promote your YouTube videos, you extend their reach and increase the chances of attracting new customers to your plumbing business.
3. Instagram for Plumbers
Want to appeal to younger audiences? Then you must consider trying out Instagram. Here's a look at why you should use Instagram for your plumbing business:
Highly visual platform: As a visual platform, Instagram is ideal for showcasing your plumbing work through photos and videos. For instance, you can capture before-and-after images of plumbing projects or highlight your craftsmanship.
Visual testimonials and reviews: With Instagram, you can leverage user-generated content (UGC) to gain more business. UGC includes customer testimonials and reviews. You can encourage satisfied customers to share their positive experiences with your plumbing services through posts and stories where they tag your business.

Local targeting and hashtags: Instagram lets you use location tags and relevant local hashtags. This boosts the visibility of your posts to people in your area actively searching for plumbing services.
Partnerships and collaborations: When you partner with local businesses such as interior designing firms or home improvement stores on Instagram, you reach a new-broader audience who may want to invest in your plumbing services. Collaborations include joint content creation, cross-promotions, or sponsored posts. Instagram also lets you partner with influencers in industries related to plumbing.
4. Twitter for Plumbers
Here's an interesting fact about Twitter:

Hence, you need to leverage this social media platform if you aren't already! Here's a closer look at why Twitter is a popular choice for plumbing businesses:
Real-time updates: Known for its fast-paced and real-time nature, Twitter is ideal for offering quick updates to your audience, such as discounts, promotions, last-minute availability, or emergency services. This can be particularly useful in the plumbing industry, where timely responses and communication are essential.
Developing a local presence: Twitter enables you to connect with local people and businesses. When you engage with local influencers, organizations, or community groups, you enhance your visibility within the local community. This results in collaborations, referrals, and recommendations, thereby helping you establish a strong local presence for your plumbing business.
Tracking industry trends and news: Twitter offers the latest news, trends, and innovations in the plumbing industry. You can gain insights into emerging technologies, new regulations, and industry events by following relevant industry accounts and industry-specific hashtags. This knowledge is vital for enhancing your services and staying ahead of your rivals.
5. Nextdoor for Plumbers
Nextdoor allows users to initiate discussions about local services, keep tabs on their preferred providers, and seek recommendations. This platform is ideal for plumbers looking to engage with local residents and other nearby entities. By establishing a profile on Nextdoor, you can enhance your plumbing service's visibility and reach within your local community
6. LinkedIn for Plumbers
LinkedIn is a vital platform for plumbing businesses to establish a presence on. This is because:
Professional networking: LinkedIn enables you to connect with other professionals in the industry. These include contractors, architects, builders, and property managers. Building a network of industry contacts can lead to collaborations, referrals, and potential business partnerships that benefit your plumbing business.
B2B opportunities: LinkedIn is a particularly effective platform for business-to-business (B2B) interactions. If your plumbing business offers services to commercial clients or works with other businesses in the construction industry, LinkedIn can be a valuable tool for reaching decision-makers and establishing relationships with potential clients.
Industry-specific groups and discussions: LinkedIn has numerous industry-specific groups and forums where professionals in the plumbing and construction industries discuss industry trends, challenges, and best practices. Engaging in these groups can provide valuable insights and networking opportunities, which, in turn, can help bring you more business.
7. Pinterest for Plumbers
Pinterest is a highly popular platform among plumbing businesses because of the following reasons:
Showcasing work: Plumbers can create a Pinterest account to demonstrate their skills and showcase their previous projects. They can create boards dedicated to different types of plumbing work, such as bathroom installations, pipe repairs, or water heater installations. The benefit of it all? You attract prospective clients when you share visually appealing images of your work.
DIY tutorials and tips: Many homeowners use Pinterest to search for do-it-yourself (DIY) projects and home improvement tips. You can create boards with DIY plumbing tutorials and helpful tips for common plumbing issues to leverage this opportunity. Doing so increases brand awareness, with more and more people approaching you for your services.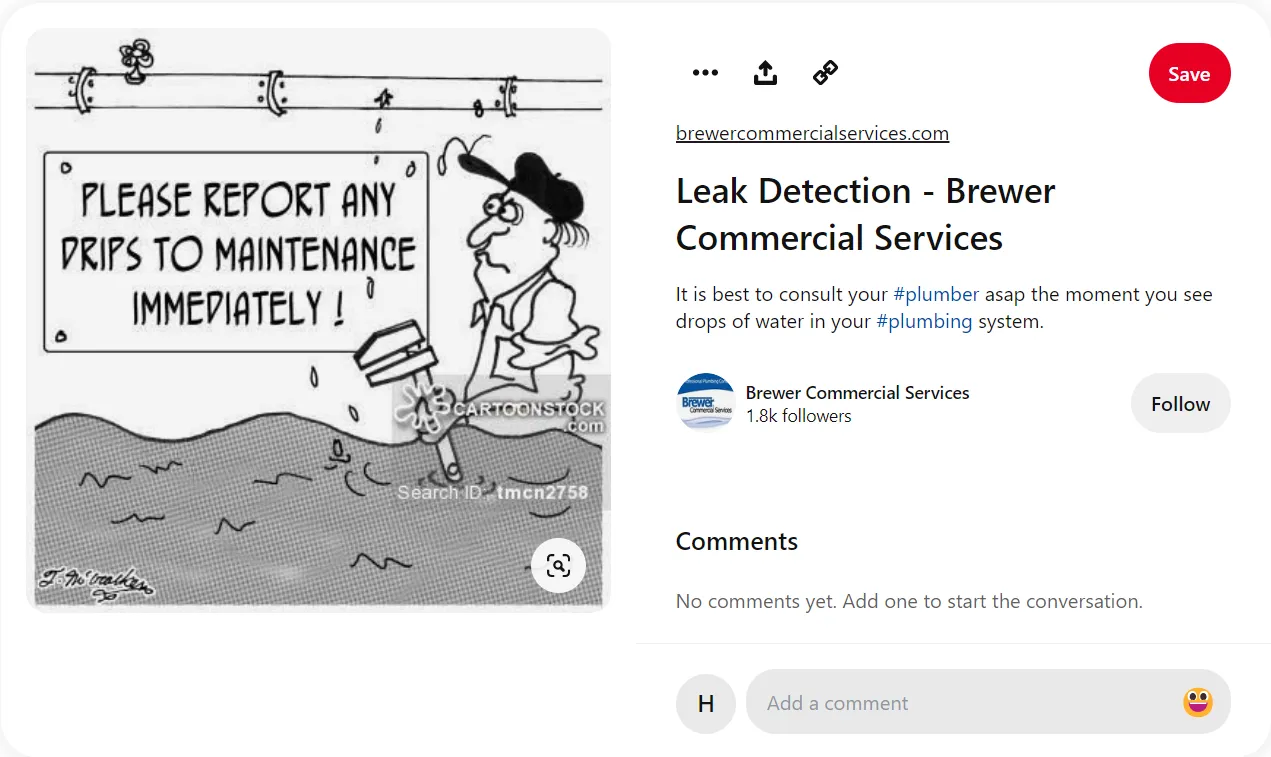 See how Brewer Commercial Service provides tips on Pinterest in the form of engaging visual imagery | Source
Next up:
Let's look at different social media post ideas to promote your plumbing business effectively. Let's begin:
8 Engaging Social Media Post Ideas for Plumbers
Here are some must-try social media post ideas for plumbers:
1. Share Relevant Content in Your Domain
A timeless post idea is sharing content related to your industry. Share interesting content pieces about plumbing facts, issues, advancements, and also humor-filled images about plumbing mishaps. You can also share a step-by-step guide for handling a plumbing emergency, or a guide indicating when it's time to contact a plumber.
For instance, a plumbing company could share a blog post about the importance of regular drain cleaning or a fun infographic about the history of plumbing or the example below where a plumbing business shares an easy tip that can help prevent a future plumbing issue.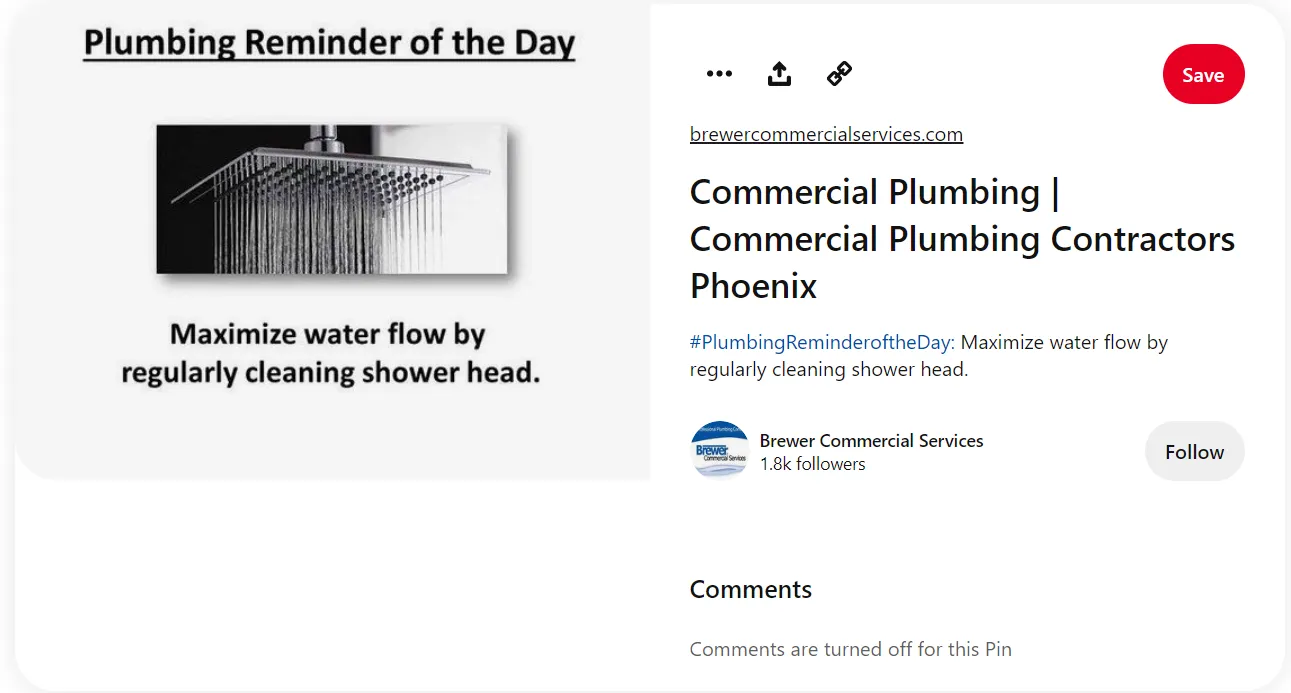 2. Demonstrate Your Expertise and Share Advice
Social media provides an ideal platform for you to flaunt your expertise in your niche and offer valuable advice.
For instance, you can offer easy-to-execute tips for your social media audience to handle simple plumbing issues. Also, be on the lookout for any complaints your followers post about their plumbing issues on social media and try to resolve them quickly and empathetically. By offering expert advice and tips, you position yourself as a helpful, proactive plumber.
A great example of this is Charlie Mullins, CEO of Pimlico Plumbers, who uses social media as an essential PR and marketing tool for his brand.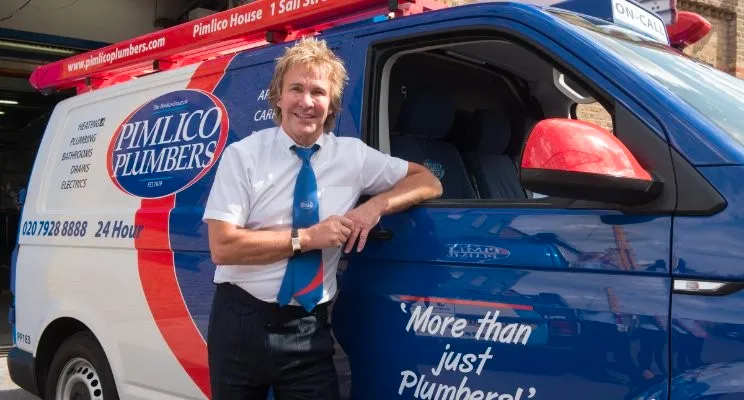 He shares tips, interacts with customers, and keeps them updated about the company's changes and promotions source.
3. Post About Causes That Matter to You
Another valuable social media post idea is sharing content about causes that are relevant to your local community or business. This gives you a chance to establish a dialogue with your audience and helps you make a positive impact.
For example, a plumbing company could share posts about water conservation efforts or initiatives to provide clean water in developing countries. This not only shows the company's commitment to social causes but also resonates with customers who share similar values.
4. Show Off Your Work
Are you working on an exciting project? If yes, then it's time to show some pictures!
Showcasing your work on social media can be a powerful way to demonstrate your skills and build trust with your audience.
For instance, Roto-Rooter, a well-known plumbing company, regularly shares images and videos of their work on Instagram.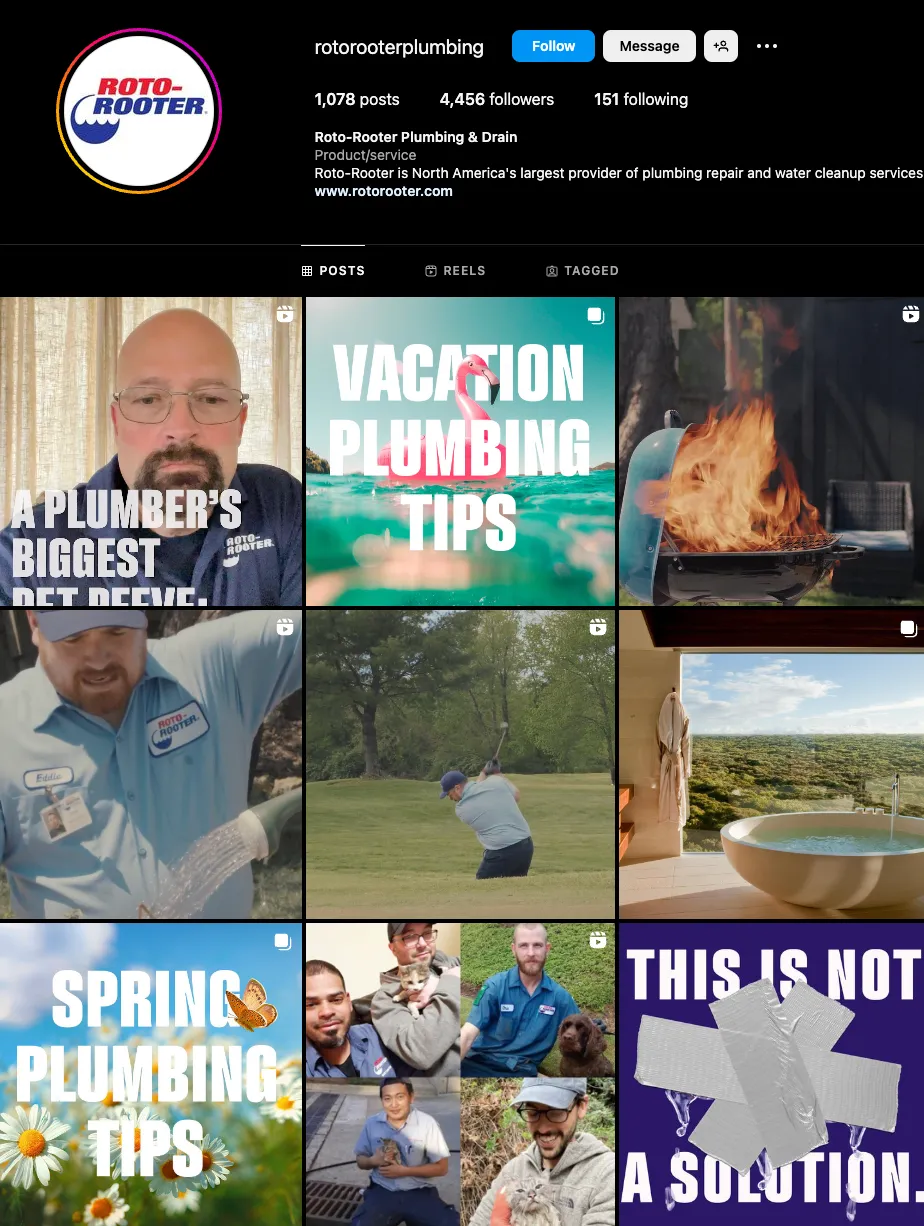 They post before-and-after photos of their projects, giving potential customers a clear idea of the quality of their work. Remember to always ask for your customer's permission before posting a project you worked on for them.
5. Share Informational Articles
While looking for interactive post ideas, always think about what your audience will find useful!
Share original or curated posts on plumbing, home repair, and other relevant domains. This keeps your followers hooked and coming back for more.
For example, Mr. Rooter Plumbing maintains a blog where they share articles on various plumbing topics. They then share these articles on their social media platforms, providing valuable information to their followers and driving traffic back to their website.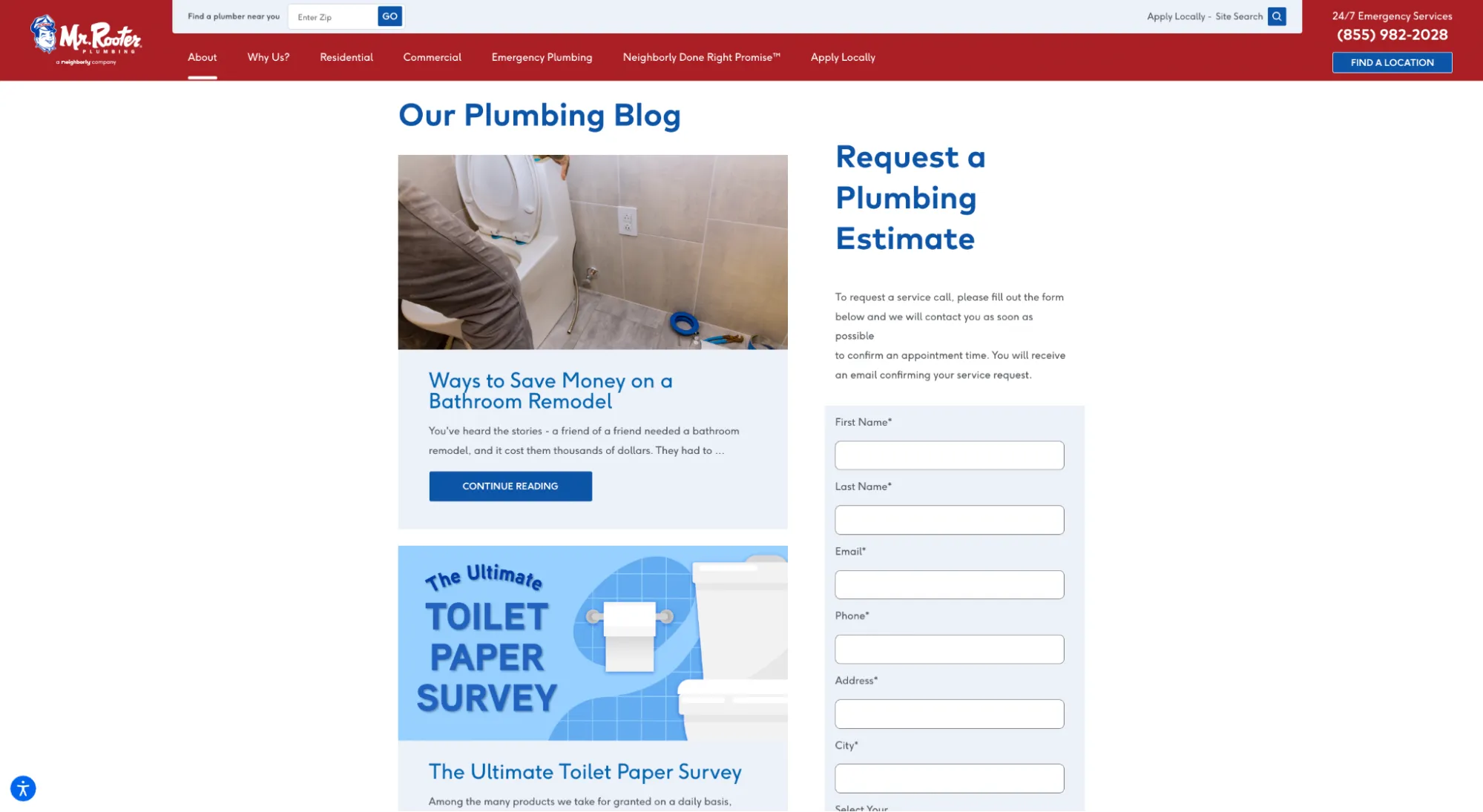 6. Share a DIY Video
Do you know what else will be fun and exciting for your audience to watch?
DIY videos of how to carry out simple plumbing-related fixes. In fact, per the latest Instagram usage stats, videos get 21.2% more engagement than images. So, leveraging DIY videos will help maintain a rock-solid presence for plumbers on social media.
DIY videos can be a surefire to boost engagement on your posts. For instance, This Old House, although not exclusively a plumbing company, shares DIY videos on a variety of home repair topics, including plumbing.
Their playlist on Plumbing Repairs and Upragdes has millions of views on YouTube, demonstrating the popularity of this type of content.
7. Highlight Customer Testimonials
Customer testimonials can be a powerful way to build trust and credibility with your audience. Ask satisfied customers if they will provide a testimonial about their positive experience with your services. When they do so, share them as eye-catching graphics (use Canva) on your social channels. However, always ask for permission before sharing a customer's testimonial.
8. Share Behind-the-Scenes Posts
When a business shares behind-the-scenes posts on social media, it offers a glimpse into its day-to-day activities. This, in turn, allows their followers to connect with them more personally.
Some ideas for behind-the-scenes content include visually-appealing shots of your team working on projects, unique plumbing challenges, before-and-after transformations, or even glimpses of your daily operations.
You can also show your team hard at work! Showcasing the professionalism and expertise of your team will help you attract potential customers. Look at how ClearWater Plumbers show their team going through training where they learn new techniques to serve their customers better.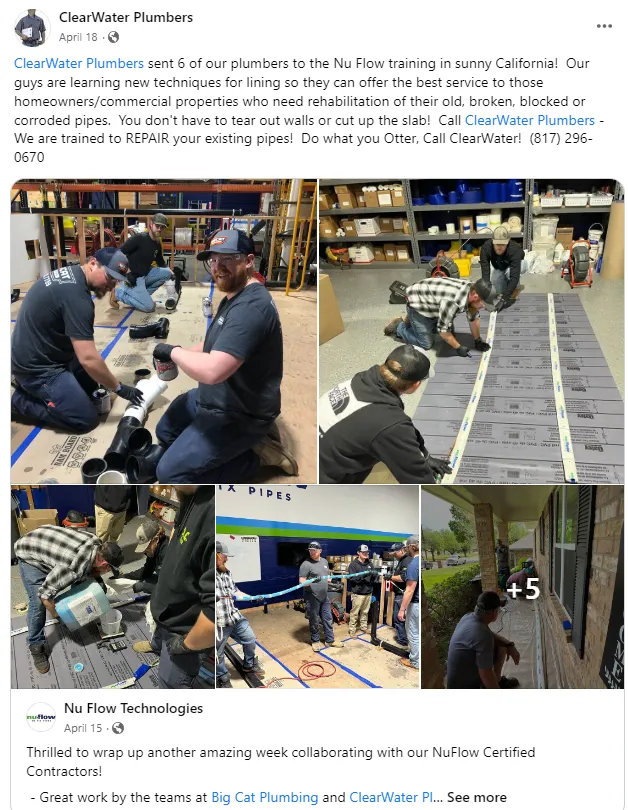 What Social Media Tactics Plumbers Can Use?
To maximize your social media efforts, you need to follow certain tactics. We have highlighted the key ones below: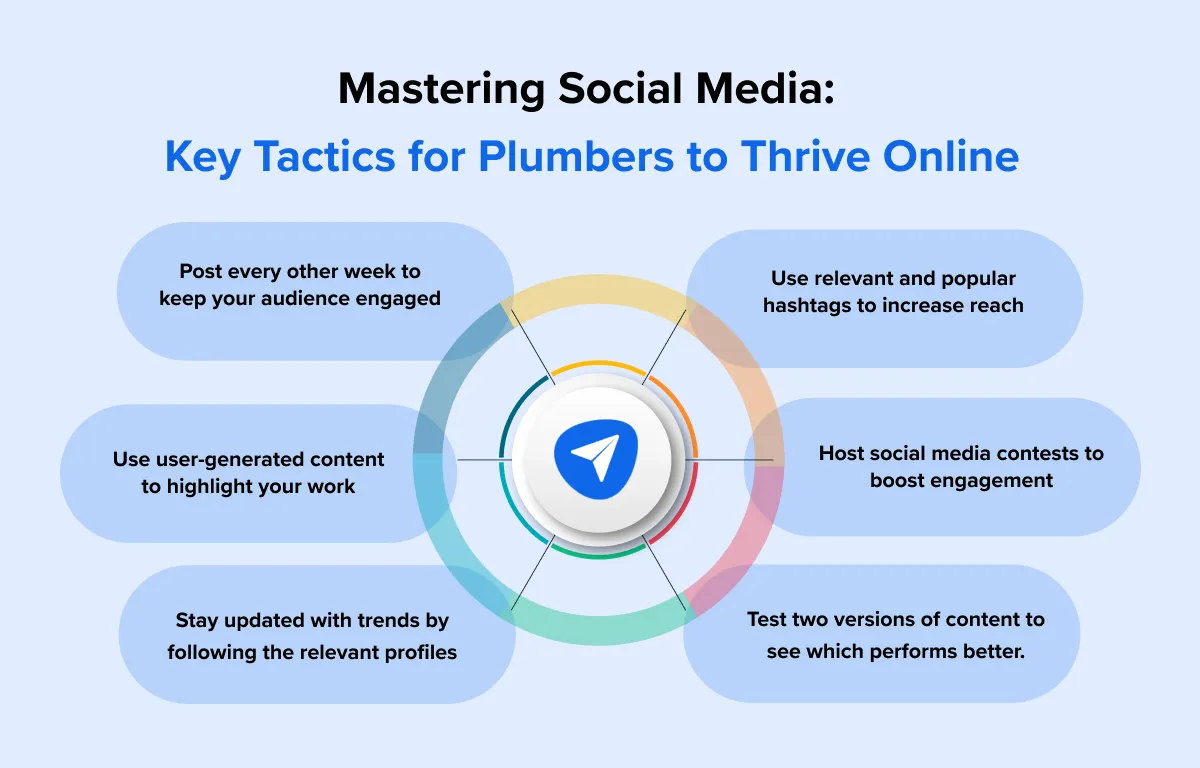 Do you have a collection of tailor-made, free social media post templates for your plumbing business to quickly and easily create engaging social posts?
At Socialpilot, we have created a pack of attractive templates that plumbers can use – completely customizable in Canva and free to download! After you download these templates for your business, all you need to do is add your logo and make any other changes you require as per your needs. That's it!
You can download them here:
Free Social Media Templates for Plumbers
Easily create posts to promote your plumbing business!
SocialPilot: The Ultimate Tool for Plumbers' Social Media Marketing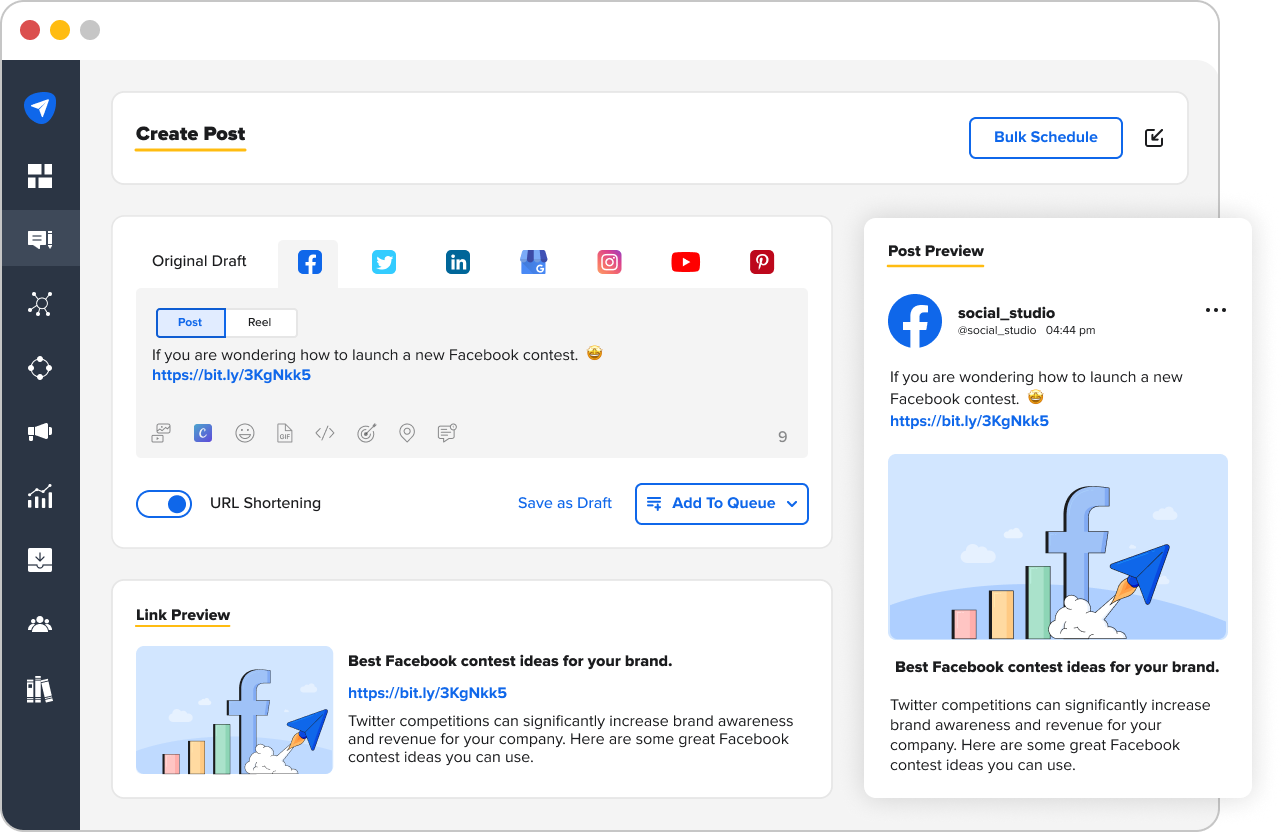 What if we told you some tools could help you manage your plumbing business social media presence far better?
For robust social media management, SocialPilot is the tool of choice for plumbing businesses and marketing agencies managing multiple accounts for plumbing businesses.
Don't believe us?
Take a look at some of the amazing features you get if you decide to go for this tool:
Scheduling and Publishing: The tool allows you to schedule and publish your social media content across all key social media platforms. This way, you can easily expand your business's reach and get it noticed by potential customers quickly and effectively. To personalize your posts, you can add videos, images, emojis, GIFs, mentions, custom fields, and hashtags.
Analytics: SocialPilot gives you a picture of your social media account's performance so that you can analyze and make any adjustments if needed.
Social Inbox: The tool offers an effective Social Inbox where you can easily reply to conversations with your target audience on social media.
Collaboration: The tool allows you to increase your team's efficiency by inviting team members and clients for collaboration on specific accounts.
Conclusion
In conclusion, plumbing businesses can definitely rely on major social media platforms to promote their services. This allows them to connect with their target audience, boost awareness, and drive business growth.
So, what are you waiting for?
Now that you are armed with the right information, tips, and post ideas discussed in this blog, harness the potential of platforms like Facebook, Instagram, Twitter, and LinkedIn for your plumbing business! And don't forget to make handling social media easier by signing up for SocialPilot today!