If you're in marketing, you know that word of mouth is a powerful force. Customers are much more likely to buy from you if someone trustworthy (friends, relatives, etc.) recommend your products, according to study.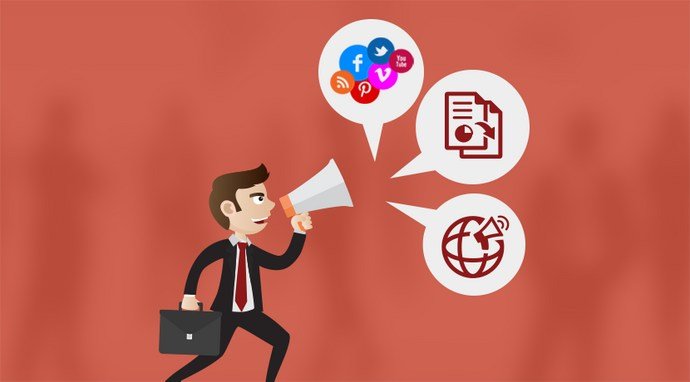 Social media influencers are selling more than ever, thanks to inspired online campaigns.
How to Find Social Media Influencers
The "Nick Offerman's 'Yule Log' video for endorsing Lagavulin whiskey, and the team-up of DJ Khaled and Stride Gum for Snapchat, amongst others, are proof of this. Here's how you too can capture the magic of social media influencers for yourself.
1. The Role of Social Media in Marketing
It's no secret that social media is vital to marketers in this day and age. Every business is trying to get out there on social media accounts, getting the word out about what they do and gathering new followers and customers. It's possibly the largest captive audience you'll ever have.
Marketing director Fiona Dunne from Resumention says, "We see a good percentage of our business come in from sites like Facebook. Customers want to get in touch with you in a way that suits them. It also allows them to see what we can do for them before they choose to buy from us." It's clear that making a good impression on social media is important, as customers will listen to what others have to say on social media before they make purchasing decisions.
Of course, there are problems with using social media marketing to attract a target audience. It's a huge audience.
But here's the kicker:
You're competing against an equally huge number of companies who also want their attention. Many smaller businesses get lost under the deluge of marketing that's coming from elsewhere. As well as this, you have to be creating excellent content every few days, if not daily, to be properly interacting with your audience. This is where a social media influencers can come in. Social media influencer marketing is creating ripples in advertising and marketing landscape owing to its affordability and impact.
2. How Social Media Influencers Have Changed Advertising
There have been huge shifts in how social media is used in advertising, thanks to the way that influencers use the medium. One of the most famous clans in the world, the Kardashians, are famous for using social media to promote brands. They tend to promote through Instagram, where they can show themselves using the products in question. As they've got such huge follower bases, their advertising is something that every company wants for themselves.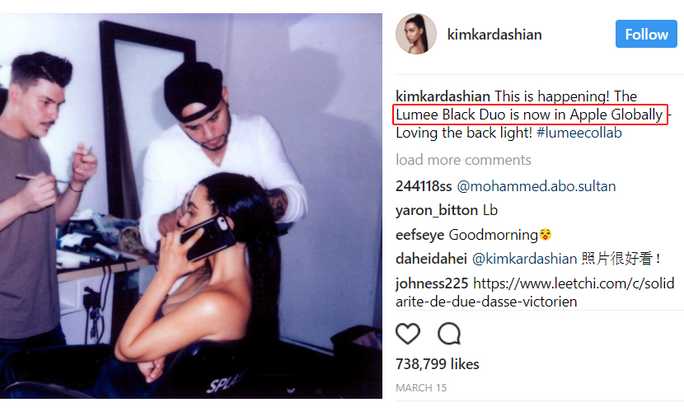 See how Kim Kardarshian promoted the "Lumee Black Duo iPhone Case" on Instagram.
This is true of Estee Lauder as well, who used Kendall Jenner to promote their line of makeup and skincare products. They were aiming to connect with a more youthful audience and found success with Kendall's fan base.
Another example of social media influencers who perform well are family accounts. These influencers are promoting a family way of life, and are interested in putting themselves forward as an example of the happy and healthy modern family. That's why they're so popular with promoters. For example, Hallmark turned to them in order to sell their customized Keepsake ornaments.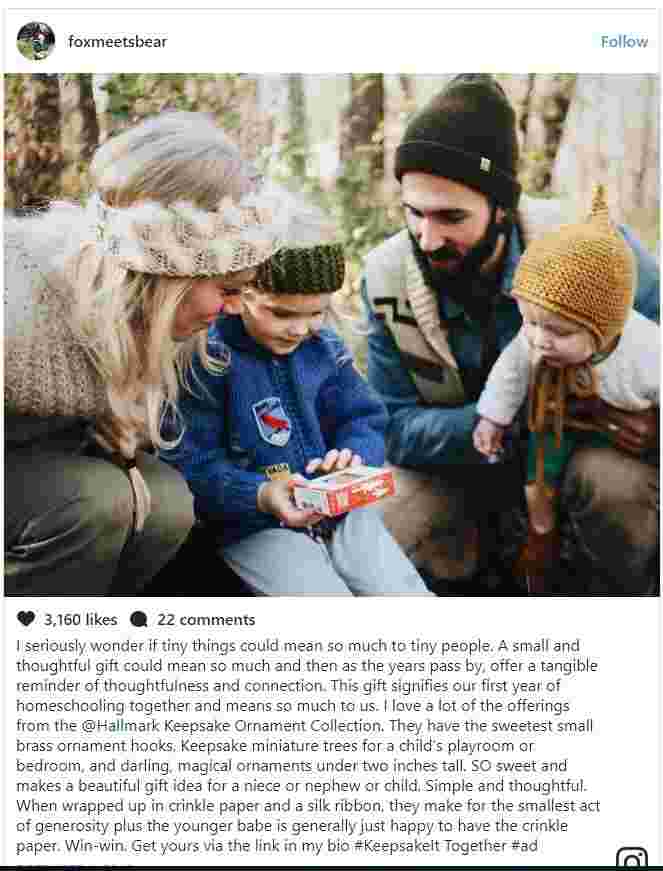 Social media influencers were asked to share their own personal Christmas family traditions, as well as show themselves receiving the Keepsake trinkets.
Of course, your influencer doesn't have to be a huge name to get the word out there. Ordinary people will also do the fine job. Just like the way, cosmetics company Glossier is interested in getting their message out to 'ordinary' women, and so use micro influencers. Their program allows women to sign up with them and start recommending their products, by displaying their profile on the Glossier website.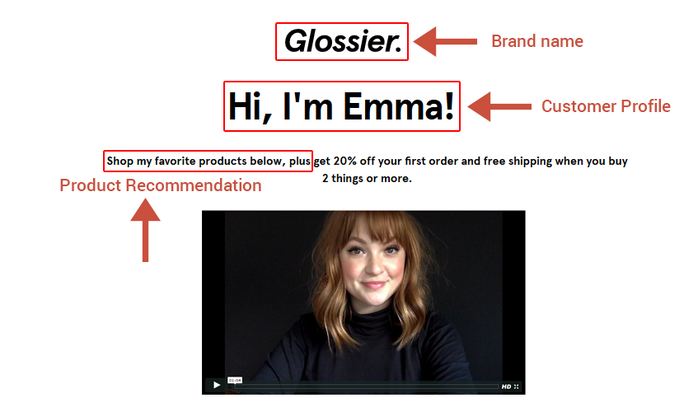 They've seen a lot of success with this, now becoming a cult favourite with makeup fans.
Look:
The best way to get your name out there is to find an social media influencer who lines up with your intended audience. You don't even need an influencer with Kardashian level to get what you need from them.
3. Benefits of using social media influencers to share your content
So, why should you be using social media influencers? Here are a few reasons why:
Extend your reach:
If you find the right influencer for you, you'll find that you can extend your reach by a considerable amount. This does mean you'll need to do your research and find an influencer who has a fan base that could be interested in your product. For example, if you were looking to market Big Assignments, a writing service, you need to find the right influencer. In this case, it will be someone who has a fan base of young people, who are either in high school or college.
Boost your credibility:
Many companies are now sending their products to influencers to be reviewed online, with the understanding that they will be honest about what they think. Followers expect honesty from the people they follow, so if they like your product, they know that they're genuine. It boosts your credibility as a company and encourages them to buy from you themselves.
Improve your search ranking:
Getting seen on Google is more important, but more difficult than ever before. If you're piggybacking on the popularity of a social media influencer, then you'll get a good boost in your rankings. Work hard on retaining those new customers, and you can keep that high going for as long as possible.
4. 3 ways you can incorporate influencer marketing
Ok, so you've decided that using influencer marketing will be the way to go for your company. Now, you'll have to think about how you'll use social media influencers to spread the word. One way is to hire an influencer marketing agency. But if you would like to DIY it then, there are three ways you can use their influence, depending on what you need from them. Here's what you can choose from:
1. Have them share your existing content:
You'll already be creating your own content, either in house or through a writing service. These posts will have been well crafted, and just need to be put in front of a bigger audience. That's where the social media influencer comes in. They'll share your selected posts with their audience, who should then come to you and start checking out what else you can offer.
2. Send items for review:
As mentioned earlier, if you sell physical products, you can send them to an influencer to review on their own channels. This is often used with popular Youtube stars, especially those who focus on makeup and beauty, as they can display how a product is used and what the benefits are for the customer. Before you do this, ensure that the influencer is agreeable to receiving items for this purpose. Also, ensure that your products will be something that your audience will be interested in.
3. Work together:
A social media influencer would like to know the reward for promoting your business. In many cases, it'll be the products you give them or the payment you agree upon. However, many influencers will work with you for a mutually beneficial cause. For example, say you're a charity that needs to raise awareness.
You can ask an social media influencer to get involved with your work by documenting a visit to your headquarters or getting involved with your volunteers for a day. They will be given exposure that shows them in a good light, and you'll get exposure with their fans, who will then get involved with your charity.
5. How to approach influencers to help you
As you can see, there are lots of ways in which influencers can help you. Now, you just need to find out the right ones. This is a vital job that you can't skip, as if you pick the wrong influencer, you can be spending a lot of time and money to get nowhere at all.
Firstly, you need to look into three factors:
Who's talking about your products and your industry online?
Who's interested in what you have to offer?
Who has a fan base that will be interested?
This blog of Neil Patel has a lot of ideas for how you can find these influencers.
Take a look at the websites that these influencers are going to frequently, and sharing from. What kind of content are they sharing? What's the topic that they're most interested in? This can inform you how to create shareable content.
Once you know who you want to target, it's just a matter of getting in touch with them. You can simply ask for shares of your content if you think that is the best way forward for you. This may feel odd to simply email a social media influencer and ask, but more often than not they'll be happy to work with you. They need content too, so sharing yours will help them out.
You can also begin a collaborative relationship with them. Talk to them about the ideas they have, and listen to what they have to say. You'll be able to come up with new and exciting campaigns that you may not have been able to do on your own.
Once you've done the initial work, you can then build up a relationship with your influencer. You can work together over time, to promote your brand and give content to influencer content for sharing. This relationship is a fantastic working partnership, as you're both getting something you need out of it.
Wrap Up
As you can see, there's a lot to consider when looking into using social media influencers. When used well, these campaigns have a huge payoff and can help you promote or even launch your brand. If you want to succeed though, you need to put in the work. Do your research, and find the influencers that have an audience you could reach with your message.
If you have a different set of ideas regarding social influencer marketing that you think should be there on the list, must share the same in the comment section below. We would love to implement your ideas.