The best-laid plans of mice and men often go awry.
Quoting Burns won't help you get away with not having a well-thought-out content plan, of which a content calendar is a centerpiece.
We all know by now that companies which publish more than 16 posts a month generate 3.5 times more traffic than those which publish less than 4.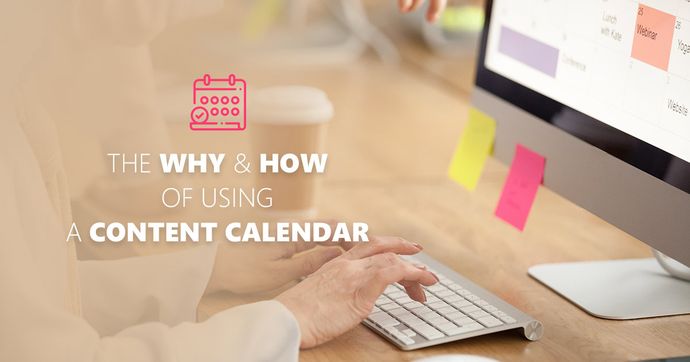 It takes a considerable amount of time to produce 16 well-researched and valuable pieces of content a month, and it's virtually impossible to do that if you don't have at least some kind of strategy.
And oddly enough, 63% of businesses don't have a documented strategy, which means they resort to an ad-lib approach and come up with the topics they will cover on the fly.
While the impromptu technique is good for other business areas, content marketing depends on consistency and high quality, and that can't be achieved without some strategic planning.
Need for a Social Media Content Calendar
A content calendar is a schedule which helps you organize your upcoming content by detailing what and when you will post.
With this document in place, you'll spare yourself the terror of coming up with the topic right before it's time to get down to work and write your next blog post as the deadline is looming large on the horizon.
Some of the main benefits of building and maintaining a content calendar include:
1. Keeps you organized and on track
Scribbling your content topics on crumpled pieces of paper, post-it notes, and in random notebooks isn't a particularly reliable method.
Also, it's not unlikely to drift away from what's really important when you have so many ideas and things to think about.
Your content calendar will give you a better perspective of your overall marketing strategy – you'll be able to align your blog post topics with your social media and email marketing content.
Besides, it will help you notice content gaps, that is, whether you're focusing too much on a particular topic while almost completely neglecting another one, and prevent you from missing the mark (or a deadline!) with your content.
2. Excellent for brainstorming
When you start organizing your content topics together with your team, chances are that some of you will have a surge of creativity which will generate new ideas.
By monitoring and analyzing your audience's engagement and feedback, you'll gain valuable insights into their preferences which you can later apply to your content and adjust it accordingly.
3. Helps maintaining consistency
The 3 Cs of content marketing might as well be consistency, consistency, and consistency. The key to always being on your audience's radar is offering them educational, relevant, and entertaining content day after day.
Irregular posting leads to an out-of-sight-out-of-mind kind of scenario no matter how much your audience likes your writing efforts.
You can make use of a social media calendar tool to keep things in check.
4. Helps keep your audience engaged
It's true that sometimes you can wing it, but that's not a method that will work in the long-term. When you're in a hurry to publish something, you might fail to notice that you already discussed that topic two or three weeks ago.
Similarly, randomly picked topics that don't resonate with your audience also hurt your engagement.
A content calendar will allow you to spot such blunders and always publish fresh and relevant content.
5. Crucial for staying in the know
With such a hectic daily routine, it's very easy for some important dates to slip your mind. You don't have to memorize every holiday and be aware that tomorrow is, say, Canadian Thanksgiving Day.
Your content calendar, which is planned at least a month in advance, will inform you about that in time to prepare blog, social media, and promo posts and stay ahead of the curve.
Needless to say, this approach reduces stress and allows you to take your time and craft the best possible blog post for the occasion instead of whipping something up at the last minute.
6. Provides visibility across departments
Successful companies have their sales and marketing aligned. Stats say that when working together, these two departments can close 67% more deals.
A content calendar is a highly useful resource which will keep all your teams on the same page. Your sales team can see what the marketing people have planned and give them tips on how to address their audience's pain points more precisely.
Also, the executives can take a quick look and see whether the planned activities support the overall marketing plan.
This transparency is essential for honing your content strategy and better communication among teams.
7. Helps plan your social media marketing
Content and social media marketing are intrinsically connected.
A social media content calendar can help you identify your successful content pieces and use them in your paid social media advertising.
Since you're already promoting your e-books, reports, infographics, whitepapers, and other valuable content organically on social media channels, it's a good idea to pick your best performing organic content, put your money where your mouth is, and use Facebook Ads, Instagram Ads, or LinkedIn Sponsored Content to get your message across to your audience.
Given that organic reach on Facebook took a nosedive, meaning that your Business Page reaches less than 6% of your followers, it's more than evident why paid advertising is a must.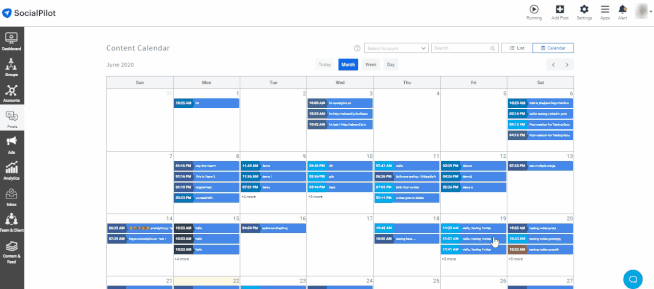 8. Keep track of your performance.
Measuring the effectiveness and success of your content and overall marketing efforts is possible only if you track your metrics.
Also, establishing certain benchmarks is necessary. By keeping an eye on these numbers, you'll be able to tweak and fine-tune your content and give your audience what they need and want.
It's worth noting that many renowned digital marketing agencies recommend building a content calendar and if you take a look at their websites, blogs, and social media channels, you can conclude that they have one themselves.
What should your Social Media Content Calendar include?
Now that you know all the reasons why you need a content calendar, we can move to an even more important issue – how to build it properly.
There are numerous approaches that you can use, and here you'll find out what some of the most important elements of an effective editorial calendar are.
1. Crafting a relevant headline
When you have written your headline, you have spent eighty cents of your dollar, said David Ogilvy.
So, you'd better make your headlines shine if you want your audience to even consider reading the rest of your blog post.
During the early stages of content development, you can use a general topic to label that specific entry on your calendar, but when you start working on a particular piece, make sure to give your title/headline a careful consideration.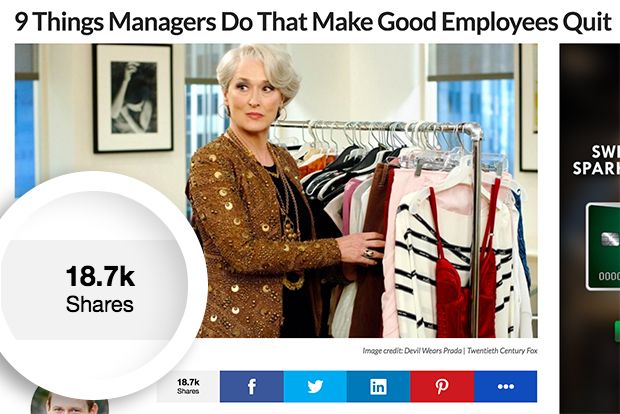 This blog post got more than 18,000 social shares. The headline has all elements of a great headline – it's in a list format (which also makes the post easily scannable), and it evokes an emotion (anxiety, surprise or fear).
It's a good idea to use a social media content curation tool to find what the most popular content on the internet and social media, and get inspiration for your main headline.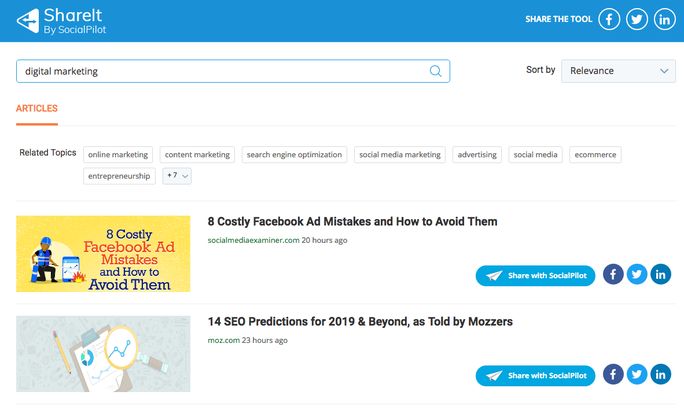 2. Picking the best publish dates
This is a critical piece of information, so make sure to set realistic expectations and stick to your plan.
Every time you extend your deadline you miss out on generating new leads and conversions.
Of course, we're all tempted to improve our content and tweak it additionally, and this date will help you speed up the process and avoid getting caught in the web of perfectionism.
Since you're going to promote your content on social media, it's crucial to learn what the best days and times for posting on every particular platform are. This step plays a vital role in whether your latest blog post or infographic will be noticed by the right people.
At SocialPilot, we have created some useful reads to help you find the best time to post on different social media platforms and seizing the window of opportunity to show and engage your audience.
3. Decide on the type of content
Gone are the days when text was enough to spark the interest of your audience.
Now you have to be more creative and use different content types.
According to Cisco, video traffic will account for 82% of all business and consumer traffic by 2022.
In a similar vein, infographics are three times more liked and shared on social media than any other type of content.
So, if you want to entice your audience, make some room to mix different types of content in your content calendar.
Include long-form content, short-form content, visual content, webinars, podcasts, e-books, and presentations.
Each of these formats serves a particular purpose.
For example, longer posts with more than 2,000 can be structured as useful how-to guides. A research study of more than 1 million Google search results concluded that the average word count of a first-page result is 1,890.
Webinars are excellent lead magnets, while short posts can inform your audience about new and upcoming features or the latest news from the industry.
4. Include a CTA
Every piece of content should have a call-to-action which will entice your audience to take the desired action and convert.
If you don't have a CTA in your blog post, infographic, or video, you're wasting numerous business opportunities and losing profit.
It's important to include every CTA you plan to use with a particular piece of content because that way you'll have a clear overview of your marketing efforts, which will help you determine whether your individual posts and activities are aligned with your overall marketing strategy.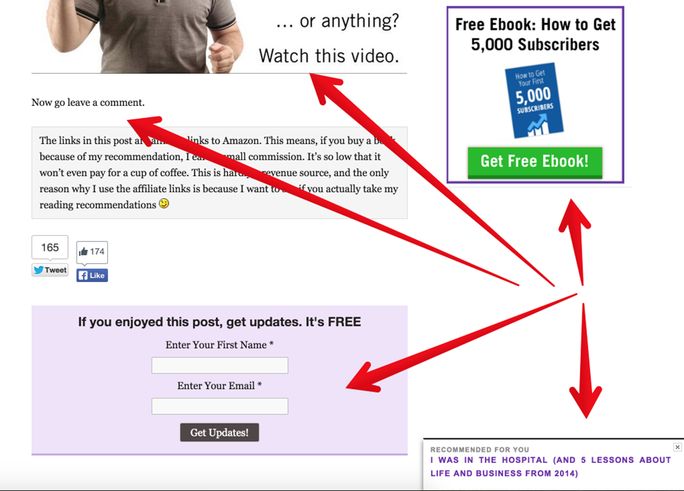 5. Assign tracking codes
Content creation takes time, and you need to find a way to keep tabs on how the process is progressing.
You can use different labels to track your content – in progress, completed, proofreading, and scheduled to be published, for example.
Using colors can be very helpful as it allows you to communicate different stages of the creation process. This method is great because everyone involved can see whether things are going smoothly and spot potential bottlenecks at a glance.
6. Establish who's in charge
A member of your team should be responsible for ensuring that the content is completed and published according to the predefined timeline.
This is usually the task of a content manager, but in case there's no such position in your company, the writer could do it.
Conclusion
Creating content is fun, but if you want to do it properly, you won't get away with an ad-hoc, on-the-go approach.
Brainstorming a couple of ideas on the day you're about to write your next blog post simply isn't going to cut it. Moreover, it can hurt your content marketing in the long run.
The key to success lies in aligning your every piece of content with your overall marketing and branding strategy, as well as creating a consistent schedule, and for that, you need a detailed and itemized content calendar.
Maybe all this seems like a lot of work, but once you get around to it, you'll actually save yourself (and your team) a lot of time, energy, and trouble.
A content calendar can do wonders for growing your blog, producing top-quality content, and distributing it successfully.

Frequently Asked Questions
🌟 What is a social media content calendar?
+
🌟 Why is a content calendar important?
+