Even if they are interesting, simply uploading videos on YouTube isn't enough nowadays to catch and keep active, loyal subscribers. Social media advances have resulted in people spending considerable time on their phones. SNS (social networking services, a.k.a. social media) take up to 145 minutes of each Internet user's time.
Your goal as a creator is to grow an audience and ensure users spend as much time on your channel as possible. For that, you need to build a YouTube Community.
How to do it? What to start with? How to engage people and keep them interested?
I'll try to answer all these questions while enriching your strategy with 13 easy yet effective recommendations.
Building Your YouTube Community Vs. Growing Your Channel
First of all, let's clarify the terms.
Growing your channel is:
Creating new engaging content
Researching your target audience and tailoring the content to it
Promoting and encouraging people to subscribe
Building a YouTube Community is:
Building relationships with viewers
Making people actively engage with your content
Making them genuinely interested in your content
Encouraging them to take focus actions like visiting your site, purchasing products, etc.
What Is the YouTube Community Tab?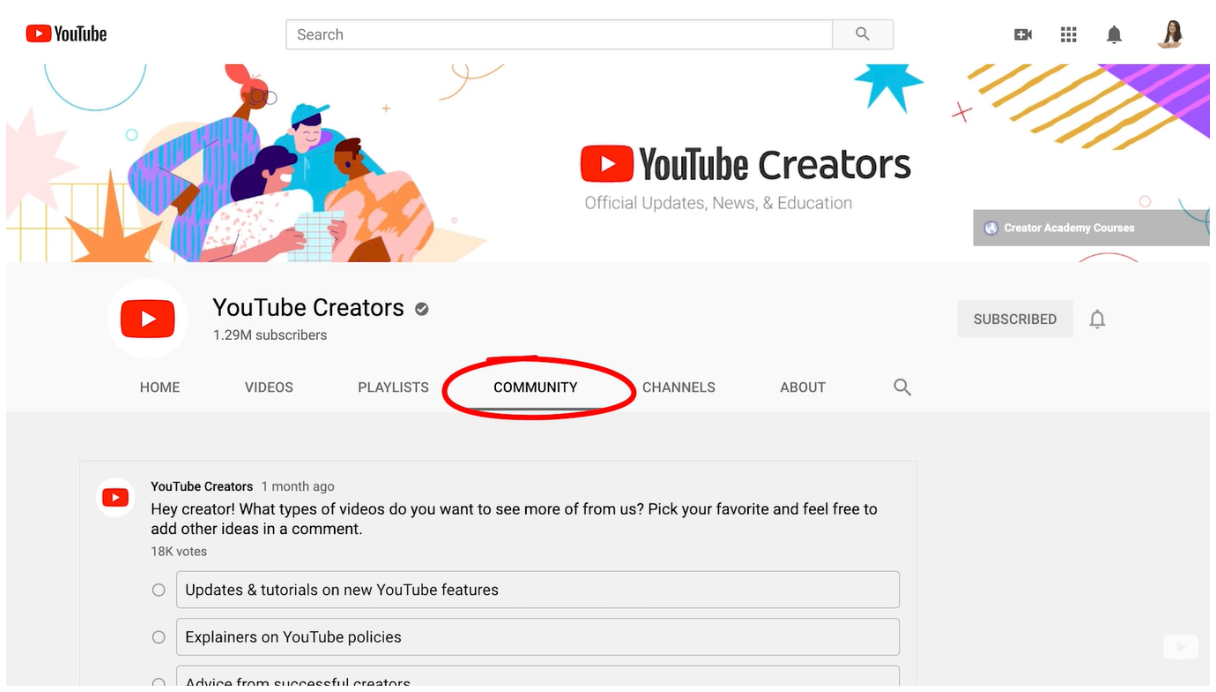 The YouTube Community Tab is a channel component designed to help creators engage with their audience beyond the videos.
You can share polls, posts about channel updates, announcements, and images so users can interact through likes and comments.
Any creator with 500+ subscribers can post using the Community Tab.
The tab allows people to see content from various channels, even ones they aren't subscribed to. The tab is available on the homepage or via a certain channel.
The algorithm is pretty simple, and it will make you want to post more:
If a viewer in the community likes or comments on your post, they will see more of your content in their feed.
Now that you have a better understanding of a YouTube Community, here are the best 13 tips and hacks to help you create and grow an active, exciting YouTube Community within your channel.
1. A Healthy Balance Between Promotional and Informational Content
Many creators on YouTube use advertisements to make money. It can be useful if an ad is native and perfectly inserted into a video.
However, stuffing your content (both Community posts and videos) and over-promoting will make your channel look like an ad board. And that's not interesting or heartfelt.
For example, a 20-minute video with 16 ad integrations is too much for the regular viewer.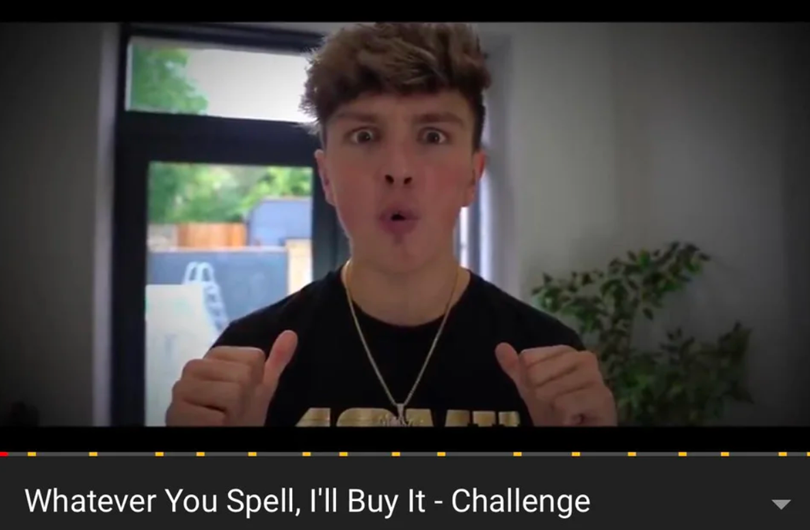 So, find the balance between promotional and informational content and keep it.
You can even ask your community about their opinions on ads and create a content strategy with the right promotion for you to monetize and for viewers to still enjoy your videos.
2. Content Optimization for Search
SEO is essential not only for search engines but for social media as well.
Within each SNS, there's a separate smaller search engine that you can optimize for. As a result, you'll pop up in search results more often, getting more views, subscribers, and community participants.
Here are some effective YouTube SEO practices:
Work on your meta titles, descriptions, and tags. Make them specific and engaging.
Use keywords in the metadata, video title, and description.
Use a keyword rank analysis tool to access the best-performing keywords, spot keyword gaps for your videos, and monitor your YouTube rankings.
Do competitor research to see where you may have gaps (pro tip: a proper digital SEO tool will help you do this in a couple of clicks).
3. Generate Excitement With Polls and Quizzes
The YouTube Community offers various features, including polls. Use them wisely to engage with the audience.
Clicking on an answer is much easier and takes less time than commenting on a post, so you'll increase engagement rates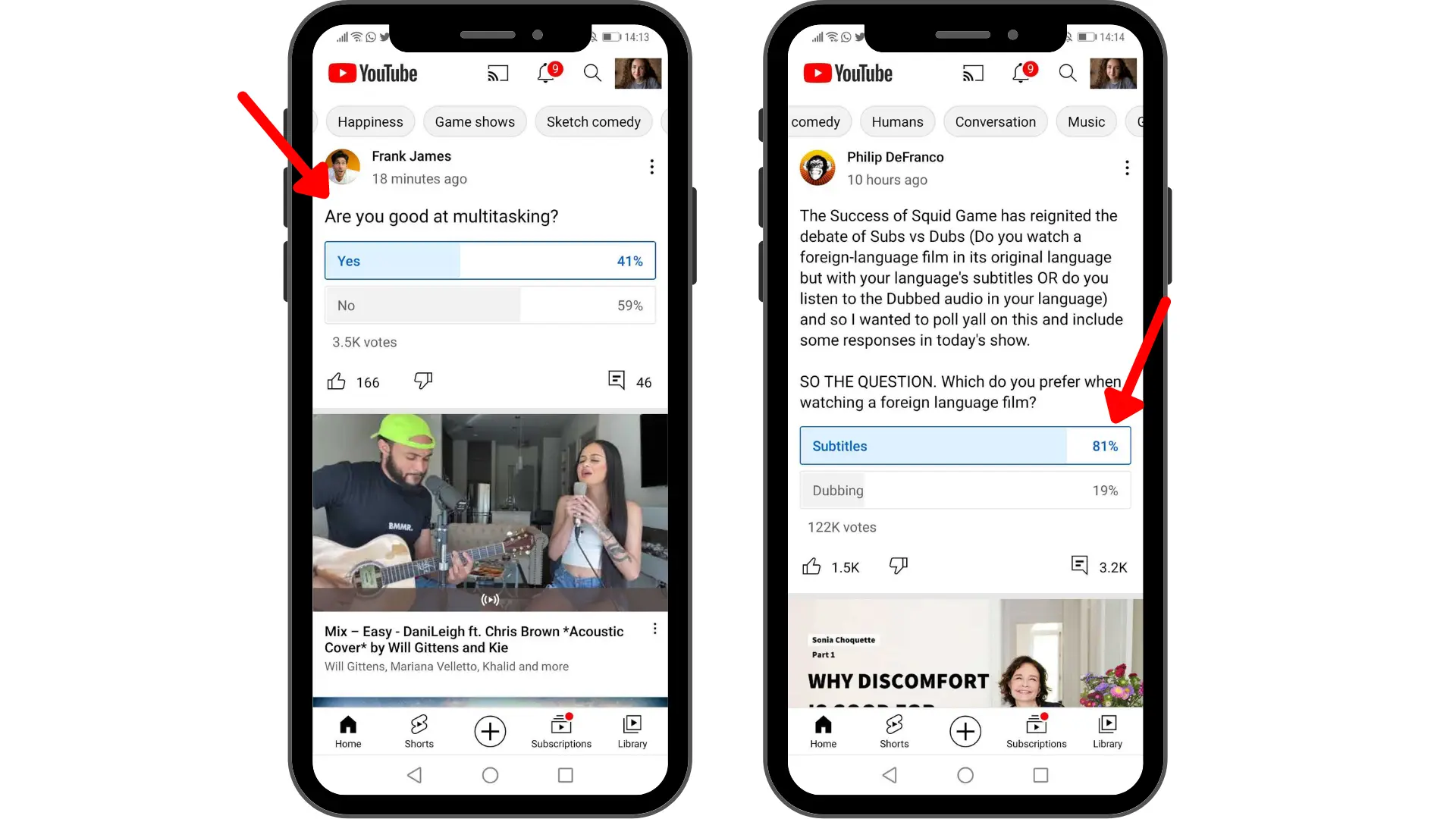 For example, before revealing the topic of your next video, create a poll where people can guess what it is. This way, you'll spike curiosity among viewers and get an idea of what people are looking forward to.
You can use the same strategy if you can't decide what topic to cover in the next piece. Sometimes it's as simple as asking your audience what they want to watch.
4. Comment Management
According to the Engaging News Project, over 50% of Americans leave online comments, and more than 77% comment and read comments on social media platforms.
These statistics show that comment management is essential for social media brand profiles.
YouTube is a powerful social platform with over 2 billion monthly visitors worldwide, which makes it a perfect place to dialogue with your audience.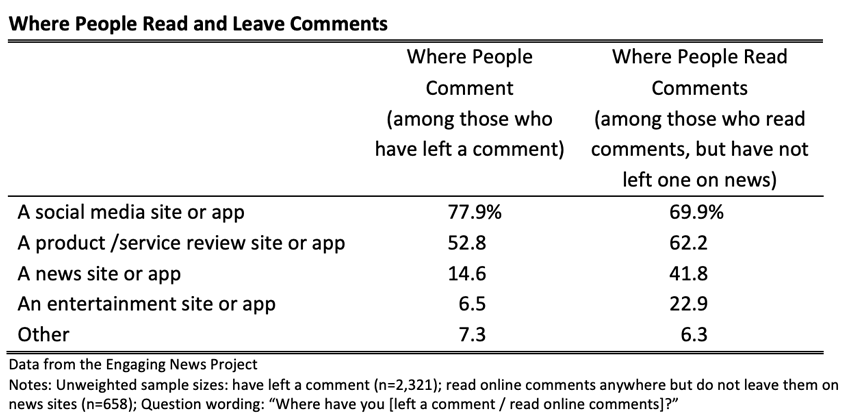 Therefore, admiring positive comments, answering customer inquiries and concerns, elucidating misunderstandings, combating misinformation, and dealing with comments' deleting and blocking is a daily routine when building a YouTube community.
As communication goes a long way in every relationship, do your best to like and respond to comments and engage with your audience in every possible way in the comments section. Doing this shows that you care about your viewers and value their opinions.
5. Pinned Comments as Discussion Drives
Pin important comments with additional information, external links, or questions to spark a discussion.
You want people to be as actively engaging with your content as possible. Let them guess, research, answer, and interact.
Pinned comments are perfect for that.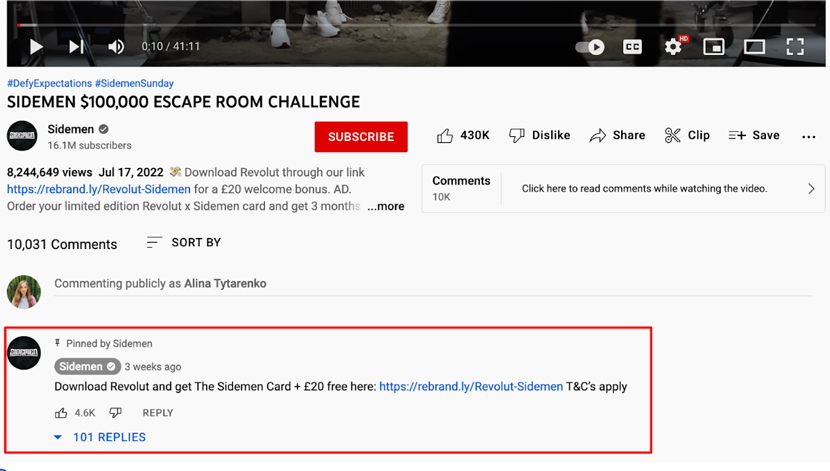 If you want to be even more creative, create a competition for the best comment to be pinned as you choose the winner. You'll engage your community and get many creative ideas and jokes there.
6. Making the Community Feel Included
Make your YouTube Community co-creators of your content. Ask for their opinions and feedback in the comments and use them when creating new videos.
This approach will give you ideas and improvements and engage people more with the finished content and upcoming pieces.
You can use a Q&A live stream feature to interact more with the audience. Get to know them and tell them about yourself, your mission, goals, experience, etc. Let the viewers ask questions and answer them creatively and honestly.
7. YouTube Stories to Keep in Touch
Reach out to your YouTube Community in-between video uploads, show BTS (behind the scenes) footage, and tease the audience with trailers for new videos.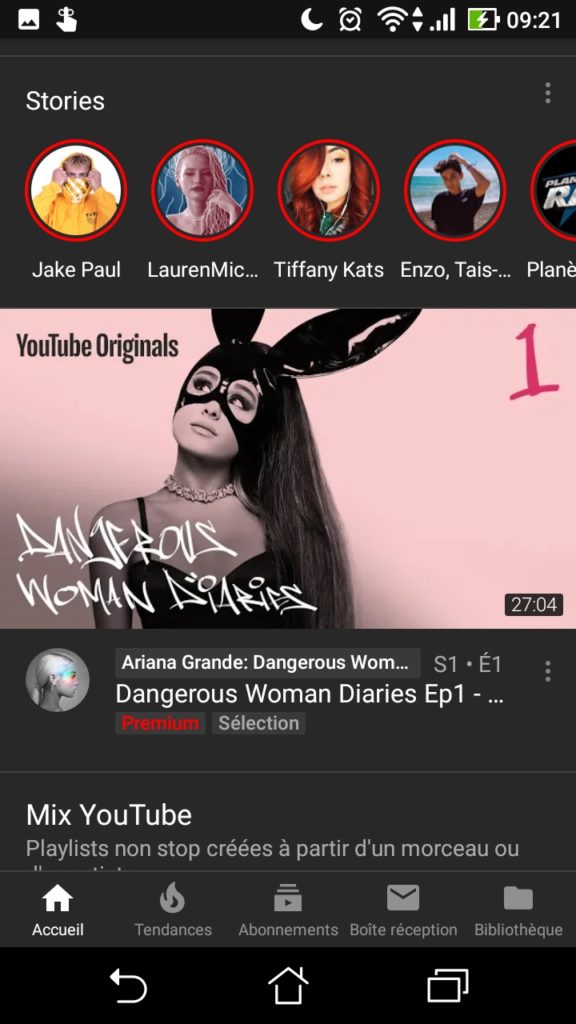 If you only upload videos and don't use the Community tab and Stories, you'll still have viewers, but on a smaller scale.
Internet users want to be entertained, and the creators that spend as much time with them as possible typically win the game.
8. Community Customization
Customize your community by using GIFs, stickers, and other visual elements.
By using the same reaction GIFs, you build a personal brand, so some viewers will remember you when they see those images on other channels or platforms.
An excellent example of viral reaction GIFs is the content from the Annoying Orange YouTube channel.
Plus, such elements show your wit and can make a regular post hilarious.
9. Channel Organization
Make your channel easy and convenient to use.
Compile playlists from existing videos to make a positive first impression on new viewers from the Community or another kind of promotion.
For example, take a look at Nike channel on YouTube. The channel is super organized and has an exciting structure of playlists depending on the trending topic.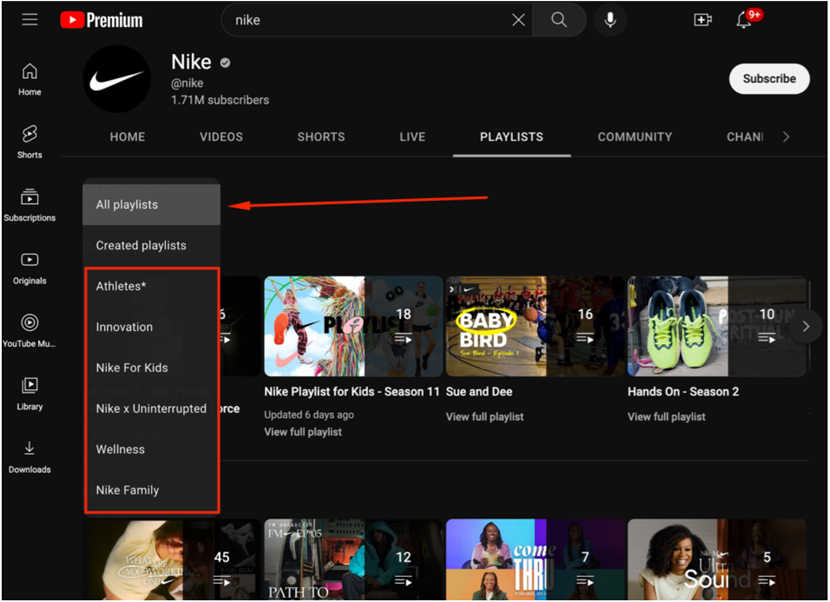 This will also improve the user experience for existing viewers.
10. Offer a Sneak Peek Behind the Scenes
Behind-the-scenes pieces are always interesting to watch because they reveal secrets behind the creation of something.
That's why fans of a certain movie will wait impatiently to get to the bloopers and BTS clips
Try regularly creating engaging, funny stories about shooting a new video. It can be anything from a more technical view of your equipment to simple bloopers featuring you misspelling words.
11. Build a Network of Affiliates
Affiliate programs use financial motivation for people to click on links, engage with content, buy and recommend stuff, etc. They are usually used to increase website traffic and sales but also work for your YouTube community.
As you grow your audience, create such a program or allow your most loyal viewers to participate in an existing one with you.
Thus, you'll get loyal partners and affiliates that will vouch for you and your videos whenever possible.
12. Collaboration and Cross-Promotion
Creator collaboration can deliver excellent content. Find another YouTuber in your niche, and both of you will get a popularity boost. The collab itself sparks curiosity.
If it's a high-quality, relevant piece hitting the pains of your target audience, you'll see the results of your efforts very soon.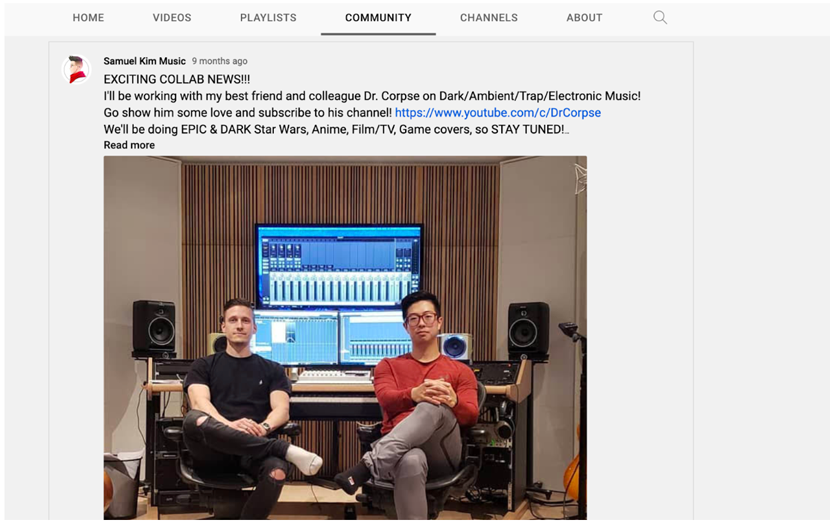 13. Social Media Promotion
It is hard to overvalue the power of social media promotion.
Social media has got our lives by delivering engaging content corresponding to almost every part of our daily routine.
Each social platform has fans choosing it as the top source of day-to-day information and communication.
Recent research by the Audience Project shows that over one-third of users in the US use Instagram to follow different brands. Meanwhile, 19% utilize YouTube and Facebook for the same purpose.
So opting for a single social platform dramatically decreases your chances of spreading the word about your brand.
To build a high-end YouTube community, take advantage of cross-promotion that allows you to draw more admirers and prospects by posting your content across multiple social networks.
By cross-posting on social media, you can reach people outside of YouTube to get acquainted with your channel and content.
Promote your YouTube channel and community on other social media or a blog if you have one.
For example:
If you have an Instagram with an active audience, notify them whenever you post a new video
If it's Twitter, tweet the link with an attention-hooking thumbnail.
Use hashtags.
Use keywords in your tweets and Facebook posts about the video, etc.
How to Empower Your YouTube Community?
To run your YouTube community successfully, you should stay consistent and active and emphasize your content via other social media channels to grab more attention and feedback.
It makes you operate loads of content that need ongoing monitoring, taking plenty of time and effort.
So, to get your act together, you can employ sufficient tools to stay up-to-date, even being overloaded with business processes, growing sales, and brand promotion.
SocialPilot is a solution to achieving your social media marketing goals without a nerve-racking busy atmosphere. This tool has powerful posting and scheduling features that dramatically save time and resources.
You can access an assortment of customization options to alter your posts and track the effectiveness of your social media strategy via a convenient Social Calendar.
To Summarize
To build and grow your YouTube Community, you need to build relationships with your viewers, not just increase the numbers.
Make people wait for your next post, poll, contest, or video. Engage with them, talk to them, answer their questions, express gratitude, and offer bonuses.
Here are some essential elements to keep in mind for your YouTube strategy:
Building a personal brand with unique language, GIFs, stickers, answers, stories, etc.
Engaging with the audience in-between posting videos through posts and stories.
Replying to viewers' comments and pinning the most interesting ones (yours or a fan's).
Promoting your channel and community on social media platforms where you have a considerable following.
Showing behind the scenes and sharing exclusive content.
Build a real community on your channel, and your videos will always be viewed, liked, and promoted, even without you asking.