People, brands, and businesses often create a channel on YouTube to build an audience of engaged subscribers and promote products or services.
But what about multiple channels? Is that a thing?
If so, is it possible to effectively manage more than one YouTube channel?
This article will delve into multi-channel ownership and explore tips and tools to help you juggle your YouTube presence like a pro.
Why Would You Have Multiple YouTube Channels?
First thing first: what's the point of owning multiple YouTube channels?
Isn't one the limit?
Well, actually, no – you can create up to 50 channels on the platform, and there are several reasons why you might want or need to do so. Some are as listed below:
1. For Better Searchability and Visibility
Imagine liking a particular brand's travel videos, you would definitely want to be able to search and find them easily online.
An entirely separate channel from that brand, talking about everything under the sun about travel, will make things easier for you.
It will also gain the brand better visibility and that too at a faster pace.
2. For a Larger Audience Engagement
If your audience base is say more than 10,000 subscribers, wouldn't you, having a dedicated channel pertaining to their needs be a feasible idea?
Having a specific channel for a separate set of followers just like Nike here does, is the sensible idea that would eventually gain you their trust and loyalty.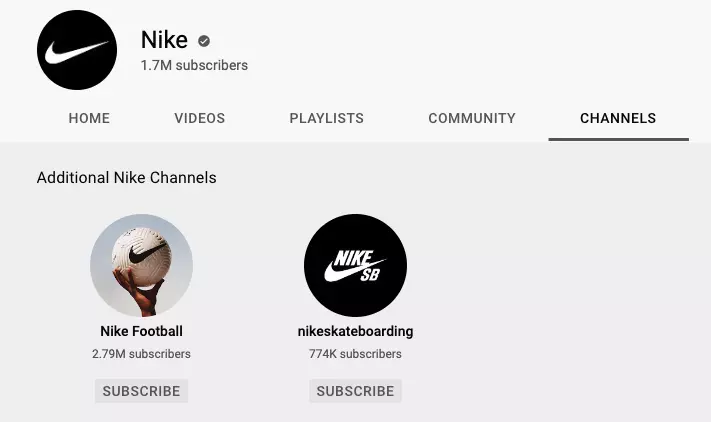 3. For Better Collaboration
If you're working on a collaborative project with other YouTubers, it might make sense to create a separate channel for this.
A dedicated channel would make it easier to keep track of your content and help build a sense of community around the project.
4. For Keeping Personal and Professional Life Separate
Finally, you might also want to create separate channels to keep your personal and professional life separate.
In other words, you might have a channel for your vlogs and personal updates and another for your business or brand.
Dividing up your content can be a great way to avoid double handling across the two areas and confusing your audience.
How to Create Multiple YouTube Channels
Are you sold on why to have multiple YouTube channels and ready to create your secondary (or tertiary) YouTube channel? Here's a comprehensive step-by-step breakdown of how you can do just that.
Step 1: Sign In
Sign in to the Google account under which you'd like to create additional YouTube accounts and go to youtube.com.
Step 2: Go to Your Account's Channels List
Once on YouTube, go to your account channels' list under settings. It should display your existing channel and a button that says 'Create A Channel.'
Step 3: Create Your Channel
Create your new channel by clicking 'Create A New Channel.' Follow the guided steps through the traditional setup process, which will entail selecting a channel name, adding channel art, and so on.
Congrats! You've just created a second YouTube channel and are on your way to posting some unique additional content.
How to Manage Multiple YouTube Accounts
It's important to note that while owning multiple YouTube channels can be beneficial, it isn't without extra work on your end.
Running and managing content across numerous channels takes time, effort, and organization. Luckily, there are several ways you can optimize all three.
Here are a few tips to help you effectively manage multiple YouTube channels:
1. Create a Content Calendar
Creating a content calendar is a good idea to ensure that your content is well-organized and consistent across all your channels. A centralized calendar will help you map out what you're going to post to which channel and when. It makes it easier to track your progress.
2. Automate Where Possible
There are several tasks that you can automate when running multiple YouTube channels.
For example, you can use a tool like SocialPilot to help you schedule and publish your content. Automating these tasks will save you time and energy in the long run.
3. Delegate and Outsource
If you're finding it difficult to manage everything independently, you can always delegate or outsource some of the work.
For example, you could hire someone to help you with the technical aspects of running your channel, or you could outsource the creation of certain types of content.
4. Use the Right Tools
Many different tools can help you to manage multiple YouTube channels effectively.
These include social media management tools, video editing software, and analytics platforms.
By using the right tools, you'll be able to save time and energy, and you'll also be able to get more insights into your channel performance.
Tools to Help You Manage Multiple YouTube Accounts
Whether you have two, three, or fifty YouTube channels, your efforts in running them will only ever be as successful as the tools you use. The right resources can streamline the content creation process, automate busywork and even help you to understand your audience better.
Here are some of the best YouTube management tools for you:
YouTube Keyword Research Tools
Keyword tools can give you insight into which keywords users search for often and help you reach a wider audience and get your videos in front of people interested in watching them.
Some of the Popular YouTube keyword tools are:
vidiq: VidIQ is an invaluable resource for all things YouTube. It has an extensive library of keyword research and audit tools and a vast library of educational content.
Keyword Tool: Keyword Tool is a free SaaS platform that uses Google Autocomplete to generate long-tail SEO keywords.
YouTube Content Creation Tools
Creating high-quality YouTube content takes time, effort, and the right tools. There are several online platforms that you can use to create professional-looking videos, as well as creative resources that can help you to come up with new ideas for your content. Examples include:
Envato Elements: Envato Elements is a library of professional creative assets you can use in crafting stunning YouTube videos. It has everything from video templates to music and offers unlimited downloads with a monthly or annual subscription.

Canva: Canva is a free graphic design platform. that allows you to easily create assets like with a monthly or annual subscription.YouTube cover art and thumbnails
for your YouTube channel.
Placeit: Placeit offers a massive collection of smart templates. that simplify video creation and eventually aid YouTube channel management.
Movavi Video Editor: Movavi Video Editor is a user-friendly video editor that has everything you need to edit videos for YouTube. Load your footage, apply filters, effects, titles, and transitions, save your project in the desired format and share it on YouTube. Apart from the basic features, this video editing software offers a chroma key, picture-in-picture, AI-driven tools for denoising, upscaling, and stabilizing video, and more.
YouTube Performance and Distribution Tools
YouTube performance and distribution tools can help you to optimize your videos for SEO, promote your content across social media and even track your progress over time. Here are a few great resources:
YouTube Studio: YouTube Studio makes monitoring and managing your channel on the go simple.
TubeBuddy: TubeBuddy is a YouTube extension you can use to optimize your channel's content and performance.
SocialPilot: Connect all yourYouTube channels to a single dashboard. Schedule your entire video posting calendar with SocialPilot and never miss another post on any of your YouTube channels again.
When used strategically, you can leverage your YouTube channels to achieve various marketing objectives – from growing awareness to generating leads and sales.
If you're managing multiple YouTube channels, the right tools and resources can make your life much easier.
Many online platforms and tools can help you manage your online presence effectively, from keyword research to content creation and distribution.
So, what are you waiting for? Get started today!