Emojis are not only amusing, but they also have certain utilitarian advantages associated with them.
They can work to save you space in your post's caption, convey a heartfelt emotion, and signify a shared meaning that everyone can understand.
This is validated by the fact that nearly 44% of consumers prefer online ads containing emojis.
But sometimes, the usage of certain emojis in some places can do your brand more harm than good, especially if they seem out-of-context or tone-deaf, proved by the fact that 39% of senior managers find the usage of emojis unprofessional.
You wouldn't want to be among the 58% of companies that consumers find going over-the-top with their emoji usage in their ads!
So now you must be worried about making an emoji faux pas. Don't be! We've got you covered!
In this guide, we will tell you all that you would need to know about using Facebook emojis. Keep reading until the end to find out.
The Origin of Facebook Emojis
All avid Facebook users are well aware of the emojis that are in use on Facebook today.
But, before launching the currently used seven emojis, Facebook had tested multiple variations before, as shown below: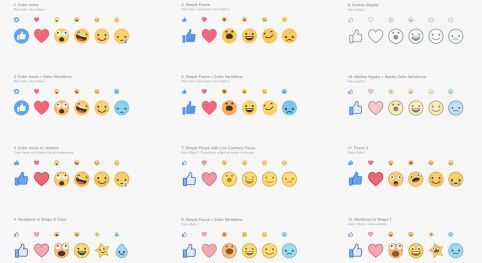 Ultimately the six most popular ones were launched in 2016, where the "Yay" react was discontinued shortly after.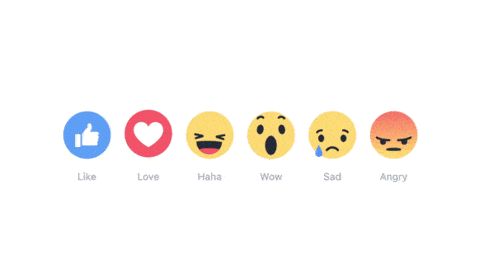 In 2020, when the world was reeling under the ravages of a pandemic, another emoji – the "Care" react was added to the list. This list of emojis is currently in use for reacting to posts and comments.

The Facebook messenger uses a completely different set of standard emojis (read emoticons) that look different from those used on posts/comments. To begin with, they lack the animated preview that a user gets when they hover on or continuously hold the emojis panel on Facebook posts.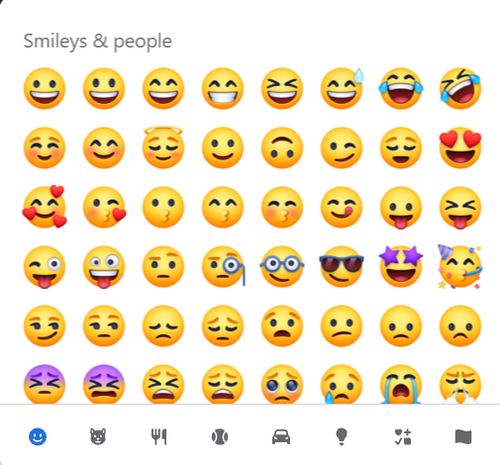 However, as of March 2017, Facebook introduced a feature wherein a user could react to individual messages on Facebook Messenger exactly like on the posts and comments, as shown below: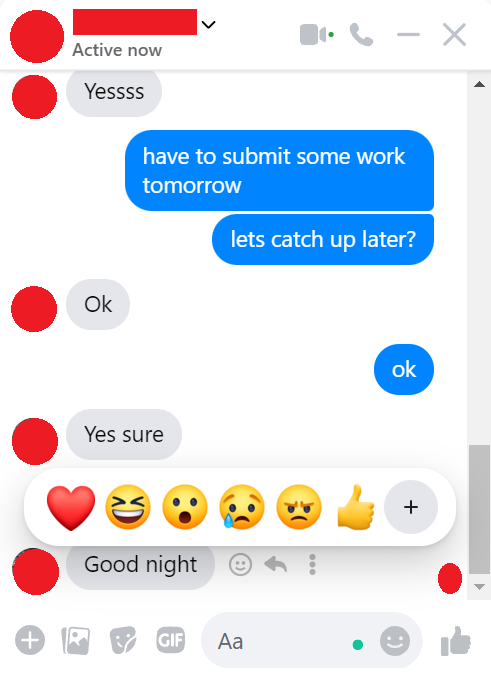 By simply clicking on the "Smiley Face" present next to a message, a pop-up menu displaying the entire range of available emojis emerges. As always, you'd simply need to click on/tap the one with which you'd like to react.
How to Use Facebook Emojis in a Status Update?
When you try to create and post a status update on Facebook, you must first begin by locating the status publishing box, where Facebook has a drop-down menu for emojis.
Begin by creating a new Facebook status update. Inside the "What's on your mind?" section, click on the status box and type whatever you would like to update your Facebook audience with or leave it blank if you simply want to send an emoji.
To launch the emoji menu, click on the "Smiley Face" symbol present on the bottom right portion of the update status box, as shown below: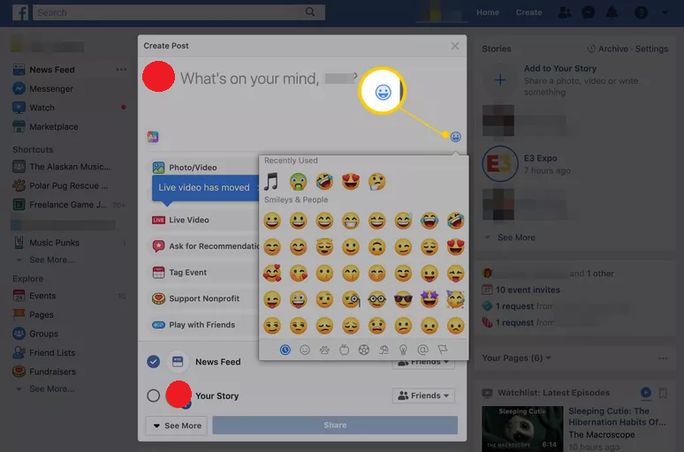 Choose any emoji that you would like to put on your Facebook status. You may also rapidly browse through different categories of emojis by clicking on each at the bottom of the menu. Or you may scroll down the list and manually choose your favorite.
Once you're done placing your desired emojis in the text box, click on the Smiley Face once more to dismiss the menu and, if desired, resume editing your post by placing the text either in front of or behind the emoji.
Finally, as soon as you're finished composing your status, click on the "Post" button to share your update with all of your Facebook friends. After getting posted, the status will appear on your friends' newsfeed as well as your personal timeline.
Should Businesses Use Emojis in Their Facebook Activities?
Using emojis strategically for a business's Facebook advertisements may help humanize a brand further. They are amusing, engaging, and pleasant, and useful to convey an honest expression to your target demographic.
Including emojis in your ad's copy can also assist you to 'disguise' your ad in the news feeds of your potential customers by making it appear more of a warm, friendly post rather than a sponsored ad.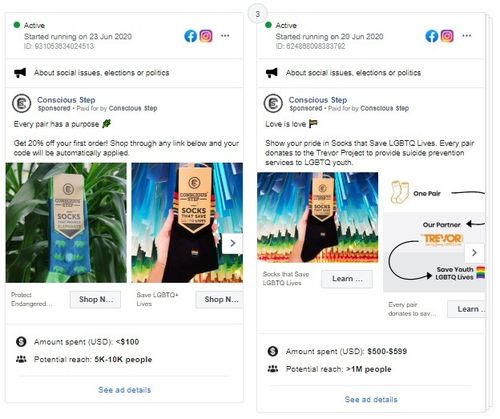 Take for instance, how Conscious Step uses relevant emojis in its Facebook ad copies to maximize its audience reach, as shown above.
What Emojis Should be Ideally Used?
Emojis displaying positive connotations such as smiles, laughter, and the ever-ubiquitous sunglasses emoji are all excellent methods to communicate a positive image of the brand.
Assess your brand image or the Facebook marketing strategies being employed. Do you find any emojis that contextually fit into any of those criteria? Consider selecting the ideal emoji and placing it within the text of the organic content seamlessly.
Negative emojis, on the other hand, should be used only in extremely rare situations. Directly courting negative emotions is hazardous, but it may frequently work effectively in your favor if your brand adopts an unconventional or quirky tone in its communications, such as by Wendy's as shown below: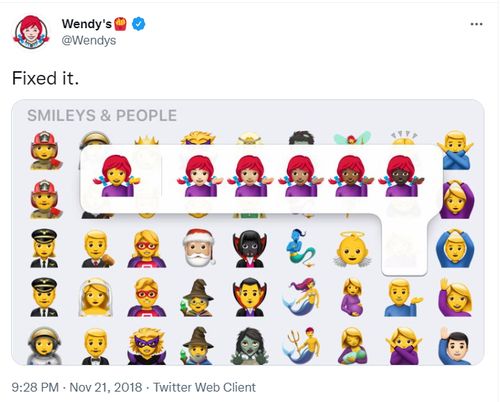 Speaking of brands using emojis, let's move on to the next very important section.
How Should Your Brand Use Emojis?
We've already discussed how you may want to avoid using certain emojis altogether depending on your organization's brand/voice and the industry you're in.
A creatively wacky or artistic company could find them useful, but a fundamentally macabre company such as one that deals with manufacturing coffins should shun them off completely, obviously.
Using emojis (particularly for the first time) risks making a business appear unprofessional. They should be utilized selectively and sparingly. Emojis should be subjected to the same level of examination as any other type of text that goes into making an ad or a public post.
Let's consider an example below to understand usage of emojis better: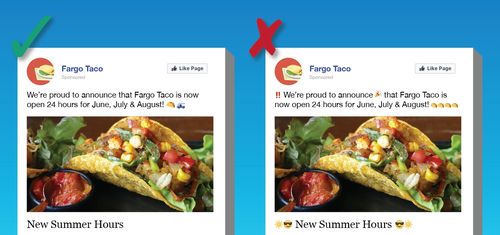 Emojis in professional social media brand posts should be used in the same way as punctuation is: sparingly and only when required.
You wouldn't want to overburden the text in your post with too many exclamation or question marks. It appears to be impolite and inappropriate. Similarly, an excessive number of emojis make a post unpleasant and, in some cases, illegible.
Furthermore, emojis should never be used as a substitute for meaningful words. Describe whatever you must and let the emojis accentuate the points where attention or emotion is required.
Wrapping Up
If you are a social media marketer, you must contemplate using emojis in your Facebook ads and other brand posts. Crafting the perfect caption with suitable emojis makes your content feel even more genuine and helps the audience engage with you on a more emotional level.
When using certain emojis in your Facebook advertisements, ensure that you adhere to the cardinal laws of marketing: be appropriate, concise, and innovative.
Communicating through Facebook emojis and incorporating them into your social media marketing can get extremely daunting, especially when you're doing it for the first time.
But effectively using emojis is just half the battle won; scheduling Facebook posts and analyzing their performance matters just as much.
Luckily for you, there's SocialPilot for all your Facebook marketing and scheduling needs! SocialPilot for Facebook not only helps with publishing and scheduling your posts but also analyzing their performance afterward! Thus, you stay ahead of the curve with SocialPilot!
Try its free trial today.