In the last chapter, you learnt about the importance of an engaging post. But did you know that expecting those posts to reach all your prospective customers organically is a fool's errand?
Facebook has often been cornered on the grounds that its algorithm prevents the brands from attaining an effective organic reach. The complex algorithm makes it tough for marketers to reach all the followers seamlessly whenever they post an update on the social media platform. Regardless, one effective and proven way to gain more traction with your target audience is by boosting your posts online.
It is a great way to promote your posts and reach out to your existing followers while bringing new ones on board and improving the brand's image. Using the Boost Post feature on Facebook is easy and takes a few minutes to get started. All you have to do is specify the duration and budget and voila! Your post is on the way to reach a larger audience at the right time.
Why is it important to boost your posts on Facebook?
Posting content on Facebook is free but reaching out to the target audience is not. Boosting your posts is the first step towards understanding Facebook advertising and comes with a set of unique advantages. Here are a few reasons why you cannot ignore Boosting posts on Facebook.
Improved Brand VisibilityMillions of brands post an unmatched amount of content on Facebook every day and it is easy for a post to get lost in the noise. This is where the boosting feature comes to the rescue and allows your posts to appear in the News Feed of both your existing and potential followers. This increases the chances of your posts appearing high in search engine results thereby generating improved visibility for your brand.
Better ReachIf we compare regular posts to Boosted ones, the latter are likely to connect better with the members of the relevant audience and have an increased amount of users in its reach. The Boost feature allows you to target users based on demographic factors like their gender, age, location, and interests. In addition to appearing in the News Feed of your followers, these posts also appear in the News Feeds of related businesses or other pages that might have an interest in what your brand has to offer.
Easy to UseBoosting your Facebook post is easy and can be used to promote any sort of content, be it videos, images, gifs, status updates or customized offers from your business. Boost feature automatically optimizes them as per the News Feed specifications and saves you a ton of time in the process.
Targeted EngagementWhen you reach the right audience you get relevant engagement on your posts in the form of questions, tagging friends in the comments section and an increased number of shares. While getting a bunch of likes may feel engaging, it is not. It is only when the followers start talking about your brand that they will fill out your forms, visit the website and make a purchase. Therefore, focusing on promoting relevant content is going to facilitate engaging actions and increase conversions.
Now that you have a clear idea about why you should boost your posts, it is time to find out how it should be done.
The first step that you need to follow is to create a strategic goal with well-defined parameters. You must be clear about what you are trying to accomplish by boosting a certain post.
Why does a brand invest in boosting posts?
To gain higher brand visibility
To increase engagement with their audience
To redirect targeted traffic back to their website
To promote new content
Since companies can run out of boosting budgets quickly, setting a precise goal will help in using the money effectively.
With that being said, you should only boost a post that already has a respectable amount of organic reach. Just make sure that you prepare error-free content in the captions before hitting the Boost button.
Once you have done that, focus on maximizing the targeting options to leverage Facebook's algorithm to your advantage.
What should I focus on when targeting users on Facebook?
There are 3 main areas that one should focus on while boosting posts on Facebook
Target Audience
Duration of the Boost ad
Budget of the Boost post
Target Audience For The Boost Post
The factors to consider while choosing your target audience are – 
Geographical segregation of the users
People living at a certain distance from the brand's locations
Gender
Age
Preferences and Interests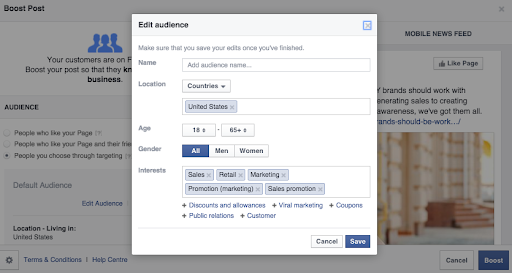 Pro Tip: Targeting is a key factor in creating an effective campaign. The more information you have about your target audience the better. It is directly proportional to a post's performance after being boosted. Additionally, never hesitate to target a broader audience in case you are trying to scale-up your marketing efforts on Facebook.
Duration of the Boost Post
Remember, timing is everything. Before you pour your hard-earned money into boosting posts, find out the best time to do so. Knowing the time when their target audience access their News Feed should be common knowledge for brand marketers and posting at the right time can increase the effectiveness of your marketing efforts. In case you are not sure about the timing, conduct some tests by boosting posts at different times and find out when your targeted users are most active on Facebook.
Once this section has been taken care of, all you have to do is click Save and scroll down to fill in the budget details and duration of the boost.
Budget for the Boost Post
Pro Tip: Having a hefty marketing budget is a strength but it is better not to get carried away by boosting one post over a week. Many industry experts recommend that it is a good idea to rotate your posts on a weekly basis or else the repetitive campaigns will continue burning a hole in your budget without any significant results. Also, your followers are likely to lose interest and will probably end up unfollowing your account.
To finalize the total budget, select the desired value from the drop-down menu (default value is $7). Following this, you need to select the duration of the boost and it can range from one day to two weeks or any customized end date of your choice. Select your currency and click the Boost button to proceed to the next step.
Pro Tip: Be smart and do not follow Facebook's default budget blindly. It is recommended that you go through the platform's guidelines to understand how you can promote your posts at lower costs to generate maximum results. Remember, Facebook suggests a different estimate to reach out to people across different demographics. You might also need different budget tiers to get the maximum value for the money invested.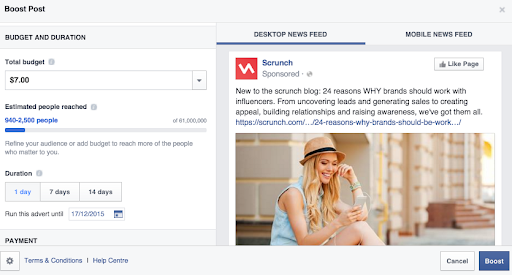 Clicking on the Boost button will prompt a new pop-up screen asking you to share your credit card details. Alternatively, you can also pay through your Paypal account or other payment options. Just fill in the required fields and click on the Continue button at the bottom to process the payment for your post.
And there you are. In a few easy steps, your posts are ready to be boosted. All you have to do now is sit back, relax and see how the posts increase your brand's reach and add new followers to the list.
With the information in the aforementioned lines, you can now use Facebook's Boost feature for your posts.
Due to the increasing number of users opting to Boost their posts on Facebook, the chances of achieving organic reach are slim and thus sponsored posts are an effective way to increase a brand's visibility. To stand out from the crowd, put well-defined targeting parameters in place before launching any campaign.
Also, create offers that make bypassing your posts cumbersome for people. For instance, send out a discount code or an easy-to-redeem coupon code when someone makes an order online. We will find out how to create an offer or deal on your Facebook business page to successfully entice your target audience to your boosted posts and actually add to your ROI, in our next chapter.