Who doesn't want their posts to be shared regularly?
Well, coming up with engaging and well-organized Facebook posts regularly is a mountain to climb for any Facebook business page.
But still, many businesses manage to do that.
Simply because they take inspiration from what's already working and liked by Facebook users.
With over 250 billion photos and millions of other content types posted on Facebook, there's a lot of interactive Facebook posts you can look up for inspiration.
With different formats rolling in, Facebook content space is evolving every day. Being an active Facebook business page, you need to be proactive about what's working on Facebook and what's not.
Our team has filtered out the top 10 interactive Facebook ‌posts‌ to inspire you.
Here we go.
12 Most Interactive Facebook Posts Examples
1. Polls
Polls are everyone's favorite interactive content because it takes the least amount of time to interact with them. With a simple tap or click, your audience can engage with your poll.
However, Facebook no longer allows you to make polls on news feeds. But don't worry you can still utilize Facebook Stories to create polls.
The crux of the poll lies in the question you ask and the option you give. So make sure you ask a question that is clear, concise and hooks people instantly. Once you've nailed down the perfect question, present two equally appealing options.
Here are some ideas for the types of content you can create with polls:
Ask for product preference
Ask for opinions on the industry trends
Quiz your audience
Ask for the content they would like to see
Ask for feedback or changes they want in your service or product
2. Fill in the Blanks
The fill-in-the-blank posts are a great way to make your audience interact with your posts. They manage to tap into our innate desire to complete things.
When your audience sees something left blank, something which they know the answer to, it's almost irresistible for them not to share their thoughts.
So, how do you create an effective fill-in-the-blank post?
Firstly, keep your sentence short and sweet. If you blank lies at the end of a long paragraph, nobody will bother to reach it. Also, don't make it too complicated. You are not taking their exam, you want them to engage.
Another very important thing is to keep your sentence relevant to your brand. Something that your audience can relate to.
Lastly, don't make it too serious. Be humorous in your questions and use emojis to make your post visually appealing and emotive.
You can also enhance the shareability of your fill-in-the-blank word or sentence by providing a word or sentence that people can share with others. Eva cleverly did the same by crafting a fill-in-the-blank that people can send to their "Special" ones.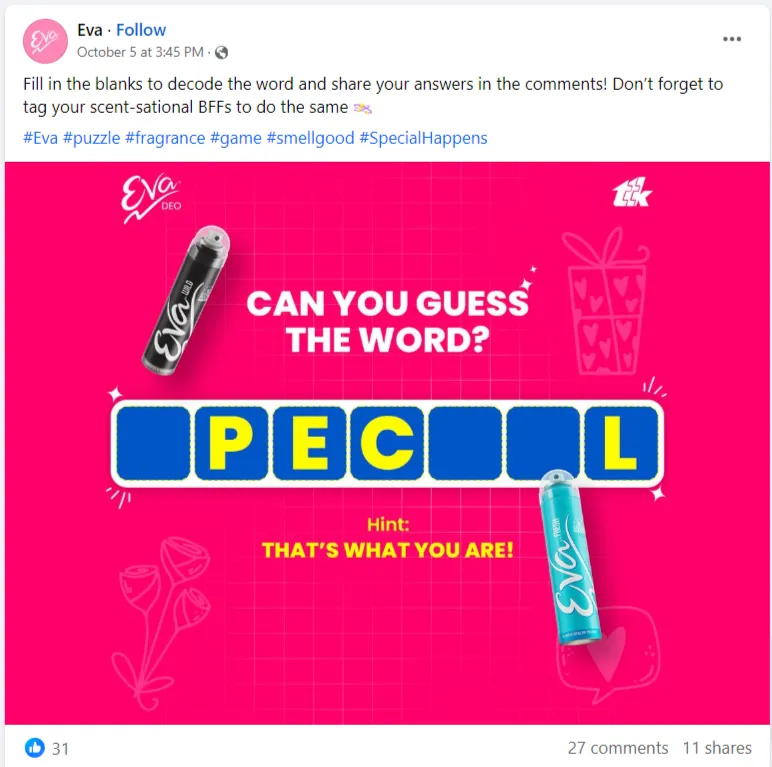 3. Videos
Being one of the most engaging content formats, videos are a great way to create your Facebook posts interactively. There are tons of ideas you can explore with a video content format.
Even Facebook helps promote more video content on its platform, as they have a dedicated 'Watch' section for video content format. You must use video content as an integral part of your Facebook marketing.
If you can hook the user with a few seconds of the video, chances are you have their attention for the rest of your video. It's great to have an intro and outro in your video.
You can use video content to educate, promote, launch a product, or any other marketing requirement. Here's an example of how Campbell's used a video content format to engage with their audience on Facebook and uniquely promote their brand.
For creating amazing videos, you don't need an entire video production crew. You can use various powerful tools like Crello, Adobe, or other video editing tools to create engaging video content formats.
4. Stories
One of the best and most powerful assets to humanity is the ability to tell stories. Stories stay with a person for a long time compared to any other content.
You can connect with your audience on a different level if you are great at storytelling and can relate. If you want to boost your engagement rates with your posts, share interesting and presentable stories with your audience.
It can be related to your brand or stories of customers using your product/service. You can use the power of text format to attract more engagements using the storytelling approach.
Here's a great example of how a solopreneur expressed her story to the viewers in a most engaging way. Stories are not limited to just personal branding or small-scale businesses. It's a great tool for any brand, irrespective of the scale and nature.

You can see how after the story, she has used an engaging CTA for the audience to skyrocket the engagement rates. You can brush up your copywriting skills and create enticing brand stories to create an interactive Facebook post.
Whether copywriting is your strong suit or not, our Facebook Post Generator has your back when it comes to crafting captivating story posts. Just write down your story idea and watch it come up with an engaging well-strucutred narrative at a lightning speed. Try it now!
Facebook Post Generator
Generate engaging, high-performing Facebook posts instantly.
Here is the Generated Result
Create More for Free!
Get 500 Credits to Generate AI Content!
Since you're an AI fanatic, we are offering you 500 Free Credits to generate awesome content on the AI Assistant of SocialPilot.
5. Product Images
If you are in a product-based business, sharing product images is one of the necessities you need to follow. You can add creativity to your images and showcase your products or new launches more powerfully.
Having unique, bold, and enticing product images can help to scale up your engagement rates. One such example of using powerful product images is from Oreo. Here's how they showcased their biscuits in a more visually attractive way.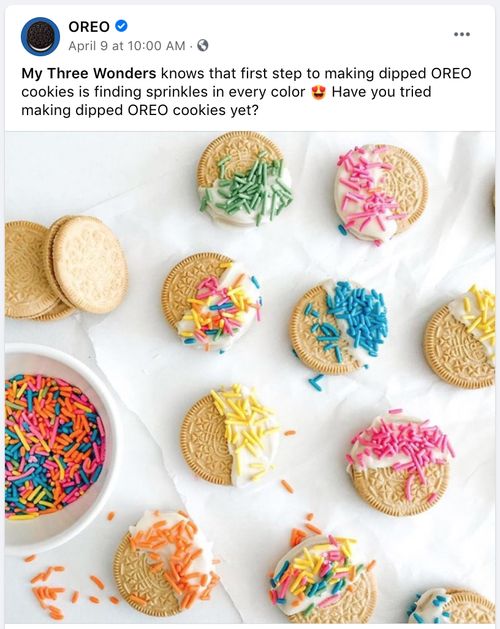 You can use professional tools like Canva, Photoshop, and others to develop powerful product images. Or you can also hire professional photographers to click and edit your images to give them an appealing and professional look and feel to grab engagements.
6. Trending Topics
You can use multiple content formats like text, video, images to align with the trending topics to create interactive Facebook posts for your business page.
It's a simple and great way to make your audience hooked to your content, and it increases the chances for Facebook to showcase your post to more and more people.
One of the best examples for aligning business content with the trend is from Dr. Seuss. Here's an example of how they used social distancing and staying home trends for their post to grab user attention.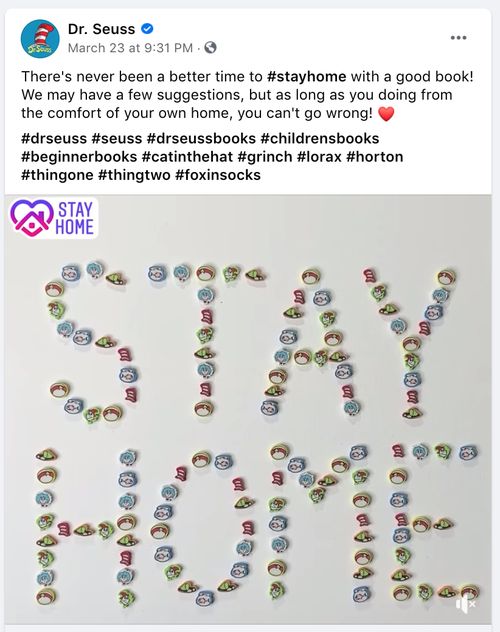 The tokens used to spell out stay home are related to books from Dr. Seuss, which maintains a balance between the brand and the trending topic. This is a unique way to reach out to your target audience in a trendy wave.
7. Blog Posts
One of the most shared Facebook posts across multiple business pages is a blog post. It is a great way to channel the audience from Facebook to the website to achieve desired business outcomes.
Social media and content hand-in-hand are a great way to promote versatility in your content feed on Facebook. Here's an example of how one of the leaders in digital marketing, DigitalMarketer used Facebook posts to promote their email marketing blog post to the Facebook audience.
They have used an attractive image and straightforward text to entice users to know more about email deliverability.
You can also use the same approach to attract your Facebook audience and boost your engagement rates.
8. Contests & Giveaways
Giveaway or contest posts grab a lot of word-of-mouth marketing and engagement numbers. You can create a special offer on different festive occasions to attract the Facebook audience.
Use attractive graphics and lights to attract eyeballs and create interactive Facebook posts. Here's an example of how a pizza brand did a giveaway on PI day.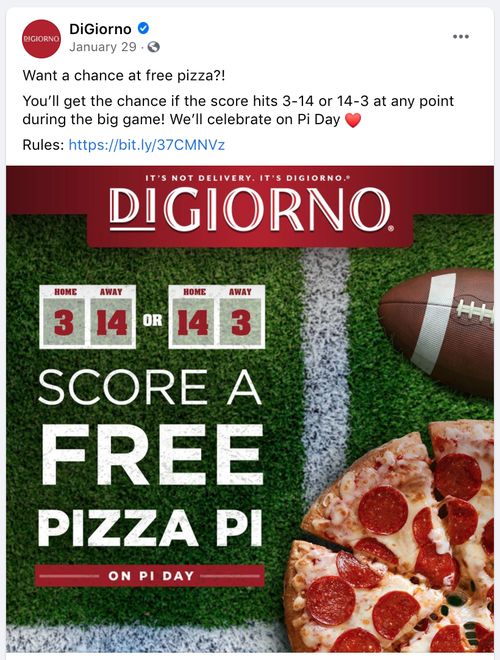 You can ask for something in return from the customers to grab your offer or participate in your contest. For example, you can ask the audience to comment, like, or share the post with your friends or help you achieve your marketing goals using this post.
It's a great idea to use giveaway or contest posts if you want to stand out from the rest of your competitors.
9. Questions
Asking questions in your posts is an intuitive way to catch engagements and improve the visibility of your Facebook posts. It might seem a basic approach, but it is an important technique used by marketers across the Facebook platform.
You can mold your questions based upon what message you want to spread through your post or what targets you want to achieve. Here's a great example of how Scholastic asked an industry-relevant question to their target audience to make them read one of their books.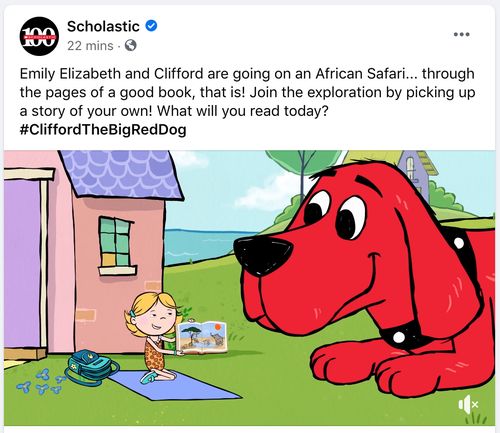 You can also use questions relevant to your industry to hook the audience and kick-start a conversation with them. Once the audience feels that you think about them and ask them a question, their chances will increase. Hence, resulting in more engagements.
10. Infographics
Infographics are another great post idea for enhancing your brand engagement. They are highly shareable and hook the user to go through interesting data and numbers.
You can use different pie charts, bar graphs, lines, charts, or any different kind of data representation format to create engaging infographics. You can provide immense value using infographics, and it helps to showcase your professionalism and credibility.
You should use infographics for your industry or your company to keep it relevant. Here's an example of how Visme shared an informative infographic with its Facebook audience.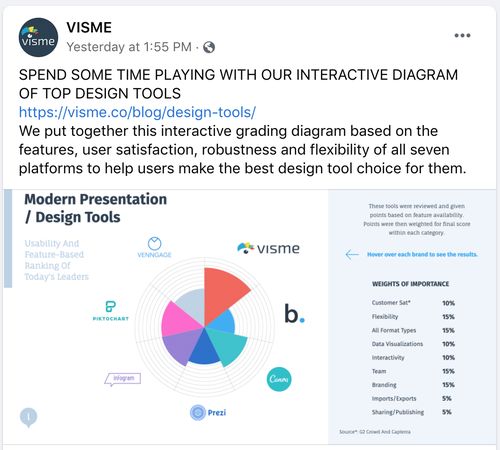 You can educate your audience the same way done in the above example. You can use multiple tools like Canva to create powerful and engaging infographics for your Facebook posts.
11. Memes
The latest and trendy way to gain massive attraction is by using memes in your Facebook content strategy. Many memes are trending now and then on social media; you need to use the meme and blend it with your business.
You can use any of your product/services in your meme so that your audience can get a dose of entertainment and value combined.
Here's an example of how a popular brand Nuggs used a popular meme for their Facebook post.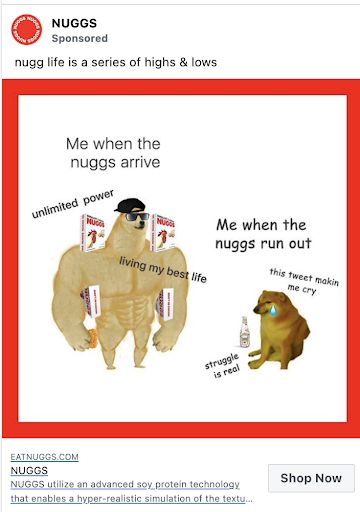 You can also use different memes trending on the internet and add a creative element to the meme to relate to your brand.
You can use different editing tools available on the internet to ease off some pressure.
12. Branded Posts
If you are creating a powerful brand on Facebook, you can represent your brand's voice, tone, and professionalism by using a default brand template for your posts.
It can contain your brand logo, color scheme, and unique graphic design for an enhanced viewing experience.
You can even post every other content using a branded graphic to a unified posting approach. It will help your audience to recognize your brand by just seeing the design of your post.
Here's an example of basic graphic design by Chewy to boost the visual aspect of its Facebook post. There are multiple templates available on the internet you can use for your branded posts on Facebook.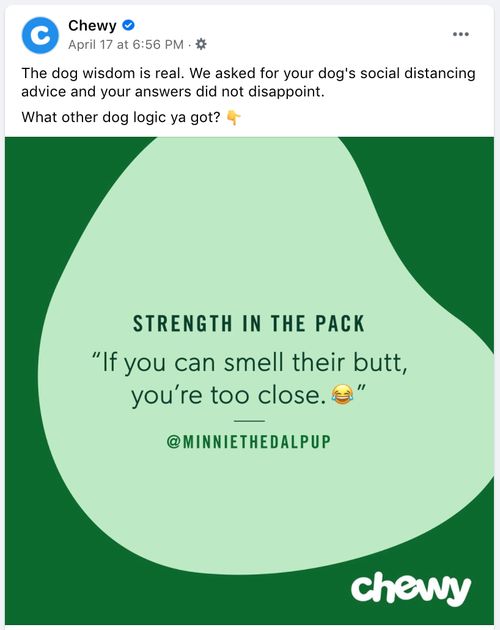 You can create your graphics using graphic designing tools and even optimize your designs later after analyzing the performance of your posts. There are many professional tools you can use and extract most of them.
These are some of the top Facebook post ideas and examples you can look up to and create your Facebook post content calendar for skyrocketing your engagement rates.
Running out of enthralling interactive content ideas while the deadline is closing in?
With SocialPilot's AI Assistant tool, you can create amazing Facebook post ideas in just one click. Apart form open prompting option, the powerful AI Assistant comes with Facebook specific prompt templates and tonality choices to help you generate captions, hashtags, and content ideas that will live your audience in awe.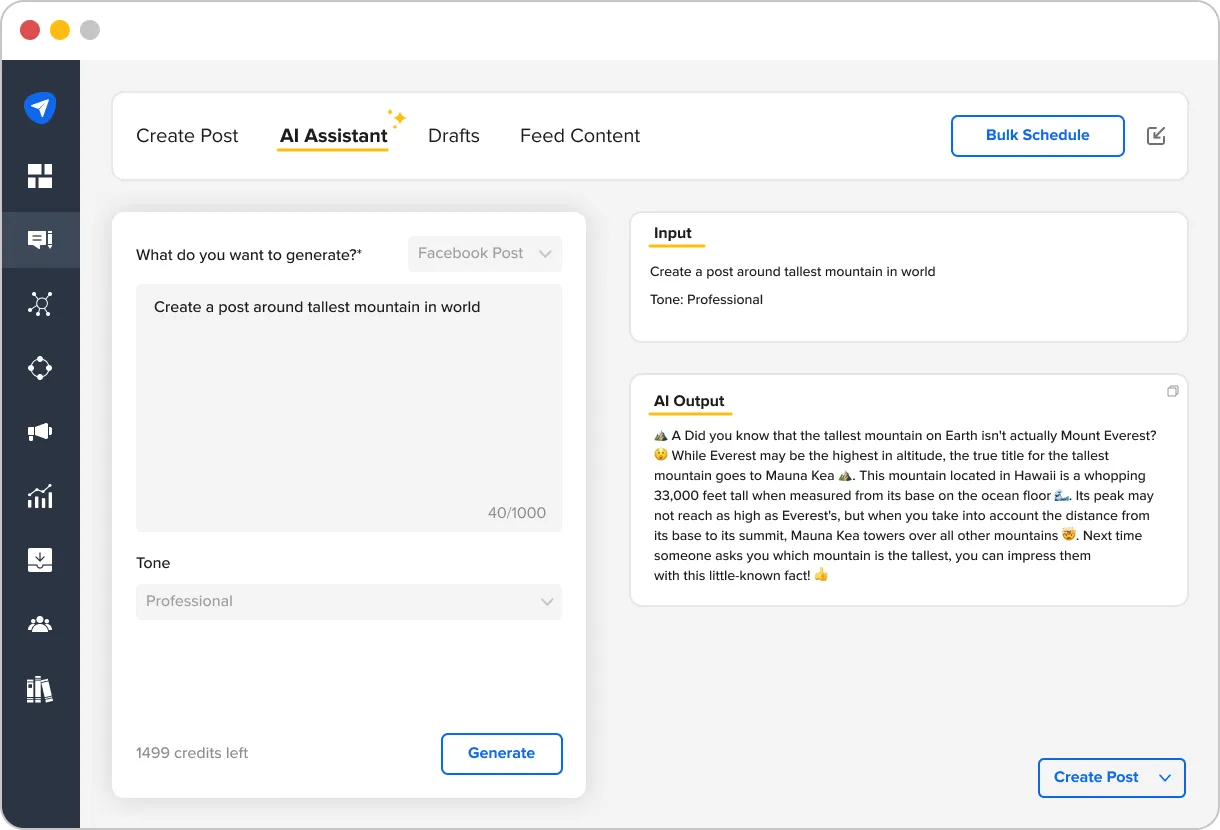 Conclusion
Regular Facebook posts will help you to solidify your brand presence, increase your organic reach, and fulfill your business goals on Facebook. So evolving and sprinkling new ideas is the need of the hour on Facebook.
Now that you know all the top kinds of interactive Facebook posts that can engage your audience, it's high time you start brainstorming your post ideas.
Once you are ready, you can use SocialPilot for content scheduling and maintaining a content calendar so that you don't have to waste your energy and time on the repetitive task of posting every time.
You can also use SocialPilot to track and analyze the performance of your posts to optimize your social media campaign for better reach and engagements.
All the best with your marketing efforts.