Are you consistent with your Facebook content uploads?
Do you want to save time, energy and maximize the effectiveness of your content scheduling endeavors?
Do you want to learn vital tips to automate this redundant but vital process?
Well, you need to schedule your Facebook posts ahead of time to escape all the burden of posting content following the same repetitive procedure.
Scheduling your content posts will help your brand automate posting content on Facebook and never skip a beat by providing engaging and valuable content for your audience.
If you schedule all your Facebook posts, then you can unlock multiple benefits, like:
Stay on top of your content posting
Save time and energy to post regularly
Boost your social media engagements
Focus on creative work while automating the repetitive process
Engage and connect with a wider audience
But if you want to avail all these benefits then, you need to learn how to schedule posts on Facebook.
Don't worry, we got you covered.
You can schedule your Facebook posts using two methods:
Using Facebook: Facebook has an in-build scheduler to assist you with your Facebook postings
Third-party Scheduler: You have the option to use powerful tools for social media scheduling with some advanced functionalities
Let's understand the steps and tips on how you can schedule your content using Facebook effectively, and then we'll jump on to third-party schedulers.
How to Schedule Posts on Facebook?
If you want to kick-start with the content scheduling on Facebook, you need to have a dedicated business page. You cannot use your account for content scheduling using Facebook.
If you haven't created a business page, log in to Facebook and create your business page.
Once your Facebook business page is ready, you need to follow some quick and simple steps to start:
Step 1:
Login to your Facebook account, and on the left side column, click on the Pages to navigate to your business page.
Once you open your business page, then you need to navigate to the Business Suite.
Click on Create Post and create engaging posts you want to schedule on Facebook.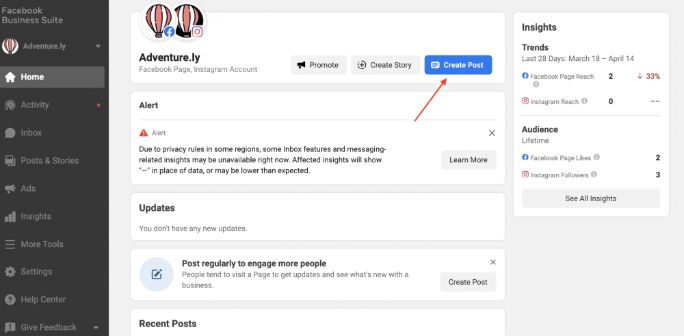 Step 2:
Once you create your post, you need to select a few options, like where you post your content. Just go to the Placements section and select whether you want to post on Facebook or Instagram as well.
Once you have selected the placement of your content, then you'll be able to preview your post both on mobile and desktop versions. You can tweak your post accordingly if something feels off.
Step 3:
Then you have the option right next to the Publish button to select a specific date and time you want your content to go live on the Facebook network.
Click on the Save button and then click Schedule Post after allotting a particular time and date, and your post will be scheduled and placed in the queue.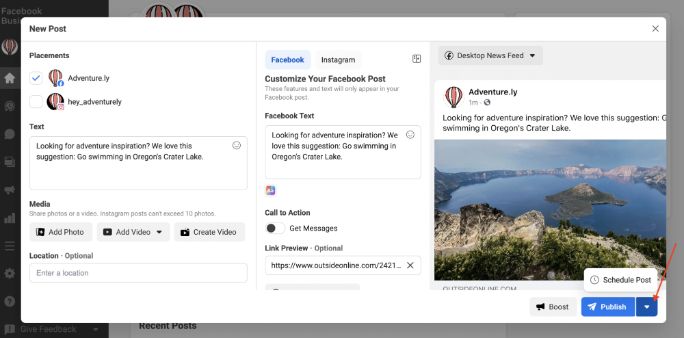 Step 4:
Once you have scheduled all your posting sets, you can view all your scheduled posts to edit, reschedule, or delete any individual post.
You need to click the scheduled post in the Business Suite and click on the individual post you want to edit. All the details of the post will be visible on your screen.
Step 5:
Click on the ellipsis visible on the right side of your post and then make the changes you want to make, like, edit, reschedule, or delete.
After you are done with the changes, you need to click the save button and publish it immediately or reschedule it.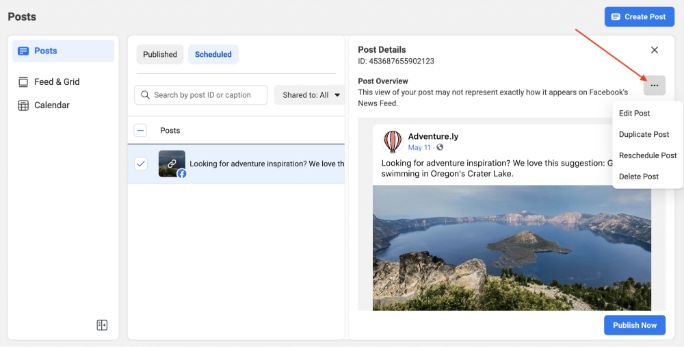 This is the entire process to schedule your Facebook posts. Now you can follow a few effective tips so that you make your entire scheduling process smooth.
Tips & Tactics for Scheduling Your Facebook Posts
1. Choose Your Scheduling Time Wisely
You need to be wise while selecting your scheduling time and date. No doubt, you have the option to edit it or reschedule it later, but if you don't know when the post will attract the highest engagement rates, then rescheduling won't help.
You need to know when your target audience uses Facebook and are more likely to engage with your post. Research your target audience and figure out the best time to post on Facebook, and proceed with your scheduling after that.
2. Be Consistent with the Brand Voice & Image
Don't rush into things while creating your content. The entire idea about scheduling your content is to save your posting time and maintain the effectiveness of your content for months to come.
So don't forget to keep all your brand guidelines in mind and compose quality content for months without rushing into things.
Don't lose the essence of your brand while scheduling multiple contents at the same time.
3. Be Dynamic with Your Content Scheduling
The internet space is highly dynamic, with new trends disrupting the social space now and then. You don't want to be rigid with your content posts and forget them once you set the scheduler.
Always consider how the Facebook network, current crises, and events are changing and tweak the settings of your posts accordingly.
You need to post relevant, trendy, and engaging content every single time. Keeping a check on your scheduled post will also help you overcome any potential backlash if you have scheduled any content that's not aligned with the present scenario of the social space.
4. Be Aware of What You Can't Schedule
Facebook provides you the freedom to schedule your posts as a business page, but it has restrictions on some types of posts. You cannot schedule a post for:
Facebook events
Photo Albums
Facebook check-ins
You need to keep a note of these content pieces and make wise decisions based on that.
5. Don't Over-schedule
An average user has 1500 eligible posts that they can view every day. That is a staggering number, right?
So, you don't want to overwhelm your target audience by bombarding social media posts. Also, you don't want to under-schedule your posts, either. You need to maintain a balance with your scheduling patterns.
The frequency of your posts is very important, and it depends on your business goals and industry. If the requirement is to be hyperactive with your scheduling, you can post ten content pieces for your audience. On the contrary, you can post at least one content piece on your Facebook business page every day.
You can follow all these tips while scheduling your Facebook post using Facebook or any other advanced third-party tools.
Talking about tools, there are hundreds of social media schedulers you can use for your scheduling purpose, but which is best for you?
We have shortlisted the four best alternatives of Facebook scheduler that you can use for additional benefits during the scheduling process.
4 Best Tools for Facebook Posts Scheduling
1. SocialPilot
If you want to access one of the complete packaged tools for your content scheduling, go with SocialPilot. Being one of the most simple and affordable tools, you can access the most premium social media marketing management and optimization tools.
You can post and schedule your content not just on Facebook networks but on Twitter, TikTok, Pinterest, Tumblr, Google My Business, and other top social media platforms.
You get to experience a simplified social media schedule to maximize your marketing efforts. You get complete support via email, call, chat, and social to escape any hiccups faced while using this amazing tool.
Apart from scheduling, you can:
Create customized posts
Monitor, analyze, and report your social media performance
Manage and collaborate with teams and associates
Boost your ad campaigns on social media
Bulk scheduling
URL shortener within a few clicks
Create and manage your social media content calendar
You can try out a 14-day free trial period to get hands-on experience on the tool and transform your social media game.
2. Buffer
Buffer is another top social media publishing and scheduling platform like SocialPilot. It works well for platforms like Facebook, Linked In, Instagram, and Pinterest.
It has Chrome and WordPress integration to make it more accessible. If you want to use Buffer on a smartphone, you can use it on all Android and iOS devices.
You can navigate from one feature to another seamlessly. You can customize all your posts for different social media handles and get detailed reporting on your performance on social media.
You will get decent customer support from the technical team at Buffer. Still, there are some limitations to the bulk scheduling process. You can only schedule 2000 posts for only 25 social accounts, so it will be a limitation if you want to manage multiple social media platforms having multiple accounts.
3. Sendible
Sendible is a premium social media scheduler that allows managing, marketing, and scheduling your social media posts for a better online presence across multiple social media platforms. It supports all the major social media platforms like YouTube, Pinterest, Linked In, Instagram, Twitter, and Facebook.
Sendible also provides a great monitoring feature with detailed, in-depth reports. You also have the feature to automate many social media functions to save your time and energy in social media marketing execution and management.
You have the option to assign tasks to your team members using the platform for better execution and team management. You can extract reports and share them with your team monthly, weekly, and daily basis.
4. Agorapulse
Another premium tool on the list is Agorapulse. It is an advanced social media management tool that can help you listen, engage, and collaborate to generate effective social media marketing efforts.
You can use features like unified inbox, RSS feed, and bulk scheduling for better social media management.
You get an easy-to-schedule platform with 360-degree detailed reports on your performance across different platforms. You can also access the Agorpulse in-build CRM feature for better understanding your audience.
These are some of the top tools you can use to replace Facebook's in-built scheduling tool with limited functionalities.
Create. Schedule. Post.
If you want to save time and energy from repetitive scheduling tasks and focus on more productive elements of your social media marketing, then scheduling your post is a must-use feature for you.
Using an inbuilt Facebook scheduler has some limitations which can prevent you from maximizing your entire social media strategy, so using an advanced social media marketing management tool like SocialPilot is the ideal choice for you.
Being one of the most affordable social media marketing tools, you won't find a better-packaged product with premium functionalities at this price bracket.
So, make a wise decision for your social media marketing efforts.