We all know that Instagram is an excellent marketing platform that enables businesses to share information and messages with a large number of followers at the same time.
But, this may turn out to be a double-edged sword because we, as humans, prefer to be addressed as individuals.
This is where the power of Instagram's ability for direct communication shines through. One quintessential mode of individualistic communication on Instagram is through messaging via DMs.
Almost every Instagrammer who's been on the platform long enough knows about Instagram direct messages, aka Instagram DMs. In fact, this feature on Instagram has been around for more than eight years now. Direct messages have gained massive prominence over time, reaching 375 million users and counting.
But are you maximizing the effectiveness that Instagram messages provide? Are you interacting with sufficient individuals within your target audience one-on-one?
Find answers to all these questions and more in this comprehensive guide on Instagram messages.
What are Instagram Direct Messages?
The Instagram Direct Messenger is Instagram's handy built-in feature that allows users to contact other accounts on the platform directly ("DM" is common parlance for "direct messages").
These exchanges appear as their own mini-conversations between you and another person or group. Today, after several upgrades and additions, you may react to direct messages, create your own reactions, and see who has tagged you or responded to any of your stories.
Now, we know that internet messengers are not a novel concept, and the Instagram messenger's UI is not particularly groundbreaking or set apart from other social media messengers. 
However, the capacity to message users individually widens the frontiers of engagement, which we'll go over in detail later.
If you've never sent or received a direct message on Instagram for some reason, we have listed a step-by-step rundown of the same in this blog.
When you launch the Instagram app or website, the small symbol on the top right corner that appears as a paper airplane serves as your DM gateway.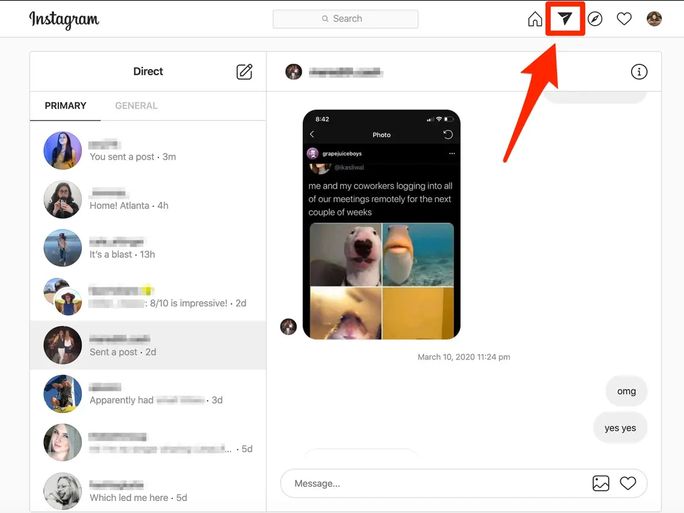 How To Send Messages on Instagram?
If you're entirely new to the concept of sending messages on Instagram, here's a breakdown of the entire process.
Step 1: Tap or click on the "paper plane-looking" icon on the top
The airplane icon is where fresh messages are created, received, and delivered. On top of the DM icon, you may also notice a red circle showing the number of messages waiting to be read. When you tap on that number, you can view the entire list of your unread messages.

The unread messages in your Instagram DMs will appear bold in the preview with a blue dot on the far left. This way, they are highlighted among your "read" messages.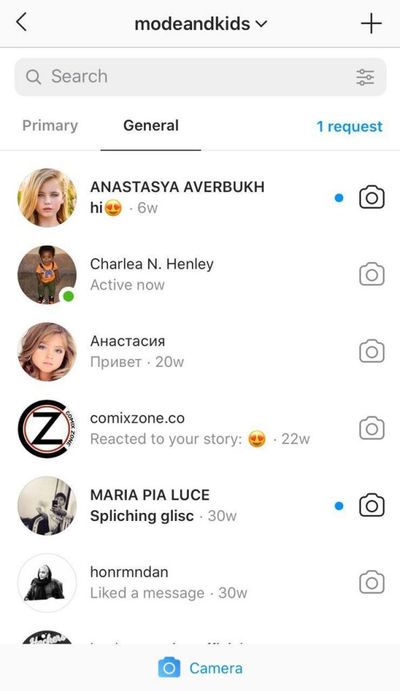 Step 2: Create a message
For this step, you first need to locate the "pencil" icon within your DM and then tap on it.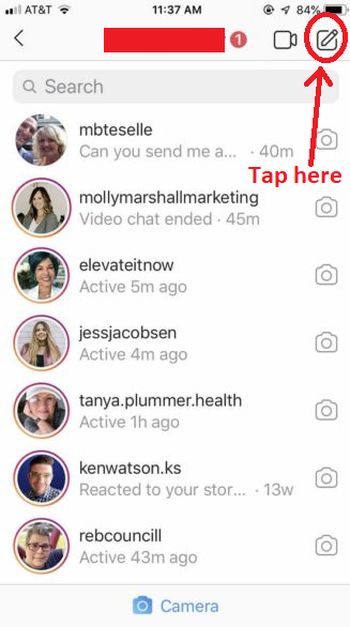 The "New Message" screen will open. Now, you can compose your message after filling in your recipient's name in the "Search" bar.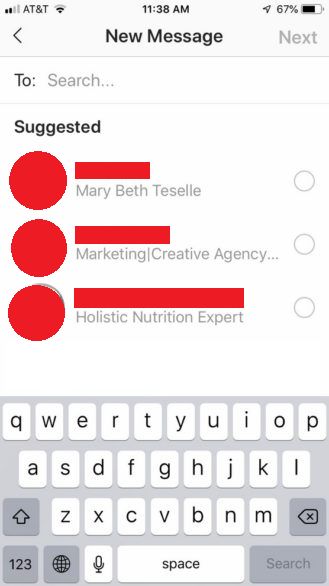 Step 3:  Send your message
Once you're done typing out your message, simply tap/click the "Send" button and your message will be delivered to your intended recipient.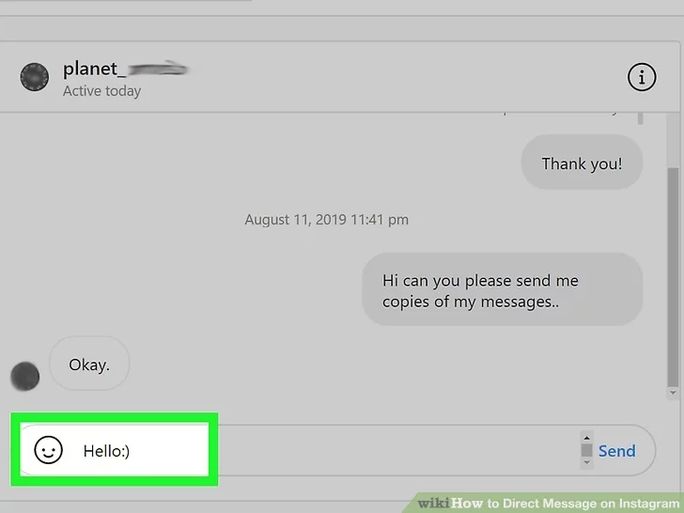 If your recipient does not follow you back, your message will end up as a "Message Request" in their inbox.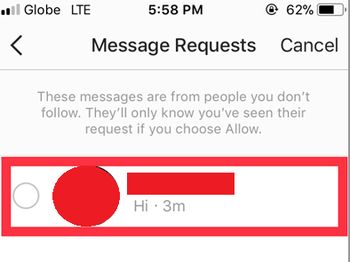 But let's say you want somebody to refer to an Instagram post in a DM. Well, there's a way to privately share a post to another Instagrammer's inbox.
If you wish to share a post from the feed directly into any of your follower's inbox, click on the "Send Message" paper plane icon that appears alongside or below organic posts.
Take a look at the image below for your reference.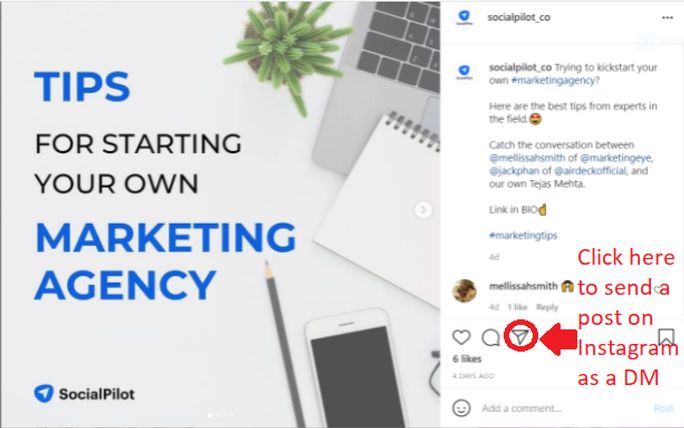 Step 4: Return to your previous screen
For this step, you would need to tap the icon that appears somewhat like "<" on the top left extreme of the title bar.

The most recent message you sent will be displayed right on top of your message list. Every message's entry into the list displays the individual or group recipients' name and information on whether the recipient is currently active to when they were last active.
By tapping on a particular message entry, you will be able to see your entire conversation history on the screen.
How To React To Messages On Instagram?
Instagram Messenger, like Facebook Messenger, is now upgraded to support new chat themes, disappear mode, and the ability to quote messages. Both iOS and Android users now make use of these new features. You, too, can start using Instagram Messengers's new and exciting features immediately, now that the updates have been rolled out full-fledged.
Earlier, we could only react to an Instagram message by double-tapping it for a "like" reaction to emerge. You may, however, now respond to one with a red heart, thumbs up, or other emojis. That is to say; you may now modify your pre-existing emoji with your favorite emoji reaction.
Double-tapping a message on Instagram generates a red heart emoji reaction by default. You can replace it with any other emoji of your choice. Follow the stepwise instructions below to learn how to react to messages on Instagram.
Open an Instagram conversation.
Tap on and continuously hold the message to which you wish to respond.
As soon as the emoji display pops up, touch and continuously press the heart emoji.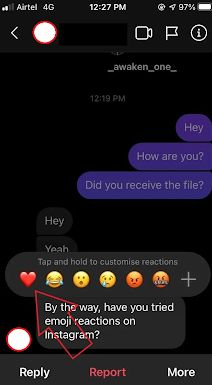 Then, choose your favorite emoji and click on Done.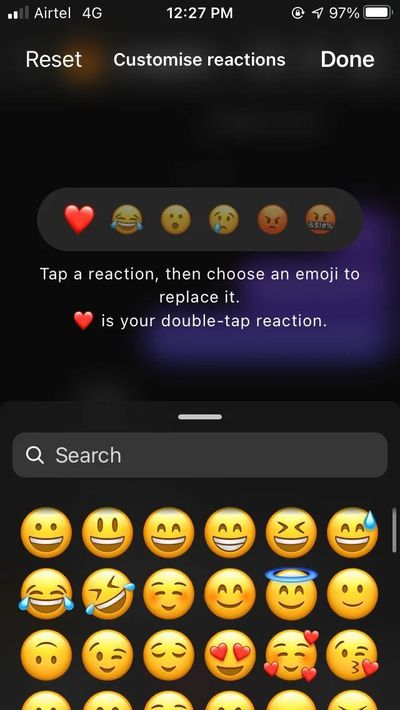 When you double-tap a message, your selected emoji will be included as a response instead of the default red heart.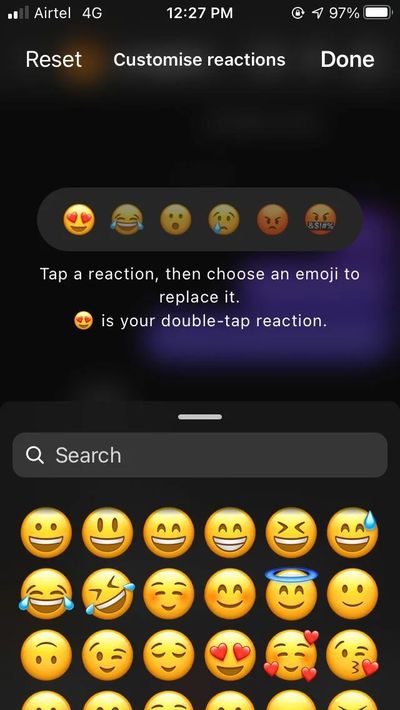 You may inadvertently react to messages or add an incorrect/inappropriate emoji at times. To delete it, just tap the desired emoji under the message and then tap that emoji on the following screen.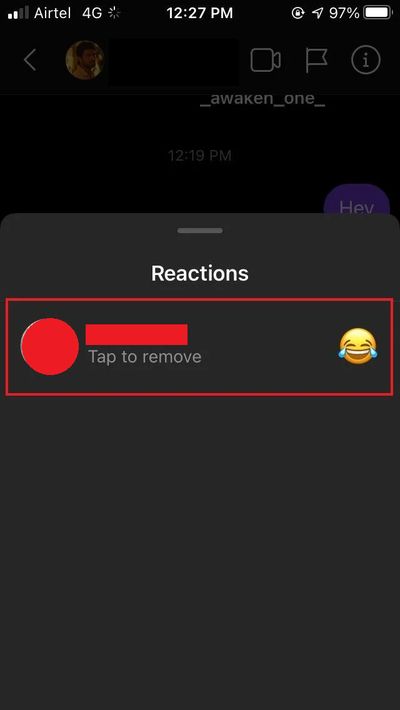 How to Delete Instagram Messages?
How do you delete Instagram messages and conversations? It is, in fact, relatively easy!
First, open your Instagram direct messenger.
The following stages will be determined by what you want to erase from your Instagram DM inbox and how much you want to get rid of.
To unsend one or two messages
What if you simply want to remove selective messages and not the entire conversation?
Let's imagine you sent a message you wish to retract — a message delivered during the height of your emotions that now seems somewhat inappropriate, or a message so inundated with embarrassing typographical errors that the recipient might end up questioning your communication skills.
For deleting such a message, all you would have to do is tap and hold that message and then select "Unsend."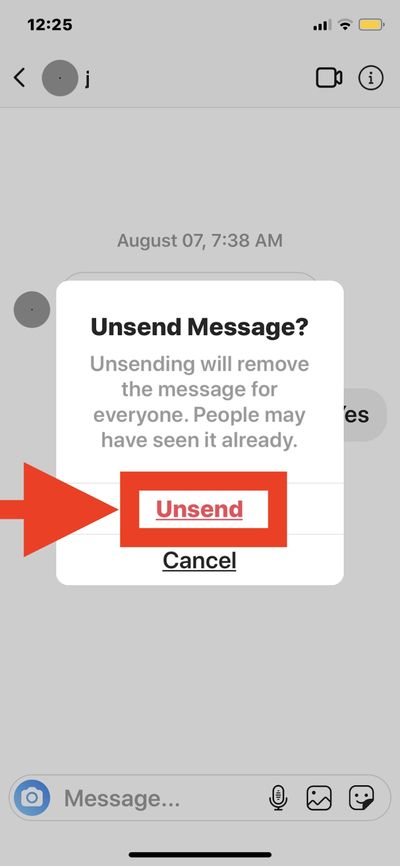 The "Unsend" feature ends up deleting the message for both you and your recipient as if it never existed at all. In fact, if you have luck on your side, you can immediately unsend a message even before your recipient ever sees it.
To delete an entire conversation 
You may delete entire conversations from your Instagram Messenger at once. This means you'll only have to delete messages once every discussion, rather than once every message. It is not as time-consuming as having to unsend one message at a time. However, you will only be deleting your copy of the chat, and your recipient would still be able to access their copy.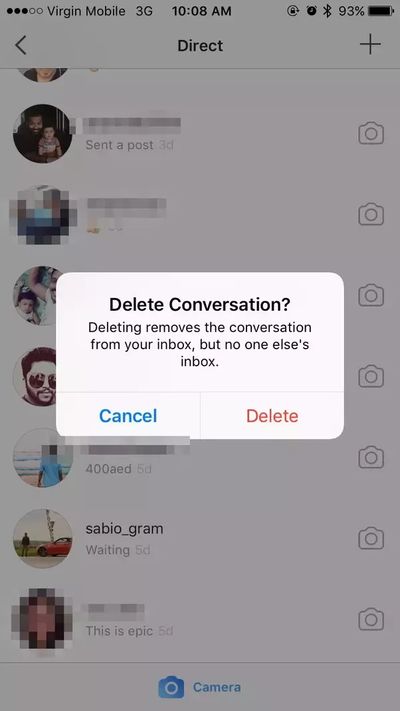 How Should You Use Instagram Messages For Your Business?
Posting your content regularly in the Instagram feed, using Instagram Stories, and replying to your followers' comments are all vital ways to engage with Instagrammers. Direct messages provide a one-of-a-kind opportunity for interacting with your target audience in a focused manner.
Here are some examples of how you can utilize Instagram direct messages to help your brand develop further.
Connect on a more personal level
Responding to your direct messages is just as crucial as responding to comments on your posts. It is also critical that you answer quickly, typically within a day.
According to Forbes, 49 percent of customers purchased products that they did not previously expect/intend to purchase due to customized suggestions egged on by a brand. Dedicating time for direct messaging and communicating with your followers is an excellent approach to deliver a personalized experience.
Moreover, responding immediately to your direct messages aids in the establishment of trust with your current and future customers. If somebody takes the time to reach out to you privately, it means that they're a dedicated loyalist who could be interested in collaborating with you or availing of your offerings anytime soon.
Make sure that you don't disappoint them with your tardy and dry replies. Show enthusiasm while promptly addressing their concerns!
Contact your consistent engagers
Is there somebody among your followers who is frequently commenting on your posts? Do they also often vote in your Stories' polls and routinely show up on your Instagram Lives?
Then don't miss an opportunity to show your appreciation for their constant presence!
Send a customized direct message to them. Be sincere in your gratitude for their participation in your brand's presence on the platform. Reward their dedicated engagement with top-of-the-line recommendations about your products/services to their DMs.
Also, notify them about any upcoming deals and events pertinent to your business. Giving your followers a tailored customer experience is likely to encourage them to keep engaging with your posts. You may also thank your most engaged followers with a unique promo code, which will result in additional sales for you!
Provide value to your followers
You can DM Warren Buffett, Tyra Banks, or any other celebrity on Instagram with whom you want to collaborate. Still, you will never get through if you don't analyze what that individual genuinely wants or needs. This is the most critical factor in success: people will not respond if you do not provide value.
The essence of any networking approach – especially for one on Instagram – is to add more value to the person you're DMing. So, construct your idea and get ready to accomplish what is critical in today's digital marketing environment – networking.
You have to remember that your value proposition is this: how can you assist them in solving the problem they are presently facing, or the one they have not even considered yet? Once you think you have found an answer, hit your target with an effective DM and wait for your strategy to brew and show color.
Utilize the Instagram Inbox tool
By now, you might have understood how crucial it is to leverage the power of Instagram messages to drive your marketing goals on Instagram.
However, as impressive as the idea of connecting with your target audience sounds, the task is not that cinch, especially for marketing agencies handling multiple Instagram inboxes.
If you want to maintain consistency on each Instagram DM, it's essential to use a centralized place to manage the conversation from multiple Instagram accounts.
And that's what SocialPilot's Instagram Inbox feature provides you.
You can switch between all your Instagram accounts and simply reply to comments, respond to DMs and Story replies from within the tool.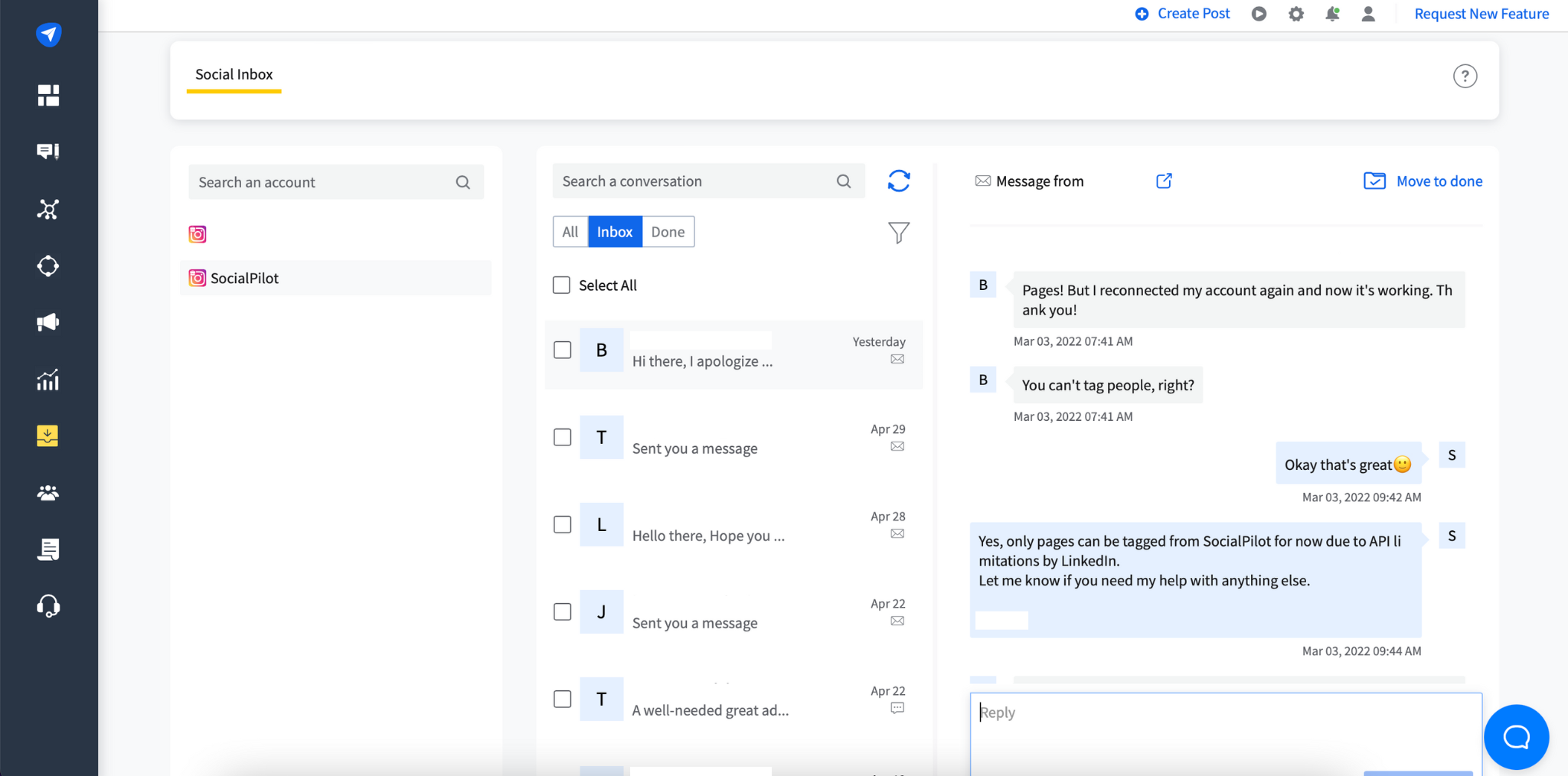 So, Why Wait? Start Messaging!
Instagram direct messages are an excellent marketing strategy that still remains woefully underutilized. They help create leads, develop trust, and establish a sense of community with your followers; when leveraged properly.
One of the essential factors to bear in mind is to personalize every single message you send. It may be tempting for you to send canned templates to your DMs, but your followers will be able to tell whether or not your message is genuinely meant for them.
Once you learn to provide personalized value to each of your followers,  your Instagram direct messages will become an excellent platform to interact with and establish connections.
When it comes to delivering personalized value on Instagram, nothing can come close to SocialPilot. This social media scheduling and analytics tool lends you unparalleled insight into your followers' activities over a long timeframe and the Inbox feature, enabling you to do more with your Instagram engagement.