Instagram Threads, the latest contender in the social media arena, is already making waves and has the potential to dethrone Twitter. Many social media users are eagerly anticipating this shift, buzzing with excitement for a solid Twitter alternative. This new platform could be a game changer in the micro-blogging universe.
Now, you might be wondering, "What sets Instagram Threads apart from the rest?"
Well, without giving too much away, its interface bears a striking resemblance to Twitter, with only a few minor differences. Moreover, the application too will piggyback on the Instagram account system, eliminating the need to fill out the details.
Social media users are thrilled to see Threads in action.
In this blog, we will walk you through the features of this app, its decentralized approach, and how it will make Twitter run for its money!
Intrigued? Can't wait to learn more?
Let's dive in, then!
What are Instagram Threads?
Instagram Threads is the new brainchild of Meta, and it's already making quite a splash in the world of iOS and Android applications.
Now, you might be thinking, "Another social media app? What's so special about this one?"
Well, Threads is not just any social media app. The platform is an Instagram offshoot but with a twist. As a text-based platform, Threads supports posts of up to 500 characters, along with photos, GIFs, and videos. That's almost double the character limit of Twitter's 280 characters!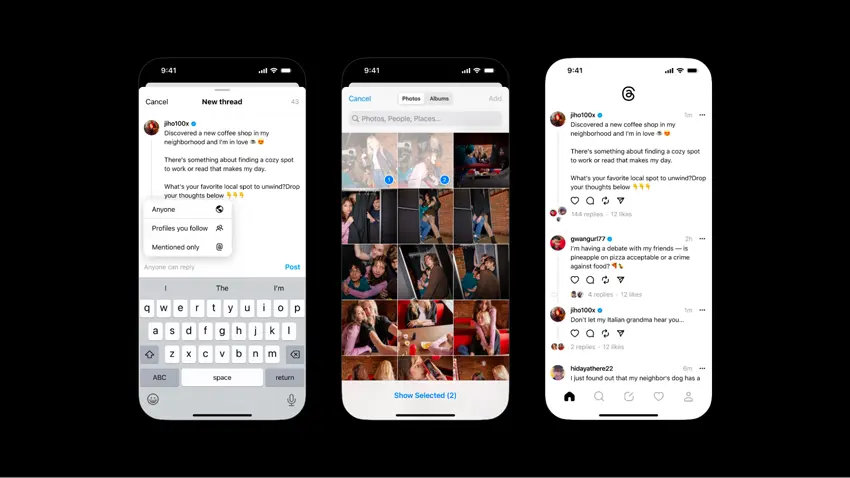 But what sets Threads apart?
Well, it isn't just about the increased character limit. Like its rival, Threads is also designed to push for community building and in-depth discussions on any topic of interest. It will serve as a platform to follow your passions, connect with creators, individuals, and even dive into topics that stir your curiosity.
Instagram Threads Statistics Overview
| | |
| --- | --- |
| Owned by | Meta |
| Availability | 100 countries |
| Key People | Adam Mosseri (Instagram CEO), Mark Zuckerberg (Meta CEO) |
| Headquatered | Menlo Park, California |
| User Registration | 100 million (in 5 Days) |
| Released on | July 6, 2023 |
| Business Type | Subsidiary |
| Important Features | Sharing text updates, screen reader support, and AI image description generator |
15 Instagram Threads Statistics and Facts
Threads was first launched in Canada on the Apple store and then rolled out to over 100 countries.
Both the iOS and Android version of the app supports over 30 languages.
Within the first seven hours of its launch, Threads was downloaded and registered by over 10 million people.
Over 100 million Thread posts were shared within the first 24 hours of its launch.
Around 95 million Threads and more than 190 million likes and interactions were recorded on Threads within 24 hours.
Threads is still not availabl in the European Union due to the data sharing complexities.
Unlike Twitter, Thread posts allows upto 500 characters and 10 multimedia items.
Instagram Threads crossed 150 million download mark within the first two weeks of its release.
Threads had minimal functionalities at its launch with limited viewability control options and no direct messages.
Threads app built by Meta has gained the top position in Apple's app store.
You need to have an Instagram account to create a Threads account.
Like other social media platforms, verified accounts are represented with the blue tick on Threads.
The app collects users' data of 25 different categories, including financial and sensitive data
Threads has a daily active user rate of 60%, higher than the average industry.
Threads can be used only on smartphones and are available on both iOS and Android app stores.
What Does Instagram Threads Offer?
Beyond being a conversation app, Threads offers a unique space for you to engage with your interests. Whether you're passionate about a specific topic, looking to connect with creators, or wanting to build a community, Threads provides the platform to do so.
With that, let's take a look at the top features of Instagram treads.
Top Features of Instagram Threads
You might be thinking, "Threads is a fairly new app; what could it possibly offer?" Well, you'd be surprised. Despite being the new kid on the block, Threads packs a punch with many features that make it a standout text-based social media app.
Here's what you can expect:
1. Access Instagram Connections
Already an Instagram user? Great! Threads will reserve your Instagram username and other details for user verification. This means you can sign up for Threads and begin following the same accounts you follow on Instagram while also exploring new accounts.
2. Make New Friends and Follow Creators
The feeds section of the app shows you a mix of content from the accounts you follow and the Threads that might interest you.
In this section, you can engage with Threads by reacting, commenting, and even discovering new accounts that you might be interested in following. Essentially, the feeds section will help you find your community on Threads and engage with people you want to connect with.
3. Share Your Thoughts or Initiate a Conversation
Got something to say? Threads make it easy with its clean UI. You can create a new Thread to share your thoughts or simply begin a conversation with a series of Threads. Also, it gives you control over your conversations by letting you decide who can reply to your Threads.
4. Control Your Conversations
Threads puts you in the driver's seat with its privacy settings. You can control mentions, mute accounts, and block those you'd rather not see. And if you've blocked any accounts on Instagram, they'll be blocked on Threads too.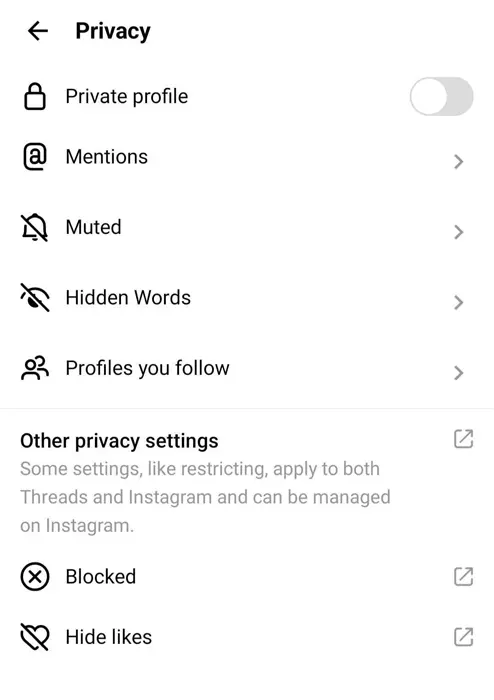 5. Stay in the Loop With Notifications
Love staying updated with the latest trends and discussions? Threads have got you covered. The app notifies you when the profiles you engage with start a Thread and keeps you updated with the latest discussion on your favorite topics.
But that's not all.
Threads is continuously evolving to enhance the user experience and attract more users. They've already hinted at an upcoming open social networking feature that will help users reach a larger audience and discover content more effortlessly.
How To Use Instagram Threads
Ready to give Threads a whirl? Here's how you can get started:
Download the app from the Apple App Store or Google Play Store.
Tap on 'Login with Instagram.'
On the next screen, the 'Profile' page, use the 'Import from Instagram' option to pull your details in. Else, fill out the form to add your bio. Tap to continue.
Select if you want a Private profile or Public Profile, then tap Next.

Once logged in, you can choose to follow the same accounts you do on Instagram or discover new ones. If you're a verified Instagram user, your user verification checkmark will also appear on your Threads account.
On the 'How Threads Work' page, tap the 'Join Threads' button.

Now, let's guide you through creating your very first Thread on Instagram Threads:

From the bottom menu, tap on the 'Create' icon.
On the New Threads page, draft your thread; you can also add media files. If you wish to add a photo or video, select the 'attach' button and choose up to 10 items. Once done, click 'Done' (Android) or 'Add' (iPhone) at the top right.
To extend your Thread, select 'Add to thread.' If your Thread exceeds 500 characters, an additional thread will be automatically created.
Finally, click on 'Post' at the bottom right. A progress bar will appear at the top as your thread is being posted.
To manage who can respond to your thread, click on 'Anyone can reply' at the bottom left. You can restrict replies to 'Profiles you follow' or 'Mentioned only.' If you limit replies, your thread won't be shared with your fediverse followers.
What It's Like Using Instagram Threads
So, how does Threads stack up against the social media giant Twitter?
As a text-based social media platform, Threads is stepping up as a direct competitor to Elon Musk's Twitter, but with some added perks.
Threads focuses more on conversations and allows almost twice the character limit for a Thread than a Tweet. The platform is also expected to overcome some of Twitter's limitations which have resulted in many users drifting from the platform.
So, will Threads be able to grab the undivided attention of Twitter users? Let's compare Threads vs. Twitter and see how they differ.
Instagram Threads vs. Twitter: How Do They Differ?
Now, you might be thinking, "Isn't Threads just a Twitter clone?" Well, according to Meta Product Vice President Connor Hayes, as quoted in The Washington Post, Threads is a completely new application with a focus on text and dialogue.
Sure, there are similarities, like conversations primarily revolving around text-based posts, mentioning other users in Threads by tagging them using the @ symbol followed by their username and replying or reposting another user's thread.
But there are differences too. Let's break it down:
1. Longer Video Content
Unlike Twitter, where the maximum video length is 2 minutes and 20 seconds long, the length of videos on Threads will be more than double at five minutes long.
2. Absence of Hashtags
Here's a big one. Instagram Threads doesn't use hashtags or have a trending topics button like its rival. As a user, you can use neither.
3. No Editing After Posting
Once a thread is posted on Instagram Threads, it's set in stone. You can't modify it.
Of course, these are a few drawbacks, but developers are hard at work ironing out the kinks to deliver a social media platform that users will love.
What Does Instagram Threads' Decentralized Approach Mean?
There's this constant buzz about Instagram Threads and decentralization. But what exactly is this about?
Well, decentralization isn't a new concept in social media, but Instagram Threads is the very first application from Meta to embrace and promote it fully. This approach allows users to port their social media content and interact with the users across different applications that use the same principles.
Let's elaborate more on this decentralization approach.
What is the Decentralization Approach?
Many social media giants follow a centralized approach, which often discourages collaborations and free-flowing communication. The decentralization approach, on the other hand, is built on the belief that every social network should operate independently.
And, yes, Instagram Threads is set to follow a decentralized approach.
Soon, Threads will be compatible with the ActivityPub protocol, a system developed by the World Wide Web Consortium (W3C) that sets standards for the modern internet. According to this protocol, social media networks in the future will be able to operate independently.
The tech industry is buzzing about these new standards for social networking platforms that are expected to be more open, more user-centric, and more powerful than Facebook and Twitter. Many believe that ActivityPub could rewire the entire social media landscape.
But, Why is Decentralization Happening?
Decentralization came into the spotlight when Elon Musk acquired Twitter for $44 billion. This acquisition systematically disrupted everything that users loved and cared about, leaving a void and destabilizing the status quo. Eventually, users began searching for something better to fill the gap, and that's where decentralization was born.
But what makes decentralization so powerful?
Decentralized social networking is a game changer. It's very different from how our social internet works now. In simple terms, decentralized social networking separates the user interface from the underlying data.
What does this mean?
Users won't have to start from scratch every time they sign up for a new social application.
With open-ended social media networks, users can easily find their connections, followers, friends, and more. According to principles of decentralization, these elements should be a part of the open social internet and not confined to a specific application.
What Can You Expect?
Experts say that someday in the future, Instagram Threads could be visible on other apps like TikTok, allowing users to interact across multiple platforms from a single hub.
You could post a picture on Instagram and comment on it through Twitter. Your friends could read your Tweets in their TikTok application, and Tumblr users could access your posts on Telegram. Essentially, you'd have the same set of followers and follow the same accounts, no matter what social media platform you use.
This would completely disrupt the social media market as we know it, eliminating the concept of platform-specific followers or friends.
Experts, including those at W3C, believe this decentralized approach will play a vital role in the future of social platforms, much like the protocols that govern the web itself.
Conclusion
Instagram Threads, Meta's latest creation, is more than just a new social media platform. It's a game changer in the digital landscape, offering a fresh, text-based platform for users to engage in meaningful conversations and community building.
With its clean UI and user-friendly features, Threads has quickly gained traction, attracting a large user base from its sibling platform, Instagram.
But what truly sets Threads apart is its pioneering approach to decentralization. By embracing this concept, Threads has a great chance to completely redefine our interactions on social media, allowing users to port their content and interact across platforms seamlessly.
This approach has a high probability of completely disrupting the social media market as we know it, making Threads a platform worth watching.
For marketers, this presents a golden opportunity. With its rapid user growth and innovative features, Threads offers a new frontier for digital marketing.
So, why wait? It's time to explore Instagram Threads and embark on a new marketing journey!