All social media marketers can agree with one thing — the acute lack of time with limited bandwidth. There are endless parallel activities that have to be planned, executed, and monitored.
And when it comes to social media like LinkedIn, the very thought of executing a campaign successfully is burdensome! Because, unlike other platforms, you can't afford to be goofy here.
Linkedin is responsible for generating more leads than any other social media app. It is jam-packed with decision-makers. The right content can directly swing doors open for qualified leads here.
We have listed some of the best LinkedIn tools with comprehensive feature sets to pump up your LinkedIn branding.
Without any further ado, let's jump right in!
8 Best LinkedIn Tools for your business
SocialPilot is one of the most affordable LinkedIn tools for your marketing team. You can use it to post on numerous social media sites like TikTok, Pinterest, Tumblr, VK, Facebook, and Instagram (Direct Publishing). SocialPilot is designed to add value to social media teams of all sizes by optimizing their marketing efforts.
Another reason why SocialPilot is growing in popularity is its reliable and express support via email, talk, telephone, and social to its users. This LinkedIn tool is designed to help users widen the reach of every marketing campaign in minimal time. It is suitable for any individual, agency, or enterprise with reasonable pricing.
Why use SocialPilot?
What do people say about SocialPilot?
Hardi V.
Being a digital marketer, I always prefer Social pilot as it has been a boon for me for the past 1 year. I schedule my post by writing captions; they automatically shorten the URL and fetch the image from the URL.
Beverley T.
Affordable, easy to give clients access to their accounts and give team members access to specific groups. The "Group" function is great. I also enjoy the "Curated Content", which makes it easy to find relevant articles and links to share with your audience.
Susan D.
This is the best auto-post tool I've used in the last 10 years. Traffic to my website has increased. Easy to use. I stepped right into it and found it to be user friendly. The website layout made my user experience relatively stress-free, which is saying a lot for me.

---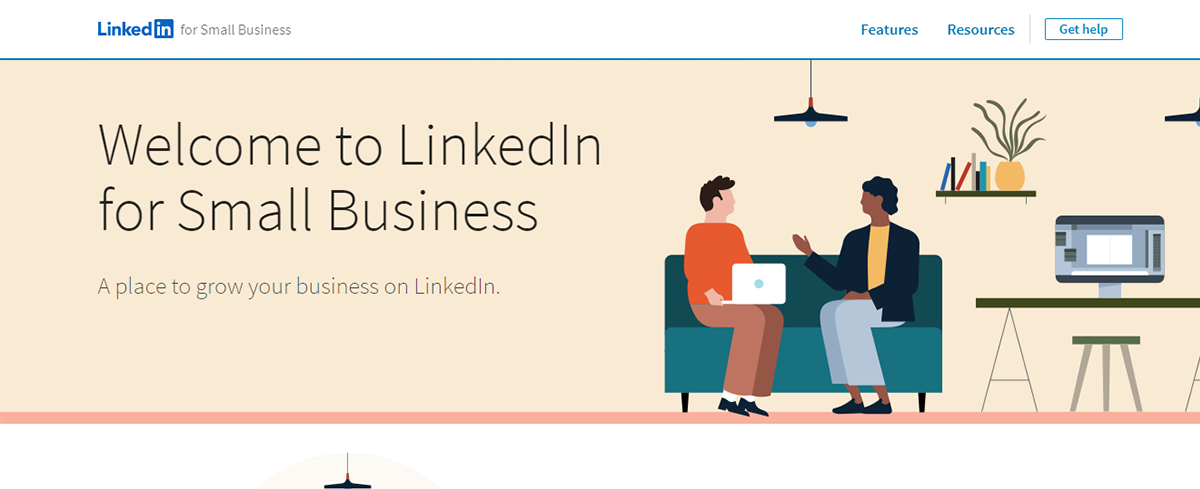 LinkedIn Small Business has a 3-step approach towards social selling and being the great lead builder. This tool helps small businesses in tracking sales and building trust. This approach includes establishing your brand presence, connecting with your target audience, and engaging them with content marketing. Showcase your services the right way to reach the maximum of potential customers.
Pros
It is the best tool for B2B lead generation and is simple to use.
It is the ideal LinkedIn tool for improving market outcomes, raising brand awareness, encouraging jobs, and educating potential clients about specific offerings.
Kimberly A.
It's a neat LinkedIn tool to keep track of activity and so boost your impact. You can have more accurate control of statistics for further comparisons and goal planning.
Cons
It takes time and energy to create and sustain an effective LinkedIn network. The time required to build a successful profile or website is different. Credibility on the web includes daily tasks in various classes.
Russell Carr E.
LinkedIn Small Business actually penalizes users for not renewing subscriptions every month. After cancelling and then trying to renew, I learned that all of the searches would be lost (EVEN BEFORE THE SUBSCRIPTION WAS OVER!). I contacted support and asked for the searches to be saved if I renewed, and they refused.
---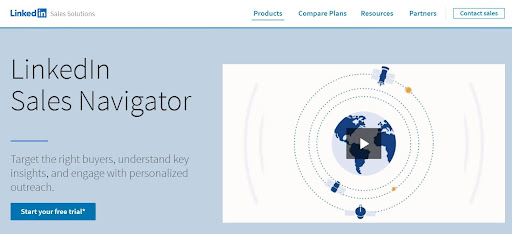 In order to help sales professionals identify and develop relationships with prospects and customers by social marketing, LinkedIn Sales Navigator uses the strength of its 772 million-member network. On average, social selling leaders see 45% more opportunities created, 51% more likely to achieve quota, 80% more productive, and 3X more likely to go to clubs, as suggested by this LinkedIn tool.
Pros
It uses an advanced algorithm to find the prospects best aligned with what you have to offer.
Focus on sales insights to have the best information as a decision-maker.
It provides relationship-building tools, allowing you to sell better.
Shaun Houshmand
LinkedIn Sales Navigator makes prospecting for the right people extremely easy. It's the most up to date source of information (prospects keep their LinkedIn up to date). It has some great features for lead saving, search saves, filters, account saving, etc.
Cons
LinkedIn Sales Navigator requires a lot of manual effort and is pretty time-consuming.
It doesn't have a user-friendly interface and is confusing.
Adam D.
The filters don't work properly. In spite of selecting a range of 10-50 employees, this LinkedIn tool displays companies of 1001-5000 employees which then I have to go and filter out manually to my requirements. Literal waste of time!
---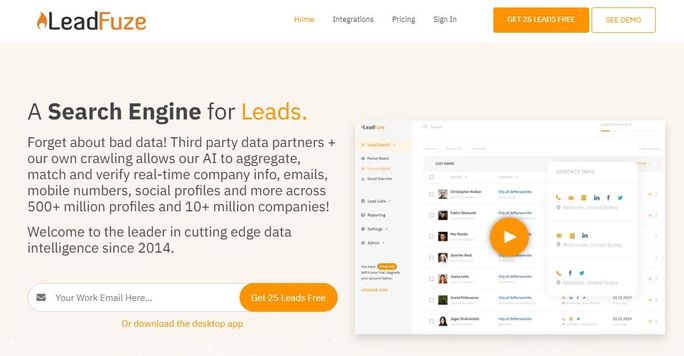 LeadFuze is a lead generation program that leverages AI to discover particular positions and industries to specific leads. The solution provides you with in-depth details and basic information such as checked emails, phone numbers, social media and more. Use these real-time details of your potential customers to connect with them instantly.
Pros
It helps you to build a list of leads and target accounts quickly.
Consumers of this LinkedIn tool often have access to contact information, including email and contact numbers, which makes the selling process quick to start.
Jonathan R.
I'm a small operation, and the ability to completely automate my prospecting for B2B leads (my main target customers) allows me to focus on sales and fulfilment. This is game-changing for me!
Cons
Spammers might misuse the LeadFuze program.
The onboarding process needs to be improved a lot.
It only offers support as per the US timings.
Verified LeadFuze User
15% phone number coverage. And some bugs with the website like the non-responsive design. There's an error when saving leads that require Email is enabled.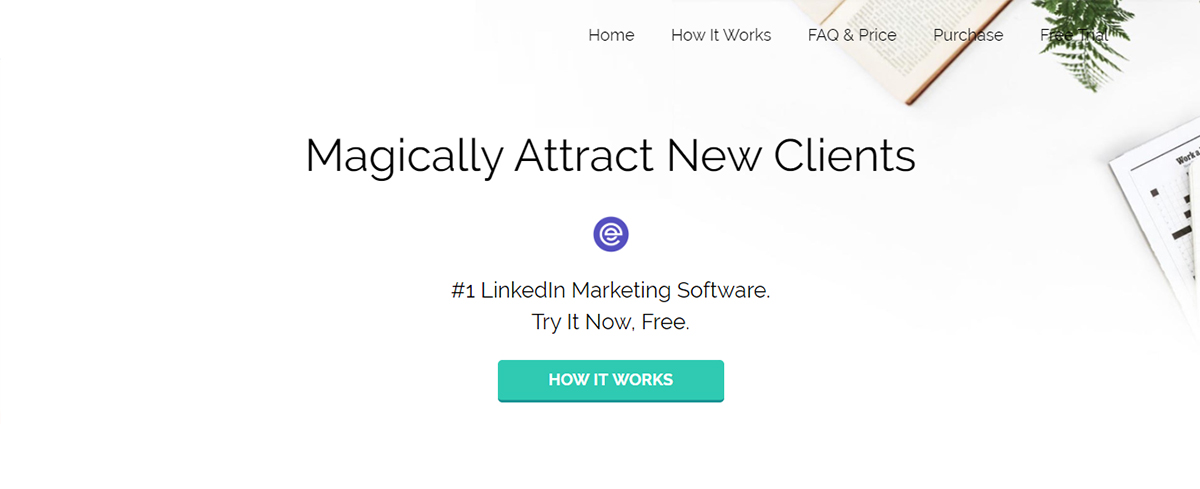 eLink-Pro helps you find, attract and engage with hundreds of prospects daily on LinkedIn. For recruiters, experienced sales managers, realtors and everyone in sales and marketing, eLink provides opportunities on LinkedIn and Twitter. Use its marketing automation power coupled with social selling in advertising and recruiting to command authority, and building deeper professional networking.
Pros
Meet your monthly network goals and land new contracts, sign more deals regularly, generate traffic, referrals, and sales for your organization.
It is really easy to use with an intuitive interface.
Dylan J.
eLink Pro functions can quickly increase views of your LinkedIn profile, ensuring that your brand is always in front of the target customer
Cons
SEO customization is not there.
Verified eLink Pro User
The app works only on Google Chrome. But my main browser is Firefox. Due to this, I was made to use another browser to use the app.
---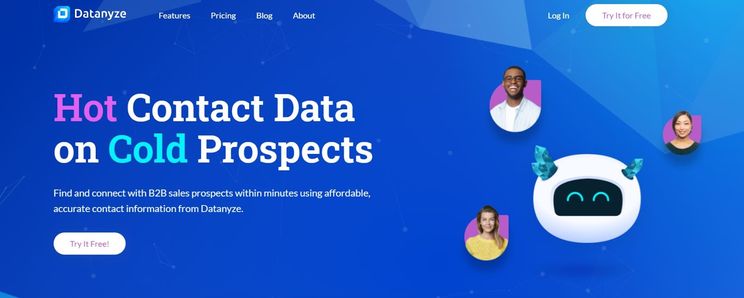 Datanyze is LinkedIn's exploration platform that constantly assesses millions of websites. This LinkedIn tool allows its users to address questions such as who dropped your competitor today, where website visitors quit you, and which of their clients uses advanced technology. Nudge people to complete their buyer's journey faster without being too pushy.
Pros
Promote and sell your goods based on the technology choices your prospects make.
Datanyze lets you search accounts, contacts, and email addresses.
Using Datanyze helps in faster conversions with improved conversation quality.
Zach DiFranza
We use Datanyze before prospecting or discovery calls to get background on a prospect company's existing tech stack. This facilitates more natural conversations and enables us to demonstrate how we'd plug into their existing environment rather than having to pepper them with 20 questions at the start of each call.
Cons
It is expensive compared to other tools.
They don't track or provide insights into the existence of the omnichannel, delivery, order volume, income information, etc., making their eCommerce very poor.
Erika C.
It did not update consistently when it comes to specific information like company size, annual revenue, business industry, year founded, business type. There was a definite limit to the number of times you can search. Some companies were not registered yet, so targeting newer companies may be difficult.
---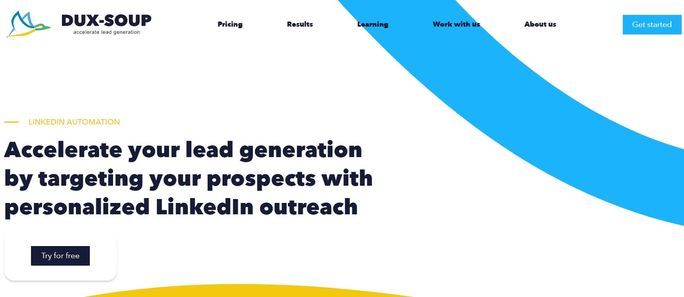 Dux-Soup is a brilliant LinkedIn tool to facilitate the lead generation process with automation. Add notes and tags whenever visiting profiles of potential prospects to personalize outreach messages. Win the trust of your contacts beforehand with automated skill endorsements and initiate meaningful conversations with them. You can upload prospects lists and download details of leads generated from them.
Pros
Easy to set up drip campaigns even for beginners.
The support team is quick at addressing concerns and solving queries.
Verified User
The thing that I like best about Dux-Soup is that it runs autonomously. The fact that it can pull up information about the contacts visited is absolutely mind-boggling.
Cons
It might slow down your drive after installation.
The interface is clunky and not intuitive. It takes time to learn how to use the tool properly.
Sami L.
My strong recommendation is to improve user experience all around. A complete UX overhaul was needed! The Dux-Soup Turbo license is too expensive.
---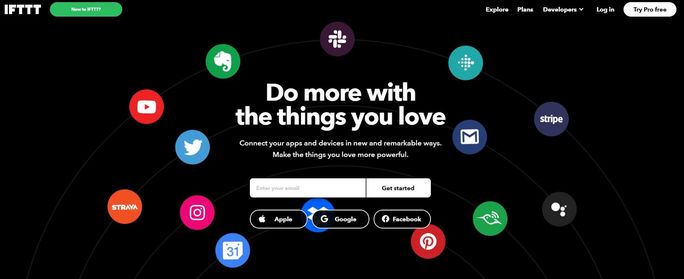 IFTTT allows you to decide a course of action based on responses. It can send you an email when a LinkedIn connection happens to change their jobs or a particular company you follow lists a new job opening. It helps you connect, learn, and maximize the value of your customers with their discovery and integration platform. It is an ideal LinkedIn tool for dealers who want to simplify LinkedIn to deliver better performance.
Pros
This LinkedIn tool is pretty good at customization, great interactions, mobile support, and offers a free version too.
Brands can benefit a lot from IFTTT as it connects your products to third parties, including iOS, Google, and more.
Kimberly Hargis
IFTTT's value is how much time it saves my clients. I set up apps at IFTTT that will post set information from online, feeds or internal website use directly as a blog draft. I can use the drafts to decide what information I want to explain upon creating a blog post.
Cons
The use of multi-step applets is not provided to users.
Better organizational resources are required in the business sector.
Gilles De Clerck
I've set up multiple automation flows with IFTTT over the last few years, but none of them have run more than a couple of weeks for the simple reason that they didn't work or didn't work consistently. The idea of automation is that things you need to happen, happen automatically.
Using a combination of these LinkedIn tools can work wonders for you. Increase traffic, engage consistently and improve the effectiveness of your LinkedIn marketing strategies.
But just being on LinkedIn isn't sufficient. That's why a multi-platform tool like SocialPilot is a must for your marketing team. It schedules, moderates, tracks vital analytics, curates content, allows team collaboration, supports bulk scheduling, utilizes RSS feeds, and more. Take the free trial of SocialPilot to ace your holistic social media growth goals. So wait no more and get started right now!