Have you been using TikTok for business for quite some time?
Then why not take center stage with TikTok live videos to level your brand engagement on TikTok?
Going live on TikTok gives creators and brands an excellent opportunity to connect with their audience in real time. You can do Q&A sessions, share tips & tricks, or show behind the scenes.
If you don't know how to go live on TikTok, you have come to the right blog to begin your journey. In addition to providing detailed steps on going live on TikTok, we will also discuss the best tips to make winning TikTok live videos.
Let's roll!
What is TikTok Live?
TikTok Live serves as the platform's real-time broadcasting feature, allowing users and creators to engage directly and instantly. It's similar to the live-streaming functionalities seen on Facebook, Instagram, and YouTube, offering businesses an authentic way to connect with their audience to build trust, impart knowledge, and increase engagement.
During a live stream, viewers can actively participate by dropping comments, to which creators can respond on the spot, enhancing the interactive nature of the stream.
To further elevate this experience, creators have access to a wide range of tools and effects, adding a touch of entertainment and flair.
An added perk?
Viewers can send virtual coins as tokens of appreciation. These coins can later be converted monetized, translating into tangible earnings for the creators.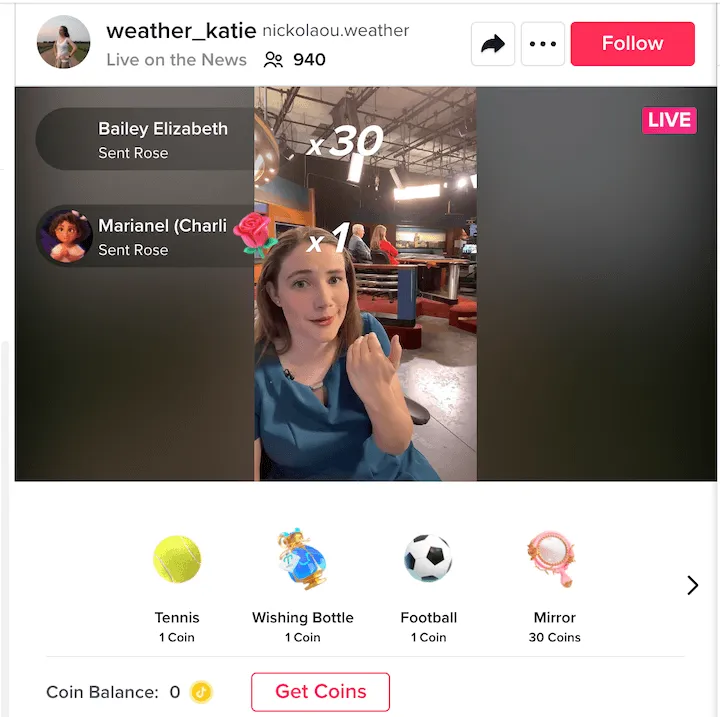 Do you know the distinct advantage of TikTok Live?
The beauty of lies in its duration. Contrary to the brief clips the platform is famed for, live streams can span extensively, offering ample opportunity for better and deeper connections. However, for optimal engagement, it's advisable to cap the streams around the 30-minute mark.
Now, let's get straight to what you are here for, which is…
How to Go Live on TikTok: A Step-by-Step Process
Whether you're a TikTok newbie or a seasoned pro, follow these easy steps to start your live session and engage with your audience on a whole new level:
Step 1: Launch the TikTok app on your mobile phone, and tap on the '+' symbol present at the bottom center of your screen.
Step 2: This action will bring up the in-app camera screen. From here, swipe to the "LIVE" option in the navigation bar at the bottom.
Step 3: Before going live, you'll need to select an image and craft a title for your stream. This title should be compelling enough to entice your TikTok followers to join. Note: The title has a 32-character limit, so it's crucial to be succinct yet impactful.
Step 4: Once you've set everything up, tap "Go Live" to begin your session. As you start broadcasting, your followers will receive a notification, alerting them to join in. During the live stream, you have the flexibility to make multiple adjustments, such as switching the camera view, incorporating effects, and moderating comments.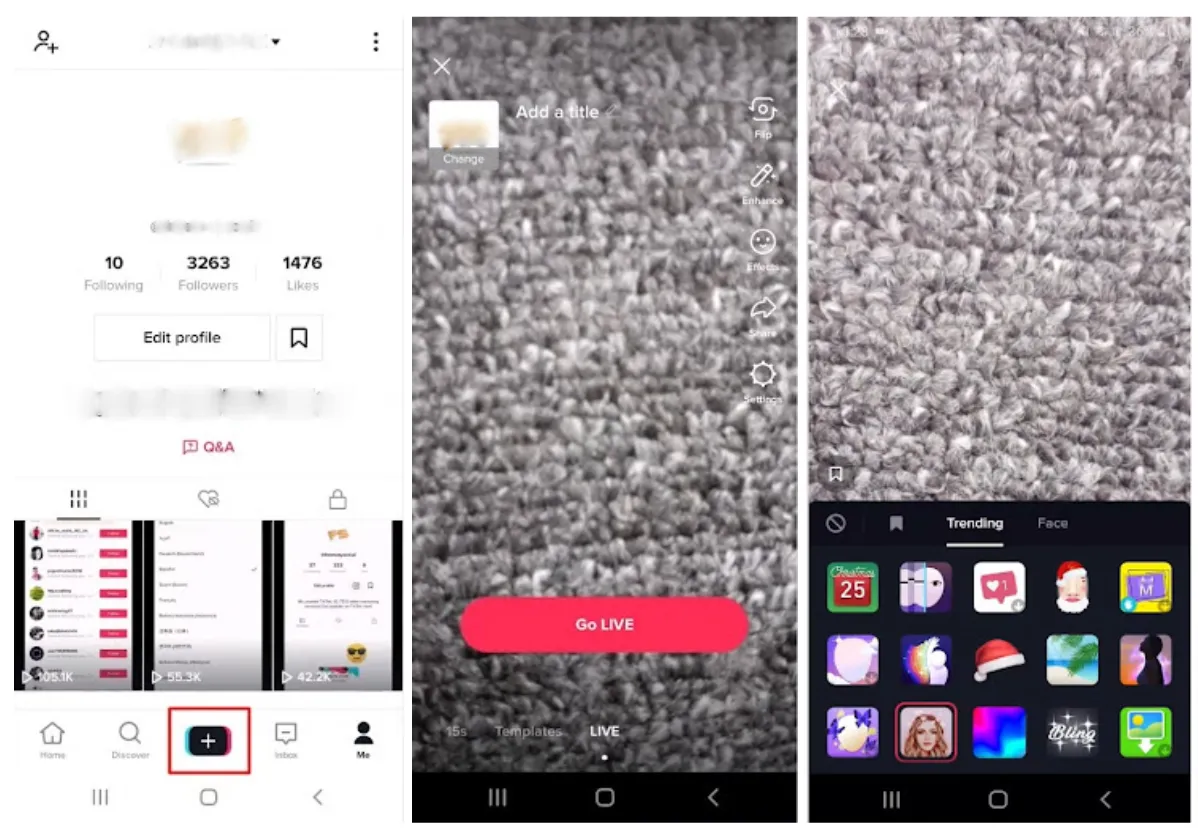 Did you know:
You can add up to 20 people to co-host the live session with you. Let's check out how to do that.
How to Go Live With Someone on TikTok?
TikTok offers a unique feature that lets you invite other creators to co-host live sessions, making the experience more interactive and engaging. You can invite up to 20 moderators at once.
This multi-guest feature is especially beneficial for businesses and influencers looking to collaborate and tap into new audiences.
Here's how you can co-host a live session on TikTok:
Step 1: Begin by following all the steps to go live on TikTok, as mentioned in the section above
Step 2: Once you're live, locate the circular blue and pinkish icon at the bottom left. You can tap on it to invite others to join your live room as a co-host.
Step 3: Next, you will see a list of people who have either requested or are watching your live video. Simply select the users you want to invite to your live streaming and tap on "Add." Once they approve your request, they will be added to your livestream, and you can interact with the audience in real-time.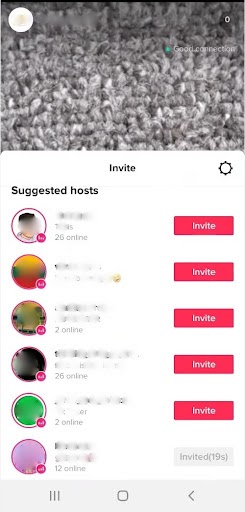 You can also join someone else's live broadcasting.
To do so, tap on the two-smiley icon near the comment box. This sends a request to join the broadcast. Once your request is approved, you will be added to the live stream with the host. Your followers will also be notified that you are streaming live.
Now that we know how to go live on TikTok, let's cover an important question:
How Many Followers Do You Need to Go Live on TikTok?
TikTok's live streaming feature is a privilege, not a right, and comes with certain prerequisites.
To access the live video feature on TikTok:
You must have amassed a following of over 1,000 followers
The age requirement is set at 16 years or older to initiate a livestream
However, to be eligible to earn through the platform's LIVE Gifts and Diamonds, you need to be 18 years or older.
It's worth noting that while the live streaming functionality is a fantastic way to engage with your audience in real time, it's essential to ensure you meet TikTok's criteria before planning a live session.
But what if you have less than 1,000 followers? Can you still do a live stream?
Yes! Let's find out how.
How to Go Live on TikTok Without 1,000 Followers?
Everybody wants to use the TikTok live feature. However, the platform's requirement of having at least 1,000 followers can be a barrier for many aspiring creators.
But fret not!
There are a number of workarounds many accounts employ to access TikTok live, and these include:
Purchasing Followers: Some users resort to purchasing followers to meet the threshold quickly. However, we strongly advise against this, as fake followers offer zero engagement and might jeopardize your account in the long haul, which could lead to your account getting to permanently suspended.
Collaborating with Established Creators: This strategy involves teaming up with another TikToker who already boasts over 1000 followers and joining their live session. By joining their live session, you can indirectly experience the live feature and potentially attract some of their audience to your profile.
Contacting TikTok Support: Lastly, the focus of our discussion is submitting a support ticket. Some users have reported success by claiming they previously had access to the live feature and requesting its restoration.
Here's a step-by-step process of how to go live on TikTok without 1000 followers.
Step 1: Open TikTok and tap on the hamburger menu icon at the top right of your profile to access your account settings.
Step 2: Access "Settings and Privacy" from the menu and choose "Report a problem."
Step 3: Navigate to "Live" and select "I can't start a LIVE," and when asked if the issue was resolved, click "No."
Step 4: In the "Send us your feedback" section, type a message, such as: "Hello! I was able to access TikTok Live, but I can't anymore. Could you assist in enabling it again?"
Step 5: Submit your request and patiently wait for a response.
It's essential to note that while this method has worked for some, it's not a guaranteed solution. The decision ultimately lies with TikTok's support team.
Now that we've covered all the essential steps to go live on TikTok let's look at the…
8 Best Practices to Make Your TikTok Live Engaging
Going live on TikTok just takes tapping a few buttons, but creating a truly engaging live experience takes a bit more work.
If you aim to transform your live sessions from just another video into an interactive broadcast that captivates the audience, you'll need to go a few steps beyond simply hitting 'Go Live.'
That's why we have developed eight best practices to elevate your TikTok Live, ensuring every live you make helps you reach closer to your goals.
1. Set Clear Objectives for Your TikTok Live
Every action, whether in life or business, has a purpose. When it comes to TikTok Live, what's your endgame?
Are you aiming to promote a new product, boost engagement, or perhaps foster community ties?
Pinpointing your objective will pave the way for a more focused and effective live session.
2. Choose a Relevant Topic
Once you've nailed down your objective, select a topic that aligns with it. Craft a catchy title to captivate your audience's attention.
Remember, consistency is key.
Plan multiple live sessions around various sub-topics, or consider creating a series of live streams to delve deeper into a broader subject.
For instance, if you're a marketing agency targeting startups, identify common challenges they face and address these in your live sessions.
3. Plan the Structure of Your Live Stream
While spontaneity has its charm, a structured approach ensures a seamless live experience. Here's a basic framework to guide your session:
Introduce Yourself: Begin your TikTok by introducing yourself and what you do to make the interaction more warm and authentic.
Reveal the Topic: As more viewers join, reveal what you will talk about in the live stream.
Pre-plan the format: With the topic in mind, decide how you are going to propagate your ideas to the viewers. Is it going to be a how-to stream? Are you going to take them behind-the-scenes? Perhaps a simple Q&A session with your audience?
Live Duration: You should also plan how long you want to keep the live sessions. It will help you make the sessions brief and on-point. Though TikTok live videos have a limit of 60 minutes, we recommend keeping the duration under 30 minutes.
To spark inspiration, consider these engaging livestream ideas:
Engage your audience with an "Ask Me Anything" (AMA) session, allowing them to delve deeper into topics they're curious about.
Offer a unique behind-the-scenes look into your operations. Introducing your team during this tour can foster a more personal bond between your brand and viewers.
Collaborate with a brand partner for an insightful interview. Ensure the discussion topic resonates with both your audiences.
Address and debunk prevalent myths in your industry, providing clarity and establishing your brand as a trusted source.
Showcase your products in action with a detailed demonstration.
A prime example of leveraging TikTok Live effectively is e.l.f. Cosmetics.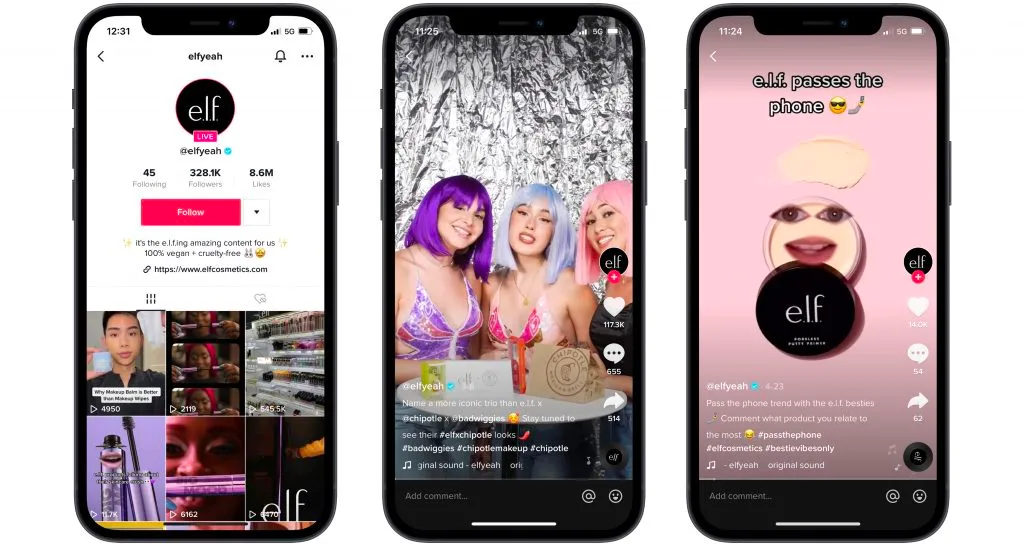 Their beauty tutorials and Q&A sessions have garnered significant attention, setting a benchmark for brands aiming to make a mark in the TikTok Live arena.
4. Time It Right
The success of your live session largely depends on when you choose to broadcast. It's essential to align your live stream with the peak activity hours of your target audience on TikTok.
The benefit?
By doing so, you increase the likelihood of garnering maximum viewership. Find the best time to post on TikTok to know when your followers are most active, and schedule your live sessions accordingly.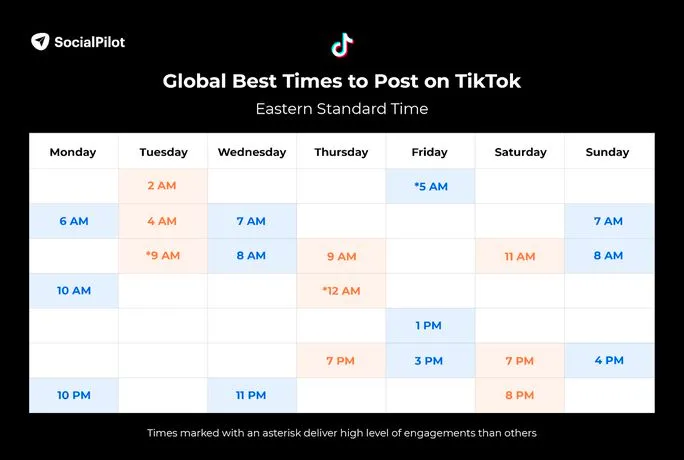 Remember, it's not just about the number of viewers but about engaging the right audience at the right time.
5. Promote Your Live Session Beforehand
To maximize the reach and impact of your TikTok live session, it's crucial to build anticipation among your audience. Announcing your live stream in advance not only informs your existing followers but also gives them a chance to adjust their schedules to tune in.
Start by crafting an enticing TikTok video that teases the content of your upcoming live session, sparking curiosity among potential viewers. Broaden your reach by promoting the live event across other social platforms, in email newsletters, and on your website. As the date nears, keep the momentum going with timely reminders, ensuring your audience doesn't miss out.
A stellar example of effective promotion comes from The Weeknd. In his marketing materials for TikTok Live, he clearly specified the time and timezone of the session.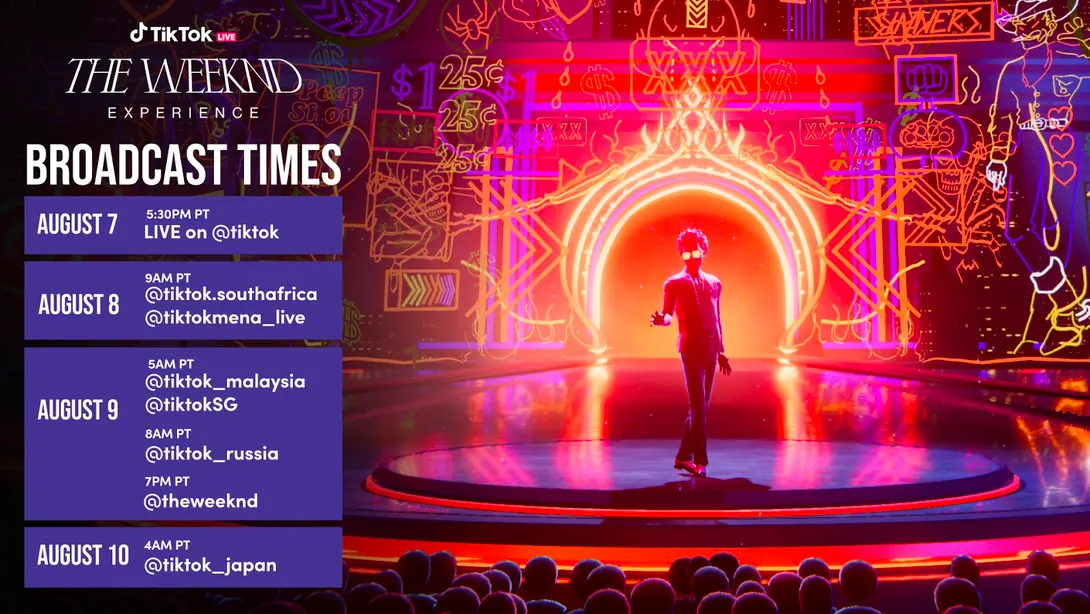 Such clarity ensures that fans from around the world can convert the time to their local timezone and join in without confusion.
Planning and consistency are key to a successful TikTok strategy. With SocialPilot's TikTok scheduler, you can effortlessly schedule your TikTok posts in advance.
Use SocialPilot to plan, schedule, and publish TikTok posts of multiple accounts ahead of time from a single dashboard, ensuring consistency and timely content delivery. No more last-minute rushes or missed posting times.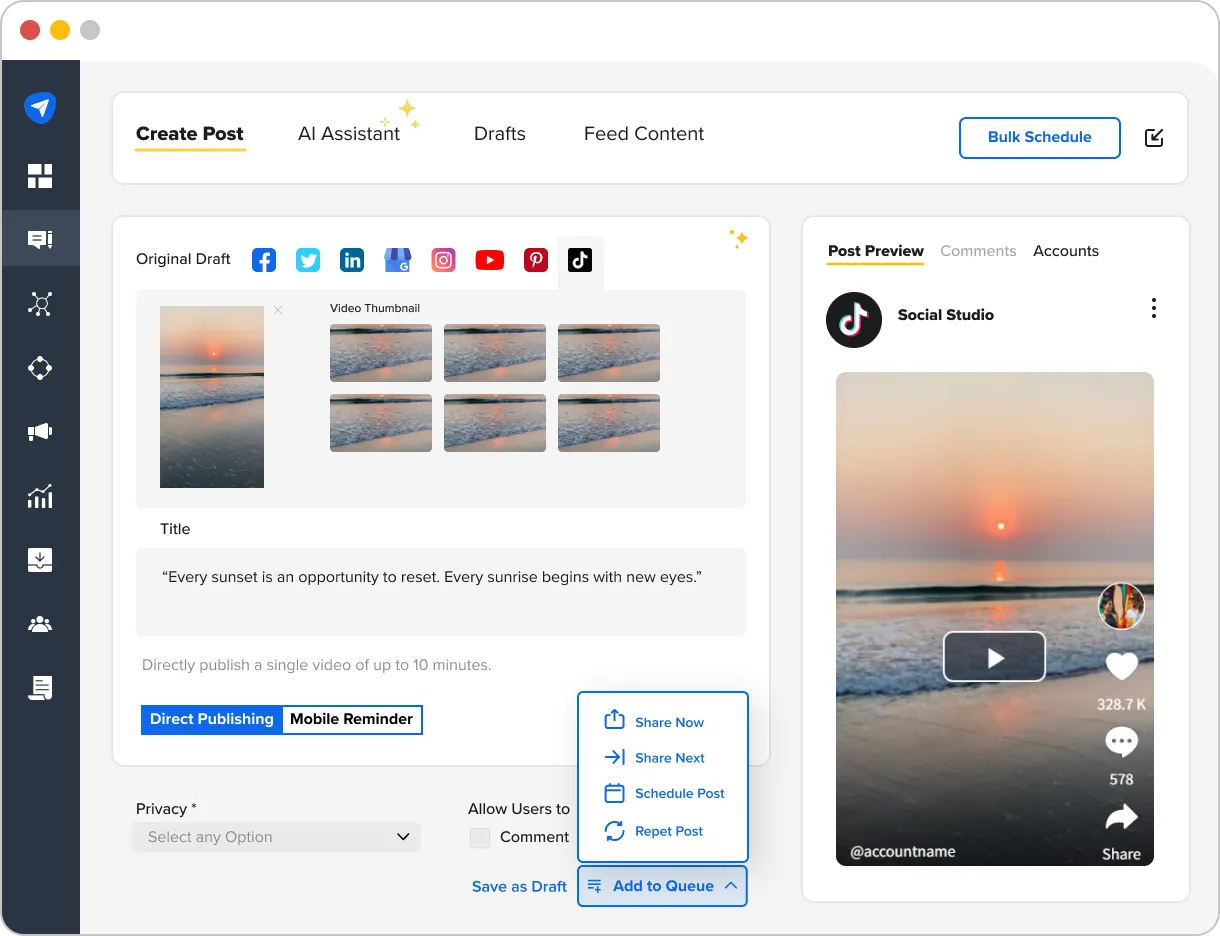 6. Stay Genuine
In the world of curated content, authenticity stands out. While it's essential to have a plan in place, it's equally crucial to let your genuine self shine during the live session. Audiences are drawn to real, unfiltered interactions.
So, what do you do?
Avoid overly rehearsed scripts or sales-y pitches. Instead, focus on building genuine connections, sharing stories, and engaging in candid conversations. Authenticity fosters trust, and trust is the foundation of a loyal audience.
7. Address Technical Aspects
The technical quality of your live stream can make or break the viewer's experience. Before hitting the 'Go Live' button, ensure the following:
Lighting: Good lighting can dramatically enhance video quality. Whether you're using natural light or studio lights, ensure your face is well-lit and shadows are minimized.
Sound: Clear audio is paramount. Invest in a good microphone if possible. Before going live, do a sound check to ensure there's no background noise or interference.
Connectivity: A stable internet connection is a must. The last thing you want is for your live stream to lag or disconnect. Test your connection speed and stability before starting.
8. End with a Purpose
Every live session should conclude with a clear and compelling call to action (CTA). Whether you're directing viewers to visit your website, check out a new product, or simply engage more with your TikTok content, make sure your CTA aligns with the objective you set at the beginning.
A well-crafted CTA can drive post-live engagement, turning passive viewers into active participants in your brand's journey.
Get Ready to Go Live!
TikTok Live isn't just another feature—it's a powerful tool to forge genuine, deep connections with your audience. With its rising popularity, this feature is a must for boosting brand awareness and unlocking new lead generation and conversion avenues.
Now that you're equipped with the know-how of going live on TikTok, it's time to craft a compelling structure for your debut live session, leveraging all the insights we've shared.
If TikTok is a pivotal part of your marketing arsenal and you're committed to maximizing its potential, consider integrating SocialPilot. It's the perfect companion to streamline your TikTok endeavors and enhance your presence across various platforms.