YouTube is an interactive platform that helps users to share videos across multiple channels.
If you like a video and find it informative, you can simply share it with other people you know on different platforms.
If you want to channel your audience on multiple social media platforms, you can share your YouTube with them too.
You have multiple options to share your YouTube video, like email, text, or sharing the video link on any social media platforms using the YouTube web app or the YouTube application.
Being a business channel on YouTube, you have the freedom to share your original content or even the content of any other creator with anyone on the internet.
But the question is: how to share a YouTube video?
It's relatively easy.
But sometimes, the simplest of steps might cause the biggest of confusion, so to completely remove all the confusion, we have shortlisted a few ways to share a YouTube video over the internet.
Before we jump onto the crux of the article, let's discuss why you want to share a video.
Why Share YouTube Videos for Businesses?
Suppose you are using YouTube to achieve your business goals irrespective of creating content or just using the ad portal on YouTube. In that case, you can come across any video which entices you, and you want others to watch it.
Here are some of the reasons why you need to share a YouTube video:
Be Informed of the Content Being Produced by Others
Suppose you want some content ideas or place your business' ad on a particular video. In that case, YouTube sharing is one of the most useful features you can use to let your team know a specific video and brainstorm some amazing ideas.
You can even share it with your close ones and pitch in your ideas to ask for their opinions on a particular concept. Sharing will help you know more about how others feel about the specific content piece so that it is easy for you to proceed further.
Helps to Convert or Download a YouTube Video
Sharing feature of YouTube enables you to copy the URL of your video.
If you are using a desktop, no doubt you can copy the URL from the address box on your browser, but you always have an option to copy the link if you click the Share feature below the video on your mobile or desktop.
You can easily paste the copied URL in any tool to convert your YouTube video or download it on your smart device.
Sharing Helps to Gain Engagement
As most engagement on a YouTube video happens within 24 hours of publishing, you want to share your content immediately on different social media platforms.
Sharing your content on multiple platforms will help you make your audience aware that you have posted the latest content on YouTube.
It will boost your chances of gaining engagement and ultimately helping you achieve your YouTube marketing campaign goals.
You can Embed Your Video
If you are sharing the video using a browser on your desktop, you have the option to embed the video on your website. You just need to copy the embed code YouTube provides and paste it onto your website.
It will help you channel your website audience to your YouTube video to increase its engagement rate.
Also, if your website audience decides to watch the video while staying on your website, your website dwell time and average engagement time will increase, which will further help you in boosting your SEO rankings and user signals.
So as you know why you should share your YouTube videos, let's see the different ways you can share a YouTube video.
3 Ways to Share a YouTube Video
1. Share a YouTube Video on Android
Step 1: Open the YouTube application on your mobile and select the video you want to share.
Step 2: You have two options here, either click on the three dots visible next to the video title and select the Share option when the pop-up shows up, or you can tap on the video to open the video page and then select the Share option.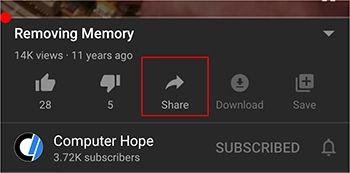 Step 3: Irrespective of the path you choose, you will have multiple options to choose from to share your video.
You can select any social media channels like Whatsapp, Twitter, Facebook, LinkedIn, etc., on your device to share directly. You can also solve the quest to share a YouTube video on Instagram using this option.
You also get the direct option to share the YouTube video on your email portals or via text message.
You can even share the video with multiple third-party media players so that they can play the YouTube video.
But one of the significant features that you have is to copy the URL address of the YouTube video in your clipboard to paste it anywhere, on any channel on the internet, and get it in front of your target audience.
2. Share a YouTube Video on iPhone
The steps involved in sharing video on iPhone or iPad using a YouTube app are almost similar. The major difference you get is with the sharing options, but to avoid any misconceptions, here are all the steps involved:
Step 1: Open the YouTube mobile application on your iOS device, choose the video you want to share, and either click on the three dots or play the video to share the video.
Step 2: After clicking the Share button, you have to select one of the options to share your video from the iOS platform.
You have new introductions in the list compared to the Android version; you can share the video via every platform in the Apple ecosystem like AirDrop, Notes, or any other application.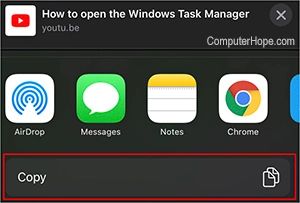 Step 3: If you copy the link, you can share your video on any social media platform. For example, if you choose to share a post on Facebook with the link, tap on the post section of Facebook and paste the link.
A default layout of the video with its thumbnail and description will show up in your post, and you can easily post the video you want to share.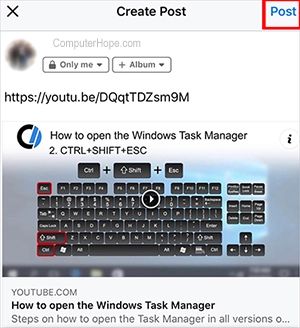 3. Share a YouTube Video From Desktop Browser
Sharing a YouTube video from your desktop browser irrespective of the operating system is as simple and easy as done via YouTube mobile applications. There are some minor differences which we are going to show below:
Step 1: Open any browser on your desktop and browse YouTube.com. Select the video you want to share and click the video to open the video page.
Step 2: You don't have the option of sharing the video by clicking on the three dots visible when you see the video thumbnail and title. Spot the Share button right next to the engagement metrics visible on the video page.

Step 3: A sharing box will pop up in the browser, and then you have to select one of the multiple sharing options visible in front.
Step 4: You can share your video directly to some top social media platforms, or even copy the video URL. The unique sharing feature you can enable here is that you can embed the video on your website page, and it will help you attract your website visitors to view your YouTube video.
These were the different ways you can use a smart device to share a YouTube video across the internet with multiple channels.
But if we boil it down, we only discussed sharing a public video.
What if the video is private?
What are the steps to share videos with private privacy settings?
Let's find out.
How to Share a Private YouTube Video
YouTube provides you the freedom to share a private video on your channel. When you are uploading a video, you can select the privacy setting of your video.
Once you select the private options, a blue labeled text of Share Privately will appear. Click on that.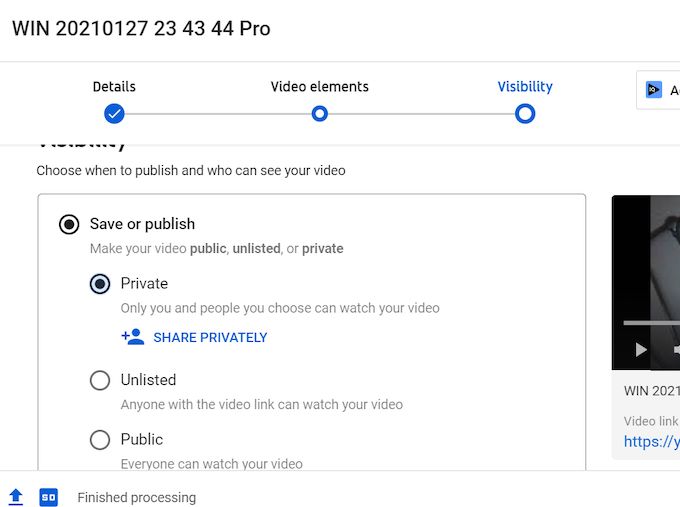 After selecting the text, a pop-up will appear in which you can choose the email of the user you want to share your private video with. You can add multiple users.
You can also select the option to notify them via email and once you are done with the selection process, select the Done button.
If a user wants to view your private video, they need to be on your invited list.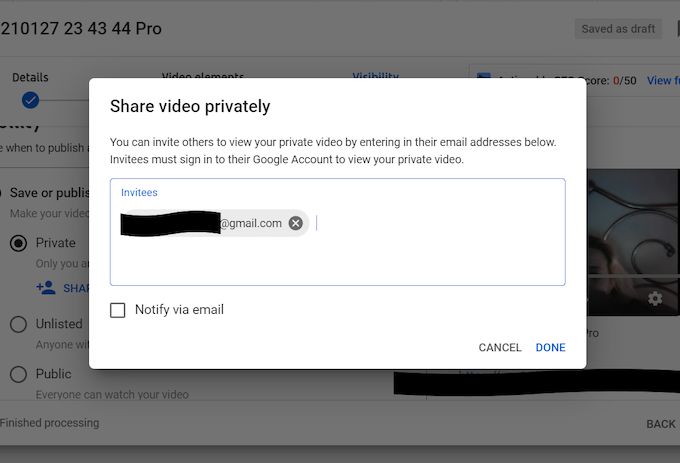 The situation mentioned above is related to when you are about to upload a private video. But what if you decide to change the privacy setting of a public video to a private video?
Then you just need to access your videos, select the video you want to share, and click Get Shareable Link in so that you can share the link with the people you want to share your private video with.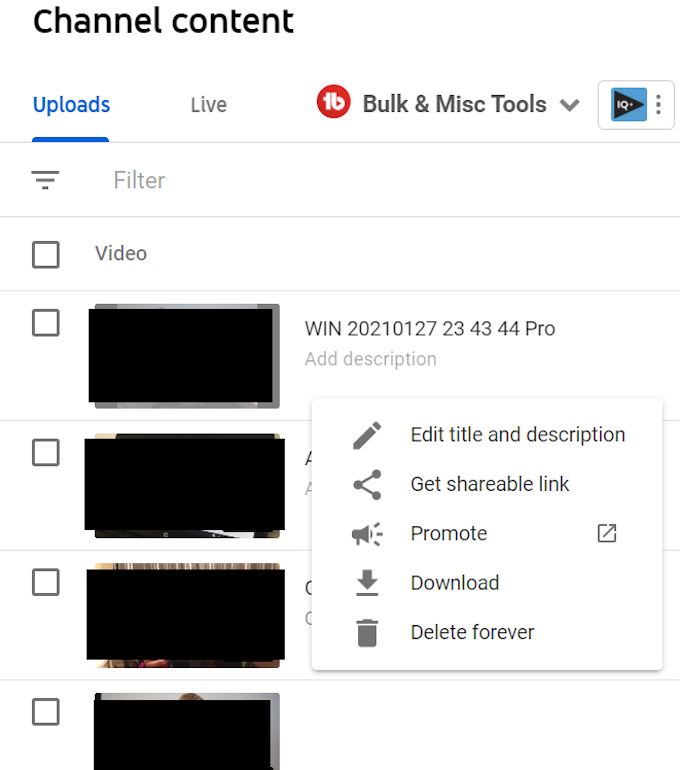 We hope you got a clear understanding about how to share your private video on YouTube.
Ready to Share YouTube Videos?
If you want to see progress in your YouTube channel, you need to add daily sharing elements in your marketing campaigns strategy.
Sharing YouTube videos can broadly help your business in two ways: first, to attract new creative content ideas, and second, to boost your engagement rate.
Now you also know how to share public and private videos using different smart devices available near you. So what are you waiting for?
Scroll through YouTube and kickstart the sharing process.
If you need further assistance managing your other social media accounts, you can use SocialPilot to ease some social media management and optimization pressure.
With its agile processing and smooth workflow, you can easily create a content calendar, manage your content schedule, and even simplify your team and client workflow. Check out the powerful tool and experience the change.