A digital marketing agency helps businesses promote their services and products online, accelerate sales, create a positive brand perception, and build a loyal customer base ensuring long-term success.
However, running a digital marketing agency can be overwhelming. From building digital marketing strategies for hundreds of clients to attracting new leads and nurturing relationships, there's a lot on the marketing team's plate!
But to err is human. It isn't odd for agencies to lose valuable clients because of work-related hassles.
That's when agency marketing automation can help.
Agency marketing automation eliminates tedious, repetitive task management and frees up the marketing team's valuable time. This allows marketers to take innovative initiatives to improve sales productivity and customer relationships.
In fact, reports reveal that marketing automation can boost sales productivity by 14.5%!
This guide will discuss everything you need to understand about agency marketing automation in 2023 and beyond.
Automation in Digital Marketing
In a digital age where brands are vying for consumers' attention, digital marketing automation is proving to be a game-changer. This powerful strategy leverages advanced tools and software to automate repetitive tasks such as social media posting, email marketing, and paid advertising.
By automating such processes, marketers enhance their efficiency and productivity significantly. Instead of getting bogged down in manual tasks, they can devote their time and energy to higher-level strategic thinking and creativity.
Moreover, marketing automation doesn't just make life easier for marketers. It offers a more seamless and engaging experience for consumers. When marketing processes are automated, consumers receive timely and relevant communications that resonate with their needs and interests. This personal touch can boost engagement, loyalty, and, ultimately, sales.
Let's take an example of a marketing team that wants to run an email marketing campaign to promote a new product extension. In a traditional setup, they'd have to spend significant time gathering all the relevant marketing materials from multiple sources, crafting and scheduling each email, and manually segmenting the audience. This approach not only eats into valuable time but also leaves room for human error.
However, the team can overcome the content management challenges and streamline the process with marketing automation tools.
They provide a centralized repository to store and manage relevant marketing data required during the email campaign. This way, the team can find the right assets without having to browse the plethora of files scattered across multiple systems.
Furthermore, they can automate audience segmentation based on specific criteria (such as past purchase behavior or demographic information), schedule emails to be sent at optimal times, and even personalize each email's content for different audience segments. This saves countless hours, increases productivity, and ensures that each customer receives the most relevant and enticing promotional content.
A key aspect of marketing automation that needs to be highlighted here is its potential to supercharge lead generation.
Automation in Lead Generation
As the preceding discussion suggests, marketing automation can significantly enhance a brand's ability to engage with its audience and deliver personalized content. This naturally leads us to consider its implications for lead generation, a critical component of any digital marketing strategy.
The process of lead generation involves attracting potential customers and nudging them along the sales funnel until they're ready to make a purchase. To achieve this, marketers need to score, nurture, and qualify leads.
Let's delve deeper into these elements:
Lead Scoring
This is a technique employed by marketers to assess the potential value of leads or prospective customers. It involves assigning scores to leads based on a myriad of attributes, such as their expressed interests, interactions on the website, social media engagement, and more. With automation, this scoring can be done more quickly and accurately, ensuring that no promising lead goes unnoticed.
Lead Nurturing
This aspect of the process is all about predicting and meeting the needs of prospects. By harnessing data points like their job title, industry, role, and more, marketers can gain a nuanced understanding of where prospects are in the sales funnel. This understanding, combined with relevant digital content and automated actions, allows marketers to establish a meaningful connection with prospects, gently guiding them towards conversion.
Lead Qualification
This final step is all about forecasting the likelihood of leads morphing into customers. For this, marketers require a granular view of prospects' behavior, gleaned from their activities and shared interests during the lead generation process. With automation, the task of qualifying leads becomes more streamlined and accurate, enhancing the chances of conversion.
Lead scoring, nurturing, and qualification are, therefore, the three pillars of a digital marketing agency's growth. The absence of guesswork and assumptions in this process underscores the importance of precision in lead generation. With automation, this precision is achievable, setting the stage for a successful marketing strategy that drives growth and profitability.
But, what are the benefits of automation in lead generation?
Benefits of Automation in Lead Generation
1. Improved Efficiency
Automation saves marketers from manual processes involving intensive research, data entry, and more. With the right tools, agencies can streamline their marketing processes while minimizing errors, thus leading to improved efficiency.
2. Data Management
Automation tools enable marketers to save, organize, and access crucial customer insights in a centralized location. This provides a 360-degree view of leads to the marketing team while ensuring data accuracy and quality.
3. Data-Driven Insights
Automation tools with advanced analytics and reporting capabilities can help marketers generate and track data-driven insights into customers to gauge top and least-performing strategies. With in-depth and accurate reports, marketers can make informed decisions and create revenue-generating marketing strategies.
4. High Conversion Rates
Automation tools ensure consistent and timely follow-ups with prospects most likely to convert. It helps marketers create personalized messages to target and establish a strong connection with leads. This can build trust and boost conversion rates.
4 Types of Automation for Digital Marketing Agencies
Here are the four key types of automation that digital marketing agencies can leverage for the best business outcomes.
1. Email Marketing Automation
The power of email marketing automation is undeniable, making it a vital tool in any digital marketer's arsenal. By automating the process of acquiring and converting leads, it saves time and significantly improves the effectiveness of your campaigns.
With email automation tools, digital marketing agencies can effortlessly identify their target audience and send highly personalized, relevant content to engage them at just the right moment. These tools also enable agencies to launch re-engagement campaigns to win back leads that may have slipped away.
Sendloop, for instance, is a user-friendly email marketing automation tool that comes with a robust drag-and-drop email builder, boasting over 100 captivating templates to choose from. With just a few clicks, Sendloop empowers agencies to monitor customer interactions on their websites, unlocking invaluable insights that can be harnessed to create highly-targeted, personalized email campaigns.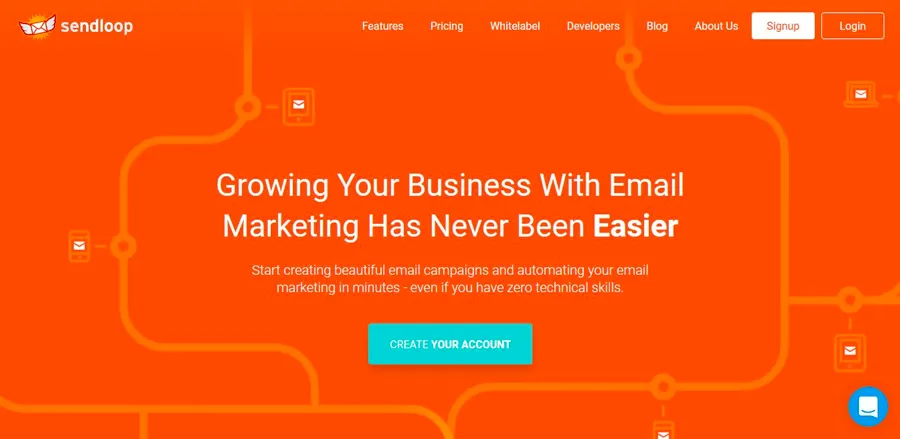 The result?
A marked increase in the chances of converting leads into loyal customers. Additionally, Sendloop provides real-time performance reports for your campaigns, giving you the data needed to fine-tune and adapt your strategies for optimal results. Harness the power of email marketing automation and watch your digital marketing success soar.
2. Social Media Automation
Social media automation is a game-changer for digital agencies, facilitating seamless optimization of interactions across multiple social media channels. With these tools, agencies can simplify their social media activities, from scheduling and publishing posts to managing their overall engagement strategies.
For instance, SocialPilot is a versatile social media management tool designed to take the stress out of social media. With its robust set of features, including advanced analytics, post-scheduling, and automated report sharing, SocialPilot does much more than streamline your social media tasks – it's your dedicated assistant that handles the heavy lifting so you can focus on crafting your brand message.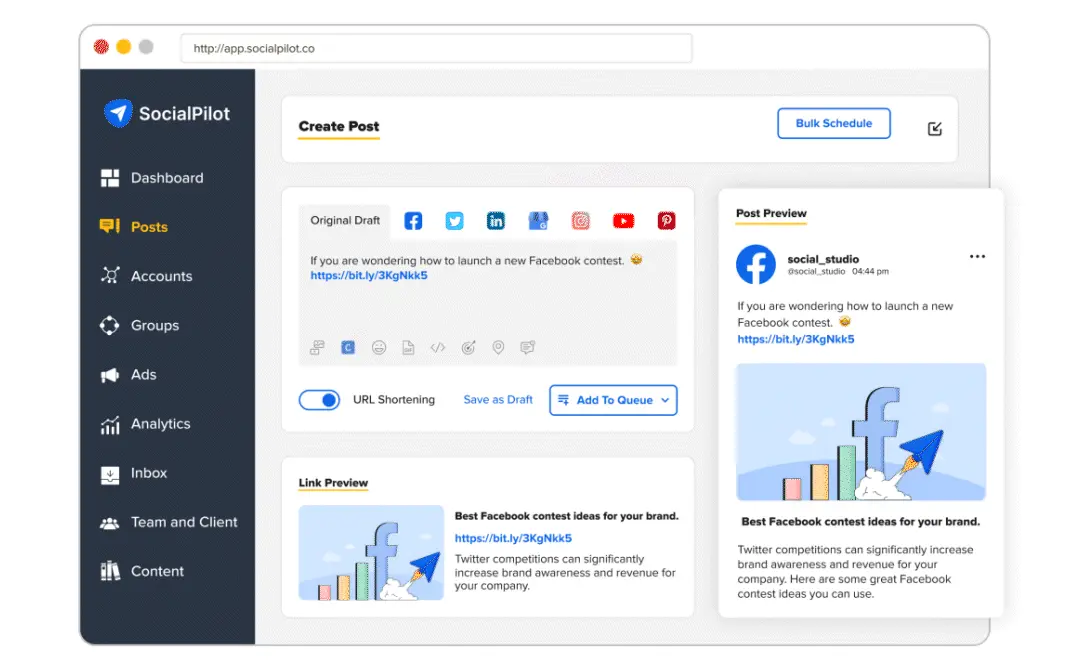 Here's what you can do with SocialPilot:
Schedule posts in various formats, such as images and videos, to target your audience effectively. You can also add alt text, custom fields, and relevant hashtags to boost your content's visibility and impact.
Moderate and engage in social conversations about your agency, fostering meaningful interactions with leads and prospects.
Keep your posts and relevant content organized with an inbuilt content library functionality. This way, you can easily save, store, and access your content whenever needed.
Enhance team collaboration by assigning social accounts and granting access to team members.
Monitor your campaign performance using real-time data analytics and reports, giving you the insights you need to continually optimize your strategies.
3. Chatbot Automation
Chatbot automation is a game-changer for digital agencies, helping them provide superior customer experiences. These automated conversational tools facilitate real-time interactions via voice or text, addressing common queries of potential customers swiftly and without the need for human intervention.
A prime example of such an AI-powered chatbot is Zendesk's Answer Bot. This ingenious tool aids agencies by promptly identifying and responding to various customer conversations.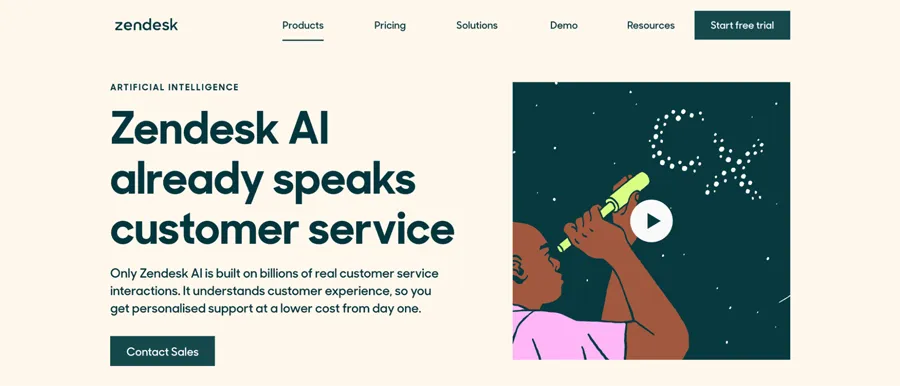 Zendesk's Answer Bot is more than just an automated response system. The tool offers personalized, instant answers to frequent customer inquiries, and when necessary, it smoothly transitions the conversation to live agents for further assistance.
The cherry on top?
Agencies can rely on this chatbot to provide round-the-clock customer support across multiple platforms, including websites and social channels.
By adopting chatbot automation, agencies can significantly enhance customer satisfaction, thereby boosting the likelihood of lead generation and conversions.
4. Paid Advertising Automation
Paid advertising or PPC (Pay-Per-Click) automation gives digital agencies full control over their paid ad campaigns, such as those on Google and Bing, through advanced algorithms. This powerful tool reduces the effort and time required to optimize paid ads for maximum engagement, clicks, and enhanced ROI.
An outstanding example of a paid advertising automation tool is Swydo. This software allows agencies to seamlessly integrate high-quality, accurate data from a range of sources, including Bing Ads and Facebook Insights. This wealth of data is an invaluable asset for marketers, facilitating a more informed approach to ad campaign management.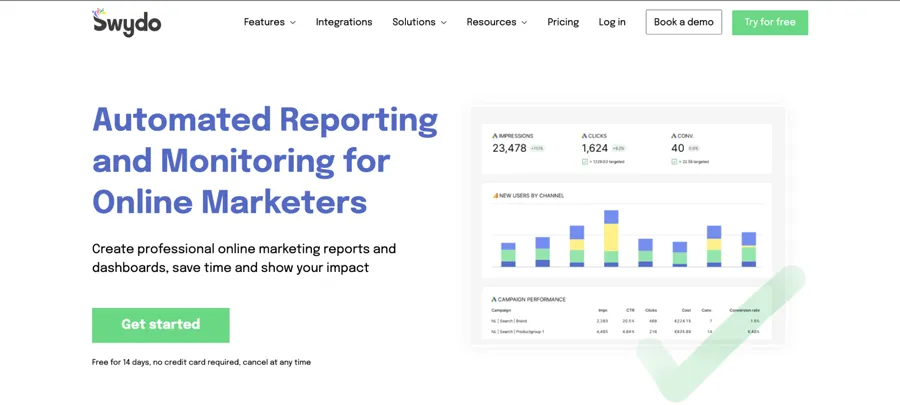 Swydo also provides the ability to monitor customer interests and generate customized reports effortlessly. These insights can be leveraged to create and fine-tune paid ad campaigns, guaranteeing a superior ROI.
Case Study of Successful Automation Implementation in Digital Marketing
Let's dive deeper into how Infinite Laundry, a marketing agency that specializes in linen and uniform industries, utilized automation to enhance their social media management. This resulted in significant improvements in efficiency and business growth.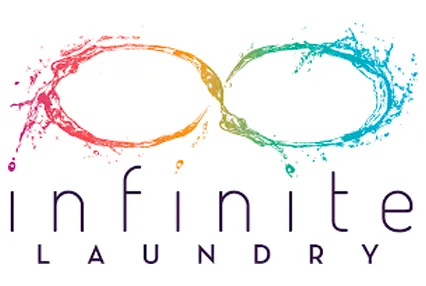 Infinite Laundry faced a unique challenge in managing the social media presence of many companies in a niche industry. Some of these companies had little to no online visibility, making it increasingly difficult to manage as their client base grew. They were handling hundreds of posts each month, making the task increasingly time-consuming and complex.
To streamline their social media strategy and improve efficiency, Infinite Laundry decided to use a social media scheduling tool called SocialPilot in 2023. This tool became a game-changer and significantly boosted their services, streamlining their workflow.
SocialPilot allowed them to manage all client accounts in one place, create and schedule hundreds of posts, and gain valuable insights from built-in analytics to review and realign social strategy as needed.
The results?
Infinite Laundry experienced a significant improvement in their work efficiency, achieving a 4x boost while also saving hours of time that were previously spent on content scheduling. With more time on their hands, they could focus on exploring trending digital marketing strategies and bring the best to their customers.
Conclusion
Agency marketing automation helps accelerate lead generation, nurturing, acquisition, and retention processes, thus boosting a firm's ROI.
Leveraging various types of automation, such as email marketing, social media management, paid advertising, and chatbot conversations, allows marketers to automate tedious marketing tasks.
This results in marketers creating engagement-boosting marketing strategies to establish strong customer relationships. The marketing automation case study shared in this post is proof of it.