"It is not necessary to do extraordinary things to get extraordinary results." -Warren Buffett
That's true!
We all know that social media is the new marketing frontier and all businesses are striving hard to make their presence felt on the various social media platforms. While it is difficult to state that one single social media marketing tactic that will boost traffic, there has to be something that is working as more and more buyers and sellers are being drawn to the social platforms.
Market listening=>initiates conversation=>generate interest=>get customers
As per a research by IDC, 91% of B2B buyers are active on social media, whereas 75% of the B2B buyers are influenced by social media. Truly, there is a high degree of the B2B transaction happening on social media. Marketers need to analyze all their prospective and follow some time tested social media tactics to attract potential buyers.
Do you know about those power packed social media tactics to get people interested in your business?
Let's check out these social media tactics and discuss their various aspects.
1. Consistent Posting of Excellent Content
Digital marketers who placed great emphasis on business blogging experienced a breathtaking 1300% increase in the likelihood of ROI!
There I go again……the value of fresh and informative content is priceless! It is one powerful SEO strategy still prevailing even after Google revised its SEO algorithms. You can always bank on the power of posting value-driven content regularly for increasing your business ROI.
Not just that…
Business websites with more than 200 pages got on average 500% more traffic than smaller newer sites (i.e. with 10 pages or less).
The above statistics speak volumes about the power of posting quality content regularly to your business web pages.
With a plethora of social networking platforms, posting content daily to all social channels could be a task. Marketers can use free social media scheduling tools to schedule their posts in a consistent manner.
So what kind of content should businesses and marketers post?
Content that is:
Relevant
Vividly depicts the company's voice
Informative
Not too pushy or salesy
Engaging
2. Integrate Videos
Video content can increase the ROI on content marketing by almost 200%
It is one of the most important content strategies social media marketers must prioritize and focus on. Youtube is huge, and often called the grand daddy of video content, while Facebook is fast gaining ground with figures like 4 billion daily video streams. Facebook video content is smart, crisp, and interesting, having all elements to keep the consumer glued to the social networking platform.
2016 was the year of video marketing and this trend is expected to continue this year too:
74% of all Internet traffic in 2017 is actually predicted to be video-Syndacast.com
How exactly will videos help consumers strengthen their purchase consideration?
Let's take an example: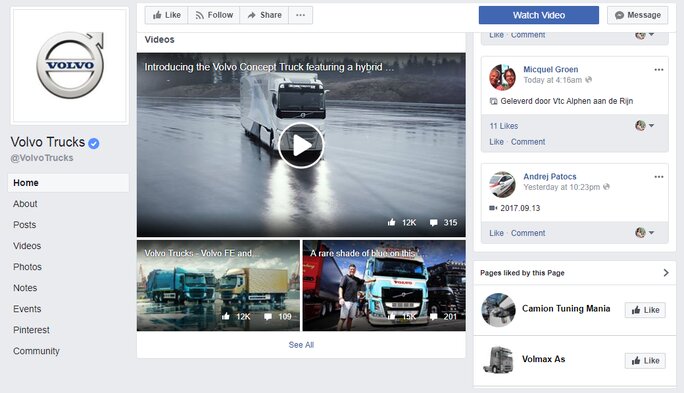 The famous global truck manufacturer Volvo Trucks integrated viral video marketing to their social media campaign, and with this addition, they gained 126 million Euros.
"Video is the most shared type of brand content on Facebook, and both Facebook and Instagram users find video 5x more engaging than images." – SkeletonProductions
3. Make "Buy Button" Visible
As social media driven sales are on the rise, so is the hoard of competitors on all social channels. You have to add those extra perks to your social media pages that compel users to stick around and use the 'buy' option. These 'buy' buttons provide users with the facility of making purchases within the social networking channel itself. Make these buy buttons actionable icons to provide the user with a convenient and seamless buying experience.
Here's one example of WayFair's, an ecommerce company selling home goods, YouTube video enriched with buy button: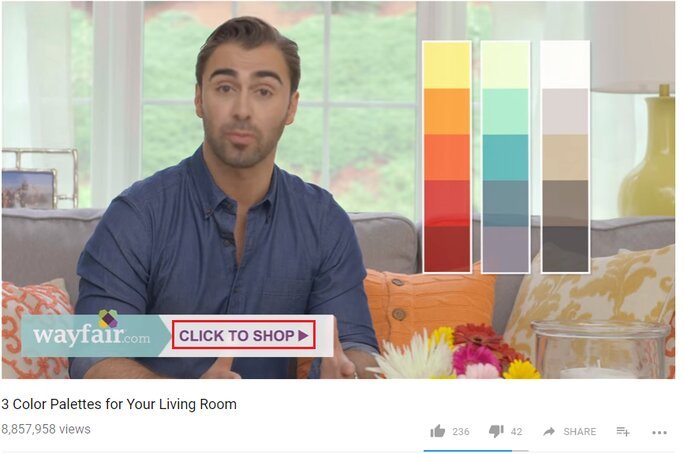 Almost all social media networks including Facebook, Twitter, YouTube, etc. offer businesses a multitude of direct buying options, from your social media page to your product store, through paid ads, and even the Facebook messenger. The buy buttons are placed at strategic points on the social media networks, providing direct and convenient access to the buyer.
4. Select the Relevant Social Media Channels
Social media is gaining Herculean dimensions, leaving the marketers confused and making it difficult for them to select the right social networking platforms.
Before going ahead with our discussion, let's consider the following statistics:
37% teenagers use Instagram and 84% teens use Facebook.
Linkedin is the right platform to connect with the bigger organizations. 27% of Linkedin users are from the 30-49 years of age.
Twitter is predominantly used by youngsters, though this platform can be used for varied kinds of sales promotions.
Keeping these three points in mind, every marketer should proceed for devising their social media marketing strategies. Every channel is a separate entity and has to be treated separately. You can master them though, using specific social media marketing tools. Linkedin audience is educated and business-like and responds more to educational content compared to Instagram users, who are more visually inclined. Select the best based on your requirements and master them.
Tip Monitor and analyze the follower demographics on all social media networks to gain insights about audience preference.
5. User-Generated Content
Are You Listening?
We have already discussed the importance of building relationships with customers. Social media gives marketers the leverage to reach out to them and personalize interactions. Lack of communication or response from brands can turn a potential lead towards the competitor. Similarly, if you listen intently to what your followers are saying and respond to their queries and suggestions, these loyal followers will not just boost your sales, they will recommend your services to others.
An effective way of connecting with the audience is encouraging User-generated content. As per Business Insider, customers who witness user-generated-content are 97% more likely to convert. Social proof is omnipotent; it works more than any other social media campaign.
Point noted.
Yotpo, a platform helping online businesses to gain customers, believes in collecting amazing user-generated content and converts the sameinto sales.
Here's what Tomer Tagrin, CEO of Yotpo, has to say on user-generated content:
"User-generated content has an enormous impact on brand's social growth.
Over the course of one year, simply by sharing customer content on social media, our customers' Facebook followers increased by 270% and their Twitter followers increased by 150%."
Tip Find people on social media who are talking about your brand and start following them. Share their content (relevant to your brand) and offer prizes in exchange.
6. Join a Community; Start a Discussion
Once you decide the relevant platform for your business, build an account and start a conversation with the community. Learn, listen, and understand the requirements of the people and offer genuine content from authority sources.
Are you doing this?
Go to Google+, join your relevant community, share your and others' content, post comments on appealing content
Join Facebook Groups, look out for what people are discussing and participate with your own comments
Keep a check on Twitter Chats and participate in discussions held.
74% of buyers prefer buying from sales persons who add value to the buying process, rather than those who don't.
Who likes to buy products from someone who is too loud and salesy? You have to create a positive impression that compels users to turn into buyers. Pushy salesmanship is a big NO. Build a credibility using subtle marketing tactics to boost your sales.
Tip Provide links to your products only where asked. It re-enforces the audience trust on your reputation and credibility.
7. Keep in Tune with Seasonal Changes
Absolutely.
These 'seasonal changes' are the latest trends and events in the industry. If you are doing business, you have to keep yourself updated with the latest happenings. Provide discounts, offers, and incentives keeping in line with seasonal activities. Giving out discounts and sale on products is a common practice to amplify sales before festivals.
Look at the Tweet by Dunkin Donuts offering iced coffee to cool down your summer season: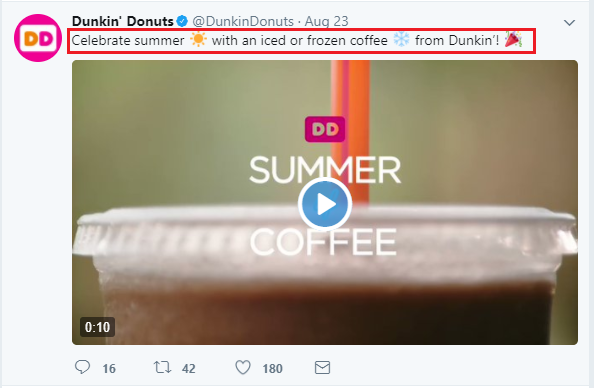 Here again, you have to ensure that you do not go overboard in your promotional activities. Acting overtly salesy will repel the potential buyer away from your web pages.
And… do not forget to plan.
You keep abreast with the latest happenings in the market. Use them fruitfully. Device your future marketing plans after carefully studying the market. Listen to what the industry marketing gurus have to say about the upcoming trends and then design the perfect social media strategy.
Points to remember
Focus on the getting hold of the market trends before your competitors. It will help you look beyond the horizon and stay ahead in the competition.
Use the latest technology tools like Google Alerts, Twitter's advanced search options, and LinkedIn signal, to ensure greater sales for your brand.
Wrap-up
Social media has inevitably crept into users' lives and has a greater influence on their choice. Every business caters to a various realms of the audience that has different social habits. Customers make their purchase based on the social media platform that influences them the most. Hence your social media tactics have to be effective to leave a long lasting impression on users.
Being a brand, you must be having your own time-tested social media tactic. Don't forget to share your experience in comment box as we would like to learn from you.