Over the years, LinkedIn has spanned its usage beyond an online resume site where job seekers hunted for opportunities to find their desired jobs.
According to the social media marketing industry, LinkedIn has now crossed Facebook as the most crucial platform for marketers and B2B companies. More marketers are focusing on LinkedIn marketing strategies for better lead capture.
Some more statistics to help you decide on the LinkedIn marketing strategies are:
More than 57 million companies are listed on LinkedIn.
97% of B2B marketers use LinkedIn to help drive their content marketing strategy.
80% of B2B leads coming from social media are from LinkedIn.
92% of B2B marketers have LinkedIn included in their digital marketing mix.
65% of B2B companies have generated a customer through LinkedIn paid ads.
These statistics indicate that LinkedIn is indeed one of the most effective platforms to generate quality leads and sales for marketers. However, you need to target the right set of audiences, and that is when the LinkedIn targeting tools come into play.
LinkedIn has the potential to bring great revenues for your business only if you present your ads to the right audience. I have narrowed down the list of targeting tools on LinkedIn that will certainly help you draw the attention of your target audience.
Top 3 LinkedIn Targeting Tools to Reach Your Target Audience Easily
Marketers like you and I prioritize our target audience no matter what. LinkedIn understands our requirements and, thus, has brought forth a list of new targeting tools for apt LinkedIn marketing strategies.
Let's see what these tools are all about and why you should add them to your LinkedIn marketing strategies to attract potential customers on LinkedIn.
Campaign Forecasting Tool or Campaign Manager
The campaign forecasting panel is my favorite tool on LinkedIn. It helps you understand who your target audience is. Once you know your target audience and what they want, it will be easier for you to customize your LinkedIn campaigns better.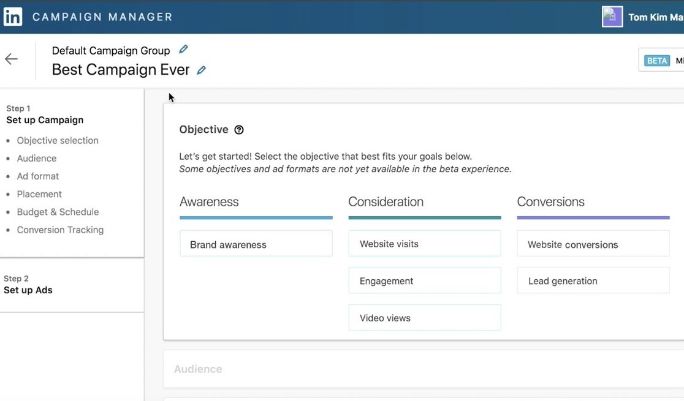 The dashboard on the Campaign Manager lets you take a look at the demands, requirements, and a brief overview of your target audience. You can even customize the panel based on the top industries that you want to target.
Tanner Stolte, an accountant executive and media buyer at Elite Digital Group, said, "Since we gained access to this feature, we have been able to assess the makeup of our targeting and ensure our ads would get in front of decision-makers."
What are the features of the Campaign Manager?
Easy to navigate: You can combine multiple screens into an easy to navigate and single flow on this tool. Thus, you will have fewer pages to click through to get what you want from the tool.
Customizable forecasting panel: You can not only see the outcome of your campaigns, but you can also compare similar campaigns and advertisers. This helps you stay a step ahead of your competitors always.
Quicker responsive experience: The updated campaign forecasting panel has a faster and more responsive interface. This will allow the release of new updates for a higher quality experience.
Live ad preview: You can now see how your ad will look after being published with the help of this tool. The 'live ad preview' option will let you get a preview of your ad while you build it.
Proper guidance in each step: The campaign manager offers contextual tips and best practices at each step in the campaign creation process. Thus, it's okay if you are not tech-savvy. The tool will guide you through the entire procedure.
The best thing about the campaign manager is that you can choose your ad format for your first campaign. You can choose anything from Sponsored Content formats (including video ads, carousel, and single-image), Text Ads and Sponsored InMail (including message ads that pop up in LinkedIn ads.)
Say you want to show ads based on the APA referencing tool for students who are looking for jobs on LinkedIn. You can use the Campaign Forecasting Tool to make sure your ads are shown to people who belong to the academic industry.
Use this tool and stay abreast of the requirements of your target audience easily. Present the right ads to the right people at the right time. Good Luck.
Precision Targeting with Boolean Logic
LinkedIn introduced the Boolean logic to build targeted strings for social selling engagements. A search string is a mathematical formula that generates a particular list that will meet your desired criteria. With proper search strings, you can pinpoint your buyers, influencers, and stakeholders and start a conversation with the right people.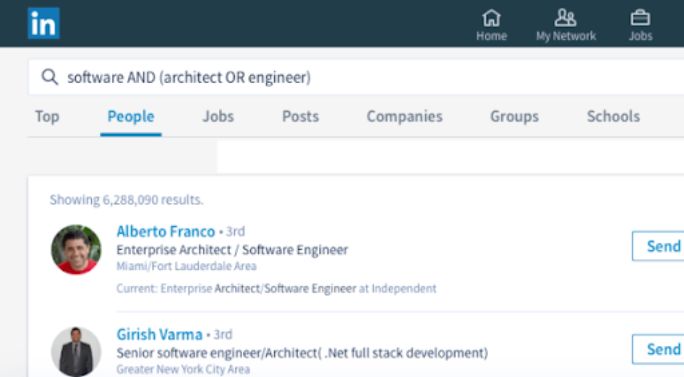 The Boolean logic makes it 10X easier for marketers to refine their search on LinkedIn. If you want to generate ads for software engineers with specifically 6 years of experience, using Boolean logic will help you achieve that goal easily. That's why it is also known as precision targeting.
How should you use Boolean logic to target your desired audience?
Quoted searches: You can enclose your keyword in quotation marks if you are familiar with the exact phrase that you want to target. For example, if you want to target product managers, type: 'product managers' on the search bar to get the exact results.
NOT searches: You can type NOT in uppercase letters if you want to exclude a specific term from the search query. Say you want to look for a programmer and not a manager. Thus, you can type programmer NOT manager, on the search bar to get the desired results.
OR searches: What if you want to target either programmers or managers for your campaigns? In that case, you need to type OR in uppercase letters in the search bar. Thus, considering the same example, you need to type programmers OR managers.
AND searches: You can use AND in uppercase to separate two or more terms in the search bar. If you type programmer AND managers, you will get the results of LinkedIn users who are both programmers as well as managers.
Parenthetical searches: Say you want to look for people who have mentioned VP on their profiles. And you also want to target users who have both programming and management skills. In that case, you need to type VP OR (programmer AND manager). You may not know it, but the Boolean search is virtually incorporated in every search engine, including LinkedIn and Google. All you have to do is use the right commands or a combination of commands to get the results.
Demographic Reporting
You may have posted an interesting video ad on LinkedIn to draw the attention of your target audience. But what's the point if nobody watches it?
The worst part is that you may not even know if anybody is actually watching or acting on your ads. Thus, LinkedIn has introduced this tool of Demographic Reporting to make things easier for you.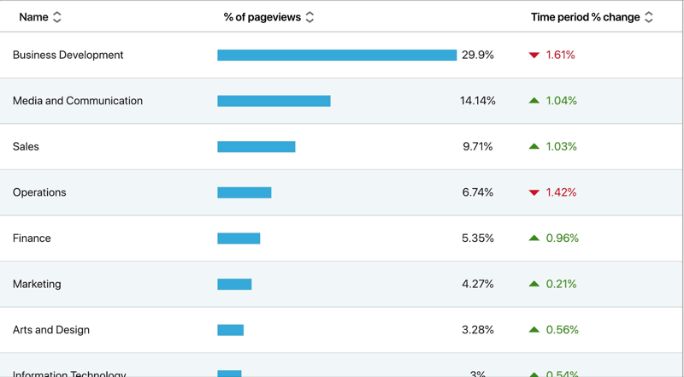 The demographic report will help you obtain the following data:
Performance (available for all advertising objectives)
Clicks: You can find the total chargeable clicks on the basis of your campaign's objectives.
Impressions: You can also see the number of people who saw your ads.
Average CTR: This one gives the percentage of clicks relative to the impressions.
Conversion Rate: This one gives the percentage of conversions relative to clicks.
Conversions: This is the time taken by people to commit an action after clicking on your ad.
Leads (available if your objective is to generate leads)
Leads: As the name suggests, this one provides you with the total number of leads you've collected through the ad campaign.
Open rate: This is the total number of users who opened a lead form divided by the total number of impressions.
Lead form opens: You will also find the number of times a LinkedIn user opened a lead form.
Sponsored InMail (available if you use the message ad format)
Sends: This indicates the number of times InMail was sent.
Opens: It is the number of times your InMail was opened.
Open rate: It is equal to the total number of times your InMail was opened divided by the number of times InMail was sent.
Click to Open Rate: This is the percentage of users who clicked the ad after getting access to your InMail.
Simply put, Demographic Reporting lets you know about the progress of your ads on LinkedIn. You can understand if things aren't working out and modify your LinkedIn marketing strategies accordingly.
You can measure the conversions on your ads and also analyze the performance of your ads using this tool. Are the right people interacting with your ads? How close are you getting to your objectives with this tool? Use Demographics Reporting to find out.
Bonus Tool: LinkedIn Analytics from SocialPilot
OK, that was a surprise for you!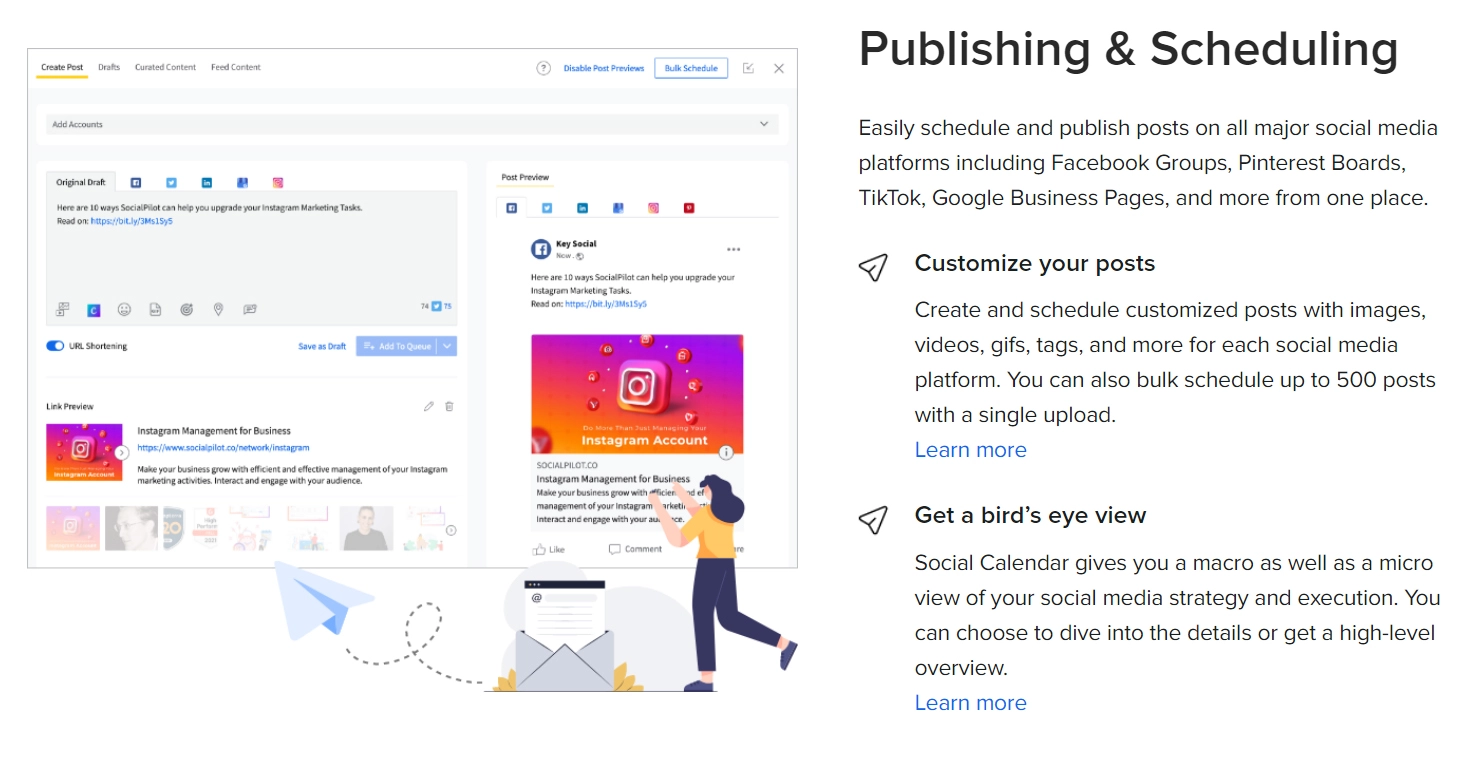 SocialPilot is one of the most advanced LinkedIn Tools that can simplify not just Linkedin marketing strategies but also aid you in promotion in more than 7 major social media networks.
For LinkedIn, it provides you with a bird's eye view of key metrics such as:
Demographics Analysis: It lets you view your page's followers' seniority, the company size they work in, the country they belong to, and their profession.
Post Monitoring: You can monitor which of your posts had the maximum reach and on what day they turn out to be best.
Engagement Trends: Measure your engagement trends. Find out likes and comments on your company posts and analyze engagement received in a certain time frame.
Instant Shareable PDF Reports: Quickly analyze the results of your LinkedIn page using graphs and charts. SocialPilot also helps you to create, plan, schedule, and publish your posts on LinkedIn using advanced features, thus saving you time, optimizing your marketing budget, and utilizing resources efficiently.
Try it for free here.
Wrapping Up
We all know that running a successful business is all about connecting with the right people. The same applies to your LinkedIn marketing strategies.
You may have different objectives. Some may want to enhance leads, while others may want more conversions. No matter what your objectives are, the LinkedIn tools mentioned above will help you reach them easily.
Use the tools to craft appropriate LinkedIn marketing strategies with a clear mind to make your voice heard to the right people. All the best!