Think about it, where else on the internet do you have access to senior-level influencers and decision-makers with the click of a button?
In fact, according to an article on 99Firms.com, 90 million senior-level influencers and 63 million decision-makers use LinkedIn.
79% of B2B marketers agree on LinkedIn being a good source for generating leads.
Knowing this, is your brand using social media to create compelling content for your target audience?
As more users utilize this platform, social media marketers must flex their authentic muscles to craft real content from real humans that encourage action.
How to empower company growth through LinkedIn:
1. Change Your Messaging
Share data in posts, and focus on speaking to humans, rather than just highlighting your company and your latest blog article.
You've seen it before.
Posts with captions that only mention a product or service with no messaging that shows what the audience will benefit from it.
Sharing posts that just include a link for the audience to go to a different site.
Long posts that are repetitive and don't bring in anything new to the table.
How can you provide value for your audience, solve a problem, and still be human with your words?
Share the main content points in the post itself.
Below, you'll find a post that Directive shared on LinkedIn.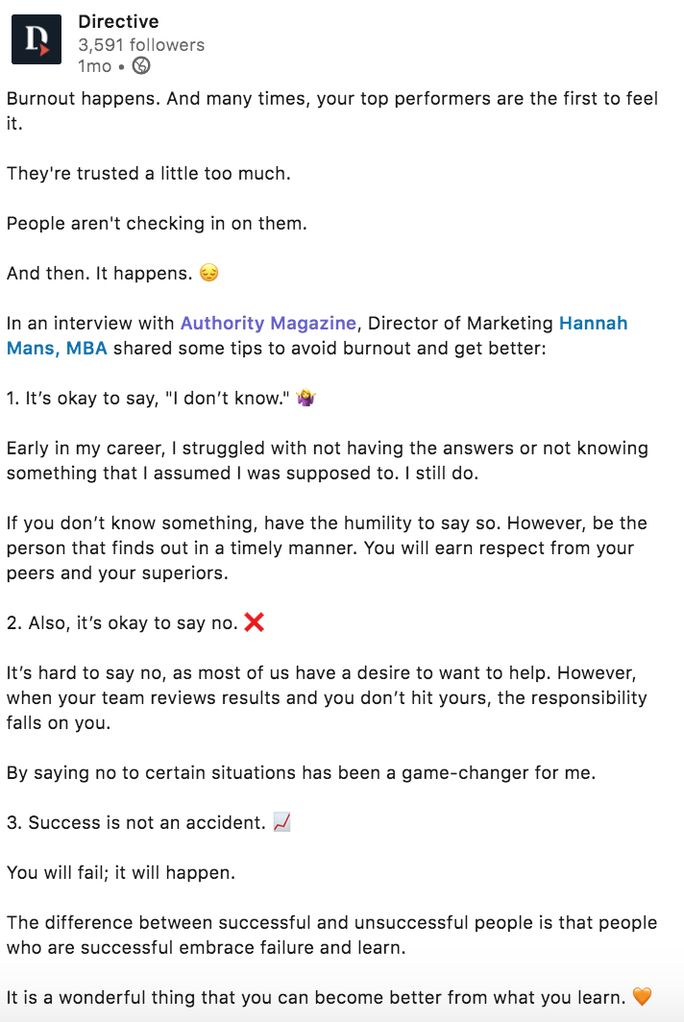 You might be thinking, "This post looks a little long." You're not wrong.
However, the vital point is the highlighting of authentic language and pulling the most beneficial parts of an article for our audience of marketing leaders.
This shows awareness of the audience's time, without them having to read a longer article and switch between links. You can also share the full link in your comments for those who may want to continue reading.
They also pulled a quote from the piece and made a graphic to keep the audience's attention and connect a name to a face.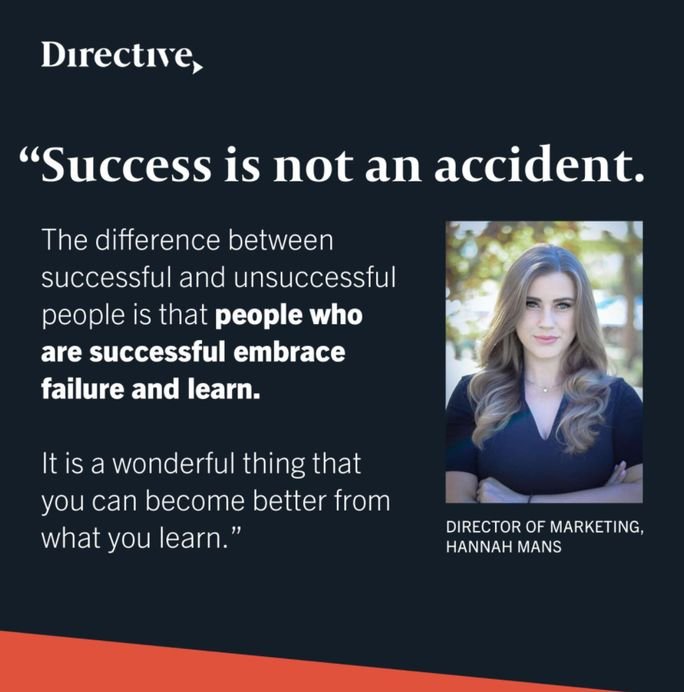 Notice, they're not using "salesy" language, and not making the audience jump through hoops.
Their goal was to provide new insight and break up the copy so it's easy to digest and use on the audience's own time.
What happened?
They shared a piece that they were included in as a thought leader and worked to build their brand through LinkedIn.
They showed why the copy is valuable for their audience of marketing leaders.
They crafted a design that could capture the audience's attention and make it stand out from other posts.
Their LinkedIn engagement rate went up; so can yours.
Be transparent
Your audience went through a global pandemic. We all did, and we're not really out yet!
Marketers want to follow brands that are genuine and empathetic to what is going on in the world – brands that will help them push forward.
At the same time, you need to encourage potential customers to utilize whatever it is that you're marketing and potentially want to work with you.
So, how do you meet in the middle?
Create beneficial and that helps solve your audience's problem and that also builds traffic to your website.
You can find an example of this from HubSpot's LinkedIn here: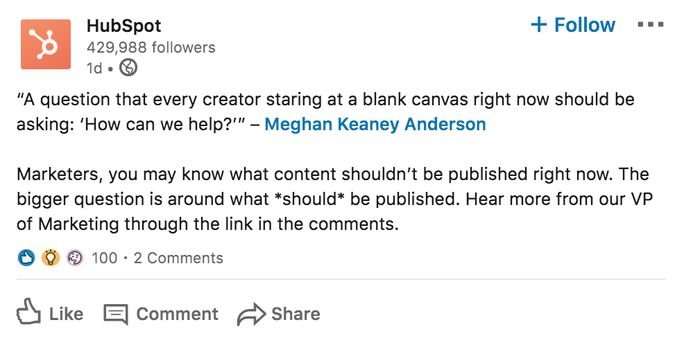 Notice:
They show their audience of growth marketers that they hear them and want to help them create the right content for this challenging time.
Then, in the comments section, they share a comprehensive content guide for followers to review to get started in this process. Quality content + smart promotion = increased traffic to your website.
It's easy to get caught up in what every other brand is doing right now or overposting content just to post. However, when it comes down to it, you know what your audience needs.
What questions does YOUR audience need to be answered? How can you use new data and experience to show them you're here for them? How can you use your LinkedIn as a go-to resource they can trust?
Zig Ziglar said it best,
"If people like you they will listen to you, but if they trust you, they'll do business with you."
2. Upgrade Your Design
Quality designs should be utilized in several LinkedIn posts a week to encourage engagement.
If your audience is scrolling through nonstop text posts every day, they're going to get bored eventually.
Check out this fun design carousel that the host of The Micro-Influencer Podcast, Blake Emal, put together and shared on his LinkedIn page.
He tied in key lessons in marketing while playing into a fun spin with a show millions of people know (according to Wired.com), Game of Thrones.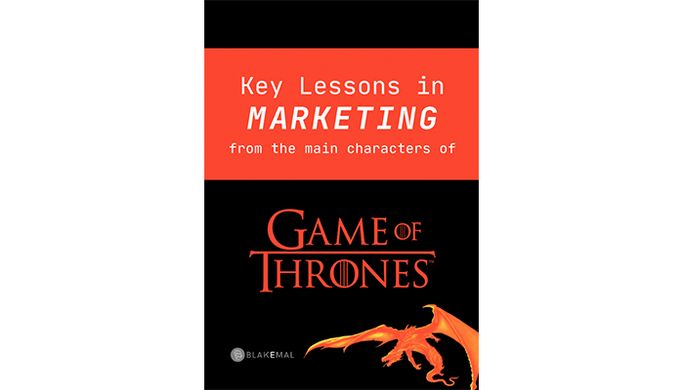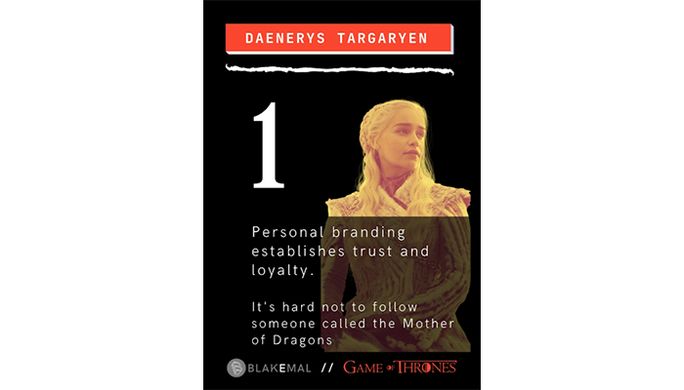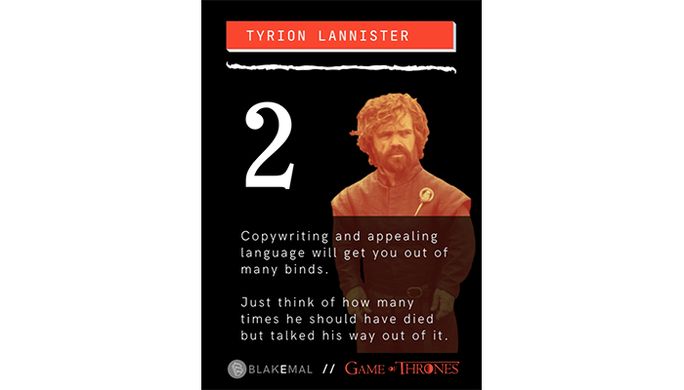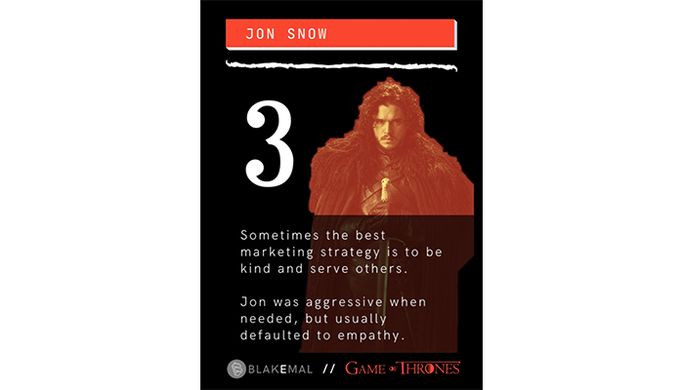 The results?

While you might not be able to make Game of Thrones content at your company, you CAN craft designs that catch people's attention that they want to share. You can also improve your conversion by embedding hyper personalised images to allow the post to resonate with the receiver, tools such as Hyperise can really boost your engagement.
The creation process should be creative. Take an extra 30 minutes; find a new way you can engage your people.
If they enjoy it, they might promote it as well, ramping up your brand awareness overall.
The best part?
These graphics don't have to be impossible to create. Canva offers free versions of their tool where you can work with already existing templates and alter them to make your own.
3. Give A Face To Your Company
Show that real humans work with you on your LinkedIn page.
Share videos of your team working from home, share a "Team Spotlight" or something similar that your audience can relate to. Give your posting strategy a breath of fresh air and humanize at least one post a week.
If a teammate has an interesting story to tell, don't be afraid to highlight it. The world needs more team positivity right now.
Check out what McKinsey & Company has been up to below.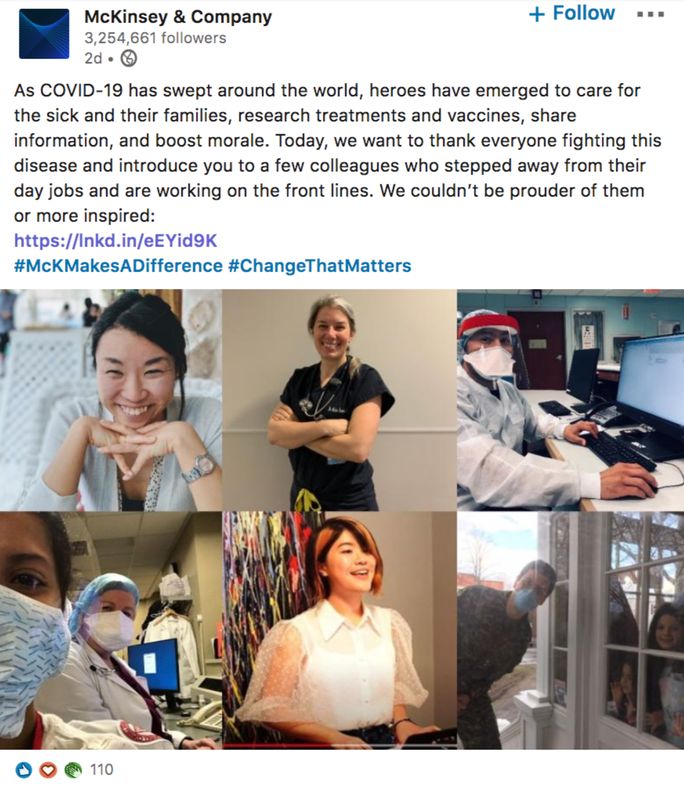 According to the LinkedIn Official Blog itself, offering your personal stories can inspire and help others, and there are many ways you can do this. Just be honest with your audience.
Here's another example, which is an excerpt from a Directive LinkedIn post where Director of SEO, Brendan Hufford, shares his real experience of leading a team as quarantine guidelines began back in March: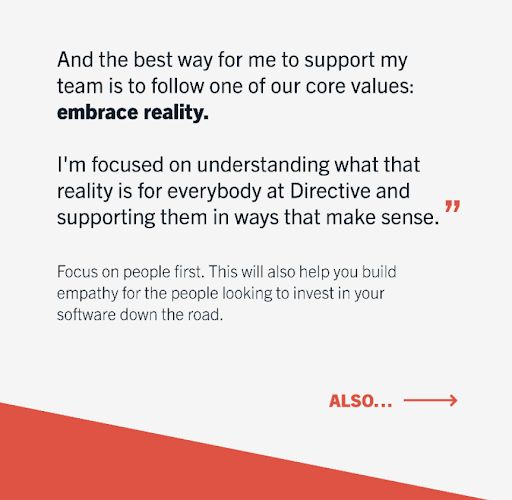 At the end of the day, social media marketing is about connecting with people.
How can you share ways to build up your LinkedIn audience, offer new ideas to support your people, and keep your brand focused around your values?
Your social media is a peek into who your team is. Will your audience like what they see?
4. Find Your People
Does your sales team have a list of potential companies that you'd hope to work with or your ideal audience (people that would benefit from your product or service)?
I bet they do.
From here, take these companies and do an in-depth search in Sales Navigator to find the right people, based on a keyword (ex. Demand generation), job title, company headcount, their seniority, etc. and find the right people you want to engage with.
Keep in mind who your "champion" is. This would be a senior-level marketer but not the "decision-makers" or executives of the company. Executives often won't notice if you're engaging with them, so, you'll want to make the best use of your time.
Here's a visual example of how to set up your audience.
What many people don't know is that to engage from your company LinkedIn page, you'll need a tool like Phantom Buster to scrape your list of people who might want to learn more about you from Sales Navigator (They have a free trial!) and put it into an Excel spreadsheet.
After that, you'll need to comprehend how to engage with each human, as your brand and not yourself.
Many people don't realize that you're not able to engage from your company's LinkedIn page without taking a specific route.
Next, take your list of the champions you want to be familiar with your brand, and do just that.
Engage with them.
Make them aware that your brand exists. Respond to their questions; use the language of a real person!
A/B test different types of comments and find what works best (i.e. quick comments, thorough and thought out responses, likes, follows, etc.).
If you have quality content on your page, they will be intrigued and want to follow you. However, if your first couple of posts lose their interest, you may be hurting yourself in the long run.
Your Team Will Thank You
In a time when so much is uncertainty, how can you be a LinkedIn source that is trusted and a breath of fresh air from the millions of posts published daily?
Social media story-telling is real and is a way for your audience to understand who your team is as humans, be further educated and become better suited to succeed, and continue to let your creative muscles do their thing.
While you might be in a tough spot right now with sales, keep in mind the power of your brand and values.
Don't push people to where you want to be; meet them where they are."
— Meghan Keaney Anderson, VP Marketing, HubSpot
If you put in the work to put your audience first, they won't forget how you supported them when times were tough.