According to Statista, the internet has approximately 4.54 billion users, of which 3.7 billion people are active on social media as of December 2022. So, here's the fact. Your current and prospective customers are online, so are your competitors.
That adds up to a lot of users generating and consuming content. About 91 percent of retail brands manage two or more social media accounts, but for what? Here are just a few reasons:
Get more online exposure
Showcase your brand
Listen to your audience
Generate leads
Personalize communications
Build relationships with audiences
Rank higher on search engines
The proliferation of smartphone usage and increase in social media reach have helped brands not just engage with current customers, but also to find prospective customers. In fact, effective lead generation campaigns anchored in social media have helped brands with lead generation, conversion, and retention 24 hours a day, 7 days a week.
Social Media: A Powerful Lead Generation Tool
When we talk about social media, the first thing that often comes to mind are the big three: Facebook, Twitter, and Instagram. While these are the most popular social networking platforms today, there are others that could be more effective for engaging with your target audience. But first, the big three:
1. Facebook
As of December 2019, Facebook has 2.45 billion daily active users around the world, of which 2.2 billion access the social networking site using their mobile devices.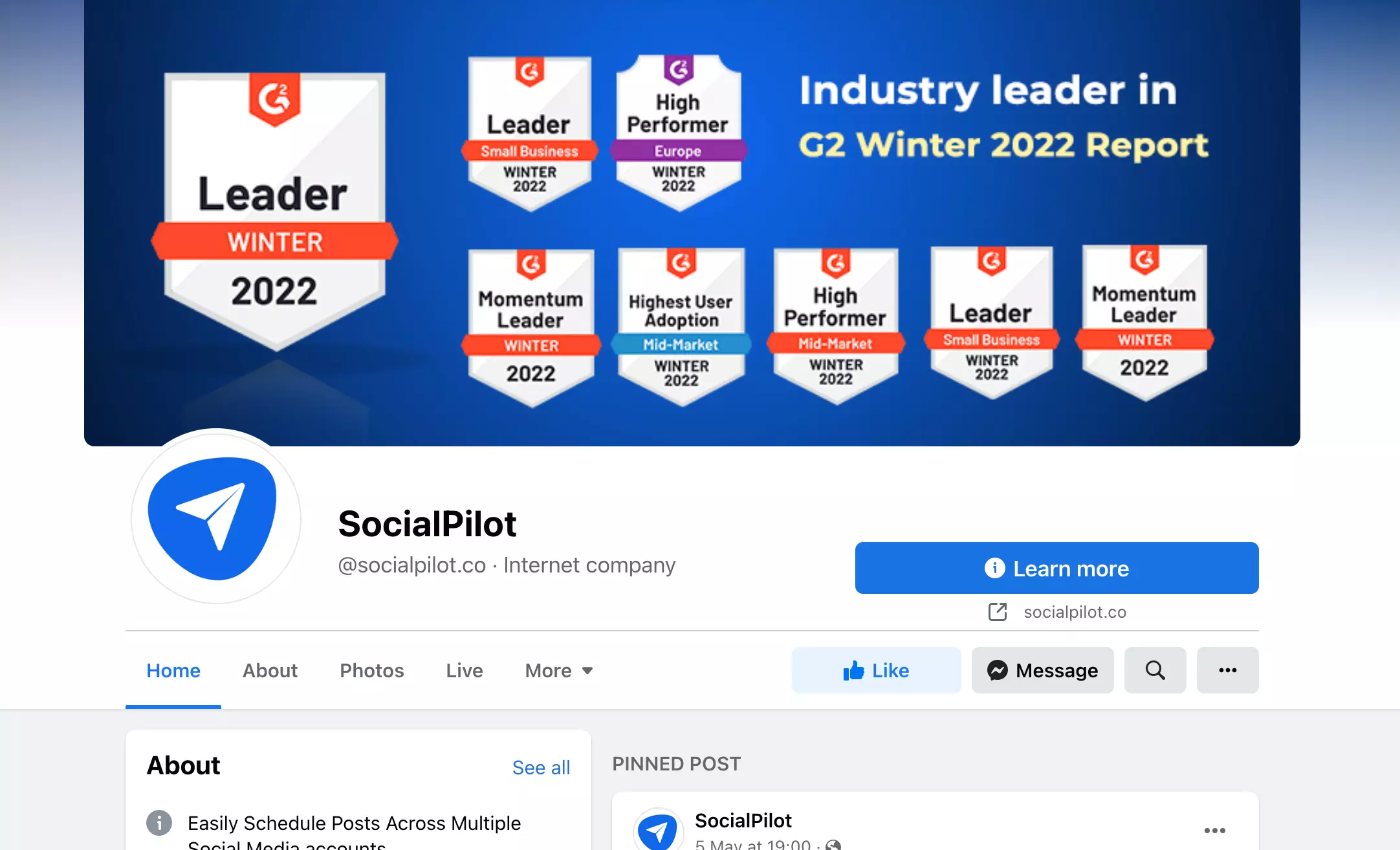 Based on these two major statistics alone, Facebook is obviously one of the best and biggest social media platforms to generate leads. But, with almost every brand in the world jumping on the bandwagon, how can you rise above the noise? Here are some pro tips:
Create an official Facebook page
This is one of the most important steps you need to take if you want to harness the lead-generating powers of Facebook. Make sure that your brand is "searchable" on Facebook.
Creating an official Facebook page for your brand, company, or product/service will provide your current and potential customers with a direct channel to communicate with you. Think of it as opening up a dialogue with them.
Use your official page to share meaningful content with your audience and showcase your brand personality. Respond to any comments or mentions with personalized communications. This will encourage more interactions and increase your chances of finding prospects.
Promote, promote, promote!
So, here's the thing, unless they're already loyal fans and followers, potential customers need to know that they can get something valuable from engaging with your brand page.
I don't mean you need to give them something in exchange for sharing your page, because that's technically against Facebook's terms. But there are some brands that offer content entries for commenting on posts. This is a great way to incentivize engagement and content sharing.
You should also utilize Facebook Lead Ads to direct people towards your official Facebook page as well as towards branded content on your official website. Getting the right sets of eyes on your content is key, so make sure you're targeting effectively with your ads.
Post your website's landing page on Facebook
We get it, some promotions are just too long to post on Facebook and people have short attention spans online. If your post is too long or complicated, chances are, people will just keep scrolling and miss your amazing promotional post.
One trick is to create a visually-engaging landing page on your website for a promo and post the link directly on Facebook. At this point you simply have to add some compelling copy and/or images to entice users to click on your link. You should be using a combination of your brand's Facebook page as well as Lead Ads to get your link in front of your audience.
Share blog posts
Blogging is one of the fastest ways to increase your website's traffic. But simply publishing articles on your website isn't exactly a solid distribution strategy. You should be spreading the word across the web, via social media and content curation sites. Using the best social media tools help you manage your social media easily. Keep in mind that a huge opportunity lies in sharing your content on Facebook.
Users spend huge amounts of time looking through their feeds for content to consume. Timely blog posts are important, as they generate instant buzz. Meanwhile, evergreen articles are also great for sharing using tools like Meetedgar. Check your website blog's traffic to see which ones receive the highest page views, those are the posts you should be sharing on Facebook to maximize traffic.
Post a variety of content
Try to find a balance between posting for direct and indirect lead generation. Users won't appreciate it if all your posts are highly promotional so it's always good to mix things up a bit. Aside from promotion, you should be crafting posts that entertain, inform and educate users so they can get more value out of consuming your content.
Further, use free social media analytics tools to find out the variety of contents which are engaging your audience the most. Make more of them. Analytics will also tell you the best time to post on Facebook, so you can engage on time with your audience.
Our culture today is highly visual, so you should try to incorporate visual content into your posts. This helps deliver your message more effectively and increases your chances of striking an emotional chord with your audience, the ultimate goal of any non-promotional content.
You should use a combination of text, images, videos, memes, GIFs and any other types of content that your audience can relate to. If you have the resources to create infographics, you can take your visual content utility to the next level and create useful content your audience will love.
2. Twitter
Every day, there are approximately 500 million "Tweets" being sent, and about 67% of B2B marketers use Twitter in their marketing campaigns.
What's also great is that approximately 93% of brand followers on twitter plan to buy from them and 69% have already purchased from them.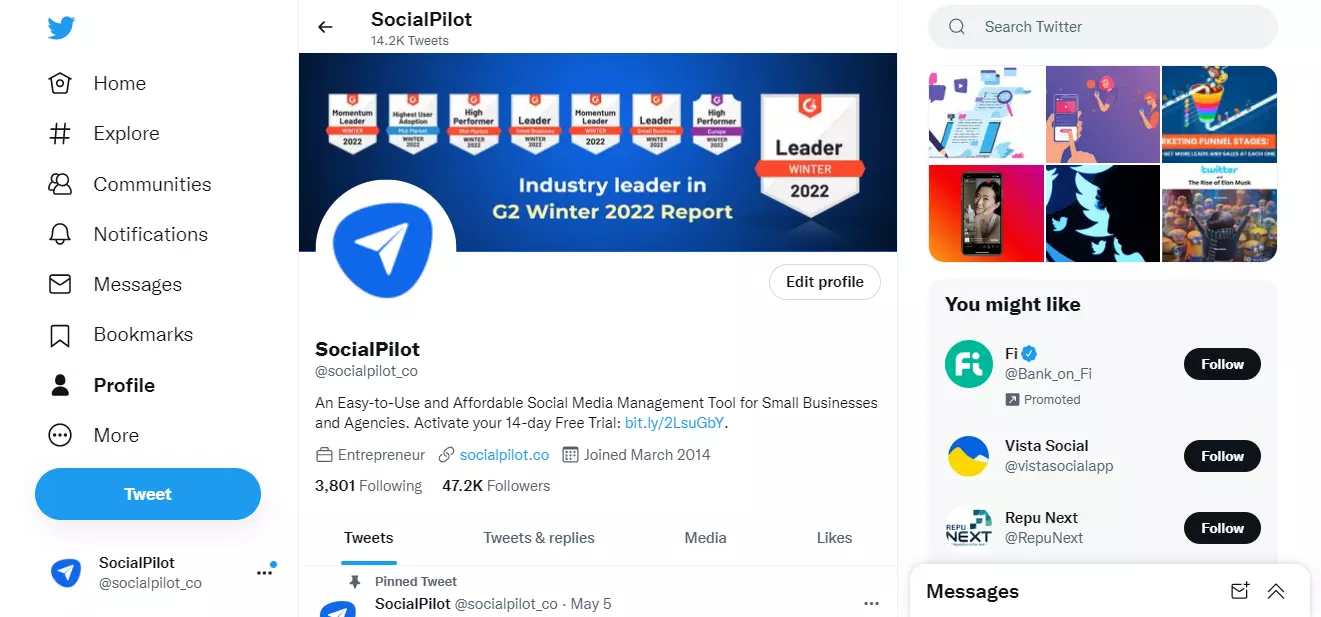 There's no denying the fact that Twitter is still an extremely active community and a good opportunity for brands to connect with their audiences, just as long as you're posting the right content at the right time. Here are some tips to optimize the power of this social networking site for your lead generation activities:
• Make your 140-character limit count
For some, this could appear restrictive, but the word count limit actually makes the tweet matter more. Short tweets with catchy copy, clear calls-to-action, and a single link can have major engagement potential when crafted correctly.
Prioritize the main message and single link in your 140-character tweet. If you have an official hashtag for your brand or campaign, add one, but leave the other hashtags and links for platforms without character limits.
Something every Twitter user should be pretty pleased about is that attached media (photos, videos, polls, quote tweets, etc.) no longer adds to the character limit. This means that users have a little more freedom with their copywriting, so remember to take advantage of it.
• Use the conversion tracking tool
You need to track your progress, otherwise, how will you know whether your Twitter lead generation initiatives are working? This is a critical step in Twitter lead generation, and in a nutshell, it measures your brand's ROI by tracking user actions after engaging with your Twitter ads.
Conversion tracking makes it a whole lot easier to attribute value to your Twitter lead generation activities. Its measurement capabilities make it a useful tool that you simply can't ignore.
• Target your ad reach
When you're just starting out, of course, you can't expect to have that many followers. So, the best thing to do is to invest in Twitter Ads. You can target your desired audience by gender, language, and location at its most basic form.
But as you move forward, you can fine-tune your ad reach by tweaking the advanced options and target users by keywords, interests, behaviors, and even the specific TV programs they watch. This is a means to craft highly-targeted messages for very specific groups of individuals.
3. Instagram
To date, Instagram has approximately 1 billion monthly active users, and about 500 million are actively using Instagram stories daily. Amazingly, The projected number of US Instagram users by 2023 is 125.5 million.
The social networking platform is averaging about 4.2 billion likes daily and generating over 100 million photos and videos every day. Although most Instagram users (95%) are under the age of 35, they are far more likely to engage with branded posts when compared to Twitter and Facebook users.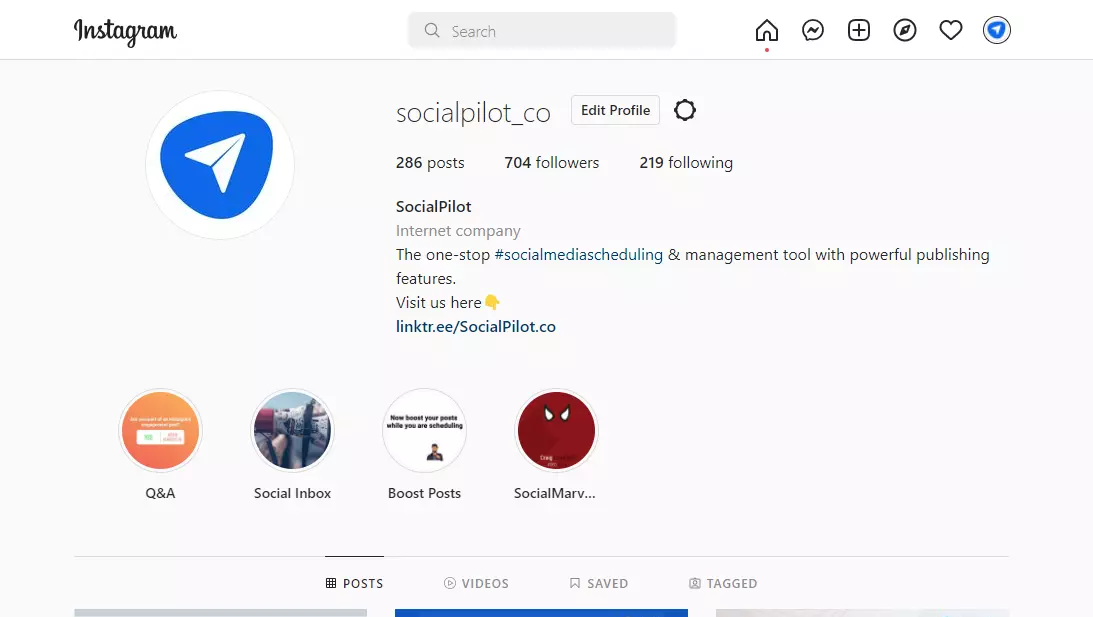 Here are some tips to use Instagram in your lead generation campaigns:
• Showcase your products/services
While the character count is not as limiting in Instagram, photos and videos speak the loudest. So, showcase your products and services through quick snaps and visual-heavy content.
• Use personal hashtags
Instagram is all about fun, so feel free to personalize your hashtags to help your posts become more searchable. Although going overboard with hashtags seems like it clutters up a post, Max Woolf made the conclusion in a study that more hashtags = more likes. So go ahead and include the maximum of 30 hashtags per post if you're so compelled.
• Share behind-the-scenes photos and videos
Sharing pictures of your staff and other company activities such as CSR events can help to humanize your brand. It should be no surprise to learn that most people prefer interacting with actual people over online brand entities.
• Get content from your followers
Sharing user-generated content is also another way to increase customer engagement. You can even work with industry influencers and accounts who can supply you with user-generated content. Not only will this type of content add that human factor, but you'll also have the opportunity to engage with that person's followers as well.
4. YouTube
Every minute, approximately 300 hours of video are uploaded to YouTube, and about 5 billion videos are being watched on the platform every day. Apart from the fact that videos are great to engage people, the majority of the buying process for virtually every product these days starts online, and video is the preferred method of learning for most.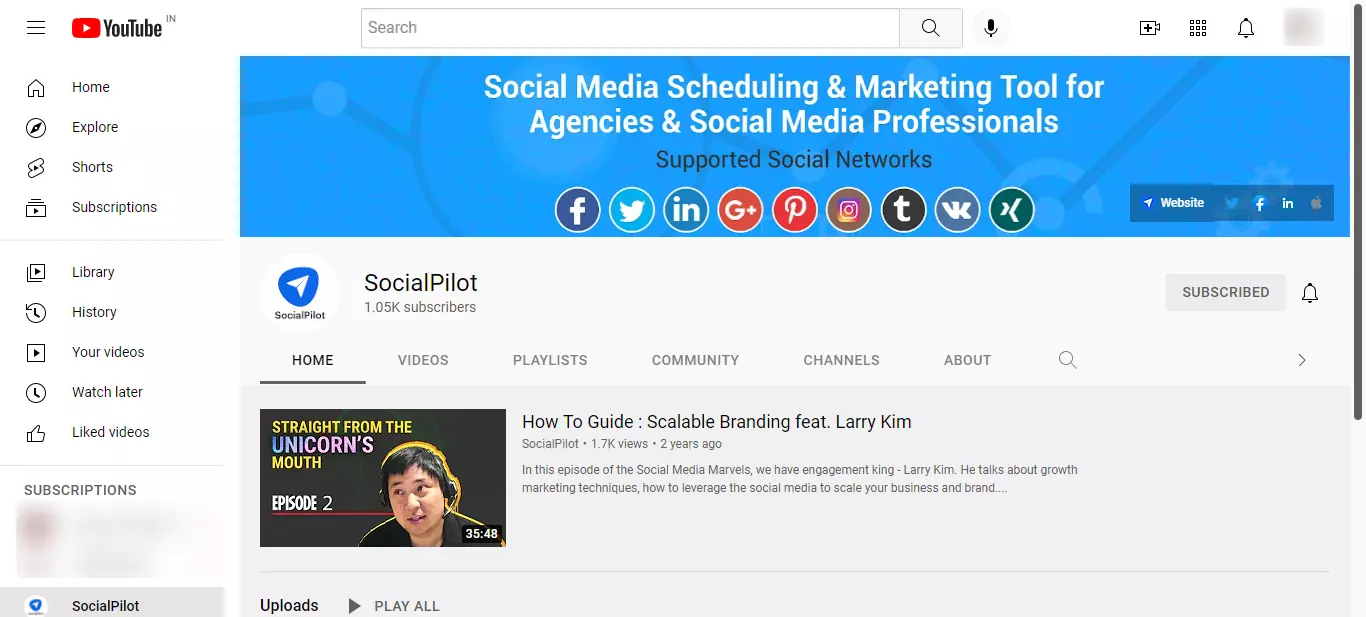 Here are some ways to use YouTube for your lead generation:
• Create a YouTube channel
Creating an official YouTube channel for your brand is the best way for people to learn about newly published video content.
• Build a strong following
Ask users to subscribe to your channel by consistently adding the appropriate call-to-action at the beginning or end of your YouTube video. YouTube gives you the option to overlay CTAs on your videos. Use this to direct viewers to your website and/or landing pages to increase the chances of converting them into leads.
• Invite video bloggers
While you can maintain complete control over the production process, it also helps to collaborate with YouTube personalities who already have a strong following online. For instance, if you are a makeup brand, work with beauty bloggers to review your products. This way, your brand's content can get increased exposure to a larger audience base.
• Create high-quality and high-value content
Don't publish YouTube videos just for the sake of getting one out there. Like other marketing initiatives, you need a plan, and YouTube videos don't always have to showcase your products in a hard-sell way.
For example, if you're a videography company, you can publish a compilation video of all the father-daughter dances you've captured at various weddings and release it just in time for Father's day.
5. LinkedIn
I can't really talk about online business without at least mentioning LinkedIn. It's the largest network of professionals online so at least for B2B marketers, this channel is a goldmine. You can use a combination of tools like LinkedIn Ads, LinkedIn Groups, Sponsored In Mail, and your LinkedIn company page to help distribute your brand's content and attract new leads.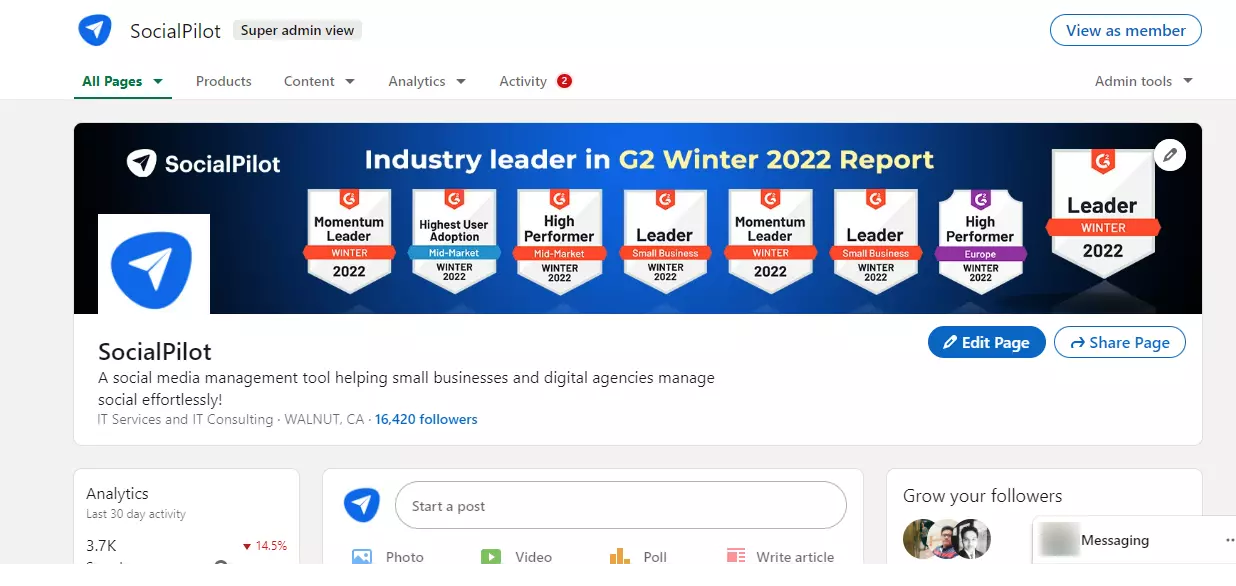 Try to be active and engage with other accounts as much as possible. Users really appreciate it when brands are able to personalize communications with them. It helps to build trust and establish your brand as a thought-leader and an expert in your particular industry.
It's Time to Get Social
If you're quite new to social media lead generation, you have first to analyze which platforms are in line with your business objectives and which ones your target audience prefers. Your best bet is to focus on two to three platforms that provide the biggest opportunities for engagement.
While it is important to be present and active in various social media channels, there will always be one or two outfits that will generate the most leads for your business. Keep in mind that social media marketing is an ongoing process that requires constant maintenance to keep engagement levels up. This isn't a proverbial sprint, so remember that you're in it for the long run.
You also need to understand that using social media as a lead generation tool also means empowering your online audience to work for you. Engage with them and build a robust community that is self-supporting. The strongest communities are those that encourage support between users for no other reason than to be a productive member of that community.
If you're able to use social media the right way, you'll be generating leads in your sleep!