The fifth chapter of the growth hacks series talks about WHEN social media attributes generate more qualified leads. In chapters 3 and 4, we recognized social media as an avenue to present your content and build relationships with your audience base.
But let's be honest, most of us (brands and marketers) spend so much time building social media strategies and implementing them to achieve one thing – an increase in sales. So yes, that is the ultimate goal.
When talking in terms of the social media funnel, 'lead' is a step that comes just before 'conversion'. So, when I download your free ebook, I am your 'lead'. A lead is a person who has shown some kind of interest in your brand, product or service. Now, you just have to communicate with me and help me decide whether I want to buy your product or subscribe to your service.
When I actually buy your product or subscribe to your service, I would be your 'conversion'. You have managed to convert me into a customer or client.
In this chapter, I'll help you learn about some growth hacks that can generate several leads for your brand.
In this chapter, I'll help you learn about some hacks that can generate several leads for your brand.
Before we begin – brands usually employ the following to generate leads:
Lead generation forms to access free resources
Social media ads for retargeting
Live videos
..and more.
(Can you connect the dots between the kind of content brands should produce and how it transforms into generating leads?)
The lead capture tactics relate to capturing the attention of your potential audience via paid promotions and organic means.
Lead Retargeting with LinkedIn Dynamic Ads
When you scroll through your social media feeds everyday, what is the one thing that is most likely to attract your attention? Your name or your photo.
This is called personalization. When I personalize the content with your name or photograph, you feel that the content or ad has been tailored as per your interests. This increases the chances of you clicking the ad or post by two times.
LinkedIn offers a very good tool for retargeting called Dynamic Ads. These are personalized ads that are placed on the right side of your LinkedIn feed.
Dynamic ads generate leads by driving traffic to your landing page or website. They are especially great for B2B businesses, with over 80% of B2B leads coming from LinkedIn.
They use members' personal information to attract and engage them. Therefore, you can build deeper relationships with your audience.
There's a variety of LinkedIn dynamic ads you can use to achieve specific marketing goals.
Follow Company AdsFollow company ads or 'follower ads' help you create brand awareness. These ads aim to bring more LinkedIn users to your brand's profile so that they follow you and your content activities on the platform.

Spotlight AdsSpotlight ads help you tell the users about a specific product, service or event. These ads are perfect if you wish to drive traffic to site/blog or website conversions.

Content AdsContent ads help you generate leads by asking users to download your content.
Every type of LinkedIn dynamic ad allows you to target users specifically by mentioning their name and displaying their picture. This personalization helps your brand achieve better results than with the usual ads.
Best practices while creating Linkedin Dynamic Ads
Select the type of ads based on your marketing goal.
What do you wish to achieve with this ad? As I explained before, the three kinds of ads help you achieve different goals.
Customize the background image of your ad.
This image must reflect your brand's visual imagery. Hence, select colors from your brand palette. It also helps to have an image that is relevant to the ad's copy. For instance, if you are talking about a content writer's job, the image could have a professional writer with a laptop.
Be descriptive in your copy.
Yes, it also needs to be concise. But try and find the middle path. Your ad's copy is the only thing between 'why should I care?' and 'I'm interested'. You can break up your message into a headline and then a description.
Set a compelling CTA.
It is time to focus on Call to Action (CTA) as developing content is not everything. It is just a mere starting point. A compelling CTA will enhance your prospects and increase their chances of moving along in your sales funnel.
A/B test images and copy.
This golden rule stays the same for all ads. Test different ad copies and images in your ads to see what works better for your audience. Including different adjectives and verbs has been known to increase your ads' click rate by 5%. Also, try using different images like your brand's logo, an icon or a photo of an employee in your ads.
The key to making use of LinkedIn for connecting with prospects is to personalize your messages. If you opt to simply send them an empty LinkedIn connection request or a generic message, they might as well choose to ignore it. So instead, look for ideal ways to personalized messages that will quickly catch LinkedIn users' attention.
Attract Leads with Static Ads on LinkedIn
Although video ads are more effective than image and text-only ads, static ads are also quite important. In fact, they lead to higher cost per lead (CPL) in some areas. Therefore, they can be great for retargeting, once the audience is familiar with your brand.
LinkedIn gives you the power to use static ads to pursue individuals that you consider to be good prospects to run your business. This can be HR executives and other qualified personnel capable of taking your business places. It will be easy to target them by placing the ads so that they can view them easily and reach out to people who are apt for a specific role in your business.
For a more targeted post, this tool allows you to select your locality as well as set the age and gender of the target customers you would like to reach. All that's left to do to start sending these potential customers to your business is to add the Get Directions button.
Looking to generate leads as a demand generator marketer or looking to raise awareness as a brand marketer? LinkedIn can help either or a bit of both as its LinkedIn Suite for marketing solutions is a good choice. It can connect the brand to active influencers and professionals across the world.
This native advertising that appears directly on the LinkedIn feeds of professionals that one intends to reach. Through it, messages can be delivered on a variety of devices, including tablets, mobiles, and desktops. Through Sponsored Content, one can use rich media to stand out among the feeds and easily optimize campaigns in real-time and test the messaging.
The unique ad format helps deliver personalized and relevant content through LinkedIn Messenger. It helps drive conversions with customized and personalized messages, A/B testing for messages to resonate with the target audience and helps reach targeted audiences on mobile and desktop.
Analyze Your Competitors' Facebook Lead Generating Ads
In simple words, competitive analysis is finding the answer to the following questions:
Which strategies are my competitors using?
Is their strategy working?
What can I learn about their customers?
Competitive analysis keeps you a step ahead of your competitors. When you analyze their ads, you can take a cue and use similar copy, designs and CTAs to achieve your marketing goals. These insights are a quicker and smarter way to see success with ads.
Did you know? Facebook allows you to see other Pages' ads? If you want to see your competitors' ads, just:
Go to their Facebook Page → Click on 'Info and Ads' → Click 'Active Ads'
If you're using Facebook Insights: Click on posts tab → 'top posts' from 'Pages you watch'
Now, your next question should be – what are we looking for?
CopyStudy the kind of tone they've used in their copy. Is it informal or formal? Is it direct or funny? Have they used words to target a certain group of audience?
DesignDesign plays a crucial role in the click rate you receive for your ads. See if your competitors are doing video ads or static ads. If they are doing a certain proportion of video and banner ads, that's because it has worked well for them.
CTAsWhat kind of actions words have they used in their CTAs – get, download, register, book, start, etc.? Also, notice if they've been using the same CTAs or different ones for each ad.
Landing PagesThis is the page that users are directed to after they click the ad. Now, there's a chance that your competitors are directing their leads to one of their site's pages – features page, pricing page, product page, etc. However, they might be directing them to different pages – one which isn't visible on their site. Check out these pages to see the kind of messaging they've used.
StrategyCheck their most recent ads and compare the kind of ads they were running a few months ago. Do you see changes? That'll give you a good idea of their strategy. They must've made those changes based on the results they got from all ads.Besides the above-mentioned points, you can also use the geographical features to see exactly where your competitors run their ads.Facebook advertising is a very powerful tool that you can use to promote your products and services. Advertising on Facebook is very easy once you know how to go about the process. Here is how you can get started with it:Once you have your ad permit, go to the "manage your ads" button on Facebook.com/adsmanager.Once there, pick the options you would like to incorporate in your ads feature.
What are the Steps to create a Facebook ad from scratch?
Step 1: Choose the type of ad that you wish to control. This depends on what you want the ad to stand for.
Step 2: Choose the objective of your campaign and incorporate it in the ad as extensively as possible.
Step 3: Choose the demographic that the ad will be shown to. Doing so will help your ad connect better with the chosen audience.
Step 4: Decide on the budget that you wish to allot for the ad. It pays to have a number in mind as it helps you stay on track and prevents overspending. You can set the budget based on how big you want the ad to be.
Step 5: You must create an audience for your ads. You should keep in mind the audience that will be viewing your ads and incorporate elements that will please them.
Retarget Your Potential Leads on YouTube
Say you've achieved great marketing results with Facebook ads. Can you replicate the same with YouTube? Sure!
Retargeting on YouTube is a great idea for a lot of reasons:
The biggest advantage of YouTube ads is that they appear in a format that everybody loves – video.
The numbers for YouTube ads reflect real engagement. Facebook counts watching the video beyond 3 seconds as a 'view'. However, in YouTube ads, a view is more than 30 seconds. You would agree, too – three seconds is a very short duration of time to determine whether a person engaged with a video.
YouTube has come up with some great ways to target your audience better. For instance, if you are in the hotel business, you can target viewers interested in food, travel, etc.
After Google, YouTube is the second biggest search platform for all kinds of audiences.
How can I retarget using YouTube ads?
If I see one of your ads on a social platform and don't perform the desired action (download, sign up, register, etc.), there's a chance I would completely forget about your brand. This is exactly what YouTube ads help you. With so many brands trying to sell them their product/service, it's easy for your audience to forget about your brand. Then, if I see a YouTube ad, it'll serve as a reminder for me.
YouTube's remarketing ads provide you with amazing options for creating your audience list.
If you notice, all these options are based on various actions performed by your audience. You must choose the ones that you believe will have the highest chance of converting.
The fourth, fifth, sixth, and seventh options (in the image above) are clear indicators of the fact that the viewer is interested in your content. On the other hand, the ninth and tenth options indicate that the viewer has shown consistent interest in your product/service category.
Pro-tip: Don't select many options from the remarketing list. When it comes to YouTube ads, it's always better to target a broad section of your audience.
What type of Ad placements does Youtube offer?
In-stream (pre-roll ads) Remember those ads that appear before your video begins? Those are in-stream ads. After a specific duration (usually 5 seconds) the viewers get an option to skip the ad. The ads which do not have an option to 'skip' cost a lot and are usually run by big brands.
In-display (TrueView discovery ads):These ads appear in two places. One, on the upper right corner of a YouTube page. Two, in search results. These ads appear as thumbnails with a one-line description. To view them, the viewer must click them.You may think that in-stream ads offer better visibility to your brand. However, if you are aiming for certain keywords, go for in-display ads. Please note that in-stream videos get better impressions because they play instantly (no need for the viewer to click).
Pro-tip: Offer something different from what you offered in the first ad. Encourage them to act with a discount or coupon.
Research shows that out of 76% of users who abandon their cart, 26% return through retargeting ads. Those are good numbers, aren't they? So, don't forget to run retargeting campaigns.
Use Organic Social Media Campaigns to Generate Leads
Social media is great for generating leads. You keep hearing or reading that statement quite often, don't you? There are some reasons why marketers feel enthusiastic about generating leads through social media.
One, it helps them get leads with at a small (or no) cost. Two, it gives them a complete breakdown of their marketing results. These results help them in changing and optimizing their strategies. Three, their audience is approximately 20% more likely to have a conversation on social media as compared to replying to a cold email.
The social media campaigns meant for generating leads differ from everyday social media marketing efforts because they usually have specific goals, defined start and end period, and their results can be tracked. The campaigns often cover a particular aspect of your business, such as the promotion of a new product.
How to plan an organic lead generation campaign on social media?
Identifying a promotion eventLike I said earlier, choose a particular aspect of your business. It can be:

Promotion of a new product/service
A new feature or update
Seasonal/holiday offers, discounts, etc.
Promotion of a new resource like ebook, whitepaper, etc.

This event will give certain timeliness to the campaign. It should help you narrow down your messaging and the action you want the audience to perform.

Choose social platform(s) Which platform does your audience use actively? This platform would make for a great place to start your campaign.I would advise you against running campaigns on many platforms at a time. Focusing your efforts on one or two platforms will yield better results.
Decide on content formats What kind of content would work best for my audience on that platform? You must decide if you are using GIFs, videos, banner images, etc., in your campaign.Set a tone for your campaign's design and content so that it is consistent.
Set a timelineHow long do you wish to run this campaign? The answer to this question depends on the kind of campaign you are running. If it's for downloading resources, it'll take more time for you to get results. So, run it for a month.On the other hand, holiday offers run for a week or (at the maximum) 15 days.
Identify the metrics to track Which metrics will help you measure the campaign's results? This answer, too, depends on the kind of campaign you're running. I've created a general list of metrics that would apply to most campaigns:

Clicks
Likes
Shares
Comments
Impressions
Views
Brand mentions
The above plan will help you guide through the entire process of setting up and running campaigns.
Your social media audience must've been a part of some really great campaigns. However, impressing them doesn't require an impossible effort on your part. The only reason a user decides to become a lead for you is that he/she thinks you will add some value to his/her life. This could be anything – a piece of useful information or a discount.
Which type of social media campaigns have worked well for brands for lead generation?
Arrange contests on socialWho doesn't like some healthy competition? Contests use your audience's competitive spirit to lead them to your product/service.I've seen many brands run liking, sharing, and retweeting contests – "like our Page and win a chance to go to Paris". If you are interested in generating genuine leads, I would advise you against running such campaigns. People will just like your Page and then forget about you. The chances of these leads converting into your customers are zero.There's an important lesson here: the contests are just a means to an end (generating lead and winning a prize). The entire idea of the contest must encourage people to learn more about your product or your brand.For instance, Fairmont Hotels ran this campaign where they asked their audience to reveal their travel personality. The concept is relevant to their brand and the prize they are offering.

This brings us to the next question – what should the prize be? One, it should be something that interests your audience enough to take part in the contest. Two, the prize should interest your potential customers – people who have the highest chance of converting into your customers.

The prize offered by Fairmont Hotels is perfect. It's a tempting travel package at a sweet price. If you are the kind who travels a lot, you wouldn't be able to refuse it. Also, you wouldn't enter the contest if you are not a frequent traveler or happen to be staying at hotels often.

You can offer your contest winners an extended trial of your product, an upgrade at a discounted rate, a package for their friends and family, etc.

Using gated resourcesThis works especially well for free resources like ebooks, whitepapers, templates, video tutorials, etc.Gated content has a virtual gate that your audience must open in order to access the resource. Mostly, the virtual gate requires your audience to provide their name and email address. If you are looking for more information about your audience, then you can add more fields like the size of the business, their role/title in the organization, type of organization they belong to, etc.Please note that your resource must hold enough value for your audience to provide this information and download it. You can use the social posts and landing page to tell them what to expect after they download the resource.
Host webinars or live videos Webinars and live videos are great ways of sharing valuable information, discussing a trending topic, gaining expert insights, or just having Q&A sessions.There are two ways of generating leads with webinars and live videos:Gated: You can ask people to register for the webinar in advance by providing their contact details. You'll have a list of email addresses of people who've shown an interest in your brand and who you can target specifically.Non-gated: In case you don't want people to register, you can guide them to lead generation tools like landing pages. So, while you are live streaming, mention your product/service a few times and guide as to how they can use it to their advantage.At the end of the webinar or live video, ensure that you've replied to every comment and created another list of people who engaged well with you. You can target them later with other campaigns.
Invite user-generated contentSay, you have a writing and editing app like Grammarly. Running a social media campaign where you invite your audience to submit essays will work great for you. Moreover, the leads you gather here will be highly relevant to your product. User-generated content requires active participation on your audience's part. So, ensure that the reward is appealing. For instance, you can feature their photos in your next edition, give them free access to a copywriting course, etc.Don't forget to track the results of your social media campaigns. Keep experimenting with the kinds of campaigns you are running as per the results you achieve.
Social Media Redirects To Drive Traffic to Your Website
You invest a lot of time and effort into maintaining an excellent website. It's only obvious that you would like more people to visit it. However, you need to give your audience a reason to engage with your business and visit your website.
How do I drive traffic to my website using social media?
Social media buttons Every social page of your brand must have a button leading to your website or your website's link. For instance, your Twitter bio must have your site's link. If someone checks out your Twitter profile and is interested to know more, they can visit your website. Not having buttons or links on social pages can decrease traffic to your website by 10%.

Create and share content consistentlyThis not only helps your site pages rank better in search results but also gives a reason for your audience to visit your site frequently.While sharing content to different social platforms, customize it as per each platform by including visual elements and tweaking the post copy. You can add your site's RSS feed URL in a scheduling tool so that your content gets shared to your social media automatically. On the other hand, you can create posts and schedule them strategically.
Ask guest authors to share content Guest posts are usually a 'give and take' activity. They get to place their link on an authoritative and quality site like yours. In return, you can ask them to contribute their guest post on their social media by including the link and mentioning your brand in their posts.Consequently, you have the chance to get the author's audience and fans to visit your website.
Co-promote each other's content Collaborate with a brand and promote their content (every once in a while) on your social media. In return, ask them to promote your content on their social media. Getting another relevant and authoritative brand to promote your content can help drive more traffic to your site. It helps you spread your brand awareness among their audience.
Actively participate in conversations on social Your audience participates and keeps track of all trending conversations related to your industry. To present yourself as a credible and trustworthy source of information, you must join them in these conversations.When they see you as a credible source, they are more likely to check out the content you share – thereby leading them to your website.
Publish content on LinkedInAlong with sharing your content on LinkedIn, publish the content on LinkedIn. You can include your site's links as resources in this content.In order to attract readers, you must consistently publish at least one article every week.
Share your content in Groups You must be careful with this one. Groups don't usually encourage or allow members directly promoting their content.Keep track of the conversations happening in the Group and share your content only when it is relevant and valuable in the context of the conversation. If a member asks for a list of marketing agencies in Ohio, you can suggest checking out one of your blogs that talk about agencies.
Pro-tip: Don't share shortened links in Groups. The members must know what or where the link is leading to just by looking at the link. If it looks like "bit.ly/123456", nobody will click it.
Engagement lies at the core of every social media platform. So, ensure that you are engaging with other users actively. Your audience will notice your activity and visit your website frequently.
Generate Leads with Customer Reviews and Testimonials
Social proof tends to increase when your brand is appreciated by the users/consumers. Your brand is not awesome when you say so. It is awesome when your customer or client says so. Social media has made it very easy for your customers to share their feedback instantly. Moreover, your potential customers check your social for the feedback provided by your present customers. This is called 'social proof'.
This term was coined by Robert Cialdini to describe a psychological and social phenomenon wherein people copy the actions of others in an attempt to undertake behavior in a given situation. In your case, your potential customers assume that your customers have better knowledge about your brand and product/service. Hence, they would trust their feedback and act accordingly.
How does social proof work on social media?
Many brands display their product reviews on their business pages on social media. This is an excellent way of making a first impression. If you see good reviews on their page, you're more likely to check out their website and products.
What are other great ways to leverage social proof on social media?
Encourage customers to share their experience on social Say, I visit your restaurant today. At the end of the day, I receive a text or email from you asking me to share my experience on social media. When I say share a picture of my meal on Instagram, there's a good chance my followers will take a note of my positive experience and think of visiting your restaurant next time.See what happened here? One customer's experience helped you make hundreds of people aware of your restaurant.Pro-tip: When a customer shares feedback on social media, make sure you reply to it. Offering them a discount on their next visit or purchase helps you make a great impression among your potential customers.
Curate customer testimonials using hashtags Create a unique hashtag for your happy customers and encourage them to share their experiences on social media using that hashtag.Hashtags make your customer feedback more searchable on social media. They help build a loyal customer base by boosting engagement. Existing customers share their experiences with potential customers to create a close-knit community.Keep your hashtags catchy, relevant, and unusual. Bannersnack uses #DearBannersnack brilliantly to elicit testimonials from happy customers.
Provide incentives for sharing reviews on social I've had brands offer me a $10 gift card for reviewing their product review platforms like G2Crowd and Capterra. There's nothing wrong about that.At times, your customers need a little nudge to make that kind of effort. You can offer them discounts, gift cards, etc., to post a review on social media.
Ask for recommendations from influencersIf you are lucky enough to have an influencer as your customer, use them to your advantage. Ask them to recommend your product or service to all their fans on social media.You can shoot a video with them talking about what they love most about your brand or product. Then, they can post this video on their social media. If you don't have that kind of time or resources, even a shoutout will work wonders.
Conquer local marketing with GMB reviews Search engines to incorporate social proof into their ranking algorithm. Google My Business is directly linked to search engines and hence, can help you improve your visibility locally. It has been proven that the number of reviews and engagements has a direct correlation with local search rankings. Therefore, to improve your rankings, ensure you have reviews. You can either request customers manually or enlist tools to request customers to review.Social proof is quite important in convincing customers to buy a product or service. Therefore, put it clearly on display on all your social accounts. Run campaigns periodically with testimonials and reviews of happy customers.
Monetize Your Lead Gen Through  Social Media Marketing
Even as you try to engage with your audience on various platforms, it's important that you don't lose focus on the main goal, which is to make sales. While it's never wise to just insert a marketing message everywhere, all your marketing efforts must ultimately lead to gaining customers or clients.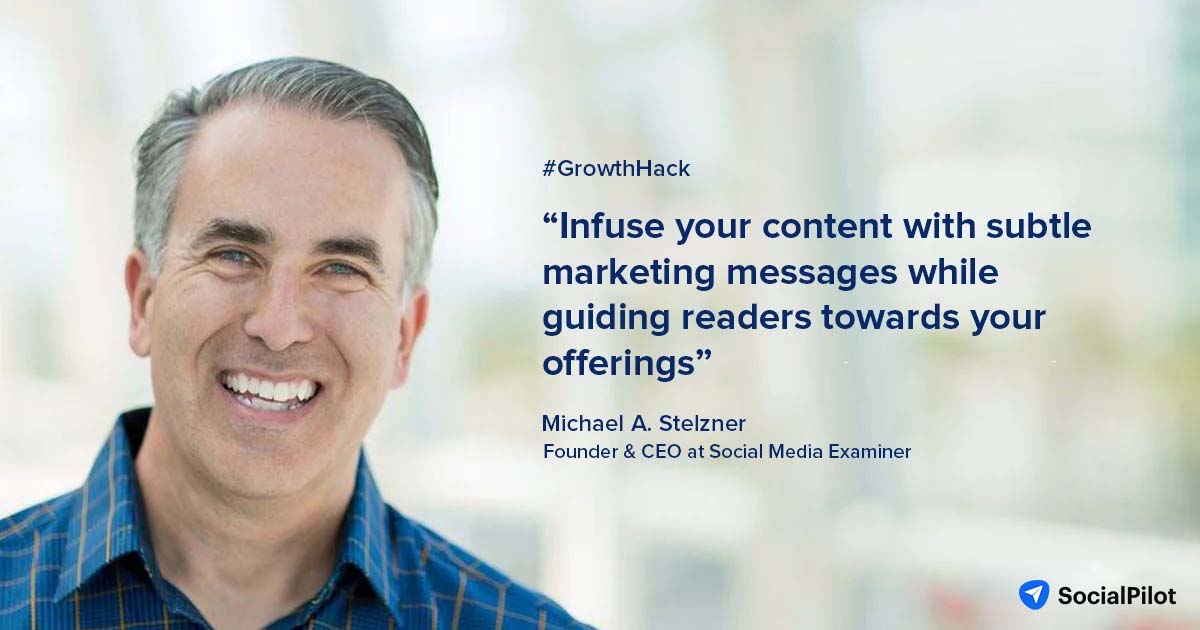 Therefore, find smart ways to pitch your marketing messages. Here are some examples of pitching your products to your target audience.
Promoting free content instead of productsThink from a customer's perspective. When I introduce you to my brand for the first time, would you immediately buy the product or pay for the service? No, right?Hence, use the content as a way to get potential customers to your site and product pages. This is why marketers lay so much importance on creating quality content. Free content brings them to your site and makes them aware of your brand and your product/services.Whenever you share new content, they'll visit your site. After a point of time, they might want to try your product or service. See? It led them right where you wanted them to be.
Using subscription channelsTurn your social media accounts into subscription channels. You can include the subscription links in your bio or 'about' section. Also, whenever you share content, add this link encouraging people to subscribe to your content. Display a 'subscribe' button through the end of all your videos.This will help you create a list of subscribers who you can target with ads of product/service on social.
Directing people to your content instead of productsYou'll notice that people are less likely to click a link when they know it leads to the home page or product page. Like I said earlier, nobody wants to be sold to. They already have a lot of brands seeking their attention.You get their attention when you provide information instead of sales pitch. So, if you want to tell them about a new feature you added to the product, write a blog about it. Put the feature in a context and explain how it helps them solve a certain problem. They are more likely to click this link and read the blog.
Asking people to register for free valuable contentThis is a popular lead generation technique. You put a virtual gate before they access the content. You ask them to register by providing their email addresses so they get an update every time you publish a new content piece.This is extremely smart. They get free and good quality content and you get a lead to target – perfect 'give and take'.
This brings us to the end of the growth hacks journey. We covered the WHAT, WHERE, HOW, and WHEN strategies to garner growth on and through social media. If you have a minute and think these hacks were basic, and might not work, then I have a complementary chapter for those advanced hackers! The next chapter is for them. We have compiled a list of strategies that use work with a combination of channels – not just social media!