The growth of TikTok has been phenomenal.
What started as an oddball social platform to showcase dancing and dubbing talent is now blooming as a powerpack platform to influence sales.
There are tons of TikTok marketing case studies that prove the power of TikTok in driving shopping trends and inspiring sales through creators and content.
So, TikTok decided to up the ante by introducing the TikTok Shopping feature that provides a streamlined in-app product selling experience to eCommerce businesses.
This move enabled TikTok to join the social commerce parade alongside Facebook, Pinterest, and Instagram shopping.
In this blog, we will shed light on the importance of what TikTok shopping means for social commerce and how you can optimize your TikTok online shopping experience.
Let's roll!
What is TikTok Shopping?
TikTok shopping is a social commerce feature that facilitates people using TikTok for business to promote and sell products on the platform.
TikTok described it as a "suite of solutions, features, and tools that give businesses the opportunity to tap into the power of commerce on TikTok."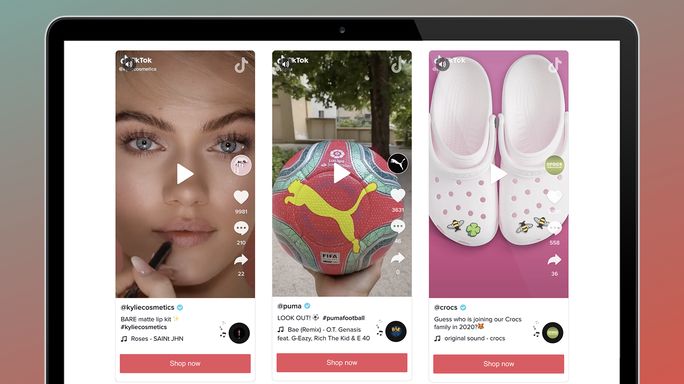 The TikTok shopping feature enables creators like you to add a shop tab on their profile which shows all the product catalogs synced with their store website.
This tab allows TikTok users to instantly browse through your products without leaving the app and gives a one-click button directly to your online store for checkout.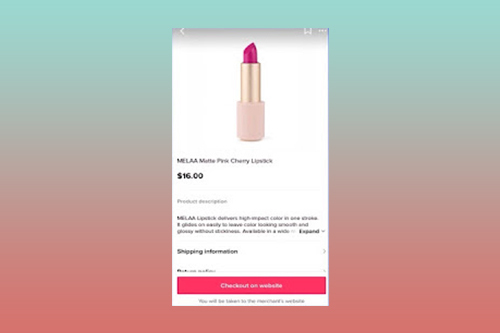 Wait, there is more!
TikTok product tags: With the TikTok shopping feature, you can also tag one or multiple products in an organic post, so users can directly go to the product detail pages from your TikTok video by clicking on the tags.
TikTok live shopping: Good news for live goers – TikTok shopping features also extend to TikTok live, allowing merchants to integrate products from their TikTok Shopping experience into a LIVE session.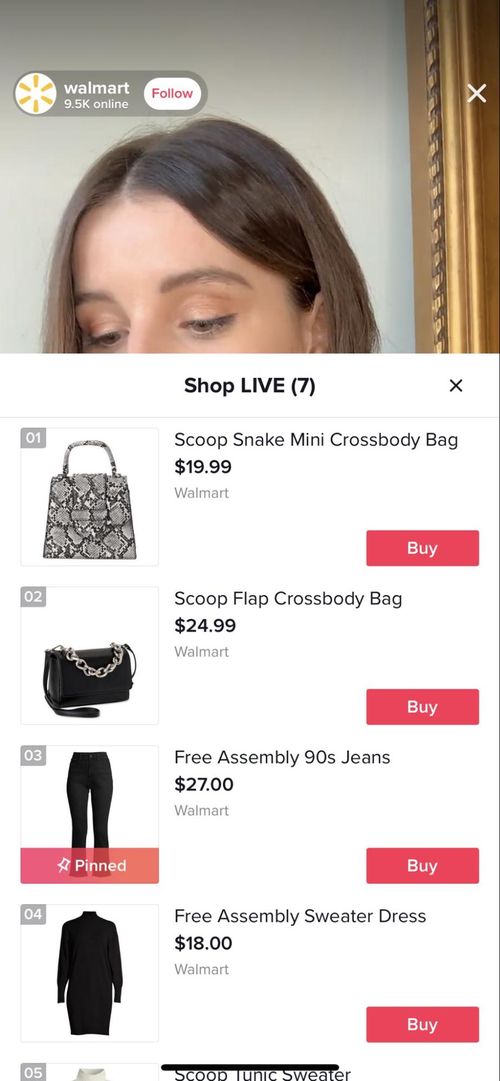 TikTok Shopping ads: TikTok also offers a collection of shopping ads, such as: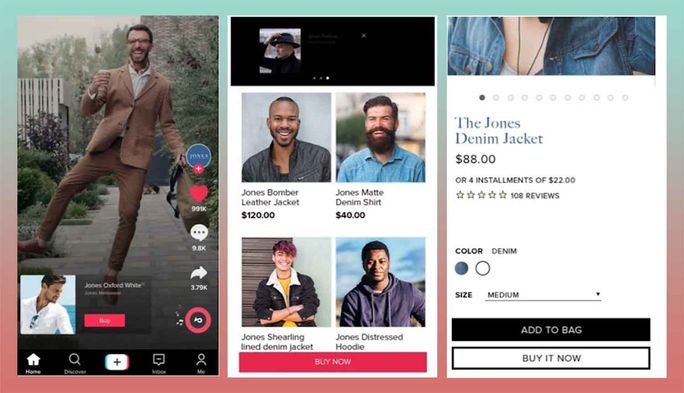 Collection ads with swipeable product cards leading to fast loading instant gallery experience with multiple products.
Dynamic showcase ads are personalized product video ads targeted to audiences based on their interests.
Lead generation ads are in-feed ads that allow users to fill out an instant form and share their information to receive the gated incentive securely. The ad type is best for industries with longer sales cycles.
What's next?: With the mission of connecting content, community, and commerce, TikTok is all set to launch TikTok API later this year, which will allow brands to integrate their product catalogs directly into TikTok.
Who Can Use TikTok Shopping?
Until recently, the TikTok shopping feature was only available to Shopify merchants with a TikTok for business account.
Now TikTok has expanded its partnerships with various platforms, including Square, Ecwid, and PrestaShop, with Wix, SHOPLINE, OpenCart, and BASE joining the list soon.
Why Does TikTok Shopping Matter for Your eCommerce Business?
Almost every social media platform plans to have a social commerce feature to quickly drive users to the buying point.
Facebook was the first to foray into the eCommerce zone, and later Pinterest and Instagram followed to devour on the internet's one of the most profitable businesses.
Now, after years of shopping experiments, TikTok has finally pushed its social commerce cart in the right direction.
But, what does it mean for eCommerce businesses like you? Is it worth the hype?
Let's see.
A Visual Door for Brands to Sell
TikTok is inherently a visual medium with in-feed features that have inspired social media giants like Instagram and Youtube.
The platform is heavy-loaded on visual and dynamic features, making it easier for brands to engage and create a community around their products.
TikTok was already a place brimming with content discussing brand products, such as authentic product reviews, hauls, and tutorials.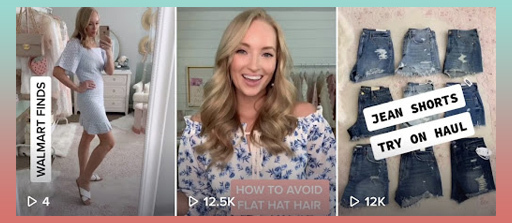 According to TikTok statistics, 61% of TikTokers mentioned that they tend to buy from brands they see advertised, and 63% consider themselves brand conscious.
With a TikTok shopping feature in the mix, capitalizing on a large and highly engaged audience with product shopping tags wouldn't appear as salesy but rather welcoming and valuable.
Tap Into a Younger Audience
The reason why TikTok is a great place to influence sales is that it is filled with a younger audience.
TikTok has been targeting millennials from the very beginning, and the idea is obvious in every feature of TikTok.
A whopping 62% of TikTok users in the US are aged between 10 and 29, and the number is increasing gradually.
How does this help you in selling products?
That's because 67% of millennial shoppers in the US preferred to search and purchase on an eCommerce website rather than a bricks-and-mortar store.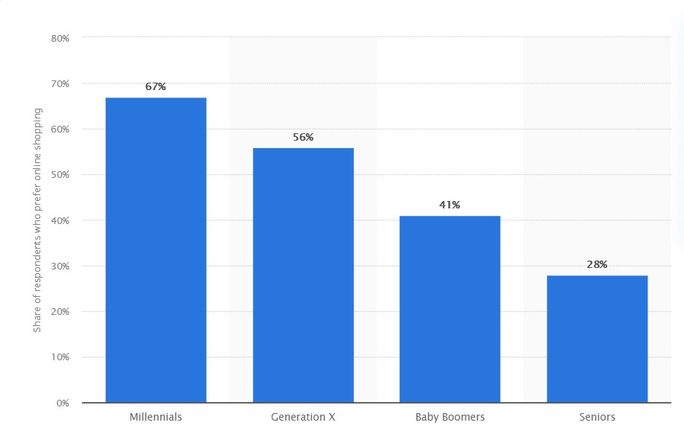 A shopping button with a mini storefront inside an app filled with millennials, who are anyway engaging with product videos, works in favor of your eCommerce business.
Boost Creators Economy
Let's admit it. We are living or at least heading towards a creator's economy.
An economy where self-made individuals, bloggers, or to sum it up in one word, content creators make earning, which is not limited to ad monetization but includes brand deals and direct transactions with the audiences, based on their knowledge, skills, or talent.
And it's not hidden from the eyes of brands and investors.
According to the New York Times, the creator economy, so far, has received $1.3 billion in funding in 2021, nearly three times the funding it received in all of 2020.
TikTok has also lionized the power of individual creators from the beginning. Earlier, TikTok introduced a Creator Fund to pay its users directly for popular content.
Now with the introduction of TikTok shopping, creators and merchants on the platform have another resource to sell products and earn directly.
How to Start With TikTok Shopping?
In order to integrate a mini storefront in your bio and run shopping ads, you need to download the TikTok app for Shopify from the Shopify store.
After adding the TikTok shop on the Shopify dashboard, you will be able to access the TikTok shopping feature along with other hosts of built-in Shopify features to help you sell products.
4 Tips to Optimize Your TikTok Shop
Great, you have got access to TikTok shopping. Now it's time to mold the shopping experience so that they can't resist but click on the shop now button.
Here are some of the tips to get you started on a good selling point with your TikTok shop.
1. Make an Appealing Product Catalog
Who would walk into a store that has an unorganized shopfront with a broken mannequin on the showcase? I wouldn't, and neither would you.
The same goes for your TikTok storefront.
So, make sure the product catalog at your TikTok shopping tab is appealing enough to attract visitors.
The product images you add should have a proper background that makes your products pop out. Most profiles choose a white background, but it doesn't necessarily have to be the winning color for you.
The key here is to choose a quality image and background that has color schemes in sync with your brand and how you portray it around the internet.
Next, come the product titles and descriptions. You get a 34 character limit on the title, but you can write a description as long as you want. Still, don't get carried away and keep your description crisp and clear.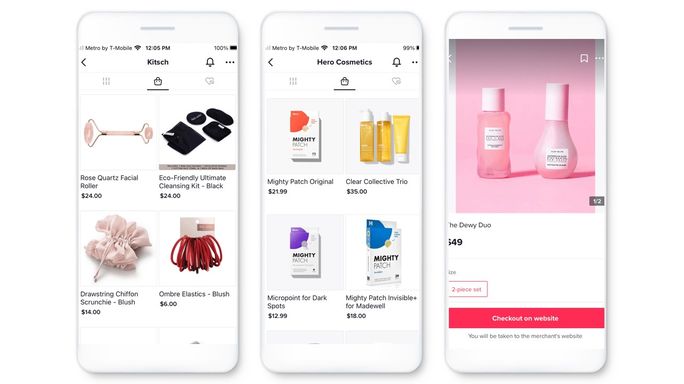 2. Promote Your TikTok Shop
Now that you have got the TikTok shopping access, don't just sit around waiting for people to find your storefront on their own. Let the world know about your TikTok shop.
I am talking about creating TikTok posts explicitly pointing to your viewers to go and check out tons of products under your TikTok profile.
3. Make Exciting Content Promoting Your Products
Come up with a strategy to promote your products.
As discussed earlier, promoting your catalog products becomes simpler with TikTok's product tagging feature in an organic video.
On top of that, the TikTok shopping collection and dynamic ads are a great way to drive people to the checkout page.
But still, the content promoting the product along with the tags needs to be TikTok vibe checked.
Remember, TikTok is not your typical social platform and has very different visual aesthetics. In order to get viewers excited enough to click, you need to create content that is creative, humorous, and fun.
Here are some of the ideas you can adapt to create click-worthy TikTok videos:
Create a daily routine video with your product in the limelight
Create a how-to-video
Use the Q&A feature to share more info about your product
Incorporate storytelling in your product videos
Tips and tricks videos create great engagement
4. Leverage the Power of Influencers
Yet sometimes, if you are unable to hit the right nerve of the viewers with your TikTok videos, take the help of TikTok influencers. You can take the help of Collabstr to find the best TikTok influencers.
TikTok is an influencer's den. Hence, they are well-versed with ins and outs of every inside joke, trending culture, and content style that works on TikTok.
Giving strings in the hand of an influencer will help you publish authentic content that matches the vibe of the platform.
Plus, having an influencer on board increases your reach to a new audience. However, not any influencer will do the job; you have to find the right match for your brand and audience.
Luckily, TikTok has a Creator's marketplace that enables brands and agencies to find and collaborate with influencers. You can start your search for a niche influencer from there.
Conclusion
TikTok already had a culture-defining influence in making shopping an interactive, entertaining experience that can generate unparalleled engagement.
There is no doubt that TikTok shopping is going to be a disruptive feature for eCommerce businesses.
According to eMarketer, 4.3% of US e-commerce sales will come from social commerce this year, around $36.09 billion in numbers.
With more than 1 billion MAUs, TikTok will undoubtedly take a big chunk of social commerce sales.
If you are willing to join the social commerce bandwagon, TikTok shopping is a great place to start.
TikTok as a platform is dynamic, fun, and creative and asks your content to be the same. And if you can keep making the fun content consistently, then voila, you would hit the jackpot.
But the trick to creating quality content consistently is a tough nut for marketers. To crack it, you need a TikTok Scheduling tool like SocialPilot.
Just create a TikTok video, set a date and time for it, and see it getting published automatically while saving a lot of time to brainstorm and create quality TikTok content.
Experience it yourself! – start the 14-day free trial.