We've reached a point in almost every social media platform where they include these short, bite-sized videos called stories. Most of us are familiar with it. People and brands post quick, easy-to-consume content that lasts 24 hours.
The next social media platform to join the bandwagon is TikTok.
TikTok stories were launched in 2022, and it is their answer to its counterparts like Snapchat, Facebook, Instagram, and other stories' features.
But unlike the others, this feature isn't as heavily publicized, which means there is a great opportunity lurking around the corner for you to take advantage of.
It's a known fact that 30% of short-form video content is watched 81% of the way through. So, let's ensure that you're taking advantage of TikTok stories in your marketing efforts by understanding this new feature and how you can use it.
What Are TikTok Stories?
As mentioned earlier, TikTok Stories are the app's answer to the popular "Stories" feature on Instagram, Facebook, and Snapchat.
They will not appear on a scrolling bar at the top of your screen as on other platforms; rather, they will be interspersed throughout the rest of your For You Page (FYP) or the following page.
On your FYP, in addition to seeing TikTok Stories, people can comment publicly and like them. It is not typically possible on other platforms since user interactions and answers are typically kept private from other users.
These public interactions provide a new channel via which creators and companies may communicate with and respond to the people who follow them.
TikTok's venture into stories is an intriguing move, especially because the app just increased the maximum duration of videos in its feed to ten minutes.
As a result of both rollouts, it is evident that TikTok intends to become a one-stop shop for all forms of video, including short-form and long-form material, while challenging Instagram and YouTube.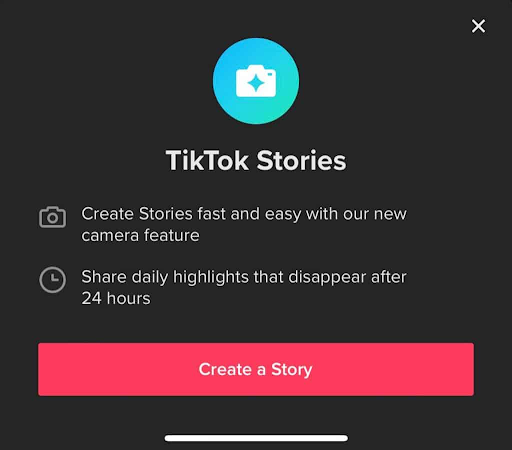 There is always a period of adjustment that comes with implementing new features. It is too early to tell whether this feature will shake up the platform as Instagram Stories did or whether it will die on the vine as Twitter Fleets did.
Consequently, it's worth attempting!
Because there are no strict regulations to follow when using TikTok Stories, you can use this to diversify the kind of content you normally share on your feed.
How to Use TikTok Stories?
The FYP on TikTok offers content hand-picked by TikTok's algorithm to provide users with feeds that are one-of-a-kind and customized to their preferences.
Because of this, you or your brand should reconsider the target audience and the objectives of your TikTok Stories.
To get you started, here are a few questions to consider.
Where do we proceed from here with these TikTok Story views? Do you want to drive engagement, or do you want to drive awareness?
Do you want to focus on the people who already follow you, or do you want to get new followers?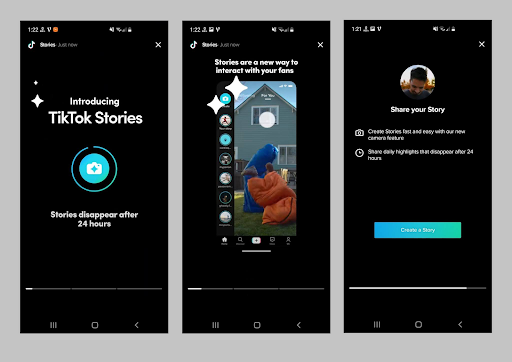 What kinds of user interactions do you want to see in your stories?
When you have determined why you want to share tales on TikTok, the next step is to choose whether you want to create this only for your followers, which would result in content tailored toward the Following page of users, or whether you want to create this for everyone.
To post a story on TikTok, you need to:
Hit the "plus" button in the center. Thereafter, you can click pictures or record a video right from the app, or you can upload videos and images from your camera roll.
You can use the standard TikTok tools like effects, sounds, and stickers if you wish to personalize or add creativity to your story.
Once you're satisfied with it, you can publish your story.
You will figure out whether a user or brand profile has uploaded a new story, as there will be a blue circle around their profile picture. You can simply click on the profile picture to view their story.
As mentioned above, TikTok stories also appear on the FYP, just like a regular TikTok. This will have a small blue "story" button beside the user name in the bottom left corner.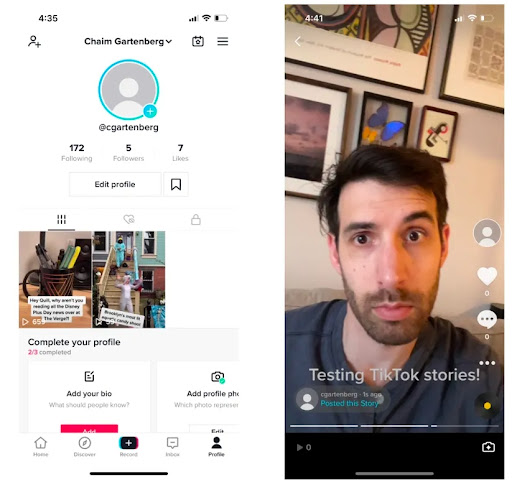 Why Should You Use TikTok Stories?
On social media, the concept of sharing stories has gained mass adoption. It has proven useful for brands and creators on Instagram to determine the level of interest in a topic or increase traffic.
TikTok is primarily designed for amusement; content producers and companies will need to experiment with how they use TikTok Stories to determine what works best.
Let's take an example of a fashion content creator whose channel consists mostly of product hauls or movies. Their TikTok stories would most likely require distinguishing from the videos they upload to their channel to maintain viewer engagement.
It is for the primary reason that you want it to be useful or interesting for your audience.
If it's too similar to your usual material, your followers will likely and eventually end up picking between watching only your videos or stories and not both.
A big part of your routine content strategy for TikTok may revolve around increasing your reach and gaining new followers via viral videos.
Tiktok Stories is a wonderful opportunity to interact with the people who are already following you, thereby fostering the growth of a more robust community.
The "For You" page generally displays content from TikTok accounts, even ones you do not follow. In contrast, the Story panel displays content from accounts you are currently following on TikTok.
Just with IG Stories, TikTok stories expire after 24 hours. Due to the temporary nature of the content, anyone who does not follow you may be unaware of its existence. It is smart to bring this up and encourage your viewers to follow you, so they are always aware of all the new TikTok stories you post.
Benefits of Using TikTok Stories
1. Taking Advantage of a New Feature
TikTok story is still a fairly new feature, which means they aren't as popular yet. This makes this feature a perfect opportunity for you to experiment with your TikTok marketing strategies.
Try out various ways of using TikTok stories to reach and engage with your audience.
2. Influencing in a New Manner
Posting videos on TikTok is the norm, and every brand fights tooth and nail to ensure its content is engaging. Since TikTok stories are new, it presents a new playing field for brands and influencers to monetize.
Just like Instagram, as a brand, you can find a famous TikTok influencer related to your niche to take over your TikTok stories for a day.
3. True Short-Form Content
With TikTok videos now capable of going as long as 10 minutes, there's always this added pressure on content creators to create high-quality, fun, and engaging content that requires a lot of planning and work.
With a cap of 15 seconds max on TikTok stories, you no longer need to obsess over what to shoot and post on the platform. This presents the perfect opportunity to give your viewers a quick hit of content and make them want more.
4. Perfect Testing Ground
You're unsure what new content to post on your TikTok—worried about your follower's reactions?
Social media marketers often use sponsored posts and A/B test content to decide whether to settle on a campaign permanently. So, instead of spending money and testing your new campaign, why not consider using TikTok stories?
You can post various iterations of your campaign on TikTok stories multiple times a week and then gauge your audience's response.
So there it is – a plethora of advantages you can get with Tiktok stories. You may ask: is there any effective way to utilize Tiktok and tackle constant challenges?
Yes, definitely!
Just continue reading ….
How Can SocialPilot Help You with Your TikTok Growth?
A constant challenge every social media marketer or creator faces with a short-format content platform like Tiktok is its ability to stay relevant. Constantly creating content that resonates with your audience and simultaneously bearing the burden of scheduling and posting it can be intimidating.
The key is SocialPilot — a social media management tool that brings its capabilities to help you with your Tiktok strategy.
SocialPilot lets you schedule your TikTok posts in advance so you get more time to develop the required material and ensure consistency.
To keep up with the latest TikTok trends and get genuine followers, posting frequently on your account is the best way.
With the TikTok scheduler feature, just craft, schedule, and watch all your scheduled content get published at the selected time slots.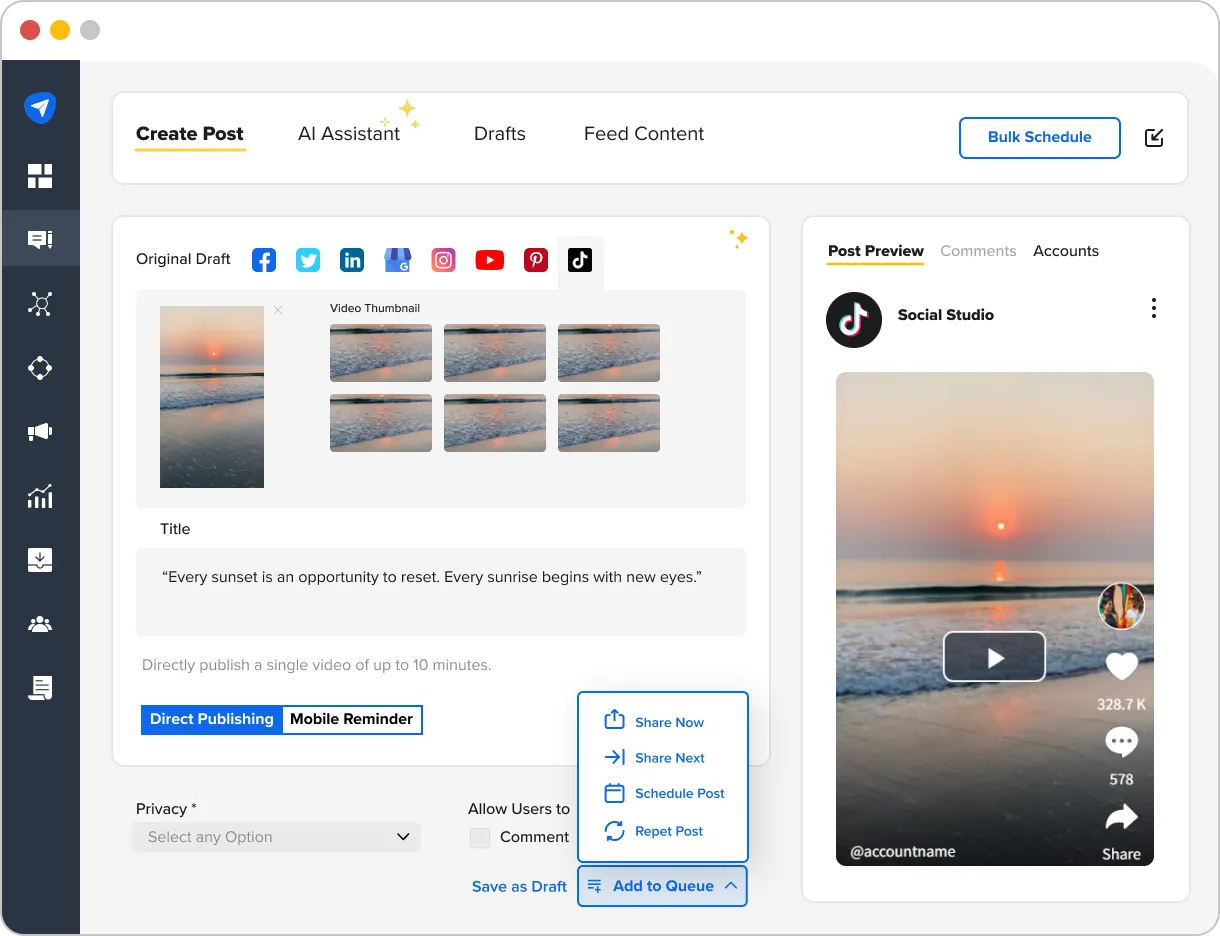 In addition to these, you can also add other major social media platforms like Facebook, Instagram, Twitter, etc, add multiple collaborators, manage all your social inboxes from one location, and more. You can even white label the SocialPilot service and unlock revenue opportunities.
Conclusion
TikTok stories are already being given access to a wider audience, providing users with a new opportunity to interact with their community.
This new feature can help you discover what works, establish a good strategy, and level up your content. Your success on TikTok will ultimately be determined by your ability to use these features like this to attract the curiosity of your followers.