Since its launch, TikTok has been one of the hottest social media apps.
As of January 2023, the social media app has more than 1.53 billion users and about 1 billion active users.
No wonder brands are flocking to the app. 56% of brands use TikTok for influencer marketing.
However, with so many talented content creators and marketers around, you'll need to up your game to go viral on TikTok with various TikTok tools.
While the native TikTok creator tools are great, they are limited in scope. For brands and marketing agencies, TikTok lacks the tools to scale the campaigns and keep them organized for other social media channels.
It's a hard job. But we can make it a little easier with a TikTok toolkit.
Here's a list of 17 TikTok tools that can take your content game a notch higher in 2023.
How we analyze & select these Tiktok Tools:
This list of exceptional Tiktok tools has been formulated through in-depth research and experiential analysis. We have considered various aspects of the tool, such as user engagement, G2 ratings and reviews, price points, and scalability. The list ranking also reflects the evaluation of these tools' competencies in automation, content production, visualization, analytics, and collaborative features. Our goal in curating this list is to enable marketers to choose tools that will help scale their business.
Top TikTok tools for your TikTok growth
Few factors impact your content's success on TikTok. Tools you use are one such factor. Having a trusted set of TikTok tools helps you and your team better organize and manage all your TikTok tasks.
Hence we have listed the following tools you can leverage for different TikTok functionalities.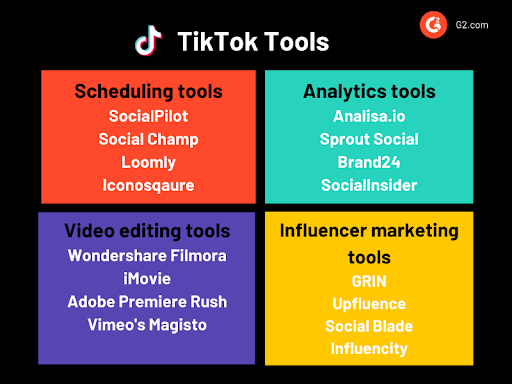 Four TikTok scheduling tools
Building a brand and increasing followers are all about consistent posting. Here are four excellent TikTok scheduling apps that can manage it for you.
---
Social Champ is another excellent social media management tool that schedules TikTok posts. Like SocialPilot, it offers bulk scheduling, publishing, and collaboration features. An added advantage is that you can also track the performance of videos, visualize them in graphs, and download reports.
With affordable plans, and a set of impressive features, Social Champ can work wonders for your TikTok marketing. However, users feel this TikTok tool's interface could be better, and their analytics can be a little confusing to understand for beginners. For small businesses, the tool also looks a little pricey.
Pros
Bulk Scheduling.
User-friendly.
Seamless collaboration.
Track video performance
Samantha G.
It's very user-friendly able to add team members and approve content, and does great reporting. Easy to see at a glance how different channels are performing and engage with followers easily.
Cons
The UI looks dated and needs improvement.
The analytics in the free tier offers only two weeks of data.
Pooja S.
"I guess the overall UI can be improved, as the graphics aren't of the best quality."
---
Loomly is another easy-to-use social media management tool with features to schedule TikTok posts. Over 20,000 marketing teams around the world use the tools for its compatibility with a variety of other social media platforms too.
However, loaded with a number of features, Loomly's interface can become a little slow at times.
Pros
Simple user interface.
Preview scheduled posts.
Post notifications on the app, Slack, email, and Microsoft Teams.
Easy to collaborate with clients and colleagues and get approval for posts.
Justin G.
I really like the ease of publishing and the various features provided, like being able to alter content for different platforms and accounts, the carousel posts, creating one post that can be posted to all of our social channels without duplicating it
Cons
User interface needs a refresh and can become slow loaded with many features
Advanced features require subscription fee which can be hard for teams with limited budget
Desiree C.
It does not automatically publish, it sends you push notifications. Therefore, it does not do what is promised. When you upload to Loomly, the quality of the videos significantly decreases despite having a brand new iPhone and camera. Their customer service agents are not quick to respond and their app not doing what it promises it can was a significant problem for our team.
---
Iconosquare is a combination of scheduling, managing, and analytics platform for social media channels. In addition to scheduling, you all get a closer look at your TikTok performance, from the bigger picture of your TikTok profile to a closer look at your engagement rate and activities on individual videos.
If you want to be a savvy marketer and keep ahead of the competition on TikTok, this TikTok tool will definitely help you in this regard.
However, Iconosqaure can be a little expensive for small businesses or individuals with a limited budget in the long run. So small businesses have to weigh if the convenience of Iconosqaure or other social media scheduling tools and the potential time they could save is worth the cost.
Pros
Post scheduling.
TikTok analytics.
Quick & easy reporting.
Competitor and industry monitoring.
Peyton D.
Easy to use, streamlined analytics, IG/FB/TT all in one place. It is super user-friendly and I didn't have to spend a bunch of time on the platform learning how to do things.
Cons
Expensive for businesses with a limited budget.
Insights can be difficult to understand and sometimes uncomprehensive.
Peyton D.
"The only thing I would say is some of the insights don't get super in-depth in Iconosquare. Paid and organic are sometimes grouped together, and we have had to figure out a way to separate them."
---
Four TikTok video editors
You don't have to be a pro at video editing to make entertaining TikTok videos. There are a number of video editing tools that make it a breeze to do even complex video editing for your TikTok.
One of the very first third-party TikTok apps to have integration with TikTok, Adobe Premiere Rush is a mobile and desktop editing software. It's extremely beneficial to create and share videos on the go. and has a significant number of in-app templates. Like waving a magic wand, you can enhance color, add music from the vast libraries, tailor transitions in your video, and enhance them.
The major drawback is the tool is a bare-bone version of Adobe Premiere Pro, and its advanced features for audio and exporting in 4K resolution require a paid plan.
Pros
Clean and simple interface.
Ideal for quick video edits on mobile devices.
In-built templates for titles, transitions, and audio.
Publish directly on TikTok.
Integrated with Adobe Creative Cloud.
Arianna Q.
"I often have a lot of video ideas, but my computer isn't always in front of me. Adobe Rush allows me to play out my thoughts and make reels on the go. It has more features than other apps like being able to edit the audio as well."
Cons
Built-in presets for color, and transition effects are limited.
Quite expensive if not part of the Creative Cloud package.
Limited audio library.
Rohit L.
"Though Adobe Premiere Rush is a great video editor, there is scope for improvement. The built-in presets for color, and transition effects are limited. The text graphic options are traditional and old, and Adobe should add more modern options."
---
iMovie is a powerful video editing tool for Mac users. This TikTok tool has features like Magic Movie that can easily identify the best parts of a video and automatically create an edit. It also has storyboards that can guide you through capturing shots for your video too. And the most exciting part is that it's free.
However, the major drawback is that its only accessible to Mac users. So, no users working on other operating systems like Windows or Android can use this absolutely wonderful video editor.
Pros
Free for all iOS and Mac users.
Storyboards and templates for videos.
Instant edits along with sound through the Magic Movie feature.
Picture-in-picture and split screen effects and more.
Supports 4k resolution.
Jeff S.
"First, it's a powerful, fully-featured program for free. Drag and drop media, compatible with iPhone media…I need rapid development of short videos for social media and other online uploads. iMovie makes me more productive by being straightforward. The videos produced are high quality and attractive."
Cons
Not compatible with Windows or other OS apart from MAC.
Difficult file management.
Take up too much device memory.
Samuel K.
"I do not like the fact that this software is unable for Windows users (it is only accessible for Mac users). Unlike other Apple software, such as iTunes, which is available for Windows devices, this one is not, which makes it very inconvenient for users who prefer different devices.
---
---
Owned by Vimeo, Magisto is a simple video editing app that's suitable for even amateurs. Powered by artificial intelligence (AI), Magisto has features to automatically edit the footage and provide analytics on how it performs. The app also has a library of stock videos and templates to leverage. You can add text, filters, styles, and stickers, crop, trim, and switch the aspect ratio of videos.
Apart from Magisto, Vimeo also has an online editor for its video-sharing platform that is free for all its member. However, most of Magisto's full stock of media library and advanced editing features are available only with a paid subscription. Users have also complained about glitches when editing and exporting videos.
Pros
Library of stock videos and images.
Licensed music library.
Easy to use.
Kadee D.
"It's very easy to use, and I can create effective marketing videos in a fraction of the time for social media from when we were creating them in After Effects."
Cons
Difficult to understand the pricing structure when compared to the pricing plans of Vimeo's other solutions
Some users have complained about slow customer service.
Salim K.
Magisto's monthly subscription pricing is very high & expensive. It's not suitable for new marketers.
---
Five TikTok analytics tools
Once you are done creating and posting your content, there comes the next most important part of TikTok marketing – analyzing how the campaign/ video is performing.
Analytics helps you understand how users engage with your content, their demographics, preferences, and more.
You can fine-tune your content so that it resonates well with your target audience and ultimately boost conversions. Here are five tools that can help you do the job apart from TikTok's in-built analytics tool.
Socialinsider is an all-in-one social media analytics tool. It offers detailed data on your TikTok engagement rate, video views, follower growth, and other important key performance indicators (KPI).
The major advantage of Socialinsider is that you can analyze historical data for your TikTok campaigns for more than seven days, something that even TikTok analytics doesn't have. You can also check on your rival's TikTok campaigns and use them to develop your own content strategy.
Socialinsider also provides integration with Google data studio, an added advantage for businesses using the data studio for reporting and analytics.
While the tool has a good user interface and great reporting for TikTok analytics, small teams and agencies with a tight budget might find it expensive. It's also difficult to get analytics on social media profiles with small followings.
Pros
Benchmarking feature for competitor analysis.
Great customer support.
Clean dashboard.
Brings social media data of many platforms together in one place.
Joanne S.
"SocialInsider is one of my go-to social media tools for 3 reasons: 1. They produce excellent industry reports and research. 2. Their social media audit tool I cannot live without. 3. Superb customer service"
Cons
Not beneficial for accounts with a small following.
Mattia P
"In my personal opinion, its main downside is that it's most useful when linked to big profiles, with tons of followers and page likes. It's harder to retrieve relevant data to study smaller profiles and to compare their trends with the biggest ones."
---
Another AI-powered tool, Analisa.io can analyze any public profile or hashtag on TikTok and provide a comprehensive real-time report. Its key features include competitor analysis, historical performance tracking, influencer mapping, and reporting dashboards.
You can analyze any profile and hashtag on TikTok or Instagram for free on the site, but the data is limited, and you'll have to subscribe to get rich insights. And sometimes, its report can have inaccurate numbers and would need users to refresh to get updated numbers manually.
Pros
Real-time updates of profile and hashtag activity
Advanced analytics on profile and hashtag performance
Insights on trending content and influencer for a hashtag
Aravind S.
"With the help of analisa.io we were able to fetch analytics reports of various profile handles on Instagram and TikTok. This helps us understand content engagement and how its marketing can be improved to increase the target audience."
Cons
Expensive for small businesses.
Tedious to refresh every time and get real-time updates on metrics
Some buyers have complained about inaccurate data and bumpy customer experience.
Kim T,
"The customer service is the worst I've ever encountered. The platform doesn't work. I'm not even sure the data is accurate at this stage."
---
Sprout Social is not a full-scale TikTok analytics tool. It's an all-in-one social media management tool and also has the ability to schedule, manage and analyze TikTok campaigns on the same platform.
It offers a basic report on TikTok profiles with historical data on published posts, views, engagement, audience growth, best-performing posts, etc. But the report is extremely useful for beginners to get a clear picture of their campaign performances.
Another advantage of Sprout Social TikTOk report is that you can compare your TikTok campaign performance with other social media performances and draw insights from cross-network reports.
However, it won't provide in-depth analysis like other TikTok analytics tools.
Pros
Centralized social media management platform.
Beginner friendly.
Scheduling + analytics tool.
Integrations with helpdesk and CRM tools.
Andrew H.
"Data analysis – easily displays all the information I want and need to be able to reflect on previous performance, future trends, competitors, etc. The tool is quite straightforward, which makes it very user-friendly."
Cons
No in-depth insight for TikTok.
Cannot pull reports for TikTok ads.
Occasional issues when scheduling posts.
Some users complain about poor customer service.
Jess D.
"There were also too many failed posts. Every post never went through. Our clients would get upset because several posts wouldn't go through. Also, way too often, accounts would disconnect…Sprout is also unresponsive. There is too much red tape to get an answer from Sprout. We felt unimportant and ignored. It took too long to get answers from Sprout."
---
If you are looking for a TikTok tool that lists viral trends for you to create videos on, TrendTok is the answer. As the name suggests, TrendTok provides a personalized list of trending sounds and helps marketers and influencers stay on top of what's hot on TikTok. You can dig into locations where the sound is trending or the hashtags associated with it to get a better understanding.
However, the downside is it's only available on iPhones and needs a subscription to try it out.
Pros
AI-powered trend list.
Curated trend list based on niche, location, etc.
Save trends for future use.
Joanna Williams
Hands down the best trend tracker of any on the market!
Cons
Only for iOS.
Advertised as a free-to-use app, but the free version has limited data on just one topic.
Requires a subscription to get the full potential.
Only for trending sounds/music.
Sometimes, there are discrepancies between what's trending on TikTok and what's shown on the app.
Lynn
"I'm not impressed with this app, doesn't seem to give insight into actual trending sounds on TikTok as the data doesn't match between TT and this app."
---
Brand24 is primarily a social listening tool that has added TikTok to its kitty. Apart from tracking your TikTok campaigns' performances, you can also monitor your brand mentions. You can also use this tool to identify trends.
Brand24 lays out in-depth data on a hashtag's reach and volume. It also lists influencers and profiles using the hashtag. In addition, it also offers a reputation score, the share of voice, and sentiment analysis, something other tools don't provide.
However, the tool can be quite complicated for beginners to understand the tool and use effectively.
Pros
Monitor brand mentions.
Get TikTok performance reports.
Track and analyze hashtag campaigns in detail.
Sandra J.
"One of its main advantages is that we can monitor all online and social media campaigns that mention our brand, its products, services, or any related topic. It also offers a simple user interface, expert customer service, and a reasonable price."
Cons
The app is not mobile-friendly.
Difficult to navigate in the beginning.
Firoz K.
"Although the Brand24 team is working very hard to make this tool more beneficial and keeps on updating the thing regularly, my only ask from them is to add more tutorials on youtube to make it more useful, which helps the user to find its new uses."
---
Four TikTok influencer marketing tools
Today, influencer marketing is part and parcel of TikTok marketing. And finding influencers who match your business is one of the most difficult jobs. That's where influencer marketing platforms come in. Check out the following tools that can help you select the perfect brand ambassador for your brand on TikTok.
GRIN is like a CRM software, but for influencer management.
You can find and reach out to influencers in your niche as well as manage the relationship with them, from setting up the campaign to payout for the influencer. Such a comprehensive workflow makes it easy for marketing teams to set up their campaigns and manage them efficiently.
If you are an online business that frequently runs influencer campaigns on TikTok, then GRIN is a must-have to solve your influencer marketing headache. However, the tool has several drawbacks, with price being the biggest pain point.
Pros
Clean user interface
Streamlines all tasks related to influencer marketing
Templates for email outreach to influencers
Track campaign performance and easy commission payment
Jamie M.
"GRIN helps streamline our influencer marketing efforts. I love how easy it is to set up a campaign, manage the flow, and issue payouts. It saves so much time compared to when we did this manually. It's also a bonus that we can communicate with influencers and keep track of those conversations through the platform."
Cons
Not mobile friendly.
Difficult to archive old campaigns.
Not cost-effective for small teams.
Hard to build reports based on the needs
Guadalupe G.
"Reporting is essential to my work, so having the report builder available is key and shouldn't be restricted to tiers based on their levels. It's in GRIN's interest to allow reporting that highlights the impact of influencer marketing. Also, their social listening feature and content finder aren't the best, as they bring in other content not related to our brand, but I think this happens across a lot of platforms. In terms of reporting, I think a clearer depiction of your activity levels with different creators would be awesome."
---
Social Blade is not a typical influencer-finding platform. Rather it helps understand the followers of a particular influencer or an account better. It recently added TikTok to its platform and is now testing TikTok analytics in beta.
This TikTok tool, in its current form, provides a content creator's followers' growth, likes gained, videos uploaded, and all related activities for free. But it doesn't provide real-time data on TikTok accounts as it does for other platforms like Youtube and Twitter.
Pros
Analyze the growth of influencer accounts and engagement rate.
Convenient tool for small teams.
Shana W.
I like how user-friendly it is and how quickly you can get an idea of the value any social media account brings to the table for potential business opportunities.
Cons
Data in raw form.
TikTok analytics is still in beta.
The creator search is not up to par.
Vishant B.
"Search is really bad: you have to enter the exact search. It is difficult to find a creator on different platforms."
---
Similar to GRIN, Upfluence is a popular content planner tool, jam-packed with features. You can use Later to schedule posts on Instagram, Facebook, Pinterest, TikTok, Twitter, and LinkedIn, but it is most suitable for Instagram posting.
You can filter out influencers based on the social media platform, follower counts, engagement rates, gender, age, location, and target audience demographic, to name a few.
With the integrations with Shopify and other eCommerce platforms, Upfluence also makes it easy to import your customer details and find their social reach to identify nano-influencers or micro-influencers in your customer circle itself.
Similar to GRIN, this TikTok tool is expensive and is only suitable for teams or agencies that work with a number of content creators and have the budget. And their influencer database can be narrowed to certain categories.
Pros
Database of influencers
Easy to find and get in touch with influencers.
Clear workflow to find, select, approve, and create contracts with influencers.
Dashboards to monitor influencer performances and campaign results.
Kelianne L.
"What worked best for us was the influencer search tool: it helped us target the audience we needed for campaigns and as well find new creators to work with. The filters are great, and the reports for each influencer were very useful!"
Cons
Influencer database is limited in certain categories.
It can be complex for beginners.
Expensive for small teams.
Joy S.
"They have a huge database of influencers, and it can be filtered easily, but not for everyone, the price is too expensive, you can find similar software for a cheaper price."
---
Influencity is one of the best influencer relationship management tools, with access to over 170 million influencers' profiles. The system is super easy to use and has troves of useful data that marketers can leverage.
For instance, apart from the usual filters like age, gender, and demographics to filter the content creators, you can also find filters like brand affinities. You can also find a micro- or nano-influencer who has a similar profile to that of big influencers you want to collaborate with.
Pros
All-in-one influencer relationship management platform.
Sleek dashboards to track performance.
Great filtering options to find content creators.
Melissa C.
The search feature is beneficial thanks to the filter options available. I appreciate how user-friendly it is compared to competitor platforms.
Cons
Connection with social media platforms, especially Facebook pages, is quite patchy.
The tool is slow and takes a lot of time to load at times.
Shannen V.
"Lots of fake accounts and sometimes it's hard to find a look-alike"
Frequently Asked Questions
What are the best tools for TikTok?
TikTok has in-built tools for video editing and analytics. Apart from the native TikTok tools, there are several third-party tools for TikTok based on functionalities like scheduling, video creation, analytics, and influencer management. Some of the best TikTok tools are
Social Pilot
Social Champ
Iconosqaure
Adobe Premiere Rush
iMovie
Filmora
Socialinsider
GRIN
Upfluence
Influencity
What are some video editing tools for TikTok?
Apart from TikTok's native video editing tool, here are some of the best video TikTok editing tools:
Adobe Premiere Rush
Wondershare's Filmora
iMovie
Vimeo's Magisto
What are creator tools on TikTok?
Creator tools are native features on TikTok that provide additional insight into your content. The tools are accessible to business and personal accounts. The analytics provides information on how your content connects with others, how to develop a content strategy, and how to engage your audience.
It gives insights into video performances based on views, follower counts, likes, etc. Apart from these tools, TikTok has a Creator Next program that offers qualified content creators access to monetization features like tips and gifts.
How to get creator tools on TikTok?
Personal and Business Accounts can access creator tools with the following steps on your TikTok app:
In the TikTok app, tap Profile at the bottom.
Click the Menu button at the top.
Click on Creator tools.
Tap the tool you'd like to review.
Are TikTok tools useful?
TikTok tools are extremely helpful for both individual creators and marketing teams. The tools save time, effort, and resources to perform tasks that go into TikTok campaigns and grow your TikTok presence.
What tools can I use for influencer marketing on TikTok?
Some of the best tools to find influencers and manage relationships with them are
GRIN
Influencity
Upfluence
Social Blade