Most ads are unidirectional: you create them and then release them to a broad audience. Now imagine if you could customize each ad to show your consumers exactly what they want to see, exactly when they should see it.
Sounds like a win-win? It is!
Dynamic product ads do exactly that and allow you to automate your customized ads. They help you turn intent into a sale and help drive more engagement with your audience. This guide will look at why DPAs are a marketer's favorite and how you can give your social media marketing a boost with them.
Let's start!
What are Dynamic products ads?
Dynamic product ads are a type of Facebook and Instagram advertisements that use previously created ad templates to serve personalized content to consumers based on their online activity. They combine the best of automation and audience targeting to create a highly personalized experience.
Here's an example: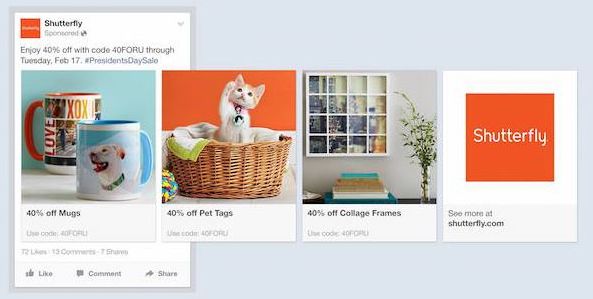 Online platforms collect data in real-time based on how the consumer behaves and then sends them a perfectly suited ad for them. For example, if a consumer visited your site and browsed a particular category of shirts but did not buy, Facebook would show them an ad for those shirts.
Businesses can promote a small part of their catalog to a highly targeted audience, or use multiple ads to highlight a more extensive range of products. They can target specific groups of their intended audience with ads that help move those users to the next sales funnel stage.
Why are Dynamic product ads important?
Dynamic product ads allow you to send the right message to the right group of people. They are incredibly useful for boosting social media engagement. Because each consumer has different preferences and is at a different stage in their buying process, blasting the same ad to all your consumers is unlikely to get you the kind of results you want. DPAs use data to help you show products that each consumer is interested in.
They also allow you to scale quickly as the ads follow a template, and therefore you do not have to create separate ads for each product. The flexible ad format also allows for an omni-channel presence across devices including tablets, smartphones, and desktop computers. A study has estimated that DPAs can increase your orders by three times and return 2.5 times your initial investment: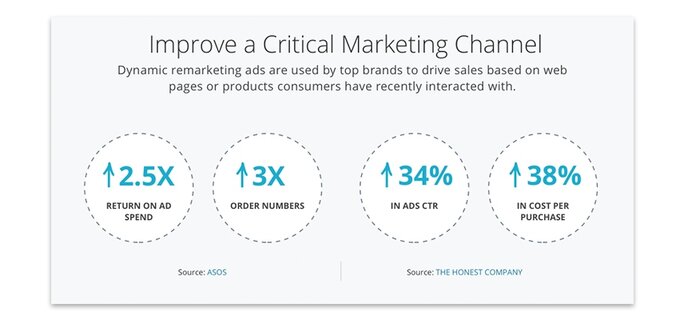 A case study looked at telecommunications company Yatango, which used dynamic ads to target people who looked at specific products such as prepaid data packages. The result was a 200% rise in sign-ups! This was possible because they showed products to people who had already shown a clear interest in them.
DPAs can also help you drive further purchases from existing customers by displaying content relevant to what they've purchased. Businesses can upsell and cross-sell with ease with these kinds of ads by highlighting products tailored to specific customer segments.
It sounds complex, but DPAs aren't too hard to set up. In fact, many of the best ecommerce platforms on the market now offer integration with Facebook to help you create your ads quickly and efficiently, even if you're a beginner.
6 best practices to use Dynamic product ads effectively
DPAs combine creativity with the scientific base of data-driven marketing efforts. If used well, they can help you capitalize on your consumer's intent and nudge them towards a purchase.
This section will look at six tips that can help you leverage dynamic ads to your benefit.
1. Avoid overlapping your ads
You will likely run various dynamic product ad campaigns, and the same message might apply to more than one segment of the audience. The ads then compete with each other, which can negatively impact performance. Avoid this Facebook ad mistake by setting up mutually exclusive campaigns.
At the campaign creation stage, use the Audience Overlap Tool to compare audience segments and make sure you're not unintentionally bombarding people with too many ads.
2. Create the right product sets
One of the critical components of showing targeted ads is deciding what products to display. If you have a broad range of items in your store, product sets allow you to offer particular groups of products to a defined audience. This is vital when you want to create upsell and cross-sell campaigns. Use the "product sets" option in the left hand sidebar when you create your ad: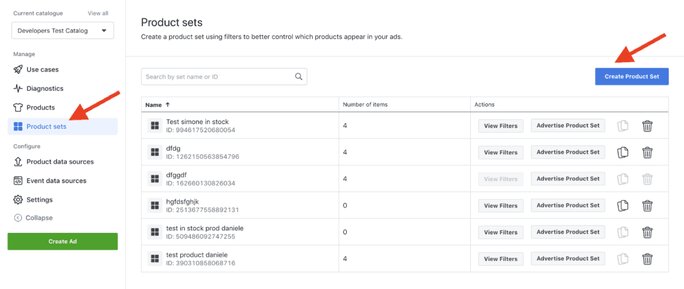 This tool allows you to group products together in the most logical way and serve only highly relevant ads to your target customers.
3. Test, test, and test the ad copy
Get creative with your copy, and always take the time to A/B test it. A/B testing uses two versions of a piece of content to see which one gets the best results. Since you only have a few seconds to make an impression, your copy must be engaging and include a clear call to action.
Another aspect to test is whether you want to show one or more ads. Dynamic product ads allow you to display multiple products in what is called a carousel ad. You may have seen these on Facebook – where a brand has more than one ad in the same slot, and you can swipe to see the different products. Like this: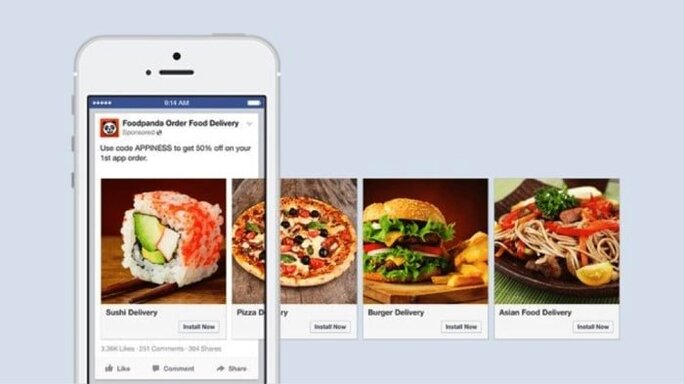 These ads allow you to include up to 10 items in one ad slot and give you the chance to showcase more of your products. A study by Northern Commerce showed that its client could increase purchase conversion rates by 137% just by switching to carousel ads!
4. Don't forget the app shopper
Mobile optimization of online content is now a necessity. The number of people who shop from their mobile devices is growing and will soon account for almost half of all sales online: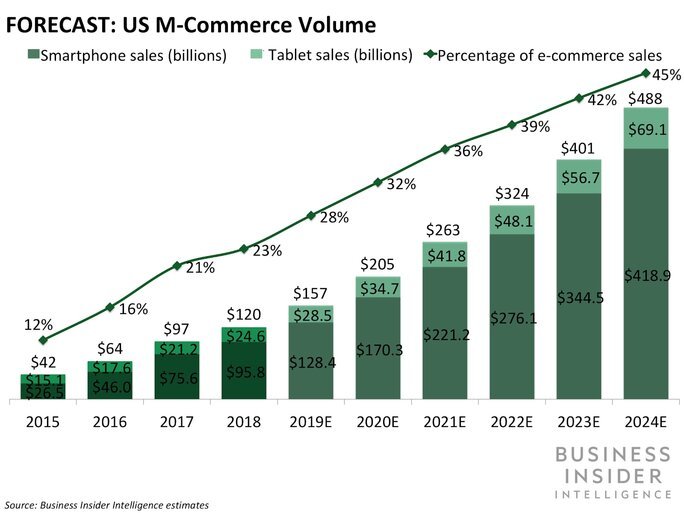 If you have a mobile app, don't forget to include those users in your customer sets for your dynamic product ads along with those who visit your desktop site. This also allows you to cross-reference the consumers who visited both your app and your website.
5. Leverage custom audiences
When you create dynamic product ads on Facebook, you can create custom audiences from your existing email list and CRM customer database. You can upload a file containing the data or import email addresses directly from Mailchimp: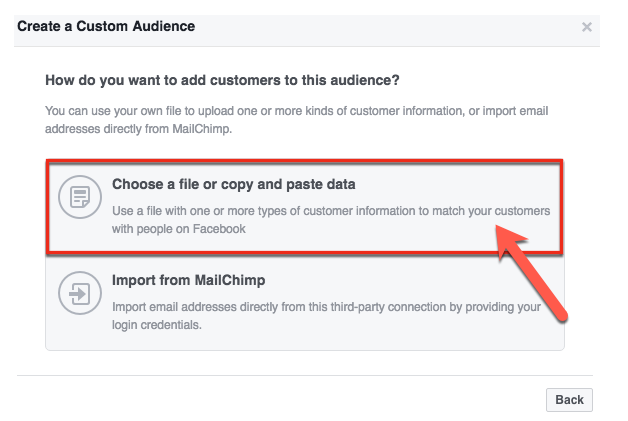 This helps you further refine your approach and offer even more personalized ads. For example, if someone has purchased from you before and is a part of your loyalty program, you can send them specific ads which are targeted to those members.
6. Keep the budget in mind
If you have a budget constraint, it is best to stick to retargeting visitors to your site and app who have already shown intent to buy. Keep it simple with remarketing ads that help you capitalize on those who are most likely to actually convert.
As a reference point, an ad calculator estimates that ads on Facebook cost $7.19 per 1,000 impressions, while Instagram costs $7.91 per 1,000 impressions. Fortunately, you can set a budget for your campaign beforehand so you know exactly what you will be spending.
Wrapping up
Dynamic product ads are a great way to send targeted ads to your existing customer base and those who have expressed interest in your products. Dynamic product ads can help you increase conversions by enabling you to reach the right audience at precisely the right time.
DPAs combine data and automation to help your brand engage with consumers on social media and to cross-sell and up-sell your products. These automated ads have been proven to help businesses get the best data-driven consumer insights to help them make their campaigns even more effective.
Just remember a few easy tips to help you get the most out of your DPAs:
Ensure that your campaigns do not overlap
Utilize product sets to show only the most relevant ads
Get creative with your ad copy and run A/B tests to see what works
Take a mobile-first approach
Make use of custom audiences to target your existing and previous customers
Tailor your campaigns based on your budget
If you use them properly, your dynamic product ads will help you to boost conversions, drive engagement, and give your promotional activity the edge with robust use of data.