Although Social Media Marketing has changed over the years, and continues to do so, but when it comes to social networking platforms, no other social media platform has superseded the brand engagement theory like Twitter did.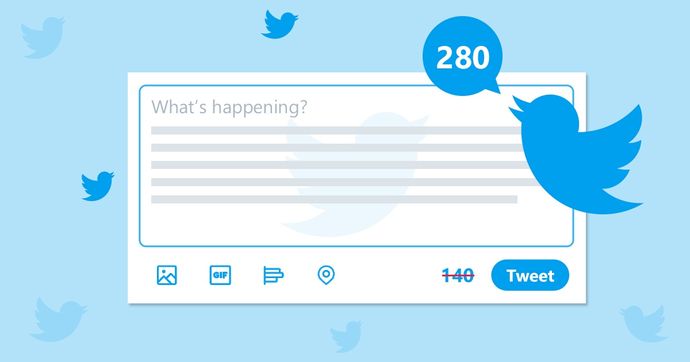 Well,
Twitter has bridged the gap between companies and their followers with its direct line of communication.
Since it came to existence in the year 2006, Twitter has been a strong competitor amongst the most popular social media channels.
Its features such as 140 characters limit, pinning your best tweets to the top of your profile and more made the platform unique from other social media channels.
But did you know,
For years, marketers have leveraged Twitter's surging popularity to create brand awareness, grab more leads, gather rich insights and expand their target reach.
Although, the 140 character limit was a mainstay of the platform, but in November 2017 Twitter refurbish this feature by extending the tweet limit to 280 characters.
This, subsequently, has opened the gate of opportunities for marketers to write more engaging and targeted tweets.
In fact,
There is a wide-array of Twitter marketing tools, engagement tools, and analytics tools available on the internet, but none of them can be of any help if the content itself is not worth a reader's attention.
Therefore, it's important to dive into the "Hows" and "Whats" of writing a Twitter post in 280 characters that shouts Quality; and thankfully, we have got you covered with these 8 ways to create engaging tweets in 280 characters.
Let's get started…
1. Create Visually Attractive Tweets
It's a proven fact, known by most marketers, that visual content have a larger retention rate than plain simple text. Twitter has grown leaps and bounds when it comes to visual contents in the last few years. It is important for users to unravel the potential of video marketing on Twitter.
Incorporating videos, clips, GIFs and images in tweets gives your brand a much clearer voice. It helps you convey your point better and grabs hold of your audiences' attention, instantly.
It was studied and established that almost 98% of the users would like to be exposed to a new product or service through visual contents. In addition to these, pictures and videos gain over 30% boost in terms of retweets, far superior than plain text.
Try and make your tweets more visually attractive by centering it about your product or service, thereby leaving a lasting impression on the minds of your audience and thus this way you can increase social media engagement.
For better understanding…
Let's take an example of one of the most popular brands – Starbucks.
In this example they have used a GIF to showcase their Macchiato drink and used a relevant hashtag to make the drink a trend.
Well, you can call this example, as "Visually compelling plus intelligently marketed" a genius idea!
Now, what's next?
2. Tag your Audience, Relevant Brands or Influencers
We all know, Twitter is a great medium for sharing constructive views about a certain follower, influencer or brand by mentioning them in the tweet.
So, why not get some more followers by mentioning some of the well-known influencers?
Well, ensure to always include the Twitter handle of the people you are referring to. This way, the mentioned user will be notified of the tweet within seconds.
And if the tagged user finds your tweet constructive or valuable, they would most likely retweet or reply, which would radically boost the overall reach of your tweet. As a result of that, you would have way more impressions and engagements.
How about taking an example to know more about it?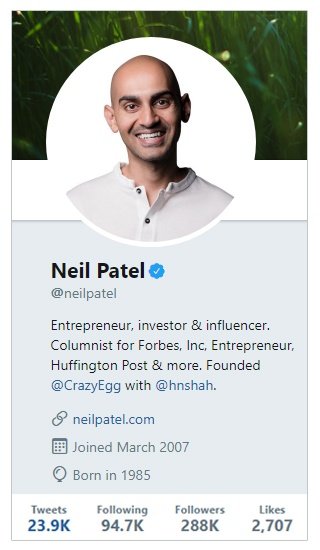 Neil Patel is a great social media influencer, which can help you get more engagements and retweets.
How?
Well, when you're posting your content akin to social media marketing, you can mention his name and if he likes your topic, he will retweet and share it further. This way there are more chances of increasing and growing your followers.
In addition to this, influencer marketing can also lay the foundation of a fruitful relationship between you and the influencer or brand mentioned in the tweet. Because this will not only help you expand your social circle on the platform, but you would also be able to widen your tweet reach and visibility through such relationships.
3. Always use a Call to Action
We often believe that brands shouldn't explicitly provide directions to their followers. Contrary to that believe, popular and noteworthy brands always ask their followers for likes, retweets, comments and other engagement activities.
This is where adding a call to action can help you get the desired results. It is an important tool for every digital channel from blogs, websites, to social media sites.
If you want your audience to take action, you need to tell them what they need to do. This way of providing direction influences the audience, and in return increases the overall engagement ration.
This example will clearly help you get an idea!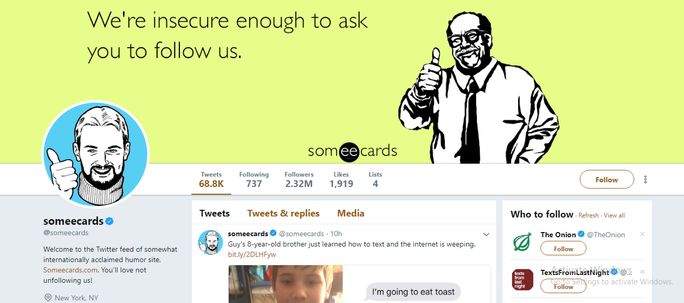 Some ecards, an online e-card service provider is doing its best by directing its audience through its cover picture itself. The cover image is not only funny and engaging, but also translates profile views into followers because of its implied direction.
So, using a call to action is one of the great way for increasing more followers and engagement ratio.
Let's jump on the next one!
4. Being Simple is Perfect
In order to increase the tweet, users often use complicated and difficult words that have a direct and negative influence on their social profile.
So, before stepping ahead for curating a tweet, one must always avoid such heavy language and instead think of something easy from the audience's perspective before drafting a tweet. Because if the language of the tweet is easy, there are more chances to get the likes, shares and engagements from the followers.
Well, it is good if attained in-depth knowledge of the audience on the basis of the niche through various Twitter analytics tools.
Let's take an example of Twitter Analytics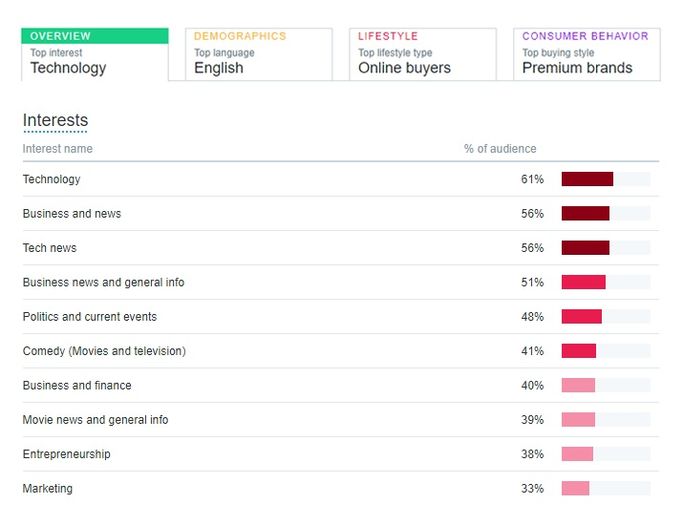 Twitter Analytics offers a brief understanding of the kind of content users wish to view. This way you can develop or write content keeping your audience and their preference in mind. This especially comes in handy when you are running a promotional campaign, wherein your content should be as simple and effective as possible.
So, from this example, framing a tweet is no rocket science, and can be easily mastered over time. Even while writing about a product, utilize the 280 characters to write engaging phrases or lines instead of writing an entire description of the same.
Who knows, you can get more than you've expected!
5. Creatively Integrate Emojis
Emojis have gone on to become the new global language in our advancing social world. After all, we all take the assistance of emojis while chatting with our friends and family, then why not we include them in our tweets as well?
Since Twitter supports all kinds of major emojis in its platform, one can simply include them in their content. In this way, not only will it make your tweets more visually appealing, but also help readers understand your tone and emotion behind the tweet. Also, more people are likely to retweet your content if it is unique and interesting to read.
One ideal example is how NatGeo welcomed their new update by using animal emojis in their tweets.
🐶🦊🦁🐵🐔🐥🐺🐛🐜🐢🐙🐠🦍🦒🐖🐕🕊🦔🐻🐮🙈🐧🦆🐗🦋🦗🐍🦑🐟🐘🐃🐏🐩🐇🐭🐼🐷🙉🐦🦅🐴🐌🕷🦎🦐🐳🐆🦏🐂🐑🐈🐁🐉🐹🐨🐽🙊🐤🦉🦄🦖🦀🐳🐆🐪🐄🐐🐓🐀🐰🐯🐸🐒🦇🐝🐞🦂🦕🐡🐋🦓🐫🐎🦌🦃🐿 🐶🦊🦁🐵🐔🐥🐺🐛🐜🐢🐙🐠🦈🦍🦒🐖🐕🐕🕊🕊🦔🐱🐻🐮🙈🐧🦆🐗🦋🦗🐍🦑🐟🐟🐊🐘🐃🐏🐩🐇🐭🐼🐷🙉🐦 #280characters

— Nat Geo WILD (@natgeowild) November 8, 2017
Even brands like Google France took the assistance of heart and other shapes to create something unique.
⚪️⚪️⚪️⚪️❤️❤️❤️❤️⚪️⚪️⚪️
⚪️⚪️❤️❤️❤️❤️❤️❤️❤️⚪️⚪️
⚪️💛❤️❤️❤️⚪️❤️❤️❤️❤️⚪️
⚪️💛💛💛⚪️⚪️⚪️⚪️⚪️⚪️⚪️
💛💛💛⚪️⚪️⚪️⚪️⚪️⚪️⚪️⚪️
💛💛⚪️⚪️⚪️⚪️💙💙💙💙💙
💛💛⚪️⚪️⚪️⚪️💙💙💙💙💙
💛💛💛⚪️⚪️⚪️⚪️⚪️⚪️💙💙
⚪️💛💛💛⚪️⚪️⚪️⚪️💙💙💙
⚪️💛💚💚💚⚪️💚💚💚💚⚪️
⚪️⚪️💚💚💚💚💚💚💚⚪️⚪️
⚪️⚪️⚪️⚪️💚💚💚💚⚪️⚪️⚪️#280characters

— Google FR (@GoogleFR) September 28, 2017
So, this makes us clear that if the emojis are used correctly, it will definitely show up some different impact on the tweet!
6. Use Relevant Hashtags
To run a dedicated marketing campaign, it is imperative to use hashtags and leverage its power. This is where hashtags can help you get great response.
Hashtags give you a unique touch in the market and helps remind your audience about the brand. But one must be aware of how to use hashtags in Twitter effectively to reap its positive results.
Here are certain things to consider before using hashtags in tweets…
The first thing you need to do is come up with a unique hashtag that relates your brand. Make sure you don't combine more than 3-4 words together and it is easy to understand.
You can use different Hashtag analytic tools like Socialert to discover new or trending hashtags. The reach of the hashtag can also be calculated through such tools.
Although it's an obvious point, do not use an already used Hashtag. Make it original and free from profane language.
Don't cover your entire tweet with different hashtags, instead use up to 2-3 hashtags along with your main hashtag.
Well, let's get a clear idea from Coca-Cola's #ShareACoke campaign…
Coca-Cola's #ShareACoke campaign was one of the prime examples of how effective hashtags can be if done rightly. The campaign went on to attain 160,000 Twitter mentions and 740m impressions, generating a massive reach for the soft drink giants as a result.
So, do select a #hashtag that not only is related to your brand, but is also simple and easy to understand by the audiences.
Now, let's head to the next!
7. Share your Link
With over 500 million tweets posted on an average, each day, it is easy to get unnoticed amongst the crowd.
So, what you can do now?
Well, being smart is the answer to this question!
Be smart with your post scheduling and integrate links of your website or subscription page to translate potential audience into leads. Ensure to keep the time-zone of your audience in mind and pre-schedule your tweets automatically. Do not repeat your tweets on the same day itself instead use the same link and reform your content each time.
Pre-scheduling your tweets will help you to be active enough on social media and also increases the engagement ratio.
8. Add a Hint of Humor
Unlike LinkedIn or Facebook, Twitter is a much more direct and young platform. Most of the brands that are active on Twitter add a dash of humor to their content to make the tweets more engaging and interesting to read.
Well,
This makes it easier for people to relate to your brand and makes your Twitter profile more human-like. By coming up with humorous content, you can increase your followers and get more retweets as well; who wouldn't want a taste of that, right?
Here is an interesting way to interact with one's audience on Twitter by following a humorous approach.
Wendy's Twitter account is infamous for roasting people. While this might be a far-fetched instance, the account is known for its humorous appeal too. Recently, they did the same on National Roast Day as well and the result is in front of you.
Hence, adding a little bit of humor to your tweet is not a crime at all, as you can get more engaging followers and likes!
Let's Call it a Content!
Although Twitter has doubled its character limit, the above mentioned tips still apply. If you are writing a Twitter post in 280 characters that echoes the word "Quality", then it is important to keep the above strategies in mind.
These sure-fire ways will not only result in increased engagement, but will also skyrocket your social media goals.
So, if you find these ways interesting and most importantly useful for your tweets, do mention your views in our comment section below, will be glad to hear it from you all!