Let's say on a fine evening, you come across a store banner that says 'Up to 50% off on all products'.
So you reach the store to try your hands. But as soon as you reach the store, you are handed over a physical form to fill before entering the store.
This whole process of you coming across the sale banner to get inside the store is exactly how a traditional lead generation process works.
First, a marketer would offer an incentive to the targeted audience, such as a discount, email subscription, and other useful offers. In turn, the user will move to the offer-promoting website/Landing page and get the promised benefits, by providing the asked information.
Hence, the lead generation would happen with information collected through on-site landing pages or submission forms.
Though, along with the effectiveness of bringing exposure to your websites, this method also attracted a lot of bounce rates.
According to BrightTalk, 80% of marketers report their current lead generation efforts as slightly effective?
Enter the Facebook lead ads.
Facebook lead ads are the major game-changer in the world of lead generation marketing.
It saves users from the pain of switching from the platform the ad is shown on, to a different website, just to fill the form in exchange for promised incentives.
What are Facebook Lead Ads?
Facebook lead ads are pre-filled promoted forms incorporated within your typical image, video, and carousel posts.
They allow marketers to ask for details from the audience in exchange for the promoted incentives, such as newsletters subscriptions, contest registration, free eBooks, product trials, etc. This whole process takes place within the Facebook platform.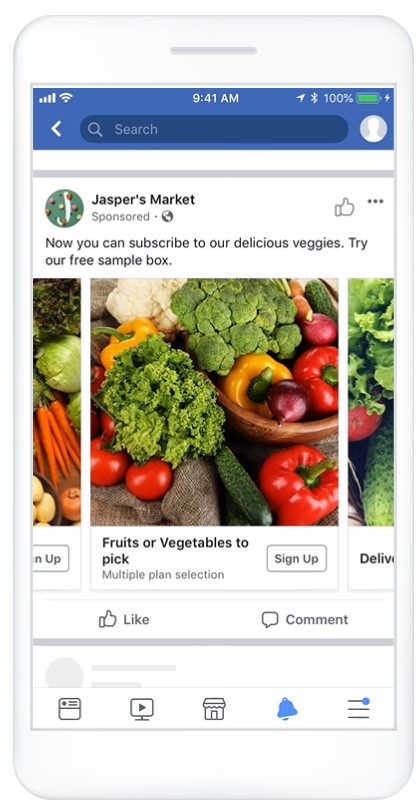 When a user clicks on a lead ad, your created form pops up, pre-filled based on the information provided by the user to Facebook. This instant experience makes the promoted benefit available to the user in a few clicks and you walk away with the maximum possibility of conversion being added to your marketing funnel.
This pre-filled form feature creates a seamless process for mobile users. With Facebook lead ads, they don't have to go through the traditional desktop form filling experience.
So now that you have become a big supporter of this native lead generation experience from Facebook, which saves users from the pain of switching platforms.
How about having a centralized place for even marketers!
Isn't it tiresome to switch often from your social media scheduling tool to your Facebook account – to create lead ads?
That is why SocialPilot allows you to create Facebook lead ads from its ads manager section. Now, along with managing, scheduling, and publishing on multiple social media platforms you can also create Facebook lead ads within one platform to skyrocket your lead generation plan.
Let's jump to the step-by-step guide of creating Facebook Lead ads from SocialPilot.
How to create Facebook Lead ads from SocialPilot?
Step 1: Go to the Manage Ads section
First, you need to access the "Manage Ads" section to create a Facebook lead ad.
Clicking on the "Ads" section at the left-hand column of the SocialPilot dashboard will open up a menu – where you will also find the option to create Facebook boost posts – with the "Manage Ads" as an option. Select it.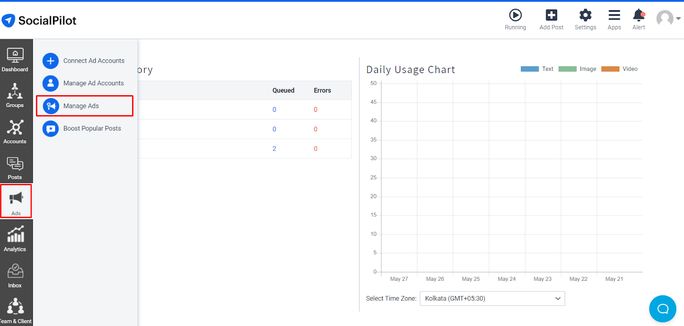 On the top of the right-hand side, you will see the "Create Lead Ad" button. Click on it.
Now the main part of creating a lead ad starts from here. You will see a detailed form asking you to add your "Ads account" so that you can create and set up an ad through them.
Step 2: Select your Facebook Ad accounts
You can't create any sort of ad campaign on Facebook without creating a Facebook ad account. The ad account is responsible for the transaction of payments to run your ads.
Here you have to keep 2 things in mind:
Make sure that you already have an ad account connected to your Facebook Page.
The Facebook page and the ads account associated with it are connected to your SocialPilot account.
Just click on the drop-down boxes to select your Ad account and the Facebook page.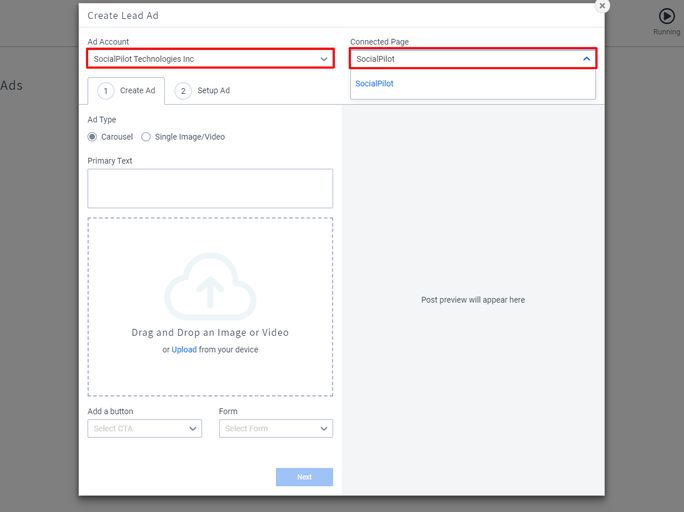 Step 3: Choose the right format for your Ad
Your Facebook lead ad needs to be compelling enough to make the user interact with it. Try to make it more attractive by choosing relevant ad format types in the next step:

Carousel: Choose the carousel ad type to showcase multiple products or step-by-step pictures for deeper interaction with your promised incentive.
Carousel lead ad recommended size –  1080 x 1080
Single Image: Choose the Single image format to make your ad minimalist but informative. Add a picture that, along with your incentive, properly suits the tone of your brand.
Single image lead ad recommended size – 1200 x 630
Video: Video is a powerful medium to incorporate storytelling in your ads. Choose video format to encourage your audience to click on the CTA.
Video lead ad recommended size – 1920 X 720.
Step 4: Create your Facebook lead Ad
Every lead ad, one way or another, offers an incentive to the audience. You should decide this incentive before creating your ad. Think of something related to your business that can be offered in exchange for the information you need from the targeted audience.
Firstly, Input the ad description in the primary text box. Keep your caption clear and concise, stating everything the audience will get by interacting with it.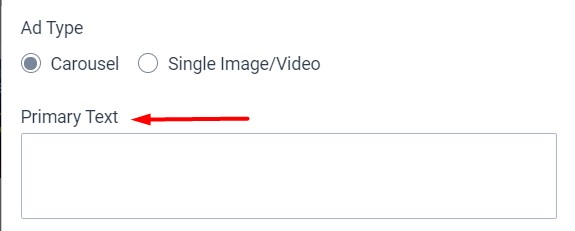 Now it's time to upload the media according to the format you choose at the beginning of the form. Here you can either upload media from your device or just drag and drop it in the box, Suit yourself.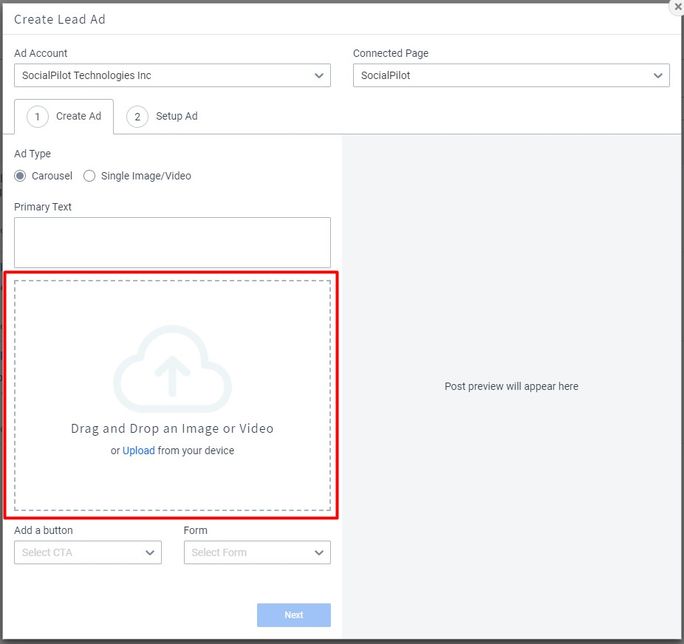 Once your media is uploaded, you will see a complete post preview of the lead ad in the right. This will help you review the ad before posting it out.
Then, after uploading the media, three new boxes will appear inside the media body box: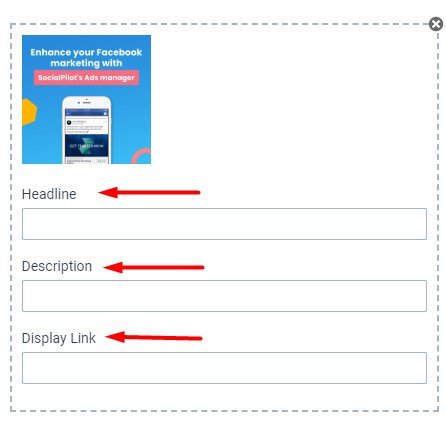 Headline: Here you can write a catchy ad copy that summarizes the whole lead ad to attract the audience.
Description: Here you can add more information about what will the user get by clicking on your lead ad.
Display Link: Here you can show a link to your website.
Step 5: Add a CTA button
You need to add a killer call-to-action button that prompt your targeted audience to take action on your Facebook lead ad.
Click on the "Add a button" box to reveal a drop-down with predefined CTAs. Choose the one which suits your ad better.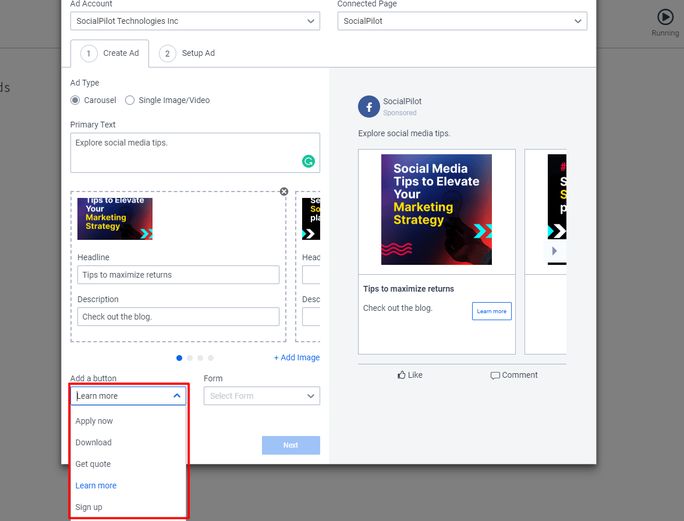 Step 6: Add or create a suitable lead ad form
The final step of creating your lead ad is the most crucial one – Adding the Facebook lead form.
Click on the "Form" box to reveal a drop-down with several options for creating a form. Here you can either choose to create a new form or select the previously made forms from the chosen Facebook page.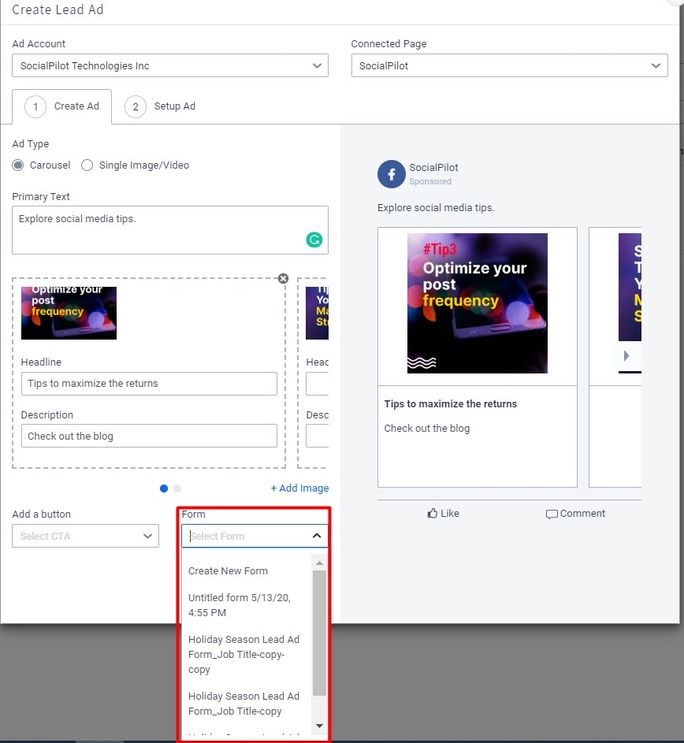 Step 7: Select a duration
Once you have created your lead ad post and form, the next thing is to decide how long you want the lead ad to run.
You can choose the starting and the end date in the time filter, and your ad will run between those dates.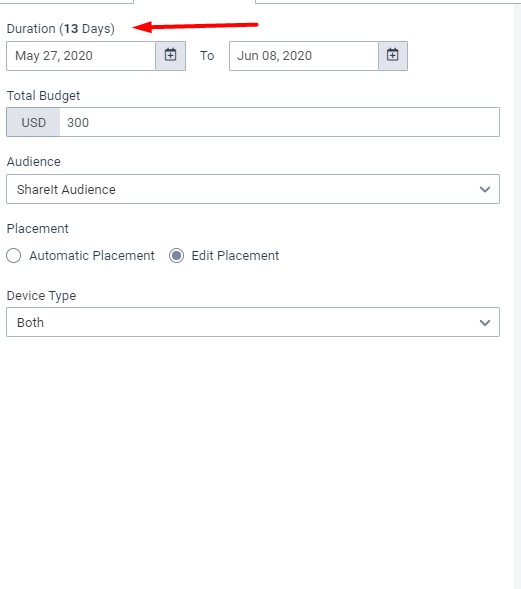 Step 8: Choose your budget
The next step is to set your budget, specifying the maximum amount you want to spend on the lead ad. The minimum is $1 per day, but you can choose to spend more depending on the reach you want.
So put in a specific number you want to spend in the "Total Budget" box.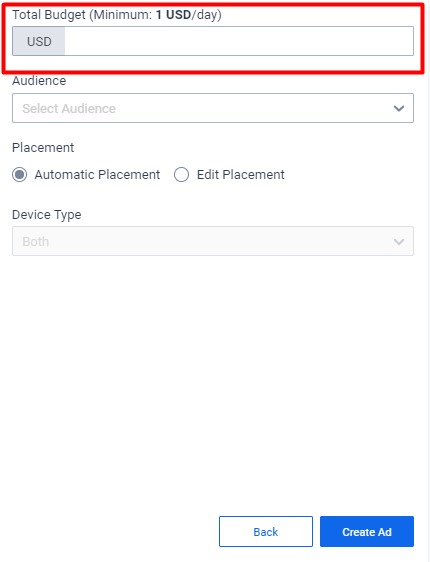 Basically, the more you pay for the post, the more reach you'll get. Your budget will be the total budget spread across the number of days you want to run the post.
Step 9: Select your audience
It is not enough to create lead ads. You have to make sure that your ad reaches the right audience, otherwise, the money spent will be of no good. Therefore, choosing the right audience is extremely significant to make your lead ad work.
You just need to click on the "Audience" box to reveal a drop-down with options of previously saved audiences that you have created in the ads manager.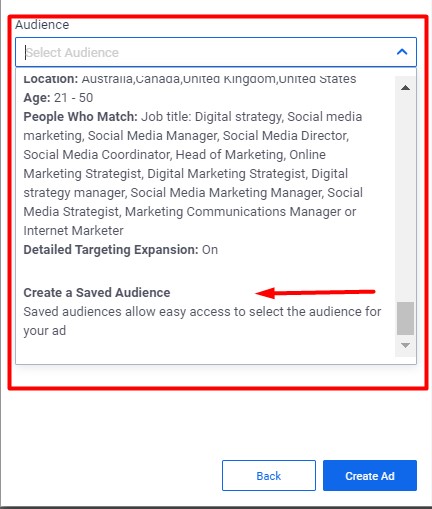 Select any of these saved audiences or scroll down to create a new saved audience to target for your particular lead ad.
Step 10: Choose the right placement for your lead ad
Selecting the right ad placement optimizes your lead ads for better conversions.
In the select placement step, you have the option to select either automatic or edit placement by clicking in the checkbox.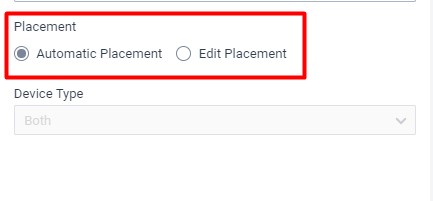 If you choose "Automatic placement" – Facebook will decide where to show your Lead ad.
Check the "Edit placement" box to open the options of choosing ad placement device types yourself.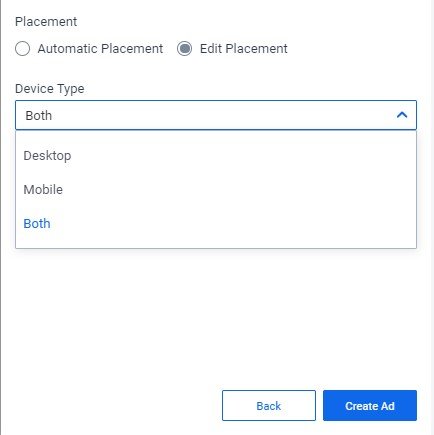 Here, you need to decide where your post will be shown. You can choose your posts to appear on Facebook's desktop news feed and the right column feed, or mobile News Feed.
You can also select both the devices here.
This decision of choosing the ad placement should be based on your targeted audience. Desktop ads come handy with the audience who are supposed to be more desktop-oriented in their work and product buying process.
Whereas, mobile feeds have a go with a specific audience. If you are looking for better engagement on your lead ads or trying to get your apps installed, mobile feeds are a better option. E-commerce businesses have a better chance of conversion on mobile feeds too.
Step 11: Go live
Congratulation your lead ad is all done. Just click on the blue "Create Ad" button to make your ad live for your targeted audience.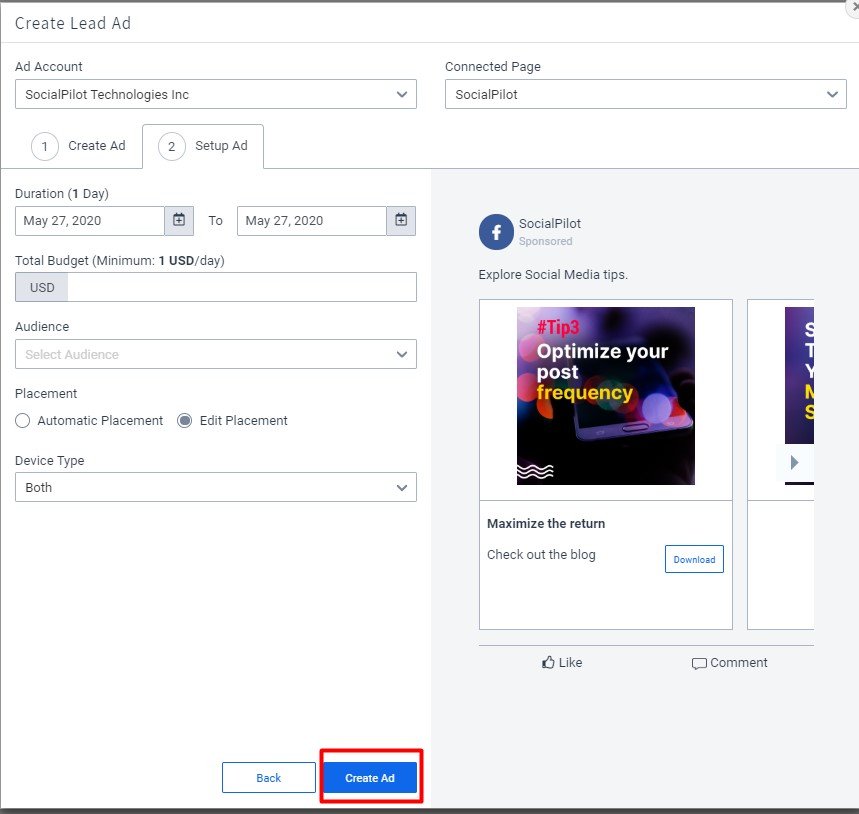 How to check Facebook lead ad analytics?
Once your lead ad is all up and running. You can check for its performance in the manage ads section. Trace the same path as you did above from the dashboard to "Manage ads".

Here you will see the list of running ads. You will also get brief metrics of some performance parameters such as reach, engagement, and the number of dollars the ads have spent yet out of the total budget allotted.
Click on the minuscule image of the graph given at the right-hand side of each ad to see the full analytics report.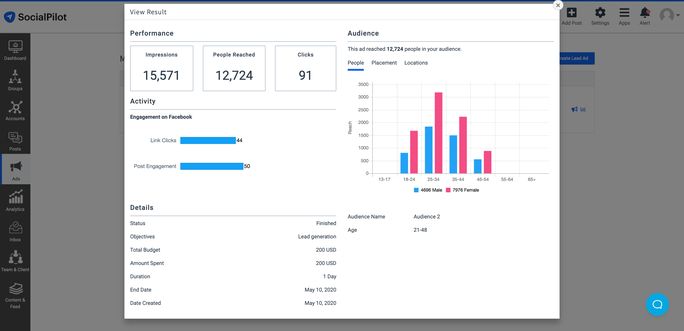 Analytics report is further categorized into 4 parts:
Performance: Here you can see the number of impressions, click-through, and reach you have received on the lead ad.
Activity: Here you can see the bar representation of the exact number of engagement you have got with the targeted audience in terms of- Link clicks, shares, comments, and likes.
Audience: In this section, you get a graphical representation of where your lead ad has reached in terms of – people, placement, and locations.

You can switch between the tabs – people, placement, and Locations –  to individually see the graphic details; People's graph will show you the age and gender of the reached audience; Placement's graph will differentiate in the number of reach on desktop and mobiles; Location tab will give you bars representing each country your ad has reached.
Details: Details section will show you the lead ad's objective, Status, budget information, duration, and the time range.
This information comes handy when you, as a marketer, are running multiple ads. These details will help you distinguish between the objective of different ads and also allows you to keep track of other parameters mentioned in the details section.
Wrap it up
Indeed the life of social media marketers has become a little easier with Facebook lead ads. Lead generation ad helps you move more effortlessly to the middle of the funnel.
Create your Facebook lead ad now with SocialPilot and manage the whole marketing campaign effortlessly.
Frequently Asked Questions
🌟 Are Facebook Lead Ads effective?
+
🌟 How much do you need to spend on Facebook Ads to see results?
+