Whether you're a marketer, content creator, or influencer, you must know about the importance of video content.
With an attention span of eight seconds, dynamic and engaging videos allow social media users to grab their audience's attention, allowing creators to establish a connection with fans, promote their services or products, and achieve other goals.
Per Hubspot's Marketing Industry Trend Report, Instagram Reels vs. TikTok, which are constantly pitted against each other, are growing the fastest, and short-form video has the best ROI compared to all other media formats.
Plus, 85% of people claim that Instagram Reels and TikTok are the most engaging formats and 51% of marketers plan to invest more time and effort into short-form videos.
However, creating amazing videos for every short-form video platform is hard unless you're a big brand with a solid team of in-house video makers. When choosing the best social media platform for your short-form video marketing strategy, it's more likely you have also heard about the Instagram Reels vs. TikTok debate.
Today, we take a deeper look at each of them by understanding their similarities and differences and how to make the right choice for you.
Let's dive into it!
Why Do Marketers & Creators Have Instagram Reels vs. Tiktok Debate?
Video content is viral among internet users, so companies of all sizes and niches try to create videos that deliver their brand message, educate potential customers, and convince viewers to make a purchase.
When choosing the best short-form video platform, Instagram and Tiktok remain the most popular social media networks with the biggest user base.
Big brands with strong social media marketing teams, like Nike, use both networks to communicate with their communities. Moreover, Nike is one of the most popular commercial accounts on Instagram, with 234M followers.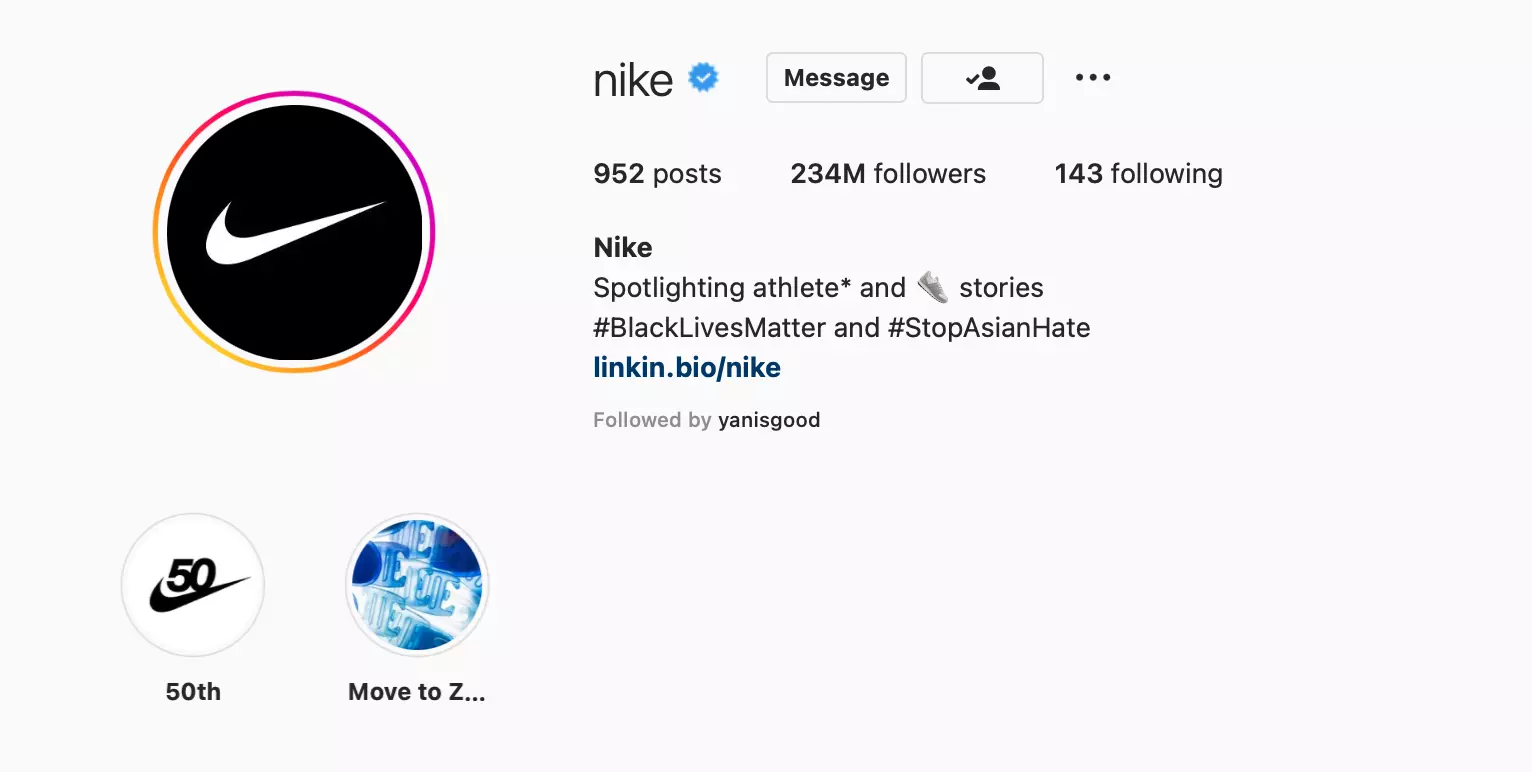 But this sportswear brand doesn't want to limit itself to one short-form video platform, so Nike has its account on TikTok, too.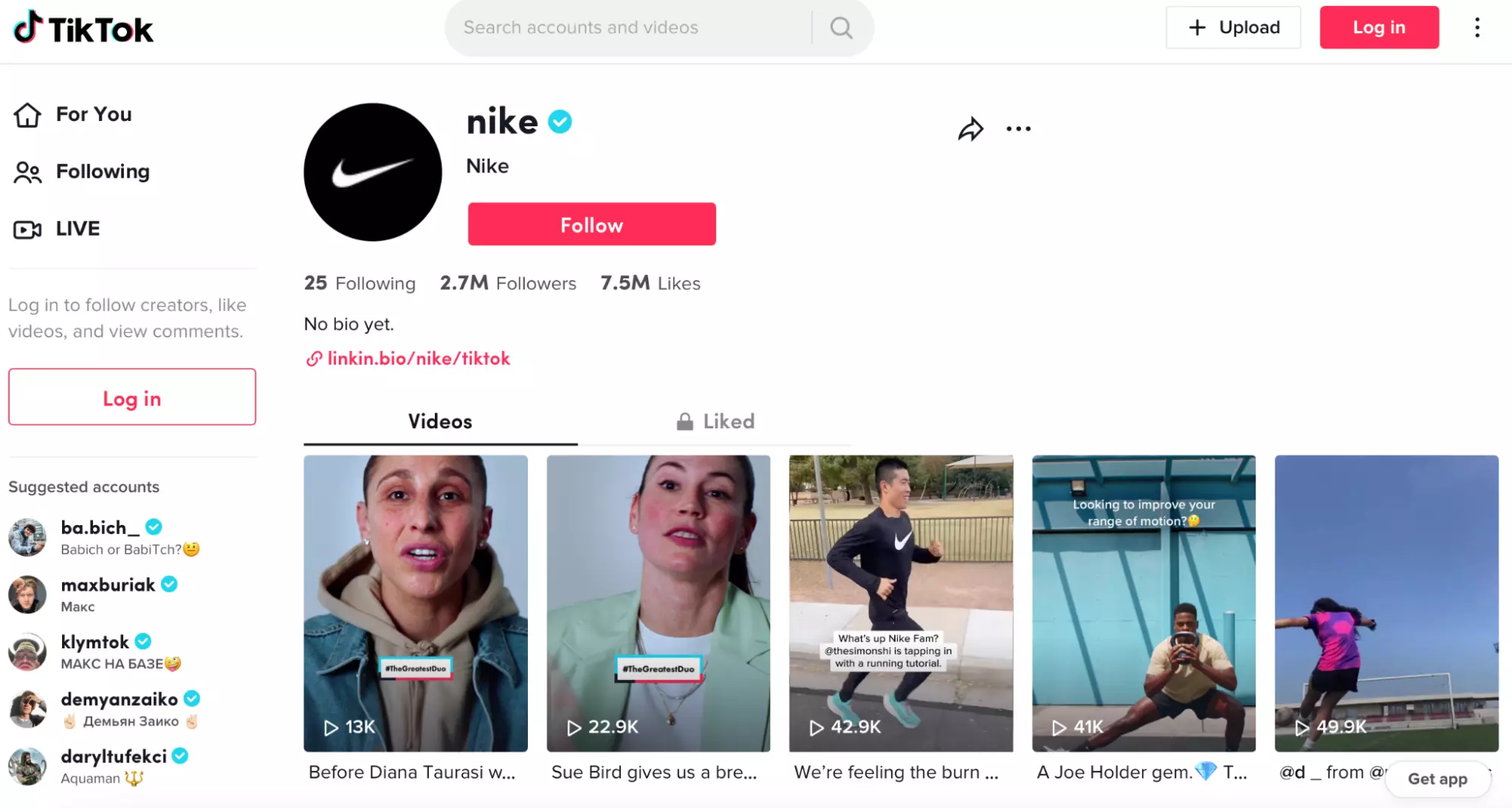 The variety of video marketing tools helps marketers create videos easily, but it's still hard for most brands to have a presence on Instagram and TikTok. That's why the Instagram Reels vs. TikTok debate appears.
To find the best platform for short-form videos, it's important to understand what makes Instagram and TikTok similar and different.
What Similarities and Differences Do Instagram Reels vs. Tiktok Have?
Back in 2018, when the full-fledged video service TikTok became available worldwide, no one could have predicted the surge of its popularity. The platform has caught up with social media giants in record time.
The demand for short-form videos has grown, so it's no wonder that Instagram has quickly copied TikTok's main feature–short-form videos with a great array of creative tools like music, effects, and stickers.
At first blush, Instagram Reels and TikTok have a lot in common. When it comes to short-form videos, both platforms allow users to create vertical videos, set them to music, browse others' content to interact with others on platforms, or even boost website traffic.
However, there are several significant differences between Instagram Reels and TikTok.
To have a better understanding of Instagram Reels vs. TikTok, take a look at the handy infographic: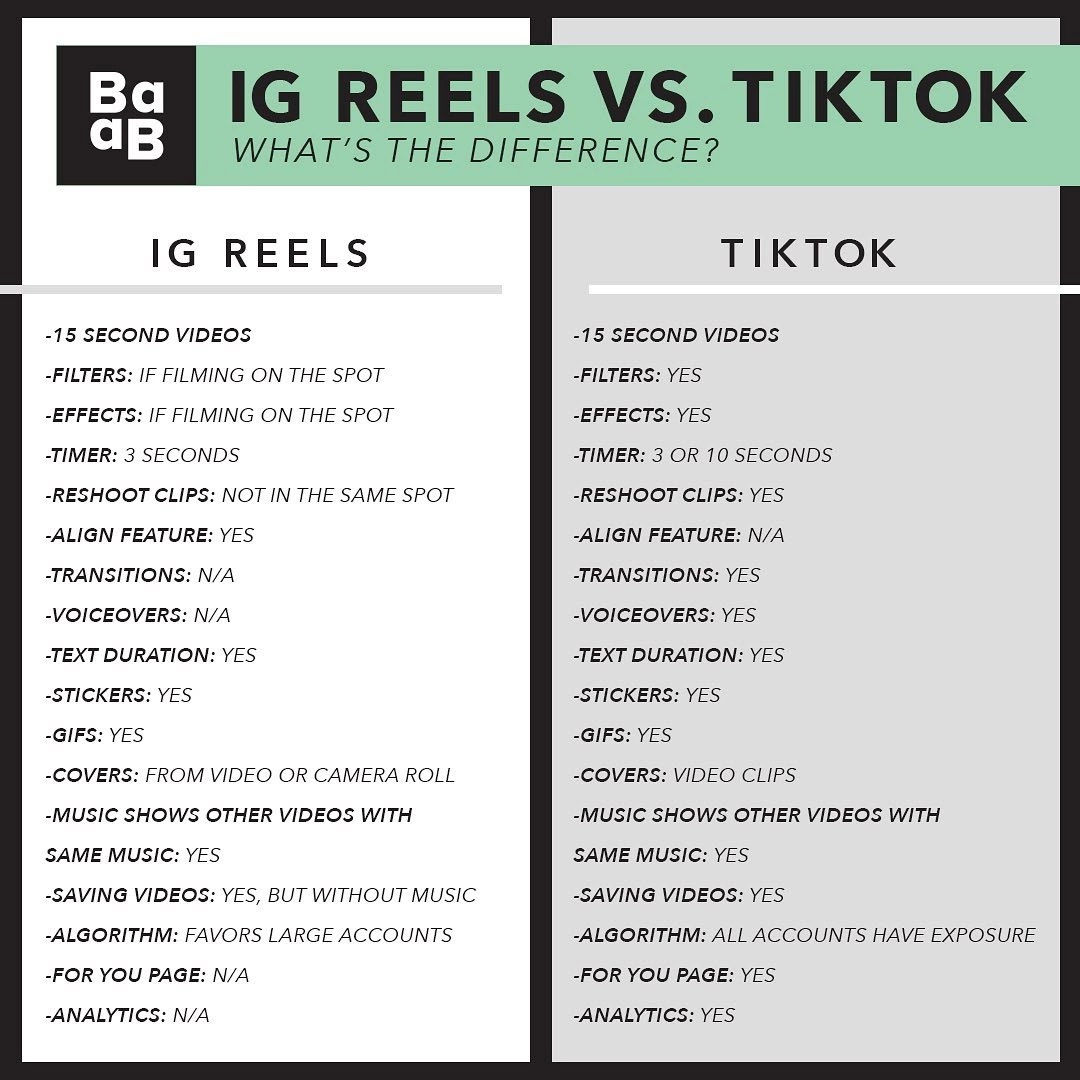 Now that you know the main similarities and differences between Instagram Reels and TikTok, it's time to choose the best short-form video platform that suits your needs.
5 Steps on How to Choose the Best Short-Form Video Platform
If your company or personal brand doesn't have enough budget or desire to use both networks for sharing short-form videos, look at the following ideas for making the right choice that meets your needs and wants.
1. Find Out Which Platform Your Target Audience Uses
When working on an effective marketing strategy, all businesses aim at reaching target audiences as it's a proven way to achieve goals, including raising brand awareness, improving brand trust, getting more leads, boosting sales, and retaining customers.
For short-form videos, you must focus on a social media platform where your target audience is more active. 
Although both Instagram and TikTok have young audiences, these networks have different primary target groups. For instance, most Instagram users (around 73%) represent the target group of people aged between 18 and 29.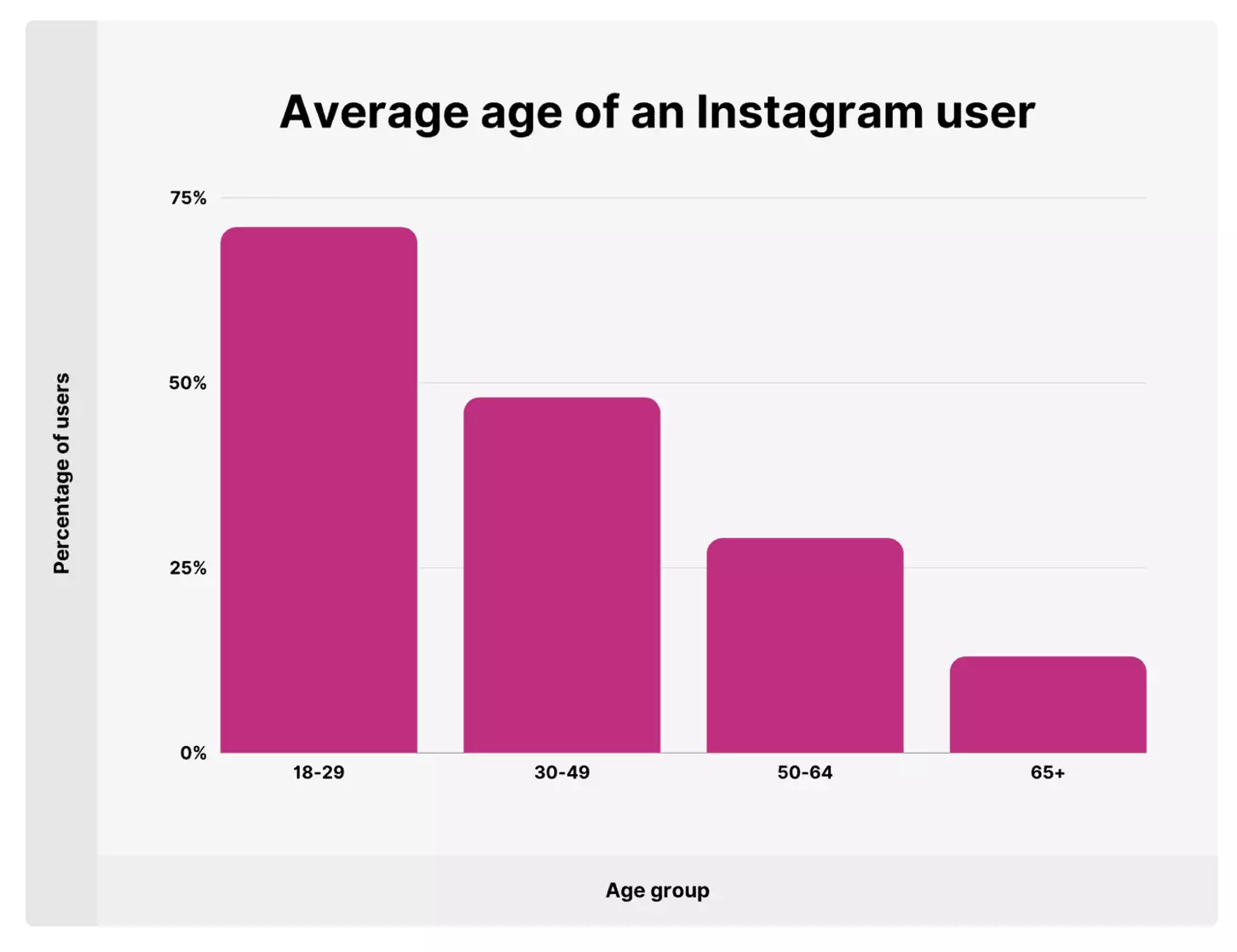 At the same time, a younger audience of kids and teens between 10 and 19 years use TikTok constantly.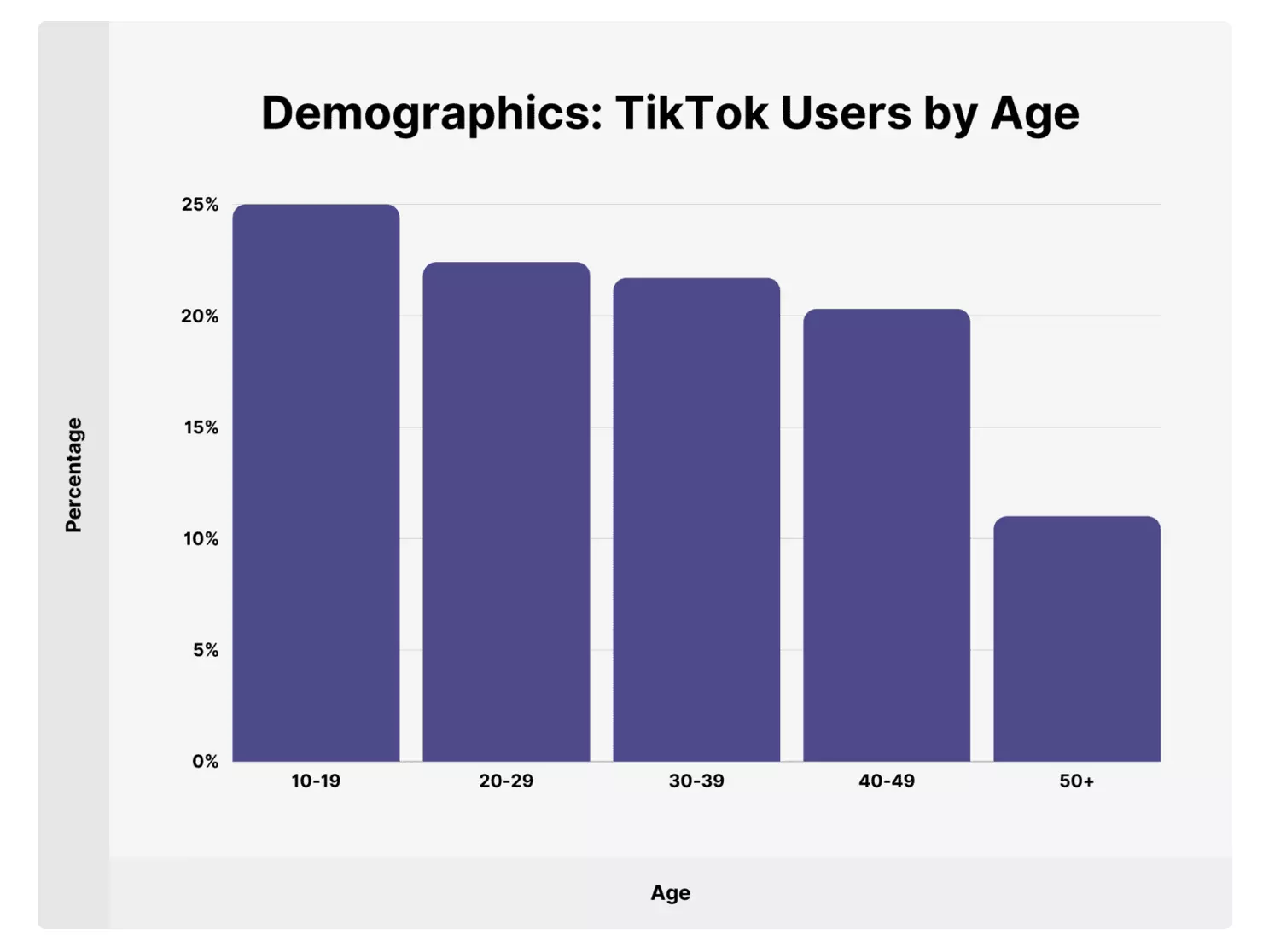 No matter what short-form video platform your target audience uses, knowing the best time to post Reels or post on TikTok, you can reach a wider audience of people and therefore get your videos in front of potential viewers who are interested in your content.
2. Learn More About Instagram Reels vs. TikTok Features
When creating Instagram Reels or TikTok, you can edit videos on your computer to make it easier for you to make stunning videos.
However, it's a good idea to learn more about in-built features to understand how these tools can help you achieve your goals during production.
Here's an informative visual on Instagram Reels vs. TikTok features: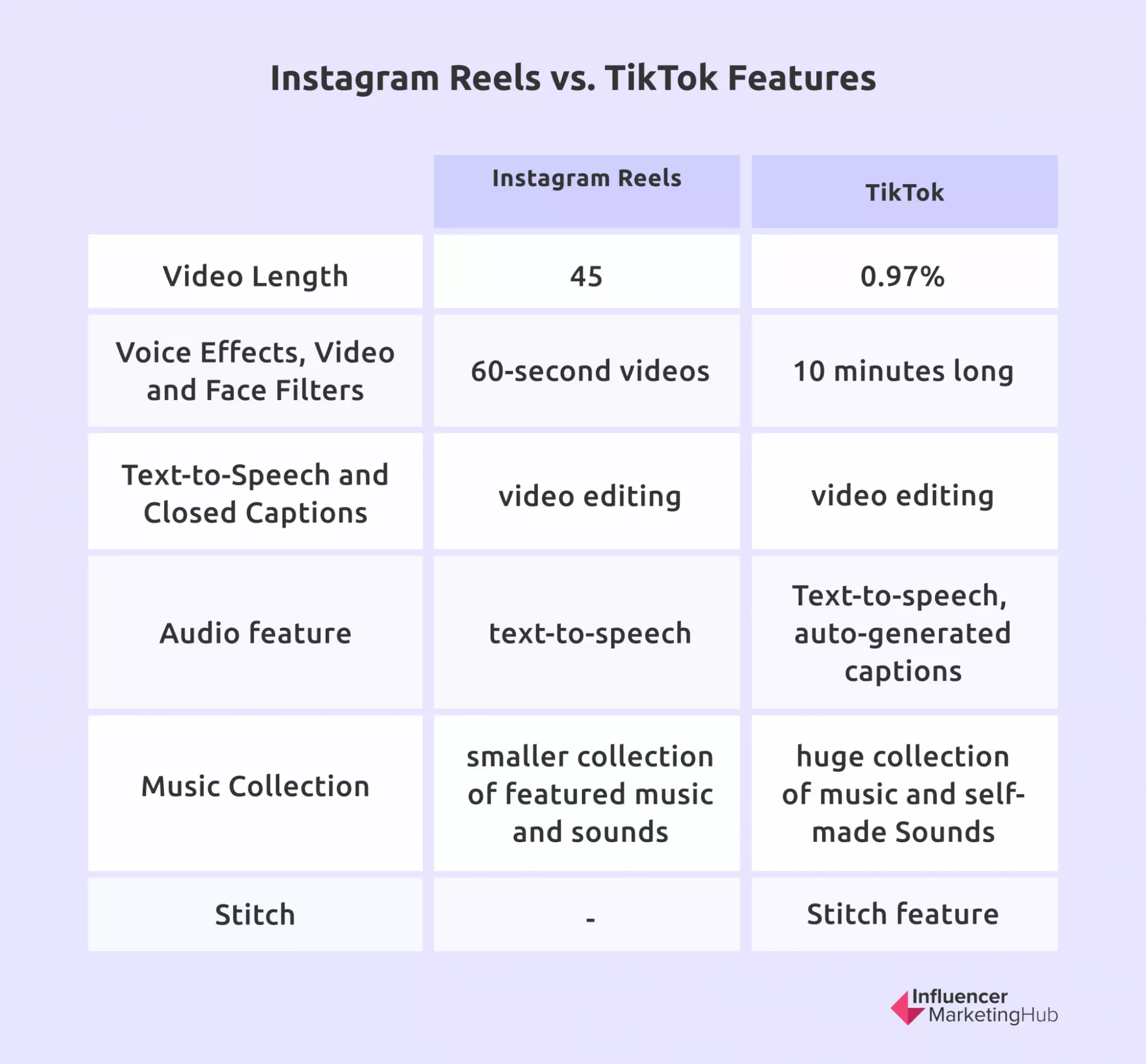 If you want to create short and simple videos, using Instagram Reels can be a good option as this short-form video content platform has all important features, except for the video length of 10 minutes.
At the same time, TikTok allows its users to make informative tutorials that deliver your message to the target audience. What is more, TikTok has the stitch feature to clip your videos to a part of other people's uploads.
3. Identify Your Business Goals
Having a lot in common, Instagram and TikTok are still different platforms with different target audiences. To bring your brand to the next level, it's important to know your business goals first.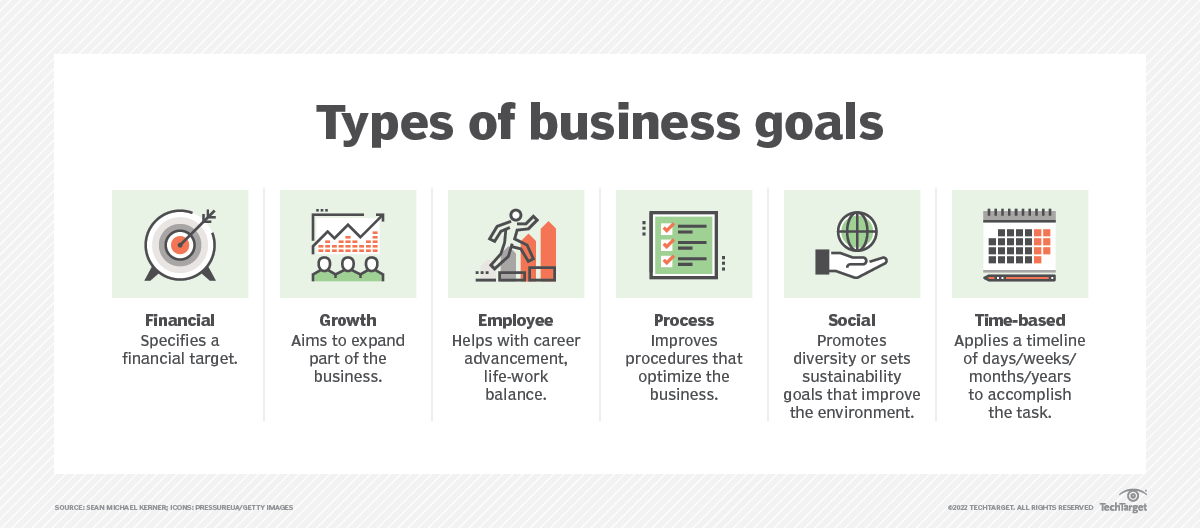 For example, if you want to raise brand awareness among younger audiences, it's better to focus your efforts on TikTok. But if you want to sell products or services with short-form videos, Instagram offers more features for in-app shopping, so this platform is better for you.
Still, trying to choose the right short-form video platform?
You can also do a competitive analysis and find other companies or influencers in your niche who focus on the same goals to analyze their social media performance.
Consider asking yourself the following questions:
What short-form video platforms do they use?
What works best for them?
How engaged is the audience on each platform?
These questions can help you make the right choice, especially considering your business goals.
4. Think About Options for Collaboration
With the popularity of word-of-mouth marketing, practically every business seeks out brand collaboration opportunities to work with influencers who can create short-form videos with you to raise brand awareness and boost trust.
Thus, you should consider ideas for teaming up with niche social media influencers whose values and views align with your brand.
Long story short, Instagram remains the best platform for influencer marketing as 84.1% of marketers plan to use it in 2025, while only 54.9% of them want to use TikTok for influencer endorsements by 2025.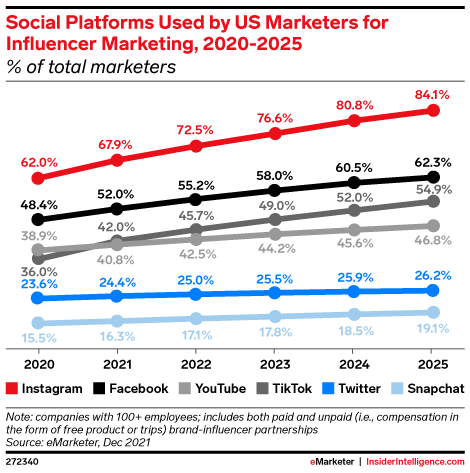 Yes, Instagram is the best platform for collaboration with influencers, but the final decision should depend on your individual goals.
For example, suppose your target audience follows influencers who use TikTok only. In that case, it's imperative to establish a brand presence on this platform and work with TikTok influencers when creating short-form videos.
5. Experiment With Your Video Content
Wouldn't it be great if you could make one video and use it on both networks?
Repurposing video content can save time and energy, but there's no guarantee that your audience would love to watch the same videos on different platforms.
The solution?
Experiment with your video content to find out what works best for your audience and offer it on the right platform.
Let's take Sephora, for example.
As one of the world-known multinational retailers of personal care and beauty products, Sephora uses both short-form video platforms as a part of its digital marketing strategy.
At the same time, the brand creates different video content for Instagram Reels and TikTok.
When it comes to TikTok marketing, Sephora lays a bet on fun and engaging content, allowing its viewers to guess product ideas as shown below: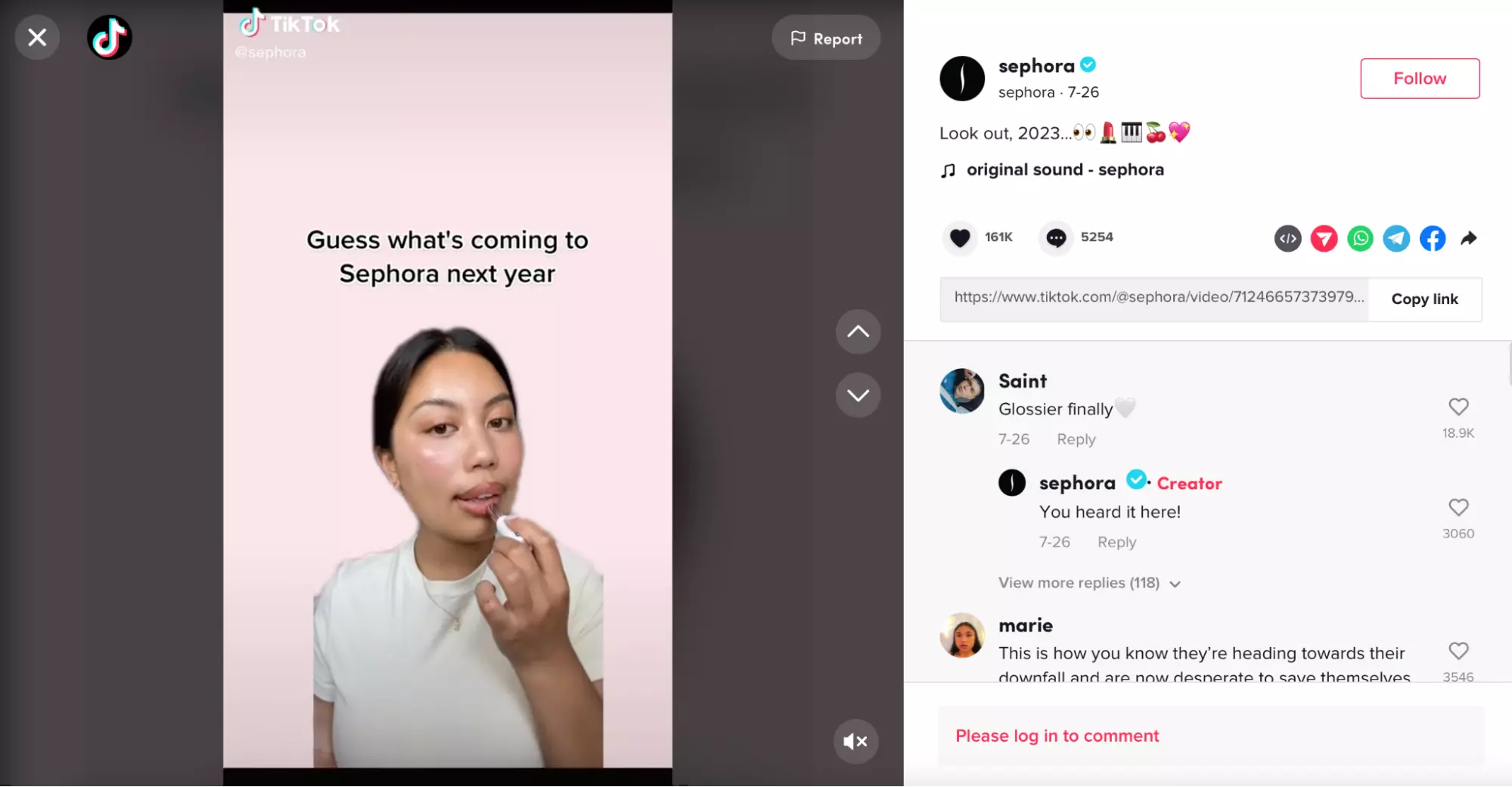 But when it comes to Instagram Reels, Sephora knows that videos can appear on the Explore Page. Hence, the company works with celebrities like Lady Gaga to create informative videos and hook the attention of potential customers.
Check out one of these videos: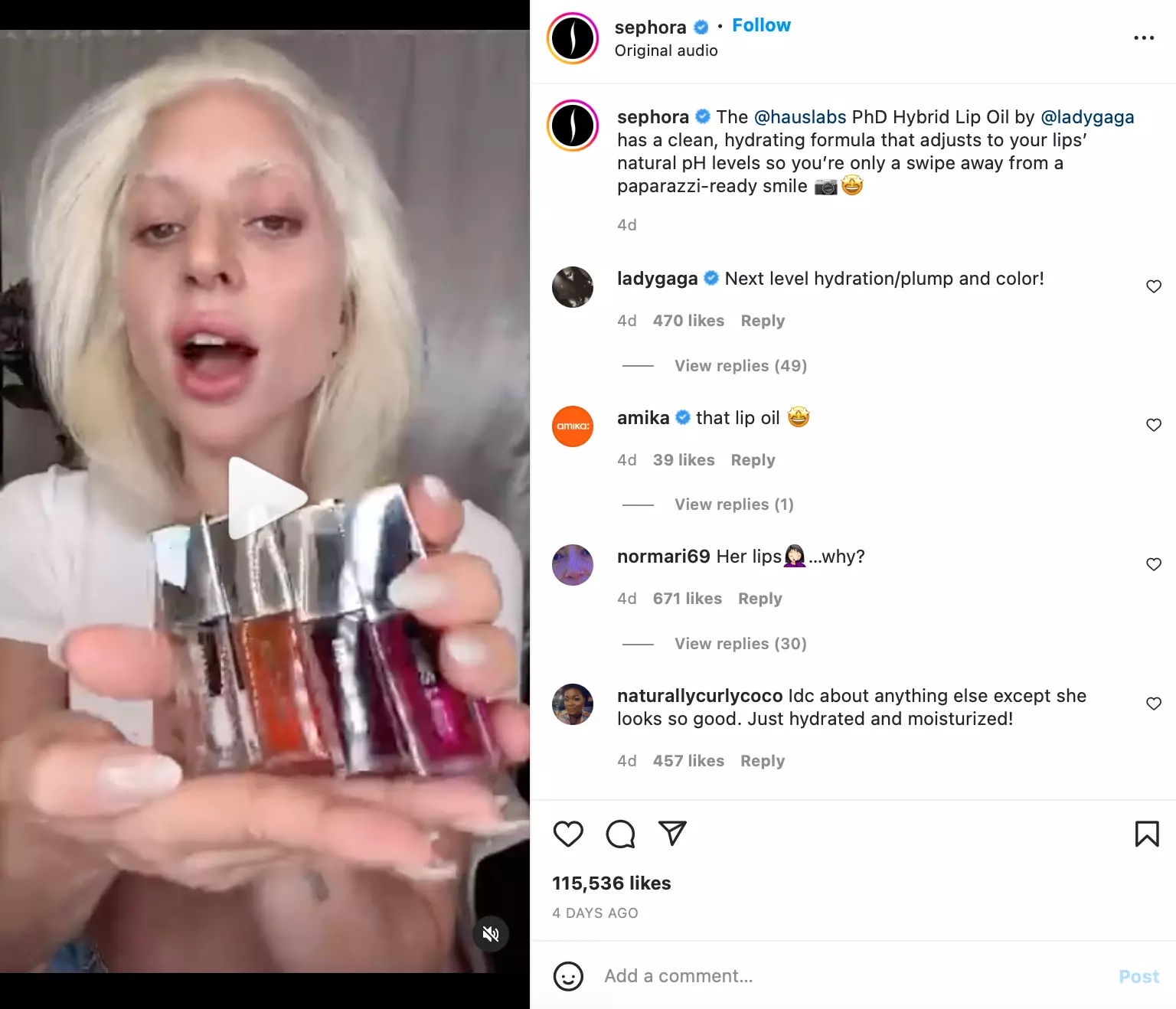 Making the Most Out of Instagram Reels vs. TikTok With SocialPilot
No matter what short-form video platform you choose, whether Instagram Reels or TikTok, it's a good idea to make the most of handy social media management tools like SocialPilot.
To bring your short-form video content strategy to the next level:
Analyze your audience better: With Social Media Analytics, you can monitor your following behavior and understand what works best for your audience. It helps you also analyze content performance to produce videos your viewers want to see.
Schedule and publish your short-form video content: Every social media user knows the importance of publishing content at the right time. Be it Reels or TikTok, SocialPilot`s effective Social Media Scheduling feature assists users in planning and scheduling their content in advance. Just craft, schedule and watch SocialPilot automatically publish all your scheduled content at the set time to ensure maximum visibility.
Delegate tasks to the right team members: Creating engaging short-form videos is not just about visual content. It also includes the understanding of your viewers and communication with the audience. Social Media Collaboration Tool allows you to work with your team members and assign tasks to the right team representatives.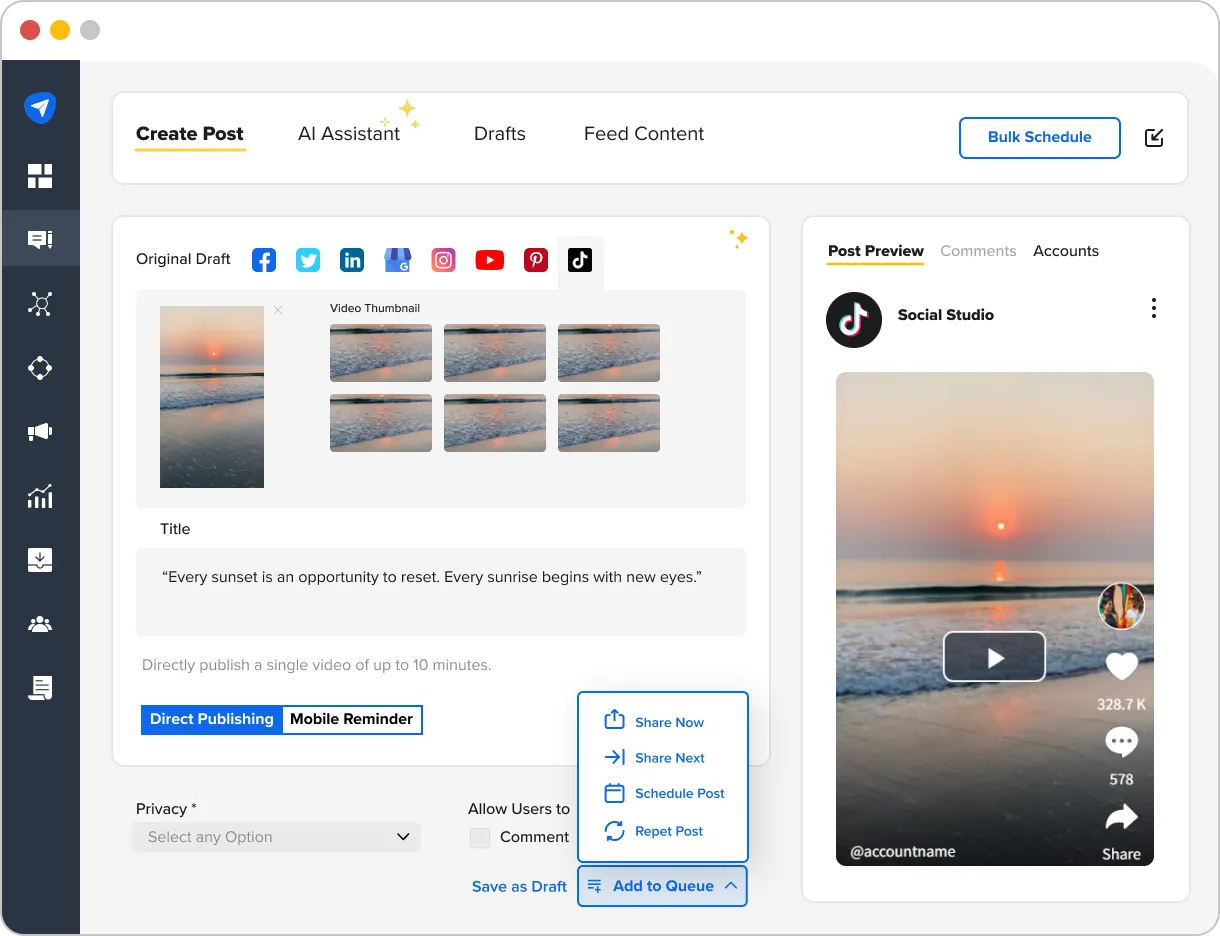 Choosing the Best Short-Form Video Platform
Once you start creating short-form videos in your marketing strategy, you keep up with current trends, which means you can satisfy your customers' needs and give them what they crave. Obviously, not every brand or influencer can use both Instagram and TikTok to create short-form videos, and that's where the Instagram Reels vs. TikTok debate stems.
If you're still thinking about choosing the right short-form video platform, consider all the above-mentioned tips and always experiment with your social media presence.
Being active on the right platform is a proven way to deliver your brand message to the target audience and achieve your goals with engaging short-form videos.